The past two years of my life didn't really have any other purpose, than growth. I moved to the UK because I wanted to improve my English, grow, and gain some more experience in business life. Basically, I killed my social life, spending every afternoon, evening, and weekend in front of my laptop, working or studying. I had my goals, and I knew what I'm getting into. My year of 2020 started full of hopes and promises, both in business and personal life. As a travel blogger, these two go hand in hand! So this is the story of my birthday in Barcelona, during the outbreak of the pandemic, in March.
---
Before the trip to Barcelona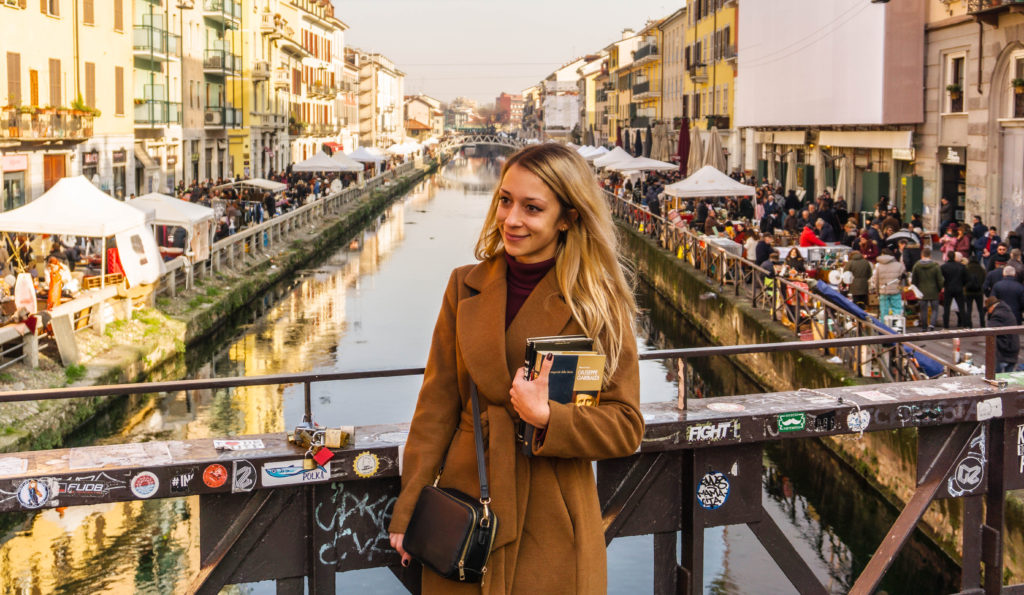 This year I've been to Milan in January, and I was planning to return in February again. Because of the outbreak, I canceled my trip at the last minute. Luckily, because on that weekend I was supposed to go, they locked down North of Italy.
That trip was meant to be for checking out where I'm going to set up my new base in Italy, but the house-seeing was postponed for after lockdown.
In March, however, as in Spain there wasn't too much issue yet caused by the virus, I had a trip scheduled. The outbreak was at its earliest phase in Madrid, but Barcelona was apparently still safe. That's how I decided to risk it and go on my planned birthday trip to Barcelona.
Since February, I've been reading the news in 4 languages, from four countries to see what's going on. In Spain, they didn't do too big of a deal at the beginning of the pandemic, but I was still skeptical.
Truth be told, I was so unsure if I should go or not, that I packed my carry-on 1 hour before heading to the airport. – As this might be normal for some of you, I'd just say, that it's not for me. I'm preparing my suitcases always days in advance.
---
Background story: Why I was so excited about this trip?
I've been thinking of moving to Barcelona in September 2019. At that time, I wasn't working as self-employed, so I needed to find an office job, that would sustain me until I'm building up my business on the side.
Well, if one thing is true about jobs in Barcelona: There's super, super hard to find a job as a foreigner. My cousin and her boyfriend moved to the city in October 2019, and it took him months to find a good-paying job (as a developer).
I spent two full months searching for jobs and getting from one interview to another over the phone and online, but I just couldn't find one that's okay. Sounds strange or not, I do believe in the signs. If something doesn't want to happen, I'm not pushing it. So I just gave up on moving there.
After spending months researching about living in Barcelona, a city I already loved so much, made me super excited to finally visit again. Especially, that now my cousin was living there too, and she's that person in my life who I can laugh the most with!
---
The first days in Barcelona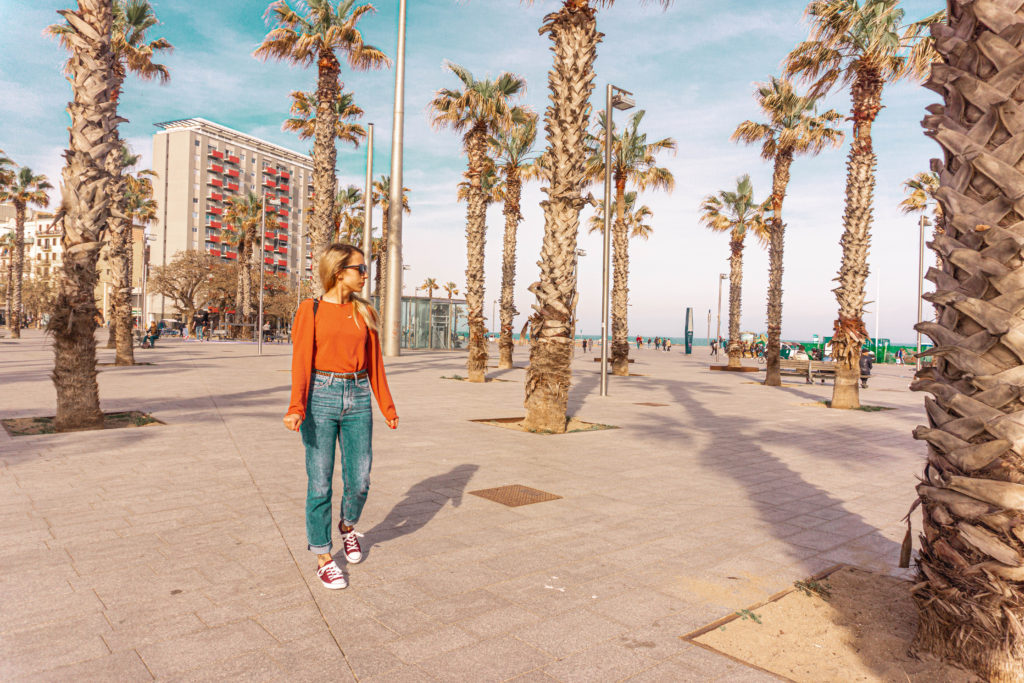 Beyond that excitement, the truth is that my trip was bitter-sweet from the first second. I wasn't showing, but I was super stressed about the virus situation, and I was really afraid, if things go wrong, Spain will go under lockdown too, as Italy did a week before this.
Eventually, Spain did go under lockdown, exactly on the day I was supposed to leave.
But we'll get to this later.
When I arrived at the building where my cousin lives, I went first to find a shop, and grab a bottle of wine. We've been joking about me arriving with wine in my hands, so I decided to do it!
I arrived at their apartment, knocked, and when she opened the door I was standing there with my luggage, and 2 hands full of wine shouting in her face:
I brought wine!
This gave us the first reason to laugh for half an hour and helped me forget the stressful journey I had from London to Barcelona.
On the first evening, we ran into the first cute tapas bar we spotted in the Gothic Quarter of Barcelona, on a street with a hilarious name, Carrer d'en Tantarantana.
Such a funny name! I mean, imagine an officer stopping you in the middle of the night, asking where you live, and you have to say that name without seeming drunk. Can you do it?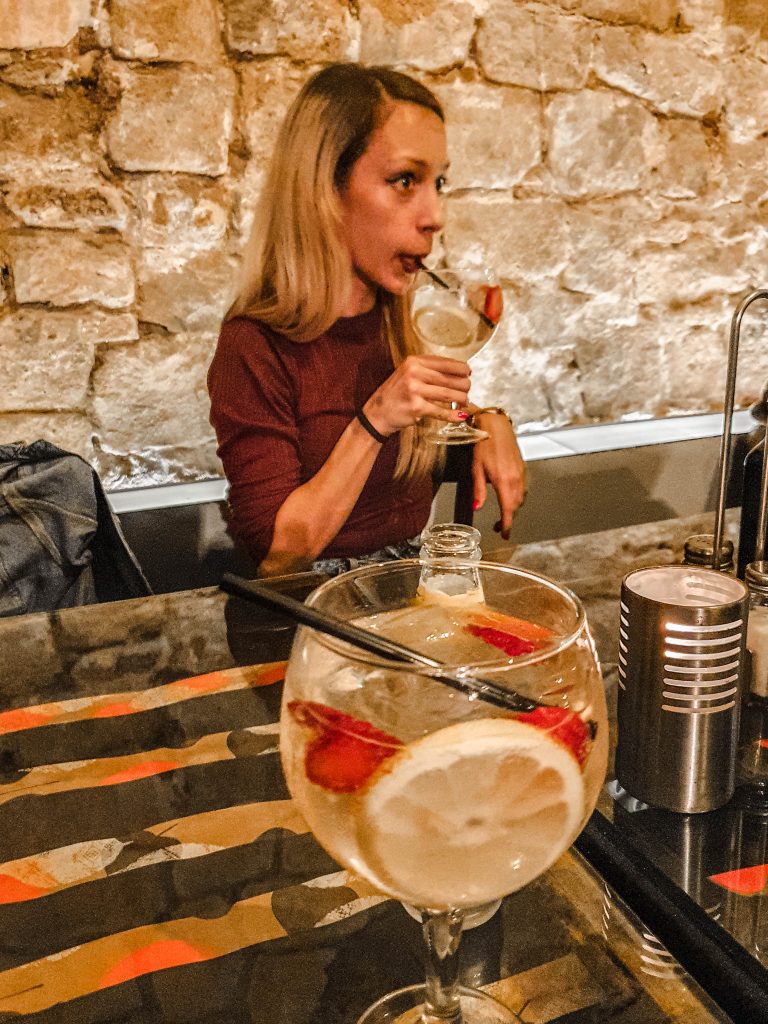 After the tapas, (which I'm crazy about) we went to watch a Balcan show, which turned out not to be what we've been expecting, so we left for the beach.
It was Wednesday, and a lot of places weren't open anyway, as it wasn't the season for it, but we managed to find a Caribbean-style bar called Makamaka Beach Burger Café with amazing cocktails and lovely terrace design. They also had so amazing cocktails too!
---
The second day in Barcelona – A city still full of life
On my second day, I first spent about two hours on the balcony with my coffee, because I couldn't really enjoy warm weather and sunshine for a long time in England…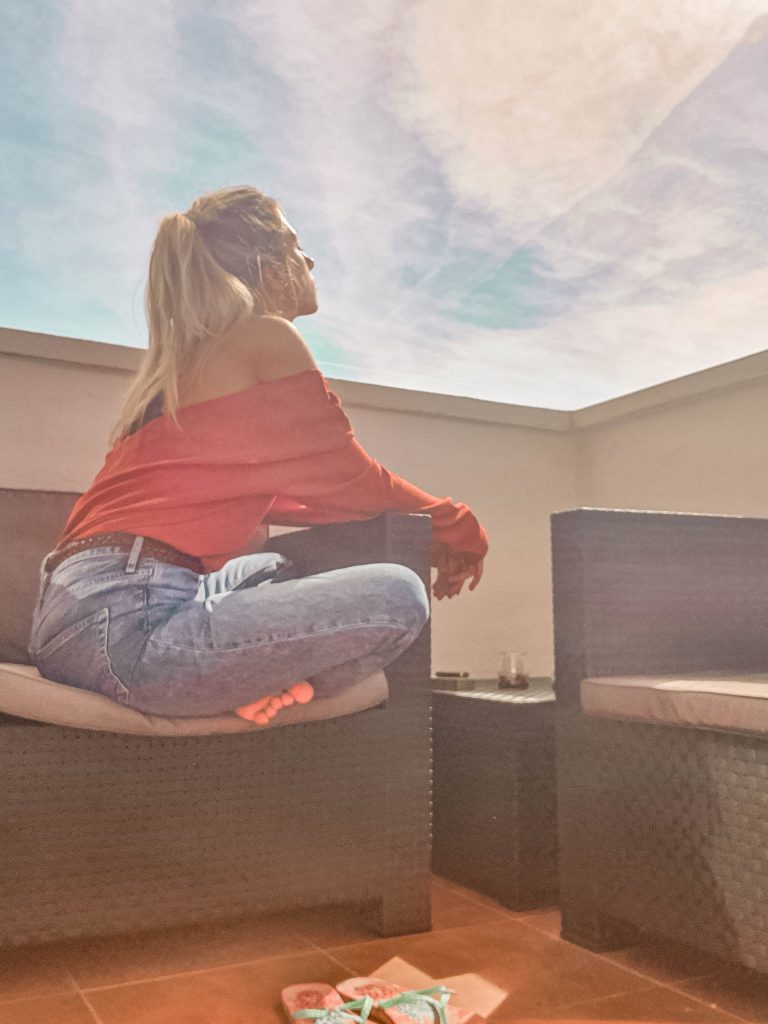 It took me some time, but in the afternoon I finally headed out to the seaside. After long hours spent on La Barceloneta beach and neighborhood, I finally met an American-Hungarian friend, Brian, who lives and works as a freelancer in Barcelona. As when you go in the afternoons for aperitivo in Italy, in Barcelona you're going to get tapas and vermouth when you meet friends. So that's what we did!
In the evening, the plan was to watch a Flamenco show with my cousin and her boyfriend, but apparently, the place wasn't even open.
We ended up spending the evening in the really popular neighborhood, Gracia. The reason we and many others love Gracia, is because the streets and squares are full of bars, and restaurants. It's a really popular evening spot to go to in Barcelona.
We found a small Cuban cocktail bar, where you didn't hear anything else just Latin-American pop and reggae – which by the way are my favorites! Beyond those tasty cocktails, this bar earned the most credits with the free salsa and bachata classes they have in the evenings.
I am obsessed with bars like this, where you go in, you have a drink or two, and you jump up for salsa in the bar. El Sabor, the previously mentioned bar is located in Garcia, on Carrer de Francisco Giner 32.
---
Friday, the last day while the city was still pulsing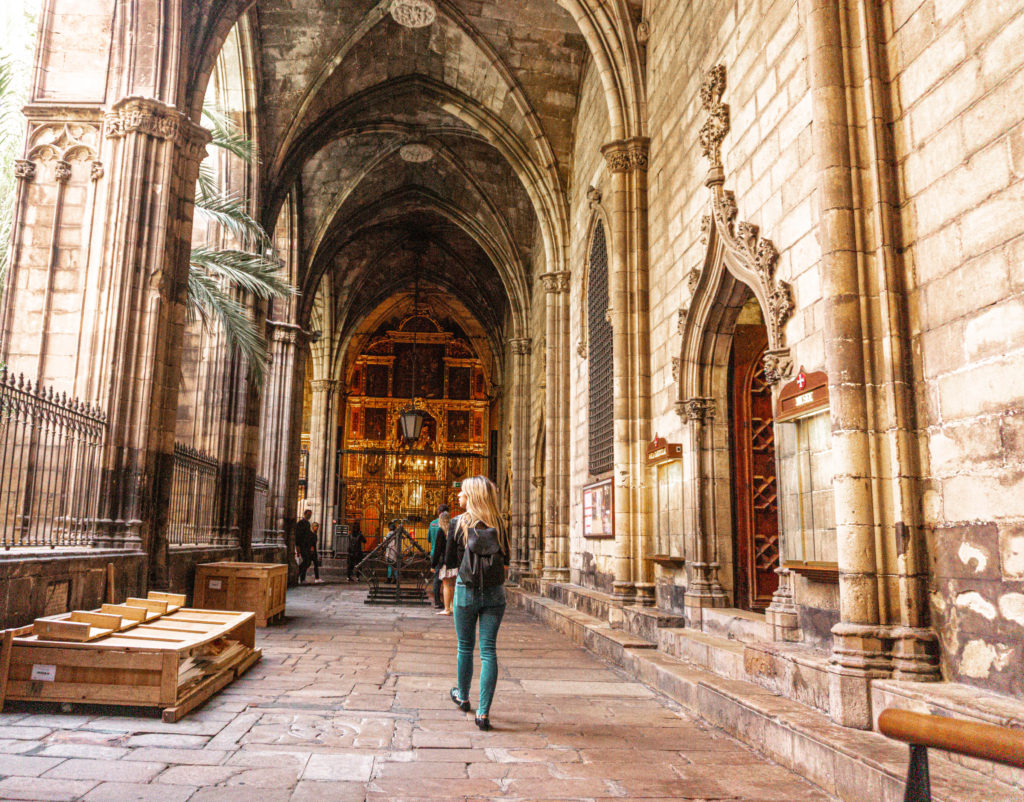 On Friday, I've spent about 5 hours wandering around the Gothic quarter and taking pictures of the city. (If you're following me on Facebook, or Instagram, you can see much more inspiring photos than what I've shared here!) As I love spending time in churches, I entered the Barcelona Cathedral (you'll need to pay to enter) and spent in there about an hour too.
The city was much quieter than the previous two days. Many restaurants didn't even open already, and the streets were getting more and more empty.
In the evening we went to Gracia again with my cousin and my American friend for some tapas. We've been planning to have some drinks somewhere afterward, as at midnight it was my birthday.
After dinner, we walked around for about 30 minutes until we finally spotted one stylish cocktail bar that was still open. Even they had just a few guests and they weren't allowing in more than 12 people at once.
---
A bitter-sweet birthday in Barcelona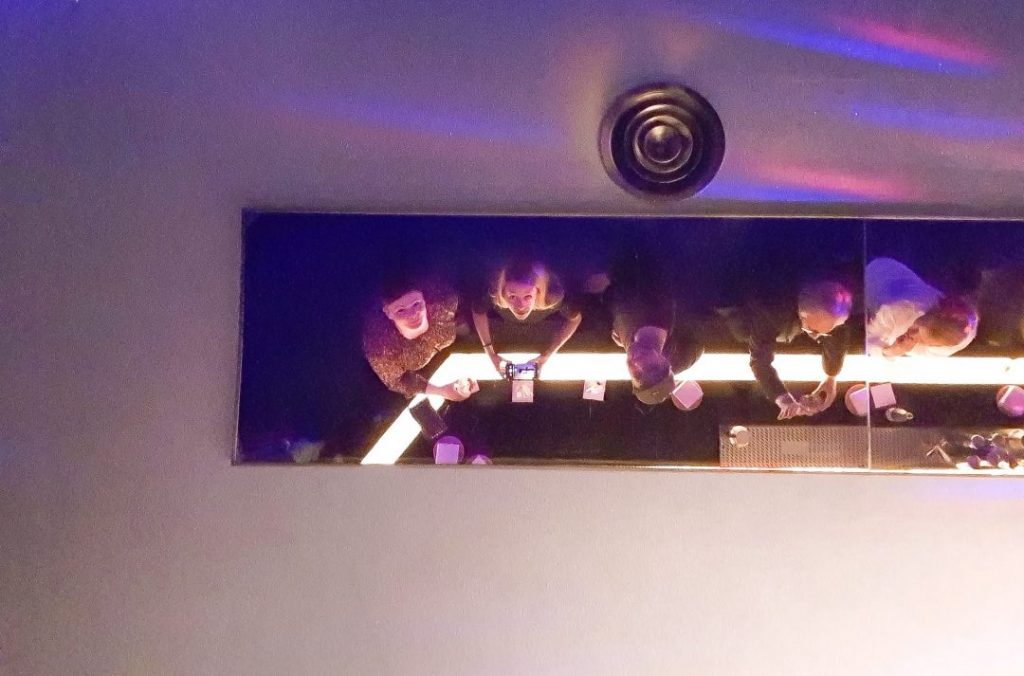 When I first bought my ticket and started to plan my trip to Barcelona I was imagined a crazy night, at a club, with loads of dancing and fun with friends…
You need to know, that I'm not really a party person, but when I visit a place which is famous for its nightlife, I can't say no! And Barcelona is definitely famous for its nightlife!
Well, instead of that dream party, I've got a closed cocktail bar with my cousin, my friend, and 9 others who were all singing Happy Birthday for me exactly at midnight, along with the bar staff and the owner of the place. It was really heart-warming in a situation like that!
We've actually got free drinks from the owner and he was the one getting everybody to join on the birthday singing. I couldn't decide if I should cry or scream from happiness. So many strangers being so adorable. It was just so amazing!
I couldn't see any of my close friends, or family last year on or around my birthday because of the pandemic. But being surrounded by strangers, singing for you Happy Birthday like my friends actually never did… I didn't felt alone, or sad, and especially not that something was missing.
Because in the end, all we desire on our birthdays is to feel loved. And I've got all that in 2020, from strangers, new friends, and a family member who by the way I've met the first time just a couple of years before!
I'm beyond grateful for everyone in that cocktail bar from that night. It was truly an unforgettable birthday in such weird times!
---
The day of my birthday started in the funniest way possible! My amazing cousin (sorry I just have to keep highlighting her), got me my very first Pandora jewelry! Something I always wanted! So, when I opened the box… During coronavirus times…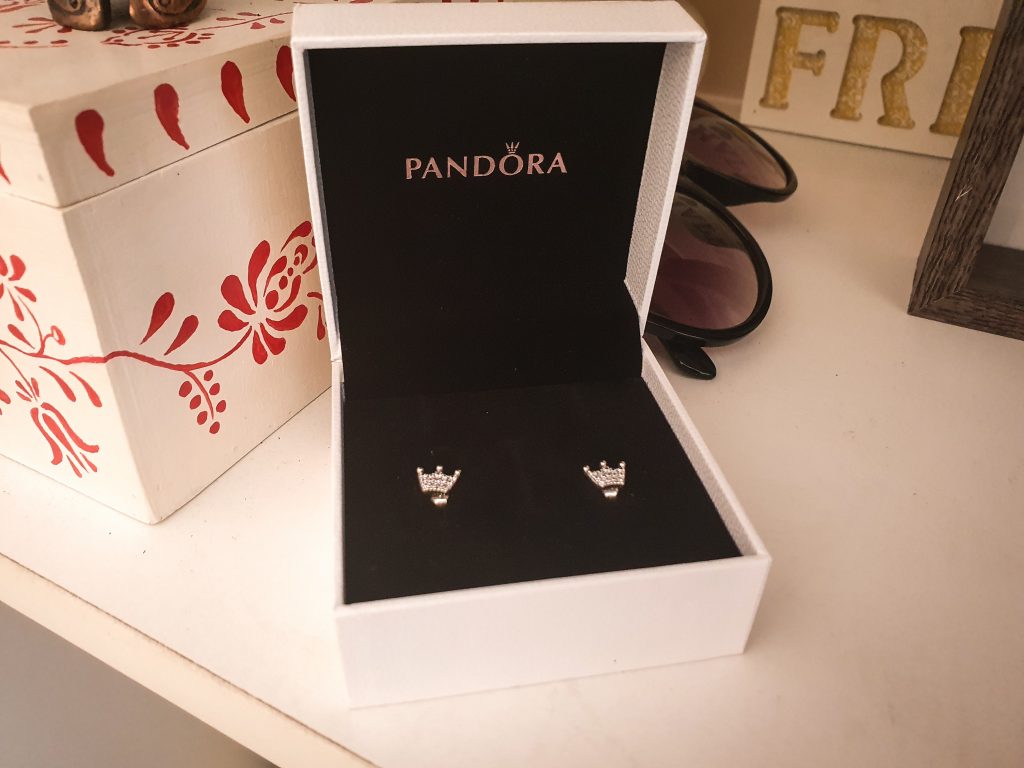 Can you see the irony of this Pandora birthday gift?
I just couldn't handle it! Most hilarious, best matching present ever!
She told me when she went to Pandora, to get the present, and she told the lady which one she wants, the staff member asked back three times, if she's sure she wants the crowns (coronas')?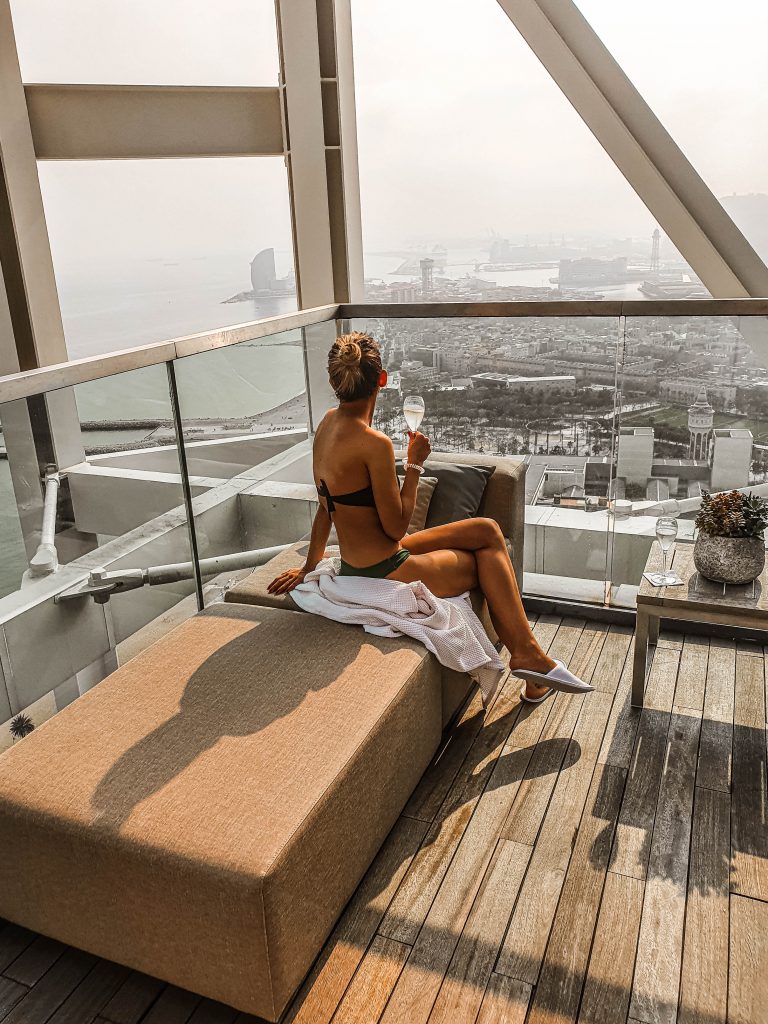 Another amazing thing that happened on my birthday was the way we've spent it! Sorry, still not done with highlighting how amazing my cousin is! She got us a spa day in 43 The Spa, in one of the most luxurious spas in Barcelona, in Hotel Arts.
That day, everything was already closed in most of the city, but the hotel was open, and literally, nobody was in the spa! We basically had the whole complex for ourselves. We were on the 43rd floor, so the social distancing was practiced correctly as well, and the view from there. My gosh!
Barcelona going under lockdown, still on my birthday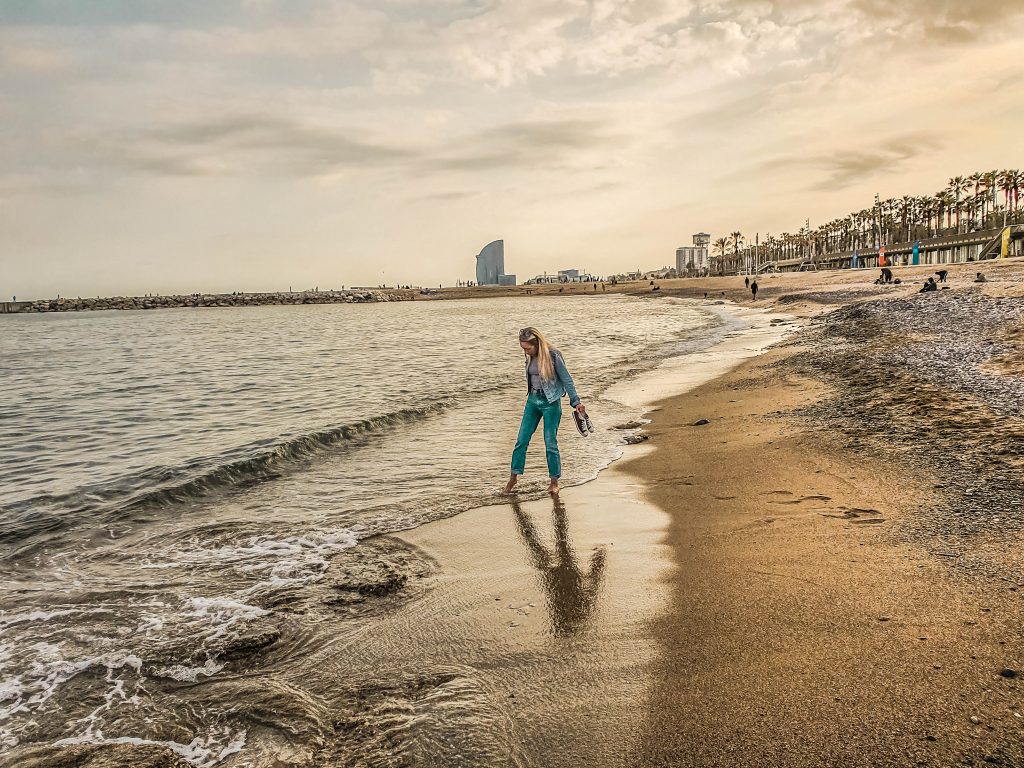 After the spa, we had one last walk on the La Barceloneta beach. The next day they closed the beach too (March), and opened it again in the middle of May. At La Ramblas, I bought myself some Barcelona-style decoration and souvenirs quickly, because I had a feeling, the next day nothing will be open. And I was right…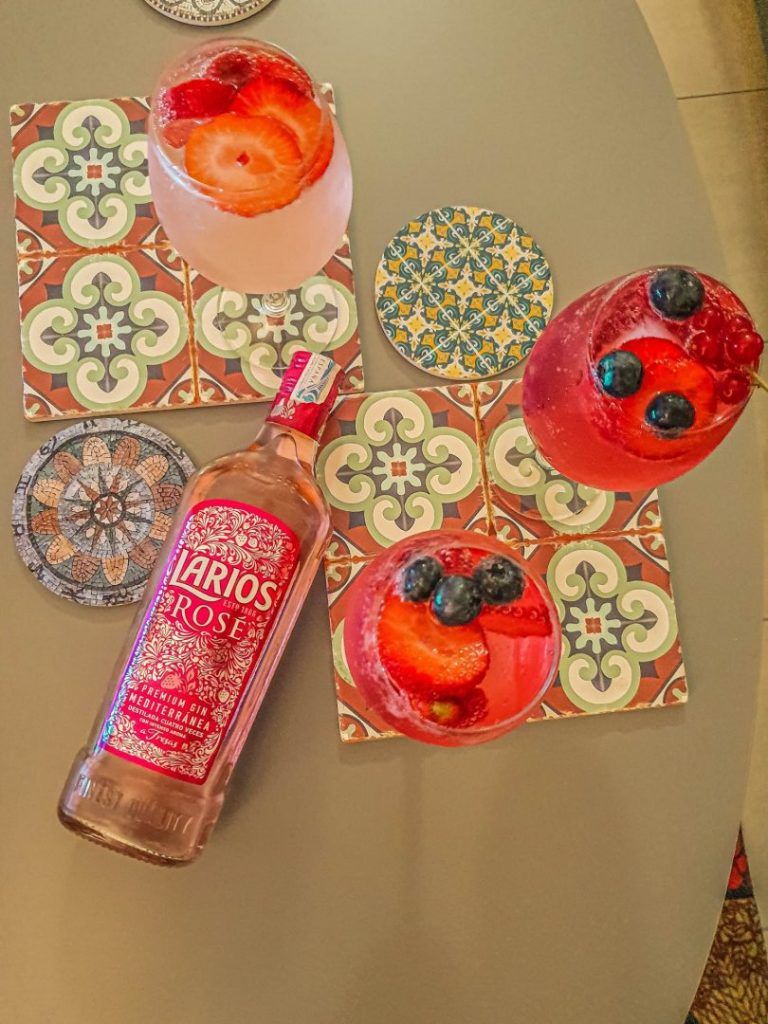 We then stuffed up with a lot of pink gin, fruits, and ingredients to make tapas at home, and we spent the rest of my birthday in the house, with the best home-made Gin Tonics I've ever made!
---
Being a photographer in an empty city
Sunday I started the day by changing my tickets back to London. I was supposed to fly back on Tuesday – when it turned out, Spain was going under lockdown. So I really didn't want to risk being stuck there, and I changed my flights to Monday instead.
On Sunday, the city was calm and empty. As Barcelona didn't have a big number of cases, it was alright going out walking still. Just the two of us, with my cousin, took my camera and went on the longest walk in Barcelona ever.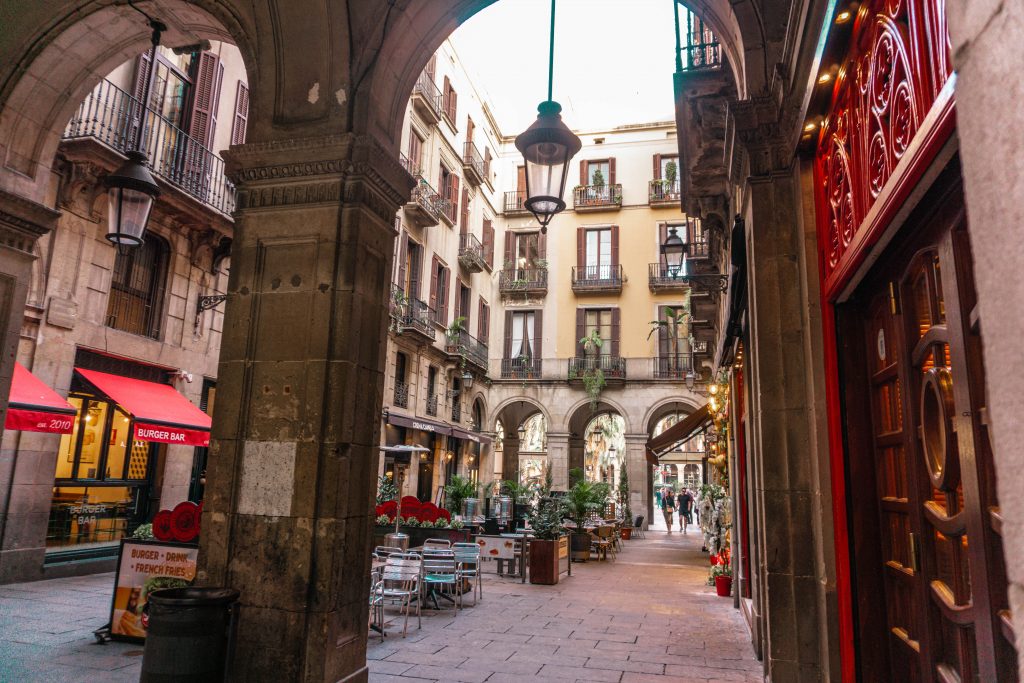 I made a long list of all the places I didn't take pictures of around the city and we visited everything. The reason I was pushing to go, was because of my work, and I needed those pictures. We were completely avoiding crowds, public transport, and even shops. There were just a very few people walking around in the city, like us, so we didn't have issues keeping our distance.
We went over 14 stops in Barcelona, walked from Avenida Diagonal to downtown, Las Ramblas, the Gaudi houses, Casa Mila, and Casa Batllo. After we went to the gothic quarter, and the Arc de Triumph.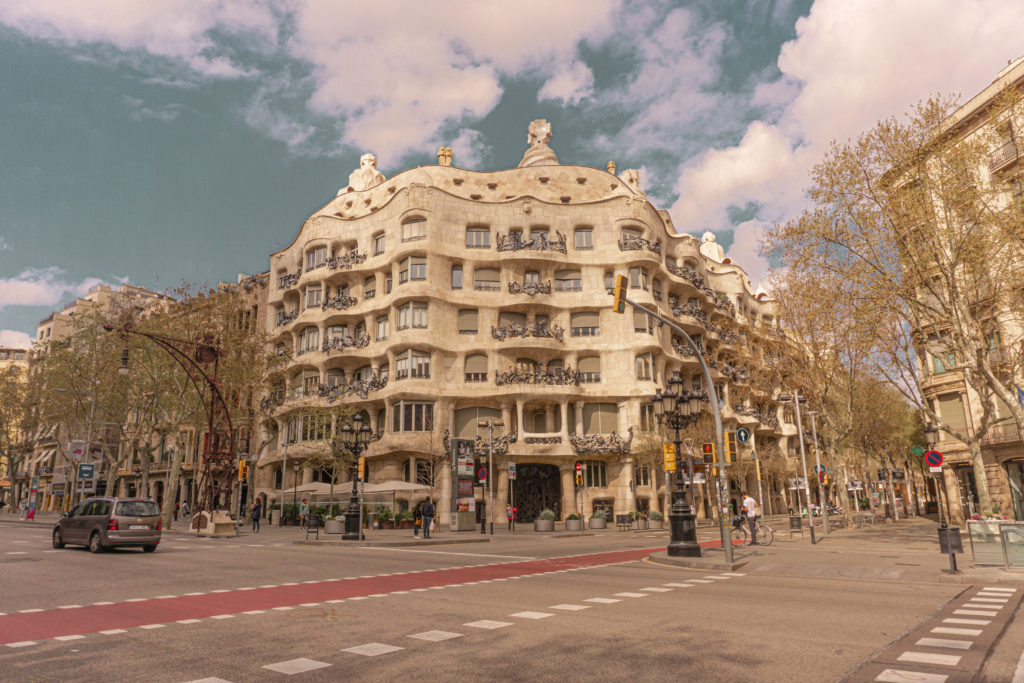 The parks were closed, so we couldn't enter the ones around Sagrada Familia, and Park de La Ciutadella either. However, we managed to take shots from everything I wanted to, and we had a non-stop walk of 4 hours in the empty city.
Despite what was going on with the pandemic, empty cities around the world were like dreams came true for travel and city photographers like me!
---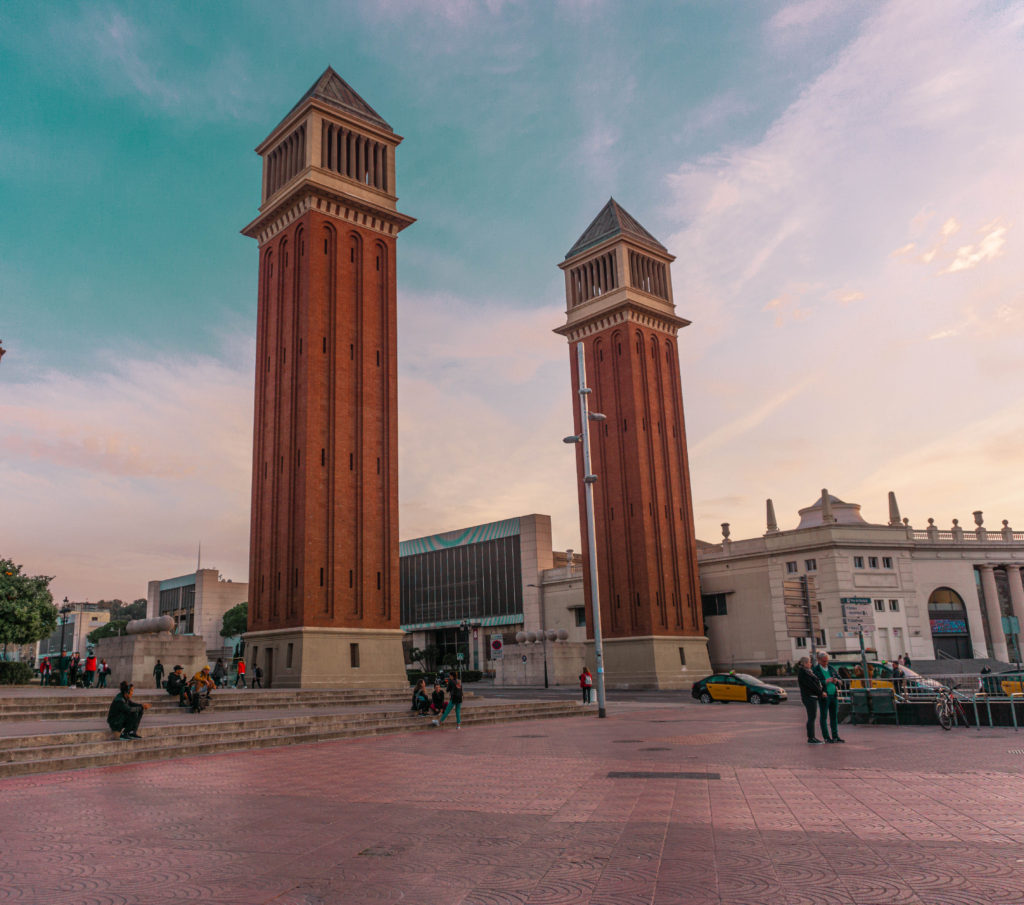 We've spent my last evening after the long walk indoors, and the last morning, I got in a cab and headed to Barcelona airport to fly back to London.
I have used so much sanitizer in 4 days, that I've never used it in my whole life I guess… And I was trying to keep calm, but deep down, I was super stressed about the situation going on. I don't like talking about it too much, as we all heard it enough the past year, so I tried to keep the pandemic off-topic while writing about my birthday in Barcelona. But obviously, it can't be ignored or skipped…
At the airport, everything was chilled. Surprisingly. But people were checked, social distancing was practiced between most people, and the flight was quick (thank God!). Since the day I arrived back in England, I haven't been out of the house until the end of the lockdown, just strictly to the shop near my flat 2 times a week.
In England, you were allowed to do 1-hour sports outdoor every day, but I rather made my little gym in the house. I just preferred staying away from anyone and working. I needed this time anyway.
---
So this is how my birthday in Barcelona went down during the pandemic…
An epic trip and even more epic birthday was this 26th, for sure. I can just hope, that the next ones will be less stressful, and a little bit more liberating.
This trip really thought me how precious traveling is. And how much we should appreciate that we have the opportunity, the chance, the possibility to travel! It's something that can easily be taken away from us, just look back on the past year…
If you want to visit Barcelona, Spain in the future, you should check out my 3 day Barcelona itinerary, as well as the list of the best things to do in Barcelona!
---
Pin me: Birthday in Barcelona during the outbreak of the pandemic.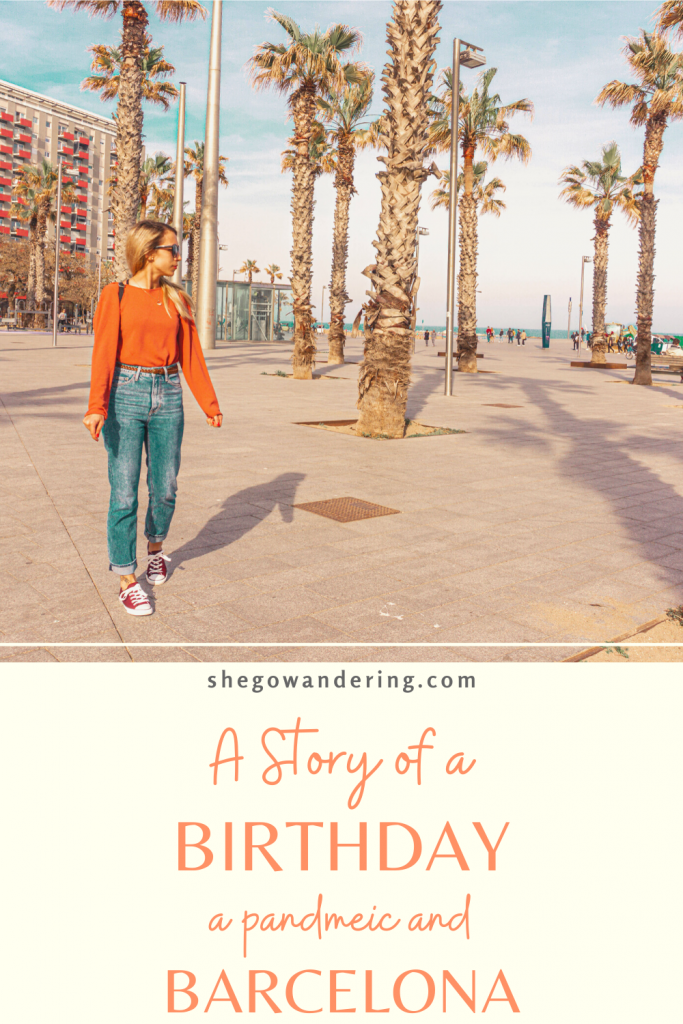 Birthday, pandemic and Barcelona