If you're here, you're looking for the best travel gifts for your loved ones, right? These days it's super easy to figure out gifts for people who travel a lot, as there are so many options and inspirations online! I have put together a list that includes travel gifts that are more pricy, as well as some that are budget-friendly! Find your inspiration on gifts for travelers right here!
Now, especially when traveling is super limited, we travelers want to fill our houses with items that remind us of the beauty of traveling. If you're looking for items for yourself, or you have a loved one who is a travel addict, these can be the perfect gifts for travel lovers!
---
Gifts for travelers – Gift ideas for travelers
Find the best gifts for travel lovers, for everyone from city-breakers, resort lovers, and solo travelers, and gifts for hikers too! Everything from pricy to cheap, from fancy to simple is in the below list! Get the perfect gift for your traveler friends and family members@
---
1. A mirrorless camera – no1 travel gift
When you're looking for a more expensive gift for travelers, there's nothing that is as useful as a mirrorless camera, for those who love travel photography. When it comes to cameras, the mirrorless cameras are the best picks, because they are small, they aren't heavy, and they are easy to carry around! My top favorite pick on mirrorless cameras is definitely the Sony Alpha 6000, which you can get in a handy kit, just as the above photo is showing, by following this link here! As the second-best pick, on the above photo as well you can see a Canon EOS M6 mirrorless camera, which is as great as a Sony, but some just prefer Canon more, so you can find this particular one right on this link.
---
2. Fujifilm Mini Instax Camera or Smartphone Printer
Let's go down one grade, and see some more affordable, yet amazing gifts for travelers! Women, in particular, are found to love both the Fujifilm Mini Instax cameras and smartphone printers.
Why? Well, we love to collect memories, and we love even more to look at them. With both of these gifts for travelers, you can capture your memories, and print them on-site, to create fulfilling photo collage decorations in their homes with all their travel memories and travel photographs. You can never go wrong with these two items, that's for sure! On this link right here, you can find the Fujifilm Mini Instax camera, while on this one you can go ahead and check out a Fujifilm smartphone printer that's also one of the best-rated ones! Both can be great gifts for people who travel!
---
3. Make-up bags
Inspiration for travel gits for women
These two are especially great gifts for travelers, especially for ladies! Make-up bags and jewelry holders are always more than welcome in every carry-on! If you're looking to make happy a travel girl, check out the pink multi-functional deep make-up bag definitely, or alternatively, the Begin Magic make-up case, that's a great pick for those not being a fan of colorful items, but adore more the clear, white, chic pieces. Both are a perfect match, and as a woman, I'm telling you, that my travels haven't been easier since I've got my personal deep make-up bags. No mess, everything organized… the best gift for travelers!
---
4. A cocktail mixing kit as travel gift
Definitely two of the best cocktail kits out there that are a great option for gifts for travelers. The first one is a travel bartender kit bag that's great for those who love making cocktails, and love road trips and staycations. It's a bit big set for a carry-on, but it is definitely handy for crafty people who enjoy traveling with friends.
As for the second, it's a perfect gift for travelers who pack it all up in a carry-on and take off! The set of the amazing cocktail kit is perfect for a hand-made cocktail while traveling somewhere, and not desiring to leave the hotel room for a good drink (or the seaside). It fits into any bag, and it's a great way to enjoy a great trip even better!
---
5. Corkboard travel map and scratch maps
And here we are, my personal favorite type of gifts for travelers! Corkboard travel maps and scratch maps are definitely something every travel addict wants in their home! Am I right, or am I right?
A corkboard travel map or a scratch map is something that a traveler, who's trying to visit as many countries around the world as possible will definitely love! I love to see on my wall the map showing where I've been! It's a great inspiration to decide on where to go next, and dream about future trips! You can get to corkboard travel map right here, or alternatively, check out the scratch map as well!
---
6. Travel gifts we love: Jewelry
More inspiration for ladies, this time something really special, travel-themed accessories. One of the cutest gifts for travelers, definitely! This compass pendant is definitely one of the most beautiful charms I have spotted so far, and you can check it out yourself right here!
My second definite pick is a bracelet charm, with the earth, and a plane. Perfect for those ladies who are collecting bracelet charms, to remind them about traveling. Check out this cute charm right on this link!
---
7. Smartphone lens kit
I wish I have known about these smartphone lens kits earlier! They are super amazing, super helpful when you don't have a camera to still take amazing pictures!
Looking for some small, techy gift for travelers, that are actually handy? Well, the Xenvo Pro Lens Kit is definitely one of the best picks, which you can check out right here! This lens fits on iPhone, Samsung, and basically most of the phone brands out there. Then, the other one is the ZAREGT-Smartphone Camera Lens kit which is compatible with iPhone 7 and 8. This one you can see for yourself on this link.
---
8. Travel speakers
One of the best gifts for travelers!
Another great idea of gifts for travelers are definitely the travel speakers. Something I couldn't live without, since I have purchased mine. Super handy, super easy to carry with me, and super amazing when I get to listen to music on the volume I want wherever I am. I'm personally not a TV person, while I'm staying in a hotel, so listening to my music in the room, while getting ready to head out is something that I really love to do.
And while we're speaking of speakers, as you could've noticed, I'm a Sony fan! So, my first pick is this Sony SRS-XB12 Mini Bluetooth Speaker. This one is definitely my top pick for gifts for travelers who can't live without music! Check out the Sony speaker right here!
The second pick is a JBL GO2, which is a cool portable speaker, that's also waterproof, so it's really great for those loving outdoor trips and holidays! Or, just to listen to music near the pool… JBL is my best friend's best pick, so I decided to include this too! Check it out on this link! Speakers are definitely one of the best gifts for travel lovers who need music!
---
9. Spices and sauces are great gifts for travelers?
I'm all up for sauces and spices as I love to cook. Actually, right now I'm in the middle of writing a wandering cookbook! So you can imagine why I added this too to the list of inspiration of gifts for travelers, right? If you're planning to buy a gift for somebody who loves to travel and loves to cook, they will really appreciate this one!
Check out these sauce kits, and also the spice kits for inspiration on what to get for your traveler cooking master! Both can be checked right here.
---
10. Outdoor travel essentials
You're looking for outdoor lover gifts? When it comes to outdoor travel gifts for travelers, I'm pretty sure I should create a separate post with inspiration, as there are just way too many items to pick from! For now, we'll go with a backpack that's always handy, and a great tent, for sure!
A budget option, that's also highly rated, and great quality is definitely the G4Free hiking backpack! It's a great pick for those who love the outdoors and hiking. About the tent, a Coleman tent is always a great idea! Check it out right here!
---
11. A quality carry-on is always a good idea
Carry-ons are needed. Especially for those who're flying frequently! I've got two of my carry-ons from my mother for Christmas, and those were the best Christmas gifts ever! So if you're looking to surprise someone who loves to travel, carry-ons are definitely great gifts for travelers!
My first pick is definitely a Coolife carry-on suitcase! I've got that one in red, and I love it. You can find a link for this here! As the second, an Aerolite carry on is definitely something you should check out!
---
12. Travel themed home-decor
Another idea of gifts for travelers where you can't go wrong is the travel themed home decor! I'm going to list some of my top pick here, not just two, as there are just way too many cute ones!
The first pick is the canvas wall decor, which includes the Eiffel Tower, the Colosseum, the Leaning Tower of Pisa, and the Cathedral of Lucca. Check it out on the canvas on this link. My second pick, as I love hanging clocks, is definitely a travel themed clock. Check out this beautiful piece you can see in the above picture too!
As the second, I have picked the word of J.R.R. Tolkien, which inspired me, and you could also see it around my social media accounts as well as on this blog. A wall decor saying "Not all those who wander are lost". Get from on this link! As my last pick, for all those who're interested in Native American culture and history, an arrow decoration will be a perfect match. Check out some of these beautiful cast-iron arrows here!
---
13. Travel yoga mat with carry bag
Yoga mats are needed for all those who love working out at home, in nature, or anywhere. If you're looking for a gift for travelers for a friend who does workout or yoga while traveling, a yoga mat with a carrying bag could just be perfect! The ELENTURE yoga mats include a carry bag, and they are available in many designs that you can see here! As of a second possibility, you can check out the Gaiam Embroidered Cargo yoga mats as well!
---
14. The perfect eBook reader
For those people who can't live without their books, especially when they travel, an eBook reader is the perfect pick! I know from personal experience, that many times I could've carry with me many useful items on my trips if my books wouldn't occupy so much space. An eBook reader is definitely one of the best gifts for travelers!
Now the question is what to get, right? Well, a Kindle is always a great pick, and you can choose between many! What I'd highlight is definitely a budget one, and a waterproof Kindle eBook reader! Check them out here!
---
15. Travel books
There's another post coming up with travel books, and destination-inspired books, but for now, I'm going to list just two of my personal favorites!
As first, check out this book by Matt Kepnes from Nomadic Matt, the How to Travel the World on $50 a Day. As second, check out the book How to live in a Van and travel, by Mike Hudson. Both books as super helpful and inspiring for those who love to wander! So they are both great gifts for travelers!
---
A list of gits for travelers
So many options out there for travel gifts for motorbikers, for hikers, for city-break lovers. We hope you've found something that would fit in the above list! My best picks of travel gifts include everything that I personally love. I have picked these gifts for travelers because everything on this list can really be handy for your loved ones you want to surprise! For more inspiration about gifts for people who travel, you can check my other articles as well! I also have some tips for gifts for women on a budget that you should check!
---
Pin me: Themed gifts for travel lovers!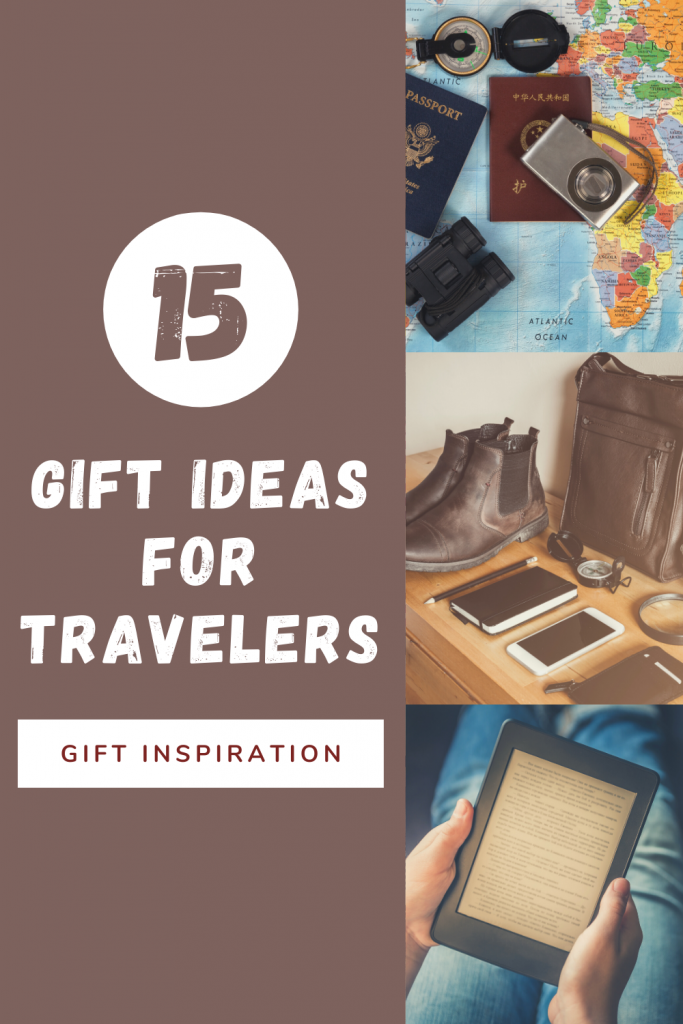 Inspiration for travel-themed gifts