Traveling can be done really simple, or full of headaches. My philosophy is to prepare for as many potential problems as possible, therefore make the most out of my trips! There are many aspects to pay attention to if you want to make this happen! But the first steps are always those travel accessories! With these 12 travel essentials for women, you can save yourself from a lot of stress, and fill up your international travel checklist!
Creating the list of travel accessories for women…
[etsy-shop shop_name="GAELBoutiqueCo" section_id="32066568″]
I'm traveling frequently since 2015, and I couldn't tell how many times I had issues with this or that because I wasn't prepared. The wasted hours without a phone charger, the broken carry-on, or the 3 hours of searching around Manhattan for a socket converter… Each trip thaught me something new, and each trip made this list longer.
Now I can confidently say, that I know exactly what I need to take with me on a trip to save myself the time and frustration! I intend to share this list of travel essentials with you, so it could help you too to save yourself all that frustration!
---
Travel essentials for women
---
#1 Make-up bags from Ellis James Designs
I'll start with the most important item that should be in every women's carry-on, a make-up bag! My forever favorite is from Ellis James Designs, and here's the reason why!
First of all, the brand, Ellis James Designs has amazing luxury-quality products! This is ensuring that my bag won't be needed to be replaced often. Secondly, it's really spacious, and it is also small enough to fit in my carry-on, while I can fill it with all my travel essentials! To get the black tall cosmetic bag, just check out this link!
---
#2 Jewelry storing – Ellis James Designs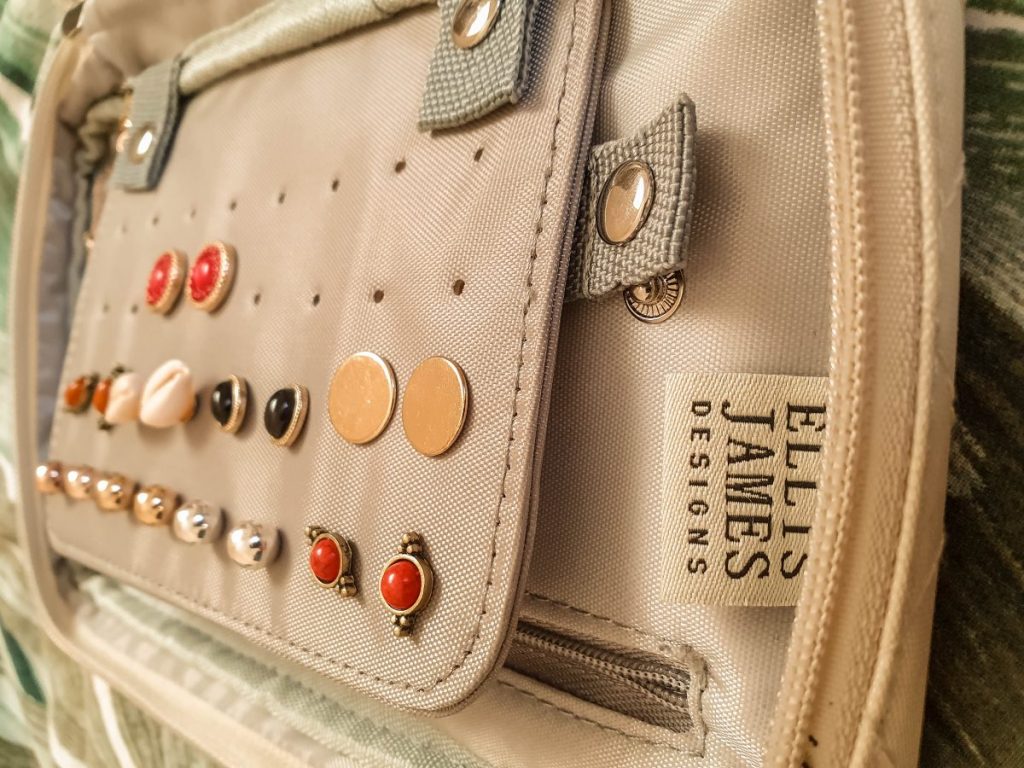 We're still at Ellis James Designs! I never had a jewelry bag before, and it was killing me, when all my necklaces and bracelets got mixed and it took me ages to separate them! Not to mention the part, that I kept losing my earrings on my trips… And how many times something broke or teared apart? Don't even ask!
These jewelry bags from Ellis James Designs are amazing! You can store everything separately, and you have separate space to hang your necklaces, bracelets, and earrings as well. Not to mention the fact, that I can actualy see what jewelry I have with me on a trip! A jewelry bag is an absolute travel essential for women!
---
#3 The perfect carry-on luggage
When you're traveling, especially if you're traveling often like me, you need good carry-on luggage! For many years, I just didn't wanted to invest in a quality carry on… Then, it drove me nuts, when things like losing a wheel, a handle broke, or the material teared apart happened. So, I decided to get myself a carry-on that's actually high-quality, so I don't have suprises anymore on my trips. After so many bad experiences, I learned that great carry-on luggage is a travel essential!
One of the best picks must be the SwissGear carry-on, that also has ready power bank USB, which is amazing if you don't have a charger or a power bank at your disposal! I'd rank as second best pick the Coolife Luggage which beside its high quality, it's also available in beautiful colors! As my third pick, check out the DELSEY Paris Chatelet carry-on! The price is definitely higher than on the previous two, but the luxury design, and amazing quality is definitely worth it!
---
#4 Power Banks – international travel checklist MUSTs'!
If you don't have a power bank, go right now and get yourself one! How much better is when you don't have to worry about your phone's battery life! I remember, on my first trips to Rome, how many times I got stuck 2-3 hours at a restaurant to charge my phone… Even worse, when I was traveling with train or bus, and the battery died while I still had hours of travel, and no music or social media, or book that I could keep myself busy. Power bank is the best thing I have ever invested in, and it's an absolutely needed travel essential. Honestly!
My new best pick I just invested in, is a wireless power bank from Samsung. This one doesn't need USB cable either, so it's even less accessories that I need to carry with me. For a lower price, and smaller but powerful power bank, you can also get the Anker Portable Charger or for a smaller investment, the HALO pocket power bank can work great as well! It has two usb plugs and long energy life!
---
#5 Microfiber towel – backpacker and outdoor travel essential!
The worse of traveling somewhere and realizing you don't have a towel! It can be a camping, a friend's house, or a hostel… Whatever it is, this experience is one of the worse. I kept leaving my towel home, because it wasn't fitting in my bags… Then once I woke up in a place with no towel. Since then, I got myself a microfiber towel, that's drying quickly, and it's not occupying much space either.
Let's see now the three best picks! First of all, you can check out the Youphoria Outdoors Microfiber Travel Towel that's available in different sizes and colors, and it's a great pick for travelers! As second, and this is what I have as well, ScorchedEarth Microfiber Travel which is again available in different sizes and colors, and it's drying fast, which is handy! And if you're looking to get all three sizes in one, on a good quality as well, check the Olimpia Fit towels in set of 3 pieces!
---
#6 Packing cubes – best travel accessories!
After a messy trip to Rome, where all my clothes were full of wrinkles, and I couldn't use almost any of them, I started to think about a solution. Then, after my experience on a round trip in Andalusia, where all my used and clean clothes got mixed up with shoes and accessories, I decided to invest in backing cubes.
My top favorite pick are definitely the JJ POWER Travel Packing Cubes, that comes with shoe bag as well! My second best pick are the Eagle Creek Specter Packing Cubes, which are great also for outdoor adventures! For a more stylish pick, the third pick are the Itzy Ritzy Packing Cubes!
---
#7 A small backpack for sightseeing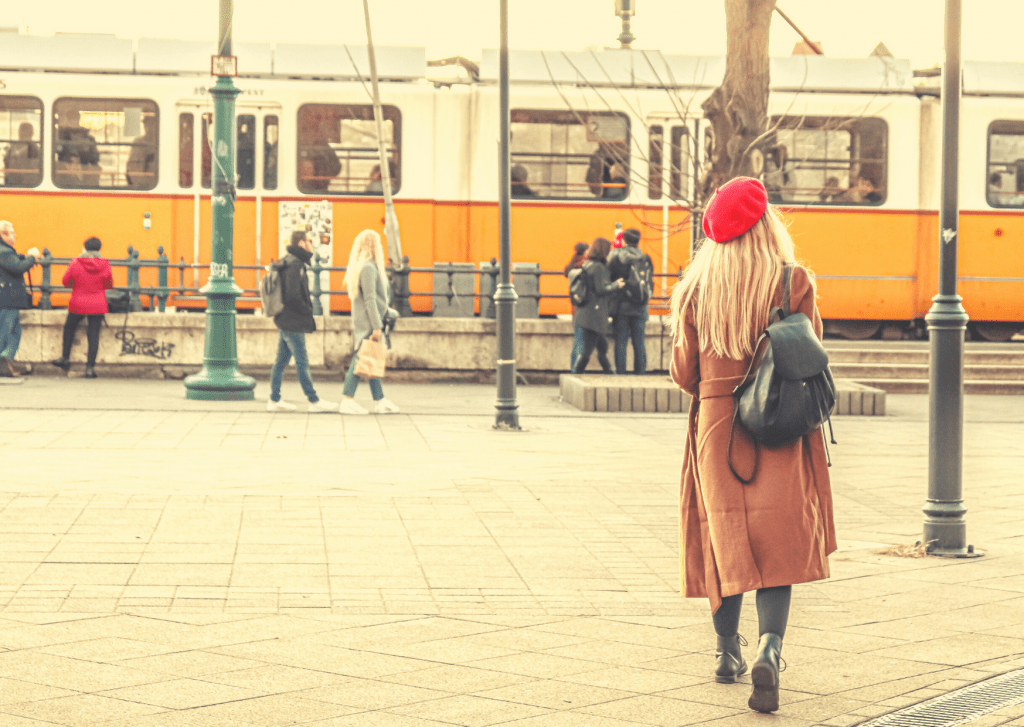 No matter how much I'd love to fit all my things in a small sholder bag when I'm traveling, it won't happen! I hated backpacks for a long time, but since I realized that there's no other way I could carry my camera and everything else I need safely, I got myself a couple of small backpacks that are fashionable enough to match my outfits, but great to carry with me everything!
Let's see now some of the best picks for small backpacks for women! These travel essentials can't be picked wrong! My first pick is a little black cutie from B&E LIFE! As for the second, the BRINCH laptop backpack which is great to store all your items, and if you need to take your laptop with you, you can do it in this stylish spacious floral backpack! The WESTBRONCO backpack is another beauty, especially in brown color! Backpacks are definitely important on that international travel checklist, they travel accessories that simply can't be left home!
---
#8 Bluetooth headphones – fun travel accessories
Here's another favorite travel essential item that you must have! Bluetooth headphones are not just amazing for traveling, but for every-days as well, as gym sessions. First reason we love them so much is that there's no cable to carry after yourself, which drove me nuts with the old style headphones… Not to mention when they got all tangled and it took ages to separate them… Let's see now some of the top ranked headphones we've got on the market!
Let's start with the most popular ones, the Apple AirPods Pro which are the most trendy ones on the market! As second, for a much lower price, and connecting cable, check out the Gennubi Bluetooth Earbuds! While looking for something affordable, without any cables, the HNTMAO is waterproof and really tiny, so you can hide it well under your hair! This one has a really popular alternative as well, the ENACFIRE white earbuds! Headphones are one of those travel accessories that most of us couldn't live without, so make sure to pick the best one!
---
#9 Reusable bottles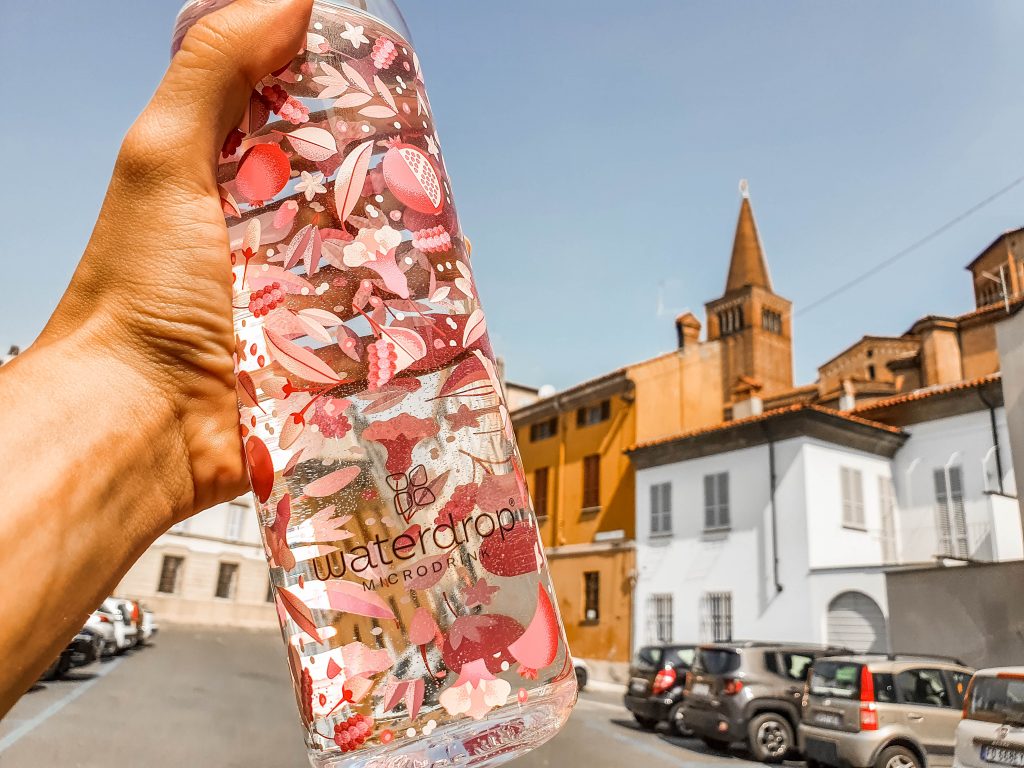 Taking care of our mother earth, and avoiding plastic as much as possible is essential! A reusable bottle is not hard to be carried and you can refill it whenever! I will admit, I was really lazy to carry after me a reusable bottle for many years… But once I decided that I want to be more conscious, I never left my bottle at home! Since I discovered Waterdrop, I'm continuously using my bottles from them, as they are not just helping me reduce my ecological footprint, but they are also super cute!
---
#10 Bluetooth speakers – my travel essential
For everyone who can't live without music, this is a travel essential! It doesn't matter what type of trip you're on, a speaker can always shake up the mood! Personally speaking, I love to listen to music in my hotel room, and I love to listen to my own music! When I'm going on a city break, there's no way I would leave my Bluetooth speaker at home! For me, it is an absolute travel essential!
While I'm getting ready for the day I can listen to my favorite playlists, and that makes those mornings perfect! My first pick is the 3rd generation OontZ Angle 3 speaker! The second one is the Anker Soundcore speaker, that's really powerful, and has a clear sound as well! As for the third, if you need a really tiny Bluetooth speaker, the Anker Soundcore Mini speaker is a great pick!
---
#11 Small cosmetic tubes
When it comes to travel essentials, cosmetic tubes are a must! If you don't like to use the toiletries that your accommodation is providing, or they are not provided at all, you can't really take your 250ml shampoo with you, right? First of all, we know that the maximum liquid allowed in luggage that's not checked in is 100ml. A second reason, there's never that much space in our luggage to waste on big bottles, right? Getting a set of small tubes that you can fill up and take with you on your trips is always, always super handy!
There are different types and sizes of sets, a bigger pack of cute colorful refillable tubes that you can choose from, but there are also smaller sets of just 4 pieces that you can get for yourself! When it comes to travel accessories, refillable tubes are a must!
---
#12 Mirrorless camera and tripod – travel essential for solo travelers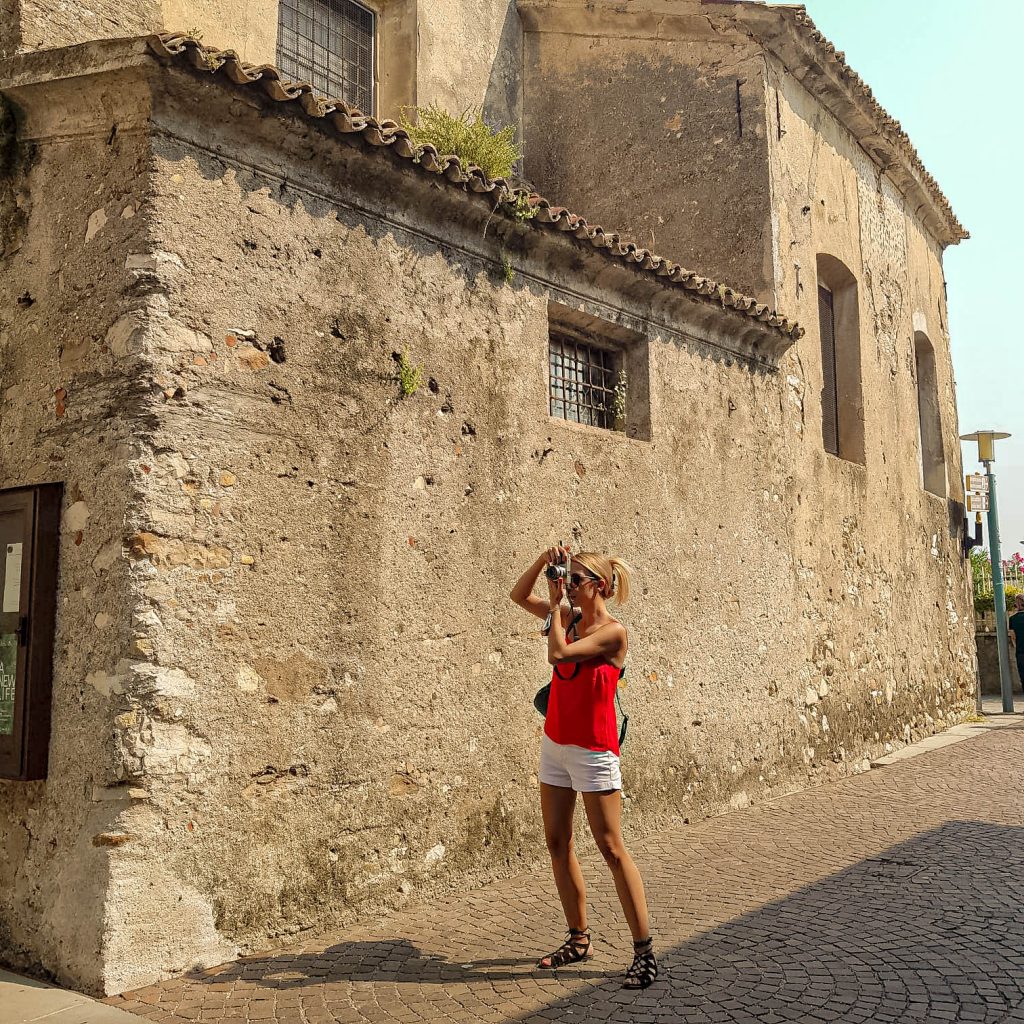 If you love to take photos on your trips, and especially if you're a solo traveler, you might want to consider a mirrorless camera and a tripod! The mirrorless cameras are always smaller, occupying less space, but taking the same quality pictures as a DSRL camera! I personally wouldn't take a step without my Sony Alpha a6000 mirrorless camera! It is my most important piece of travel accessories!
A tripod however for those traveling solo is a real travel essential! There's nothing more annoying than looking back to your trips and seeing either just selfies of yourself or pictures taken by strangers. I mean, you might not be bothered to keep asking strangers to take you photos, but I personally prefer not to! Especially, as others can't know what angle you imagined to take a picture from, right? So a great tripod is always, always a travel essential! When it comes to travel accessories, the tripod will be needed! Read more about this on my post about how to take pictures when traveling alone?
---
Pin me: International travel checklist, travel accessories. A list of 12 travel essentials for women!
Ladies! 12 Travel essentials you can't leave home!