We all love Italian pasta dishes right? The simplicity, the amazing taste, and the perfection that comes with them… Every bite brings you to heaven and back! I'm sharing from my cookbook now 5 Italian pasta recipes, that you can make easily at home, no matter which side of the world you're living on! Find out everything of these 5 famous Italian pasta dishes, and feel at dinner like you've been just sitting on the piazza in Rome, or in a little village between the hills of Emilia-Romagna.
Ready to experience traditional Italian food, the best Italian pasta dishes? Note for yourself first, that when it comes to tradition, you'll find dishes that are much different if they are made traditionally, then what you've got used to in other countries! Just to mention the Spaghetti alla Carbonara, which doesn't have any fresh cream in it!
---
Famous Italian Pasta dishes – Italian pasta recipes
Here come the authentic Italian food recipes with 5 of the most famous Italian pasta dishes! To get some dinner ideas, lunch, or what to cook for family gatherings, these dishes are perfect. If you're looking for Paleo Italian recipes, you might not find below what you're looking for, but the traditional pasta recipes will not let you down anyway. The 5 pasta recipes you'll find are the Cacio e Pepe, pasta Carbonara recipe, Gramigna alla Salsiccia, Pasta all'Arrabbiata and the Bolognese ragu.
---
1. Spaghetti Cacio e Pepe
One of the most famous Italian pasta dishes to try in Rome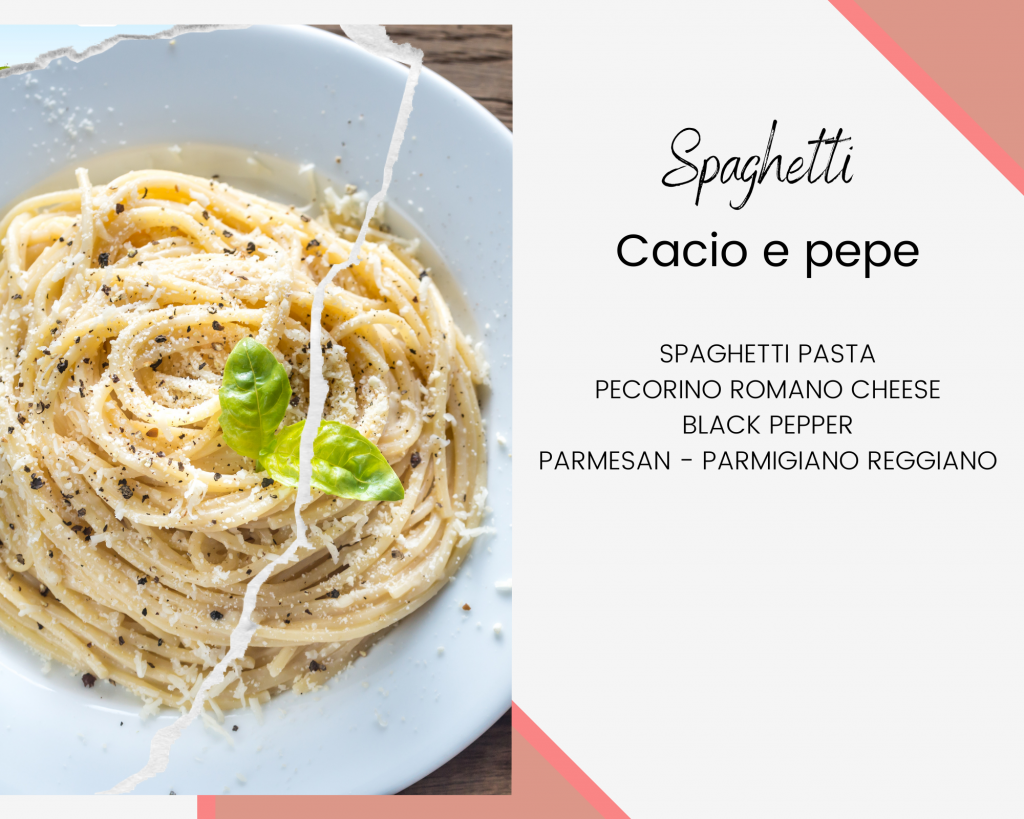 One of the most simple, yet most delicious Italian pasta dishes originating from my favorite city in Italy, Rome! Spaghetti Cacio e Pepe is by far one of my favorite Italian dishes, and I'm making it for lunch every few weeks. I'm obsessed with cheesy Italian pasta dishes and this one needs a ton of cheese! You can find many of these cheesy dishes on our other website, Europe Dishes too.
How to make a Spaghetti cacio e pepe recipe at home?
For two servings you'll be going to need 300g of spaghetti (well depending on how much you're eating usually). While you're cooking the spaghetti al dente you smash whole black pepper in a mortar or chop with a good knife (just because it has a stronger taste). You'll need about half/one teaspoon – this is really depending on taste! Take a pan, and roast the black pepper in it. Make sure you're mixing it from time to time! Then, take 3tablespoons from the pasta's boiling water, and pour on the pepper. You should leave it for about 1-2 minutes like that, and then add another 2 ladles from the pasta's water on top, and leave it to boil for a few minutes while you prepare the cheese.
Grate about 50-60g of Pecorino Romano cheese. This cheese can usually be found in big supermarkets and grocery stores all around Europe and the US, so make sure you're looking carefully! If in case you couldn't find this specific cheese, look for Gran Padano – though from this one you should use much more, as it doesn't have a strong taste as the Pecorino Romano.
If you're living in a place where you can even choose between types of Pecorino Romano, I do advise getting one that's not so mature. Those tend to stick together in one side of the pan, and there's no way you'll make that ever to melt and be creamy. If you've bought a matured pecorino, you can add another younger, softer sheep cheese on the side. So basically for our recipe for two servings, if you have a mature Pecorino (or other sheep cheese) add just 35-40g of that and 15-20g of a softer one.
What you do next, is to put the grated cheese in a bowl, where you'll add on top one ladle of the water that you're cooking your pasta in, and start mixing it quickly until it all becomes creamy. In the meantime your pasta should be ready, so you quickly strain the spaghetti and put it straight away in the pan with the roasted pepper and water. Make sure to save at least 2 ladles of water, you'll need it!
You add 1 ladle of the pasta water on top and you mix it together. It's important to keep mixing it well for at least 1 minute, so the water will become somehow creamy. Then, you turn off the fire under your pan, and you add the cheese to it. You'll have to mix it all together continuously for another minute or two until you see it becoming nice and creamy. You then add some more pepper to it, mix it, and it's ready to serve!
---
2. A traditional spaghetti alla Carbonara recipe
Another of the famous Italian pasta dishes from Rome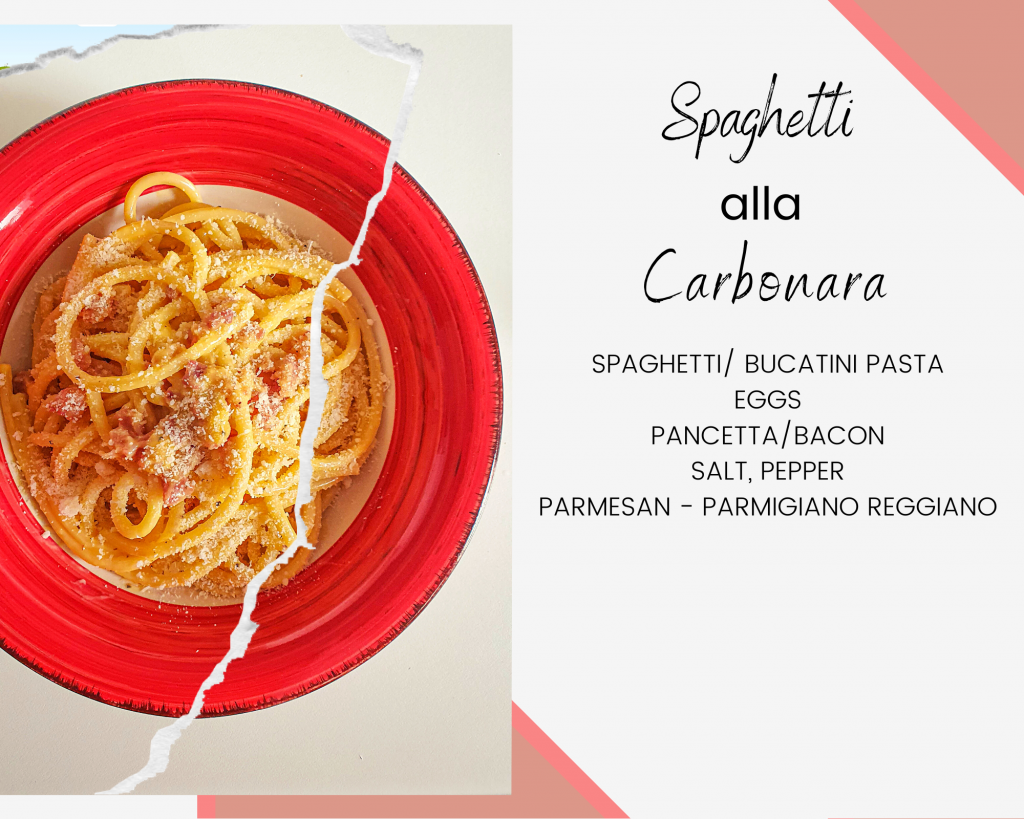 There is so much rumor and blur around the Spaghetti alla Carbonara. In many countries, it's served with ham, while in others it's made with fresh cream. In Italy, traditional dishes must be made traditionally. I have collected and re-created many of these traditional recipes in the Wandering Cookbook. About the Carbonara, you need to learn one thing, and memorize it well!
YOU NEVER ADD FRESH CREAM INTO A TRADITIONAL CARBONARA!
That has nothing to do with this dish. If you prefer it with cream, it's not a Carbonara anymore. Keep in mind! Especially never ask for a Carbonara with fresh cream in Italy! You don't want angry people looking at you like you've just murdered someone, right?
Now, how to make a traditional Spaghetti alla Carbonara?
If you've been to Italy, and you've tried the Carbonara, you might have had the feeling that it's a dreamy dish that you can savor just in Italy. Because it's just perfect. Right? Well, if you consider that all you need is some bacon, 2 eggs, salt, pepper, and some parmesan… Oh, and it's actually ready in 15 minutes! You'll want to make it for tonight's dinner, right?
We'll be going again with two servings. You put the circa 300g spaghetti to cook. You know, first, the water boils, then you add the spaghetti, and usually, it takes 7-8 minutes (depending on the type of pasta) to become perfect al dente. While your spaghetti is cooking, you break two eggs, mix them up well, and from the pasta's boiling water, you add 2-3 spoons into it. after you continue mixing it more.
In the meantime, in a pan, you toast the cubes of pancetta or bacon, but don't leave it to become too crispy! When you're pasta is ready, you drain it and verse it straight into the pan. Add 1 ladle of the pasta's water first, and mix it all together. Then, you either turn off the heat or hold the pan above it with at least 15cm, when you add the eggs!
You'll need to be quick, and mix it all together very well until the moment that you're seeing it becoming creamy. When it's creamy, take it off the stove straight away, otherwise, the eggs will get to start sticking together and it's losing its perfection! All you need to do after is to serve, and serve it with parmesan on top!
---
3. Gramigna alla Salsiccia
One of the best Italian pasta dishes from Emilia-Romagna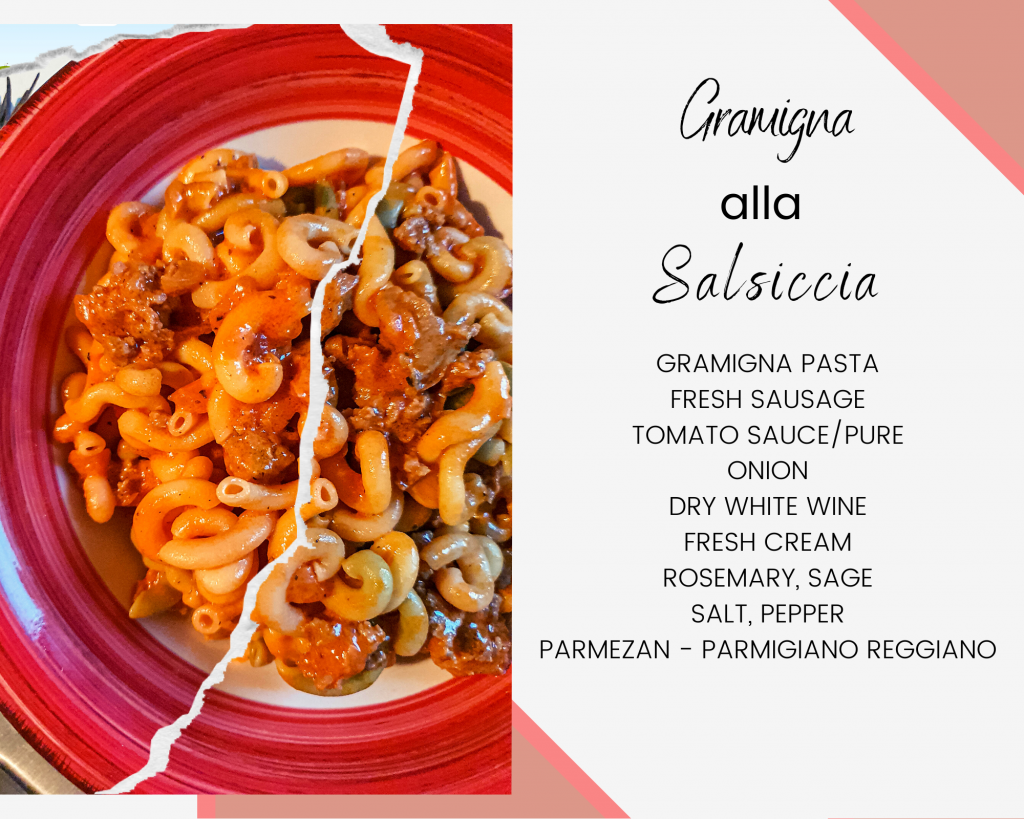 Gramigna alla Salsiccia was one of the first traditional pasta dishes from Emilia-Romagna I have tried. A few months after I moved to this region, I have ordered this for lunch at a restaurant at the side of Pietra di Bismantova. The Gramigna alla Salsiccia is something amazing, and it's now one of my favorite Italian pasta recipes to make! I have also included it in the Wandering Cookbook with many other pasta recipes!
The key is obviously the Gramigna pasta. When you're looking to buy this pasta, try to find one that has also spinach in it. The second key ingredient is fresh sausage. You can't use dried or smoked sausage, as you'll need to open it, and make a ragu of the sausage meat!
Gramigna alla Salsiccia recipe made easy
We'll be calculating for two servings again. You chop the onion, and in preheated olive oil in a big pan/wok and cook until translucent, which after you'll have to add the sausage meat, and just if you'd be doing a bolognese ragu, you'll need to cook it on oil with the onion. Add the salt and pepper at this step as well as about 30-40ml of dry white wine! When it's cooked, add some water to it, and leave it to cook for another 10-15 minutes. You can use broth if you like, but it's tasty enough without extra flavors anyway. Make sure to check if the meat is ready before going to the next step!
Add the rosemary, and the dried sage. You'll need from both just under a half teaspoon, not more! Mix it all together, and add tomato concentrate or pure to it. This really depends on taste but, for 350g sausage, you'd need 200ml of pure, or you add 150ml of water and use concentrated tomato pure, 50ml. Leave it to cook, and keep mixing it for another 5 to 10minutes. In the end, add 25-40ml of fresh cream. Again, this depends on taste! I never add more than 30ml personally, but you know, you need to cook with your heart, not your mind. Whatever you cook, always keep tasting it, and add more ingredients after your own taste!
At the last stage of preparing the ragu, put water to boil and cook the Gramigna pasta. Then, mix the pasta together with the ragu, and serve it. At serving, don't forget to add some grated parmesan on top! The Gramigna alla Salsiccia is definitely one of the most delicious on the list of Italian pasta dishes!
---
4. Pasta all'Arrabbiata
One of the classic Italian pasta dishes from Rome
Pasta all'Arrabbiata is one of the quickest and best spicy Italian pasta dishes. Originating from Rome, it's one of the classic Italian pasta dishes you must try if you are visiting the Italian capital. You can choose after your taste which type of pasta you'd prefer. It can be simple spaghetti, bucatini, penne, or linguine. In the above picture, I have used linguine for it, but I do prefer it with spaghetti!
Pasta all'Arrabbiata recipe
We'll be calculating once again with two servings. You can prepare a Pasta all'Arrabbiata with fresh tomato sauce, which you can also find with other recipes in my Wandering Cookbook! Alternatively, you can do it with passata, or tomato puree. The pasta all'Arrabbiata can be done in a maximum of 20 minutes, with these steps:
Take 3 garlic cloves as well as a half teaspoon of black pepper, and roast them just a little on low heat on the olive oil. Maximum two minutes! Be careful, as if it gets burned, it won't be good at all! Take it off the stove and add the tomato sauce, the salt, and the dried spicy pepper or chili to it and stir it together.
Then, place it back on the stove and mix it all together for a minute, then put a lad on it. Leave it to cook for about 10 minutes on low heat, and in the meantime put water for the pasta to boil.
While your pasta is cooking, the sauce will be ready as well. You should add some fresh or dried parsley to it on the last step of preparing the sauce. At serving, don't forget the parmesan on top! All'Arrabbiata is definitely one of the best spicy Italian pasta recipes that you can easily make at home! One of the classic Italian pasta dishes that will make you feel like you're sitting on Piazza Navona, in Rome.
---
5. Pasta al Ragu
In Italy, it's simply called ragù – one of the most famous Italian pasta dishes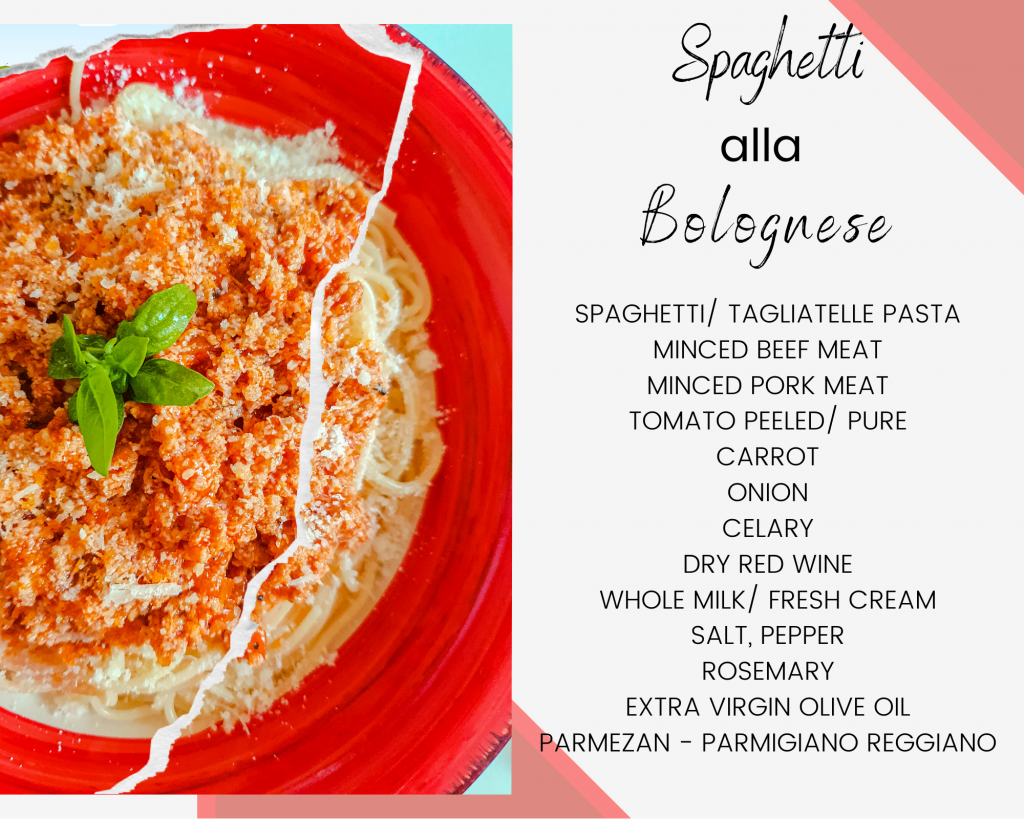 The Bolognese pasta, or as it's called in Italy, pasta al ragù is one of the most popular Italian dishes all around the world. I really don't like the pre-made sauces that you can buy to prepare a bolognese, as it has nothing healthy or traditional inside. Now if you're making a ragù, you can make it for bolognese, but you can also use it for lasagna, or serve it in many other ways. The ragu is by far one of the most famous Italian pasta dishes you can easily prepare at home!
How to make the traditional Italian pasta recipe for Bolognese?
For two servings (and some leftovers for Lasagna) you'll need 300g of pasta (spaghetti or tagliatelle). Now you'll need minced beef and minced pork meat. I'm always adding 60% pork and 40% beef to this. I usually do with 400g meat, so I have enough leftovers for my Lasagna too.
When preparing the ragu, you'll need to chop one big onion and grate the carrots (1 big/2medium) and the celery (a small one is enough). When you have the veggies prepared, put oil in a non-stick pot/ a pan/ a wok and when it's hot, add the onion, mix it, and leave for a few minutes to get translucent. Then, add the carrot and parsley as well as the meat.
Add 50ml of dry white wine to it, as well as the salt. Cook and mix it on the oil, until the meat is not raw anymore. Then, you can use water, or broth (veggie or beef) to fill up your dish until the meat is completely covered. Mix it all together and leave it to cook on medium heat for at least 20 minutes. Before the next step, check if the meat is cooked, and make sure to have liquid on if it needs more time.
After 15-20 minutes, you can add the rosemary as well. Make sure to leave liquid on it anyway as you'll want to make a good sauce, right? It doesn't have to be too much obviously! If the meat is ready, you'll add the tomato pure on top, just so it becomes creamy enough, and has enough sauce.
I prefer avoiding too much fresh cream, so I personally add a maximum of 20ml to it. Cook it together for another 5minutes on medium heat, while you're cooking the pasta as well. When you're serving, make sure you're serving with parmesan cheese on top.
---
5 traditional Italian pasta dishes and Italian pasta recipes
The above-described pasta dishes are some of my favorites. They are perfect for dinner, but also for a weekend lunch. The taste is in harmony, they are healthy recipes without any artificial spices and sauces. You can make them all easily at home, even if you're not big in cooking.
---
Beyond the famous Italian pasta dishes
Not traditional and not Italian, but if you like interesting pasta recipes, make sure you check the Gigi Hadid Pasta too! Check out my post with a large cookbook recommendation for different types of recipes and diets. You should also see the kitchen essential list if you love cooking. You can check out some great products that you might want to own!
---
---
Pin me: 5 Italian Pasta Recipes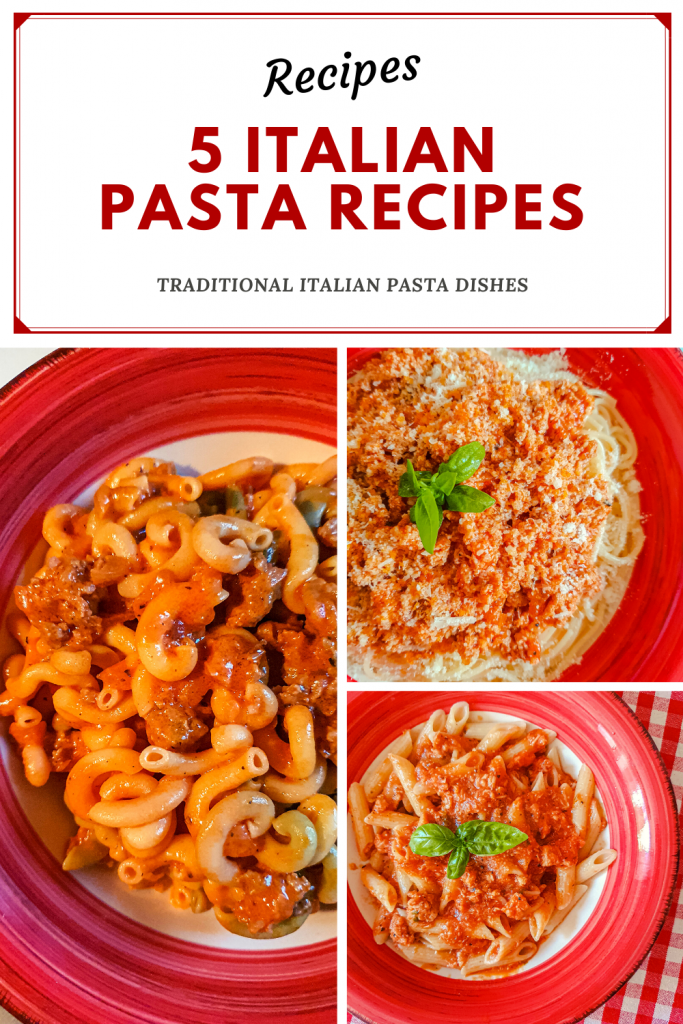 ---
5 traditional Italian easy pasta recipes