If you're looking for latest updates for travelers, here are some things you must know about traveling to Italy in 2020! See details about the measures, rules, mask wearing in Italy and everything else you need to be aware of before you visit!
---
Traveling to Italy in 2020
When I arrived to Milan Bergamo airport in July 2020, I wasn't quite aware of how strict the restrictions are in Italy, comparing that to the UK, or Hungary, where I've been the months and weeks before.
When leaving the airport I have noticed, that everyone is wearing masks on the streets. Yes, even on the streets! And I got myself into a quick research about the rules for Lombardy, so I can follow them as well properly.
Now here are all the tips that you must know, if you're visiting Italy post-lockdown in 2020. These things are helping you as well, but most importantly, it's helping the locals, to keep the numbers low, and therefor, the people protected. It's also super important to submit yourself to these rules, as believe me, nobody in Italy wants to face another lockdown! Locals are respecting the measures stricktly, to prevent that, so please do the same!
---
Wearing masks on the streets
The first, and most important segment of traveling to Italy in 2020 is mask wearing!
In the Southern regions of Italy you won't see people really wearing masks on the streets. Reason being, that there the numbers were never so high, so the restrictions aren't that strickt either. I'm speaking now of all the regions South from Tuscany. However in the North of Italy, wearing masks on the streets is basically the new normal.
If the street is completely empty, it obviously doesn't make any sense, and many are taking off the masks when there are no crowds around, but when you get to a busy street, just put your mask on!
Believe me, I know how frustrating it is to wear a mask in 30+ degrees, but that's how it is. I personally try to avoid the busy streets, high streets, crowds. Every time I need to go somewhere, I rather go through parks, or the small colorful narrow streets which are mostly empty. This way, I can prevent being in contact with anyone, and I can take the mask off for some parts of my walk.
Though, when we're not wearing it, you can see on everybody's arm a mask. It's basically the easiest place to wear it, so you can take it and put it on quickly if it's necessary. without having to touch just the bands.
---
Social distancing on public transport
The second thing you need to know about traveling to Italy in 2020 is about social distancing and public transport.
In Milan, all subways are marked with signs where to go in, where to go out. On the trains, buses, and undergrounds as well there are signs to indicate where to walk, where to stay, to keep the 1 meter distance.
On every vehicle, there are signs on the chairs as well, to see where you can sit, and where to leave the space free, to keep the distance from each other.
Traveling around in Italy with train is now perfectly fine to do, and the trains are operating normally. The same rules apply though! You won't stand or sit next to anyone! Each train is packed with signs, and you always must wear a mask on any public transport!
---
Restaurants and bars
What do you need to know about restaurants and bars if you're traveling to Italy in 2020?
If you walk into a restaurant or a bar, you must wear your mask! If you're consuming whatever you have ordered by sitting down inside, you are allowed to take off your mask! That's not a problem.
However, each time you go inside somewhere, you should use the sanitizer placed right near the entrance. The staff of each place must always sanitize the tables and chairs before somebody else will sit down there! So, if you see a free table outside a restaurant that you want to hunt down, wait! Don't sit down if you don't see the table cleaned and ready for new customers. Just stand by it, and wait for a staff member to come, clean, and sanitize everything.
Otherwise, outside as well, when you're seated, you don't have to wear the mask obviously.
---
Shopping while you're in Italy by respecting the rules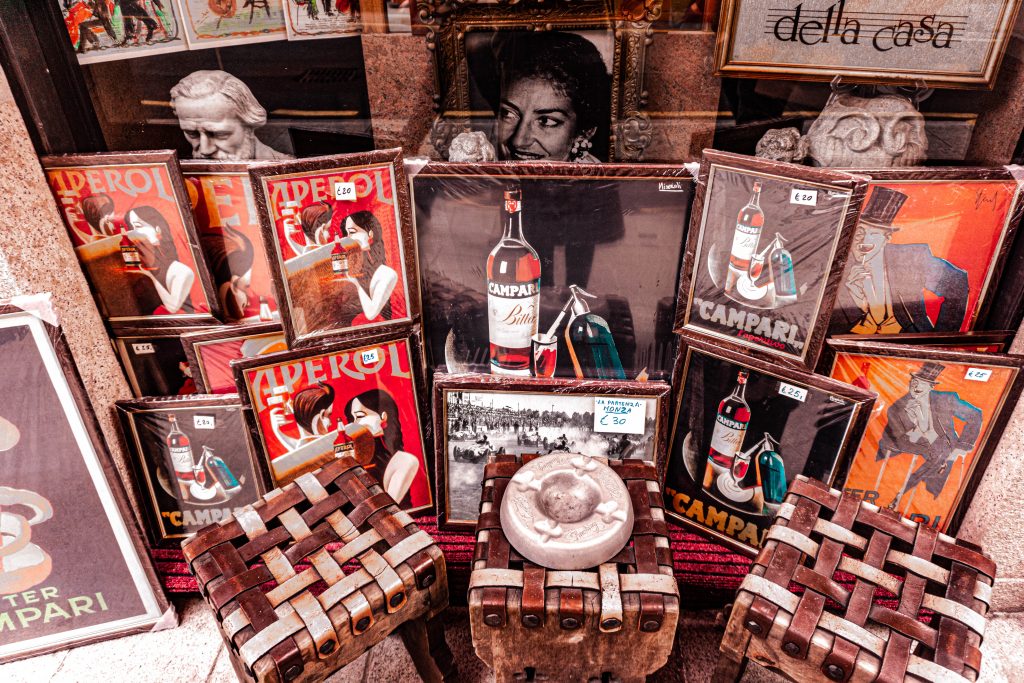 Another important detail if you're traveling to Italy in 2020, shopping! For the shops, the same rules apply. When you enter, you use the sanitizer placed near the entrance, and you put up your mask. That's basic, everywhere.
This applies to outdoor markets too. In Piacenza for example, there are people guiding you where you can enter the weekly market, and where you can leave it. Once you enter, you must wear the mask the whole time while you're wandering around the market.
Oh, and as well as in large train stations, you'll get your temperature checked at busy supermarkets. In some of them, you also have to wear plastic glows. – Not really nature friendly to be fair…
---
Sightseeing in Italy
If you're traveling to Italy in 2020, you obviously want to know what's going on with sightseeing, right?
All the museums, churches, and landmarks are open for visitors! Also the beaches, and baths. There are a couple of rules for each one, what have to be respected, but otherwise, everything can be visited without a problem.
So first, again, you must wear a mask when you're sightseeing, such as you enter a church or a museum. There are places such as the Colosseum in Rome, which even if it's mostly on open air, you have to wear a mask.
Otherwise, just use the sanitizers, and keep your distance! It is really frustrating for many, when on the streets some people just don't care, and don't keep distance while passing them. It's not alright!
I can tell you first hand, that people here were really exhausted by this situation, and many of them are really terrified. Whatever your opinion is about this pandemic, respect other people's feelings and just make two steps away when you're passing them. It's really not that hard to do!
---
Beaches, baths, and aquaparks
The same way as everywhere else, signs are guiding you where to go, where to stay and the distance you must keep. The beds on beaches or in baths in most places you're not allowed to just sit down on one that you see free. They are sanitizing them, and assigning one for you, which is for your own use.
I was wondering once I went to a communal bath, that has external pools, how social distancing can be kept in a pool. Well, the kids weren't distancing from each other, obviously…
But everybody else, if they wanted to just sit down at the side of the pool, they made sure to be 1 meter away from others. Also, the water in the pools and in the showers contain sanitizer, so keep your mouth shut while swimming!
---
So, about how to travel in Italy in 2020, wearing masks, and keeping the rules
The restrictions put in place are pretty clear. Wear a mask, use the sanitizer, and keep your distance! That's basically it.
There's no need to put any more thinking into the topic. If you're looking for traveling in Italy in 2020, you are more than welcome! Just make sure that you respect the rules put in place, to protect others, and protect the country.
If you have any questions regarding these rules, or need more specific information about certain places, please feel free to leave a comment below, and I'll try to answer them! I have also linked in the FAQ page of the Italian ministery of Health, so you can get even more updates!
---
Pin me: Traveling to Italy in 2020, masks and sightseeing
---
Traveling to Italy in 2020 – Masks and sightseeing