The Italian Food Valley. That's how the region of Emilia Romagna is called. It's a statement that I must confirm it's absolutely true! And I'm not saying this, because I've visited it once or twice, but because I live here too now! Emilia-Romagna, Italy is one of the most stunning regions in the country, with something to do in every single town! Here's a guide for the best cities to visit in Emilia Romagna, from Piacenza to Rimini. The Emilia Romagna travel guide will answer all your questions about what to do in Emilia Romagna, Italy.
You'll find more inspiration and posts at the end of this article about Emilia-Romagna! Until that, learn the most that you need to know on how to visit the region of Emilia-Romagna, Italy, and all the important destinations in the region. See how you can travel and eat your way through the Italian Food Valley!
---
What is the region of Emilia-Romagna famous for?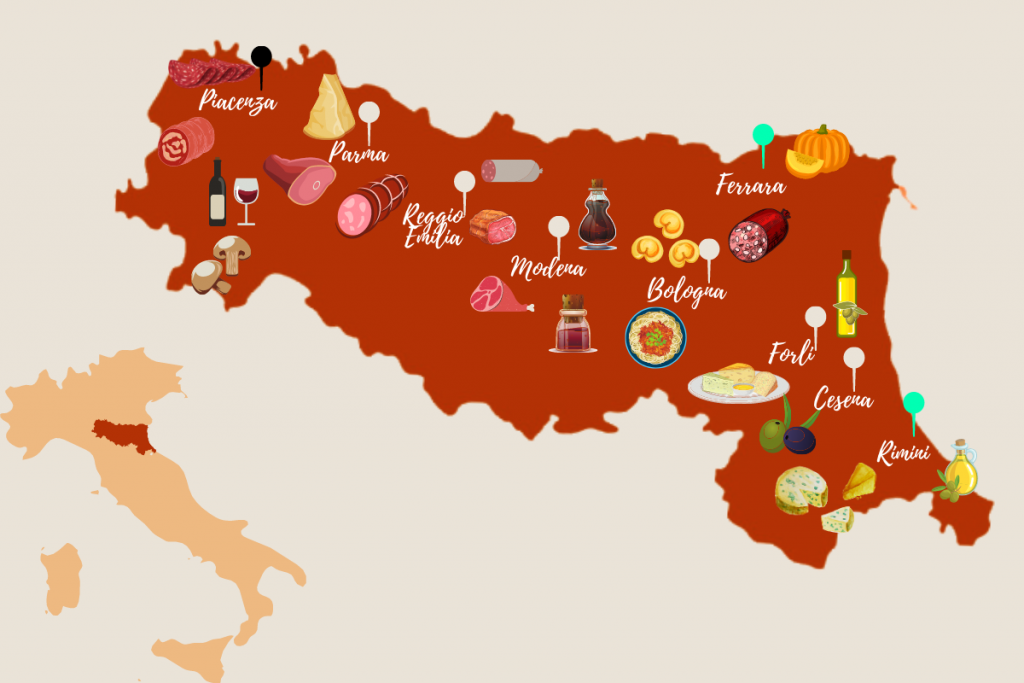 I've already spoiled this in the introduction! The region of Emilia-Romagna is famous for its food! The most amazing, most delicious Italian dishes are originating from here! You can see on the above Emilia Romagna map a quick demonstration of what you can find and where in Emilia-Romagna, Italy.
Just think about the Lasagna, the Bolognese Ragu, the Gramigna alla Salsiccia, the Tortellini in Brodo, the Cappellacci di Zucca, or the Panzerotti al Forno. I could continue this list, as actually there's much much more to list here, but that's going to be covered separately! Also, some of the worldwide famous food products are originating/made in the region of Emilia-Romagna. You do know what's the Parmigiano Reggiano, right? The tasty parmesan cheese we couldn't live without! Another worldwide famous product is the balsamic vinegar, which's also coming from Emilia-Romagna!
Don't forget the tasty and delicious Prosciutto di Parma (ham), the Salumi Piacentini, and the Mortadella, which are all coming from the beautiful region of Emilia-Romagna. However, this region is not just about food! If you're looking for an Emilia Romagna food guide, read my post about that too!
There are beautiful cities, medieval historic centers, many castles, and landscapes that will take your breath away. Think about the Pietra di Bismantova in Reggio Emilia or the stunning Val Trebbia (valley) in Piacenza. And with this as well, we could continue the list! Emilia-Romagna is simply amazing, and it's definitely a region that you must visit in Italy!
---
How to arrive in Emilia Romagna, Italy?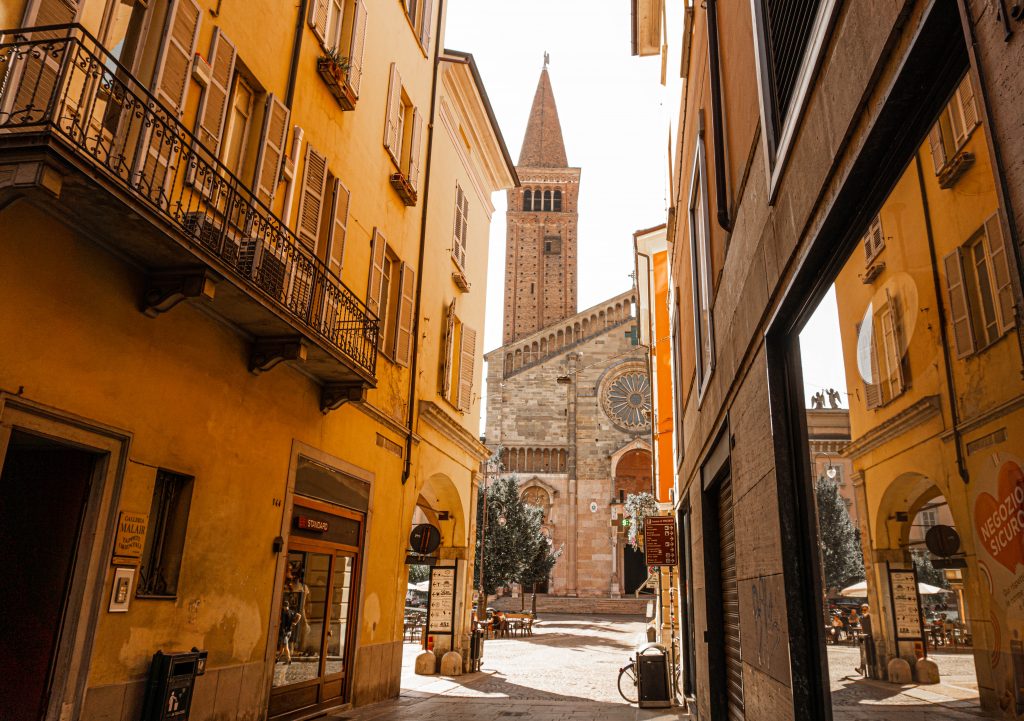 There are plenty of options to choose from, as it's basically located between three of the most popular cities in Italy. Emilia-Romagna is located between Tuscany, Veneto, and Lombardy. The three regions that are really visited for Florence, Venice, and Milan. If you're traveling to these three cities, you can easily reach Emilia-Romagna by car, bus, or train. Nearby airports are:
In Milan, you can fly into Milano Malpensa, Milano Linate, or Milano Bergamo. The first stop of Emilia-Romagna, the town of Piacenza is a short 53 minutes train ride from Milano Centrale train station.
If you're flying to Venice, you can fly into Marco Polo airport, Nicelli, or Treviso. Then with a rented car or train, Bologna is about 2 hours away.
If you're flying to Florence, you can fly into Amerigo Vespucci airport, then you can take either FlixBus, or train, or rent a car to reach Bologna.
Bologna also has an airport though, so depending on where you're coming from, you might be able to fly directly to Bologna! The train lines in the region are great, so if you're not renting a car, you can easily stop in each main town by traveling by train.
---
Best time to visit Emilia Romagna, Italy
Emilia-Romagna is an all-over-the-year destination. In the winter, you'll find snowy places and great outdoor activities to do in the region, while during the autumn, spring, and summer you can enjoy warm walks, colors, and life all around the region. As the region of Emilia-Romagna has amazing landscapes, you might consider some outdoor activities as well, like hiking, cycling, rock climbing, or via ferratas! For the summer, if you're looking for a seaside destination, definitely check out Rimini, Italy!
---
The best places to visit in Emilia Romagna, Italy
Learn about the best towns to visit in Emilia-Romagna. These are the most popular destinations in the region, and most of them are also the center of their province. The beauty in this region that the provinces are following each other, as the region is actually a valley, so you can literally travel through the whole region without having to do circles.
---
Bologna
Emilia Romagna, Italy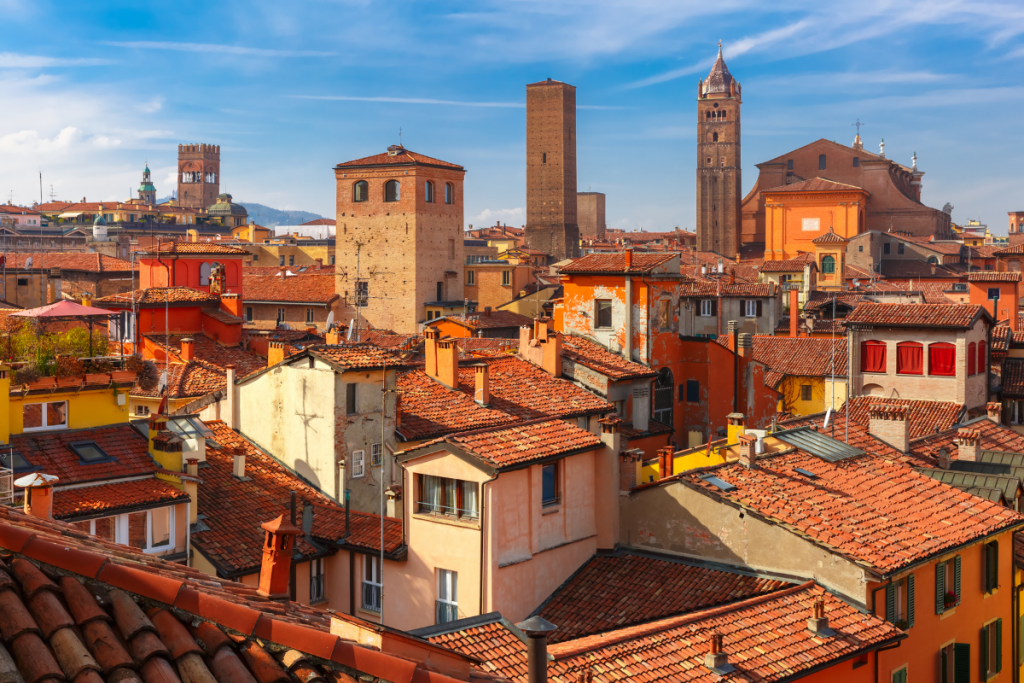 Recommended by Lori, from Travlinmad blog
The city of Bologna, nicknamed "La Dotta, la Grassa e la Rossa" is the regional capital of Emilia Romagna.
Famed as one of Italy's most important gastronomic cities, so you must do food tours in Bologna.
"La Dotta", the educated, refers to Bologna as home to the University of Bologna, the oldest university in the western world. The beautiful campus offers many amazing places to visit including the original classroom where DaVinci taught anatomy to medical students.
Climb the Asinelli tower or take the elevator to the observation deck of the cathedral's steeple and you'll see why "La Rossa" — the Red — refers to the sea of red-tiled roofs over the city.
What the city is most famous for is the incredible Bologna food specialties and why "La Grassa", the Fat, is so appropriate a nickname. World-famous Parmigiano Reggiano cheese, aged balsamico, and prosciutto ham are at the top of the list of local foods to try. Try the lasagna Bolognese or tortellini in brodo at Trattoria Sergei.
Bologna is easy to get there through its own international airport, or if you're starting out in Venice or Florence, it's an hour to Bologna by train from either city. Bologna is definitely one of the best places to visit in Emilia-Romagna!
---
Ferrara
Emilia Romagna, Italy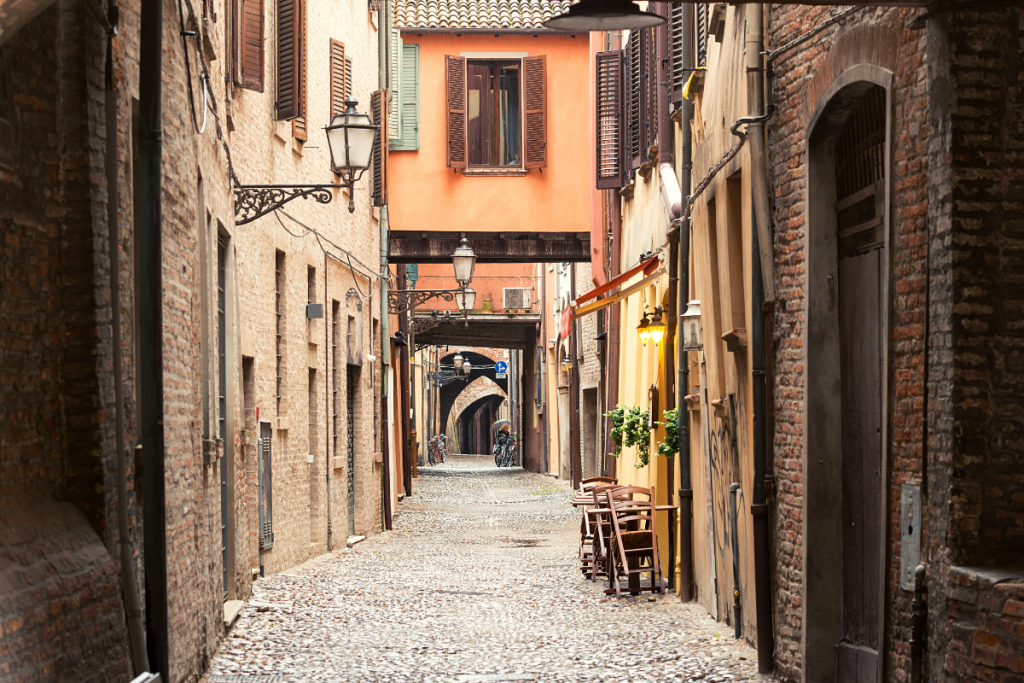 Ferrara is the only town in the Italian food valley which is falling out of the way a little bit. This beautiful town of Emilia-Romagna is located about 48km north of Bologna. If you're not planning a trip all the way down in Emilia-Romagna, but you're visiting Bologna, and you're looking for great day trips, Ferrara is one of the best choices.
You can discover in Ferrara's historic center a mix of medieval Italy and the Renaissance. Walking down the beautiful street of Via delle Volte will actually feel like you've traveled back in time. All the area of Via delle Volte is a labyrinth of beautiful medieval streets to get lost on.
You must also see the main square of Ferrara, the Piazza Trento e Trieste, where you'll see the gorgeous Ferrara Cathedral, as well as the Loggia dei Merciai, the city hall and the beautiful bell tower, the Torre dell'Orologio. In Ferrara, the Castello Estense is also a must-see! You can't see Ferrara without seeing that!
While you're in Ferrara, Italy, you must try the most popular local dish, the Cappellacci di Zucca with tasty ragù. One of Ferrara's specialties, that's basically a larger size of stuffed pasta with pumpkin. It's delicious, and one of the best places to find it is Osteria degli Angeli. All in all, Ferrara is definitely a place to visit in Emilia-Romagna, Italy.
---
Rimini
Emilia Romagna, Italy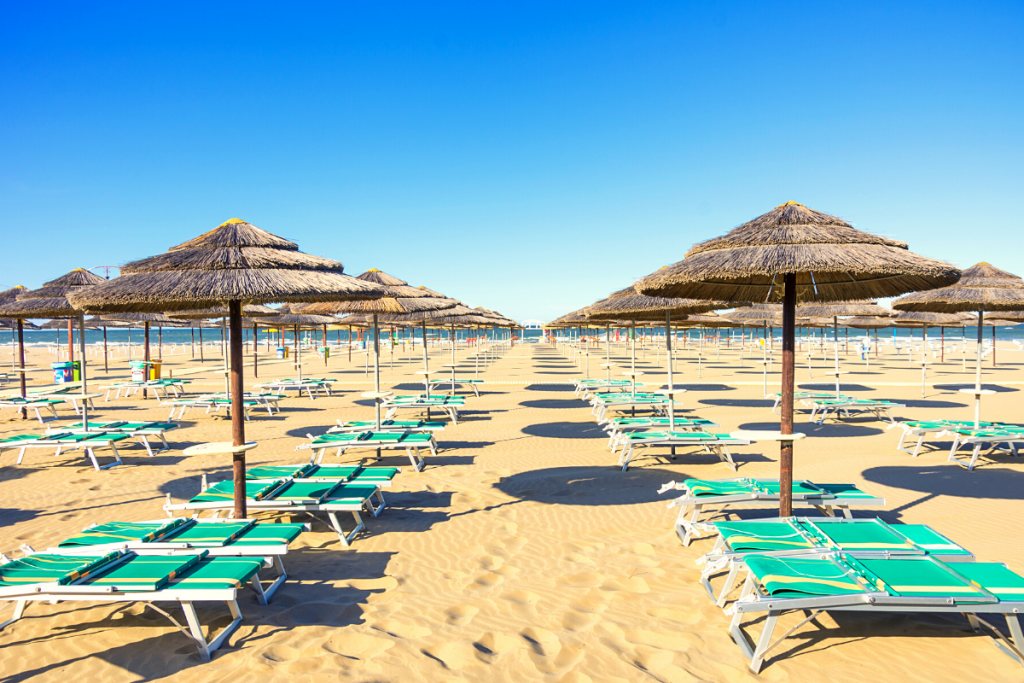 Recommended by Raluca, from Travel with Spin blog
Rimini is the most popular resort in Emilia-Romagna due to its mild coastal climate, wonderful landscapes, and parties. Its 15km long sandy beach is a paradise for sun-seekers. But this charming beach town is also an important historic site in which history goes back more than 2000 years.
The most notable site to see is the Bridge of Tiberius, one of the most beautiful and oldest Roman bridges in the world. But there are more sites that connect Rimini to the Romans: The Arch of Augustus, The surgeon's house, The Roman Amphitheatre, or Piazza Tre Martiri. The medieval period was a golden age for Rimini, which added even more jewels to the city. The most known ones are Castle Sismondo, The Malatesta Temple, and Piazza Cavour, the focal point of the city.
A place many people miss is the picturesque district, Borgo San Giuliano, located just outside the old city's walls. Its cobbled alleys are fenced by colorful houses, many adorned with murals featuring scenes from Federico Fellini's most famous movies. This is a tribute to the famed director, that was born in the city.
Rimini is also the best starting point for a day-trip to San Marino, a beautiful European microstate. Rimini enjoys the rich culinary tradition of Emilia-Romagna, but it adds its own character, marked by the sea. Some of the dishes you have to try the handmade pasta, porchetta rabbit, white truffles, and of course a fresh seafood grill. One of the best places to do so is Osteria de Borg.
You can get to Rimini by plane, as Federico Fellini International Airport is located just 5.2 kilometers away. It also has good train and bus connections with Bologna and other Italian cities.
---
Modena
Emilia-Romagna, Italy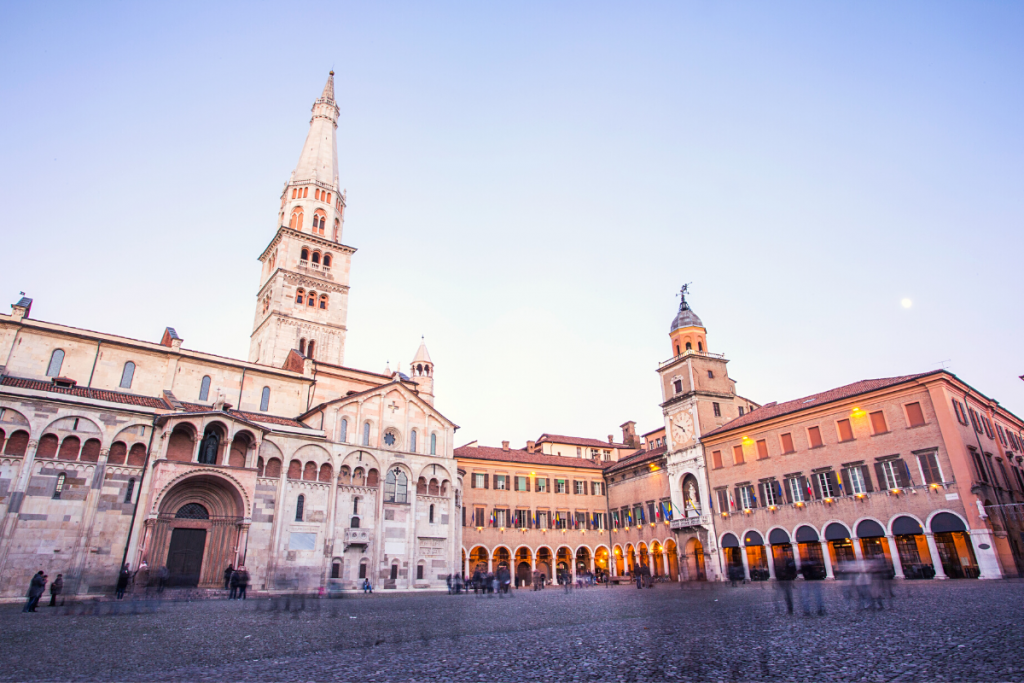 Recommended by Margherita, from The Crowded Planet blog
If you are planning to visit Emilia-Romagna, make sure you don't miss Modena! This medium-sized town is only half an hour by train from Bologna and 1 and a half hours from Milan, and it offers so much to see and do that you could easily spend a few days exploring. There are two main reasons to visit Modena, Italy – food, and those famous Italian sportscars.
Let's start with food – Modena is home to the world's best balsamic vinegar, Aceto Balsamico Tradizionale, and a visit to a balsamic vinegar producer is a definite must. We recommend visiting Acetaia Pedroni, which also houses an excellent restaurant! Two other great places to eat in Modena, Italy are La Francescana, a very fancy award-winning restaurant, and Trattoria da Ermes, a very affordable place popular with locals. Another not-to-be-missed destination in town is the Albinelli Market, where you can shop for the best local products.
Modena is also the birthplace of Ferrari, and if you are into cars, well you're in paradise! Make sure you visit the Enzo Ferrari Museum, located in a striking building resembling the hood of a Ferrari, with rotating exhibitions about Enzo Ferrari and his legacy. To get your adrenaline really pumping, you can also sign up for a Ferrari driving experience at the Modena Autodrome – you can either drive yourself or be driven by a professional race driver. This is really an experience you won't forget!
---
Maranello
Emilia Romagna, Italy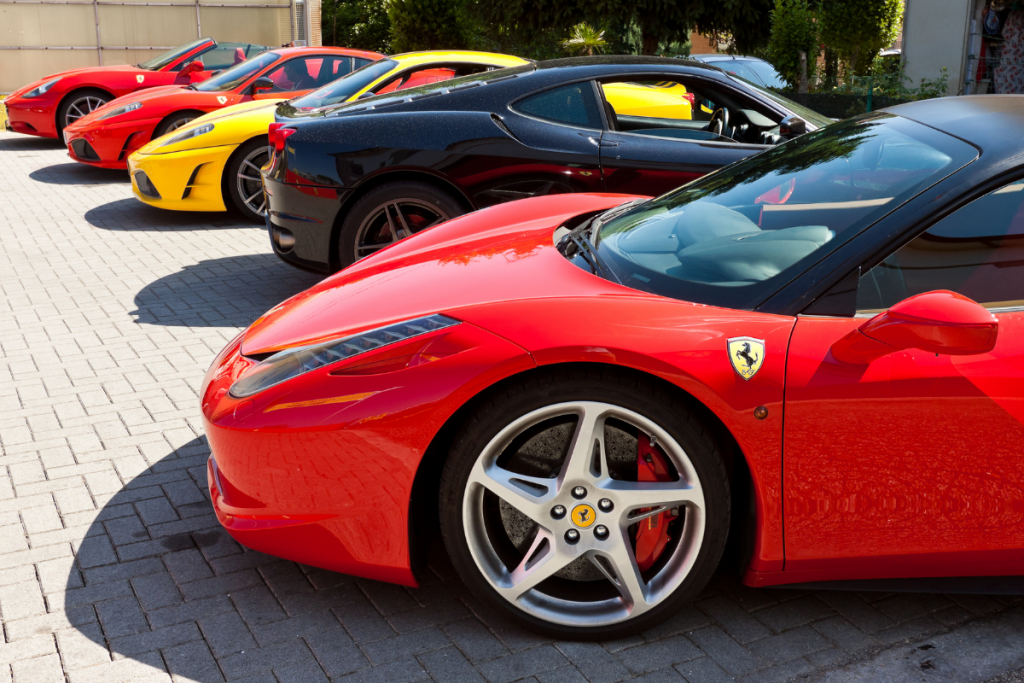 Recommended by Inguardibile Viaggiatore blog
Maranello is a town in the province of Modena and has a very special peculiarity: it is the home of Ferrari, one of the most prestigious brands in the world.
In Maranello you can drive the car you've always dreamed of. The test drive consists of driving a luxury car of your choice between different models flanked by a specialized instructor who will teach you the tricks to drive it at best and will always be at your disposal in case of doubts and needs.
The Ferrari Museum is an exciting exhibition of the past, present, and future of the Prancing Horse, divided into two parts: one permanent and the other used for temporary exhibitions. The most suggestive part, in my opinion, is the Hall of Victories, where the Ferrari World Champions from 1999 to today are exhibited.
To fully use your Ferrari experience, you can stay at the Hotel Maranello Village, a 4-star hotel complex made up of many independent blocks that are named after the historic circuits.
At the Ristorante la Gazzella you can taste the typical flavors of this land, just as I like it. I recommend this place with my eyes closed for two reasons: the dishes are exquisite and the quality/price ratio is truly exceptional.
We ate for two appetizers (mixed crostini and fried dumplings with raw ham), two first courses (gramigna with sausage sauce and egg tagliatelle with raw ham), two desserts (tiramisu) and water for a total of 45 euros!
---
Reggio Emilia
Emilia Romagna, Italy
Reggio Emilia is smaller, not really visited the town in the region of Emilia Romagna, Italy. It's a shame because this town deserves as much light as any other. Reggio Emilia is a great half-day stop if you're traveling through the region, and it's located between Modena and Parma.
When you're visiting Reggio Emilia, make sure to visit the beautiful square of Piazza Fontanesi. Then, learn about the city's history at Palazzo del Capitano del Popolo, and stroll down to Piazza Prampolini. Also, make sure to stop by at a local salumeria, and sample and buy some tasty local cold cuts and cheese!
If you're in the area, and you're looking for some great outdoor activities, consider a hike at Pietra di Bismantova. It's a stunning piece of the Emilia-Romagna region, Italy. The Pietra di Bismantova is a characteristic mountain of the Reggio Apennines, standing lonely in the middle of fields and beautiful green lands. You can do an easy hike to the top, as well as do via Ferrata or rock climbing here! Some stunning places to discover in the region of Emilia-Romagna, Italy!
---
Parma
Emilia Romagna, Italy
Recommended by Kate, from Our Escape Clause blog
Packed with stunning churches, interesting history, colorful streets, and arguably some of the best food in Italy, the gorgeous city of Parma is one of the best places to visit in Italy.
Not as well-known as even Bologna, Parma is devoid of overwhelming tourist crowds and is a fantastic place to simply relax and enjoy a day of exploring on foot (in between delicious meals, that is.
Some of the best things to do in Parma include touring the Parma Cathedral and the beautiful baptistery that sits next door, visiting the stunning Teatro Regio (one of the most celebrated opera houses in the country!), touring the birthplace of the famous composer Toscanni, and exploring the Palazzo della Pilotta.
Plus, of course, there is the food: Parma and its surrounding countryside are the birthplace of Parmigiano Reggiano cheese and parma ham, two of the most celebrated foods in not just Emilia-Romagna but all of Italy.
Setting off on a food tour to tour a Parmigiano Reggiano factory and a parma ham factory is at the top of any Parma bucket list, but once you finish the tour, be sure to stick around town to see the sights and maybe try out a local restaurant or two (Ristorante Cocchi is pricey but very popular).
---
Piacenza
Emilia Romagna, Italy
Piacenza is the last of the provinces of Emilia Romagna, Italy. From here, if you pass the Po river, you're entering Lombardy, with its capital city, Milan. Milan's main train station, the Milano Centrale is a 53 minutes train ride from Piacenza. This makes this town a great day trip also if you're visiting Milan, and you're looking for day trips from there.
Piacenza is the beautiful unknown, unvisited gem of Emilia-Romagna that somehow was left off the travel guide books. And it makes no sense why because it's at least as beautiful as Ferrara, or any other smaller city in Emilia-Romagna. You must know, that due to the low tourist number, Piacenza is still really authentic and untouched. But what can you do in this town?
There are a handful of landmarks that must be seen, such as the Palazzo Gotico on the main square, Piazza dei Cavalli. It's a 13th-century building, that's beautifully preserved. You must also visit at least two of the churches in Piacenza, such as the Duomo di Piacenza or the Basilica di Sant Antonino. They are both 5 minutes away from Piazza Cavalli. The Duomo is the most remarkable Romanesque building in the region, so it's definitely a must-see in Emilia-Romagna!
As with every location in Emilia-Romagna, Piacenza is special for food as well! If you travel to this town, you must try the famous Salume Piacentini, which is a type of delicious local cold cuts. Visit the local osterias like Santo Stefano, Osteria alla Volta, and try the local pasta, the Antolini, or my personal favorite, the Panzerotti al Forno. If you travel to Piacenza by car, consider a day trip also to Bobbio, and the stunning valley of Trebbia.
---
Summing up the best cities to visit in Emilia Romagna, Italy
I hope you found the answer to your question on what to do in Emilia Romagna, Italy! You can plan a one-week, two-week trip with more stops around the region. Choosing to visit cities and going outdoors as well. You'll also have a seaside stop in the region as well as stunning mountains and hills to wander in. Eat your way through the region of Emilia Romagna, Italy, and enjoy the beautiful medieval and renaissance towns lining up in the Italian food valley!
---
Read more about the region of Emilia-Romagna, Italy
---
Pin me: Emilia Romagna Travel Guide
---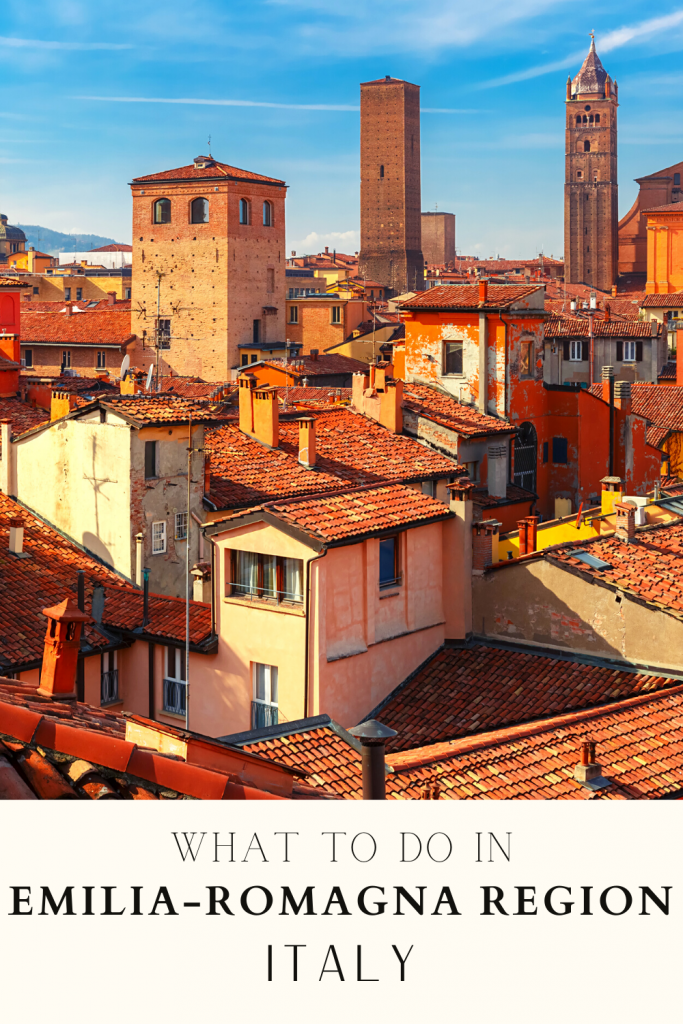 ---
Find the best accommodations for your trip in Emilia-Romagna, Italy
---
Complete travel guide to Emilia-Romagna region, Italy