Discover the ultimate Italy bucket list, with great city recommendations for all around this beautiful country. This post includes larger cities, but also includes the city-state of San Marino, and a couple of smaller towns that are way too important to be missed out from this list of 16 Italian cities to visit!
Discover the best things to do, landmarks, activities, and food around Italy, and use this list to plan your future trips. The cities are arranged in alphabetical order as I wouldn't want to choose between them. Are you ready to discover Italy? Discover the top 16 cities in Italy, and add them to your Italy bucket list! Also, check out my other post with 20 towns to visit in Italy.
16 Cities to visit in Italy – Italian Cities
1. Bari
Italian city bucket list item for the region of Puglia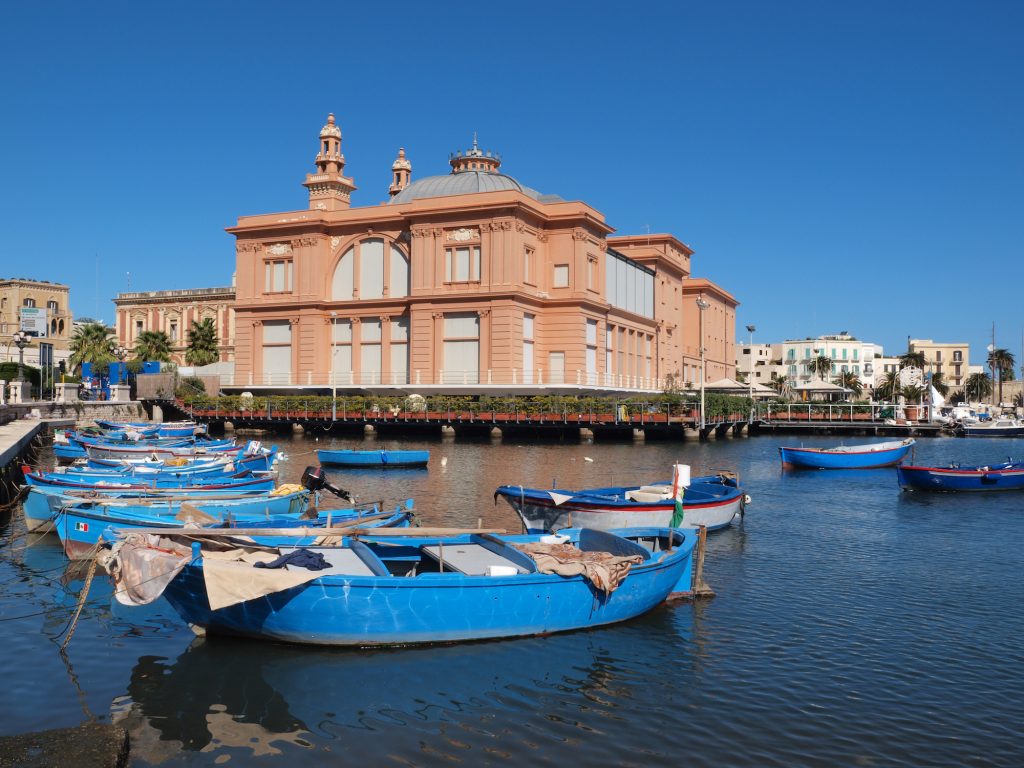 Recommended by Megan, from MeganStarr blog
One of the most spectacular cities in Italy to visit is Bari, the capital of Puglia (Apulia as known to locals). While many people jaunt off to Bari to use it as a base to explore the region, it truly deserves more time and love than it receives! There are many things to do in Bari, from eating to hanging out by the seaside and more.
Bari was traditionally a pilgrimage town where people would flock to in order to visit the ruins of Saint Nicholas at the Basilica San Nicola. This is 'supposedly' the person behind the legend of Santa Claus. While this is worth a visit, it might also be the stroll to the Bari attraction that makes it well worth the visit! You will pass many churches, narrow alleyways, and large squares before reaching it. Be sure to stop for a proper Italian espresso and take your time walking there as you will pass so many fantastic scenes along the way.
Another highlight of Bari is Castello Normanno-Svevo, a historic Norman-era castle that is well-preserved and one of the top sights in Bari today.
Before leaving, opt to take a pasta-making class and learn all about Puglia's most famous pasta, Orecchiette. Bari is also famous for its fresh seafood, Focaccia Barese, and much more! One of the best places to stop in for a bite to eat is at La Tana del Polpo. Beware – it gets extremely crowded and you will need to book a table in advance!
After you have explored Bari well, you can then venture off on the many day trips in the region – from Polignano a Mare to Monopoli, Matera, and beyond! An Italy bucket list must-add!
2. Bologna
The Italian food capital in Emilia-Romagna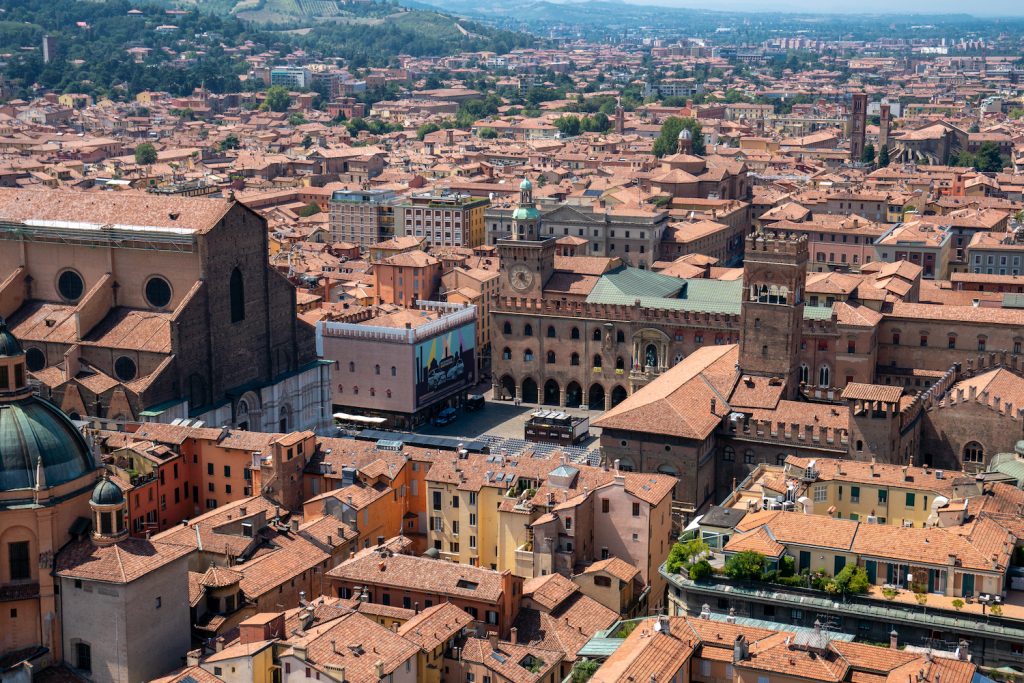 By Mansoureh, from Travel with Mansoureh blog
Bologna is the capital city of Emilia Romagna in northern Italy. It is located just an hour drive from the east coast, and halfway between two famous Italian cities of Milan and Florence.
Getting to Bologna is very convenient, as its international airport connects this city to major European cities and other destinations in Italy. Plus, Bologna's train station is well connected to the rest of Italy via regular train services.
Bologna is home to the world's oldest university, which dates back to the 11th century. You can visit the old anatomy classroom.
Bologna is home to some of the most famous Italian dishes including Bolognese sauce and handmade egg pasta, the popular dish here is Tagliatelle Al Ragù. Although this city is known as the culinary capital of Italy, Bologna has plenty to offer.
Strolling around the city centre is a must-do when you are in Bologna. It is hard not to notice the historical porticoes in the centre, since there is more than 38 km of porticoes with beautiful arches and columns.
Climbing the Asinelli is one of the top things to do in Bologna, as the two leaning towers of Garisenda and Asinelli are the symbol of the city. At the top of the tower, you will be rewarded with an amazing view of the whole city.
---
3. Cagliari
The capital of the stunning Sardinia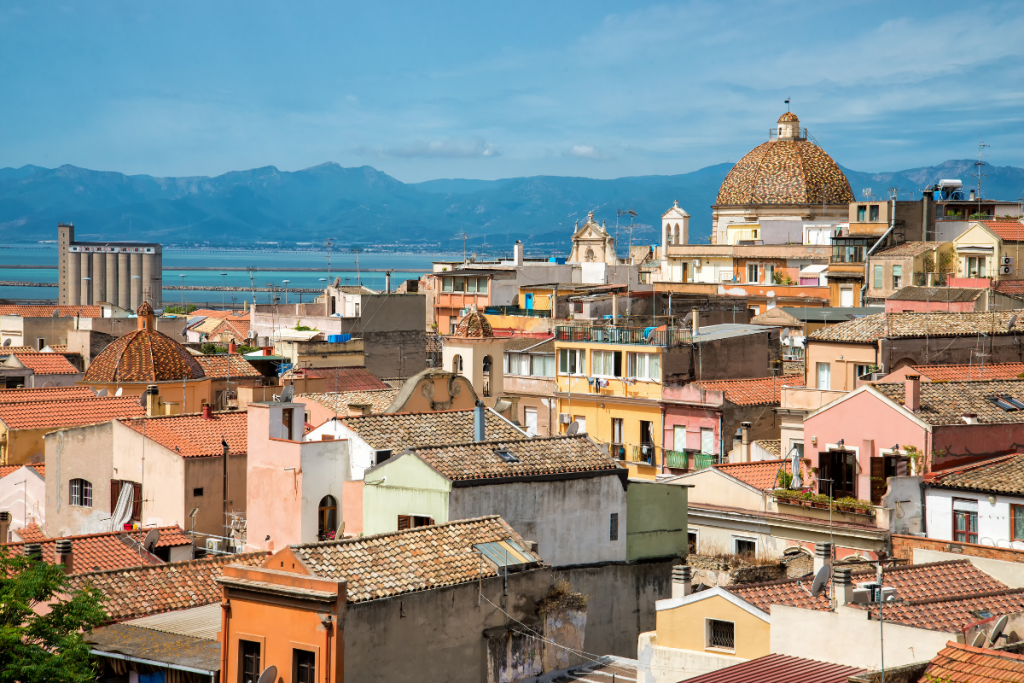 Recommended by Daniel, from Urban Abroad
When looking for the best cities to travel to in Italy, make sure the island of Sardinia is somewhere on your list. The city of Cagliari which is the capital of the island is a city with so much to offer and with its brief winter, it makes an ideal city to visit during the colder months.
With popular landmarks such as Bastione Saint Remy, you'll find some of the most breathtaking views of the city that will keep you coming back for more. With so many things to do in Cagliari, you'll find it is not only oozing in history, but you'll witness an interesting fusion of both the old and new. Also, it is here that you'll encounter everything from ancient Roman ruins to museums and the most breathtaking historic architecture. The Museo Archeologico Nazionale di Cagliari is one of the most important museums which displays many artifacts that span thousands of years through Itay's history.
The city also has a nightlife scene in which you'll find a selection of upbeat restaurants and bars that offer their own unique way to serve up a slice of Sardinian cuisine. There are also some drinks native to the island such as Vermentino, the Sardinian wine that pairs well with the local seafood dishes. If you like your cities to contain a mix of laidback lifestyle, history, sea, sand, and culture, Cagliari is a city you'll not want to miss.
---
4. Catania
A city near an active volcano in Sicily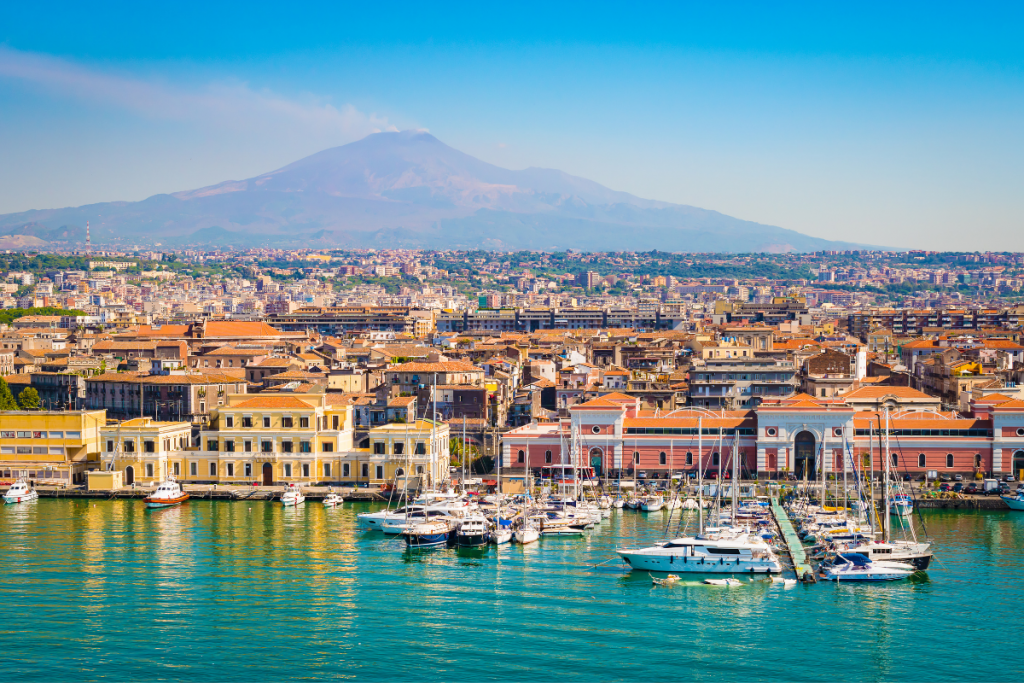 Recommended by Katy, from Untold Italy blog
In the shadow of volcanic Mount Etna, Catania is Sicily's second-largest city and it is bustling, Baroque, and exciting. Served by a major airport that links Sicily to the Italian mainland, Catania is the perfect launching pad to begin exploring the island. The city was destroyed by a devastating earthquake in 1693 and rebuilt in Baroque splendor. Some of the finest examples of this extravagant architecture and interior design movement can be seen at the Cattedrale di Sant'Agata, Monastery of San Nicolò l'Arena, and the Palazzo Biscari. Don't miss the Fontana dell' Elefante in the Piazza del Duomo, an enduring symbol of the city topped with an Egyptian obelisk.
Of course, Catania is also a great place to eat. Famous for its Pescheria fish market, the city's seafood is in abundance. You can try local fish dishes at street food stalls, humble trattoria, and Michelin-starred fine dining establishments across the city, and don't forget to have your daily cannolo! When you've finished exploring and eating, Catania is also the perfect base for day trips in southeast Sicily. The pretty town of Taormina to the crater of Mount Etna and the UNESCO listed Baroque towns of the Noto Valley are all within easy reach.
---
5. Florence
The Italian city of arts, the capital of the Tuscany region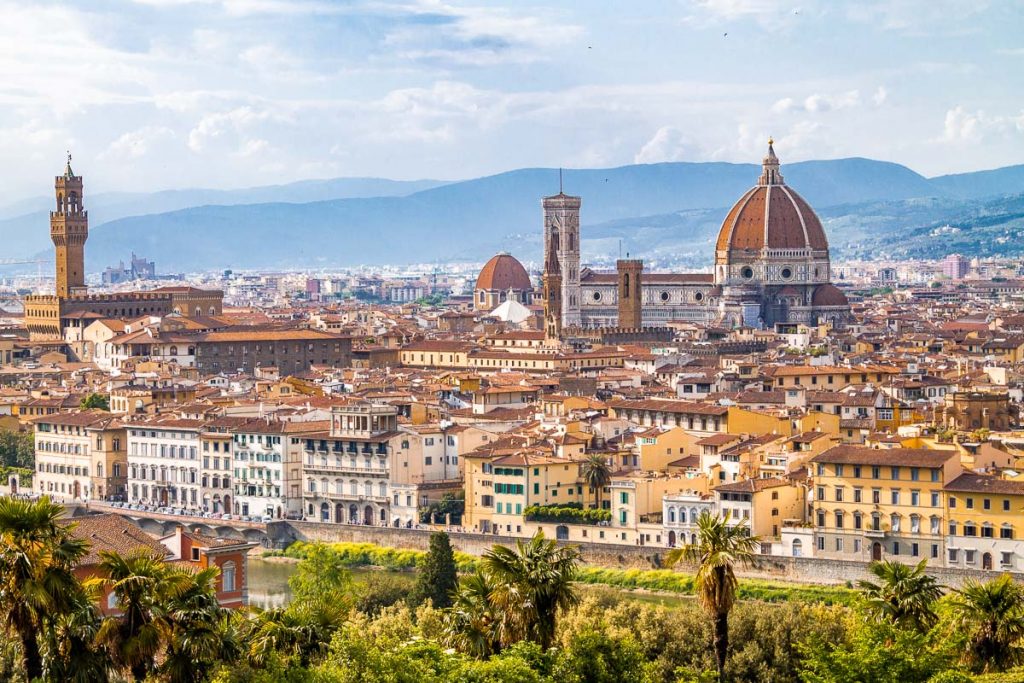 By Krisztina, from She Wanders Abroad blog
Often referred to as the birthplace of the Renaissance, Florence is definitely one of the best cities to visit in Italy, and not just for art and culture lovers. Getting to Florence is quite easy: you can either choose to take a plane to the Amerigo Vespucci Airport, opt for a train ride or if you're doing a road trip in Italy, you can arrive in your own car as well.
Although you can find countless interesting museums and sights to see in the city, spending 2 days in Florence is enough to discover the main attractions. One of the highlights of the city is the Cathedral of Santa Maria del Fiore, or otherwise known as the Duomo di Firenze. You can climb up to the top of the Duomo to enjoy a beautiful panoramic view of Florence but if you're planning to do that, make sure to reserve your ticket well in advance.
Even if you're not a big fan of museums, paying a visit to the Uffizi Gallery is a must when visiting Florence. Another great museum to visit is Galleria dell'Accademia which is home to Michelangelo's famous David statue. Make sure to end your day by watching the sunset at Piazzale Michelangelo that offers an incredible view of the city. Florence is definitely a must for your Italy bucket list!
---
6. Genoa
The Italian version of Nice, in the region of Liguria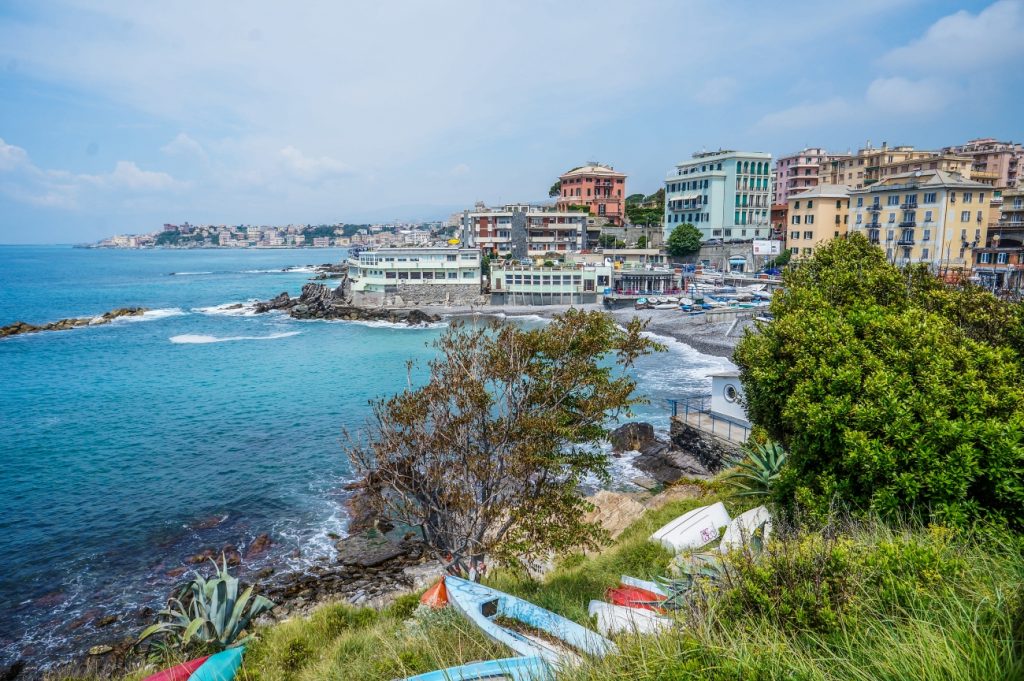 Once a powerful maritime city-state, Genoa is one of the highlights of Northern Italy. Situated on the beautiful Ligurian Sea, Genoa has a bit of grit, as well as a wealth of history, art, and architecture. Despite this – and some delicious food – Genoa sees fewer tourists than other large Italian cities, meaning you are free to take your time to see the sights.
Start by wandering through the old town. The historic center is large and interesting, with cobbled streets lined with shops, restaurants and cafes, churches, and palazzi in a range of architectural styles. Then head to Porto Antico, Genoa's old port, which has been revitalized and boasts the largest aquarium in Europe, botanical gardens, and the Bigo Crane which takes you up 40m to get sweeping views of the city.
If you enjoy art, spend some time in a couple of Genoa's renowned museums. You can find works by renowned artists in the beautiful buildings of the Palazzo Reale, the Galleria Nazionale di Palazzo Spinola, and the Palazzo Blanco. Also, be sure to make time to enjoy Genoa's seafood, stuffed pasta, and fish stews – all delicious. For a different perspective of the city, take a leisurely stroll along the boardwalks, stopping for lunch in Boccadessa, an old fishing village with pastel-colored houses and spectacular sea views.
---
7. Milan
The capital city of Lombardy – Italy's financial and fashion capital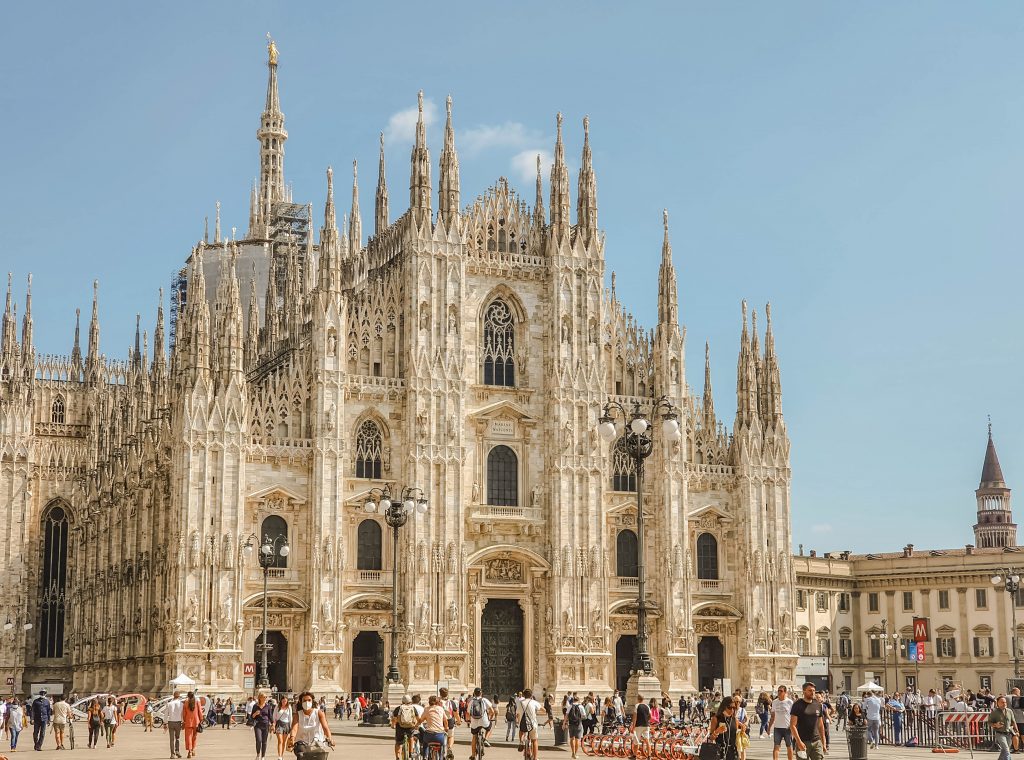 Recommended by Helga, from ShegoWandering
Milan is the largest, and most famous city in the North of Italy. The capital city of Lombardy is also the financial capital of Italy, the capital of fashion, and modern arts. Milan is definitely an Italy bucket list item, that must be seen. The first on the list of the things to do in Milan is the beautiful Duomo di Milano. This is one of the largest gothic churches in Europe, and it's still under construction! Milan also has many hidden gems and other churches that are just incredible and must be seen!
Then, the famous Galleria Vittorio Emmanuele II, that's located near the duomo, and it's hosting the most famous luxury fashion brands, art galleries, and restaurants. A chic place for those who love the chic! Milan is also the home of one of Europe's most famous opera houses, the Teatro alla Scala. This city also offers you the chance to travel between times, discover the modern era, the financial district and Isola neighborhood, then dive into the Brera Design District that's full of art and culture, and walk down to Navigli, which is the most Italian neighborhood of Milan, with fantastic bars and charming view on the canals of Navigli.
---
8. Naples
The most lively city of Italy, the region of Campania
Recommended by Nicole, from Go Far Grow Close blog
Naples is a major city in southern Italy with a population of around 3 million people. It has its own international airport that is 5 km or approximately 15 minutes by car to the city center. It also has a central train station that links to cities and towns all over Italy.
Naples is often overlooked when people plan their itinerary to Italy. However, it offers a lot and should be included. Firstly, it is filled with centuries of significant art and architecture. Two important examples are the Duomo di San Gennaro and Castel Nuovo, both built in the 13th century. The Duomo di San Gennaro is Naples' cathedral and is filled with breathtaking frescoes whereas the Castel Nuovo is an imposing medieval castle located in front of Piazza Municipio and city hall, just steps to the Mediterranean Sea.
Secondly, it is a 20-30 minute drive to Mount Vesuvius and Pompei. Mount Vesuvius is an active volcano that offers stunning hikes. Pompeii is an extraordinary excavation site of a Roman city that was buried by an eruption of Mount Vesuvius in 79 A.D. Visitors can freely walk the streets of this ancient city and see its ruins.
Thirdly, it is the birthplace of pizza, most significantly Neapolitan pizza. This style of pizza is prepared with simple and fresh ingredients such as raw tomatoes, fresh mozzarella cheese, fresh basil, and olive oil. You will be able to find some of the most delicious Neapolitan pizza in the world anywhere you go in Naples. Do you need more reasons to add Naples to your Italy bucket list?
---
9. Palermo
Italian bucket list item, the capital city of Sicily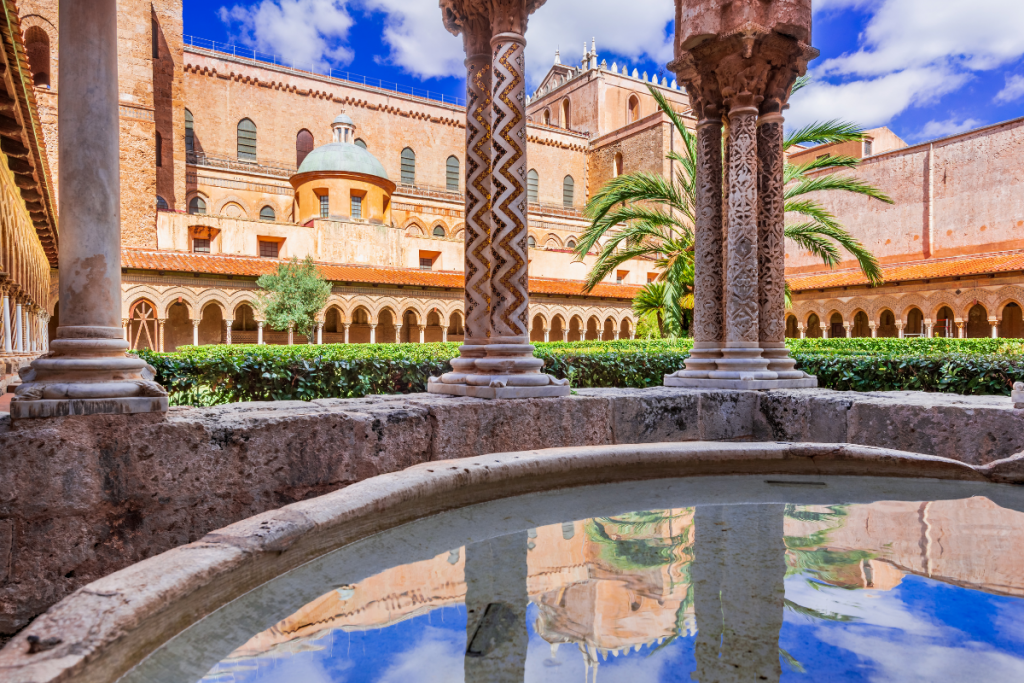 Recommended by Nichola, from Globalmouse Travel blog
Palermo is a real mix of cultures and for that reason alone it feels vibrant and exciting. Here Europe and north Africa start to merge a little and the influences of both can be felt across the city. For a long time Palermo, the largest city in Scilly was given a wide berth by visitors.
Today, although parts of it still look fairly dilapidated it has a real charm and warmth, and once you visit you will want to find out more. Markets abound in Palermo, stalls overflowing with fresh produce and bountiful supplies mean this city is having a bit of a foodie revolution with plenty of great restaurants to enjoy. There's a culture here in bucket loads too – Italy's biggest opera house stands proudly in Palermo and there are wonderful, characterful churches and richly decorated squares at every turn.
Quattro Canti, is perhaps the prettiest, here four Baroque buildings look on at each other, all with fountains and statues which represent the four seasons – it's a truly spectacular intersection. If you're looking for a family holiday in Italy then Palermo is perfect as a city break destination. With all the culture, fantastic food, and wonderful city vibe is a great place to spend some time on this beautiful island. Fly into Palermo or take a boat from the mainland and stay for as much time as you can, however long you do stay won't be long enough. It's a must for your Italy bucket list.
---
10. Pisa
A small town in Italy, in the region of Tuscany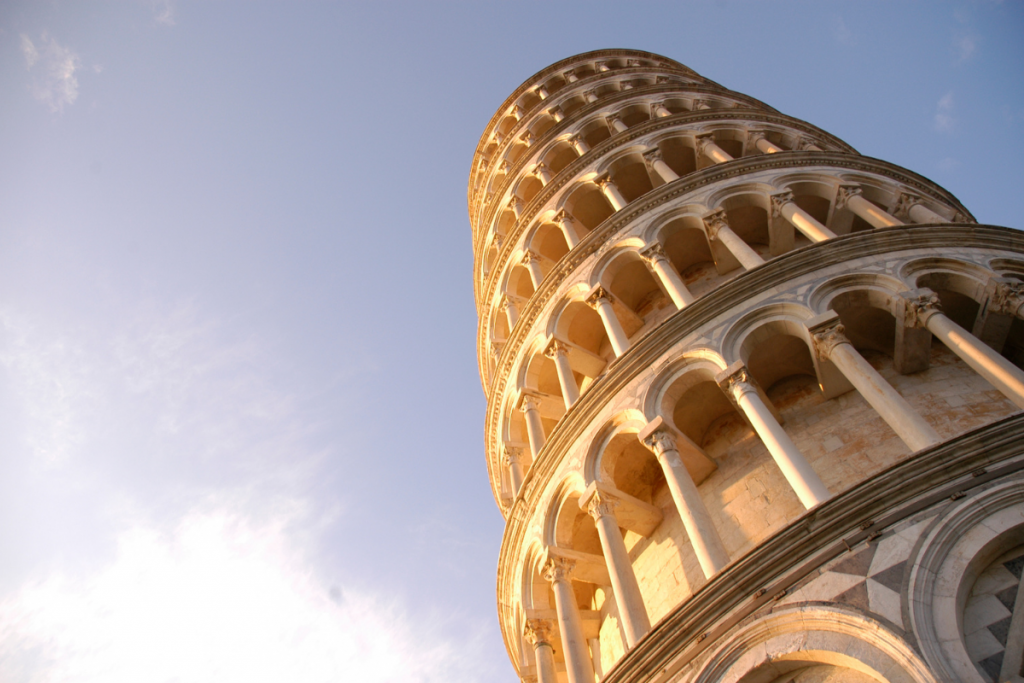 Recommended by Lyndsay, from The Purposely Lost blog
Even though most tourists just go for a couple of hours, Pisa is one of the best cities to visit in Italy. While most visitors are really just going to see the Leaning Tower, there are many historic sites and activities in this city.
Make sure you spend at least one day in Pisa. This charming Tuscany town sits on the coast of Italy and is known primarily for the Leaning Tower of Pisa. Originally constructed as a bell tower for the nearby cathedral, it began tilting when the second floor was constructed in the 1300s. Once you're at the Tower, consider taking the opportunity to visit the whole Piazza dei Miracoli, including the Cathedral, the Baptistry, and the Cemetary.
Because most visitors just come to Pisa to see the Leaning Tower, the rest of the city is quite quiet. You'll have a great experience walking by the Arno River, which flows right across the town, exploring side streets, and discovering phenomenal coffee houses and small shops lining the piazzas.
Marina di Pisa is another popular part of Pisa. Only 20 minutes west from the middle of town, you'll be standing on a stunning coastline. The sand beaches are beautiful, and you can rent a lounge chair or place your towel down by the sea, or try any of the restaurants or clubs and bars along the shoreline.
---
11. Rome
The capital city of Italy, in the region of Lazio
Recommended by Helga, from ShegoWandering
You've never seen Italy if you've never visited Rome! The capital city of Italy is like a museum on its own. Centuries of history, art, culture, religion, architecture, and life. Every square, every street, every hill has something incredible to offer. If you're visiting Rome, you must not miss the Colosseum, the Pantheon, and the Trevi Fountain, which are the most famous landmarks in Rome. One day you must visit Vatican City for so many reasons! The first reason is to see the Basilican San Pietro, that's probably the most breathtaking church you'll ever enter!
But Rome isn't just about landmarks! If you're visiting Rome, make sure to spend some time in the authentic Trastevere neighborhood, try the famous local pasta dishes as the Cacio e Pepe, and the Carbonara, and enjoy the evening with some music near Piazza Navona. Rome is a feeling, not a place! Discover it all, and take it all in! Even if you're spending just 3 days in Rome, you can see it all, if you know the right way! Anyhow, Rome must be on top of your Italy bucket list!
---
12. San Marino
The city-state of San Marino near the region of Emilia-Romagna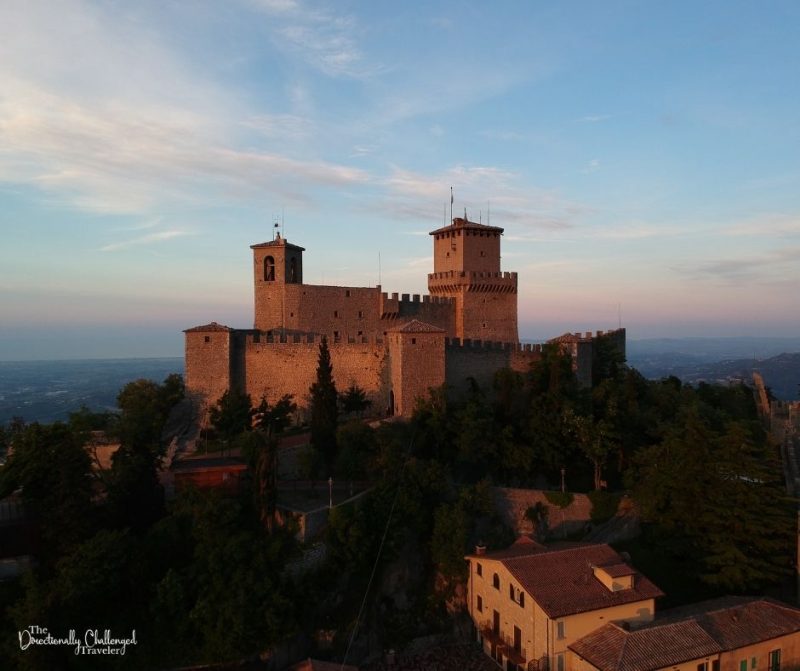 Recommended by Pamela, from The Directionally Challenged Traveler blog
An amazing hidden gem in Italy is the tiny micro-country (and city) of San Marino. It boasts breathtaking views of the Italian countryside while being home to an impressive castle. Breakaway from the crowds of the cities in Italy, and travel to San Marino.
It's impossible to miss the towering castles on the peak of the mountain. If you're driving, be prepared for hairpin turns and a slow, long climb to the top! There are three towers to explore, dating back to the 11th century! The First Tower, Guaita is the oldest tower built in the 11th century and most famous. The Second Tower, Cesta, is on the highest peak and is home to a museum holding over 1500 weapons dating back to the Medieval Era. The Montale, the third tower, is on the smallest summit and is not open to the public.
Just because San Marino is small doesn't mean it doesn't have plenty to do! The National Museum opened in 1899 and is home to over 5,000 artifacts (most of which are Native to San Marino) dating back to the neolithic era. The Basilica di San Marino is a beautiful Catholic church dedicated to the founder and patron of the Republic – Saint Marinus. If you like more of the unusual museums, then right across the street from the Hotel Cesare is the Torture Museum.
San Marino is truly a wonderful destination and shouldn't be missed when visiting Italy.
---
13. Siena
Italian bucket list item in the region of Tuscany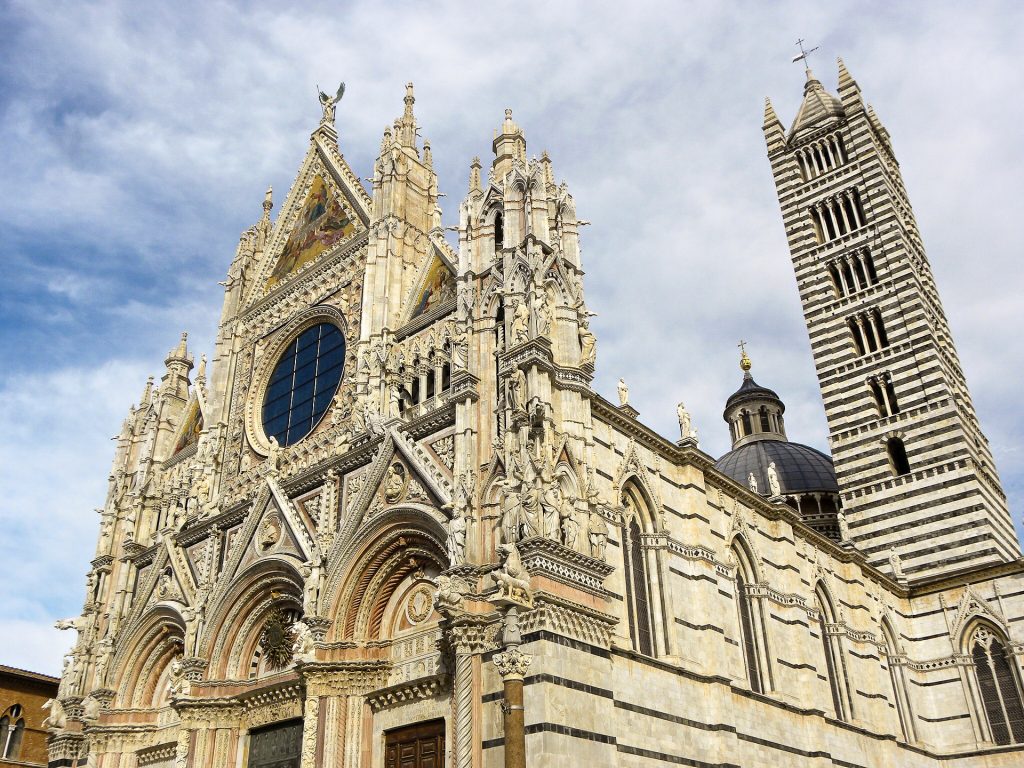 Recommended by Renee, from Dream Plan Experience blog
Visit the medieval city of Siena and marvel at its gothic architecture where little has changed over the centuries. This beautiful, yet the mysterious city is located in the rolling hills of the central part of Tuscany.
The heart of Siena is the 13th century Piazza del Campo. Its massive shell-shaped design is considered to be one of Europe's greatest medieval squares. Forming almost an entire side of the square is the gothic town hall and tower. Today, this impressive building hosts the Museo Civico. Climb one of Italy's tallest secular towers, Torre del Mangia, where you will be awarded the most spectacular views of the city and surrounding countryside.
Next head to the 13th century Siena Cathedral (Duomo di Siena). Known as the most beautiful cathedral in Tuscany, its interior is even more impressive than the exterior. It is filled with intricate details and artwork by Pisano, Donatello, Bernini, and Michelangelo. One of the most unusual sites in the city is the unfinished façade of the cathedral called the Facciatone. Siena is a wonderful city to simply get lost in its endless winding streets. From there, go and explore the nearby countryside to discover many more charming Tuscan towns.
---
14. Torino
Region of Piedmont, North of Italy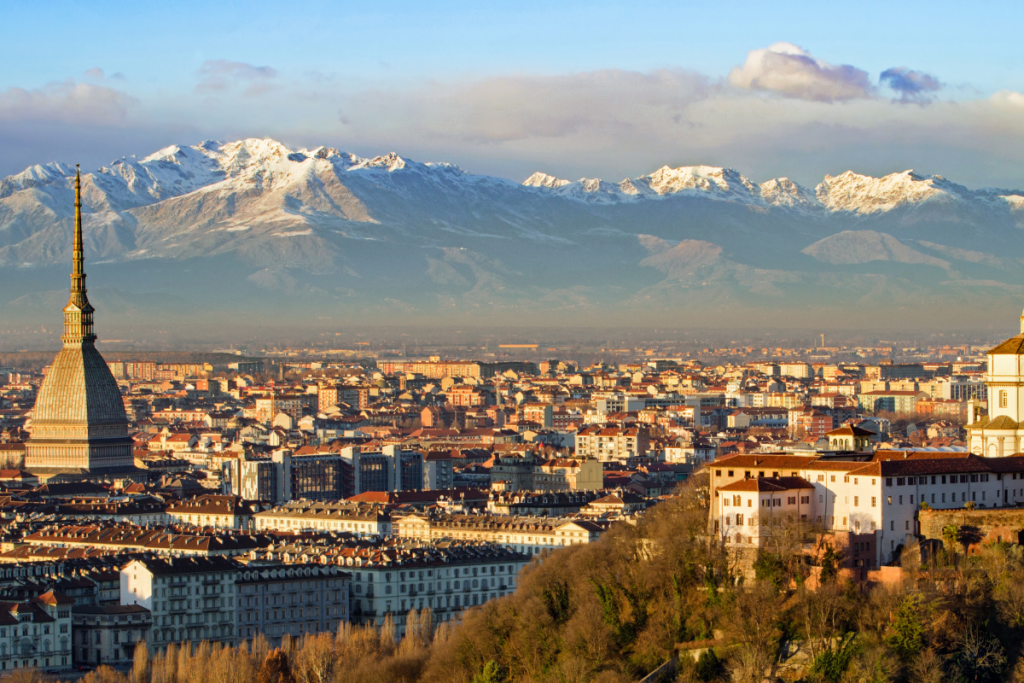 Recommended by Annabel, from Smudged Postcard blog
Torino is an underrated city which warrants far more visitors than it gets. Located in the north of Italy, around an hour by train from Milan, Torino is perfect for learning about the royal history of Italy.
Torino was the capital of the House of Savoy in the 16th century and was for a brief period the capital of Italy during its unification in the 19th century. The city's elegant streets and piazzas reflect this history with Baroque palazzos and impressive royal palaces. Nowadays, Torino is perhaps more famous for its automotive history – it is the home of car giant Fiat and also Lancia. Car fans will no doubt enjoy the city's Automotive Museum.
Along with impressive piazzas and palaces, there is a good range of things to do in Torino. The city's Egyptian Museum holds the most Egyptian artifacts outside of Egypt. Also worth a visit is the Cinema Museum, housed in a towering edifice in the center of the city. The museum has a spire with a viewing gallery offering impressive views across the city. In a region renowned for both its food and its wine, Torino is a foodie delight. Barolo, produced in the nearby Piedmont hills, is one of the best red wines produced in Italy. Truffles and hazelnuts feature on many of the menus – both produced locally. Torino must definitely be on your Italy bucket list.
---
15. Venice
Region of Veneto, North of Italy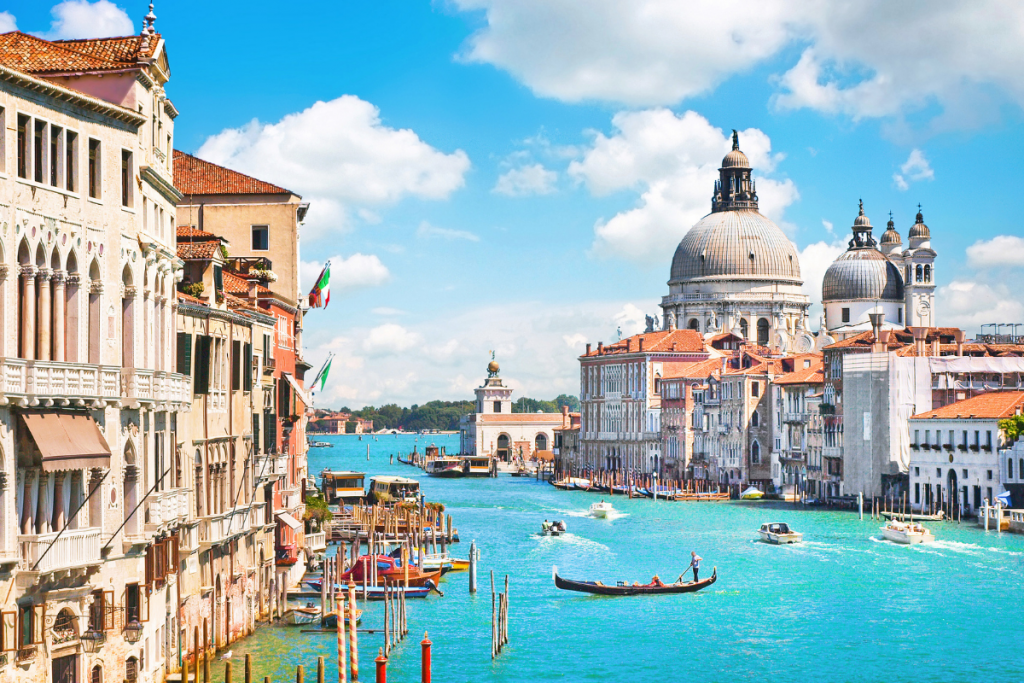 Recommended by James Ian, from Travel Collecting
Venice has to be on everyone's Italy bucket list. The city with its narrow streets running alongside a labyrinth of canals is magical. The city is an island and can be reached by train or boat. If you are flying into Venice, take a ferry directly from the airport to the city. Ferries (called Vaporetto) and water taxis are also the main way to get around Venice. Of course, you must take a gondola ride, but these are not used for transportation anymore. Even better – you can actually learn how to row a gondola yourself!
The center of Venice is Piazza San Marco/ St Mark's Square. Sitting at an outdoor café with a coffee or an Aperol spritz, listening to live music, and taking in the incredible beauty of this place is an absolute must. At one end of the square is the St Mark's Basilica (go up to the balcony for stunning views of the plaza) and the campanile tower, which you can climb for a bird's eye view of the city. Strangely, you can't actually see the canals from this viewpoint! Don't miss the nearby Doge's Palace.
Also not to be missed is a trip along the Grand Canal, the main waterway that snakes its way through Venice. There are several famous bridges, especially the gorgeous Rialto Bridge and the tiny covered bridge of Sighs. There also are many tiny plazas scattered around Venice and having a meal at any of the restaurants is well worth it.
---
16. Verona
Region of Veneto, North of Italy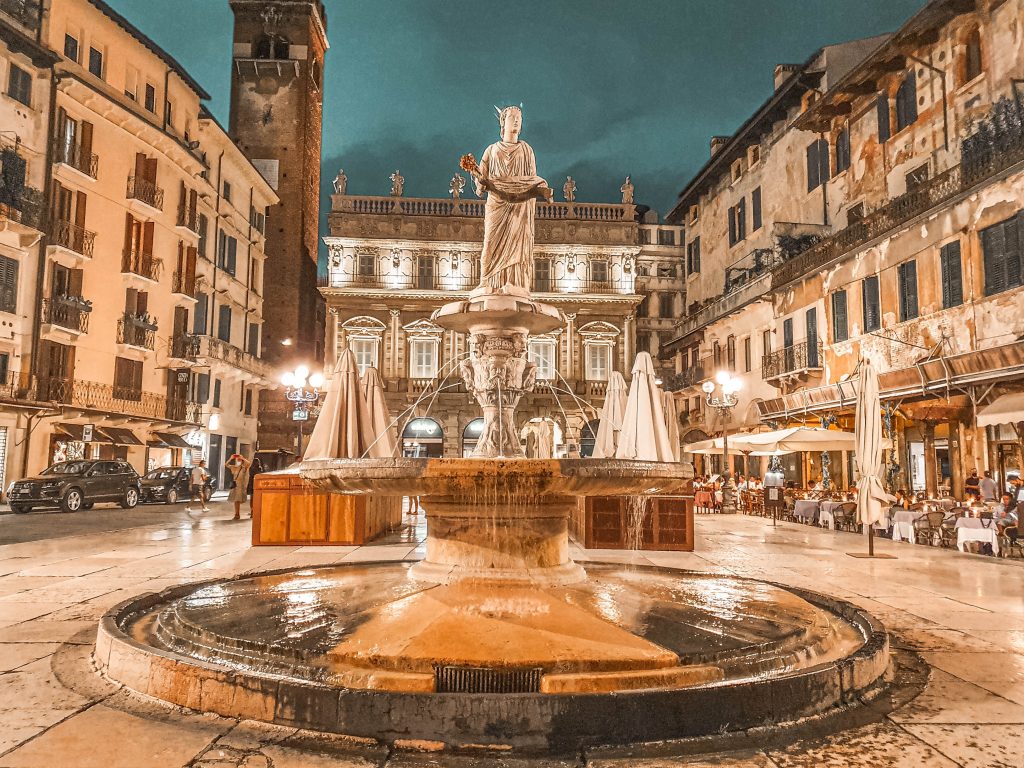 Recommended by Helga, from ShegoWandering
Verona is possibly one of the most romantic towns in Italy. However, there are many more reasons to visit Verona! The story of Romeo and Juliet feels like it's all around the historic center. Verona has the most charming and romantic streets downtown to wander around for hours.
Colorful buildings that are preserved beautifully, and squares that will make you fall in love. Visit the Piazza Bra, where the 2nd largest well-preserved amphitheater of the Roman Empire is still standing. Then, head to the fascinating Piazza delle Erbe, and stop by for a drink to admire the square.
Right near the Piazza delle Erbe is the famous House of Juliet, where you can enter, you can touch Juliet's breast for good luck in love, and you can stand on the iconic balcony, to wait for your Romeo. While visiting Verona, you must see the famous Ponte Pietra, that's been damaged in WW 2, and the Castelvecchio. And, we're still not done! There's one place in Verona that's offering an incredible view over the historic center of the town from Castel San Pietro! Verona must be on your Italy bucket list!
---
---
Pin me: Italy bucket list – 16 Italian cities you must visit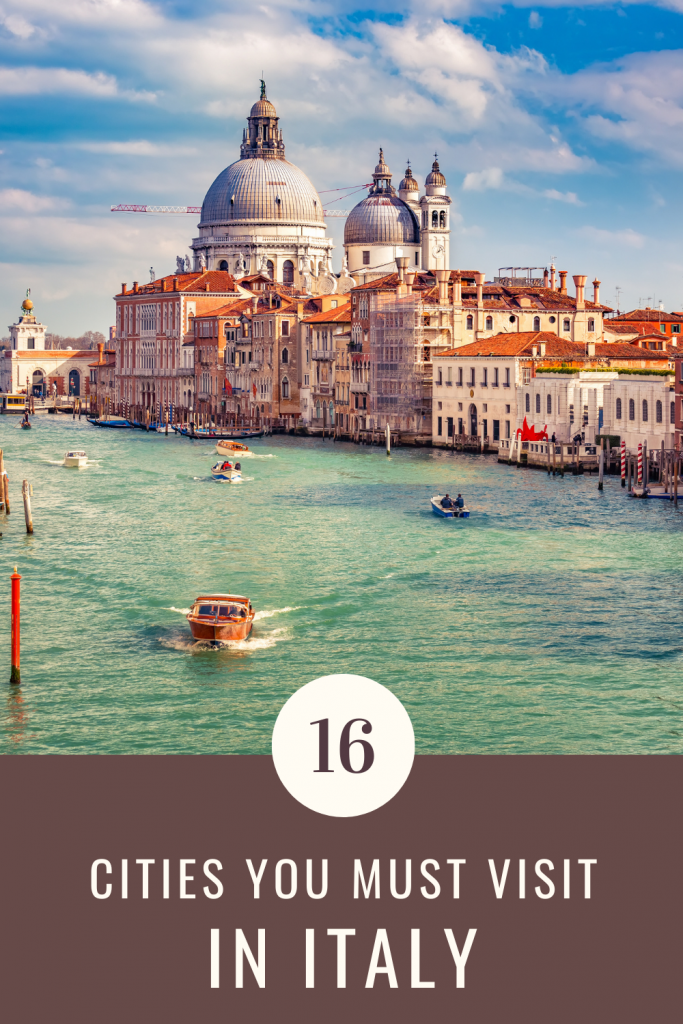 Italian Cities – 16 Cities to Visit in Italy