If I think back to my very first visit to Milan in 2017 when I said that the city is overrated, and there's not much to see… I feel really ashamed! In fact, there are so many amazing things to do in Milan! If anyone says otherwise, they never spent enough time to discover it! And let's face it, most of the bloggers I've personally been following didn't spend more time in Milan than 48 hours! I've learned the past year, that even a year isn't enough to explore it all! With my list of hidden gems in Milan Italy, we're just initiating to learn about the many things you can actually do in Milan, Italy!
Since I live in Italy, and I'm traveling up to Milan every week for my work projects, I learned that there isn't enough time to see it all at once! There are actually so many hidden things to see in Milan… The Duomo di Milano and the neighboring area is literally the smallest piece of the cake! Now, let's get right into all the hidden gems of Milan, Italy!
---
10 Hidden places in Milan Italy – Milan's Hidden Gems
Leaving behind the most popular square in Milan, the Piazza Duomo, you can explore many different faces of Milan, Italy. The city is diverse in so many ways, and there are such amazing contrasts to notice by heading from one district to another. Are you ready to see the real face of Milan? Here are the top 10 hidden gems in Milan, Italy.
1. Bosco Verticale in Porta Nuova district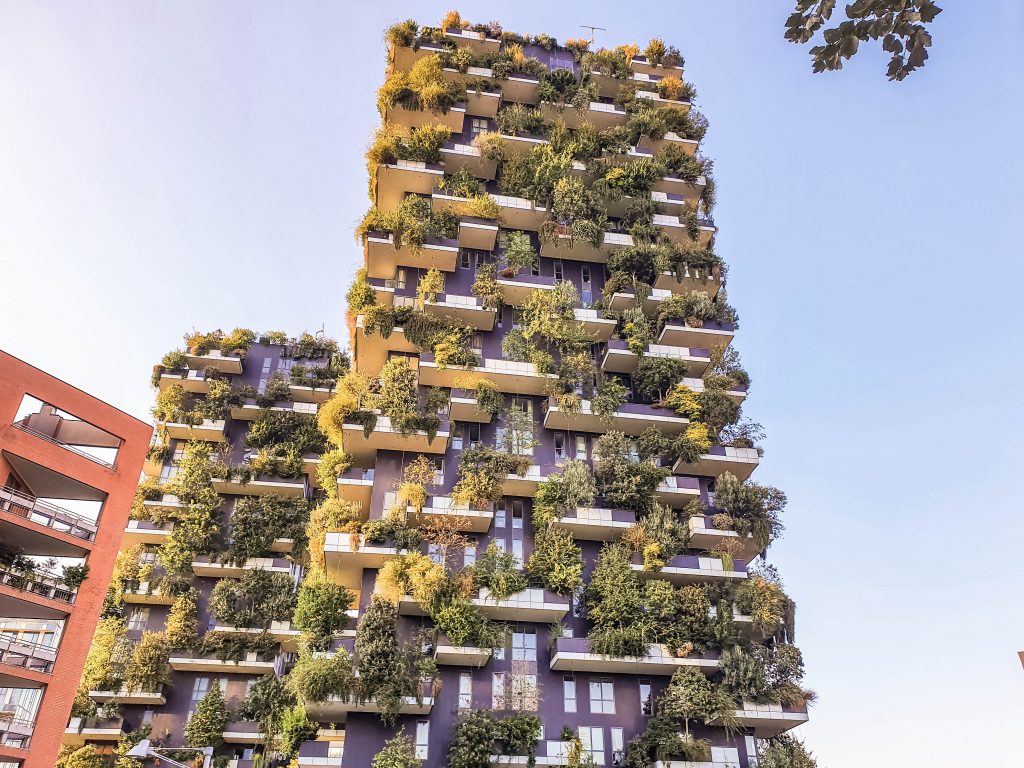 Possibly one of the most beautiful modern buildings I've ever seen! I'm not a huge fan of modern architecture myself, but the Bosco Verticale, or as it's called in English, the Vertical Forest is just amazing! The Vertical Forest is a pair of residential buildings, between Via Gaetano de Castillia and Via Federico Confalonieri, right near the Milano Porta Nuova railway station and Milan's financial district.
It's also easy to get here by underground (metro) if you're getting off at Garibaldi FS. The concept of the Vertical Forest was to redesign the historic neighborhood, which is also known right now as the richest neighborhood in Europe. Don't forget that Porta Nuova is the financial district of Milan! The Bosco Verticale contains about 900 trees among the two buildings, and it's one of the most expensive places to get an apartment in Milan, just so you know! I personally love to go on a walk around and admire it, as how many times do you see 900 trees on two blocks? It's not so hidden, but it's still one of the best of Milan hidden gems.
---
2. Leonardo da Vinci's vineyard and Casa degli Atellani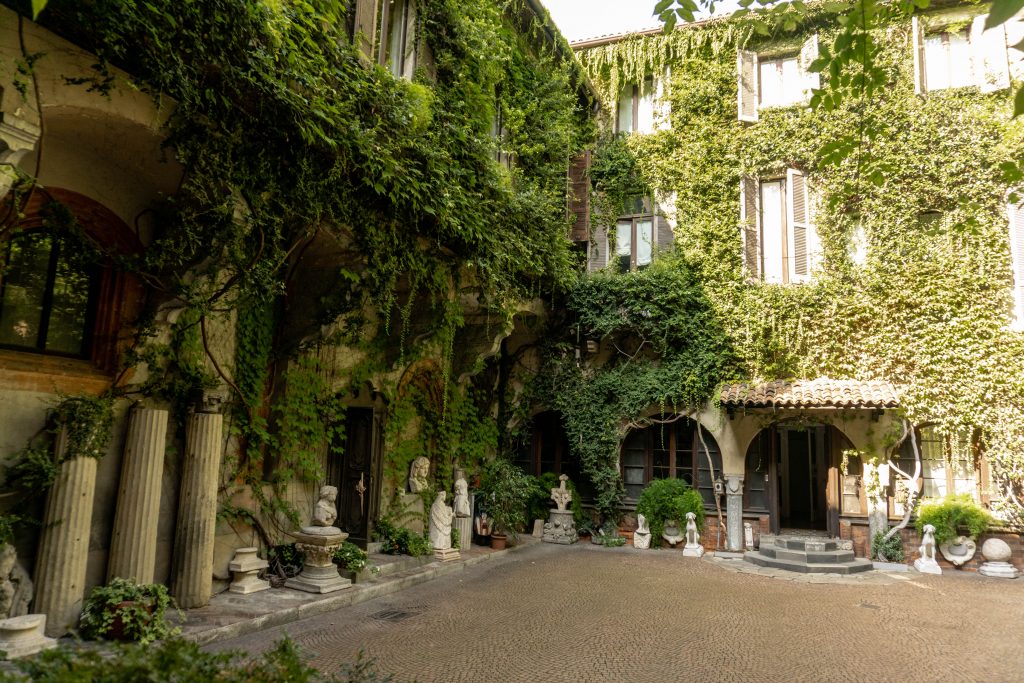 Well, this is the type of architecture I prefer most! The Villa degli Atellani is definitely a hidden gem in Milan, Italy! I never knew it existed until an Italian blogger friend who's based in Milan didn't tell me about it! La Vigna di Leonardo and the Casa degli Atellani is a new museum. It's located right near the Santa Maria delle Grazie church, where you can see The Last Supper by Leonardo da Vinci.
The famous figure of the Renaissance Age, Leonardo da Vinci has had once his vineyard in the backyard of the today-standing Casa degli Atellani. It's definitely one of the best Milan secret places!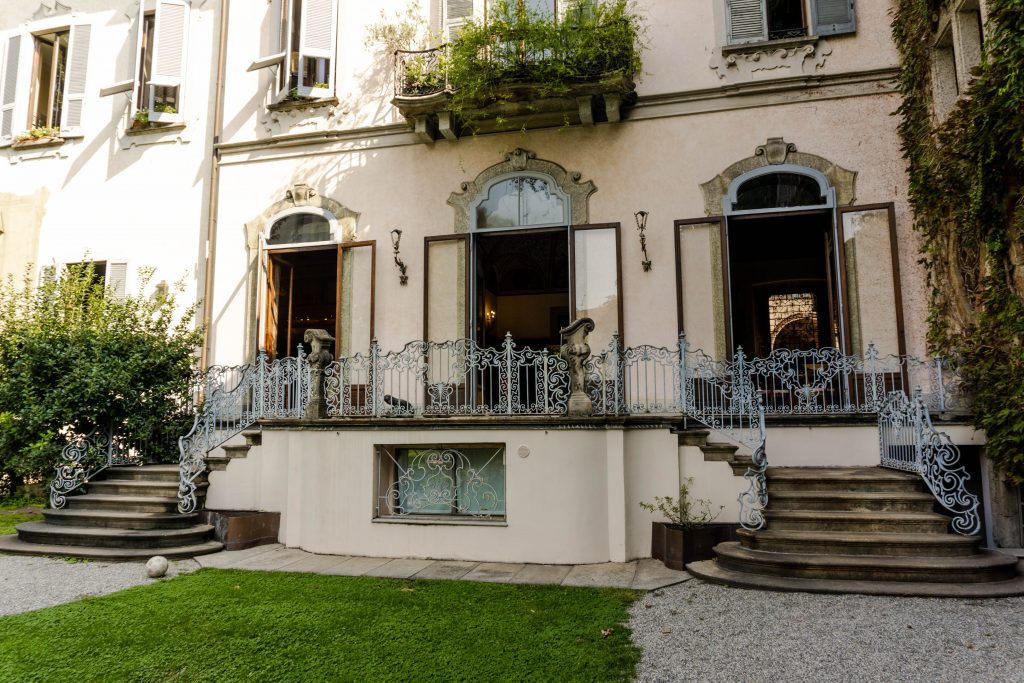 While visiting the museum of Casa degli Atellani, which is divided into 7 areas to explore, you'll travel back in time. The 7 areas are the courtyards of Pero Portaluppi, the Zodiac Hall, the Luini Hall, Ettore Conti's studio, the Staircase Hall, the Garden of Earthly Delights, and Leonardo's Vineyard at the back.
The Casa degli Atellani is a stunning Renaissance dwelling and all the areas you can discover on your museum tour will make you fall in love with historic Italian palazzos. The tour doesn't take long, about 30-40 minutes to get around everything. So if you've booked your visit to the Last Supper, definitely cross the street for some charming venues in the Vigna di Leonardo and Casa Degli Atellani museum, a spectacular hidden gem in Milan, Italy!
---
3. Chiesa di San Bernardino alle Ossa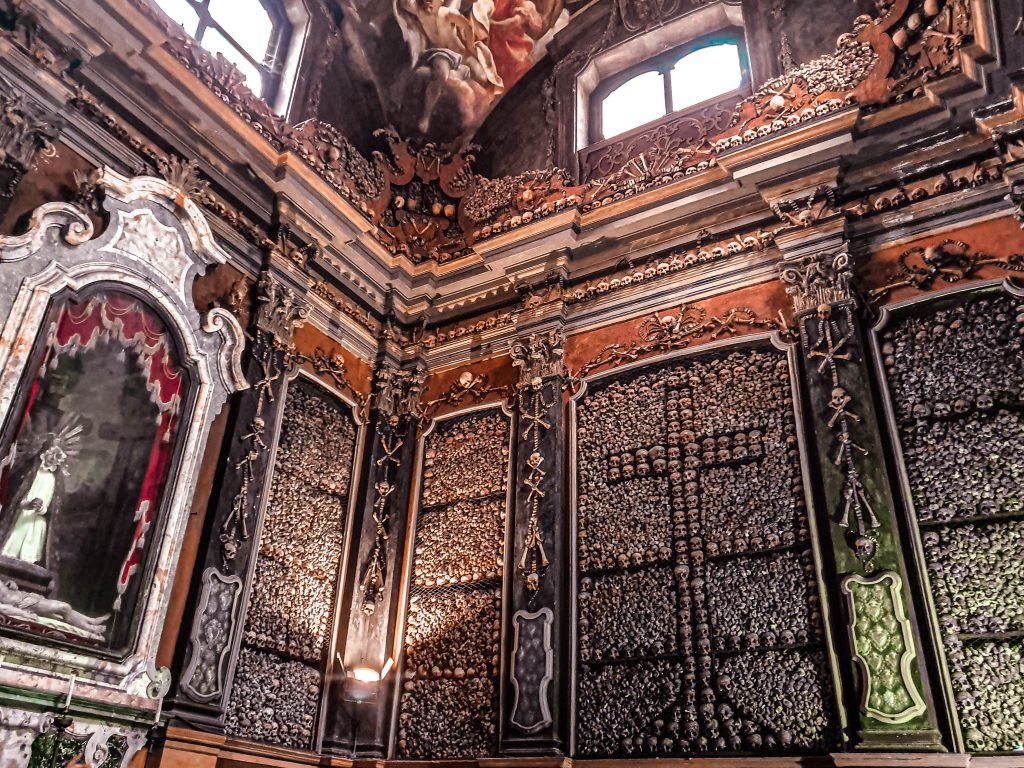 Location: Piazza Santo Stefano, Milano
One of the most amazing, yet spooky hidden gems in Milan Italy! San Bernardino alle Ossa was first built in the 13th century and rebuilt after a fire destroyed it in the 18th century. A remarkable piece of the Baroque and Rococo style! The church in Milan is known for its ossuary and famous skull chapel.
The chapel is on the right-hand side as soon as you enter the church, at the end of a small corridor. The tall chapel is covered all around with thousands of human skulls and bones from the ossuary and other nearby cemeteries from the 17th century. The ceilings are covered with breathtaking frescoes by Sebastiano Ricci. This chapel is an unforgettable experience, an important piece of the things not to miss in Milan!
---
4. Navigli and the flea markets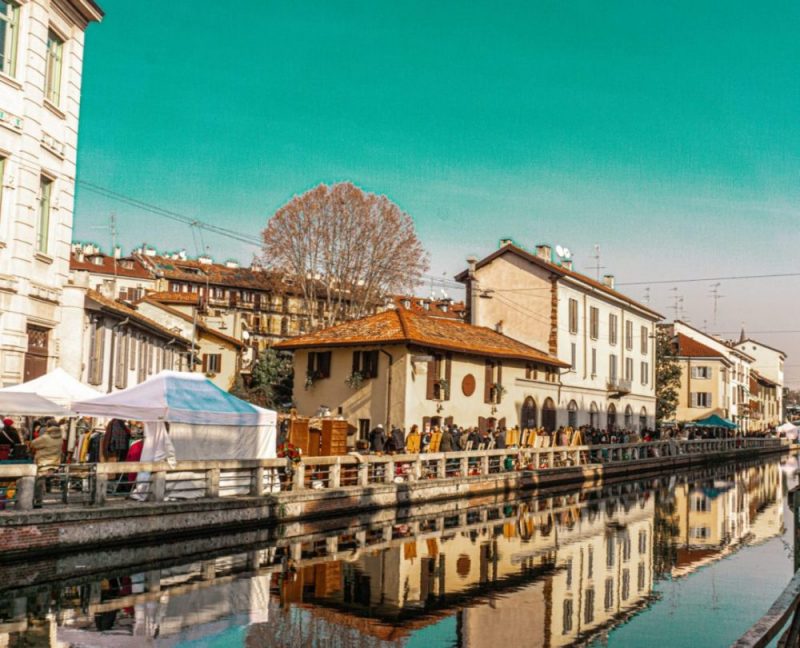 Navigli is the most colorful neighborhood I've seen around Milan. It's a good 35 minutes walk along Milan's historical center. I do advise against public transport when getting here, as you can still see many beautiful monuments along the way! If you have 48 hours in Milan, you'll have enough time anyway to get it all covered on foot. Navigli is possibly my favorite of Milan's hidden gems.
The authentic neighborhood is covered in gorgeous warm colors. Beautiful Italian palazzos, with the typical Italian window shutters, laud people, and the charm of the canals really deserve to be on the list of hidden gems in Milan, Italy!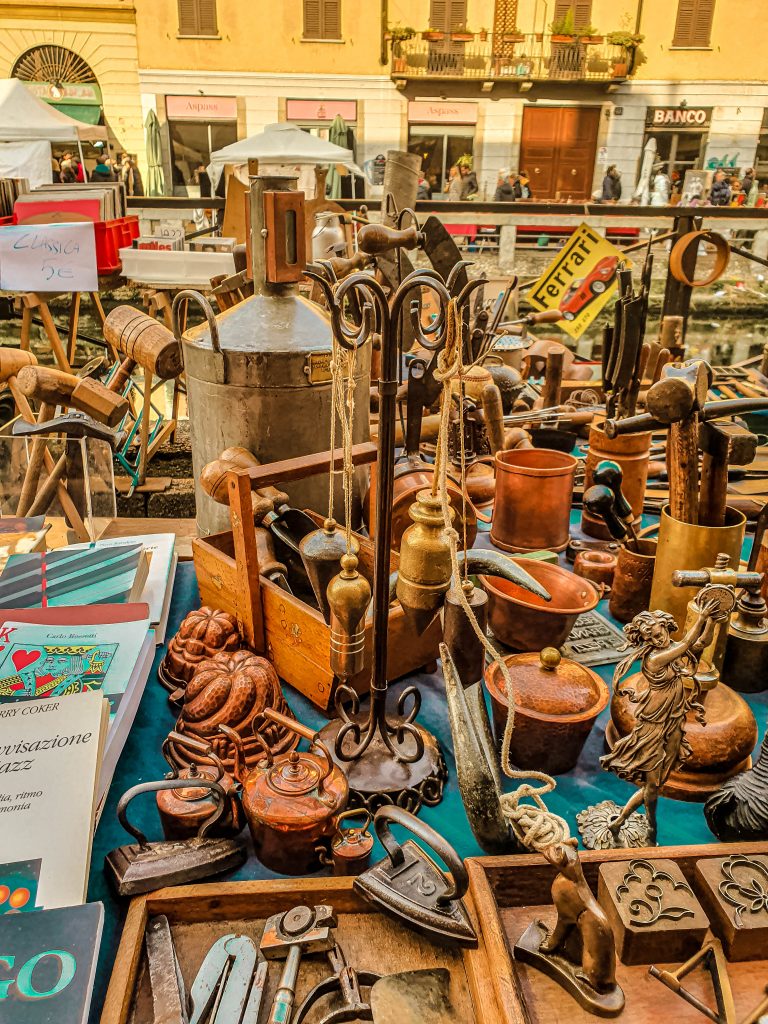 In Navigli, while you're wandering around, get some focaccia in the local bakery to make your journey delicious! You can also stop for an aperitivo, catch the flea market, or sunbathe near the Darsena canal. The flea markets in Navigli are always spectacular! Imagine them with lots and lots of unique, beautiful pieces of arts and crafts. It's always a great idea to head down the canals on Sunday for some shopping!
Navigli is also a very popular evening-night destination for folks looking for fun! If you're looking for a night out in Milan, Navigli definitely must be on your things to do in Milan list! Great aperitivo, great atmosphere, and dozens of bars and restaurants to pick from on the bank of the water. That's all in Navigli, the perfect place for a night out in Milan!
---
More hidden gems in Milan, Italy:
---
5. Shopfronts in Brera Design District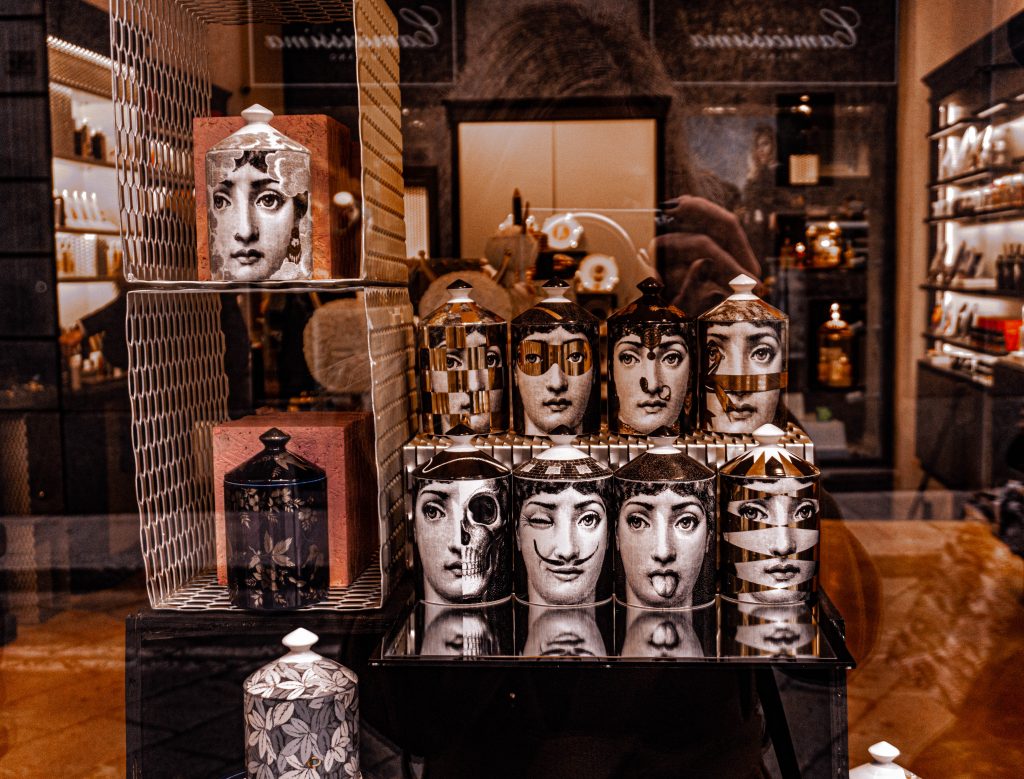 Brera is possibly the chicest Milanese neighborhood in the city. Beautiful authentic Italian palazzos, cute cobblestone streets, art galleries, and exhibitions. Brera neighborhood is where art, fashion, and design create a unique atmosphere and make you fall in love with the city of Milan! The shopfronts in Brera are definitely something that I must highlight on my Hidden gems in Milan, Italy list. Just have a look at them!
In the past years, Brera consolidated its role to become the most important benchmark for design on international levels. Two of the most important events organized during the year are the Brera Design Week and Brera Design Days. It's one of the most expensive neighborhoods in the city, but it's also the safest, and it's really nice to stay here while you're in Milan.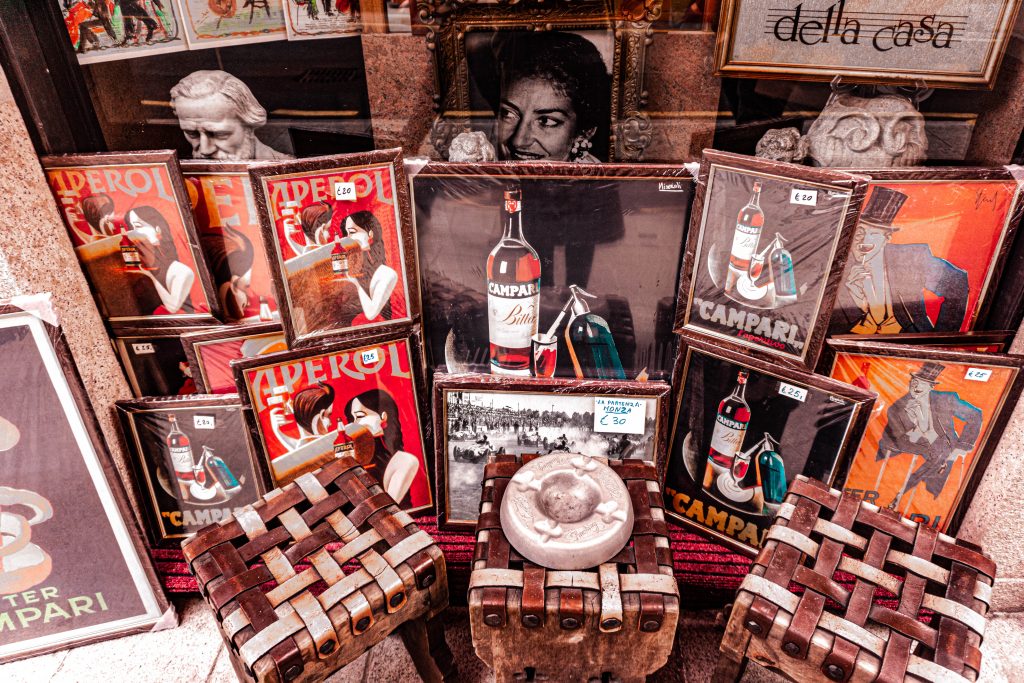 Now, those shopfronts around the neighborhood are literally unmissable. They are really unique hidden gems in Milan! Each shop you can find in Brera is really unique, and each has an amazing shopfront with amazing items. Even if you don't want to do shopping, just wandering around and admiring the shops will make your day in Milan unforgettable! The shops and galleries are definitely my favorite hidden gems in Milan, and they will be yours too!
---
6. Pinacoteca di Brera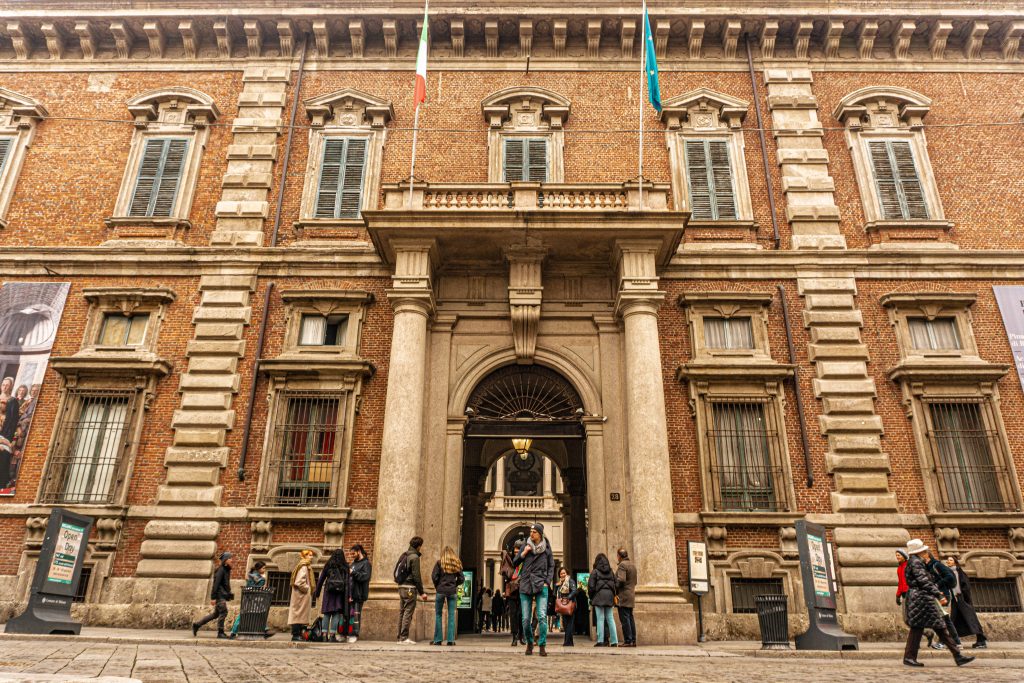 Location: Via Brera 28, Milano
The Accademia di Belle Arti (Fine-Art Academy) is a public athenaeum functioning in the Palazzo Brera. The academy is specialized in arts and science as well, having thousands of students applying every year. Accademia di Belle Arti is one of the oldest schools in Italy, and a symbol of arts.
The building complex is home for the academy, but also to the Pinacoteca di Brera, which is one of the most stunning hidden gems in Milan!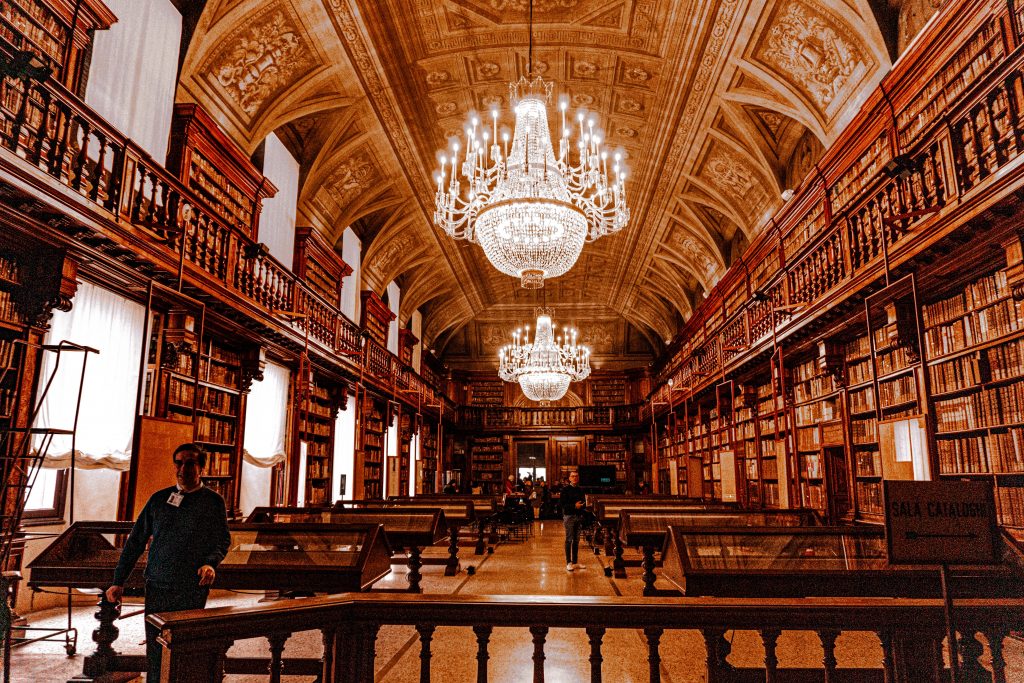 The Pinacoteca di Brera is the main open gallery of arts in Milan. Also located in Palazzo Brera. This gallery has one of the foremost painting collections in Italy! Definitely, a place that must be seen in Milan, and it's one of the best Milan secret places!
In addition, there's a stunning, stunning library on the top floor of the building. If it's open, it's really worth seeing, as it's really beautiful! For book-lovers it's a must!
---
7. Corso Buenos Aires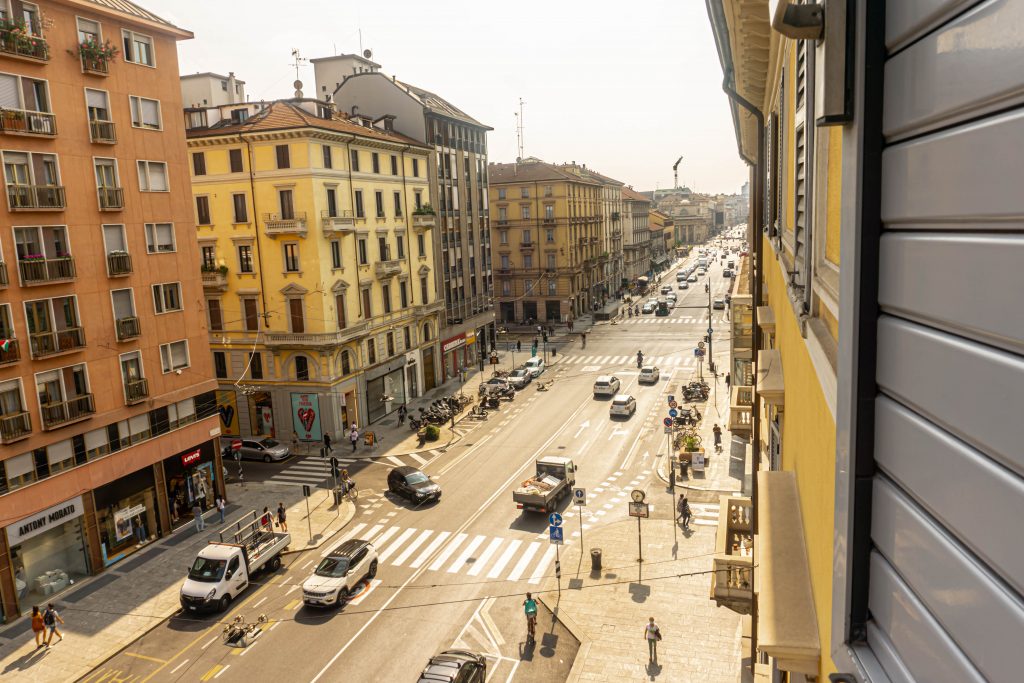 Corso Buenos Aires is where you want to go if you're planning a mid-budget shopping day in Milan. You'll literally find every important mid-budget international brand along the street, with tons and tons of Italian brands as well. If you're heading to Milan, shopping is always something you must do! If you can't afford to do it in the Galleria Vittorio Emmanuele II, where all the luxury brands can be found, you'll definitely love Corso Buenos Aires!
The neighborhood is packed with restaurants and bars of all kinds and types, and it's also a really great spot to stay while you're in Milan. Check out the My Studio Apartment Corso Buenos Aires if you haven't decided where to stay while discovering the hidden gems of Milan!
---
8. Colonne di San Lorenzo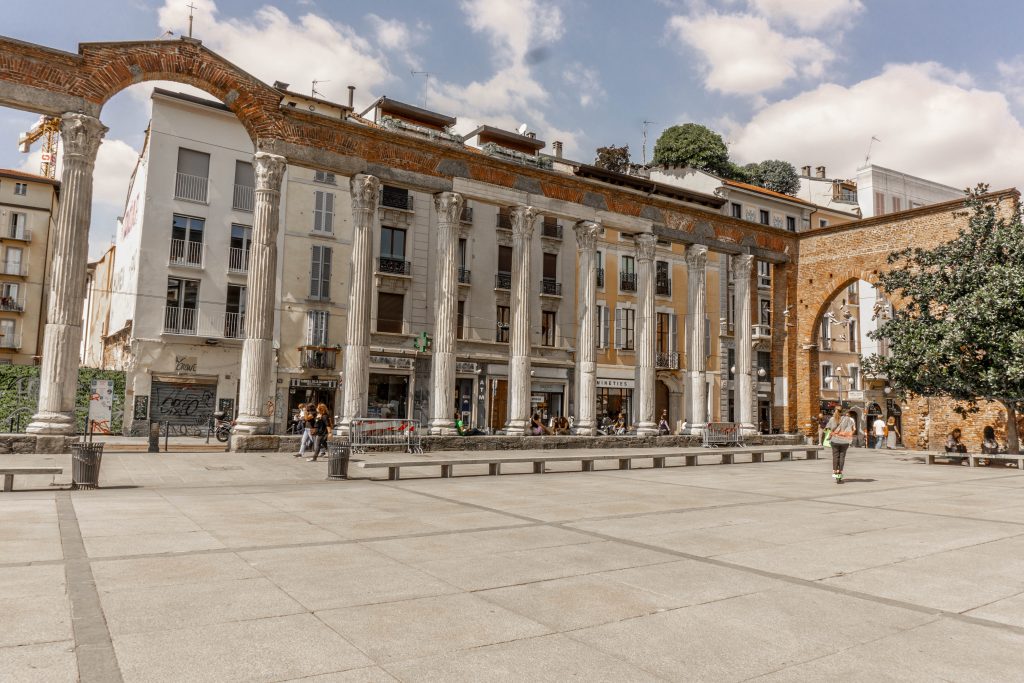 The ancient columns, Colonne di San Lorenzo are located just in front of the Basilica of San Lorenzo, in the heart of Milan. When I mentioned that you should head by walk from the Piazza del Duomo to Navigli, I mentioned that there are many things to see on the way. The Columns of San Lorenzo are one of the things you're going to see on the way!
Colonne di San Lorenzo consists of 16 Corinthian columns in a row. They were moved here around the 4th century and standing still. Until the 20th century, the church of San Lorenzo was completely surrounded by old houses. Now however there's an open piazza between the church and the colonnades, which allows a spectacular view of both! Don't miss this hidden, yet not-so-hidden gems in Milan Italy!
Where to stay in Milan, Italy?
If you're looking for quiet, yet beautiful places to stay in Milan, for an affordable price as well, check out Aparthotel Isola, Aparthotel Meneghino, Hotel Bogart or Monocase Milano.
---
---
Beside the hidden gems in Milan, Italy
A perfect 2-day Itinerary to Milan for those who're spending just 48 hours in Milan. You can also discover all the beautiful churches around the city of Milan. In addition, check out the 10 things to do in Milan to learn about all the important landmarks and neighborhoods. For accommodation inspiration, read my article about the Aparthotel Meneghino and Skyline Milan penthouse!
---
Pin it: Hidden Gems in Milan, Italy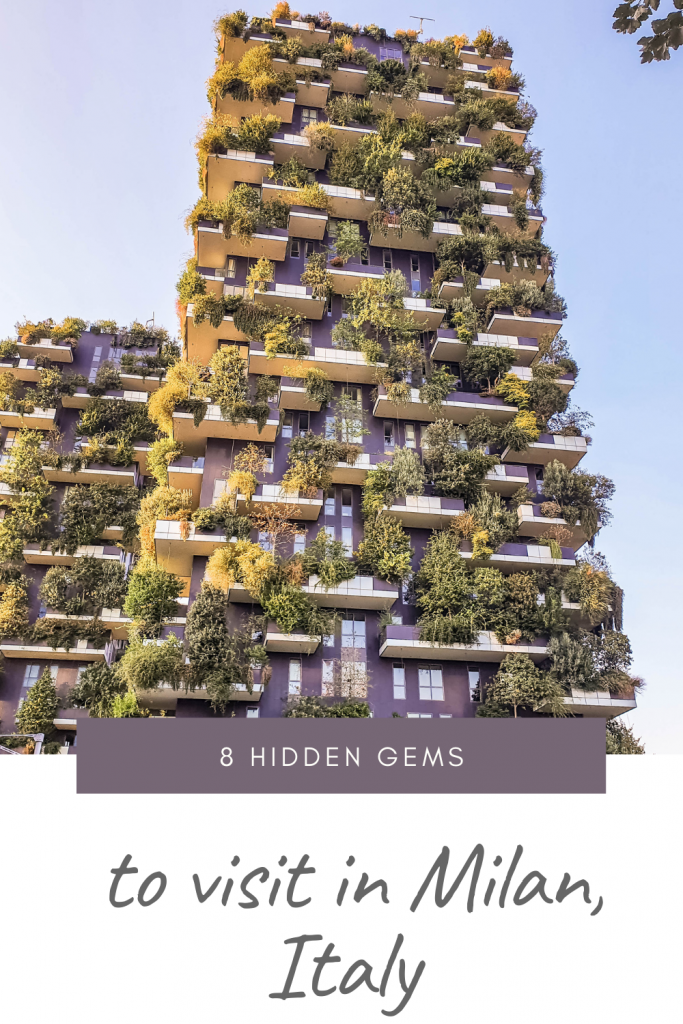 ---
Best hidden gems in Milan, Italy