How to eat in Italy? I've been planning to write about Italian food habits, and what do Italians eat for many years… However, I admitted to myself, that there was no way I could write an accurate article until I didn't live in Italy and learned more by myself. After almost 2 years of living in Emilia Romagna, surrounded by just Italian friends, now I feel confident to share everything I know about how to eat like an Italian!
This is possibly one of the best topics I ever wrote about on ShegoWandering, because Italian food is amazing, and these habits are even more amazing! I completely changed my eating habits since I live here, and I have implemented in my life most of what you'll read about, to eat like a local in Italy. Ready to get lost between delicious Italian dishes, and to learn about traditional eating habits in Italy?
Useful Italian words for food
How do you say eat in Italian: mangiare
How to say breakfast in Italian: colazione
How to say lunch in Italian: pranzo
How to say dinner in Italian: cena
How to eat like an Italian? How to eat in Italy?
Traditional Italian dishes in America are known either the traditional way or the Italian American way. Now, you might have seen many times people drinking Aperol, cappuccino, or eating different types of meals. But have you known that everything Italian eat and drink has a very strict tradition? When it comes to eating and drinking, there are basic eating habits in Italy that people do really respect! You might also know that there are many Italian dishes that don't exist in Italy. With this post, I intend to explain how to drink coffee and when, as well as other important eating rules in Italy. Ready? Let's see how to eat like a local in Italy!
---
1. Breakfast in Italy – What do Italians eat for breakfast?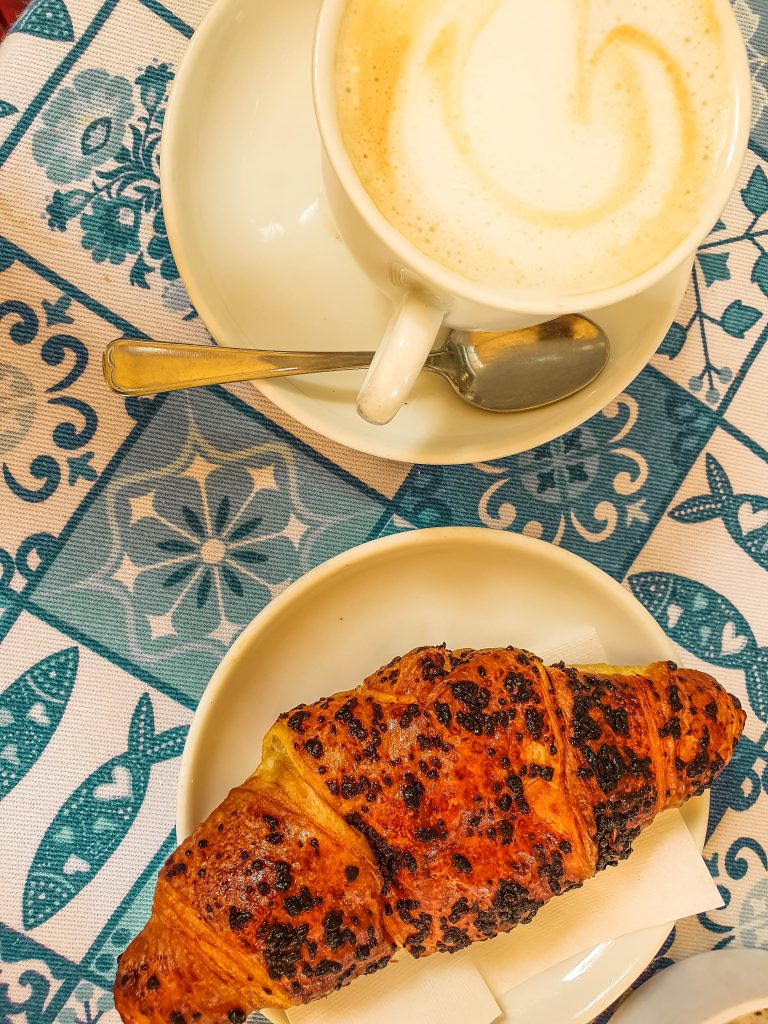 While in many countries the breakfast consists of a lot of food (think about the English breakfast), that includes meat also, breakfast in Italy is somewhat different. Also much more simple. And much less! The basics are always bakery products and coffee. If you stop by at any, literally any coffee shop, you'll see a variety of sweet pastries disposed at the bar.
So what do Italians eat for breakfast? Usually speaking, everyone wants brioche with a cappuccino! The brioche con la crema, which is the vanilla cream is always the most popular! That's getting sold out always the fastest… So if you go for a coffee and brioche later in the morning, usually the chocolate and the pistachio are left to find…
But what do Italians eat for breakfast at home? The rule doesn't really change.
Italians for breakfast at home tend to eat mostly the same. If not brioche, then sweet biscuits (biscotti), or other types of sweet pastries. Many, obviously, do eat things like eggs, cereals, and frittata. The frittata is an Italian-style omelet, which's usually made with a few types of vegetables and cheese. It's much thicker than an omelet and you can make it just as easily as any other egg-based dish.
---
2. Italian coffee culture – Italian coffee drinks
As we all know, Italian coffee is something amazing! There are a couple of basic things that are really easy to learn and keep in mind when it comes to the Italian coffee culture. When it comes to Italian food habits, just as in the Italian coffee culture, there are rules. However, these rules are really simple, and you can learn them. Keep these in mind and you will drink coffee in Italy just as the locals!
no take-aways
latte in English not equal with a latte in Italian
milky coffees are consumed ONLY in the morning
small dozes
How to drink coffee like an Italian?
When you want to just have a quick coffee in Italy, you pop in the coffee shop, order an espresso, have it at the bar in three sips and leave. The espresso is not meant to be drunk for long-lasting minutes. It's a quick drink that also kicks in quickly!
The dozes of coffee are also smaller than in other countries. When I get asked outside of Italy if I want a large cappuccino or a normal one, I'm always wondering why?! The cappuccino is meant to be drunk in no more than 20 minutes, while it's still warm. It's not meant to be consumed for hours!
In the Italian coffee culture, quality is always more important than quantity! You have one small coffee which is so good that every sip feels like heaven, and then you're done!
Italians believe that drinking milk after lunch is unhealthy – actually, it is – so they are never consuming any type of milky coffee, such as cappuccino, after lunchtime. If you've been to Italy before, and you wondered why the waiter looked at you surprised if you ordered a cappuccino late afternoon, well that's why! The afternoon is for small dozes of coffees without dairy. Espresso is also present in the evening, as an after-dinner drink. We'll get back to that later!
---
3. Lunch traditions in Italy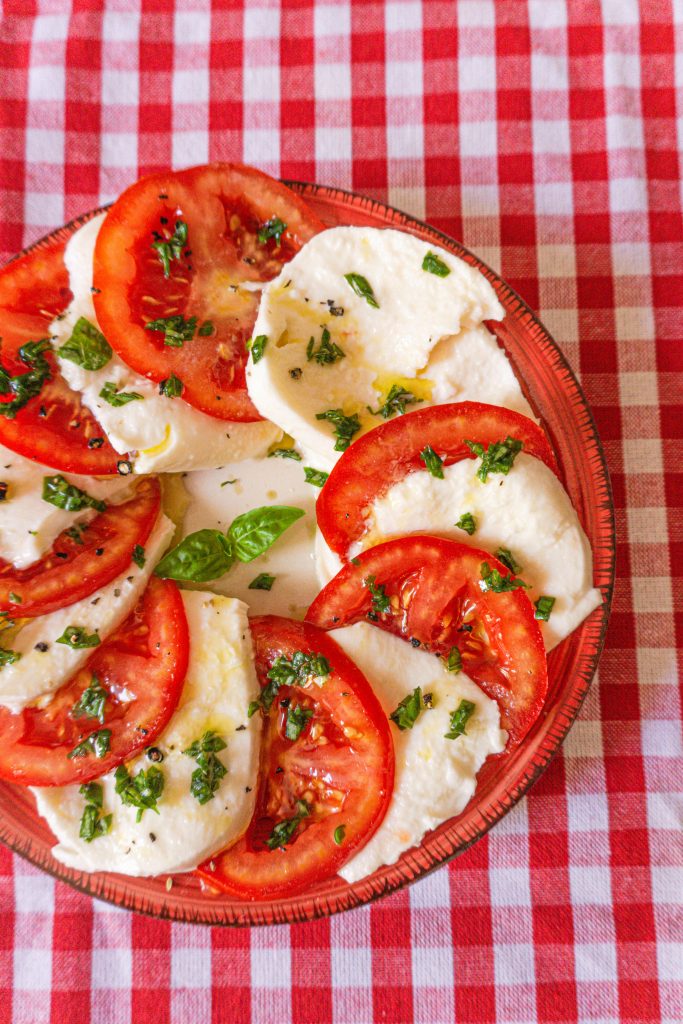 So, what to eat in Italy for lunch? Lunch in Italy is always something lighter. The Italian food habits for lunch are somewhat different than in other countries. Compared to Hungarian food culture, where lunch is the largest meal of the day! In Hungary, you have soup, a second course, and dessert. In Italy, that's not happening at lunchtime! The reason for this Italian food habit might also be that lunchtime in the hot months is really hot, and if you have something heavy, you'll fall asleep, or feel sick afterward.
Here you're always having something light, like pasta with pesto, a salad (as my favorite Caprese salad), or a panino, but NOT pizza! The only time when lunch is actually a big thing is an Italian Sunday family lunch maybe, but not during the week! Never! If you're looking for Italian-inspired lighter recipes, you can check the green pasta sauce, Carbonara, or the gramigna alla salsiccia as well!
---
5. The best, Italian aperitivo – Aperitivo in Italy is my favorite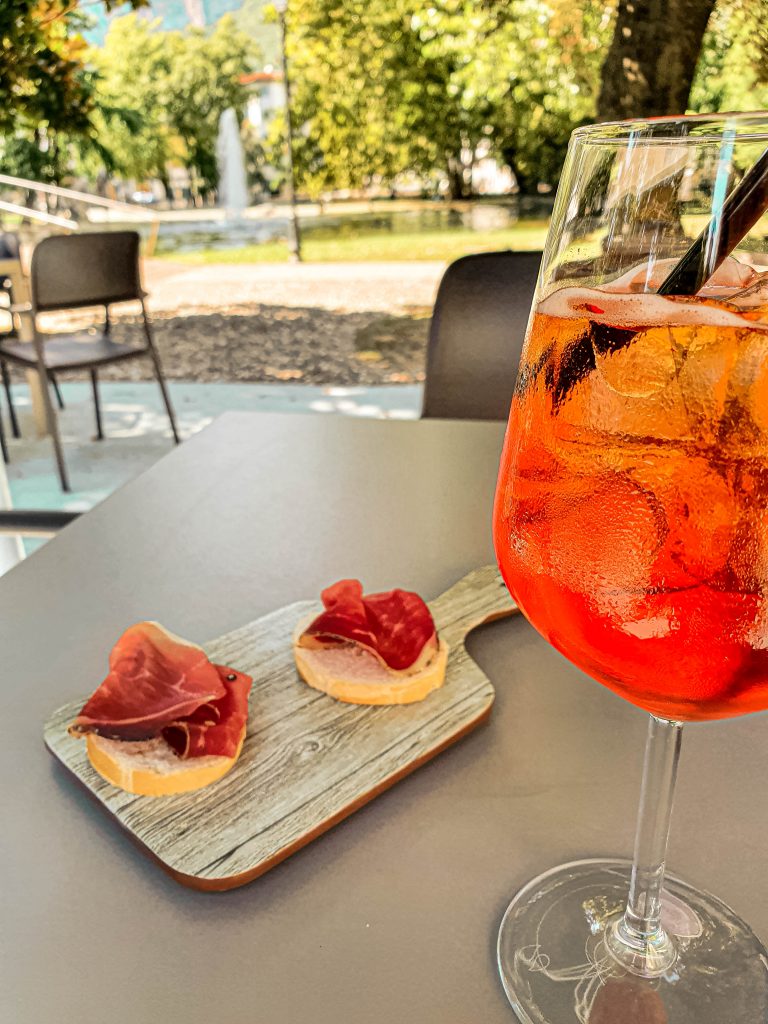 My personal favorite part of the day, the aperitivo time in Italy! This can be anytime after lunch and before dinner actually, but usually speaking, it should happen closer to dinner time!
When you're having an aperitivo in Italy, you get one of the traditional Italian aperitivo cocktails, like an Aperol Spritz or a Sbagliato. On the side, you'll always get Italian aperitivo food, that's consisting of different delicious bites. At aperitivo time in Italy, you don't have to ask for food! They will bring it anyway, though sometimes if it's early, they will ask you if you want to do aperitivo? That way they know if they should or not bring food.
The Italian aperitivo food in some places can be just chips and nuts. Usually, however, it comes with small bread and cold cuts, or pizza bites, bruschettas, and cheese.
Each restaurant gets creative about its aperitivo, and it's never the exact same you get everywhere. Aperitivo is a before-dinner tradition in Italy. When you're meeting friends you always settle if you're going out for aperitivo, for dinner, or after dinner. In Italy, basically, the whole circle of life is linked to eating!
---
5. Dinner in Italian culture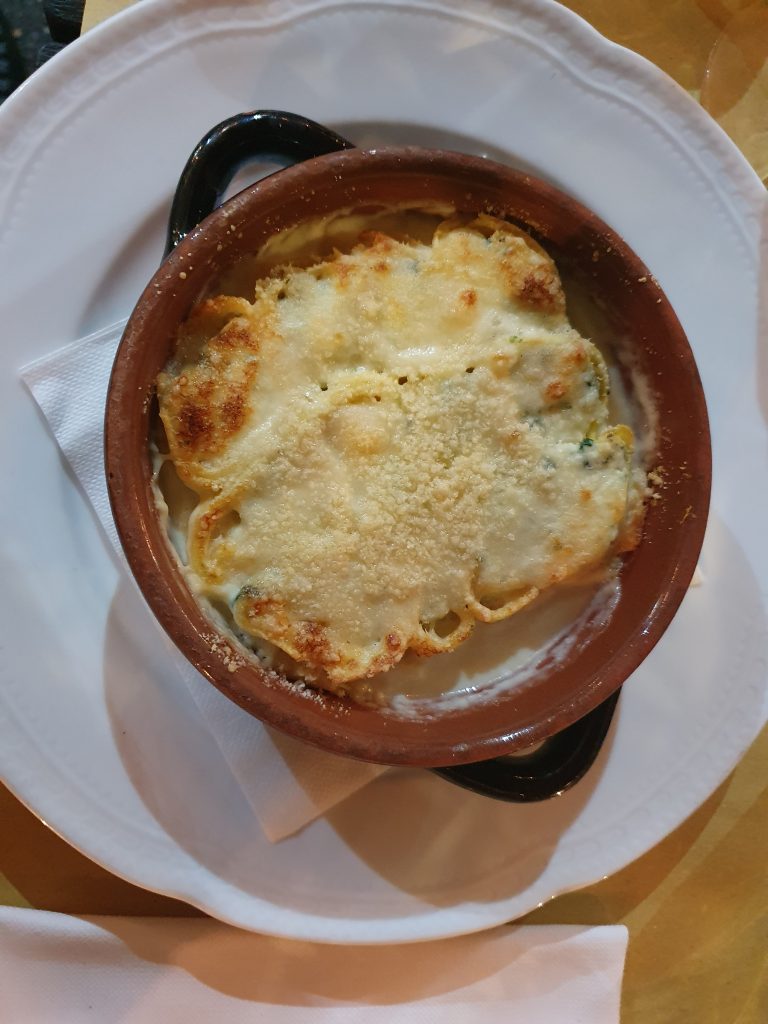 To eat in the Italian way your dinner, you have to know the basic rules for this too! Once you had your aperitivo, you're moving on to dinner. What time do Italians eat dinner? Keeping an eye on the Italian food habits, dinner time in Italy is usually starting at 8 pm.
Most of the time, there are places where you go for aperitivo, such as bars, and then you move on to a restaurant for dinner. Now, if you're asking how to eat like a local in Italy, there's a more important question we need to answer!
What do Italians eat for dinner?
Antipasti – which is the appetizer. Antipasti can be a meat plate, bruschetta, or other light dishes.
Primi Piatti: Pasta, Gnocchi, or anything similar. There are Primi Piatti di Terra (which are with ground meat), or Primi Piatti di Mare, which are fish and seafood with pasta.
Secondi: carni e peschi – this is usually a meat dish that you take after the pasta. This is served with contorini – which is a side that will be served with your second course. It's usually vegetables that go with that specific meat.
Insalata – if you still have space, after the second course, you can go for a salad as well, which then is followed by the final course.
Formaggi e frutta/dolci/caffe – When you finished your dinner, the waiter will ask you if you'd like to get cheese and fruits, dolci as sweets (usually, tiramisu), and coffee? Here's what I have mentioned about the espresso after dinner! In italian food habits, people have an espresso after dinner. And it makes so much sense, because after a great dinner, you might get sleepy, and the coffee will help with that!
I personally never go for more than the aperitivo and either a primo piatto or a secondo. I never do it all together. If we're being honest, not even Italians go through all the courses, as you can imagine it's a lot of food to take in! If I had one course, I'm already so full, that I'm struggling to take at least a tiramisu in too. Usually, I have one course at dinner, and a coffee after.
---
6. What happens in Italy after dinner?
In Italy, after dinner, you go to a bar, a place that's open until late! You don't stay and spend your whole night at a restaurant. When the dinner is done, you move on. After dinner, you get to a bar to enjoy the night. When we're fixing when to meet with my friends, we're always going for aperitivo around 6-7 pm, and for dinner usually between 8:00-9:30. Then, if we agree to meet after 9:30 that means we're headed out just for drinks.
Anything before 9:30 always includes eating! That's how it works. And to be honest, I love it! The connections between people are building up so much more if they head out to have dinner together. It always creates much stronger bounds, if you're eating out with friends, and having this tradition is really amazing!
---
7. The absolute rules of what you consume after what if you want to eat like a local in Italy!
As for the mornings that you don't drink cappuccino just before midday, there are other rules as well over the day! You don't eat 3-4 courses at lunch, and you don't order the first salad, then meat, then pizza. As you see on the menu how different courses come after each other, that's the way you should order them.
You don't have a coffee before dinner, and you definitely don't have a milky one after. The same goes for pizza! You don't drink wine with pizza… With that, you drink beer, or water, or juice if you want something tasty and non-alcoholic, but not wine! You also don't head to aperitivo at 3 pm! You do that after 5 pm. These small little rules make up the amazing Italian food culture that is so famous around the world! It's not hard to learn Italian food habits, is it?
---
8. Food by regions in Italy
Northern Italy: Tiramisu, Pinza, as deserts. Thenm Sardines, Polenta e sopressa, Frittelle, Risotto alla milanese, Cassoeula, and Pizzoccheri are traditional dishes from Veneto and Lombardy. There is much more traditional food in the region, but we're highlighting just a few now!
Emilia-Romagna region: Cappelletti in brodo, Gnocco fritto, Tortellini in brodo, the Ragu alla Bolognese, Lasagna, Panzerotti al forno, and much more.
Tuscany: Ribollita, Panzanella, Castagnaccio, and the famous Bistecca alla Fiorentina, and more.
In Lazio region, that's including Rome, you'll find traditional dishes like the Spaghetti alla Carbonara, Penne all'Arrabiata, the Cacio e Pepe, bruschettas, Amatriciana, and so.
Southern Italy's traditional food includes our favorite, the pizza, coming from Naples. many types of fish and seafood dishes, including Caponata, Eggplant Parmigiana, the Arancini, and if we take Sicily in as well, the Canoli.
Each region has its own traditional food, and it's always the best to go in each region for the traditional, as they never make other regions' food as good as if you'd be trying it where it's originating from! To really eat like a local in Italy, this is one thing you must follow! And while speaking of eating like a local in Italy, try to always choose traditional osterias when you're visiting anywhere in Italy! At least once, the osterias must be tried, as they make the traditional food in the region the best. Touristy restaurants will never give you the same taste as osterias!
---
To learn more about Italian traditions, habits, and the country itself, see these articles!
Planning to move to Italy? Things you need to prepare for
Traveling to Italy in 2020 – Masks and sightseeing
Italian slow-living lifestyle lessons
10 tips you want to know before visiting Italy
---
---
Pin it: How to eat like a local in Italy?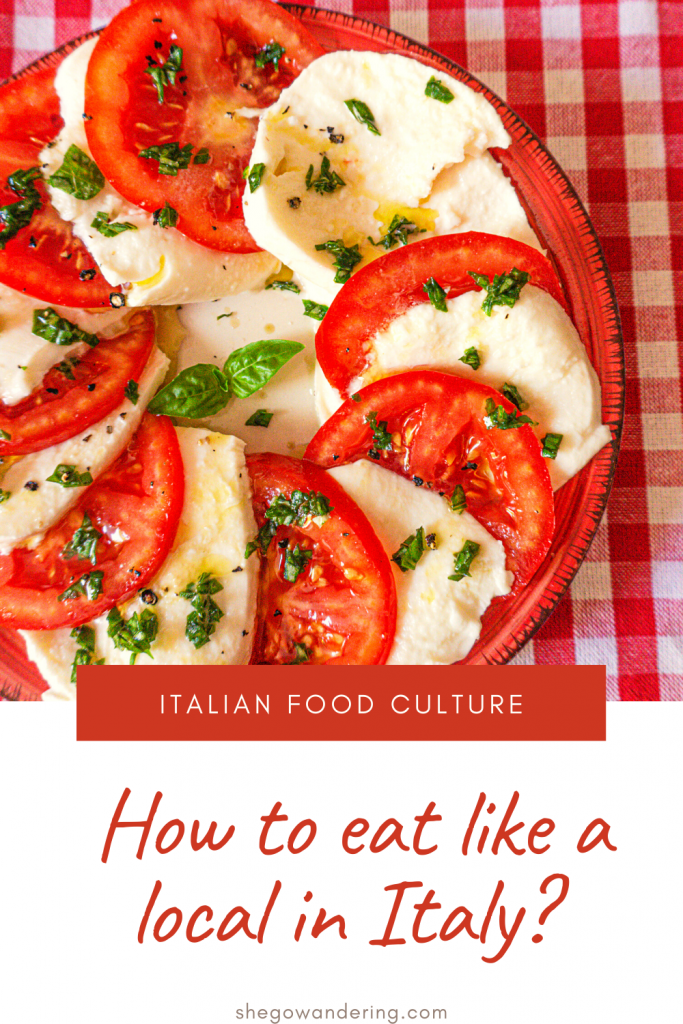 ---
Looking to travel to Italy? Find the best accommodation for your trip!
---
---
The ultimate guide on how to eat like a local in Italy