There are more amazing towns to visit in Italy than you would ever think. It would be very hard to choose the best Italian old town. After all, the best small towns in Italy all have their own personality. Discover the ultimate list of 20 perfect towns to visit in Italy for your next trip.
You will find on this list small and mid-sized towns from the North of Italy all the way down to Sicily. Discover the best Italian destinations in different regions. Many of these Italian towns are great for day trips, and many are great for a summer vacation in Italy, in terms of food, travel, and outdoor activities. We know you are about to taste the best cornetti of your life and enjoy the warmest waters in the best towns in Italy
In addition to this post, check out also the list of the must-see cities in Italy, so you can plan a thorough trip to Italy. With that list, you can see which cities are close to the below towns, and get inspiration for great vacations in Italy. For instance, the best towns Italian Riviera is a must-visit. It would be a shame to miss luxurious houses and pure nature. Most of the recommendations for towns in Italy are written by different bloggers. This way, we were able to cover the whole country with Italy best small towns. Let us know your favorites!
Italy has one of the longest coastlines in Europe, therefore it is a great opportunity to see this country also from the sea. You can find plenty of yacht charters in every coastal city and rent a yacht with or without a skipper.
20 Perfect towns to visit in Italy
---
#1 Alberobello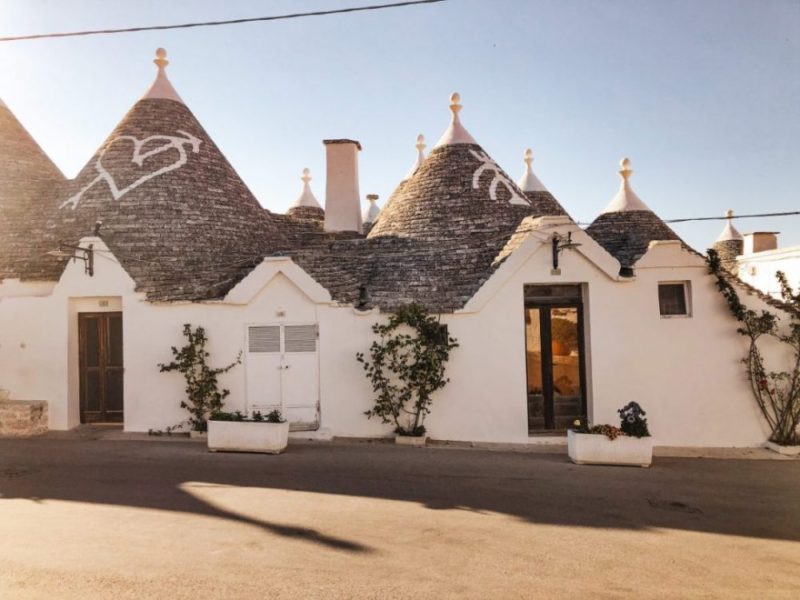 Recommended by Linda, from La Dolce Fit Vita blog
Walking along the adorable cobblestoned roads of Alberobello literally feels as if you've jumped into the pages of your own favorite fairytale. Alberobello is one of the best small towns in Italy – hands down. The "trulli" (little traditional huts unique to this area in Southern Puglia dot the entire town, making it feel like some kind of dwarf or magical creature should pop out at any moment.
The best way to experience Alberobello in fact is by just that- by staying overnight in one of these fantastic trulli! The traditional cottages are all constructed in dry-wall (absolutely no cement!) and originally were designed so as to be easily disassembled so as to avoid property taxes… those sneaky Italians! Today, locals still live in them and the trullo has truly become a source of pride for the Apulians. There is a choice for all tastes and budgets- from luxury two-story to quaint little dens, I guarantee you will forever cherish the night you spent in one of these dreamy stone huts.
To explore the town, honestly, the best way is to just get lost in it. The Rione Monti part of town is a little more touristy but has some fantastic postcard corners. For a more quiet and local experience, you can take your time around Rione Aia Piccola. Make sure you also hit Belvedere Santa Lucia for the best panoramic view of the town.
Alberobello and its whimsical character have become quite the popular spot in recent years. For this reason, I highly recommend arriving early to beat the crowds. If you're in Puglia for the food, Alberobello is a great stop with many award-winning restaurants. Trattoria Terra Madre is a great choice for those of you that want to discover local and traditionally grown food— literally to die for! Alberobello is definitely one of the best towns to visit in Italy!
---
#2 Amalfi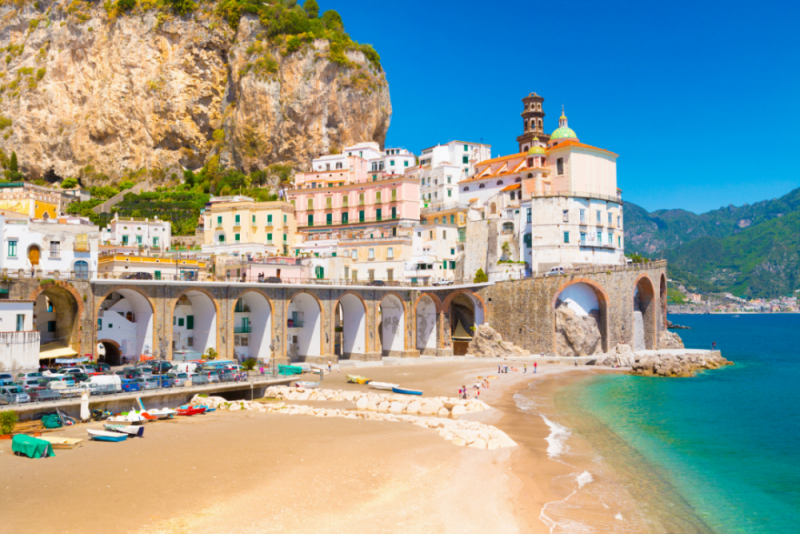 Recommended by Charu, from Travel with CG blog
Perched south of Naples, the Amalfi coast is a picture-perfect area in Italy that is home to many charming towns along the Tyrrhenian Sea. There, you can find the Italy best small towns. Being the one after which the entire coast is named, Amalfi is a beautiful coastal town swarming with the bluest of waters. Its colorful houses, smidgens of lemon trees, and centuries-old cathedrals further add to the eloquent Italian charm that the town rightfully oozes off. Truly one of the best towns Italian Riviera.
Often overshadowed by the neighboring Positano, Amalfi actually is the ideal place to base yourself for a more authentic Italian experience along the coast. With relatively less crowded streets and beaches, one can comfortably spend time strolling through markets. Or, you can visit the Amalfi cathedral and cemetery, or take in the Italian sun at the famous Marina Grande beach, one of the best near this best Italian old town area. Not to forget, souvenir shopping tends to be less expensive in Amalfi than in the other Instagram famous towns on the coast.
Amalfi can be easily reached by most public transports. If you are coming from anywhere else in Italy, then I would recommend taking a train to Naples and then transfer to either a regional train for the Amalfi coast or a bus. Amalfi is one of the best towns in Italy, but it for sure is difficult to access. Taxis are also available, but my preferred pick would be experiencing the scenic route by ferry. However, keep in mind that ferries are weather-dependent and might not operate during the shoulder season. All in all, Amalfi is one of the best towns to visit in Italy!
---
#3 Assisi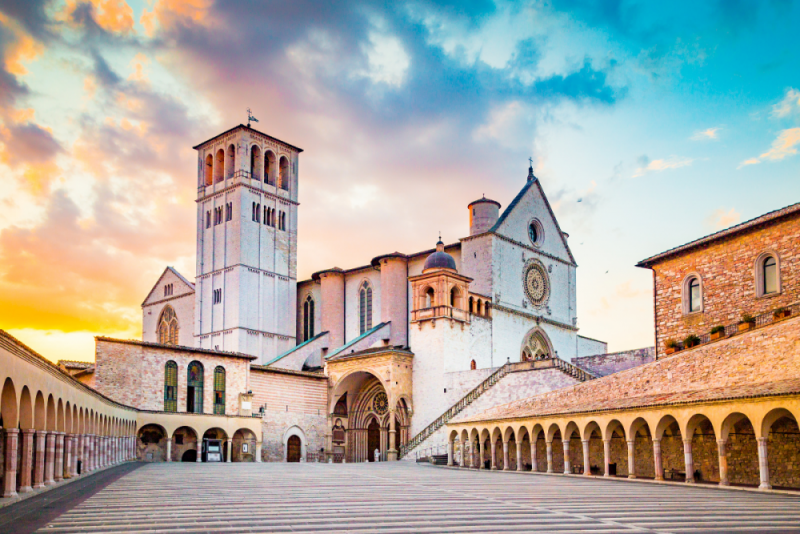 Recommended by Georgina, from Culinary Travels blog
When you think of Assisi, I'm sure the first idea to spring to mind is that of Catholic pilgrimage, and whilst that is true there's far more to this town than religion alone. Whether you are religious or not the following sights are well worth a visit to view their splendid architecture, absorb the history, and well feel a little spiritual too. Well, Assisi is one of the best small towns in Italy.
The Porziuncola at Santa Maria degli Angeli, the tomb of Saint Francis at the Basilica of Saint Francis, and the tomb of Saint Clare at the Basilica of Saint Clare. If you are in town during the Assumption of the Immaculate Conception, you can see Mary's Veil in the Basilica. It is claimed that the veil was a gift to Mary from the Magi, this precious silk veil was used to swaddle baby Jesus.
After a day of sightseeing and visiting small shops ranging from handmade fine art, decorative Pinocchios, to the typical tourist souvenirs as you wander the ancient winding, cobbled streets, few things in life are as pleasant as an Aperol Spritz on Piazza del Commune. If you prefer a drink with a view, many bars will give you a spritz to go, and you can spit it while watching the sunset from Santa Chiara.
Food can break or make a location, and this being Italy you're spoiled for choice. For a quick piadina, a kind of flatbread sandwich, head to Piadina Biologica. La Bottega Dei Sapori on the piazza has excellent porchetta, meats, cheeses, and panini, right on Piazza del Comune. Also, great prices on local wines and olive oils, etc to take home with you. If you want pizza, you have two excellent options. Il Menestrello located at Via S. Gregorio and i Monaci just down the street at Via Arnaldo Fortini.
Ristorante Vicoletto is a new favorite of mine. Small and hidden on an Umbrian back alley, this place has an amazing seasonal menu. Vicolo Buscatti. La Lanterna Ristorante Pizzeria requires a short uphill walk, but it's worth it! Especially nice on a summer evening to sit outside and take in the view. Via S. Rufino. Make sure you get yourself a gelato, seriously Italians do ice cream better than anyone, perch yourself somewhere with a view, and indulge in la dolce vita. Assisi is definitely one of the most amazing towns to visit in Italy!
---
#4 Bellagio
Recommended by Sophie, from We Dream of Travel blog
Nestled in the foothills of the Alps on the edge of the magnificent Lake Como is the beautiful town of Bellagio. It can easily be reached on a day trip from Milan to Lake Como by car or by train and ferry.
Bellagio is the most famous of the towns on Lake Como, and it's easy to see why. With its narrow cobbled streets and flower-adorned balconies, the charming lakeside town is oozing with character. Take time to stroll through the town center, walking up Salita Serbelloni (Serbelloni's Steps) toward Piazza della Chiesa. Here you'll discover many shops and restaurants, as well as some excellent gelaterias, be sure to stop by one and pick up a gelato!
Continue on to Punta Spartivento for breathtaking views across the water to other lakeside towns dotting the shoreline. This is a perfect spot for a picnic, or even take a quick dip in the water here!
The waterfront promenade will naturally bring you to Villa Melzi, a spectacular 19th-century villa and gardens. It is worth noting that if you wish to visit the villa and gardens, only cash is accepted. While you'll find plenty to do in Bellagio, it is well worth combining your trip to explore other nearby Italian towns such as Varenna, Tremezzina, Menaggio, and Como.
---
#5 Bolzano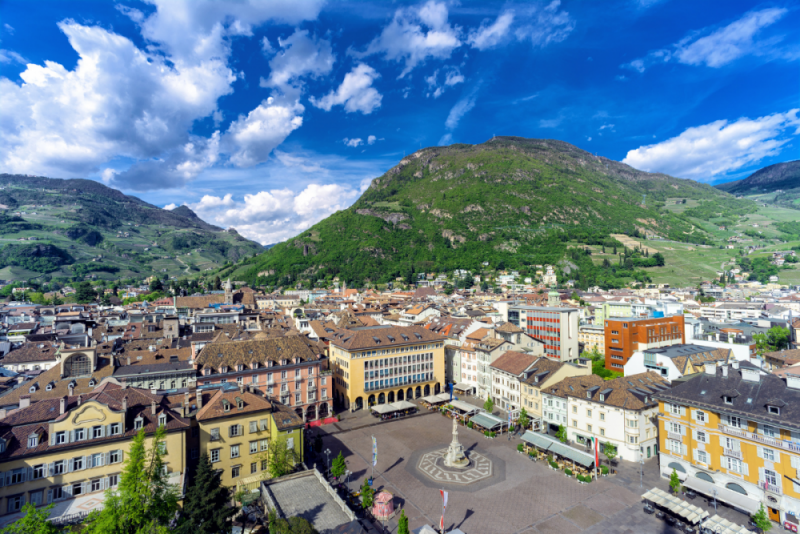 Recommended by Dave Chant
Bolzano is the capital of South Tyrol, a region that till 1918 (the end of the first world war) was part of Austria. It's also one of the best small towns in Italy. German, Italian, and a local language called Ladin are all widely spoken. It's this mix that makes the area so historically interesting and culturally refreshing. The blend of Austrian and Italian architecture is widely present.
You can get to Bolzano easily by road – the autostrada (motorway) connects Innsbruck and Austria with Bolzano and then down to Verona. You also have a pick of flying into either Innsbruck or Verona and taking trains from there.
Highlights of the city include the almost daily markets which vary depending on the day of the week, its gothic cathedral, the Runkelstein castle and the South Tyrol Museum of Archaeology. The latter has one floor devoted to the iceman Otzi, found near the Austrian border and subject to a heated history of whether he should go to Italy or Austria. A visit is highly recommended.
Elsewhere the Renon Cable car is a nice venture up to Soprabolzano – literally meaning above Boilzano – where an old-fashioned tram-train will take you to visit the Earth pyramids, a natural phenomenon that look like pillars.
Alternatively, you can just mooch along the Via dei Portici, admiring the shops and drinking a coffee or a great wine; the region produces both excellent Red and White. Finally, the spa town of Merano is a cute settlement a car drive away and you're close to the indomitable peaks of the Dolomites – an area loved by winter sports enthusiasts and summer hikers and climbers. There are plenty of things to do in Merano so it's a great place to look for! One of the best towns to visit in Italy!
---
#6 Bracciano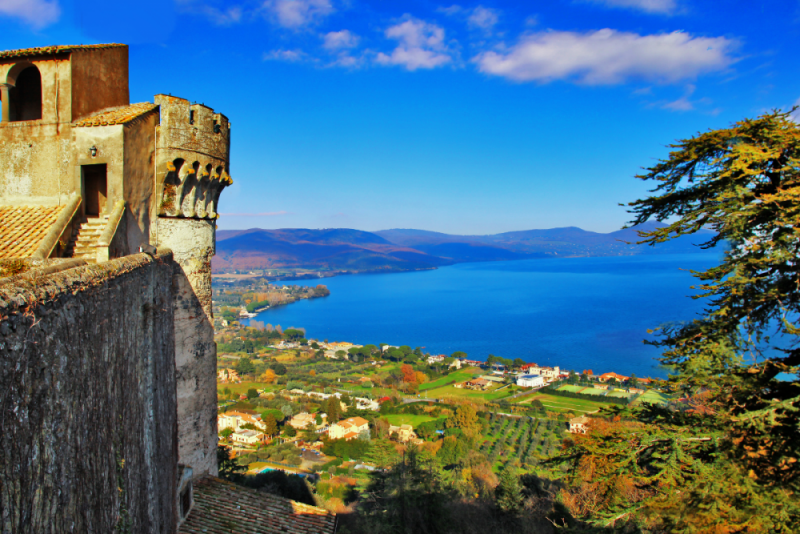 Recommended by Annalisa of Travel Connect Experience blog
Only 40 km north of Rome but light-years from the city traffic and stress, Bracciano is one of the most beautiful towns to visit in Italy. Okay, it's not one of the best towns Italian Riviera since it's closer to the center of the country. But still. It's one of the most beautiful best small towns in Italy.
The picturesque old town of Bracciano unfolds through narrow alleys and tiny, romantic piazzas around the medieval Orsini-Odescalchi Castle, where the Hollywood actors Tom Cruise and Katie Holmes celebrated their wedding in 2006.
The Bracciano Castle is the main historical attraction in town and can be visited almost entirely with a €8.50 ticket. You will find about 20 rooms with original furniture and restored frescoes dating back to the late Renaissance.
The Room of Arms and the Red Room, where the noble Isabella slept with her countless lovers and then threw them through a trapdoor into the quicklime are the most fascinating places of the castle. On the square in front of the long side of the castle are some of the best restaurants in Bracciano and the Italy best small towns the entire region, Trattoria del Castello and Pane e Olio. The typical dishes are based on porcini mushrooms, wild boar, and fish from the lake, the prices are reasonable.
After having satisfied yourself with a hearty meal, discover the alleys of the medieval town: walk along Via Arazzaria to Belvedere la Sentinella, a terrace with a breathtaking view of the blue Lake Bracciano that borders the best Italian old town of Bracciano.
Lake Bracciano is one of the most beautiful lakes near Rome. Of volcanic origin, on its waters motorboats are prohibited, so it is ideal for swimming and refreshing during the hot Italian summers. To reach Bracciano from Rome, take a train from Valle Aurelia station to Bracciano, then walk for a few minutes and you'll reach the historic center. One of the best towns in Italy.
---
#7 Carloforte, Isola di San Pietro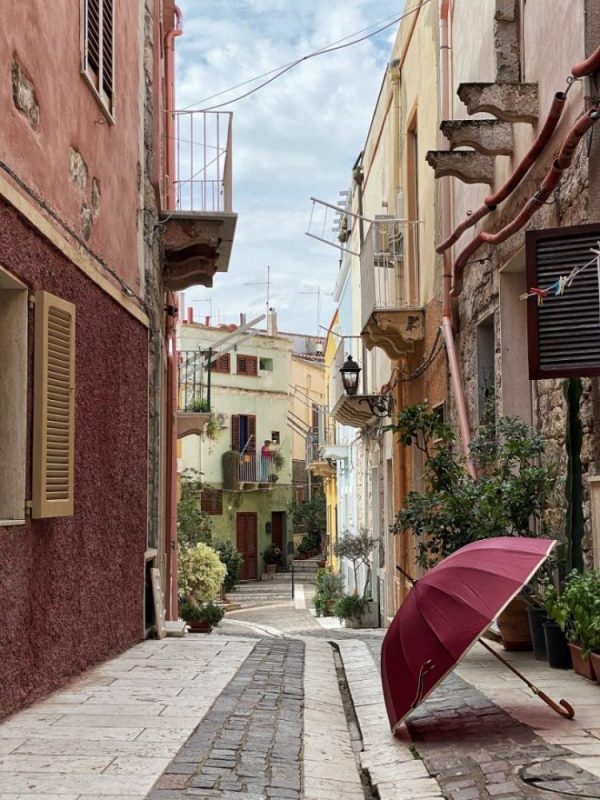 Recommended by Claudia Tavani, from Strictly Sardinia
Carloforte is one of the most charming small towns in Sardinia, and one of the best small towns in Italy. It is also the only one on the small island of San Pietro, off the southwestern coast of Sardinia.
Founded by the Tabarkine, a small community of Genoese merchants who had been living in Tabarka, an island off the coast of Tunisia, Carloforte is known to be one of the few places where Tabarkine language – which resembles the dialect spoken in Genoa – is still spoken.
Italy best small towns usually have their own personality, with lots to unravel. The town itself is a nice place to explore, with a series of narrow alleys and colorful buildings, archways, squares, and churches that are all worthy of an Instagram post. One of the most popular times to visit Carloforte is between the end of May and the beginning of June when the Girotonno – a festival that celebrates tuna fish, for which San Pietro island is famous – is celebrated.

Carloforte is a great starting point to explore the beaches in San Pietro. Make sure not to miss the sunset from the lighthouse too. Even if this is not one of the best towns Italian Riviera, it sure is the best Italian old town in the region.
PRACTICAL INFORMATION: Carloforte can be reached by ferry from either Portoscuso or the more charming Calasetta, a small town in Sant'Antioco island, at about 1 hour and 30 minutes drive from Cagliari, the capital of Sardinia. The best hotel in town is by far Nico Hotel, whereas the best restaurant serving a great selection of local specialties with a modern twist is Da Andrea.
---
#8 Cinque Terre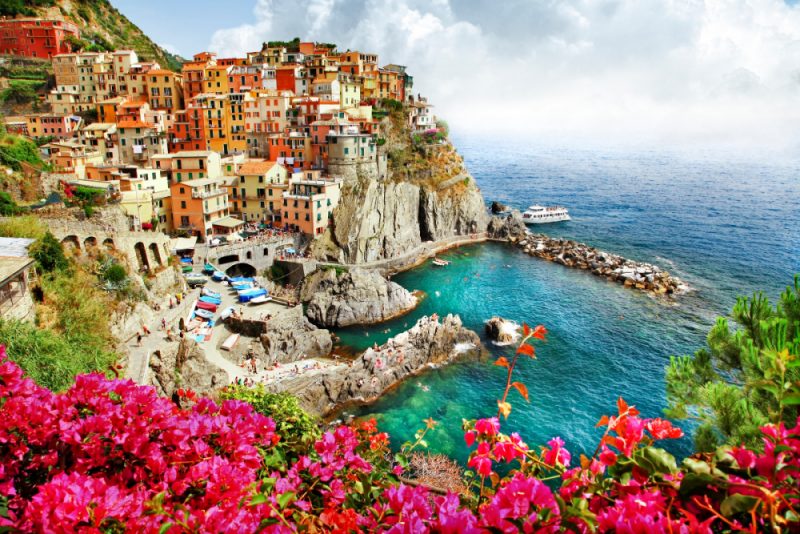 Recommended by Rachel, from Earth's Magical Places
While often seen as one destination, Cinque Terre actually comprises five interconnected villages, and the best small towns in Italy for those who love the sun. There are Monterosso al Mare, Vernazza, Corniglia, Manarola, and Riomaggiore. Connected by ancient footpaths, hiking between the villages is one of the best things to do in Cinque Terre. However, there's also a linking train line. This means the villages are easily reached by train for Italy's famous cities, such as Rome and Florence, which are both no more than 2 hours away.
Cinque Terre has become increasingly popular in recent years on Instagram, and with good reason! The villages are simply breathtaking. In fact, the views alone make a visit worthwhile. For example, the pastel hues of the colorful houses soak up the sun and truly come alive at sunset. There are also plenty of viewpoints in Cinque Terre to enjoy the sunset!
Further, each village has its own unique charm! Manarola is arguably the most beautiful, as it cascades down the cliff into the sea. Meanwhile, Monterosso al Mare is home to the only beach in Cinque Terre and is probably the best place to stay as it's slightly bigger and cheaper. Nonetheless, spending time in each village is a must, and after visiting, you're sure to agree that Cinque Terre is one of the best 'towns' in Italy.
---
#9 Best Small Towns in Italy: Cortona
Recommended by Renee, from Dream Plan Experience
Cortona is one of the best mountain towns in Italy. The beautiful hilltop town of Cortona was put on the map with the release of Under the Tuscan Sun, first the book by Francis Mayes, and then the movie. Cortona sits in the eastern part of Tuscany, in the Arezzo region, very close to the border of the Umbria region.
This stone-clad town is one of the best towns to visit Italy. It has a rich history dating back to 400-600 BC. But it was in the 13th century that the town started to flourish. The heart of the delightful Cortona, one of the best small Italian towns to visit, is the main square, Piazza della Repubblica. It features many of those historical buildings from the 13th century.
A well-preserved town hall, clock tower, and former palace are just some of the significant landmarks you will find here. It is a lively piazza where you will find the locals constantly coming and going, catching up with one another and stopping in on their favorite shops and cafés. There is so much to see and do in Cortona, from its many museums to its countless churches. Grab a gelato from the delicious Gelateria Snoopy and simply get lost in Cortona's endless winding alleyways and epic views of the Tuscan countryside.
---
#10 Gorizia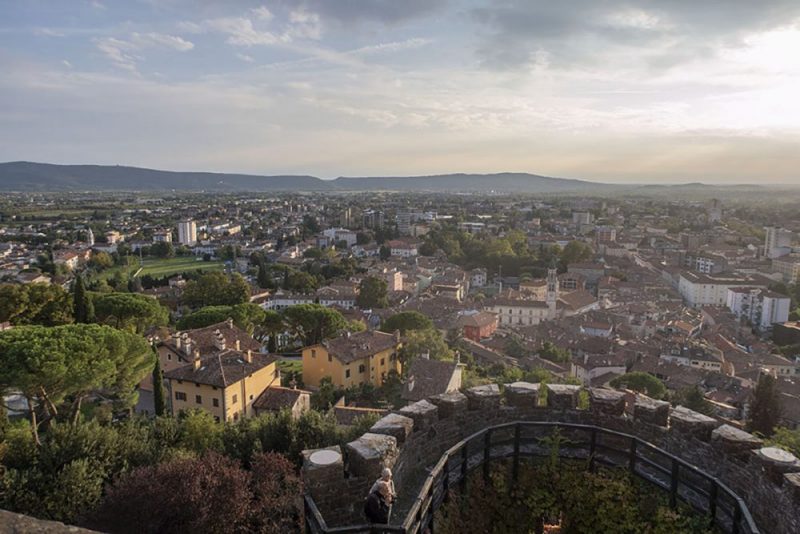 Recommended by Larch, from The Silver Nomad blog
An hour and a half northeast of Venezia Airport, the medieval town of Gorizia is the best Italian old town you could imagine. It's one of the cutest and literally Italy best small towns. It sits on the border between Italy and Slovenia but also used to be a part of Austria. The town's architecture, food, and general feel have been influenced by this historical mix of countries.
Above the town is the medieval Borgo Castle dating back to the 11th Century, used as a country retreat, a barracks, and a military fortress, it is now a museum. Inside you can see the period furniture, paintings, and tapestries. If you take a walk around the balustrades you can have a panoramic view over Gorizia and nearby Nova Goricia in Slovenia. For sure, this one is not one the best towns Italian Riviera. But still, it's one of the very best towns in Italy and the view is really exceptional.
Below the castle are two museums, one dedicated to the First World War with recreations of trenches and the other the Fashion and Applied Arts Museum featuring textiles, samples and machinery through the ages.
Don't miss the Palazzo Coronini Cronberg a late 16th Century palace with displays of lace, watches, weapons as well as the beautifully appointed rooms with furniture from through the ages.
For the best local cuisine visit Trattoria alla Luna with its fabulous food and quirky interior. If you prefer fish, try Locando 101 for fresh fish dishes or Ristorante Enoteca Majda for earthy home cooking using locally sourced ingredients.
---
#11 Matera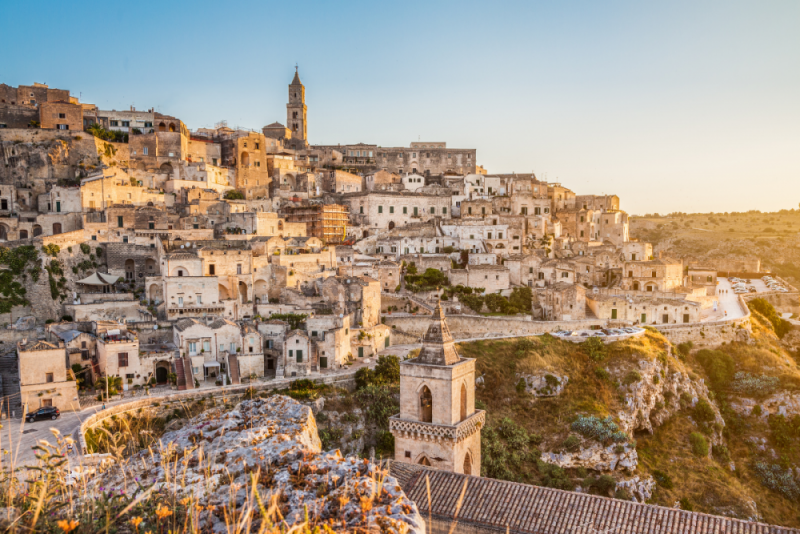 Recommended by Ophelie, from Limitless Secrets blog
Matera is an ancient town located in the region of Basilicata in the South of Italy, and I think it's one of the best mountain towns in Italy. This extraordinary city is worth the visit as it's one of the oldest continuously inhabited cities in the world! The Sassi di Matera, the cave dwellings you will find there, were already inhabited since the Paleolithic period in 7000 BC! I find the best small Italian towns to visit always have lots of history and mystery to offer.
You can get to Matera by car if you are doing a road trip in Italy, or by train from Bari (in Puglia). One of the best things to do in Matera is to walk around in the Sassi. Those stone cave houses have amazing architecture! The Sassi di Matera and the park of the Rupestrian Churches are officially UNESCO World Heritage Sites since 1993. How could Matera not be one of the best towns to visit Italy if it did not have history and amazing nature?
To get the best views of the city, you can go to Belvedere di Piazza Giovanni Pascoli and Belvedere Luigi Guerricchio. You can also admire Matera's Cathedral. Located at the top of Civitas hill, it was built in the 13th century and also offers great views of the city. If you want to know how it looks like inside a typical cave-dwelling, you can visit Casa Grotta.
For all the ice-cream lovers, you should try the ones in La Cremeria Dell'Angelo as you are in Matera. One of the best towns to visit in Italy!
---
#12 Best Small Towns in Italy: Orvieto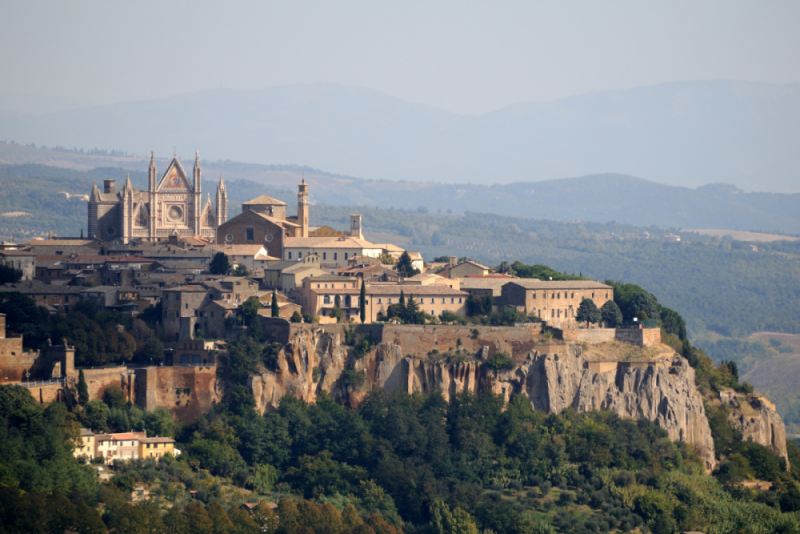 Recommended by Nicole, from Go Far Grow Close blog
Orvieto is one of the best mountain towns in Italy. It is a small city perched on a rock cliff in Umbria, Italy (central Italy), 120 km or approximately 1 ½ hour by car from Rome. If you do not have a car, you can reach Orvieto by train for less than €10 each way and in approximately the same length of time. Orvieto's old town, the place to explore, is up the hill from the train station. All that cuteness makes it one of the best small Italian towns to visit. A funicular railway near the station connects the lower town to the upper town, or a mini-bus runs through town. However, one of the best ways to see and savor the spectacular views is to walk up.
One of the main reasons to visit Orvieto's old town is to marvel at the Duomo di Orvieto, the spectacular 13-century cathedral located in the pretty Piazza del Duomo. You will want to spend a few minutes gazing at the breathtaking mosaic facade before entering the cathedral to further appreciate the artistry awaiting inside. The art and the view all around the city make Orvieto one of the best towns to visit Italy.
When you are finished exploring the cathedral, you should then take a tour of the caves. There are over 1200 caves under Orvieto dating back to the Etruscans, each one of them man-made.
However, one of the best things to do in Orvieto is to walk and wander the cobblestone streets and discover how the locals live. You will find delicious restaurants, cafes for a cup of coffee or glass of wine, and places to sit for people to watch. One of the best towns to visit in Italy!
---
#13 Piacenza
Piacenza is one of Italy best small towns. It also is the last of the provinces of Emilia-Romagna you must visit is Piacenza. From here, if you pass the Po river, you're entering Lombardy, with its capital city, Milan. Milan's main train station, the Milano Centrale is a 53 minutes train ride from Piacenza. This makes this town a great day trip also if you're visiting Milan, and you're looking for day trips from there. That's not one of the best towns Italian Riviera, but Piacenza shows that up North, you also have some of the best Italian old town options.
Piacenza is the beautiful unknown, unvisited gem of Emilia-Romagna that somehow was left off the travel guide books. And it makes no sense why because it's at least as beautiful as Ferrara, or any other smaller city in Emilia-Romagna. You must know, that due to the low tourist number, Piacenza is still really authentic and untouched.
There are a handful of landmarks that must be seen, such as the Palazzo Gotico on the main square, Piazza dei Cavalli. It's a 13th-century building, that's beautifully preserved. In Piacenza, you must see the Palazzo Farnese, and the museum functioning inside. Then, you must also visit at least two of the churches in Piacenza, such as the Duomo di Piacenza or the Basilica di Sant Antonino. They are both 5 minutes away from Piazza Cavalli and absolutely unmissable. They also contribute greatly to making Piacenza one of the best towns in Italy. The Duomo is the most remarkable Romanesque building in the region, so it's definitely a must-see in Emilia-Romagna!
As with every location in Emilia-Romagna, Piacenza is special for food as well! If you travel to this town, you must try the famous Salume Piacentini, which is a type of delicious local cold cuts. Visit the local osterias like Santo Stefano, Osteria alla Volta, and try the local pasta, the Antolini, or my personal favorite, the Panzerotti al Forno. If you travel to Piacenza by car, consider a day trip also to Bobbio, and the stunning valley of Trebbia. Piacenza is by far one of those towns in Italy that you should visit!
---
#14 Polignano a Mare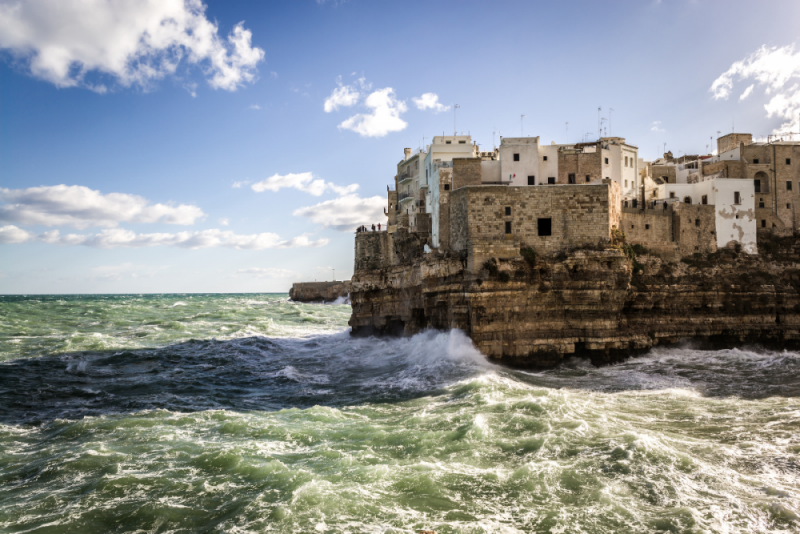 Puglia is one of the most popular southern regions for summer vacations in Italy and offers the beach and also some of the best mountain towns in Italy. Polignano a Mare is located close to Bari, which also has an airport. From Bari, you can travel to Polignano a Mare by train, which takes about an hour. Alternatively by car or bus. However, make sure to not enter the city center by car, as the fines are horrendous.
In Polignano a Mare, as in all the best Italian towns to visit, you must wander around the historic center, and explore it. Then, you should also visit Terrazza Santo Stefano to see one of the most stunning views. You must also visit Ponte Lama Monachile bridge, and see the iconic view from Pietra Piatta.
In Polignano al Mare, as it's a beachside town – and one of the best small Italian towns to visit in terms of food and nature, you should also plan some beach time, and enjoy the Italian summer. Then, at the end of the day, head on a walk along the promenade near the sea and enjoy the golden hour. Polignano a Mare is definitely of the best towns to visit in Italy!
---
#15 Best Small Towns in Italy: Pompeii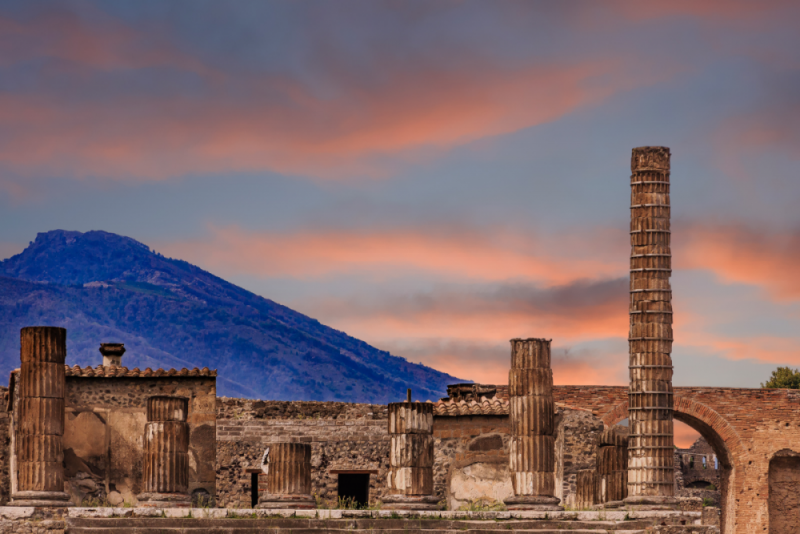 Recommended by Maria, from Maptreking blog
When traveling in Italy, visiting the famous Archaeological Park of Pompeii is a no-brainer for most. Pompei has got to be the best Italian old town. What many fail to realize, is that the town of Pompei offers more than just one archaeological site! Pompei not only has small-town charm but beautiful views and makes for an excellent place to base yourself from. It might not be one of the best towns Italian Riviera, but it's one of Italy best small towns for the 'wow' effect it brings you.
One of the best parts of staying in Pompei is that you can find more affordable accommodation compared to Naples, Sorrento, and the Amalfi Coast. Just because you aren't staying in those places doesn't mean you have to miss out though. Pompei is located perfectly so you can still do day trips to those places and more! Don't miss out on visiting the beautiful Vesuvio National Park either. It has Mount Vesuvius, an active somma-stratovolcano well known for the destruction of ancient Pompeii and other nearby cities in AD 79.
By directly staying in Pompei, there is less pressure to see all of the Archaeological Park of Pompeii in one day too. The park has a lot to take in and if the weather is extremely hot, it wouldn't be wise to push yourself too hard. It also gives time to try some amazing local restaurants, like Ristorante Anfiteatro – one of the greatest in one of the best towns in Italy!
---
#16 Portovenere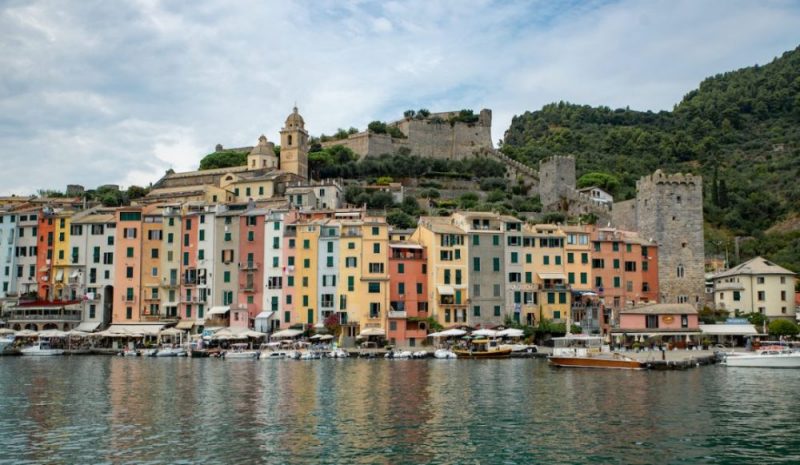 Recommended by Nadine, from Le Long Weekend
Located in the Bay of Poets, on the Ligurian Coast, Portovenere is one of the best mountain towns in Italy. It shares the same coastline as the villages of Cinque Terre, yet its charms remain relatively undiscovered by many. A UNESCO World Heritage Site, this colorful fishing village is full of historical sites and cultural curiosities to discover. It's just one of the best small Italian towns to visit, especially since it's so close to Cinque Terre.
Take the ferry or bus the short distance from La Spezia (the train line that goes to Cinque Terre bypasses Portovenere), and spend a day or more exploring the cobbled streets and crisscrossing stairways of the old town. Climb up to the Doria Castle, walk the ancient town walls, and visit the gardens and churches that pepper the upper half of the town, away from the main shopping street. Still, do some proper Italian shopping if you can – a great memory of one of the best towns to visit Italy!
Then make your way down to Byron's grotto for a refreshing swim, or stop for a spot of lunch at a seaside trattoria. Torre di Venere, a restaurant near the Church of St Peter, offers stunning views and fresh seafood. The beaches will be calling your name in the afternoon, so head to one of the sandy spots around the coast, or take the ferry to Palmaria Island where you can trek to a secluded swimming spot. Portovenere also makes a great base for exploring the surrounding areas, as you can get a ferry (or hike if you're feeling energetic) into the Cinque Terre National Park. Portovenere is really one of the best towns to visit in Italy!
---
#17 Syracuse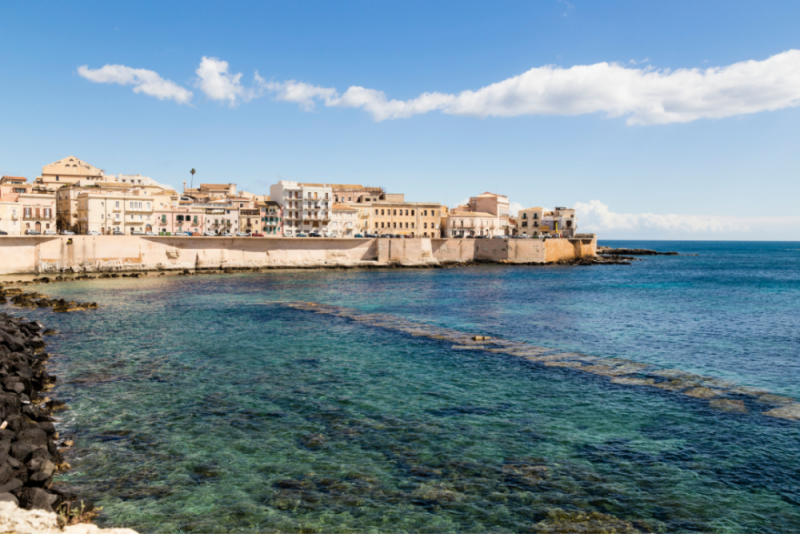 Recommended by Annabel, from Smudge Postcard blog
Syracuse is located about an hour south of Catania on Sicily's east coast. The town is the perfect place to learn about Sicily's epic history. Highlights include a visit to the central square Piazza Del Duomo – the cathedral incorporates Ancient Greek, Norman, and Baroque elements.
If you're visiting Sicily with kids, a trip to the traditional puppet theatre is essential, children are reserved front-row seats where they'll witness knights doing battle against monsters and villains – great entertainment even if you don't understand a word of the dialogue!
Castello Maniace is an excellent castle to explore at the far end of Ortigia. Dating back to the 13th century, the castle once acted as a defense against the many invaders who reached Sicily by boat. Syracuse is a very enjoyable town to wander through – narrow car-free streets are lined with crumbling medieval buildings while squares contain elegant Baroque palazzos. Just outside the center of Syracuse is an archaeological park containing the remains of both Ancient Greek and Roman amphitheaters.
Syracuse can be reached by train from Catania and Taormina. If coming by car, visitors will need to leave their vehicle outside of the town center due to parking restrictions in the old town.
---
#18 Taormina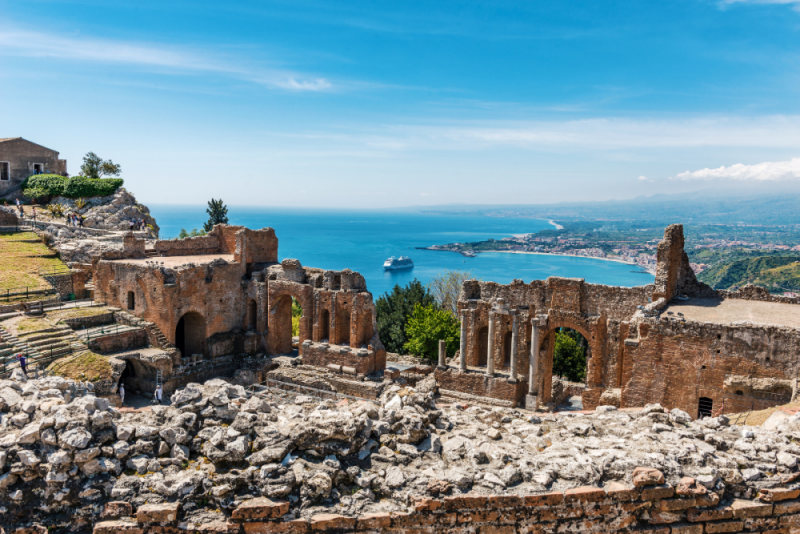 Recommended by Derek, from Robe Trotting blog
One of Italy's most beautiful small towns is the off-beat destination of Taormina. In this picturesque hill town in Sicily, visitors can escape to a walled city with long promenades and sweeping views of the coastline. I personally think Taormina is one of the best mountain towns in Italy. Most people get to Taormina by flying into Catania. From there it's a short 90-minute bus ride to the city. To save time, many visitors pay a little extra for a taxi transfer.
One of the most interesting things to do in Taormina is to explore the nearby and active volcano, Mount Etna. That's actually also a reason Taormina is one of the best small Italian towns to visit. It can be reached on hiking trails and there are even ATV tours to the crater. For a more relaxing activity, the Sicilian beaches below Taormina are exquisite. Without question, the most stunning beach in Taormina is Isola Bella. It's well known for the tiny island sitting just off the coast of the shoreline in a protected cove. All that surrounding nature make Taormina one of the best towns to visit Italy.
You can walk to the island during low tide when it's connected to the mainland. During high tide, Isola Bella requires you to wade back to shore as the connecting sandbar is submerged. Make sure to time your sunbathing on Isola Bella well. Besides these incredible natural attractions, visitors love to explore the Teatro Antic de Taormina. It's an ancient Greek theatre with fantastic views of the seaside cliffs below Taormina. One of the best towns to visit in Italy!
---
#19 Trento
Trento is a charming and not well-known town in the region of Trentino-Alto Adige. The town is a 1-hour train ride from Verona, Italy, or if you're visiting the above mentioned Bolzano, it's on the same route, about 45 minutes before Bolzano.
The first reason why Trento should be seen is that it differs from many of the other towns in the north of Italy. It has this strong Italian architecture style, that we can find in the southern regions. Beyond that, you can see buildings covered on the outside with frescoes. This, while I've seen 20+ towns in Italy, I have never seen anywhere else!
When you visit Trento, you must visit the Buonconsiglio Castle first. It's an amazing experience, where you can walk through the centuries of Trento through art, architecture, and the museum collections exposed. You can also find in Trento one of the most remarkable 15th-century Gothic frescoes in the Eagle Tower. Also, you can visit the Duomo di Trento and the Cesare Battisti Mausoleum, and many more.
Trento is surrounded by beautiful mountains that give you the opportunity to go hiking, and there are also beautiful lakes hidden in the area. Also, the north shore of the Garda Lake is pretty close for summer trips. Trento is one of the best towns to visit in Italy in the winter as Trentino-Alto Adige is one of the best destinations for skiing and winter sports.
---
#20 Tropea
Recommended by Džangir, from Dr Jam Travel
Even though Italy is surrounded by the sea, Tropea is one of the best small Italian towns to visit. Truly, it is one of the coastal places you shouldn't skip. It is located in Calabria, Italy (toes of the boot). The closest airport is Lamezia Terme International Airport, 55 km. With a train from Rome, it will take you around 5 hours. Honestly, it's worth it – Tropea is one of the best towns to visit Italy.
By the legend, Tropea was founded by Hercules. On arrival in town, you will walk through Centro Storico, an old part of town with narrow and cobbled streets. The main attraction here is the Cathedral of Saint Mary of Romania, with Virgin Mary as patron protecting the town from earthquakes and even bombing in WWII.
When you arrive at up to 60-meter high cliff view will open to the strip of sand beaches, Sanctuary of Saint Mary 'del Isola on an island connected to the mainland and beautiful turquoise sea. One can find different types of accommodation there, from high-end hotels to AirBnB and camp on the beach. That might not be one of the best mountain towns in Italy, but the cliffs are more than enough. From the cliff, you can descend by taking 150 steps or take a ride by taxi or bus. To enjoy swimming, snorkeling, sunbathing on fine sand, or just relaxing in the shade of a parasol you can pick one of the beaches (Spiaggia Michelino, Rotonda Beach, …). Tropea is definitely one of the best towns to visit in Italy!
---
Pin me: 20 Amazing towns to visit in Italy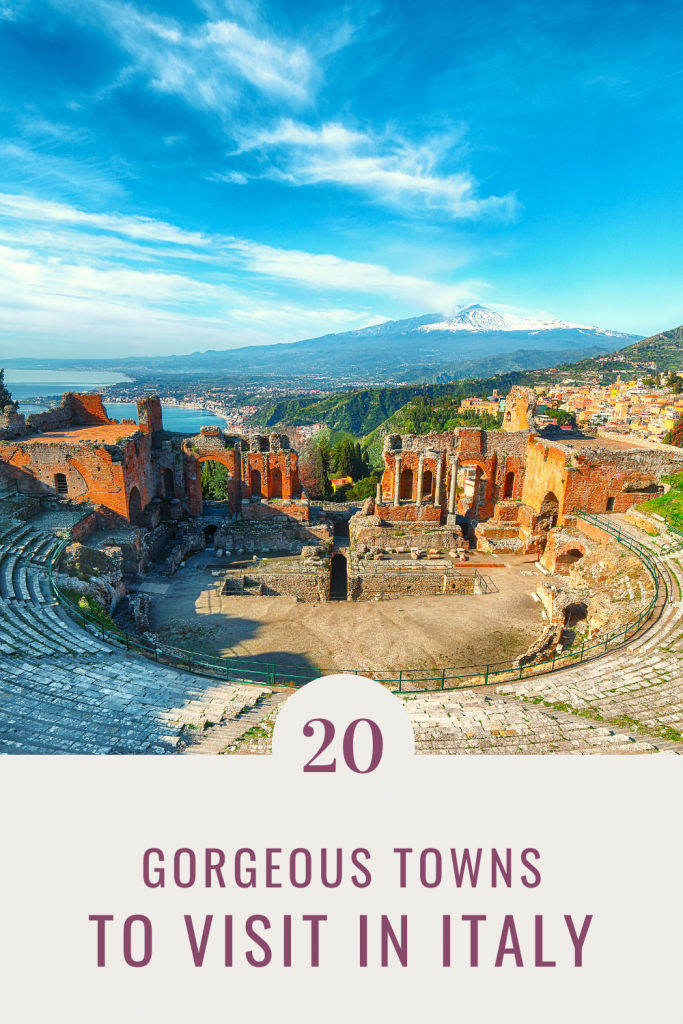 ---
Find accommodation for your trip to Italy!
---
20 Italian towns for a perfect vacation in Italy