Finding living room inspiration is something I love doing. Why? Because it makes me one of the happiest people in the world to see that I have put to good use inspiration living room ideas. I've put careful thought into each and every item I have purchased and put together to create an atmosphere. The energy and aura of a room are vital to feeling empowered – and making empowered decisions. That's why living room decor ideas always come in handy. Since I've published the home decoration post, with inspiration on decoration items, I decided to take it further. In this post, you'll find awesome ideas to redesign your living room. Or find items for your new home. Whether you choose to create a 70s inspired living room or a Scandinavian inspired living room, I'll tell you all about my own inspirations. Alright, so you're ready for the living room ideas I have gathered from different manufacturers and brands!
10 Living room inspiration
You will find living room furniture ideas, such as sofas, sleeper sofas, armchairs, end tables, and decorative items for the living room. I have also included lists of cabinets, bookcases, rugs, mirrors, and much more home-inspiration items.
---
1. Sofas
It might be a bit too much velvet, but I couldn't help myself. If you choose to create a 70s inspired living room, or 50s, or 60s, you'll notice these eras were big on texture. I love velvet sofas, and I really do think that they make a living room pretty.
A beautiful sofa is always key, in a European style or Scandinavian inspired living room. All that's left to do then is add a few decorating pillows to put on it, and the perfect cozy living room is ready. Making our living room cozy and friendly helps our well-being as well. So when we're at home, we can stay bright and positive, since we are surrounded by nice things.
---
2. Inspiration Living Room Ideas: Sleeper Sofas
As a second modern living room inspiration, I have picked some sleeper sofas, as many of us don't have a place for guests to stay. So, when we have guests sleeping over, we want to offer them a comfortable place to sleep, right? Here is some living room inspiration for sleeper sofas to check!
---
3. Apartment Living Room Inspiration: Armchairs
What is that we all have with armchairs? They're some amazing small living room inspiration if you choose them right. We love armchairs. Often, we look at them as the most perfect item in a living room, but it's so hard to pick a good one…! As the third point of this home decoration inspiration list, I have picked some of my favorite armchairs on the market. See them below!
---
4. Inspiration Living Room Ideas: Side & End Tables
If I had enough space in my house, I would for sure have a thousand side tables and end tables. I love the different styles and beautiful wooden designs, as well as the industrial furniture, and those covered in golden color. They're perfect modern living room inspiration in my eyes. So hard to pick the best end tables and side tables, I know… But here's some living room inspiration to find the ones that will make your house, a warm and cozy home!
---
5. Apartment Living Room Inspiration: Coffee Tables
The next list for living room ideas and living room inspiration must be the coffee tables. Here's a collection with different styles to pick from. I'm obsessed with all of these, but the second one is definitely going to end up in my living room very soon. If you're looking for some cool small living room inspiration, I have found that beautiful wooden pieces are always great picks!
---
6. Console Tables
Console tables are just something that can't miss from your home. Topping it with some beautiful figurines, a nice vase, and flowers just give our home such a different outlook! Here are some console tables for your living room inspiration list.
---
7. Apartment Inspiration: Bookcases and cabinets
As somebody that has hundreds and hundreds of books, I'm always in search of new bookcases, shelves, and cabinets. They don't have to just do the job. They have to be a perfect small living room inspiration, as I want to be inspired and empowered when I look at them.
I also want to be able to find space in my house for them! Below is the list of my top picks… and I must confess I've just ordered the 3rd one from the below list.
---
8. Lights & Lamps For Cool Home Decor
Oh, those lamps are perfect modern living room inspiration… See below a collection of floor lamps and ceiling ones as well for different types of houses and different styles. I hope you'll find the best match in this list of inspiration living room ideas!
---
9. Mirrors
I know, I know… the third mirror from Janice Mirror is super pricy, but be honest! Have you seen a mirror more beautiful than this one? A dream! Even when you're creating a Scandinavian inspired living room, you can use some mirrors. The more cool-toned, the better, if you choose to steer your wheel in that direction.
Of course, all my other picks are mostly golden, as I feel like when it comes to mirrors, gold gives it such a different charm. They can give a whole 70s inspired living room vibe from the first moment you step into the room. Mirror inspiration list below!
---
10. Small Living Room Inspiration: Decoration
Just a quick showcase of decoration ideas for the living room. Wall clocks, bookshelves, frames… They're all super cool apartment living room inspiration to feel good every day. If you want to see more decoration inspiration, check out my post with home decoration ideas. I've put together a whole list of trendy items that you can mix and match, reuse, and upcycle to follow your moods.
---
Bonus: Best Home Decor Ideas – Rugs
Let's move on with our living room ideas to the floor. You can't deny that a 70s inspired living room, for instance, is big on rugs. I'm pretty bad at picking the right rugs, to be fair. I can never decide which one I like more and I feel it's unfair to have to choose only one or two for the whole house.
Here are some rugs that I'm personally thinking about. This collection should help you find the best vintage, modern, or Scandinavian inspired living room rug for your house!
---
Beyond Basic Apartment Living Room Ideas
As you might have noticed, I am a huge home decor enthusiast. I love to look lengthily at anything from 70s inspired living room ideas to small living room inspiration. It doesn't really matter what size your apartment is, really. I know that creating a whole Scandinavian-inspired living room has been super trendy these past couple of years.
Still, even if you are more into African arts or Art Déco, you can make something beautiful with your head and your heart. You just need to put together a harmonious living room. That way, you can only feel happy, empowered, and hopeful for the future.
Beyond the living room ideas, you can read, as mentioned previously, my post with home decor inspiration. Then, if you love to cook, you should also check out the list with cookbooks for different types of dishes. Beyond that, you can also find a post for kitchen essentials. Also, you can check out the home office inspiration post too! Also, you can check out the home office inspiration post too!
---
Pin it: Living Room Inspiration and Ideas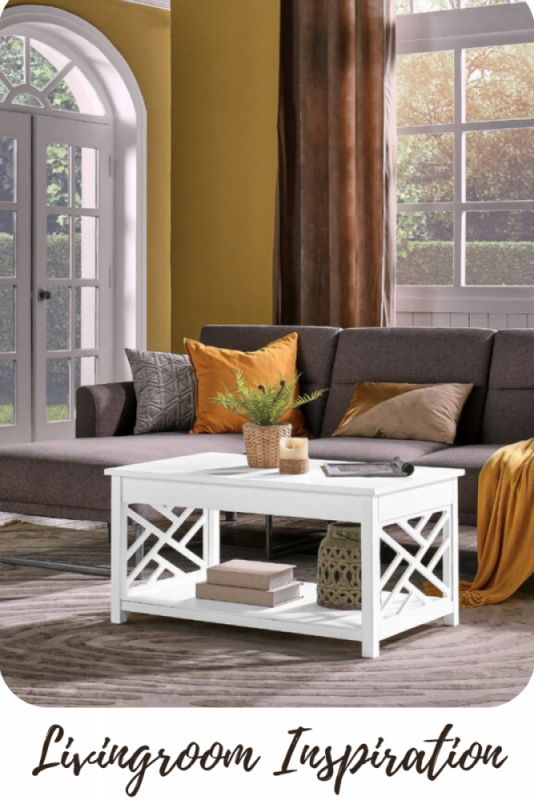 Disclosure: This post contains affiliate links. This means, if you're clicking on the product links and you purchase something, I'll earn a small commission. This doesn't impact you, or the overall prices of the products. It's in fact a great help for me to sustain and run this blog.
Redesign Your Home – Living Room Inspiration