After so many years of roaming around in Italy, Verona is still one of the highlights on my list. This beautiful city in the Veneto region is just way too charming and beautiful! Verona is the place where you'll fall in love even from breathing in the air. Honestly! Do you want to know why? Here come the 7 reasons to visit Verona!
You can also check then out my Verona guide article, to be prepared when you visit the romantic city! Before you go any further, also make sure you check our list of the best hotels in Verona!
1. The vibrant Piazza Bra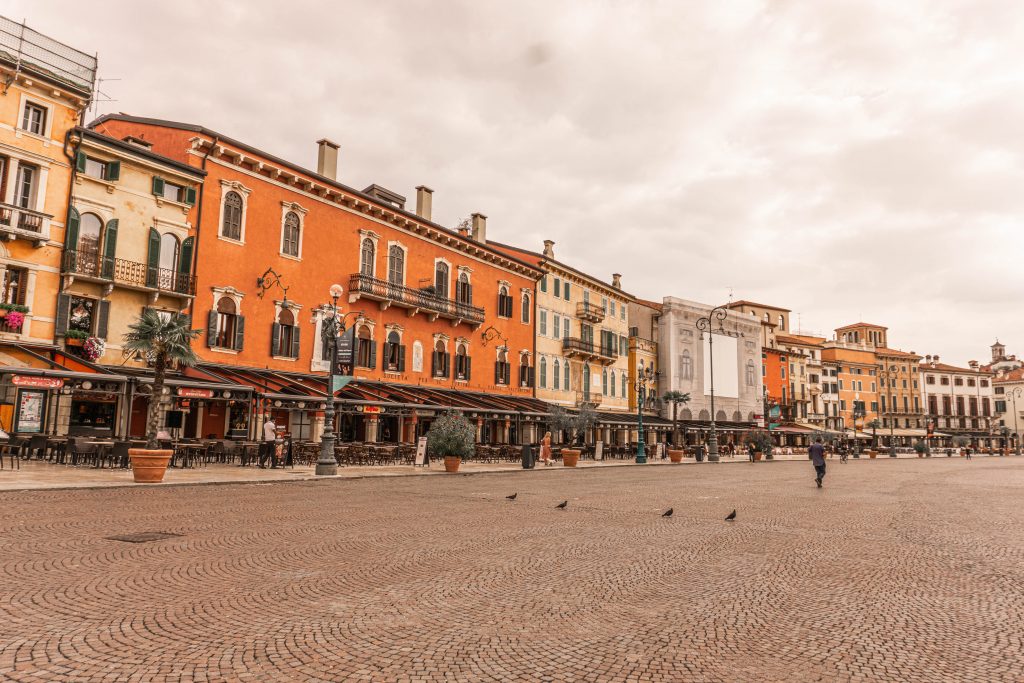 The Piazza Bra is the largest square in Verona, aligned with plenty of restaurants under colorful buildings on its north-west side. This spot on Piazza Bra is great for taking a morning coffee or stopping by for lunch, or dinner. However, you must know, that at dinner time, the restaurants will get really busy! To avoid being left without a table at your chosen place, you should arrive before 8 pm, or book a table in advance!
Piazza Bra is surrounded by numerous essential buildings, such as the Arena di Verona, one of the biggest intact amphitheaters still standing. You'll also find the town hall, called Palazzo Barbieri, and the building of Gran Guardia, which was the first building on the piazza. You can also notice a lovely park right in the middle of the square, where you can sit and watch the Veronese life.
---
2. Piazza delle Erbe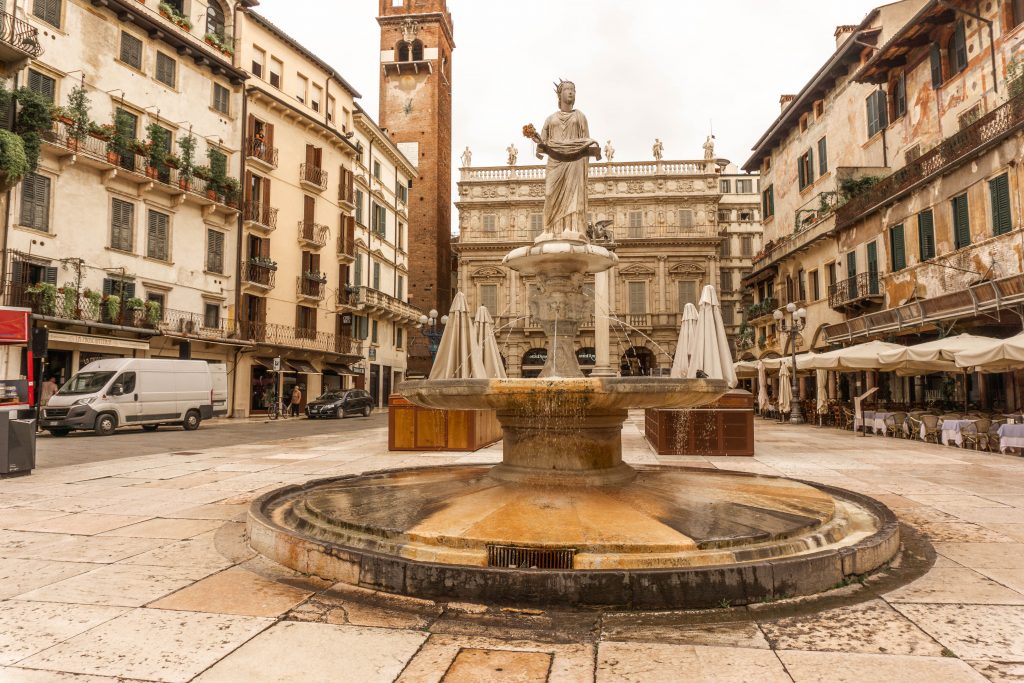 The Piazza delle Erbe (square) in the ancient times was the Forum of Verona. Today, it's still one of the busiest piazzas of the city, though the outlook somewhat is changed.
Piazza delle Erbe is always filled with life! It doesn't matter what time of the day or evening you'd be visiting, this place is always filled with locals and visitors! During the day, you can explore the market functioning in the middle of the square. You can find many sweet little things here, decorations, pasta, souvenirs, and much more. In the evening, you'll see the piazza's restaurants will get filled up with people enjoying a great dinner, chatting, and listening to music in a great atmosphere.
More reasons to visit Verona
Piazza delle Erbe is surrounded by stunning buildings as well, such as the ancient Torre Lamberti, Judges Hall, and the Mazzanti House. You'll also find the Baroque-style Maffei Palace and the House of Merchants. While discovering the piazza, you must notice that facade of some buildings is covered with frescoes. This is something really popular, especially in the Veneto region, so just enjoy the unique view!
We can't leave Piazza delle Erbe without noticing one of the most important landmarks on it, can we? In the middle of the square, you'll find the ancient fountain called Madonna Verona, which was first built in 1368. The fountain was restored obviously, and it's more stunning than ever! This piazza is definitely one of the main reasons to visit Verona!
---
3. Wandering downtown Verona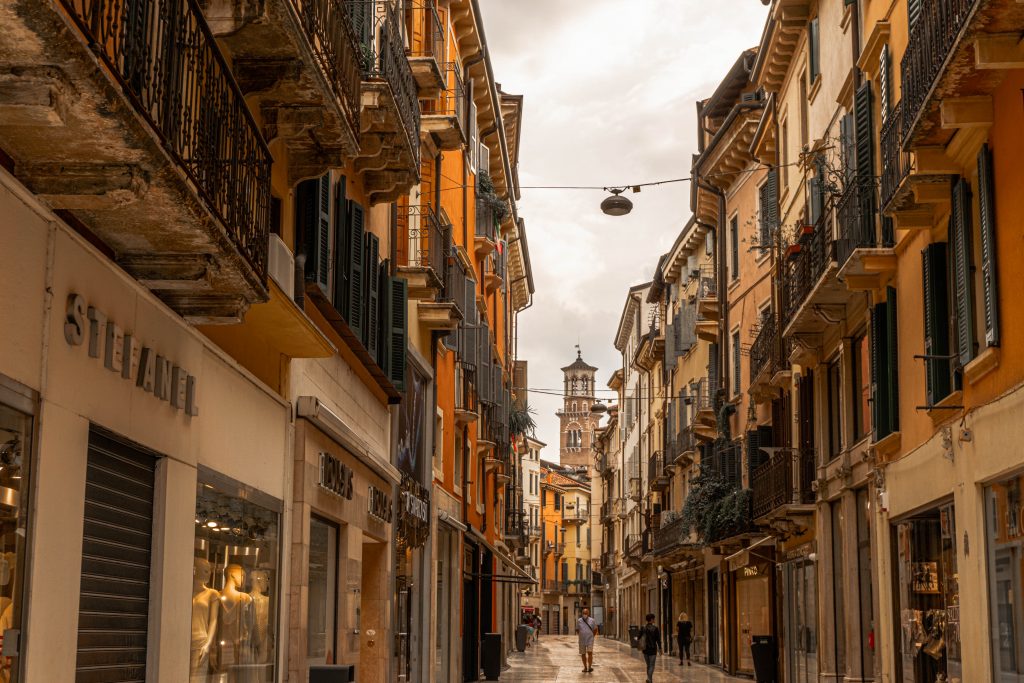 With a 3-years difference, I have visited Verona two times. Both times I left the historic center, or downtown Verona with hopes of returning again! The downtown is filled with beautiful orange buildings, charming streets, and stunning shops. There's no way you could not stop after every few steps, to admire your surrounding. The combination of new and old, fashion and art is something that Verona is really talented in!
When you visit Verona, you must walk down the shopping streets, such as Via Alberto Mario! You can also explore now downtown with electric scooters, however, there are plenty of streets where it's forbidden to use them. It's also a little bit painful for your brain to roll around on cobblestones, but I've seen many who didn't mind. Downtown, you'll also want to see one of the ancient entrances of the city, called Porta Borsari, and Corso Porta Borsari, the street heading from here to Piazza delle Erbe.
---
4. Juliet's House – Casa di Giulietta Verona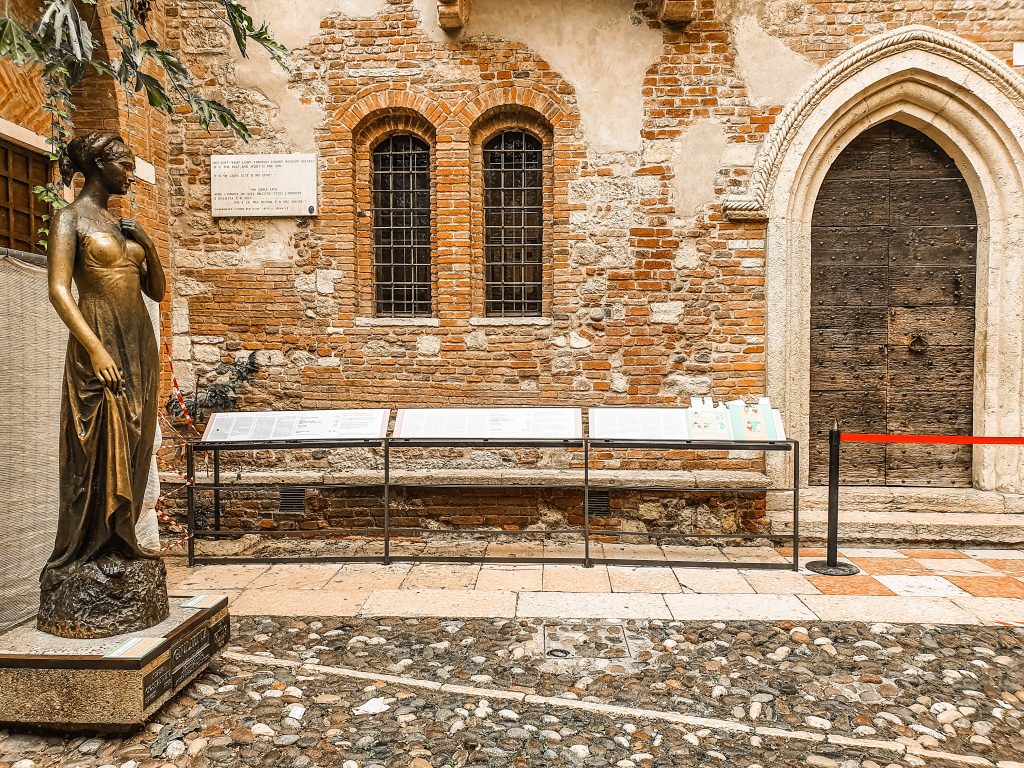 The beyond popular house of Juliet was built in the 13th century. It features the courtyard and the balcony where Romeo promised eternal love to his love, Juliet in the well-known Shakespeare tragedy. Casa di Giulietta is steps away from Piazza delle Erbe, and it can be visited for free.
Those who didn't found love yet, or just aren't married, always touch Juliet's breast on the sculpture, for better luck in love. It's also said, that this has nothing to do with love, but by touching it, you'll have luck! A great reason to visit Verona, right?
The house can be visited during opening hours, but for this, you'll need to pay an additional fee as well. This allows you to see the exhibit of beautiful furniture and costumes from the Romeo and Juliet movie, by Metro Goldwyn Meyer's. While visiting the house, you can also step outside on Juliet's balcony, to re-live the romantic scene. Well, if your Romeo is standing under it.
---
5. Eating outside in Verona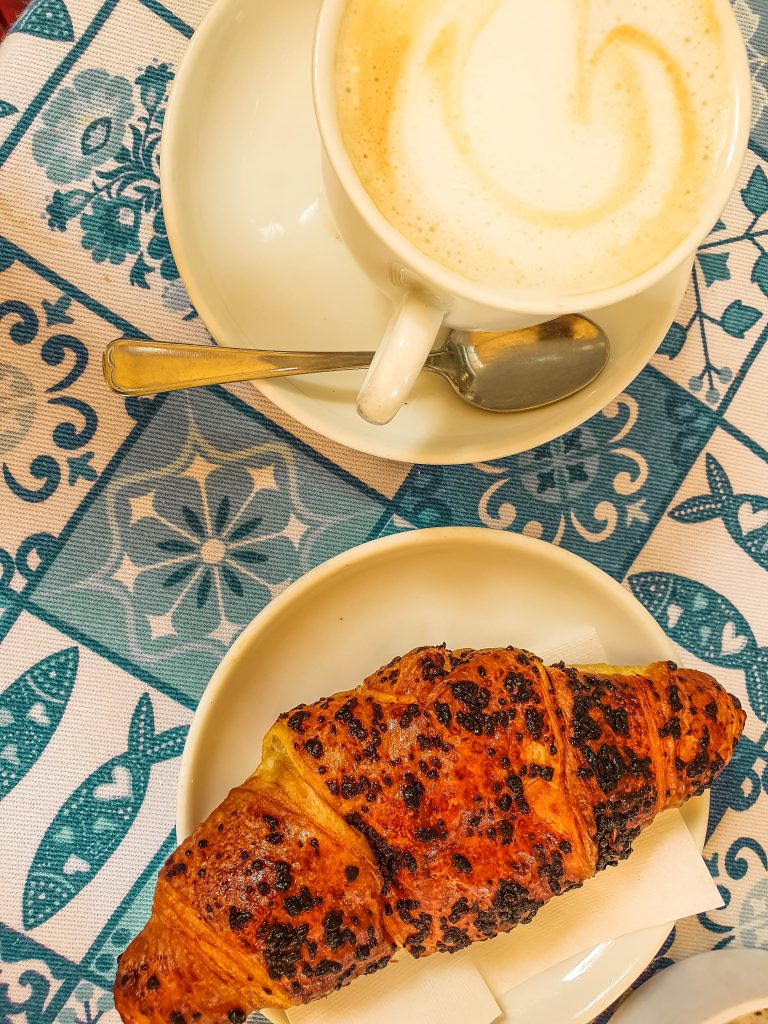 Eating outside in Italy is always an amazing experience. No matter how many towns, and cities you visit, you will love the food everywhere… There's just no way you couldn't love it. Everything is super tasty, super simple, and super amazing.
Verona isn't different either. With restaurants serving traditional Veronese food, those who specialize in the whole region, and serve food from Veneto to all the types and styles of pizzerias that you can imagine, you will find in Verona. Once I decided that I want to eat pizza, and I knew specifically what type of pizza I'm looking for… It still took me 1 hour and 7 minutes to find the one that I wanted.
As it's the North of Italy, you'll notice many dishes that have one or two details with Austrian origin. Such as the pizza on the above picture, which has wurstle (german sausage) as well on it. This isn't something usual in the whole of Italy, just in the north. Another highlight is definitely the brioche! When you're headed to grab your morning coffee, make sure to pick a bar that's not touristy. Where you hear more Italian than other languages, that's the place you'll mostly find the best brioche!
---
6. Breathtaking panorama over Verona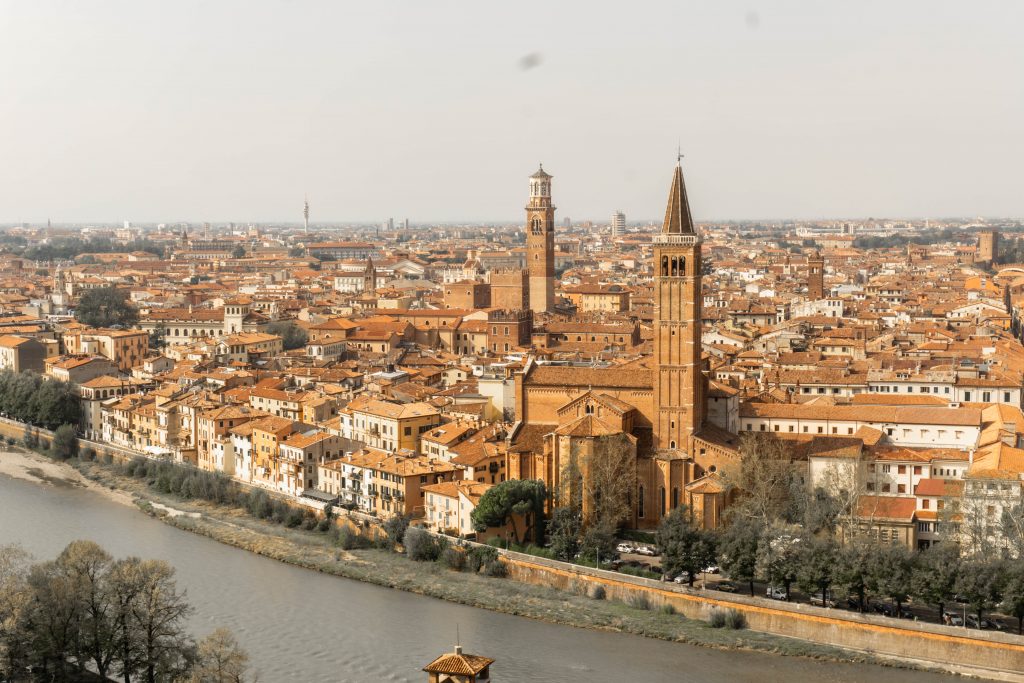 Crossing the Ponte Pietra bridge, you'll see on the other side of the road a little alley going uphill. The alley itself is very beautiful! Imagine it aligned with old buildings and plants. Though, the most beautiful part will still be awaiting you at the top!
Castel San Pietro, the place you can have this magnificent view is more like a hidden gem. But this hidden gem has the best possible gift for you! It's never crowded, and it's never noisy. A perfect place to relax your mind as well. I could spend hours and hours there, just admiring the beautiful city. What am I talking about? I actually spent hours there every time!
So if you want another reason to visit Verona, just think about this stunning view along the Italian medieval city center! I'm sure you won't be able to resist!
---
7. Bridges with a long history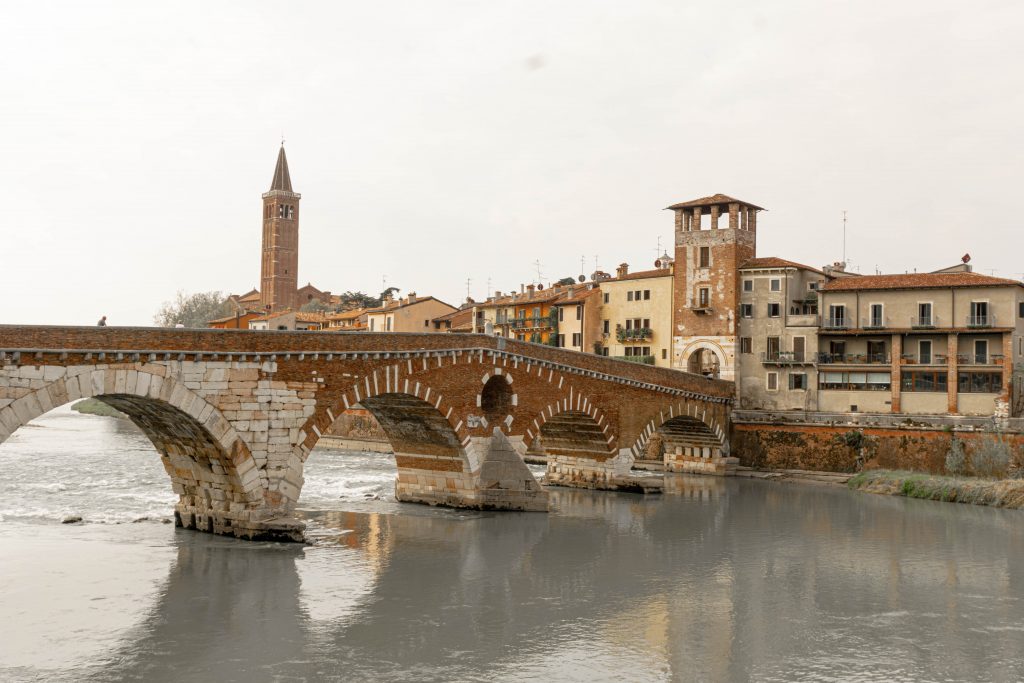 The Ponte Pietra is the oldest bridge in Verona (and my personal favorite). It was first built in 100 b.c. and then it was rebuilt in the 13th century. Unfortunately, the bridge was a victim of World War II, when 4 arches were blown up by the retreating German army. Thankfully, it was rebuilt again in 1957 partly with original materials. If you walk down on the north shore of the Adige River, you'll notice from the side the difference.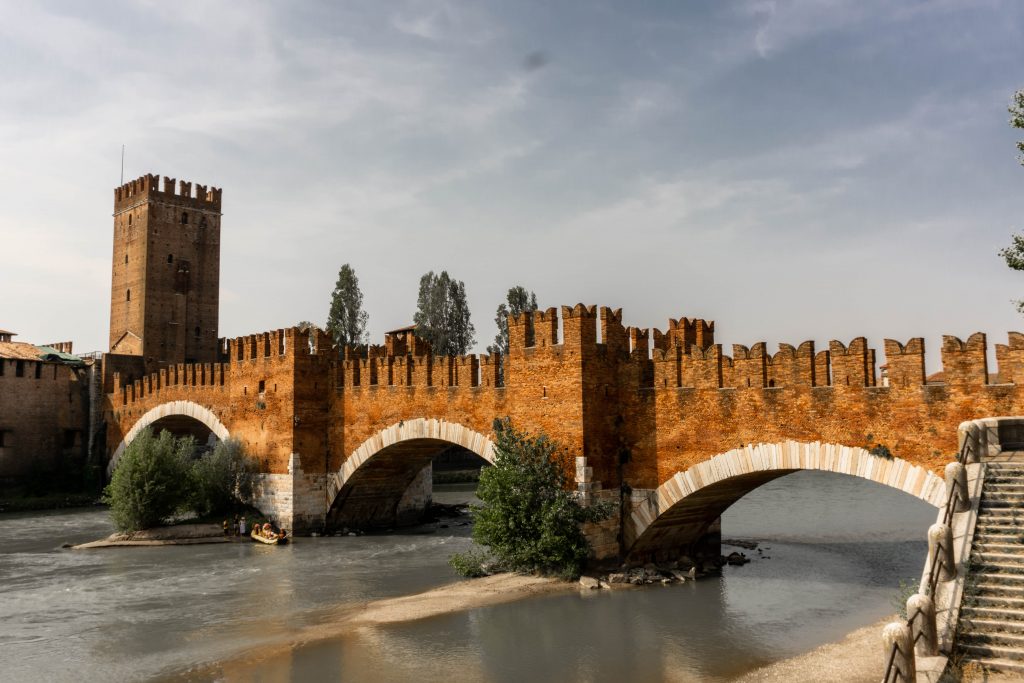 Ponte di Castelvecchio is right on the other side of the historic center of Verona. This is one of the most famous landmarks in the city, so you really must visit it! The bridge, along with the castle was built in the 14th century. It was built by the lord Cangrande II della Scala that served to escape in Tyrol's direction, in case of a revolution or attack.
---
You've seen the reasons to visit Verona! Now if you want to get more information for your visit
If you want to visit Verona, check out my Verona travel guide for details on landmarks, places to eat, where to stay, and so! You can also get some inspiration from my first visit to Verona, in 2017!
In addition, if you're looking for amazing places to visit around Verona, even for a day trip, check out the best places to visit near the Garda lake! You'll also find a post about one of my favorite towns on the south shore, Sirmione, as well as a beautiful mountain escape to Trento!
Pin me: 7 reasons to visit Verona, Italy!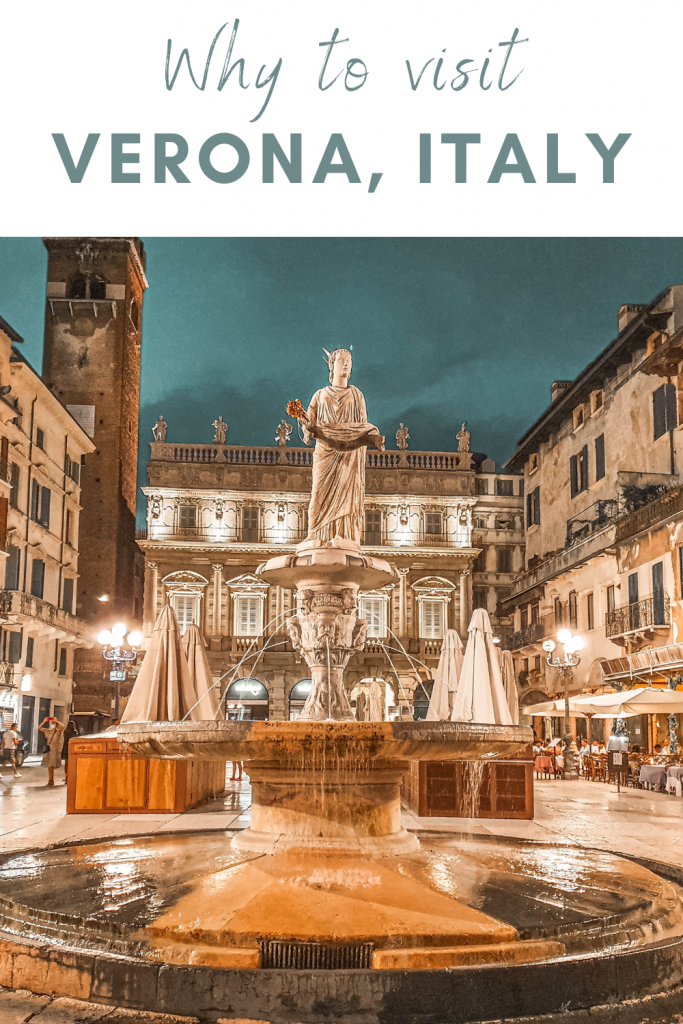 ---
Find the perfect accommodation in Verona!
---
---
7 reasons to visit Verona, Italy