---
A personal experience in North of Italy
---
This trip was the most spontaneous trip ever! It happened in the summer of 2017, without actually planning to go anywhere… I called my friend and told him, that we're going to the North of Italy! Where it came from?
I was bored at work…
As a true wanderer, what else would I do than searching for plane tickets?! And I accidentally found the cheapest tickets I've ever purchased!
I'm being completely honest when I'm saying this! I booked our flight to Venice Treviso airport for €7,00 each. I mean, €7,00!!! I got super, super excited, and I purchased the tickets straight away…
Two seconds later I was already with an open Google Maps planning the itinerary for those 4 days.
We've been starting in Venice, then we traveled to Verona, Garda Lake, Iseo Lake, and Milan. We were flying back from Milan.
---
First stop: Venice
We arrived on Thursday, at the end of June at Venice Treviso airport. We took the airport transfer bus to Venice, which was €5,00, and it took about an hour to arrive at the Santa Lucia train station. Visiting Venice without a well-planned Venice itinerary was definitely a bad idea…
As I messed up the schedule, we've ended up having only 2 hours to see something. There was no chance to get to find St Marc Square and arrive back at the train station in time. We were really broke, so a water taxi or anything that cost more than €2.00 was prohibited.
We had however 2 hours to discover the nearby canals, get a gelato, and take away pizza. I guess the rest will have to wait for the next occasion…
---
Second stop: Verona
After two hours of magic in Venice, we headed to Verona with a local train line. This city was a top bucket list item since I've seen the movie called Letters to Juliet – if you like romantic movies playing in magical Italian towns, please do watch this!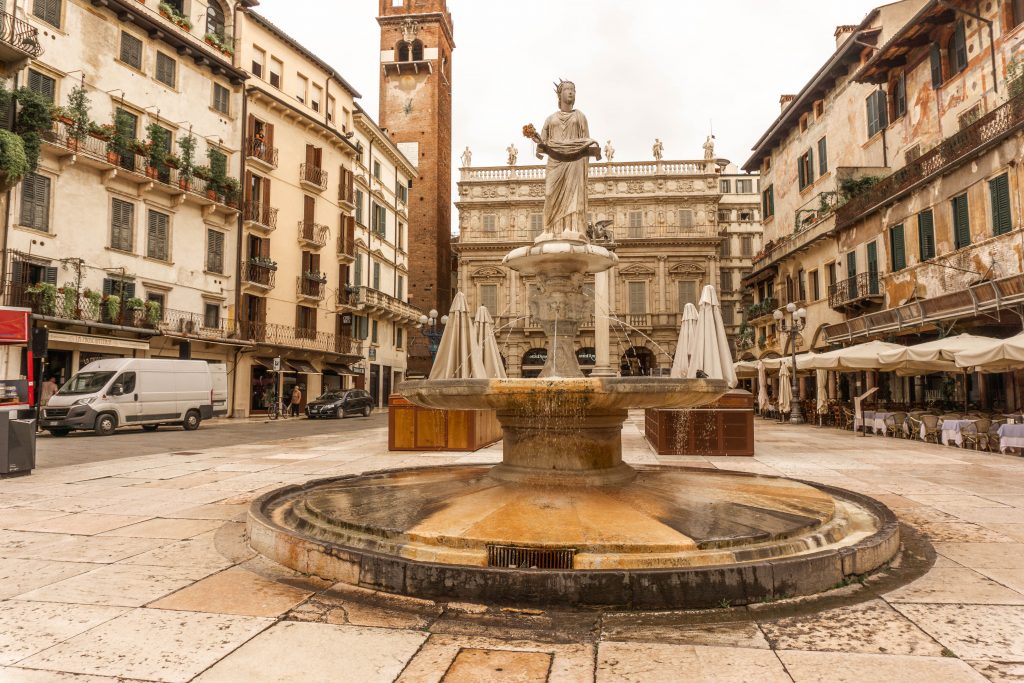 The journey between Venice and Verona takes about one and a half hours.
We wanted to take the bus from Porta Nuova train station to our b&b, as it was on the other side of the city. A tip for tickets on public transport: If you get tickets on the bus it'll cost €2.00 if you buy it from the machine it's just €1.30. The tickets are valid for 90 minutes, which is really handy!
So we got on our bus at the station. We were on our way for at least half an hour (talking this whole time) and I just realized that something's wrong. I asked the bus driver where are we and he told me that we are in a little town near Verona (Oops).
After he explained how to get back to Verona, and then to our accommodation, we got off fast to catch the LAST BUS going back to Verona. After getting back safely again to the train station, we had the luck to see our bus just leaving. The next one was about to arrive in 30 minutes, so we decided to just walk.
BAD IDEA!
Exhausted, tired, and frustrated, after one hour of searching without a map, we finally arrived at the B&B. An incredibly nice, very friendly lady greeted us at the door. Since I was learning Italian for a while, I decided to test myself and I started talking with her in Italian – and she understood me wooohooo -.
Letizia showed us our bedroom, the dining room, and the balcony. She's owning the place and she is living there too.
I'm really recommending the B&B La Letizia. It is perfect for a low-budget trip, the rooms are clean, and having a beautiful interior design. The view is stunning from the balcony and the style of the house is amazing! It's a bit out of the city center, on the side of the river. There are buses every 10 minutes as well as night buses, so it's easy to get there, and obviously it's much cheaper than those in the center!
I was so excited to finally be in Verona, I didn't care if there was 11 o'clock p.m. and I was barely alive… I wanted to go, and see and explore!
We took the bus to the city center, we made our way to Piazza delle Erbe. After a really exhausting day, we found ourselves in a vibrant, cozy square, where people are enjoying the night out with friends, family, dates, etc. Everywhere lighters, laud chats, laud music, cold drinks, and warm evening. It was perfect.
I finally felt like I'm actually in Italy!
We've got our Aperol Spritz and some snacks and just set there without a word. Just enjoying the vibes.
WARNING: In Verona, many restaurants and bars don't serve dinner after 10 o'clock. I learned it after this crazy day when I finally got the chance to eat something and the kitchen was closed…
The next day after our great breakfast and coffee on the balcony, we went back to the city center to discover it.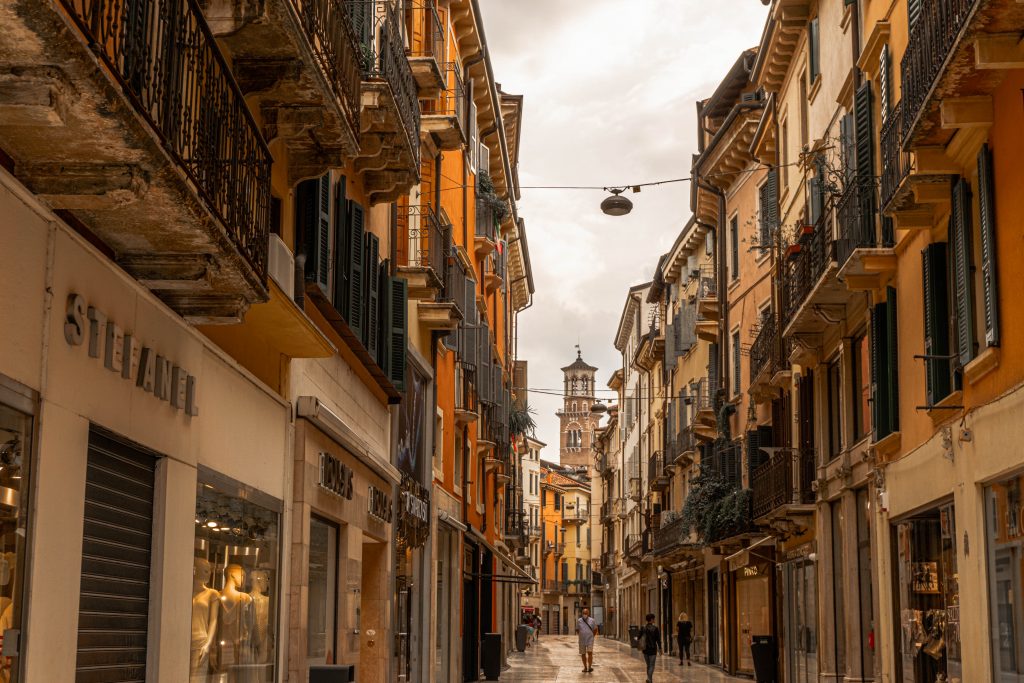 In a very short time I realized, there is so much to explore in Verona I couldn't imagine before. We wandered around in the center all day, visiting the most famous squares like Piazza Bra and Piazza delle Erbe, the arena of Verona, the house of Juliet, the Castelvecchio, Torre dei Lamberti, Castel St Pietro and so. Everything was beautiful and I was just in love with all of it. Check my article with things to do in Verona for more!
On our next day, we headed to the next destination on the list.
---
The Garda & the Iseo Lake
The plan was to spend the day at the Garda lake, (which was again a big dream of mine) and then get a train to go visit our friends in Darfo Boario Terme. This is a beautiful kind of village between the mountains.
After arriving in Peschiera del Garda we were just sitting there and thinking of, how we get to be so lucky to have the chance to see this breathtaking place? Well, we made sure we enjoyed it on the side of the lake all day!
In the afternoon we arrived in Darfo. The train took about one hour and a bit changing once in Brescia from Trenitalia railways to Trenord. From all the train trips we had those days, this part was the most beautiful! The railway goes right near the Iseo lake for more than 20 km-s and the view is absolutely stunning! Crystal clear water, the wildlife, the high mountains around and lucky me, I caught the sunset too…
Thanks to our friends we had a long description where we have to go exactly to find the restaurant they were working at.
We were on halfway when I realized I'm not so sure anymore if I know where we are and my phone died too. Thankfully we found a Gelateria (ice cream shop) open, and I noticed two customers just leaving. I went to ask them for guidance quickly, and it turned out that the direction was correct, but we were still 4 km to walk.
Just a couple of minutes later, I heard a car tooting behind me. As I turned around, our guides from earlier were stopping beside us and asking if we want a lift? My leg hurt, phones dead, and we had no water, we were thirsty and hungry so we were almost screaming YES PLEASE!!! I learned in the meantime that they had to make some plus km because of us, as this place wasn't on their way home… So I'm forever grateful for this couple, who saved us that day, and left us with such a positive impression!
After finally arriving at the restaurant called Tana da Mario, the first thing was to order a pizza which was a very-very great, and a lot of water on the side.
The next day we took the train back to the Iseo lake. Fun fact: it's half as big as the Garda lake, and almost that beautiful. It also looks very similar to it. Imagine it being surrounded by beautiful mountains, on a surface of the lake of 65,3 km². I wouldn't mind going up there on weekends for a swim to be fair…
We went to Sarnico, a little village near the lake. Our friends took us to a hidden beach with just a few people there, which was amazing! We could enjoy the view and the sun without being disturbed too much by others. The water was crystal clear, blue, and you could see fishes from meters.
After getting back to Darfo, the afternoon was filled with gelato. I think I've never eaten that much gelato in my life as I had that day…
There was a little boutique right below our friends' home, selling home-made gelato…
How can someone live there, and not eat every day at least 5?!? Fortunately, we were staying just for one day, because if not, I would've eaten all their stock for sure…
On our last day, we decided to go all together to Milan, but things didn't work out as we wanted, again!
In the morning it was raining and we couldn't leave the house on time. Then, the employees of TreNord railways started to strike, so there were no trains until 1:20 p.m. Our friends decided to skip the trip, as we needed 2+ hours to arrive in Milan, and then we had just 2 and a half hours until we needed to leave for the airport… It just wasn't worth it anymore.
---
Milan, the last stop
After all the struggle and hustle, we have finally got to Milan around 4 o'clock in the afternoon.
As I said, we didn't have too much time left, so we jumped on the subway straight away and got to the Piazza del Duomo, to check at least that and the surroundings.
I saw many pictures of the Duomo di Milano but I never really realized how stunning that building was. I was standing there, in the middle of the square just staring and couldn't say a word, I was so enchanted. My friend was however very disturbed by the crowds. He's a man of nature.
Then we went to the Galleria Vittorio Emmanuele II to check out some of those luxury brands most of us just dream about. We had some more time to walk around the cathedral, and nearby streets, have a cappuccino and that's it.
Milan was beautiful, but it didn't catch me at first sight, as cities like Rome, Verona or Florence did. It wasn't loved at first sight. I think it had to do something with Milan looking to be more developed and not having authentic parts (update: WRONG!). It also had to do something with the fact, that it's reminding me more of Western European cities than Italian ones. Anyway, I felt like something is missing…
Update: Years later, I went back to Milan, and I have discovered it properly! Now it's one of my favorite cities in Italy!!!
That thing that's been missing, I found it, and you can see all of it in my article with the 10 things you can't miss in Milan!
What I've learned these days and how can these things help you?
You want to visit multiple places in Italy, and you want to do it by train? Always be aware that Italian railway company strikes are often on the schedule! I mean it, it wasn't the first or the last time I heard or caught myself in this situation again.
When there is no strike, Italian trains are 99.99% punctual (supriiiiseeee), they might even arrive sooner than they should and they DO leave the station earlier, than their schedule.
If you are putting Venice on the list, spend at least one day there. 2 hours are just not enough!
Check multiple times, ask people if you're not sure about buses. This isn't just because of what happened in Verona. This is true for all of Italy…
Save on bus tickets.
Summer is very hot in the North of Italy too, and yes, the humidity is insane, which is very exhausting for many people so make sure you always have water in your bag!
As I wrote in my post with tips for a low-budget trip to Rome, at the tourist spots the food and drinks are very expensive. This rule is applicable for Verona too, mostly on Piazza Bra. But hey, here is the solution: Each restaurant has its menu shared in front of the terraces. Don't be afraid to go there and check them out. You are the one who has to choose, so don't listen to the very nice waiters who just try to invite you to take a seat at their restaurants if you feel uncomfortable with the prices. This is their job, you have to be the one who says NO. Check the menu, and if you find the place which is fitting you the most, sit and enjoy it!
Visit this great website for tips and maps for the north of Italy, Disciples. It'll help you in planning your trip to North Italy!
---
My camera gear
Sony Alpha a6000, Sony – FE 24-105mm lens, PHOPIK 79 inches Carbon Fiber Tripod
---
Pin Me: How to explore North Italy in 4 days?
---
Find the best accommodation!
---
---