Italy is a dream. The beautiful cities and charming towns, breathtaking landscapes, vineyards, architecture, history, culture, and food… Everything that meant Italy inspires many of us, as well as it inspired many amazing movies over the decades. With that said, it's really difficult to choose the 10 actual best movies set in Italy, since every few years there's a new one that could easily make the list. You can choose between many Italian romance movies and trip to Italy movie that make us want to visit a specific Italian destination.
10 Best movies set in Italy
Now, we've covered separately the best movies that take place in Italy keeping in mind that not everyone has the same taste. If you're here because you're a dreamer, who loves happy movies, romance, and those Italian American movies that make you want to start looking up plane tickets right away, then this list is for you. As a woman, a woman who's big in girl movies and romantic comedies, I must warn you that below you can mostly find these types of movies!
There are some movies made in Italy that aren't focusing really dreamy romances and stunning Italian locations and I do love them. Some of them I love because in usual I'm big on historic movies, but there are great action movies I really like too, such as the Spy. When it comes to history and mystery, my favorite tv shows are about Italian history. In this list, you'll find only the Inferno and Angels and Demons because I'm a big fan of Dan Brown. However, there are plenty of Italy movies that I've linked in for you above! And now, let's see the best movies set in Italy according to my taste.
1. Under the Tuscan Sun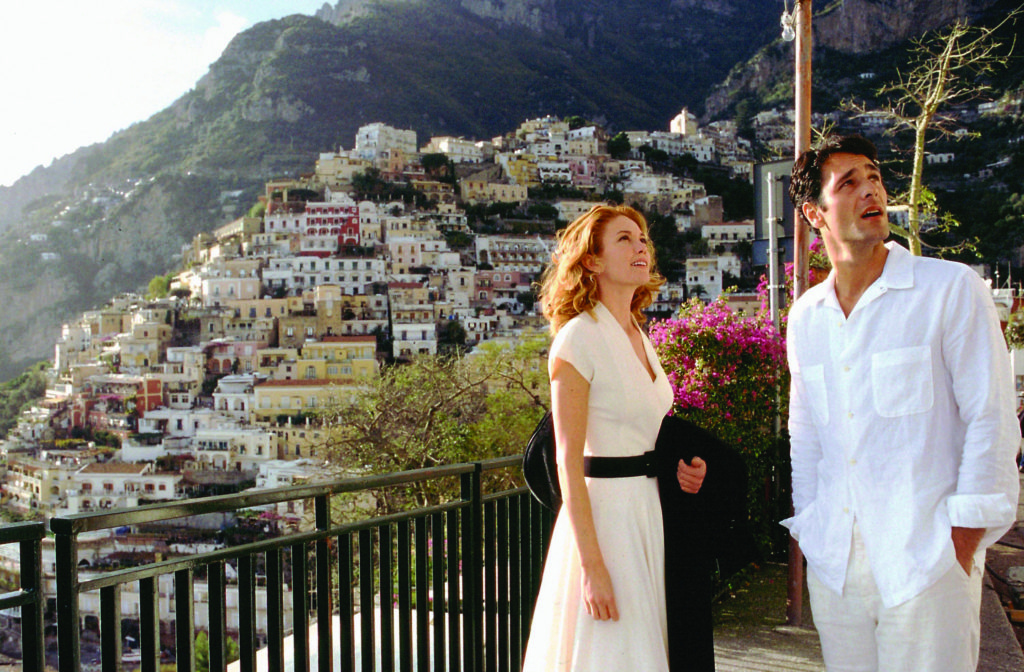 As a woman, this is a gem of the best movies set in Italy, and it's a great inspiration for everyone having difficulties in their personal life, as well as for those who are simply looking for inspiring movies set in Italy. Among all the Italian American movies out there, probably Under the Tuscan Sun is the one we can call ever-green. And over the years, women continued watching it for the same reasons.
The story lies on the famous writer, Frances Mayes who after going through an ugly divorce was convinced by her friends to go on a trip to Tuscany. Of course, as with everyone who just has to restart life, it's not easy to convince her, but when she actually gets to Tuscany, she ends up buying a villa called Bramasole in the village of Cortona. This is by the way one of the most charming towns in Tuscany!
Under the Tuscan Sun presents the journey of a woman who has been cheated on, and who's starting her new life in Italy. A storyline full of self-search, self-development, romance, beautiful Italian towns and cities, and friendship that last. Now, a little spoiler: This movie was one of those that inspired me to move to Italy, and while it sounds incredible, my journey was very much the same as Frances' in the movie.
2. Eat Pray Love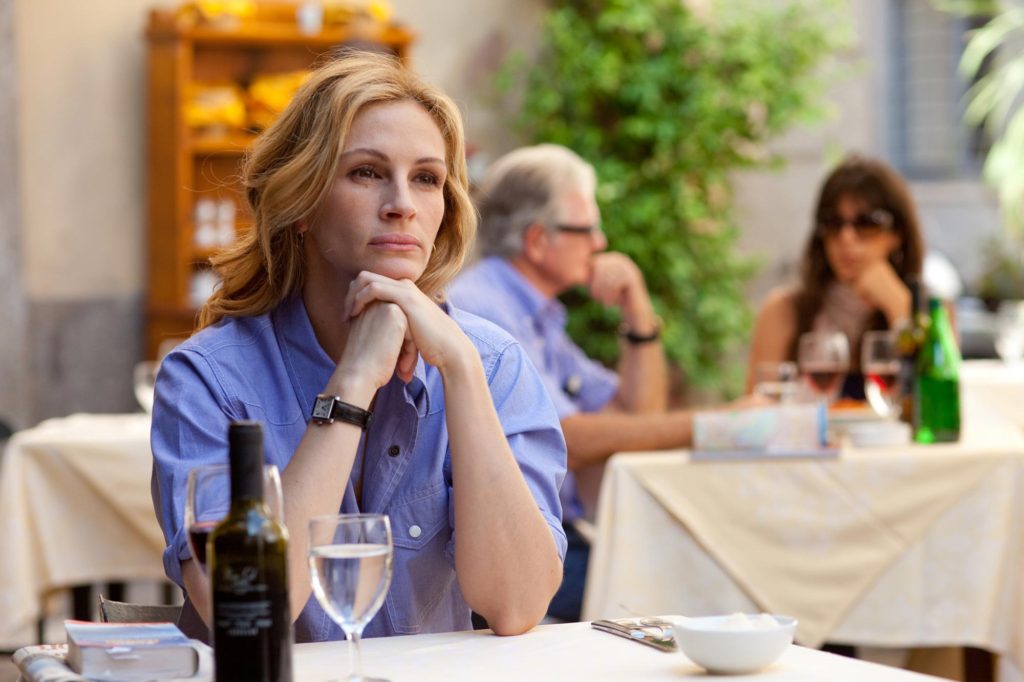 Each of the movies on this list marked a great event in my life, and I can relate to each of them through something that happened to me. Eat Pray Love reflects me, for the two years I've been living in New York, than in England I've been on a self-searching journey which I found Liz to go through as well. When it comes to inspiriing Italian American movies that make you want to get on a plane asap, Eat Pray Love qualifies for it.
Beyond being a trip to Italy movie, it's a movie about finding our true self, making peace, and accepting ourselves. I always believed that you must move out from your comfort zone to complete this journey, hence I started traveling alone, and why I moved abroad alone. Putting yourself out in the world and accepting the challenges while you're working on yourself is a real fight, and it is the most beautiful you could ever have.
Back to movies made in Italy, the storyline of Eat Pray Love involves Italy for a part of the movie. Liz had everything she could've ask for, a home, a husband, and a successful career, but she didn't know what she wants and who she is. After divorcing, she plans a 1 year self-search and healing trip on which the first 4 months she's spending in Rome. No more spoiler, watch the movie!
3. Letters to Juliet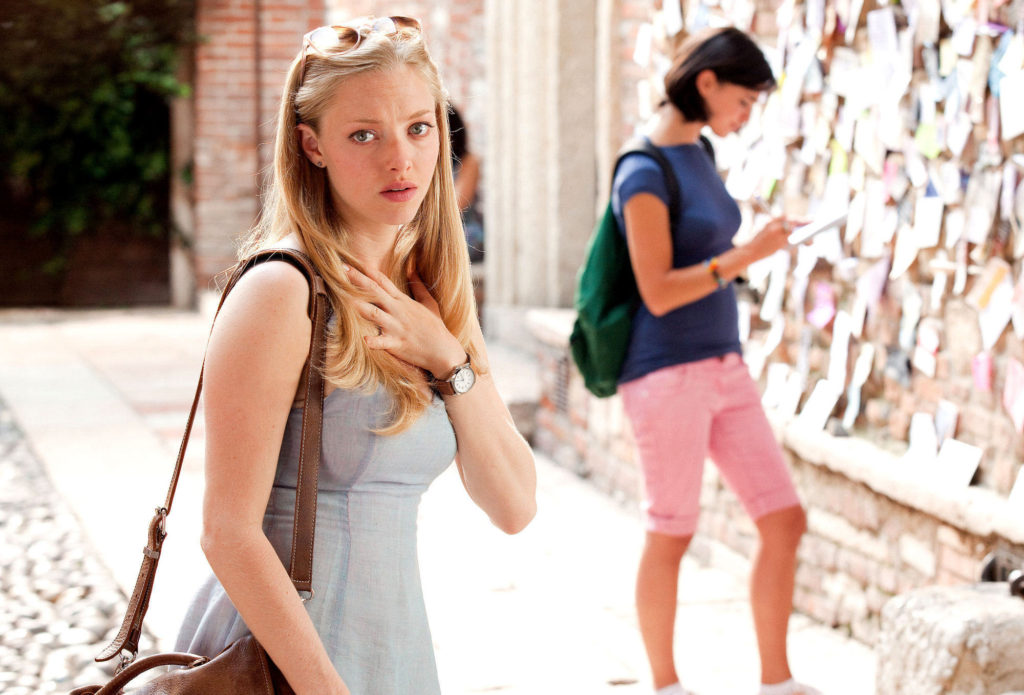 One of my favorite Italian romance movies – it's set in Italy but not Italian – is Letters to Juliet. When you're searching for a trip to Italy movie, and if you do love beautiful love stories, I do suggest you see Letters to Juliet. A movie that inspired me to visit Verona multiple times, Siena, and to want to travel through the Tuscan hills by car, while listening to Italian classics.
The story lies on Sophie, a writer from New York who's engaged to a really busy chef as his fiance, and who's always around food but never around her. Sophie discovers in the courtyard of the House of Juliet in Verona, that heartbroken women from all over the world visit Verona and leave their letters to Juliet there. She also discovered that these letters are being collected by a group of women who responded to them. Being sick of food tours, Sophie joins this group and helps them with the letters, when once he finds a hidden letter in the wall dating back to 1957.
She decides to reply to the writer, Clair, who at this time is elder, and she lives in London. A few days after sending the letter, Claire's handsome grandson shows up with the grandmother. Claire decides to search for her long-lost love, and Sophie joins them on this journey to locate Lorenzo in the area of Siena. You better watch the movie to see the rest! It's definitely one of the greatest movies that take place in Italy and is greatly inspiring for travelers.
4. Angels and Demons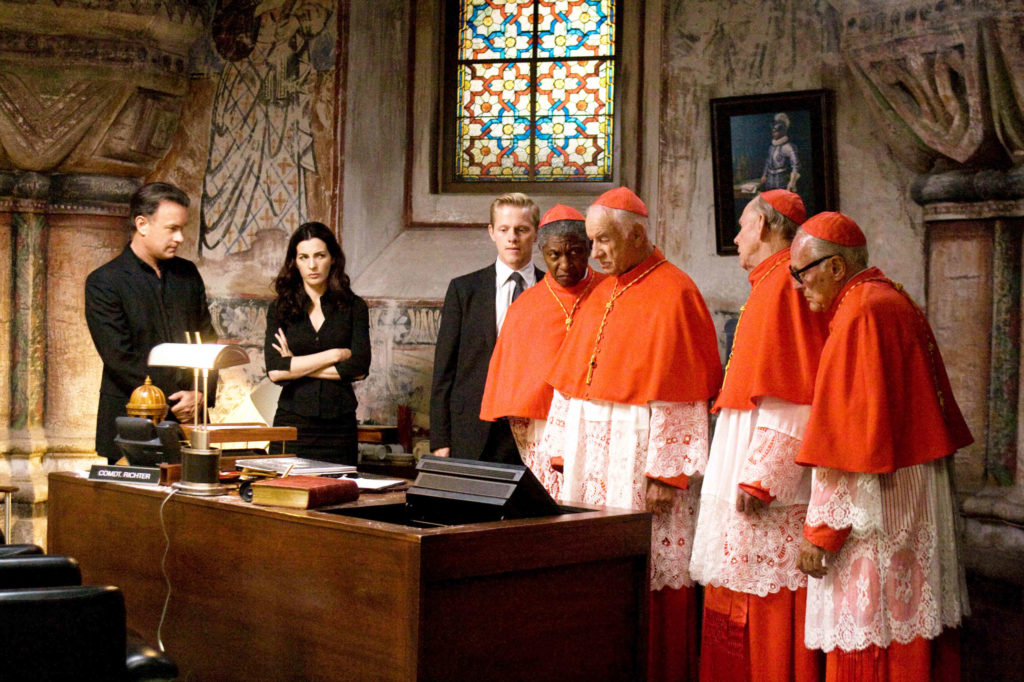 When it comes to the best movies set in Italy, especially in Rome, that's about mystery and history, we say Angels and Demons. One of the greatest things about these movies based in Italy, is that you can go there later and walk through the scenes presented in the movie. That's what I did with Angels and Demon. I visited all the important stops of the movie.
The story lies around the Harvard symbolist Robert Langdon and an attack on Vatican City. Dr.Langdon discovers the resurgence of an ancient brotherhood, the Illuminati. The story begins with this energy that scientists tried to capture as they imagine the birth of the Earth. The stored energy is stolen from the lab, and the Vatican sends for Robert Langdon to ask for his help.
It's believed that the Illuminati have kidnaped 5 cardinals who are the top candidates to become the pope. Langdon joining forces with the Italian scientist Vittoria Vetra, Langdon follows a centuries-old trail of ancient symbols in the hope of stopping the Illuminati's deathly plot against the Roman Catholic Church. The rest you will have to watch. Or you can read also the book by Dan Brown!
5. Inferno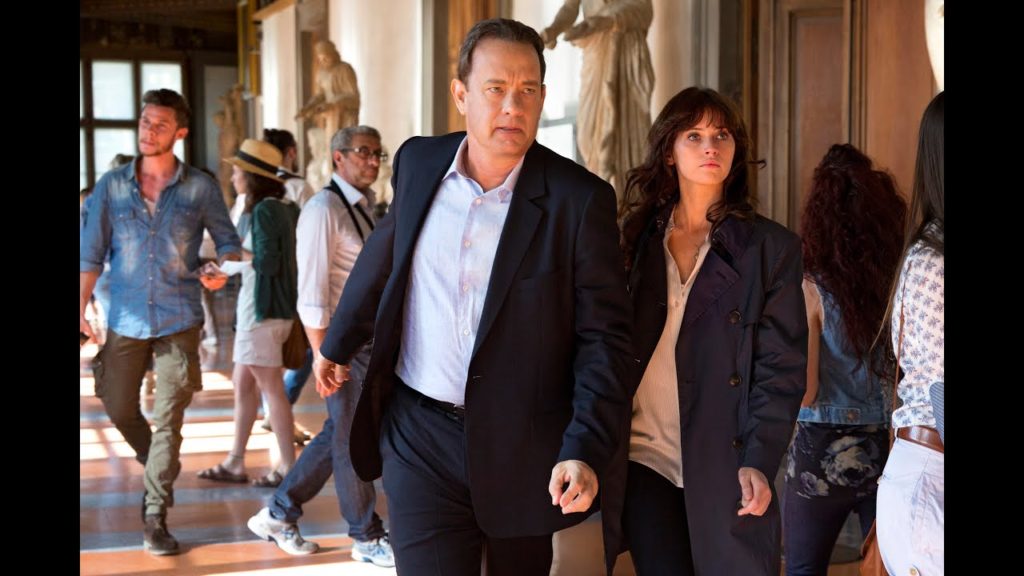 Following Dr.Langdon's stories, our next of the movies made in Italy is Inferno. Professor Langdon this time meets a mystery around the famous Italian poet, Dante Alighieri's death mask. The story is set mostly in Florence, and I must admit, that this movie inspired me enough to visit Florence for the first time. I've been in love with Renaissance art and history, but until I've seen the Inferno, I didn't feel that it was time to visit.
The story begins with Robert Langdon waking up in a hospital in Florence, not even remembering why he was in Florence in the first place. Dizzy from his head bruise, and suffering from amnesia, he gets saved again by his doctor Sienna Brooks when an armed woman tries to kill him in the hospital. The story lies on the journey of trying to recover his memories and trying to also solving the Dante puzzle.
At all this time he can't rest, as he must stop somebody from unleashing a virus that could wipe out half of the world's population. While he's trying to put the puzzle together, we are taken through some of the most beautiful parts of Florence, such as the Palazzo Vecchio, the Santa Maria in Fiore Basilica, later on, we can also see Venice and Istanbul. The rest of the story, you know, read, watch!
6. Tuscan Wedding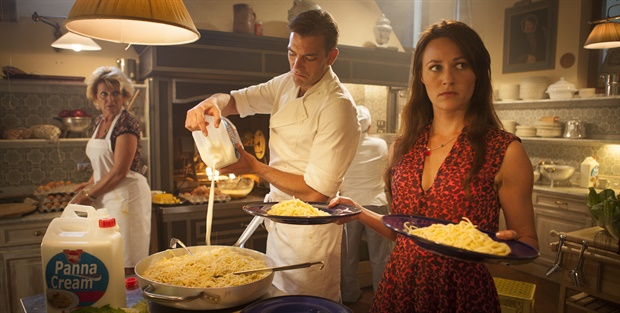 Not completely one of the Italian romance movies, since the movie itself is from the Netherlands, but Tuscan Wedding takes place in the beautiful region of Tuscany, and the whole storyline develops there. When it comes to romantic movies based in Italy, Tuscan Wedding is one of my favorites.
The movie is set in the Tuscan hills, featuring beautiful towns, landscapes, and the typical Tuscan villas we all want to stay at once. Sanne and her father own this villa in Tuscany where they organize destination weddings. A stunning place, with a funny storyline, which includes heartbreaks, crazy mothers' in law, breakups, and the Carbonara which was made wrong!
A couple from the Netherlands comes to see and book the villa for their wedding, and they bring the grooms' best man too, who hits Sanne with his car. A bit cliche, but it's playing in Tuscany so we love it! Then, of course, they start falling for each other, and all the romantic storylines we are already used to. But the end is much more interesting than you'd think.
7. Roman Holiday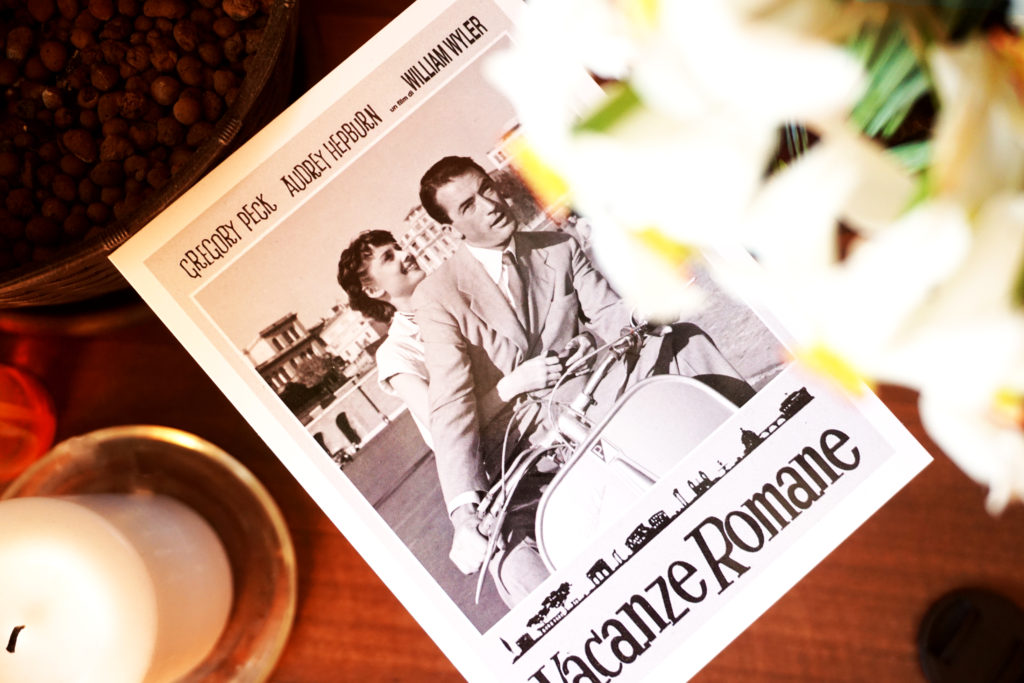 If we are speaking about the best movies set in Italy, the Roman Holiday is unmissable. One of the most iconic movies with Audrey Hepburn that remains forever green still. A never-dying classic that you must watch both if you are or aren't planning to visit Rome or Italy in general.I have an interesting story while I and my friend were looking for the house Joe Bradley was living in. Read our story here!
The story lies around Princess Ann who decides to take off for a night and look to roam around in Rome. Unfortunately the sedative she took beforehand from her doctor kicks in and she falls asleep on a bench near the Roman Forums. Here Joe Bradley, the American reporter finds her and takes her back to his apartment to sleep. Joe the next morning at work find out that Ann is a royal and he bets his editor that he can get an exclusive interview with her, but feelings soon get in the way.
8. When in Rome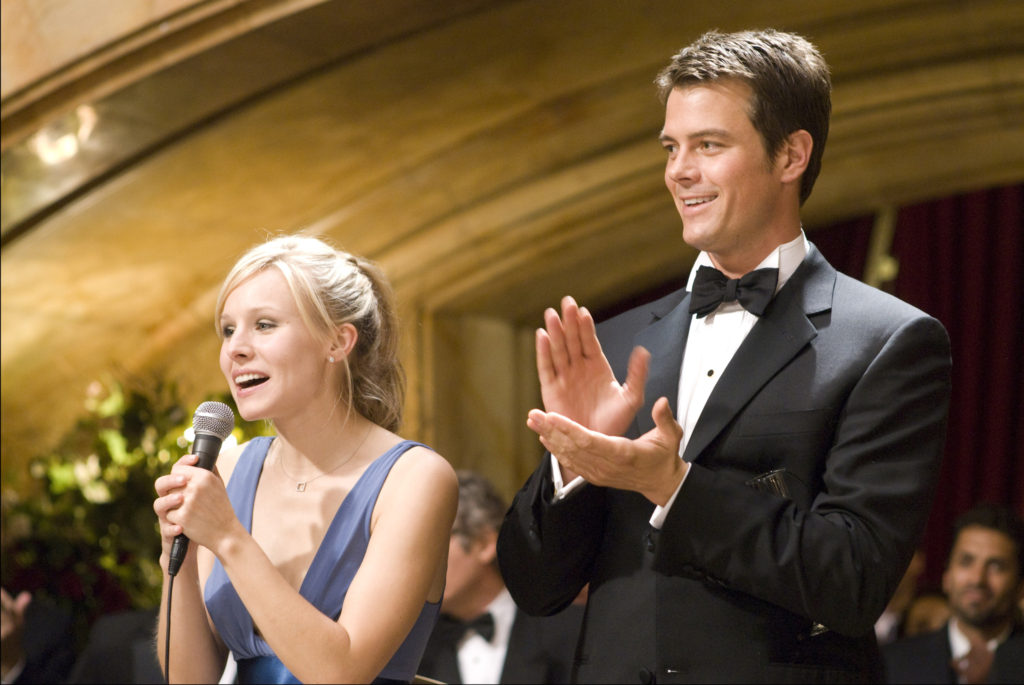 One of my favorite Italian American movies is definitely When in Rome. It's just a part of the movie that's set actually in Italy, but that's enough to fall for the story right away. If you're looking for inspiration to visit Rome When in Rome is a great trip to Italy movie to get you in the mood!
The story lies around the busy, hardworking New Yorker woman who wasn't really had much luck with love. She has to get away for the weekend to her sisters' wedding in Rome. Then, she'll meet this handsome guy who's the grooms' best friend, and with whom of course, they have chemistry.
Later on due to some misunderstood sings, she thinks he's taken, so drunk she decides to get into 'Amor's Fountain' and take out coins of those men who wished to find love when they threw the coins in the fountain. Something magical happens by taking those coins out and that brings even more complications, while back in New York, she starts seeing this handsome again. Amor's Fountain doesn't exist, by the way, so don't try to find this one in Rome!
9. The Lizzie McGuire Movie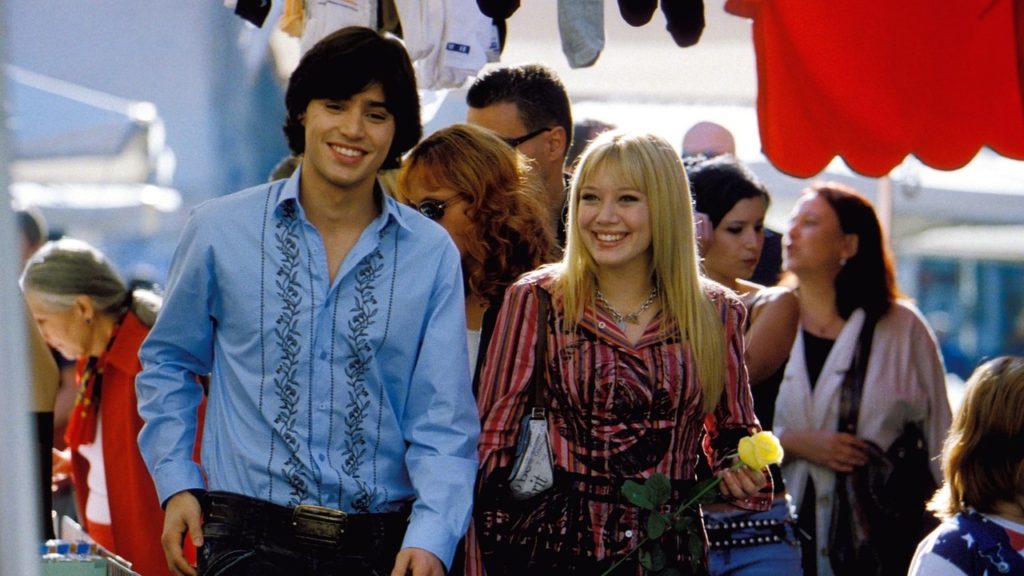 Before we dive into sensual movies, we perhaps should discuss first a movie that many of my age have seen while they were teens. Back then, the Lizzie McGuire Movie was one of those movies made in Italy that actually made me start imagining how I would feel, and what I would do when I visit Rome. Thankfully, 5 years later I actually did visit though.
The Lizzie McGuire Movie is about a teenage girl going on a school trip to Rome. She meets at the Trevi Fountain a famous Italian singer of her age with whom she starts hanging out. She doesn't know at that time, but she does look a lot alike with this guys' singing partner. When he convinces Lizzie to replace his partner for a show, she obviously wants to do it. If I must pick a trip to Italy movie that inspired me the most to visit Rome for the first time, it was the Lizzie McGuire movie!
10. 365 Days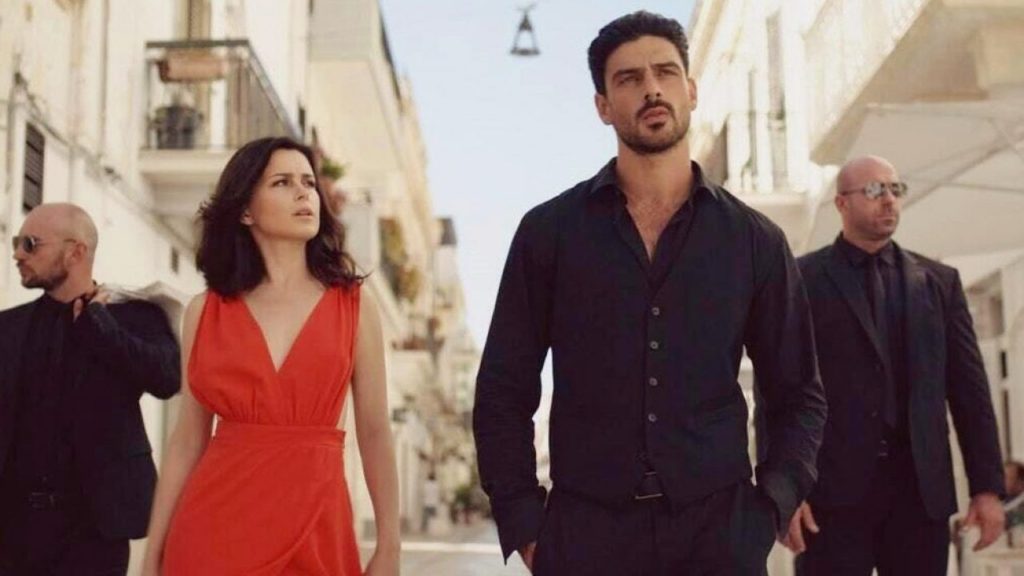 365 Days is launched in 2020 and it's one of the most stimulating movies that we've seen since 50 Shades of Grey first appeared. If you ask me, I actually prefer 365 Days more than Grey. The Italian mafia, the head of the family and business, who's obviously very handsome, and a story that someone living in Italy can understand and relate to better, but in any case, everything that makes a movie amazing is in this one!
Obviously, it's not a movie for minors! Don't tell me that I didn't advise you! So it's not something you should be watching on family movie night, but it is indeed interesting. Massimo, played by Michele Morrone is presenting a personality that people can relate much more than to Mr. Grey. Yet, he has his own psycho ideas, such as keeping hostage the woman he has last seen before he and his father were shot. Interesting details to be watched on Netflix!
Wrapping up the 10 best movies set in Italy
Closing with one of the most-watched newest movies based in Italy, the 365 days, for now in 2022 these are the best movies set in Italy. I hope you've found what you've been looking for among Italian American movies, and make sure to check our other movie lists too for more tips! As I have mentioned at the beginning, you can find on shegowandering.com beyond movies based in Italy, historic series, travel movies, and much more!
---
Pin it: 10 movies to see before visiting Italy
---
Find the best accommodations for your trip!
---
10 movies to see before visiting Italy