If you're a frequent visitor on this blog, you might have already noticed, that I prefer more colorful, warm destinations. Well, London is not really colorful or warm either, but I would be lying if I say that it doesn't have some spectacular colorful sides! One of these would be Notting Hill, my favorite neighborhood in London. In this article, you can find out what are the best things to do in Notting Hill, London, as well as you'll read about the stunning Notting Hill apartments (terraced houses).
I'll have to admit, today, before I started writing this article, I watched the Notting Hill movie for the first time in my life. You know the one with Julia Roberts and Hugh Grant chasing each other, playing around, then turning the whole thing into a romantic happy ending… If you didn't see this movie, or you're looking for movies like Notting Hill, I've got a list for that too! However, let's focus now just on the things to do in Notting Hill, UK.
6 Things to do in Notting Hill UK
---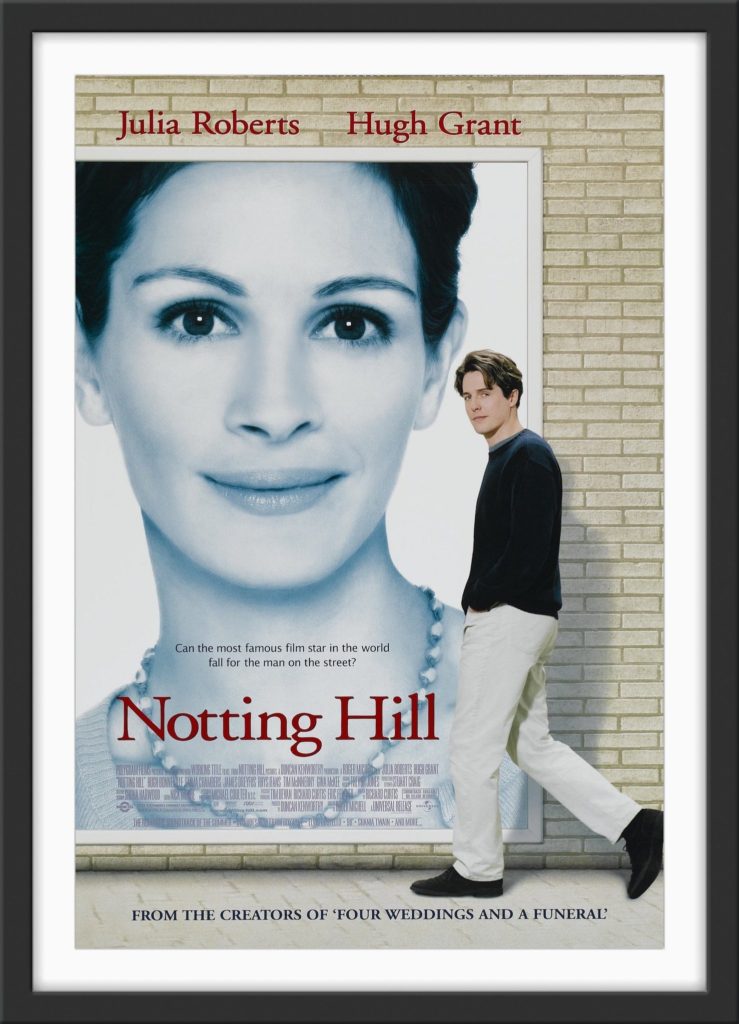 It didn't really have too much to do with this article, but as some of my favorite destinations are related to my favorite travel movies, I thought at least I should quickly have a look at this one before writing anything. Well, my day trip to Notting Hill didn't end up in a romantic story with a British guy, but we did have an unforgettable summer day with my friend! I've been based for two years in England, right outside of London. Therefore, London was always our meeting spot with my friend, as she is living in Milton Keynes.
1. Colourful terraced houses in Notting Hill, London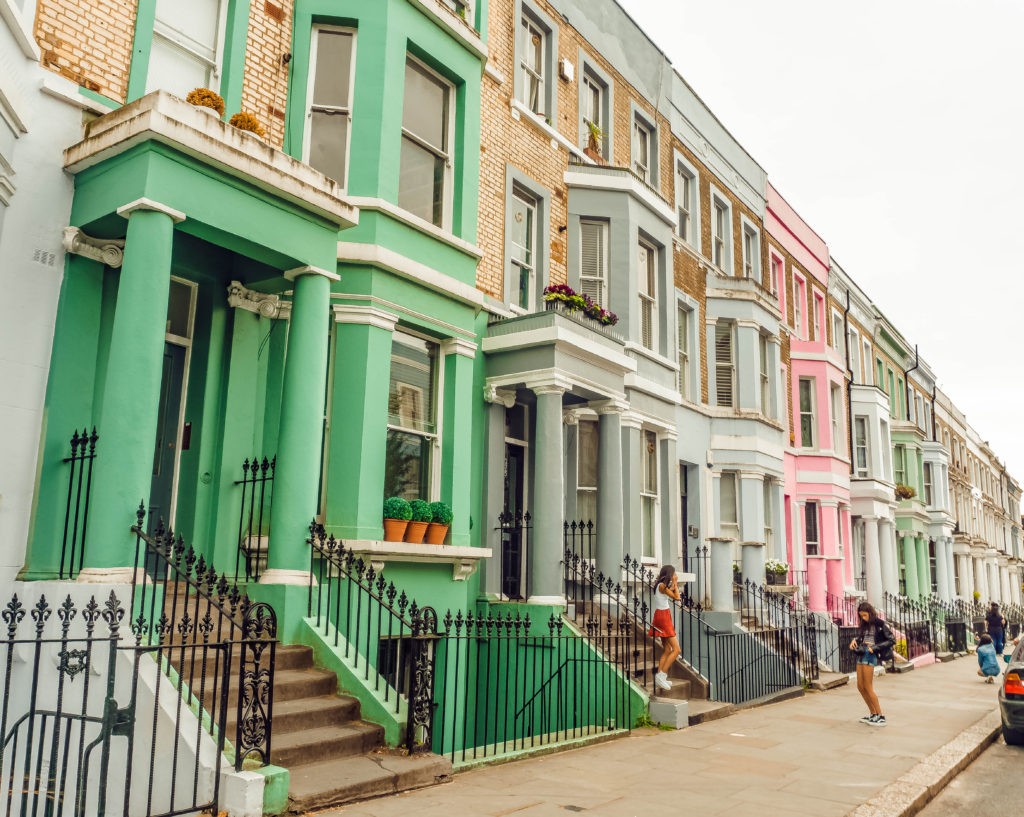 So what are some great free things to do in London? Well, exploring the streets in Notting Hill apartments, which actually are terraced houses are one of the best things to do in Notting Hill, London. This is one of the most colorful areas in London, so you will find loads and loads of streets with beautiful, colorful terraced houses to explore in Notting Hill.
When you're making your London travel plans, don't go only for the basics! Explore some neighborhoods that are different, and memorable! Notthing Hill is something really gorgeous, especially after a few of those grey rainy days. You just need to bet to Portobello road market, and you'll find plenty of colorful streets nearby with different styles and types of terraced houses.
2. Portobello Road Market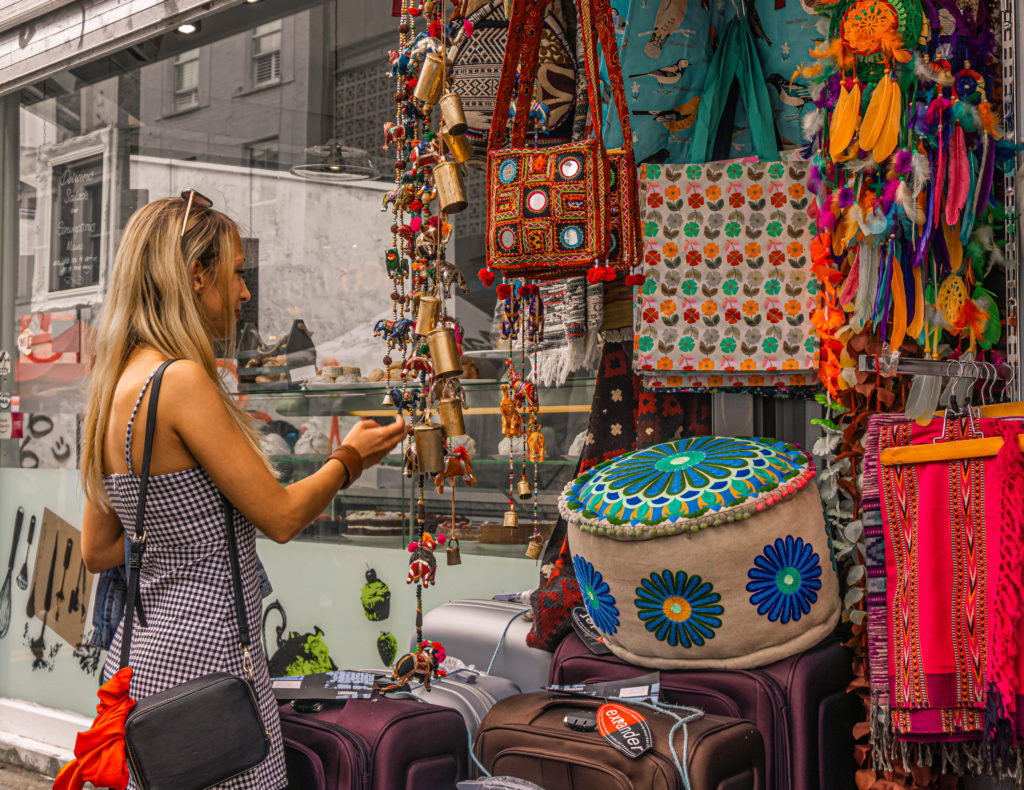 When it comes to the things to do in Notting Hill UK, you must remember to visit the Portobello Road market! I've been so far just in Camden Town and Notting Hill to discover road markets in London, but Portobello was the one where I had to stop at each stand, to check out the goodies. The beauty in this place is, that there are so many unique things you just want to buy them all! You can find all kinds of different goodies from different cultures.
For me, it was again colorful heaven and I wasn't lying when I said I wanted to buy everything… You can find on Portobello Road Market interesting things like bakelite discs, Prananadi bowls, Indian elephants, and beautiful African accessories, but also fruits, vegetables, accessories, bags, and all kinds of handcrafted items.
3. Street Food in Notting Hill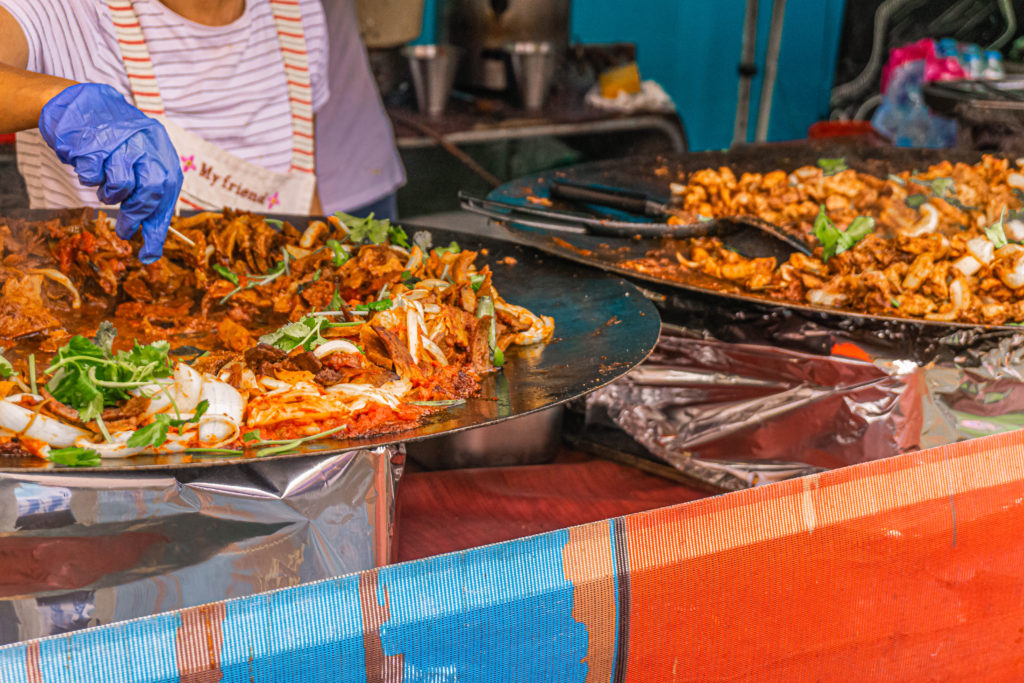 Even if you visit this place right after feeding yourself, you'll definitely get hungry here again! One of the best things to do in Notting Hill, London is to indulge in street food. Everything looks delicious and tasty, and you just can't resist, especially if you're a foodie in Notting Hill.
What I loved the most in the street food of Notting Hill, is again the mix of cultures. Many stands of traditional food from different sides of the world. Prepare yourself for some amazing food, my dears!
4. Hidden Latin gems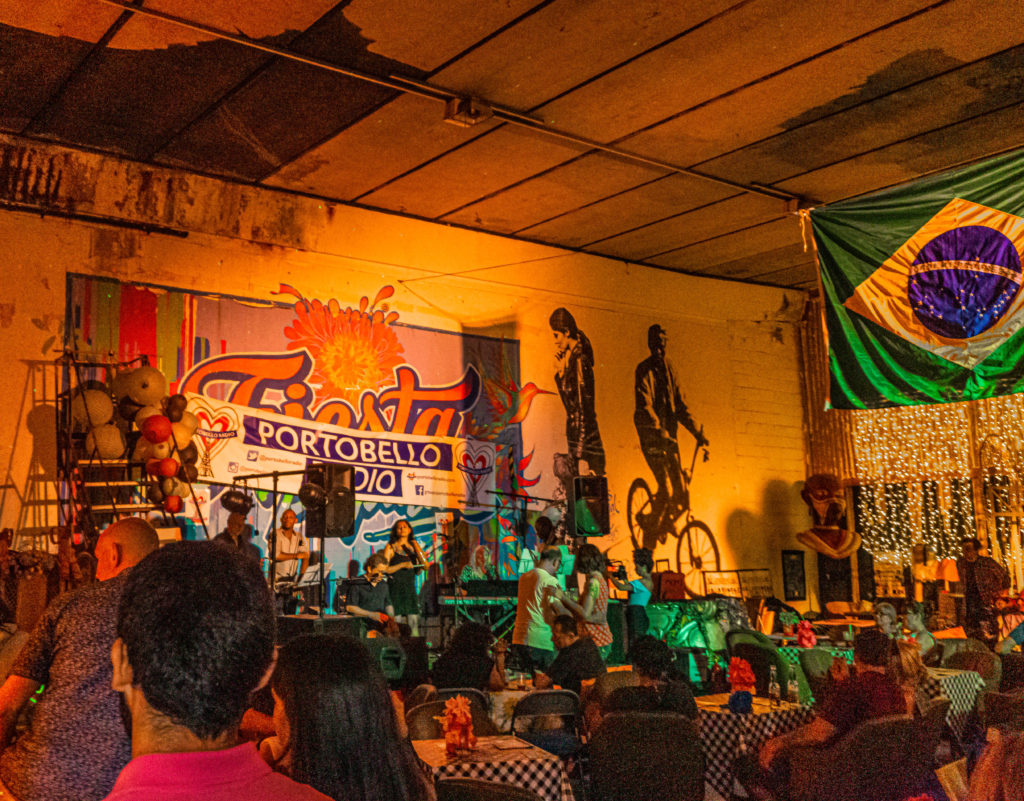 So when it comes to the best things to do in Notting Hill UK, I must add this unique Latin experience! I heard the lambada from outside the street, and as soon as I did, as someone who's crazy about everything that's Latin, I was running to find the source of the music.
Well, right at the end of the road with the street food there's this old warehouse building you can see below in the picture, with South American artists, a bar to get drinks, and people randomly dancing between the tables on this full-blown music. It wasn't up for discussion, that we had to sit there for a drink to listen to the music, dance on our chairs,s and watch others enjoying the vibes and dancing without any problem. Fantastic experience!
5. Discover the beautiful mews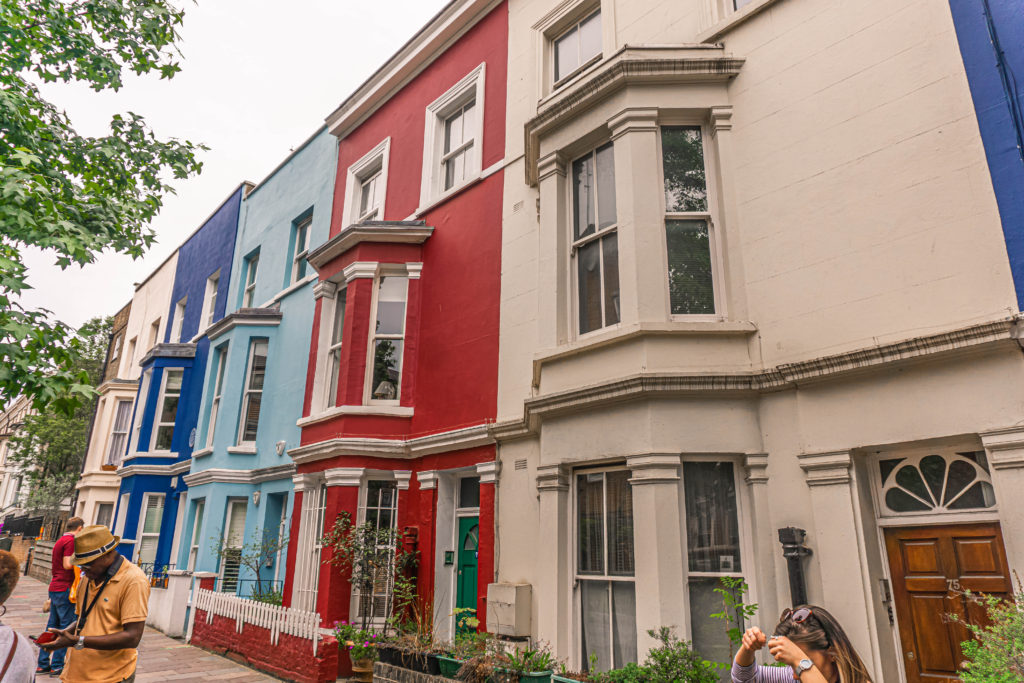 So what is the mews? Mews is a row or street of houses or flats that have been converted from stables or built to look like former stables. One of the best free things to do in Notting Hill is to discover some of the mews and get charmed by their charm.
Unfortunately, I was way too distracted at the time and I didn't capture any other mews but it's something very popular in London, and well, in England. In Notting Hill, the difference is, that these are very eye-catching and colorful as well! Definitely one of the best things to do in Notting Hill London.
6. Westbourne Grove – Notting Hill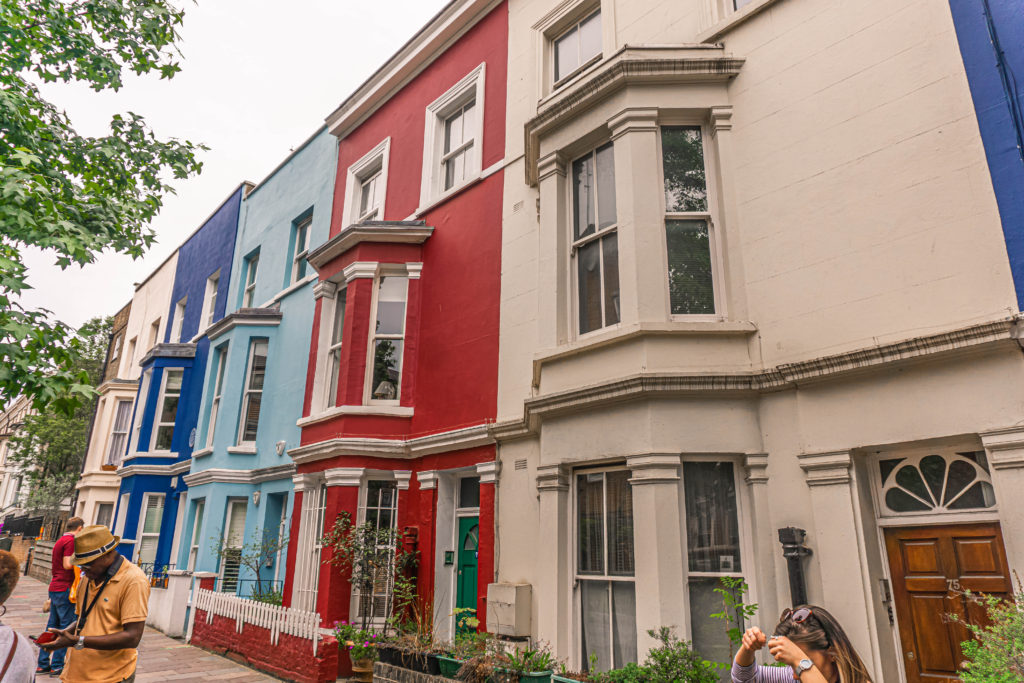 While wandering through the neighborhood, make sure to stop at some coffee shops, and bookstores. Since the Notting Hill movie as well is circling around the book store. As I have mentioned already, one of the best things to do in Notting Hill UK is to just wander around the streets. Westbourne Grove is the street you want to visit to find more colorful terraced houses, beautiful shops, bookshops, amazing restaurants, and cute cafes in Notting Hill. It's a retail street running through Notting Hill, where you can find anything your eyes and belly want!
Wrapping up the best things to do in Notting Hill London
Notting Hill is a truly unique experience while visiting London. It's a great spot to discover while spending just a few hours here or a full day. For both options, there are enough things to see and do! It's definitely a place for those who are chasing good vibes and colorful things, away from the crowds.
From Victoria Train Station it takes about 30 minutes to get to Notting Hill with a doubledecker. It's pretty much easy to get there from anywhere, just check out the easiest route on your google maps!
I would also like to give a warning here! This isn't a personal experience, but I've heard from many Londoners! People said it's not a safe area after 8 pm, especially if you're wandering around alone. Just keep this in mind, please!
Pin it: 6 best things to do in Notting Hill UK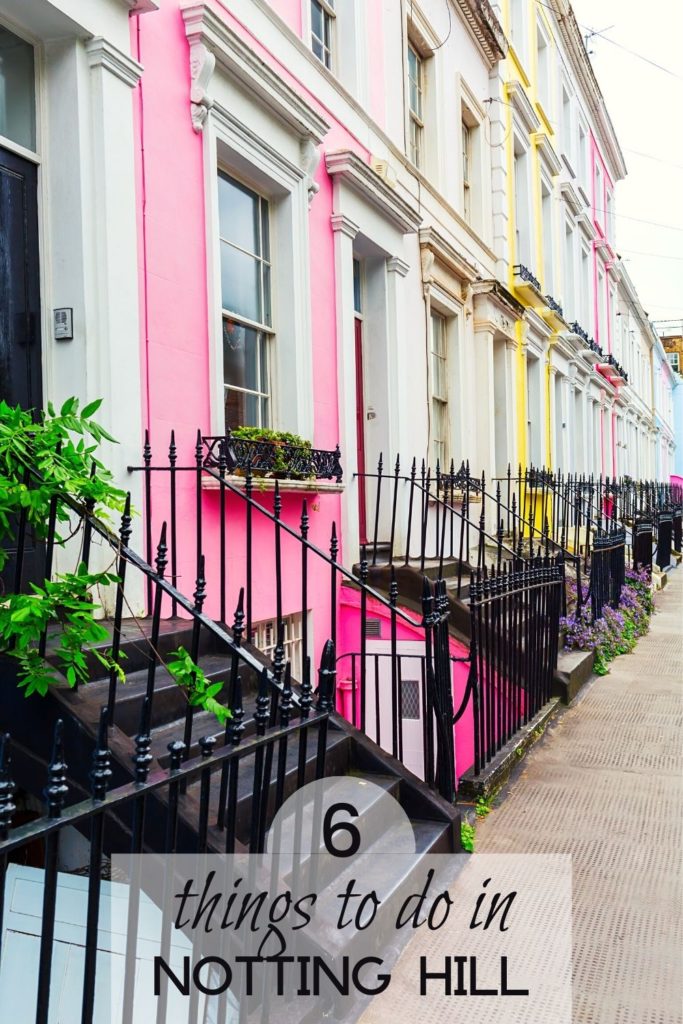 ---
Find the best accommodations for your trip!
---
Don't forget to get your travel insurance!
---
London day trip series: Notting Hill