3 eventful days in London
It was my first time in the United Kingdom, also the first time in London. In January 2018, shortly after I started building up this blog, I decided to step out of the Rome circle, and visit a new place. So I ended up spending 3 days in the British capital, which was followed by a short weekend getaway to Cambridge.
Last updated in May 2020
---
The first day
---
Harry Potter studios
I booked my tickets two months in advance to the Harry Potter studio tour, for the first day of the trip. I was madly in love with the magical world of J.K. Rowling so, I guess, having the studio tour on the first place of my London bucket list isn't really surprising, is it?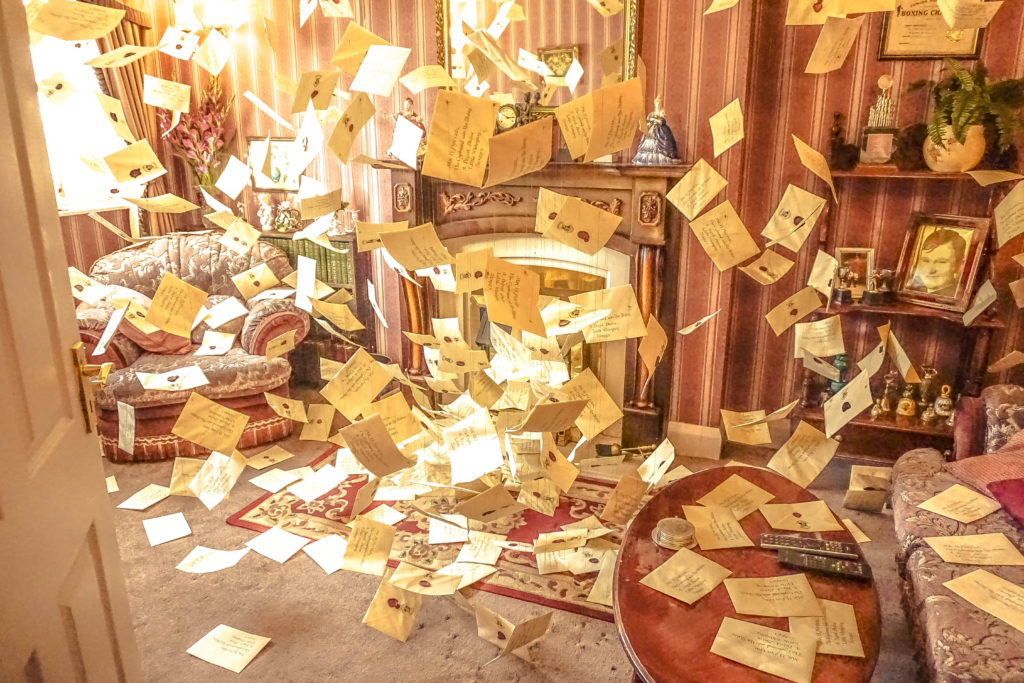 I chose my ticket to be from midday, so I had to calculate over and over again, how I'm actually going to get there in time? My plane was landing at 7 o'clock in the morning at Luton Airport (that's usually 1 hour away from the center of London).
Then, I had to arrive at Marble Arch, near Hyde Park. Walk to my hotel. Check-in. Find my way first to the train station, then to the actual studios. It seemed doable in 5 hours…
Obviously, things didn't work out as I planned. First, my flight was 30 minutes late. That was followed by the airport shuttle bus being stuck in London's morning traffic. If you've ever been driving in London, you know what a nightmare I'm talking about…
I've already been 1.5 hours behind schedule. When I got off the bus, I realized that my roaming wasn't working at all. I kind of knew which way I have to go to my hotel, but it took me more time to find free wifi to double-check it than to actually walk there.
As if this wasn't enough, I was led to the wrong bus stop and was misguided by someone about where I can buy my bus tickets as well… Then, I got off the bus one stop earlier, so I had to run to catch the train. It was crazy!
All in all, I have no clue how it happened, but I arrived at the studios at exactly 12:01!
PRO TIP WITH BUS TICKETS IN LONDON: If you haven't had the chance to purchase your tickets at an underground (that's mostly the only place you can get tickets) you can always pay with a card at the driver! If I would've known this 2 years ago… To not waste your time and money, it's great to know how to get around in London.
Also, definitely check my guide to the Harry Potter studio tours, as it was something unbelievable!!! Here you can find out more!
---
First evening in London
At this time of my life, I've been working to a British multinational company, in the tourism industry (what a surprise). On my first evening, I organized to get some drinks with an Italian colleague from the office in London, so that brought my next challenge…
When I got back to the city, I had about an hour and a half to find the Piccadilly Circus. It actually wasn't that big of a deal as I first thought! I even had time to stop at a cute British pub for a pint of beer. After all, I spent the whole day running in a completely strange city…
The last challenge of the day
Finding my friend at Piccadilly Circus was a bigger challenge than finding the place itself. This is one of the busiest squares in the capital so it's hardly possible to find someone in the crowds… But we managed to!
My colleague showed me around Piccadilly Circus. We've got some drinks and food, and that was perfectly enough for the first day!
---
Second day
---
The day of confusions
On my second day, with not much success with my roaming, I headed out to visit the city without any map or guide. Thankfully you can find free wifi all around the city so it wasn't that bad!
I started my tour near Hyde Park, from the Hard Rock Café. Crossing the Green Park, I headed to Buckingham Palace.
Find details about the Buckingham Palace in my article with the 13 must-see places in London!
---
Meeting my travel buddy
After I hunted down some wifi connection, and find my direction to the Parliament, I grabbed a coffee on the way and went to meet my friend. She lives in England for a longer time, so it was really cool to finally meet here in London too. We've been friends with Cristina for a long time, and we had some crazy trips together over the years. One of my favorite memories with her is our Roman Holiday story.
She joined me in London for just two days, and we've had some essential spots planned to visit together, such as the Westminster Abbey, the Towe Bridge and the Tower of London.
Well, as we were crossing the Westminster bridge, we've spotted the Shard, and it really didn't take more than 2 minutes to decide and re-plan the route to stop by for a drink.
---
The Shard
I've never been before in such a luxurious, fancy place like this in my life. As for a small-town girl, the Shard was like a shiny diamond. And it was such a great experience!
Our afternoon-glass-of-wine was followed by a quick visit to Tower Bridge. We didn't make it to the Tower of London in time, and there was no way we could see much of it, as it was already pretty late, and January.
We decided to cut it short, and Cristina took me to the Hippodrome Casino, which is located on Leicester Square. The curiosity of the place is, that once it was a theater where many famous people from around the world have paid a visit. Now it's functioning as a multilevel, elegant casino, with a great Cuban bar on its rooftop. That bar was basically the reason we went there. We love Latin-American music!
---
Third day
---
London's real face
The third day was a very typical British day. And now, after almost two years of in England, I still hate these days. Unfortunately, there are more of these days than when you're actually seeing the sun.
Cloudy, grey, freezing cold wind and it rains every 10 minutes.
Everyday something had happened that could've ruined my time in London, but that's what I love in traveling. The unknown, the unpredictable. You can't make a plan and stick to it. You are in a whole different, strange country. There is no way! And that's so great in it!
---
Traveling challenges you as a person!
The everyday challenges that you have to face and solve. The continuous new impulses. That's what makes traveling the most amazing experience.
We've been planning to spend a couple of hours in Hyde Park that day, so we can find some gems I was obsessed with, like the Peter Pan statue and the Kensington Palace.
Well, the weather wasn't really fitting our plans, but we still went, and I'm still so happy we did. All the lovely things we've found were worth that cold wind!
On our third afternoon, we both left London, just in different ways. This was the highlight of my trip, as I've been visiting my uncle's family in Cambridge and I didn't see them in 10 years. You can read my Cambridge day trip article here!
---
Accommodation 
I was staying for these 3 days at Ventures Hotel***. This is a perfect place for a low-budget trip, especially because it's in a great location! It's just 10 minutes walk from Hyde Park (Marble Arch). The bus stops and the Edgware underground station is around the corner too. I had a little room with a double bed, and that cost me €110 / 2 nights / 2person.
This place will always stay in my memories as the hotel where I had my very-first English breakfast.
Other London related articles:
London day-trip series: Notting Hill
13 must-see places for your London bucket list
Harry Potter Studio Tours – Warner Bros Studios
---
My camera gear
Sony Alpha a6000, Sony – FE 24-105mm lens, PHOPIK 79 inches Carbon Fiber Tripod
---
Pin me: London city break – 3 days in the British capital
---
Find the best accommodations for your trip!
---
---
London city break – 3 days in the British capital