England is beyond magical. From south to North, from East to West, there are many amazing things and charming beautiful places in England to explore. A trip to England is something that everyone should do once in their lifetimes, for sure. But what are the best places to visit in England?
With a list of 25 different places in England, towns, and cities, you can learn about the many faces of this beautiful country. Whether you're a city breaker or a nature lover, it doesn't matter. We already know that you will fall in love with the famous places in England we're sharing with you today. You will definitely find something on our list that will fit your needs and interests. Explore the best places to visit in England, in and beyond London.
25 Best Places to visit in England
There can never be a shortage of places to go in England. The country is filled to the core with stunning scenery. Among the most beautiful places in England that you should visit at least once in your life, we have obviously included some of the main cities. However, famous places in England don't always have to be all about the capital and biggest cities. Actually, nothing could be further from the truth. Indeed, beautiful places in England include loads of greenery. Nature in the UK is breathtaking, and we're sure that whether you choose nature or city, you'll have the time of your life! Grab your holiday visa and go!
1. London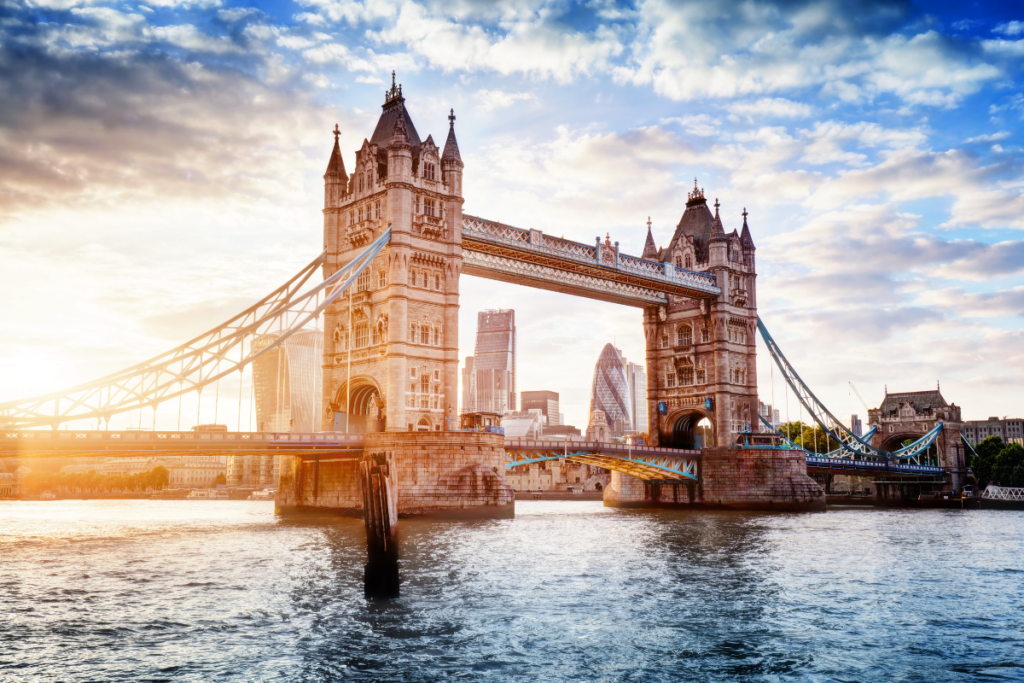 Recommended by Neha from Travelmelodies
Whenever one thinks of England, the first city that will come to everyone's mind is London. This capital city of England, brimming with history and royalty is a bucket-list destination. From the many iconic landmarks to Red double-decker buses to red telephone booths to black cabs to River Thames, the city will make you fall in love with it. There are many amazing things to do in London, and London is definitely one of the best places to visit in England.
London is also the home of the British royalty with Buckingham Palace its official residence and administrative headquarters. Even though the tours of Buckingham palace only happen in summer, it is worth visiting and admiring the palace from outside and watching the Change of Guards ceremony.
The best way to explore London is to opt for a Hop-on Hop-off bus. But you can walk in an area and visit all the attractions there. Walk the iconic Tower Bridge over River Thames and explore the nearby attractions like Big Ben, Westminster Abbey, House of Parliament, London Eye, Notthing Hill, etc. London Eye is a tall cantilevered Ferris wheel that offers some amazing views of the city over the Thames river. It is advisable to book tickets in advance.
St. Paul's Cathedral is another recognizable sight of London known for its magnificent architecture and interiors. There are stairs to climb up to the dome to some spectacular views. British Museum is a free and one of the world's largest museum of history and culture. The white interiors, the grand staircase and the wide collection of artifacts and exhibits throwing light to history dating back thousands and million of years across the continents.
---
2. Dover, Kent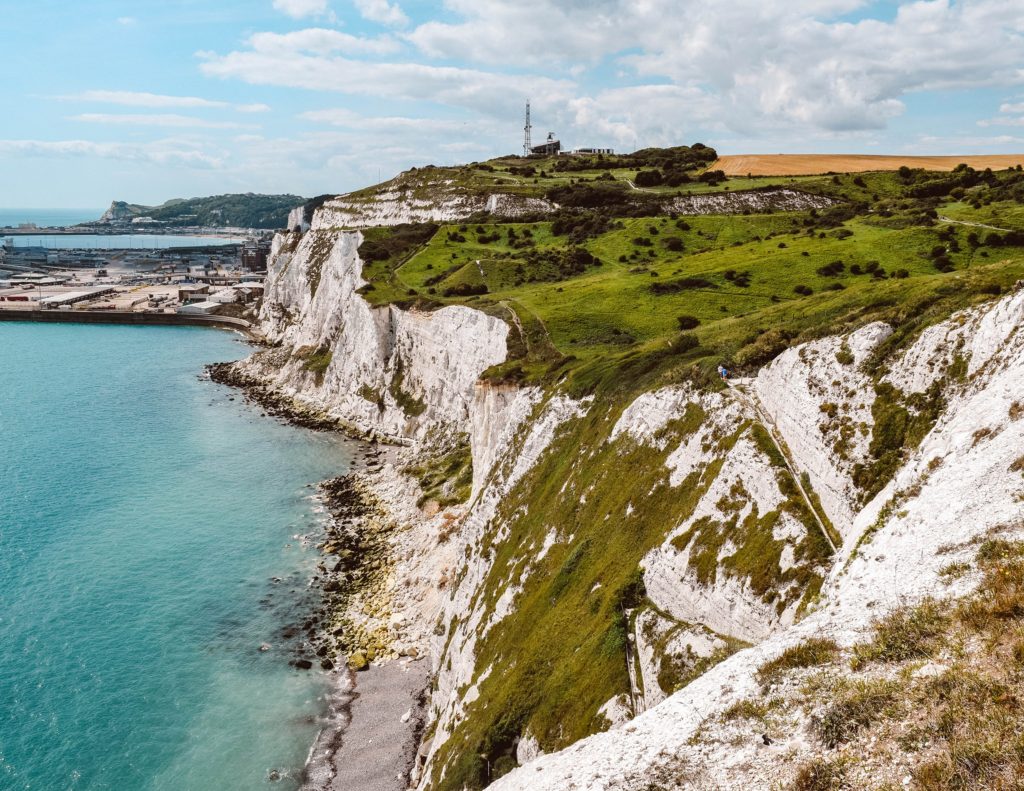 Recommended by Ann from The Road Is Life
One of England's most iconic landmarks is the breathtaking White Cliffs of Dover that stretch out along the coast of the southeast. Without a doubt, the city and its exquisite surrounding nature is one of the most famous places in England, and definitely one of the best places to visit in England! Full of history and spectacular views, a scenic walk along the White Cliffs of Dover should be high on your list of things to do when visiting England. The White Cliffs have long been an important symbol of Britain's history, defending the country from wars and invasions dating back to Roman times.
You can't make a day trip to Dover without a visit to Dover Castle, one of the most beautiful places in England, which is conveniently located next to the White Cliffs. With over 900 years of fascinating history to discover inside, this is one of England's most impressive and well-known castles. The Great Tower is the main attraction of Dover Castle and offers an incredible insight into 12-century castle life. The rooms have all been thoroughly decorated, taking you back to the time when King Henry II walked those very corridors.

Visiting Dover makes an excellent idea as a day trip to the English countryside. You can easily get there from London in just over one hour by train from St Pancras Station.
---
3. Liverpool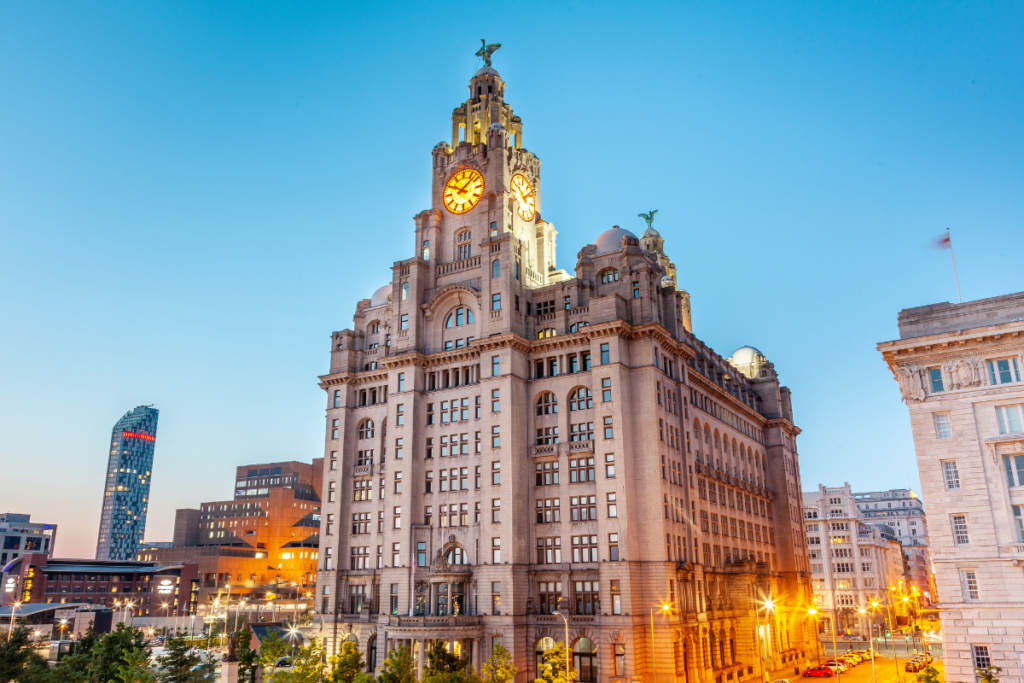 Recommended by Caroline from CK Travels
Despite what you may have heard, Liverpool isn't just about football or The Beatles! The UK's fifth biggest city is a seamless mix of hipster hangouts and heritage precincts, with several historic areas on and around Liverpool's waterfront. Many have been granted World Heritage Status by UNESCO including the famous Royal Albert Dock Area.
There are also many things to do in Liverpool – check out some of the regenerated spots including the creative Baltic Triangle neighborhood which has heaps of brewery bars, cafes, vintage shops, street art, and street food pop-ups.
If you are into the arts, then take a stroll along William Brown Street – a cluster of celebrated and beautiful buildings along a cobbled street with several museums including the World Museum and the beautiful Central Library. Down by the waterfront is the Museum of Liverpool, and there is also a Tate gallery housed in a Grade I listed building in the Albert Docks.
---
4. Oxford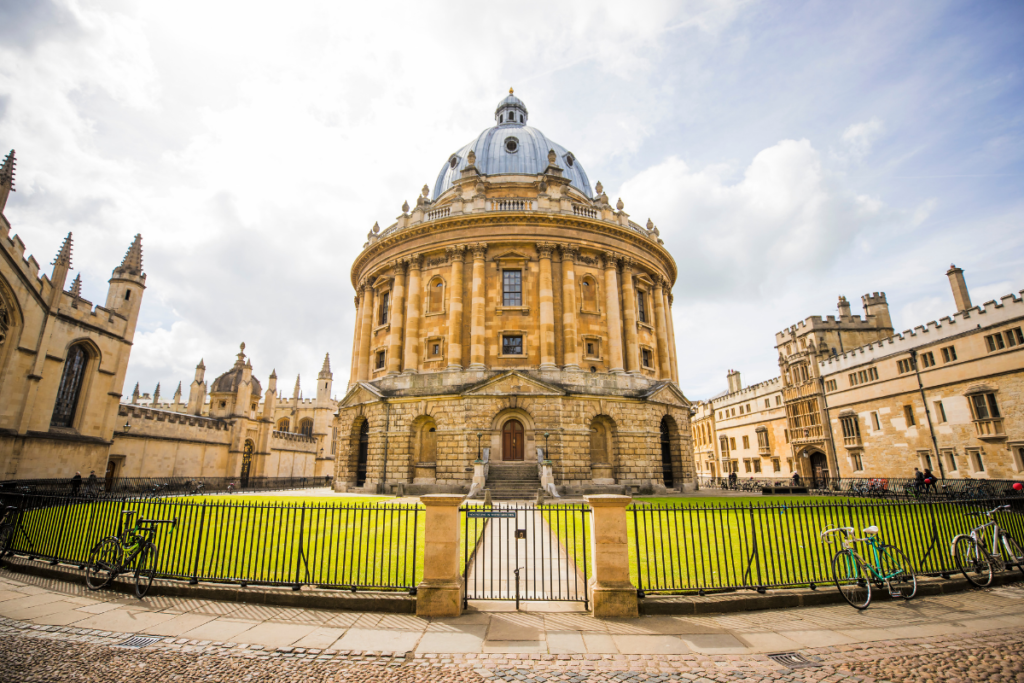 Recommended by Tracy from UK Travel Planning
Did you know that one of the most beautiful places in England is just a stone's throw away from the capital? Located only 60 miles north-west of London, the university city of Oxford is one of the best places to visit in England. It is the perfect destination for a day trip from London by train.
The city, one of the most famous places in England, is often called the "City of Dreaming Spires" due to its beautiful gothic architecture. It is compact and easily explored on foot. The main attraction in Oxford is – of course – its university. Oxford University is the oldest English speaking university in the world and its alumni include famous writers, scholars, actors, Prime Ministers and heads of state.
Take a walking tour of the University with a student or graduate and learn about its illustrious history. You may recognise some parts of the University from Harry Potter films. The dining hall at Christ Church College for example was the inspiration behind the Great Hall at Hogwarts.
Oxford is also the perfect base from which to explore the beautiful Cotswolds. The UNESCO World Heritage site of Blenheim Palace is also located close to the city and worth a visit.
---
5. Cornwall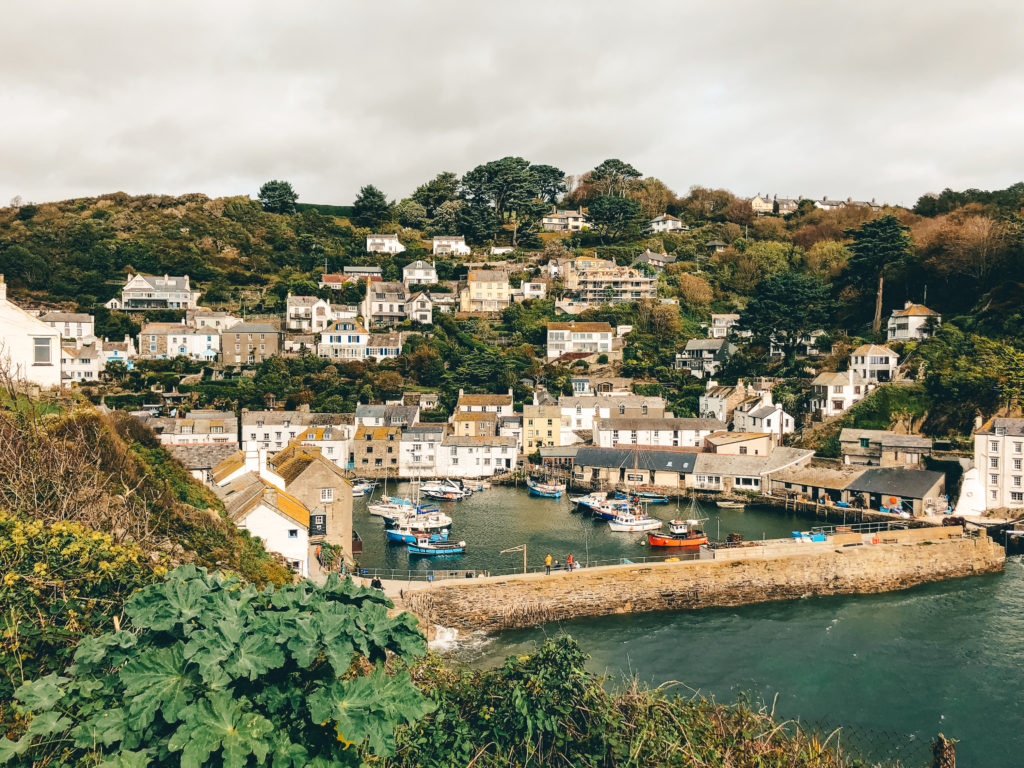 Recommended by Fiona from Travelling Thirties
Cornwall is a rugged country located in the South of England and is one of the best places to visit in England. Home to Land's End, the most southern point on the mainland of the UK, and the famous cream tea. In the summertime, locals and tourists head to the coast to lap up the sun on some of the most beautiful beaches.
Easily accessed along the M4 motorway from London, Cornwall is a must on any trip to England. It is recommended you spend at least two or three nights exploring as many of the towns as possible.
Some of the best towns to visit in Cornwall are Looe, St Ives, Newquay, and Polperro. In Cornwall, you will be able to explore more than 400 miles of beautiful coastlines, sandy white beaches, hidden coves, and a lot of English charm and history.
For those who love exploring the outdoors, there will be many coastal paths to hike and some amazing beaches with some of the best surfing in the United Kingdom. If you prefer something a little more relaxed you can always hire a car and enjoy the scenic drives between Cornish town. When visiting Cornwall, you must try a Cornish pasty, clotted fudge, and clotted cream ice cream. Oh, and don't go past a nice English tea.
---
6. Cambridge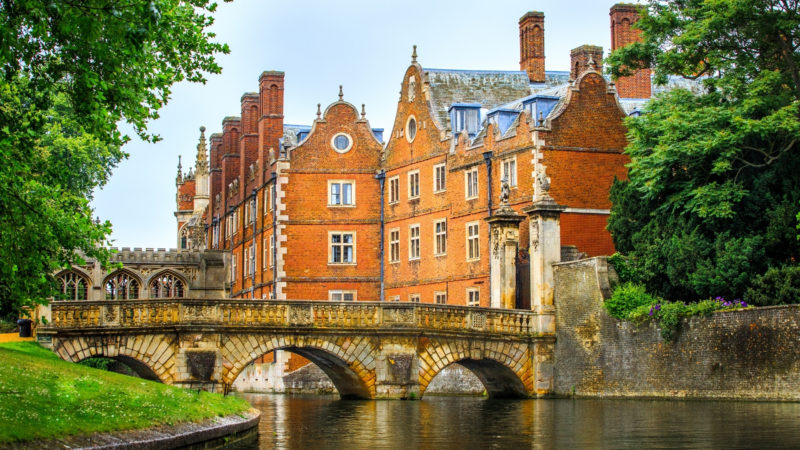 Cambridge is one of the most beautiful towns closer to London. If you're planning a day trip to Cambridge, there are some cool things to do! For instance, you can visit one of the oldest churches in the UK, like Church of the Holy Sepulchre.
As you may already know, Cambridge is a college town, being the home of the famous University of Cambridge. If you're in town, you can visit King's College, Christ's College, Clare College, Emmanuel College, Gonville & Caius College, or Peterhouse College. Some of these, especially King's College is not free to visit. You may have to get a ticket even if you want to enter just the courtyard.
Cambridge has a lovely downtown where you can wander around, explore things like the Mathematical Bridge. If you're up for pubbing, make sure to stop by at Eagle Pub. This is definitely one of the best pubs, with lovely indoor decoration, wooden walls, and loads of options for beer, cocktails, and pub food. If you're looking for a day trip in the UK, especially from London, Cambridge is definitely one of the best options, being just an hour away from the British capital.
---
#7 Northumberland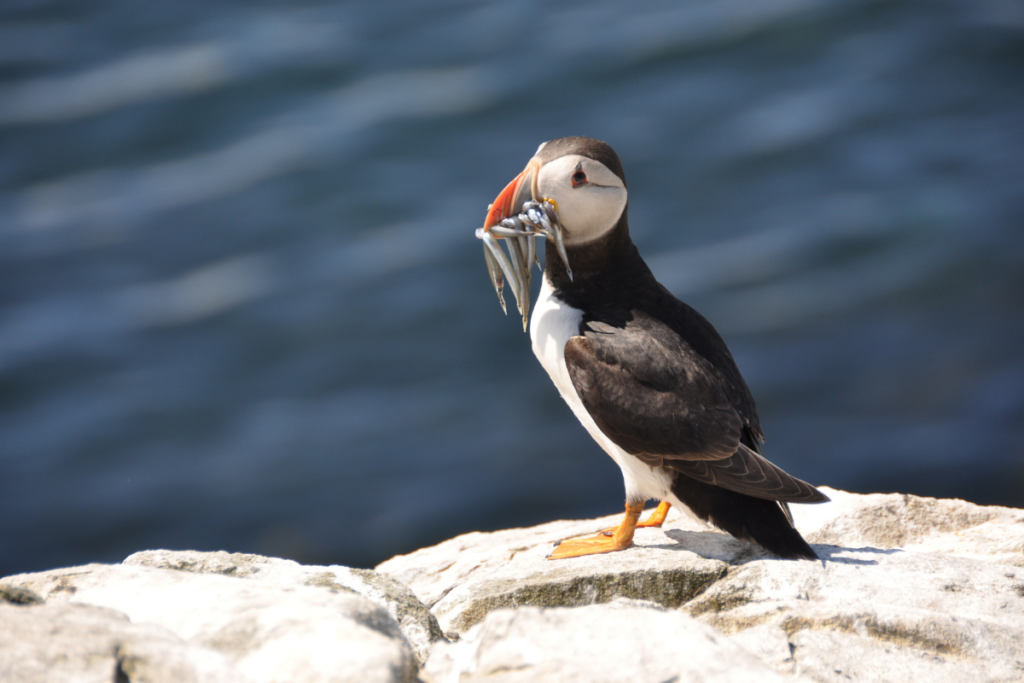 Recommended by Sarah from A Social Nomad
Northumberland is England's most northerly county and one of the best places to go in England – there are miles of glorious coastline and beaches, a stunning National Park, more than 70 castles, and stunning islands to visit. If you choose to visit a pretty seaside town we recommend Bamburgh or Seahouses for beaches, and a typical English seaside holiday. From both, you'll be able to visit the tidal island of Lindisfarne, its Castle, and Priory and explore the history and invigorating walks.
The Farne Islands just off the coast are home to a plethora of wild and sea life and an amazingly photogenic lighthouse. History lovers will delight in Northumberland as a place to visit – there are more than 70 castles here – from the glorious Alnwick Castle to the ruins of Dunstanburgh Castle where you can pick up a local specialty, smoked kippers from the nearby village of Craster. Hikers will love the county – for coastal walks, National Park trails, and the famous coast-to-coast hike along with the remnants of Hadrian's Wall. Northumberland is a wild and beautiful part of England with one of the warmest welcomes.
#8 Suffolk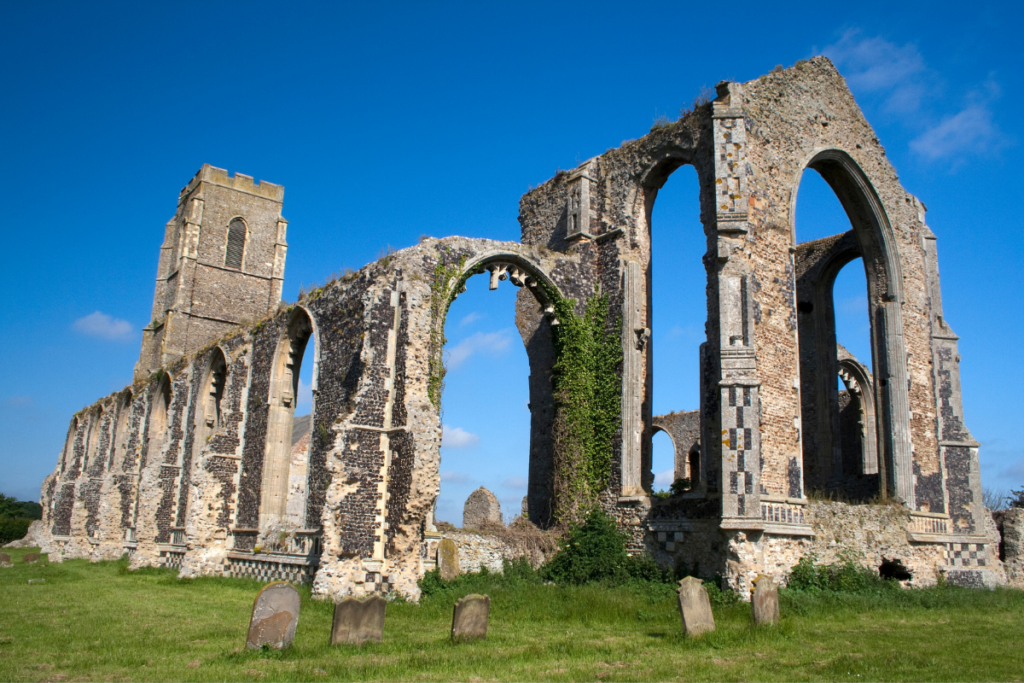 Jacquie from Flashpacking Family
The Suffolk coast is one of the most beautiful places in England, and one of the most unspoiled stretches of coastline in the country. As such, it is the perfect place to visit if you are looking to get away from it all.
Almost the entire 50 km stretch of coast is designated an Area of Outstanding Natural Beauty with three nature reserves that are home to a wide variety of rare wildlife.
The Suffolk beaches are one of the most famous places in England, rugged and raw, and if you head away from the main coastal towns of Southwold and Aldeburgh, you will mostly have them to yourself.
A really lovely place to explore on the Suffolk coast is the tiny coastal village of Walberswick. Wander around and admire the quaint cottages before taking a stroll through the Walberswick Nature Reserve and back along the beach.
Hop on one of the oldest ferry services in England across the River Blyth to Southwold for some of the best fish and chips in the country at the Sole Bay Fish Company. If you are visiting Walberswick with kids, you can even try a spot of crabbing in this former British crabbing championship destination.
Wherever you find yourself in Suffolk, you will be taken back to the England of yesteryear.
---
#9 Birmingham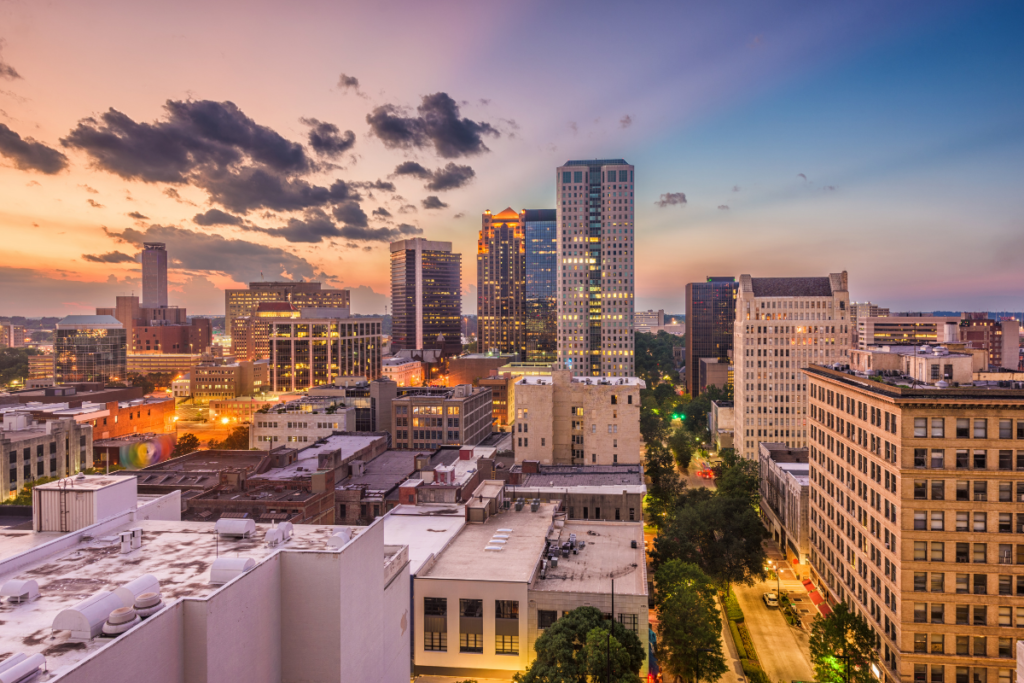 Karen from Marvellous Middle England
England's second city, Birmingham is a brilliant place to visit in the UK. Packed full of fascinating museums, breathtaking architecture, and an ever-growing foodie scene.
History lovers will be fascinated by the Staffordshire hoard at the Birmingham Museum and Gallery or for an Art fix, the free to enter Icon Gallery is a must-visit. For evening entertainment there are several world-class theatres and the beautiful Symphony Hall, an amazing concert venue. For a livelier night pay a visit to Digbeth, home to vibrant bars and bustling restaurants.
Birmingham's got you covered for shopping. Head to the iconic Jewellery Quarter for over 100 independent retailers and the indoor Bullring shopping mall for every brand you can imagine. The city offers a number of Michelin starred restaurants and an emerging street food trend mainly centred around the Custard Factory. Being in the centre of the country, Birmingham is easy to get to by train from all other major cities. And it's easy to explore on foot when you arrive.
For a luxurious stay in Birmingham's head to the newly renovated Grand Hotel on Colmore Row. Recently reopened after 20 years this Grade II listed building houses opulent rooms, a lively cocktail bar, and neighborhood brasserie.
---
#10 North Norfolk Coast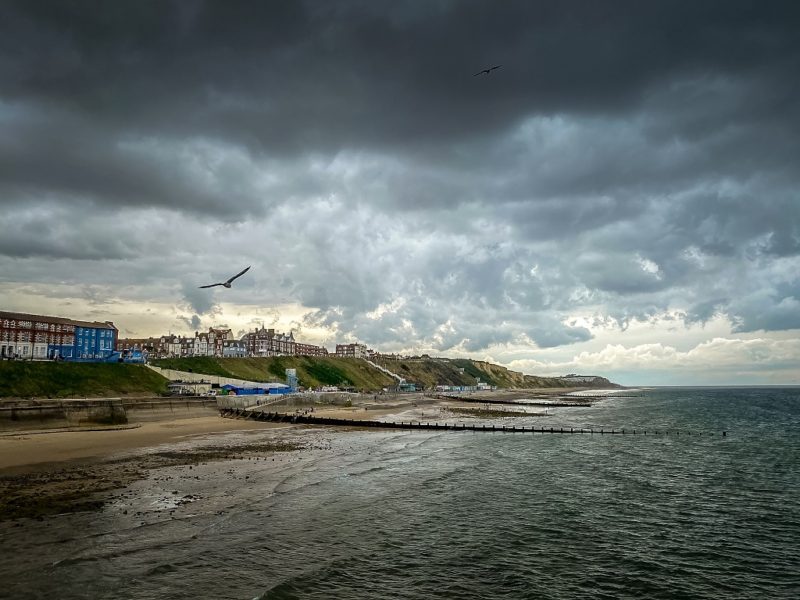 Recommended by Anisa from Norfolk Local Guide
The North Norfolk Coast is surely one of the top places to go in England. It may be best known for its pristine beaches, but it has so much to offer visitors! When you come to North Norfolk, you can also enjoy scenic walks, wildlife, historic sites, and more. There are six blue flag beaches in the area, but the most beautiful beach may be Holkham. The sand seems to stretch for miles at low tide. It was featured in the movie Shakespeare in Love.
The Victorian seaside resort town of Cromer has one of the blue flag beaches, but it's also famous for its pier and crabs. It makes for a good home base to explore the area. While you're there, it's also worth visiting the St.Peter and St. Paul Church and the Henry Blogg Museum.
Cromer is also on the Norfolk Coast Path, which runs 83 miles from Hunstanton to Hopton-on-Sea. You can walk along the scenic coast for about 5 miles to the town of Sheringham. From there you could catch the North Norfolk Railway's historic steam train to the market town of Holt or take the Greater Anglia train back to Cromer. There are also several other circular routes in the area.
The North Norfolk Coast is also known for its seals. Blakeney Point is the best place to see them, but the only way to access the area is by boat. You can take a boat tour from Morston Quay. Sometimes you can also find seals on Horsey Beach. Doesn't all that make the North Norfolk Coast one of the most beautiful places in England?
---
11. Manchester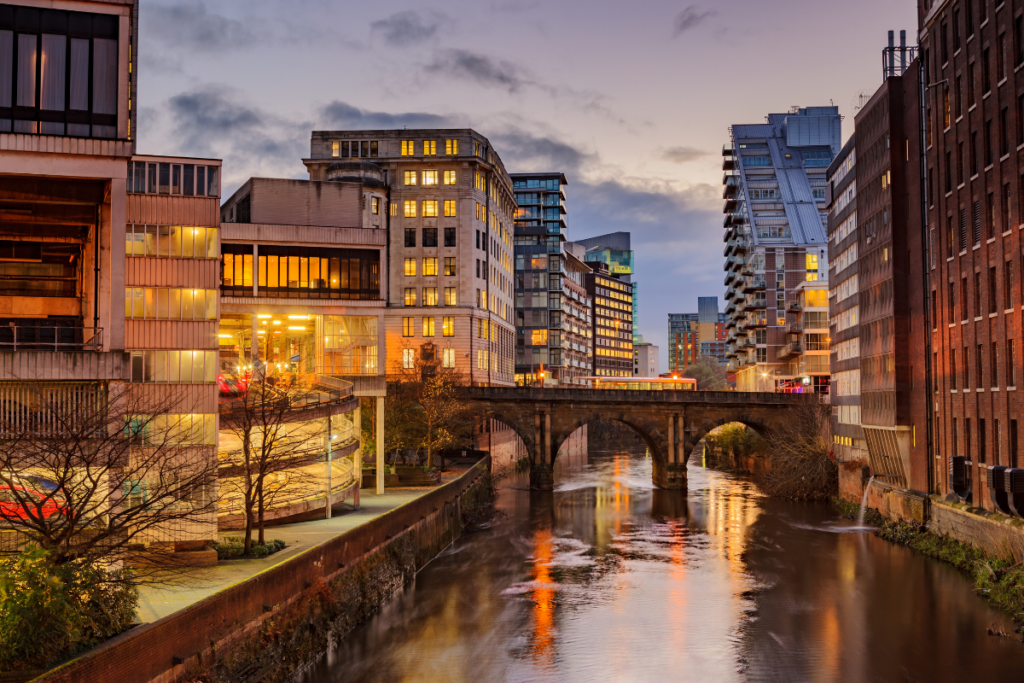 Recommended by Nele from the Navigatio
Manchester makes for one of the best city breaks in the UK. Located up North, the city is one of the most famous places in England. With a wonderful contrast of old and new, walking through the streets of the city centre is a real treat. Not only is it filled with welcoming people, but Manchester is also heaven for food lovers and creatives.
The Northern Quarter is one of the most popular areas of Manchester, and one of the most beautiful places in England. Filled with independent shops, eateries, and cafes, it's the perfect place to spend some time when visiting the city. Afflecks Palace, which is located in the Northern Quarter, is a must-visit. Every room in this renovated building is a different shop – a great way to support small business owners. Also, make sure to stop by Ezra&Gil or Foundation Coffee for a quick caffeine fix.
If you're not looking to shop, why not visit John Rylands Library? Located on Deansgate, this late-Victorian neo-Gothic is one of the best pieces of architecture in the city. You can enter for free.
Another great free spot in Manchester is the science and industry museum. Having such a strong history with the cotton industry itself, Manchester's museum teaches you everything you'd want to know. End your time in Manchester by grabbing a drink at one of the best sky bars in the city: Cloud 23 or 20 Stories. You'll find stunning views here while enjoying some delicious cocktails.
---
12. Whitby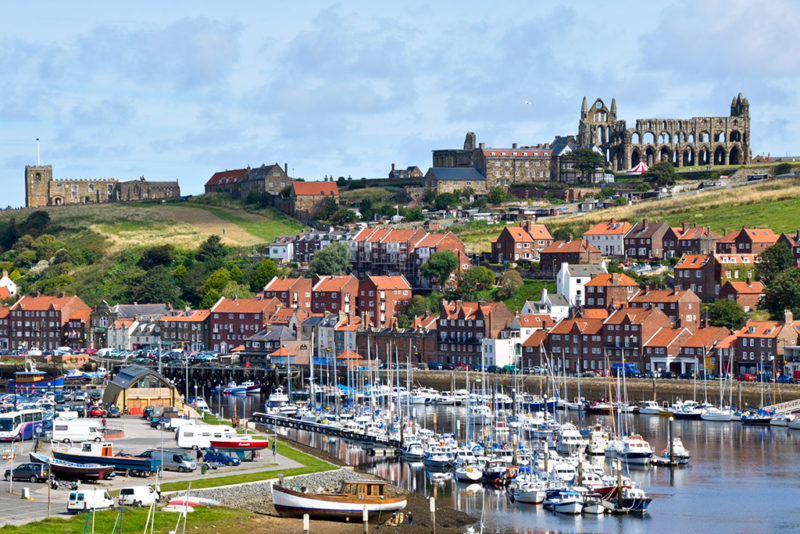 Recommended by Agnes from The Van Escape
Whitby is a picturesque town in the North East of England, in North Yorkshire, only 76 km from York city. Beyond things to do in York, you can explore some great nearby places too!
It is situated on the estuary of the Esk River into the North Sea. Moreover, it is surrounded by the North York Moors National Park and fabulous cliffs. Thanks to this, the scenery is extremely fairy-tale and mysterious.
Whitby is famous due to the ruined Gothic Whitby Abbey on the East Cliff. This magical place was Bram Stoker's inspiration for "Dracula." Nearby is the Church of St. Mary, reached by 199 steps, which Stoker described in his novel. There is also an old cemetery next to the ruins of the Benedictine abbey. The tomb of Swales, the first victim of Dracula in England, can be found there.
But, the city's charm is unquestionable, even if you are not a fan of Dracula.
During the Middle Ages, Whitby was an important fishing port. It is here that the whale hunters came. Numerous sculptures made of the bones of these marine mammals have survived to the present day. One of the most impressive is The Whalebone Arch. Now you can enjoy fish and chips and seafood in one of the many eateries overlooking the port full of boats and the sea.
It's also worth visiting the Captain Cook Memorial Museum. Inside the house where Cook once lived are displays of paintings and maps. Another worth seeing is the Museum of Victorian Science.
The best idea for relaxing is to go for a walk on the beach and admiring the cliffs. One of the most beautiful is Saltwick Bay Beach.
---
#13 Lake District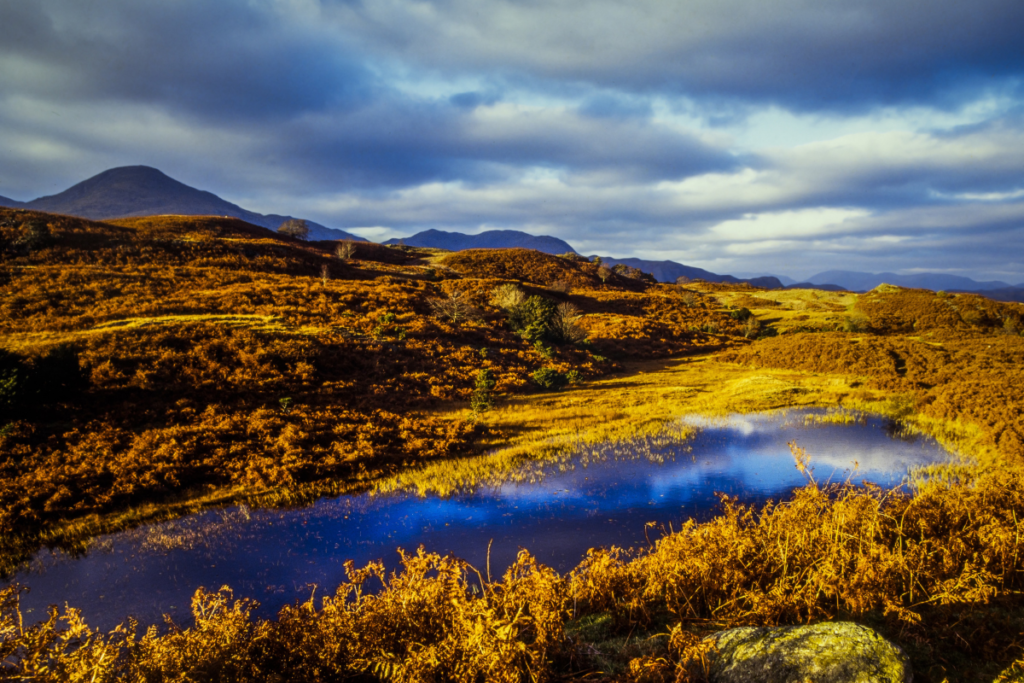 Emma from Forever Lost in Travel
Not only is the Lake District one of the best national parks in the UK, but it's one of the best places to visit in England full stop. Located in the northern county of Cumbria, the Lake District boasts gorgeous scenery in every direction. Small winding roads lead to picturesque villages, and stunning hills are backdrops to the many beautiful lakes. For the best views in the Lake District make sure to check out Windermere and Buttermere, just two of the numerous lakes in this national park. And if you want to visit some quaint English villages you can't get better than Ambleside or Grasmere, which has a unique tiny local gingerbread shop that's so good it gets ordered from all around the world. That makes Lake District one of the top places to go in England.

The Lake District is popular for being the inspiration of lots of famous writers, including William Wordsworth and Beatrix Potter who both lived in the area. In fact you can still visit their houses which are National Trust properties and learn more about their work. The Lake District deserves a few days to really explore some of the amazing things it has to offer – so rent a car, book a cozy B&B and see why everyone falls in love with this corner of England. That is for sure one of the most beautiful places in England, and it really is worth a good, long visit. You'll thank us later.
---
#14 Scarborough, North Yorkshire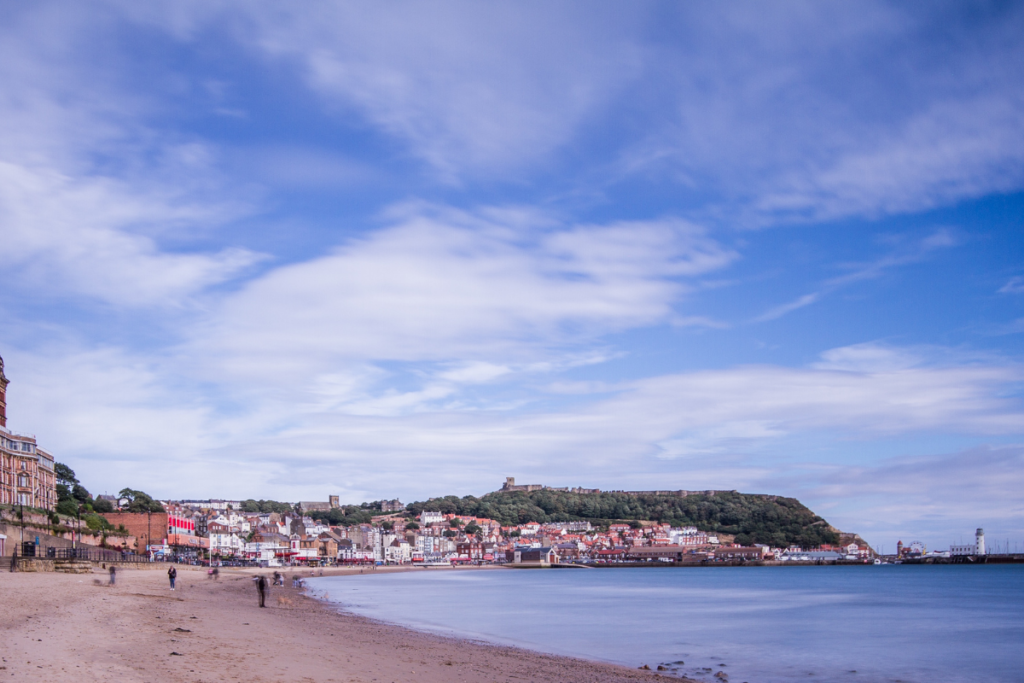 Anjali from Cheerful Trails
Scarborough is a popular resort town in England, located on North Yorkshire's coastline. This charming town is known for its historical castle, sandy beaches, delicious food and gorgeous gardens. Head to Oliver's Mount for the best castle and sea views. For some vintage fun, go for a ride on the miniature heritage railway to see soak in scenic views of the North Yorkshire Coastline.
Visit the Scarborough Castle, learn about its fascinating past and get mesmerized by some stunning panoramic views. The SEA Life Scarborough is also a popular attraction here, so if you love marine life, you can check this out. History enthusiasts should not miss visiting the Rotunda Museum. The fossil exhibits in the museum date back to hundreds of years. It is also known for being one of the oldest purpose museum in the UK. Relax at the beautiful sandy beaches in Scarborough, and if you feel adventurous, you can go surfing too. Specifically the North Bay Beach is the one that attracts surfers due to its rolling waves.
---
#15 Isle of Wight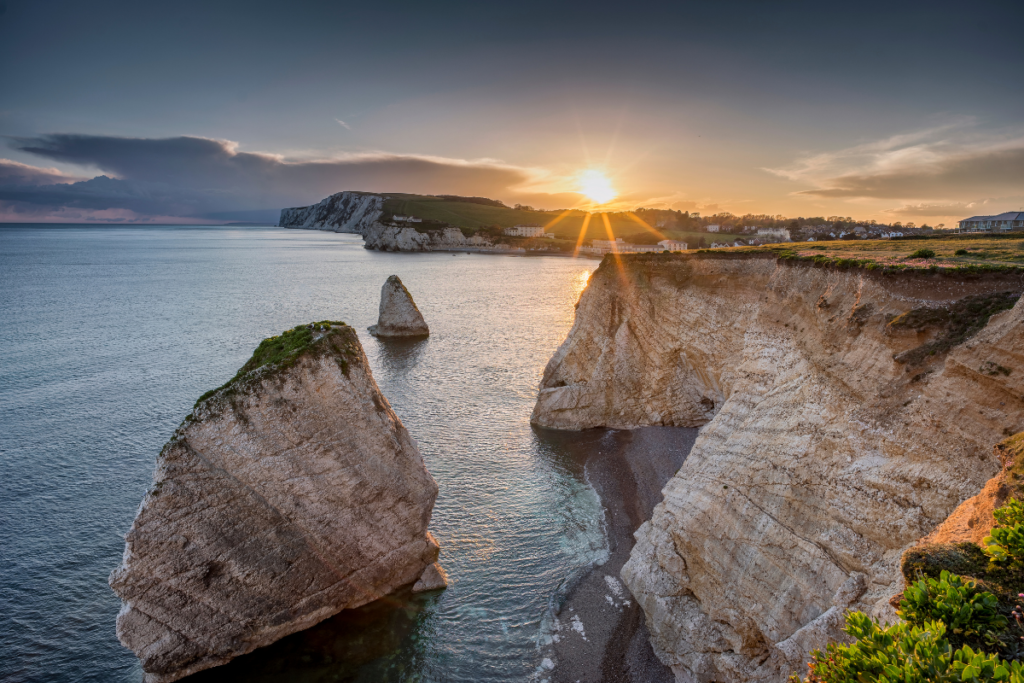 Recommended by Nichola from Global Mouse Travels
The Isle of Wight is a beautiful island off the south coast of England and perfect for a weekend away or longer. There's so much to do here from exploring castles to fun theme parks and great restaurants too. One of the best places to visit is Osborne House, the former seaside home of Queen Victoria. Spend some time walking through the hallways and wander down to the beach where her own children learned to swim.
If you're on a family holiday to the Isle of Wight then make sure you have a go at dinosaur bone hunting. It's good to go with an expert who can show you what to spot and who knows, you might come home with your own fossil. Carisbrooke Castle and the fun theme park at Blackgang Chine are also places to spend some time. One of the best things to do here is to visit the beaches which have their own microclimate and have been welcoming holidaymakers for over a century. The Isle of Wight is a really special place and not to be missed on any bucket list of England.
---
#16 Stonehenge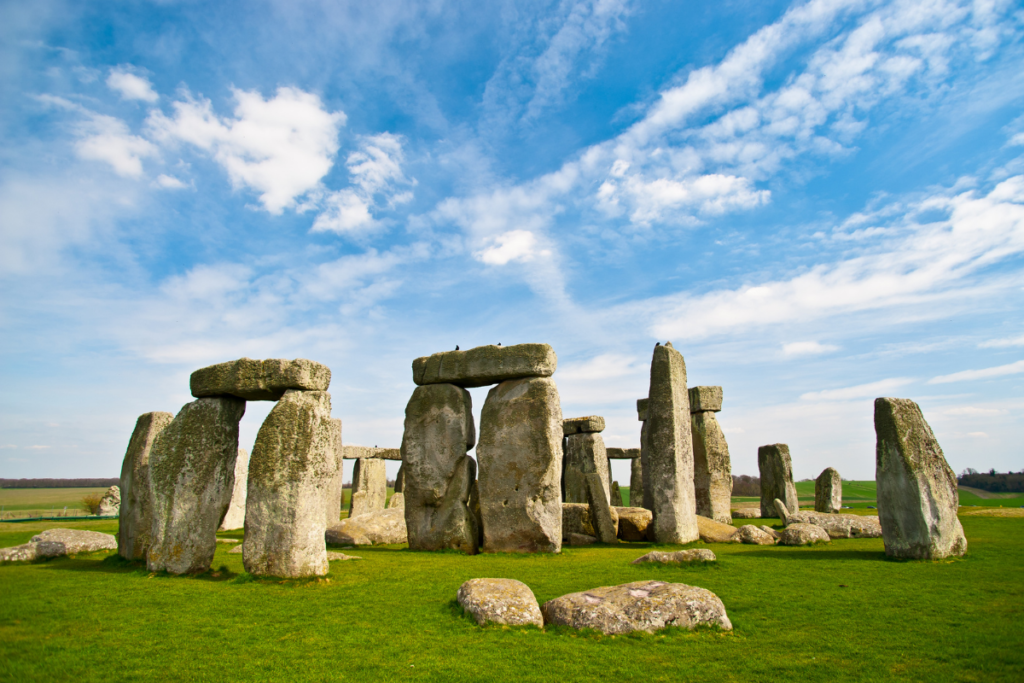 Recommended by Christine from Travel2next.com
One of the most famous places to visit in England is Stonehenge, a famous prehistoric monument in Salisbury Plain in Wiltshire, England. It is an ancient site of great historical, religious, and cultural importance and one of the most famous landmarks in England. The site is shrouded in mystery, and scholars have debated the reason for its existence for centuries. Theories about the origins of Stonehenge abound. Some think it might have been a burial ground, while others argue that it was just a place where the Druids would meet up on certain days every year. Most experts agree its construction began around 3000 BC, which means that one of the most beautiful places in England is laden with a mysterious history.
You can view Stonehenge from many different angles. Start at the Stonehenge Visitor's Centre, where you can see models of how the monument might have looked when it was first built. A shuttle bus takes you to the stones and the best time of day to see them is early in the morning. You can walk around the stones, but if you want to enter the circle, you will need to visit during the summer and winter solstice celebrations. Just for that matter, Stonehenge is one of the best places to go in England.
The surrounding area is equally fascinating as the stones. Visitors can take a walk around Salisbury Plain, which has been compared with a moonscape due to its rolling hills and sweeping vistas of prehistoric monuments that dot the landscape for miles. Stonehenge can be visited as a day trip from London or combined with a stay in Bath.
---
#17 Brighton, United Kingdom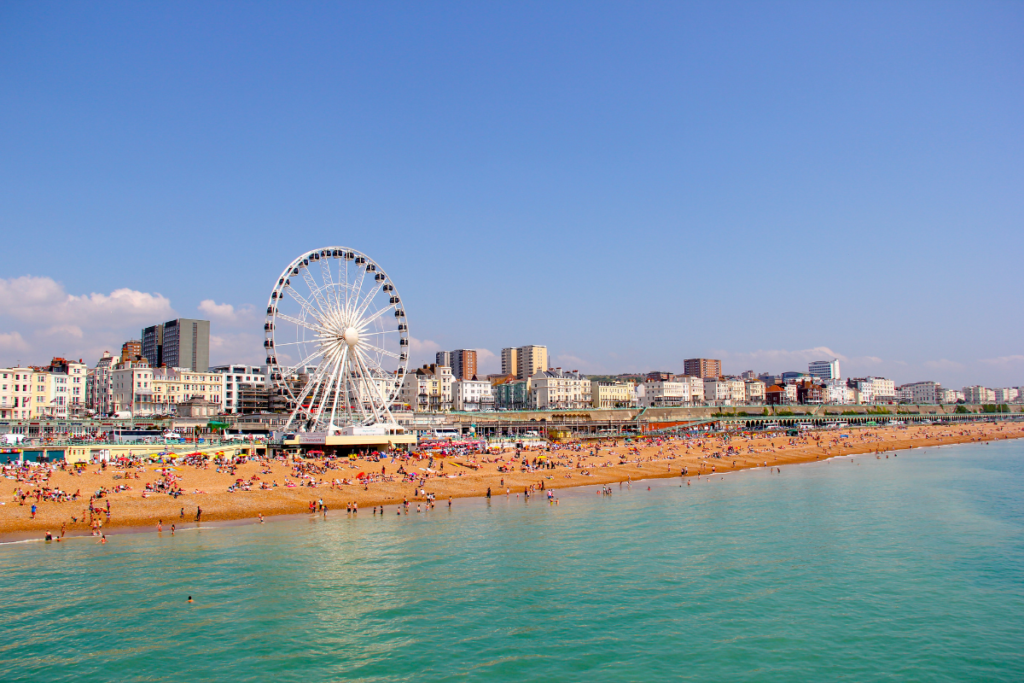 Martina, from PlacesofJuma
Brighton is certainly one of the most amazing places to visit in England. It is located in the south of the country, on the coast of the English Channel and is only about 1 hour by train from London. The largest and most famous seaside resort in England is one of the most beautiful places in England. The city awaits you here and the 8-kilometer-long pebble beach with the beautiful blue and white striped deck chairs is the main attraction of the seaside town.
The Royal Pavilion is a former royal residence, which is another famous attraction and landmark of the city. Also unique and a must see is the Brighton Palace Pier – a historic pier that is still open today. It was opened back in 1899 and today there is a theme park on it. The vibrant art and music scene are another reason why this coastal city is so popular. Amazing festivals and really cool music events take place regularly. Some of the most famous DJ's come from Brighton! Due to the cool, cosmopolitan atmosphere, Brighton is also known as "London by the Sea". That's one of the top places to go in England when you want to break away from the city!
---
#18 Dorset, Southampton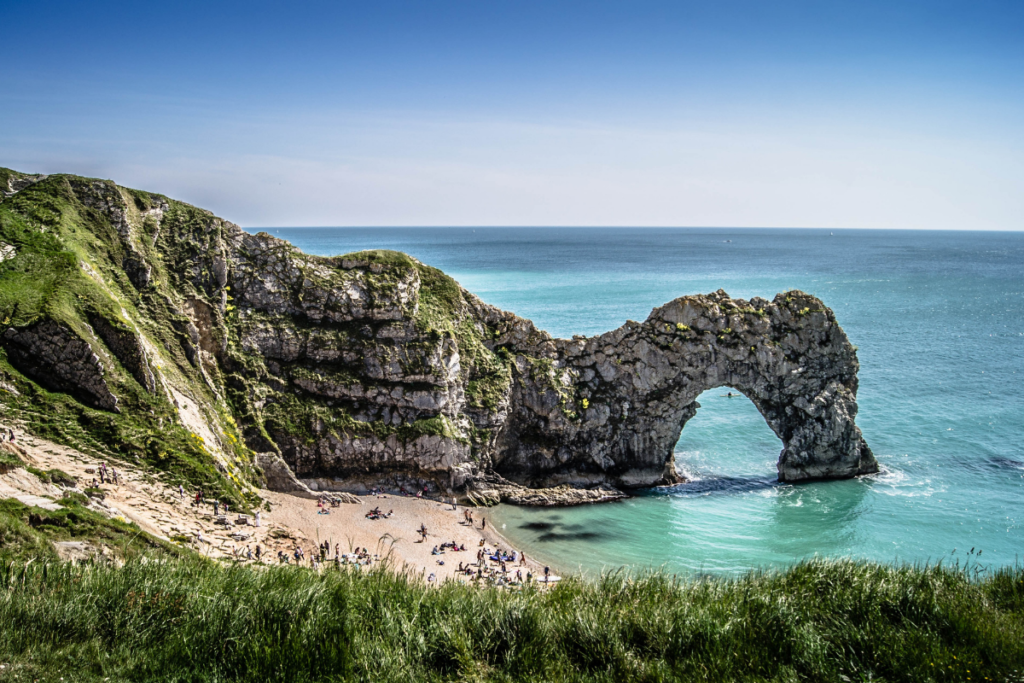 Angel from Exploring Dorset
Dorset in South West England is known as an area of Outstanding Natural Beauty. Famous for being part of the Jurassic Coast and home to miles of award winning beaches. There are 19 towns in Dorset, each with plenty going on.
The largest town, Bournemouth is a very popular destination for tourists and locals alike. Home to attractions such as the Bournemouth Big Wheel and the Oceanarium, it's no wonder crowds are drawn to the town.

If you're looking for something a little quieter and unique, I highly recommend a visit to Charmouth. The village sits on the river Char to the West of the county. You can spend hours hunting for fossils on the beach or searching the rock pools. There's even a shallow part of the river perfect for dinghies and paddleboards. Close by is West Bay where the TV series Broadchurch was filmed.
---
#19 Malvern Hills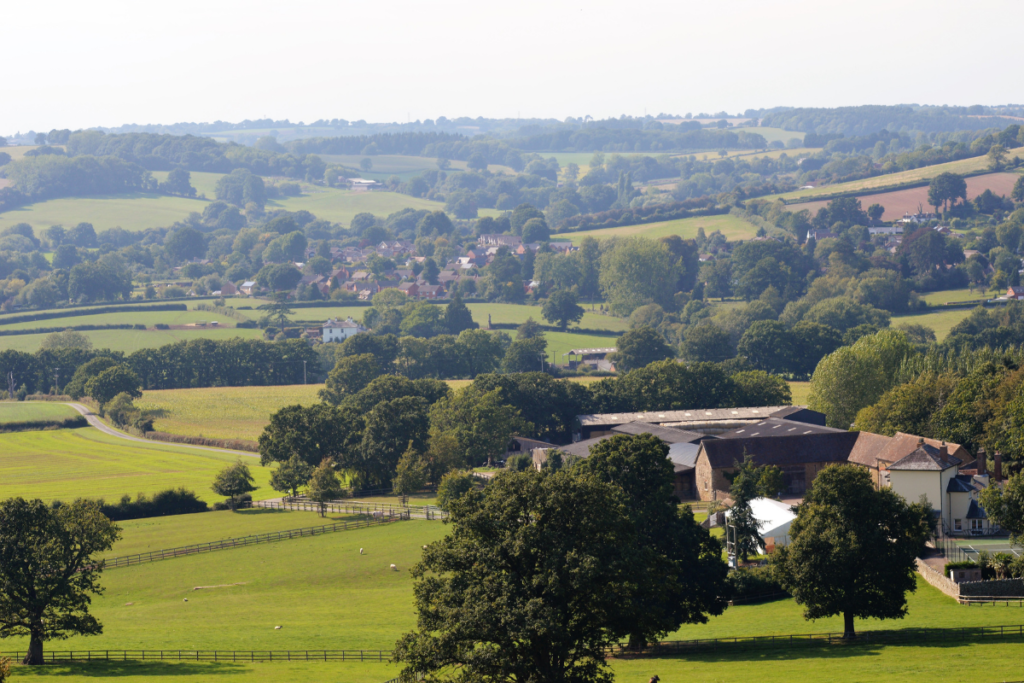 Recommended by Jiayi from the Diary of a Nomad
The Malvern Hills are a series of stunning hills located in Southern England, and they definitely make one of the best and most underrated places to visit in England. These hills are only a 3-hour drive from London and 1 hour by car from the Cotswolds, yet, not many people know about them, so they stay free of crowds and tourists for the most part.
There are plenty of amazing Malvern Hills walking routes you can take during your time there. There are lots of beautiful circular walks as well as an end-to-end walk that takes you through all the highlights in the area, including Worcestershire Beacon and Great Malvern town.
You'll barely see any other people on many parts of the walking trails, and there are plenty of cycling routes on the hills too. The walks range from easy to strenuous, so there's something for everyone there. After a long day of walking, you can stop for a refreshing pint at one of the many local pubs in Great Malvern.
---
#20 Bath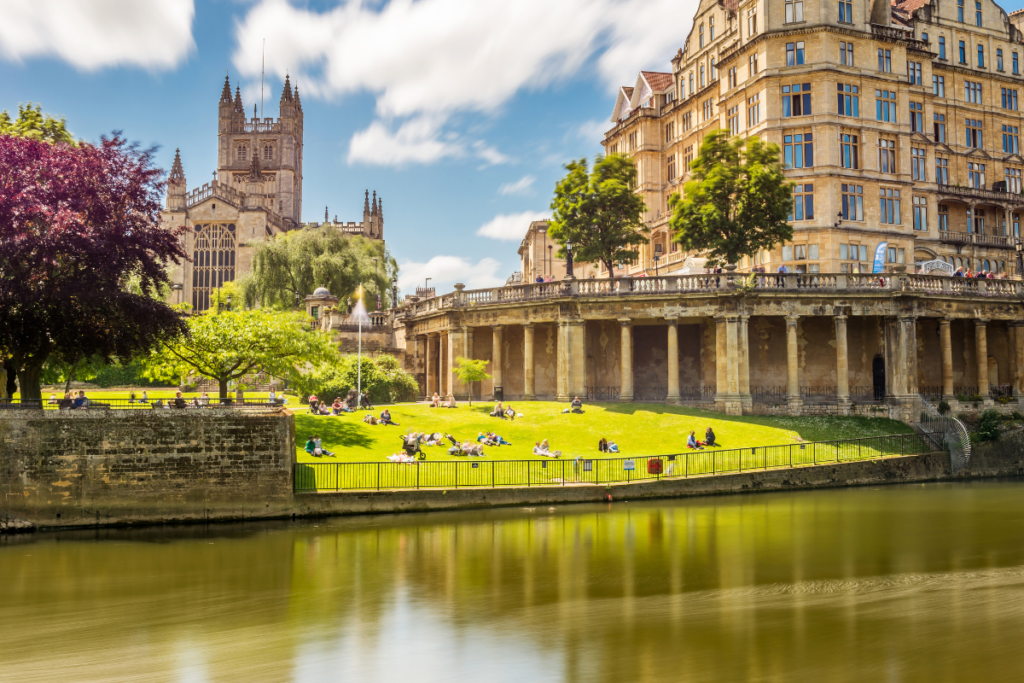 Recommended by Nichola from Global Mouse Travels
Bath is one of the must-visit places in England. It is full of history and culture and is easy to walk about. There's plenty to do in this historic city, starting at the Roman Baths, right in the center of the town and the place it is named after. Here you can see the waters that the Roman population would have luxuriated in and walk over segments of the original path.
It really is a very atmospheric place. Head just around the corner to the Bath Thermae Spa to relax in the very thermal waters that heat the original Roman version. If you're looking for things to do in Bath with kids then don't miss Victoria Playground which is fabulous and was opened by an 11-year-old Queen Victoria. Before the day is out make sure you head to Sally Lunns, the oldest restaurant in the city, to try one of her famous buns. It really is a great city to explore.
---
#21 The Cotswolds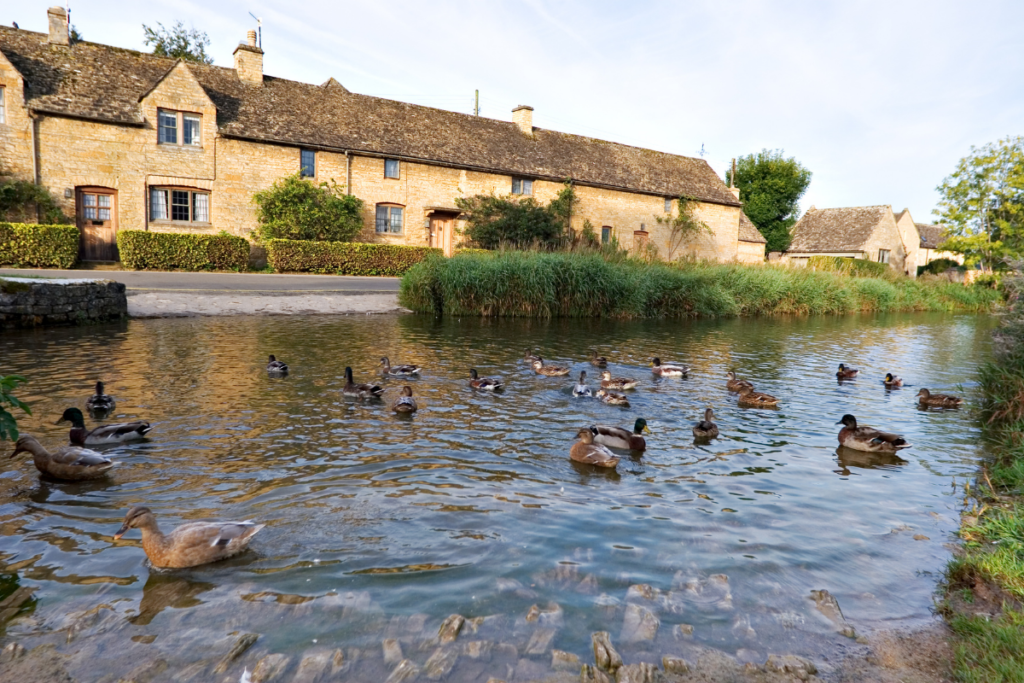 Recommended by Mal from Raw Mal Roams
Stretched between 6 counties in south-central England, the Cotswolds is an Area of Outstanding Beauty, and there are many good reasons why visiting the region can be a perfect UK staycation. The quaint villages are the most beautiful places in England, all dressed with charm and personality. Visit the Cotswolds for experiencing quintessential English villages, tranquil countryside and historic cosy pubs.
The area, definitely one of the places to go in England, is famous for its historic villages where time didn't move since the medieval era when the region was a bustling industrial hub producing wool and textiles. Some of the best towns to visit are Castle Combe, where you can stay at the elegant Manor House and indulge in fine dining at its Michelin-starred restaurant and Burton-on-the-water known for the Motor Museum and the Cotswolds Distillery.
While visiting the area, don't forget to visit its boutique tea rooms. Sample traditional English cream tea consisting of freshly baked scones, clotted cream and strawberry preserve. One of the shops that have been around since the 19th century is the Huffkins Café. Other fun activities that visitors can enjoy in the Cotswold include horse riding, trekking the Cotswolds Way, cycling and climbing. The villages in the Cotswolds are equally perfect for a weekend getaway as for an extended stay.
---
#22 South Downs National Park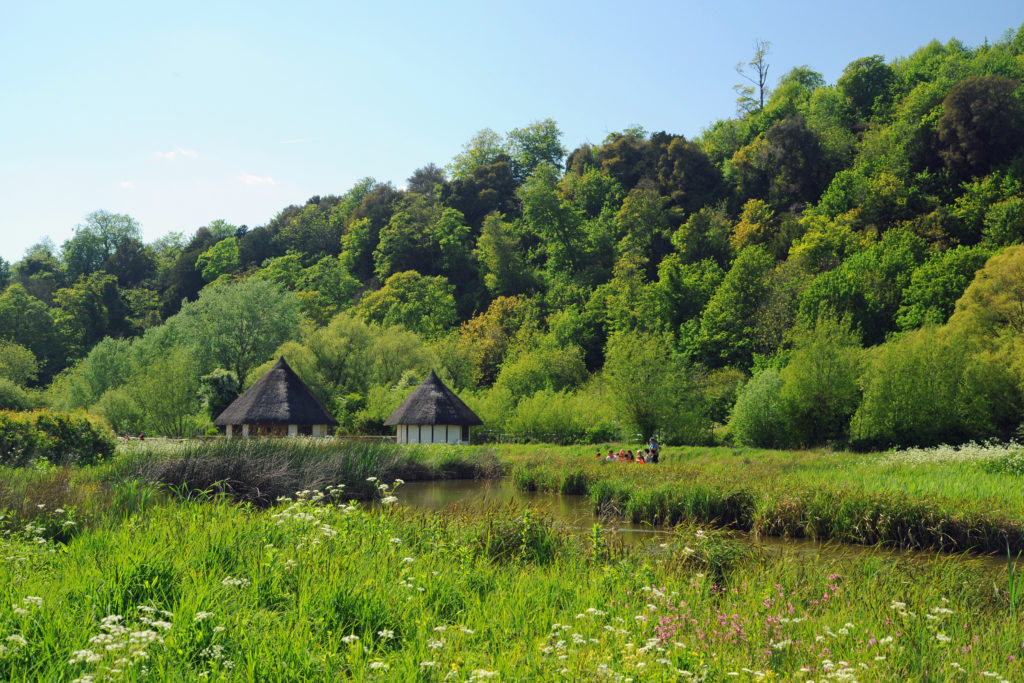 Recommended by Kathryn from Sussex-Walks.co.uk
The South Downs National Park, sandwiched between the south coast of England and London, is a lush green swathe of rolling hills dotted with historic towns and villages. It covers an area of over 600 square miles. Its most western point is by the city of Winchester in Hampshire. From here, it spreads out over the chalk hills of the South Downs and the densely wooded hills and vales of the Western Weald, culminating in the spectacular white cliffs of the Seven Sisters and Beachy Head in East Sussex.
The park is crossed-crossed with no end of spectacular walking trails to suit every ability. The 100-mile long-distance walking route, The South Downs Way, is the only National Trail that lies wholly in a national park. As well as walking, the park offers a wide range of activities. You could go kayaking at Cuckmere Heaven, birdwatching at the Wildfowl and Wetlands Trust, see the oldest living trees in Britain at Kingley Vale Nature Reserve or climb the ramparts of Arundel Castle.
There are some superb food and drink producers in the area too, including a number of excellent breweries and distillers. Old country pubs, such as The George in Eartham, are the perfect place to indulge in local fare. The chalk hillsides are becoming increasingly famous for their vineyards, producing world-class sparkling white wines. Many over vineyard tours and wine tastings.
Historic towns to visit include Midhurst, Petworth and Arundel. While Amberley near Arundel with its abundance of thatched cottages has to be one of the prettiest villages in the south of England.
---
#23 Glastonbury, Somerset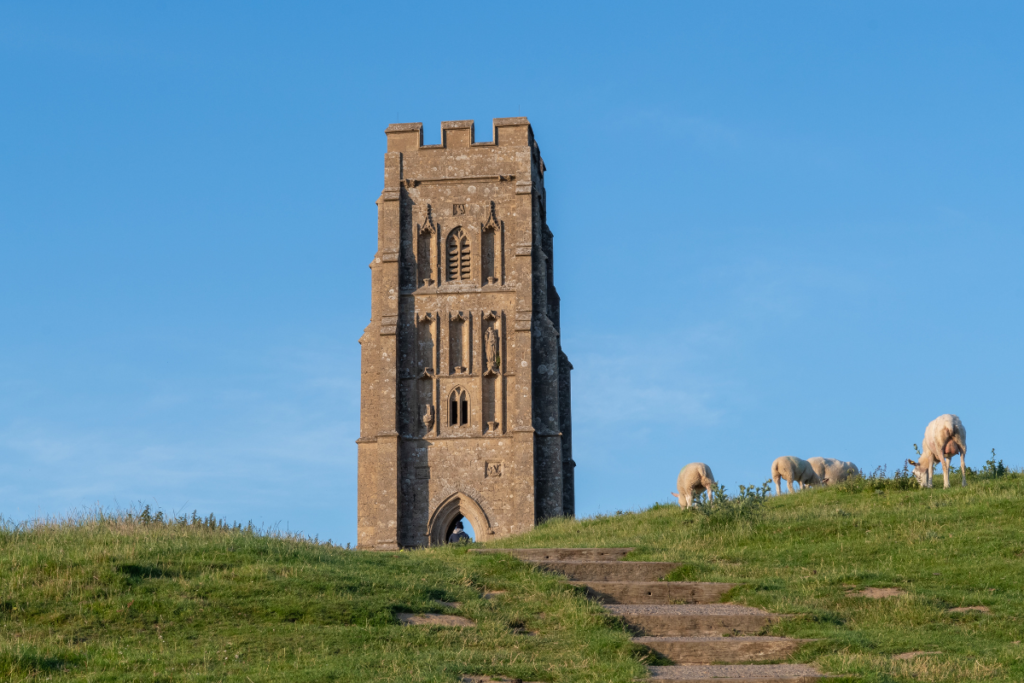 Suzanne from Meandering Wild
Glastonbury is located in the south west of England a short distance south west from Bristol and Bath. This is a small market town that has a distinct and unique vibe.
Its past is steeped in history and mystery and the beautiful Glastonbury Abbey in the centre of the town is believed to be the last resting place of King Arthur and his Queen Guinevere. Close to the Abbey is the Chalice Well which is one of England's most ancient holy wells.
Standing over the town is the imposing Glastonbury Tor which is a large hill with the ruins of a church on the top. All that remains today is the church tower. From the top of the Tor it is possible to see all the way to Wiltshire, Devon and across the Bristol Channel to South Wales.
Glastonbury is probably best known for its annual musical festival which is held on a farm a short distance from the town. Planning is needed if you want tickets for the festival as they sell out almost as soon as they are released, but it is an experience not to be missed.
---
#24 Land's End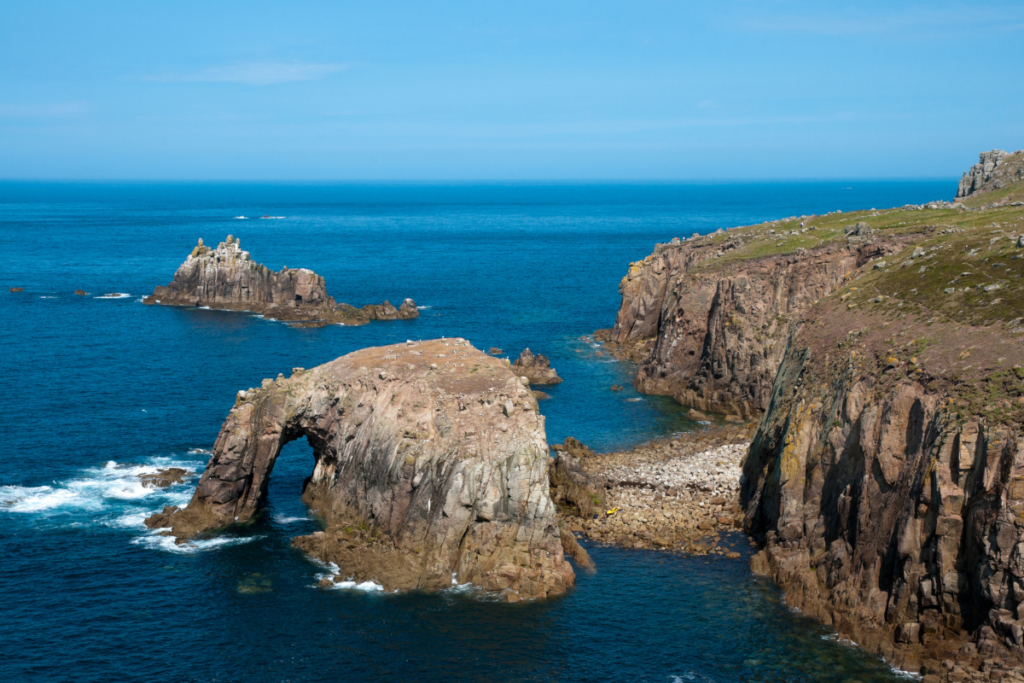 Recommended by Tristan from Traxpolio
Land's End is located, who would have thought, at the westernmost tip of mainland Cornwall in Great Britain. This coastal town offers spectacular cliffs, flower-filled paths, and golden beaches. Especially recommended is a walk along the headland, where you have a fascinating panoramic view out to sea.
From there you can also spot the Longships lighthouse, which is located 2km from the land in the sea. If the weather is very clear, you will even have the opportunity to admire the Scilly Isles, 45km away. Moreover, what makes the place so extraordinary is certainly the fact that it is a symbolic place of "the most western point of the British mainland" and that is why travelers like to use it as a starting or ending point of their trips.
There are many more things you can experience and visit there. If you would like to visit Land's End, we recommend that you check out this England Packing List before you go. Here are a few more recommendations for your time in Land's End.
Other wonderful attractions & activities you can experience in Land's End
Hiking, bird watching, seal watching, whale watching.
Whitesand Bay, popular white sand beach for families and surfers
Land's End Visitor Center, which has exhibitions, gift stores, restaurants and indoor attractions
The coast is a paradise for divers! There are many pristine shipwrecks for you to explore.
---
#25 Shrewsbury and Shropshire Hills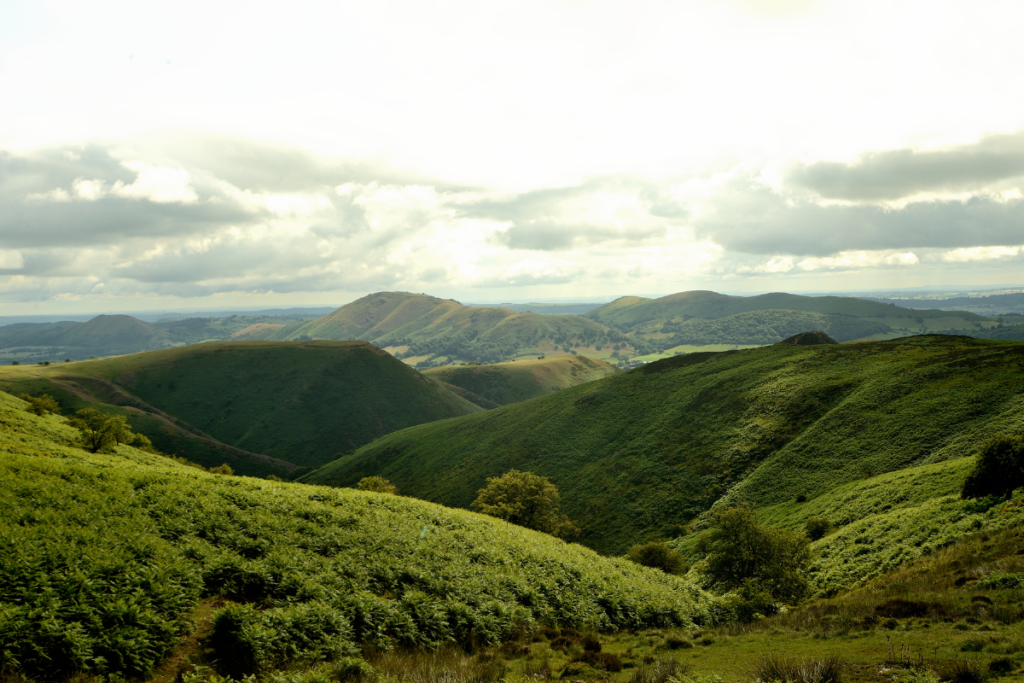 Contributed by Ania from the Traveling Twins
Shrewsbury is one of the most charming towns in England. Located in the loop of the River Severn in Shropshire, the town has a rich history and heritage, which you can discover wandering around its twisting medieval streets lined with half-timbered buildings.
Shrewsbury has many beautiful historical sites worth visiting that have been carefully restored over time, including St Mary's Church and the Shrewsbury Castle.
The town has a lively arts and culture scene with great local theatre, music venues, museums, and art galleries, all worth checking out.
If you want to try something totally different, you should visit Dana Prison. I believe this is the only prison in Europe where you can visit and stay overnight, without robbing anyone.

For those looking for outdoor activities, there are plenty of beautiful walks to enjoy, especially around Shropshire Hills, which offers some of the best walking and cycling trails and breathtaking views.
(function(d, sc, u) { var s = d.createElement(sc), p = d.getElementsByTagName(sc)[0]; s.type = 'text/javascript'; s.async = true; s.src = u + '?v=' + (+new Date()); p.parentNode.insertBefore(s,p); })(document, 'script', '//aff.bstatic.com/static/affiliate_base/js/flexiproduct.js');
Wrapping up the 25 best places to visit in England
While many parts of England aren't as visited by foreigners as they should, this list will hopefully inspire you to explore the beautiful England, the charming towns and villages, and have a walk through the hills of Jane Austen. The most beautiful places in England are often underrated, and not much mentioned. While I've been living in England for two years, the one thing I loved the most about Great Britain was wondering around the charming places.
Exploring villages that reminded me of my favorite British movies, and exploring castles that reminded me of Harry Potter, the Chronicles of Narnia, Sherlock Holmes and many others. If there's one universal truth about England, that it was the most lovely lands covered in green, flowers and antient trees. Seasides with huge cliffs and stunning natural formations, and buzzing cities that we can't get enough of. So, what are you waiting for to visit those amazing places to go in England?
Pin it: 25 Best places to visit in England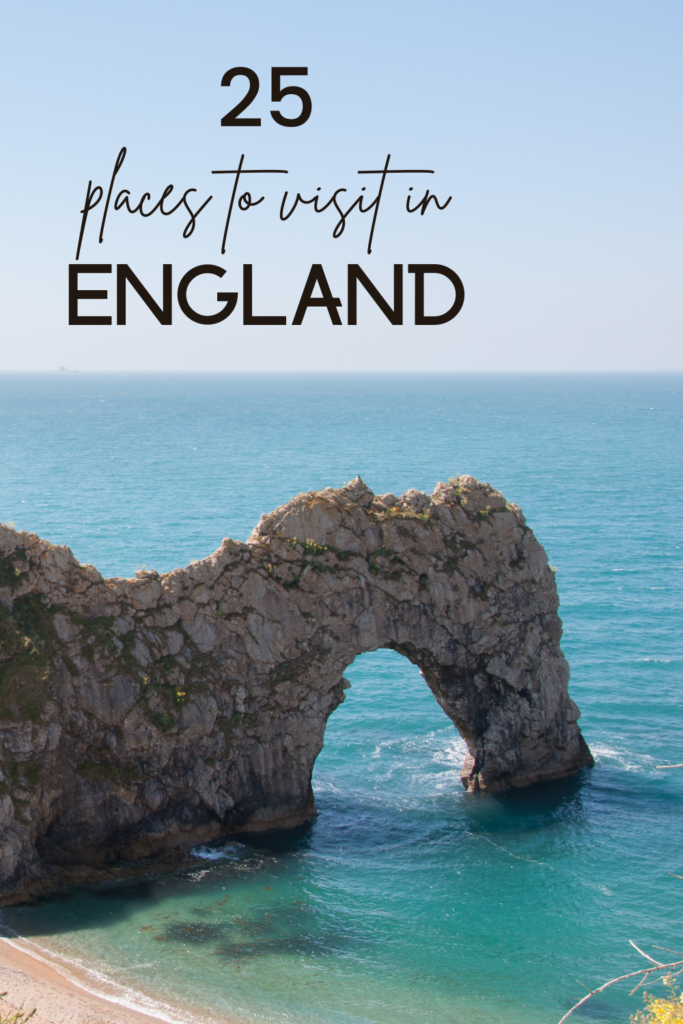 Best places to visit in England, UK