Where to eat in Rome? That's one of the first questions we're asking every time when we visit, right? We want to try new dishes, traditional dishes, specialties. Basically, we want the best restaurants to try! I know, and the reason I wrote this article is to share my favorite restaurants in Rome, that I can recommend after eating there many times over 5 years
Italian cuisine is one of the most popular and most preferred all around the world. But here's an everlasting truth: Italian food around the world is never tasting the same as in Italy.
What is that you'll want to look for when you're visiting Rome?
To savor the heavenly Italian dishes, you'll need to find places where everything is fresh, freshly made, organic ingredients, homemade pasta, and wood oven pizza. If you're already here, make sure you check the best pizza-making cooking class in Rome!
So then, where to eat in Rome?
Well, I have some good news for you if you're visiting or you already are in Rome! There are 4 restaurants I'm always returning to, the ones I always suggest to whoever is asking me, where to eat in Rome?
These four restaurants in Rome are really close to my heart since 2015. And I'm always returning to them when I'm in the Italian capital.
Today, I'm going to share my secret spots with you too!
Bistrot & Wine Bar Pasquino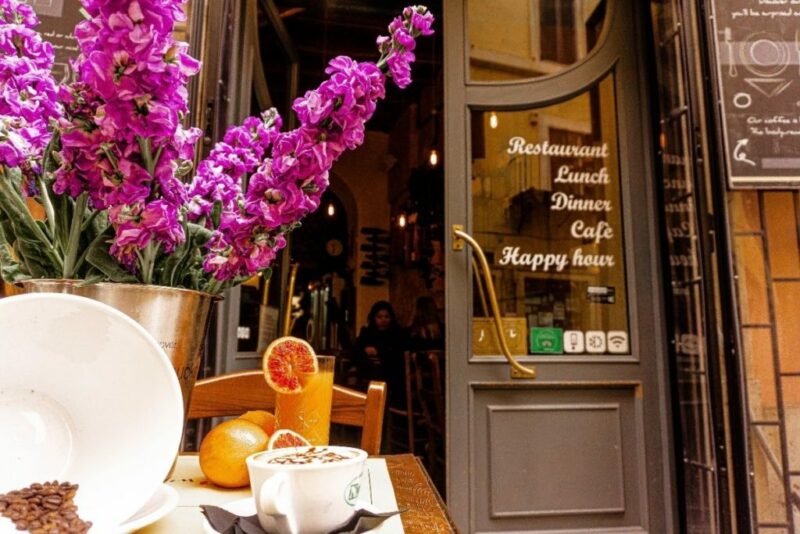 The small bistro is located on one of the loveliest streets of the historic center. Via del Governo Vecchio is running paralell with Corso Vittorio Emmanuele II. It's a narrow, colorful street covered with clobblestone. All along from Piazza Navona to the Castel Sant' Angelo it's hosting numerous restaurants, gelato shops, hand-crafted, antique, vintage and fashion shops as well as art galleries, and bars.
Location: Via del Governo Vecchio no 79, Rome, IT
Opening hours: It's usually open from 7 in the morning until 2 am.
Prices: €€ mid-budget
Google reviews: 4.7* (out of 5) from 250+ customers
If you ask me, it's one of the best bistros in Rome! Hands down!
The first reason this bistro is really good, is because it's open from the early hours. Restaurants aren't opening at that early time, and it's kind of hard to spot open places in the morning if you don't know the city. Pasquino is meters away from Piazza Pasquino, which is 50 meters from Rome's most popular square, the Piazza Navona.
The breakfast is really great! You can pick anything from croissants, bakeries, paninis, and tramezzini sandwiches. (I love tramezzino!) Here you'll always find fresh juice as well as the best cappuccino! If you're looking for cafes in Rome, Pasquino is definitely a must-visit!
It's a very popular spot for aperitivo in the afternoon. They usually have happy hour offers for cocktails at this time, and you'll always get some snacks on the side!
Now about those evenings…
If you're not in the mood for restaurants, bistros are always a good option B in Italy. It's less casual, less posh, less elegant, and usually cheaper as well. Pasquino is a great location for a delicious dinner as well as for after drinks. The vibes are always good, and the street is always busy!
Pasquino is my favorite place in Rome since I first spotted in 2015, and I'm pretty sure that until I can visit, they serve cappuccino, Aperol Spritz, and my favorite Carbonara, it will always be my hotspot!
If you want to read about how I found this place, and my epic first evening story, check my guest article posted on Gustobeats, a Rome lifestyle blog by my friend, Menty!
Since restrictions were applied to restaurants in 2017 (I think), Pasquino has just a limited number of outside tables. However, always worth trying to hunt one down!
Osteria Pasquino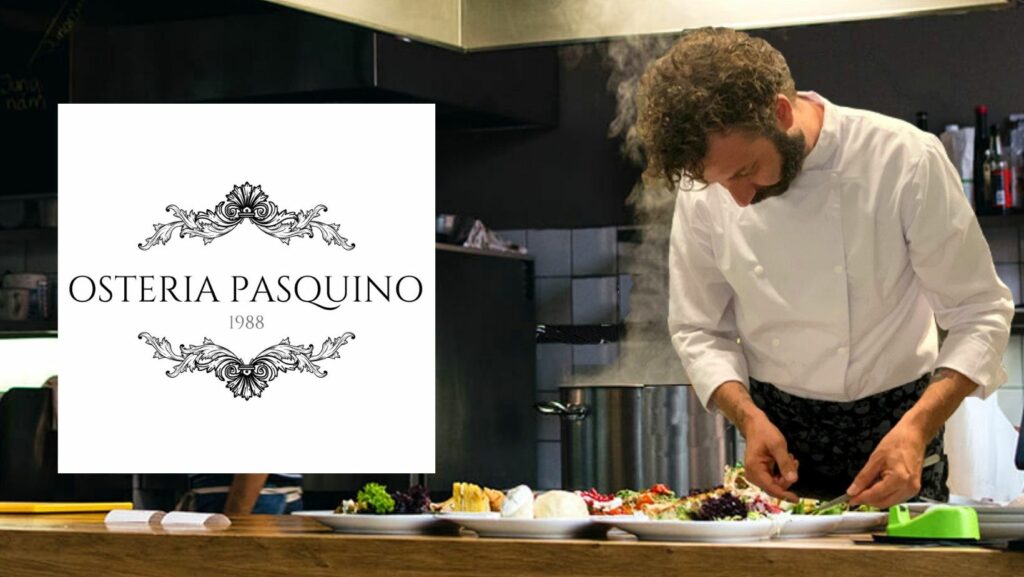 Location: Piazza Pasquino, Rome, IT
Prices: €€ mid-budget
Google reviews: 4.3* (out of 5) from 960+ customers
The Ristorante Pasquino is situated right near the Bistro and Wine Bar Pasquino, therefor this is as well steps away from Piazza Navona. If you're asking, where to eat in Rome? Ristorante Pasquino should be!
One of the best restaurants to try away from the crowds!
Sometimes it's better to get away from touristic spots like Piazza Navona and look for something more local and traditional. While a popular square is noisy and expensive, where the street vendors won't leave you alone, the nearby streets are hiding hidden gems for foodies!
Pasquino is one of the best budget restaurants to try in Rome, and here's why!
---
Things to know about this restaurant
First things first. Pizza! The pizza is made in a traditional way, in a wooden oven. And it is absolutely delicious! This place is really great if you're looking for traditional dishes (not just pizza). It's a really friendly restaurant, with outside tables as well. Inside is plenty of places so it's really good for families and bigger groups!
What I really love in these places is the staff. That's always essential, as who likes to eat somewhere where you won't get even a smile? Each place I listed in this article has amazing staff teams. Friendly and sometimes way too funny!
---
Ristorante Pasquino is popular during lunch and dinner time. I personally am choosing it for dinner, as during the day I'm always far away from this part of the city. The prices are reasonable, and the food is just amazing! So if you're asking where to eat in Rome? Ristorante Pasquino is a great choice!
This place is part of the above-mentioned story when I found my favorite bistro. That night, we've been dining in the restaurant for the first time. And returned many times ever since!
Jazz Cafè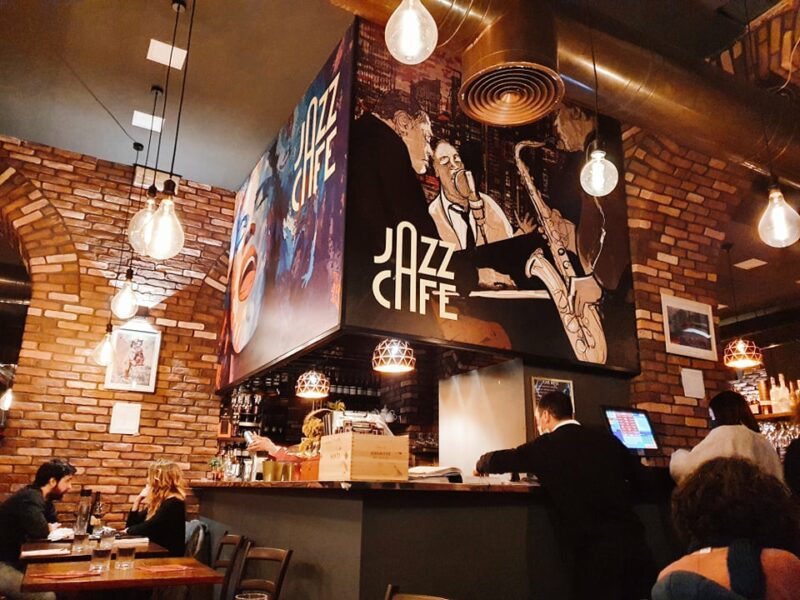 Location: Via Gueseppe Zanadelli no 12, Rome, IT
Google rating: 4.4* (out of 5*) from 1,700+ customers
Prices: €€ mid-budget
Jazz Cafè is more of a restaurant than a cafe to be fair. It's really cozy with lovely design, beautiful tables, and excellent dishes. One of the best affordable restaurants in Rome that you should try!
It's located just a few steps away from Piazza Navona, following the street on the northwest side of the square.
This restaurant is specialized in meat dishes, and they are really, really good! As a memorable place for me, the Jazz Cafè was where I had the best Penne al salmone in salsa rossa of my life!
Oh, and before I forget, the wood oven pizza! Always the pizza! They actually hold pizza-making cooking classes too!
If you've been wondering which restaurant to go to with family in Rome, the Jazz Cafè is pretty spacious! As usual, there are more families dining out in Jazz Cafe, so this could be a spot for you! It's great for bigger groups as well as for families and those traveling alone too!
As its name is whispering, you'll be mostly hearing jazz here. And jazz is good! Read a full Jazz Cafe review!
---
Ristorante Tucci
Location: Piazza Navona
Prices: mid-budget < €€-€€€
Tripadvisor rating: 4* (out of 5) according to 1000+ customers
Tucci is one of those restaurants in Rome you'll need to try! If you have a map open, I'm sure you already noticed that all my favorite restaurants are around Piazza Navona. That's not a mistake, as this is my favorite neighborhood in Rome since 2015.
About the food…
Tucci is popular for its seafood dishes! That's mostly what you'll see if you look around the tables. Well, as I don't like seafood, I can't say just other people's opinions I heard, and so far everyone I know loved it!
Capricciosa is one of my favorite pizza, so you can imagine how many times I ordered that in different locations. So far the best Capricciosa pizza I ever had was in Mamma Roma, so I can really recommend trying that!
---
Best places to eat in Rome
So as we covered my 4 restaurants in Rome, I hope you're ready for your delicious Italian dish! Don't forget that all these restaurants around Piazza Navona, so whenever you're walking by, check them out!
---
More about Rome
I kept mentioning the Piazza Navona over and over again… Yes, I really love the neighborhood! And some of the best restaurants to try are located here too. This got me to write an article just about the Navona neighborhood, with things to see and do!
Trastevere is my other favorite neighborhood in Rome. It has the most colorful, most beautiful vibrant Italian streets and I wish I could just walk around forever on them! It's on the other side of the river Tevere, but it's not far from the historic center. Check it out!
Fill your bucket list
Rome is the city I'm mainly writing about on this website. Step by step I'm making sure that all the details and beautiful or not so beautiful spots will end up in my articles.
Fill your Rome bucket list with the most amazing squares and parks. Find the most stunning streets, and see the Eternal City from the best viewpoints!
---
P.S. If you happen to visit any of my four favorite restaurants in Rome, and you'll want to share your experience, please return and let us know! xx
Buon Appetito! 🙂
Pin It: Best places to eat in Rome on a budget! 4 restaurants to try!
Find the best accommodations for your trip
---
Don't forget to get your travel insurance!
Where to eat in Rome? 4 Restaurants near Piazza Navona