Trying drinks and food around the world is the best way to discover other countries. If for nothing else, but to awaken your senses with delicious new tastes. Just as with specific dishes are associated with countries, some well-known drinks too. Here's a list of 8 cocktails from around the world, to fulfill your wanderlust, and sip some of the best-tasting drinks.
We've got dishes from around the world we really love as well as specific drinks. When it comes to cocktails, I'm very hard to be amazed, and there are long lists of drinks I wouldn't ever try. However, the colorful, Mediterranean and tropical cocktails seem to be on my taste.
It looks like, even my taste of drinks is perfectly focusing on the regions of the world I love the most. Let's dive right into those 8 cocktails from around the world that I really love. You'll see at each short story and a recipe!
At the end of the post, you can also find some of my favorite cocktail recipe books and decorations that you can also get easily online!
---
---
Let's see those 8 cocktail recipes from around the world!
---
---
#1 Italy: Aperol Spritz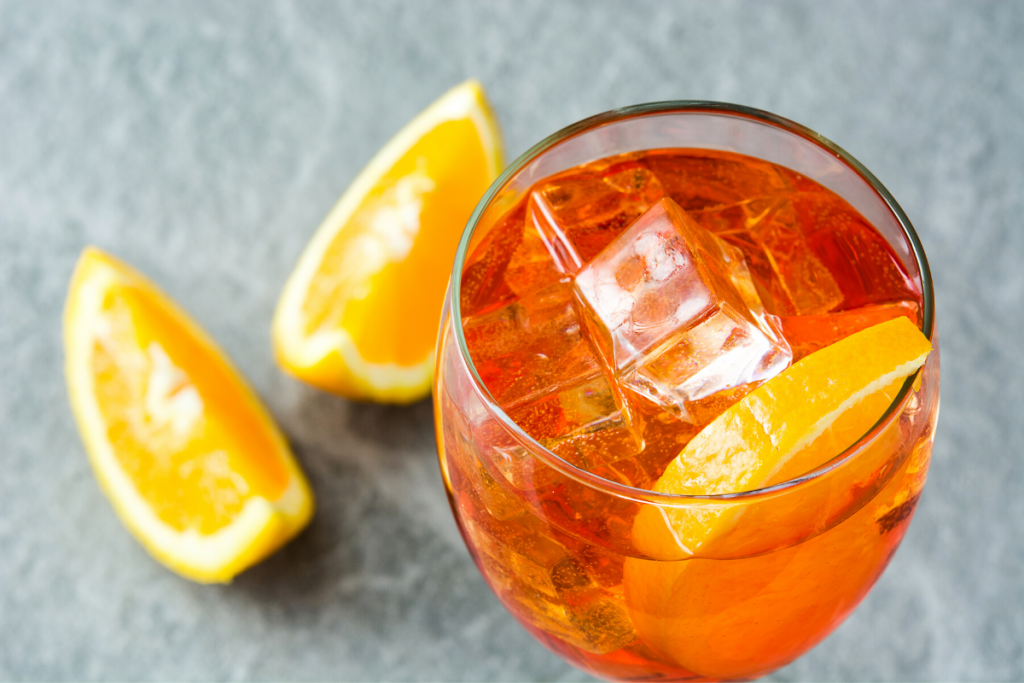 ---
Before I'd say anything else. I'm starting with the Aperol Spritz because it is my so-far favorite drink of all. I couldn't imagine an afternoon chat in the backyard with my best friend, or an afternoon out in the town (especially in Italy, Rome, but I do it anywhere I can buy Aperol Spritz) without my favorite spritz.
The birthplace of the treasured Aperol Spritz is Veneto region, in Italy. It quickly became the most popular aperitivo drink around the country, as well as around the world.
The history of the Aperol Spritz is dating back to the 19th century, while this region was under the Austro-Hungarian Empire, and Austrians used to drink their wine with soda water, and they called it spritzen. It means a sprinkle, or a splash – of soda water. This is something we have as well and it's very popular in Hungary (it's called fröccs).
So basically the bitter was added to this. Now if you can't just order a spritz, as this is made with different bitters, such as the Aperol, or the Campari, Cynar, etc.
Today, you can find all the ingredients for an Aperol Spritz, on each side of Europe and the US. I'm not 100% sure about the rest of the world, and so I'm saying just what I've seen.
You'll need 30 ml of Aperol, 60 ml of Prosecco, 1 splash of soda water, ice cubes, and sliced orange (1-2 slices).
Making an Aperol Spritz at home is easy. You're adding as much ice as you'd like. I prefer having my glass full of ice. Then you're adding the Aperol, the white wine/prosecco, soda, and the orange. You're ready to enjoy an amazing Italian aperitivo drink!
---
#2 Spain: Sangria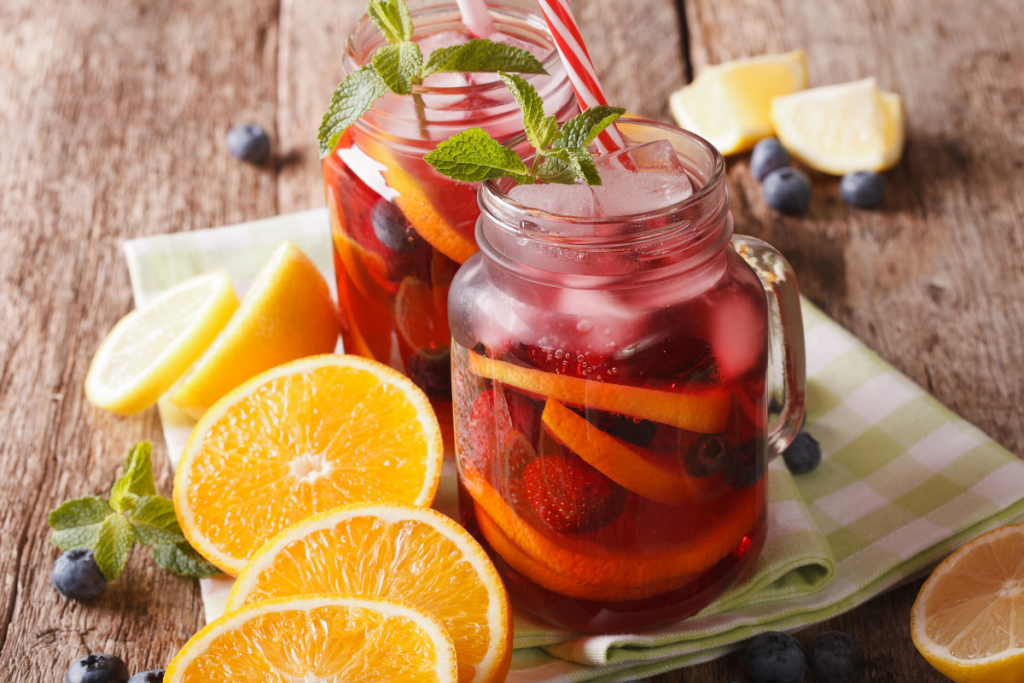 ---
The Sangria is a Spanish red wine punch basically. It's usually made with Rioja, Tempranillo, or similar dry red wines. As I already broke it, Sangria is originating from Spain, and it has become a very popular party drink around the world, since the '60s.
If you're traveling in places like Barcelona or the South of Spain, if you're looking around on other tables, you won't see too many people sipping Sangria, however. It's not as popular in every region.
There's no exact recipe for Sangria. You can use a large variety of fruits, like orange, apple, pear, lemon, peach, strawberries, blueberries, all other berries… The orange is however a basic. That's appearing in every Sangria recipe.
In some recipes, they are adding to the basics cinnamon as well. Others are making it with sparkling water, instead of orange juice. It's really about tastes.
Here's my favorite Sangria combo: 1 orange, 1 apple, 5 strawberries, and peach chopped. Adding to it half tbs of brown sugar, a 75cl bottle of Rioja, 10cl brandy, 30cl orange juice, and as much ice as much fits in the jar.
I have asked the bartender in my hostel in Seville how they were making it as it was super delicious, and not too sweet either. And this is how! 🙂
---
#3 British: Gin Tonic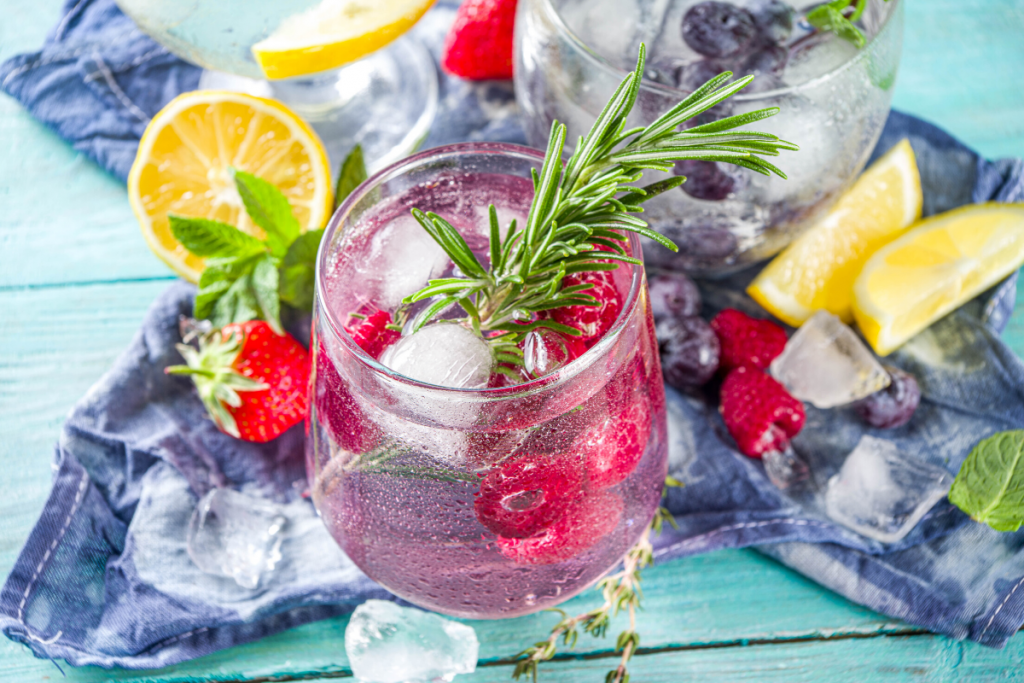 ---
Gin Tonic was never my fav drink. I literally never ordered it for years, because I hated it. But here's the thing… I tried the worse one possible for my taste.
I'm not friends with too bitter drinks, and the first and last gin tonic I had for 8 years was with lime. Then in England, my friends convinced me to try their one with pink gin, and red berries. That's when I started drinking Gin Tonic again!
The drink is originating back to the British East India Company. during the malaria epidemic in India. This then became popular worldwide.
In Spain, the Gin Tonic is really popular, and I have honestly never seen so many brands on the shelves as in Barcelona! Everywhere I've been, especially during the summer, people mostly were having gin tonics.
Now, there are many recipes for gin, with berries, lime, lemon, orange, rosemary, blueberries, and so on. In Gin types as well, you can find anything from the pink gins that usually have strawberry or raspberry taste too, there are some with coconut, peach, and more. In case you want to make up the taste a bit. The ratio should be 1:3 gin and tonic water.
How to make it? Fill up the glass with ice, pour the Gin, the topping, then the tonic water. Ready!
---
#4 Cuba: Mojito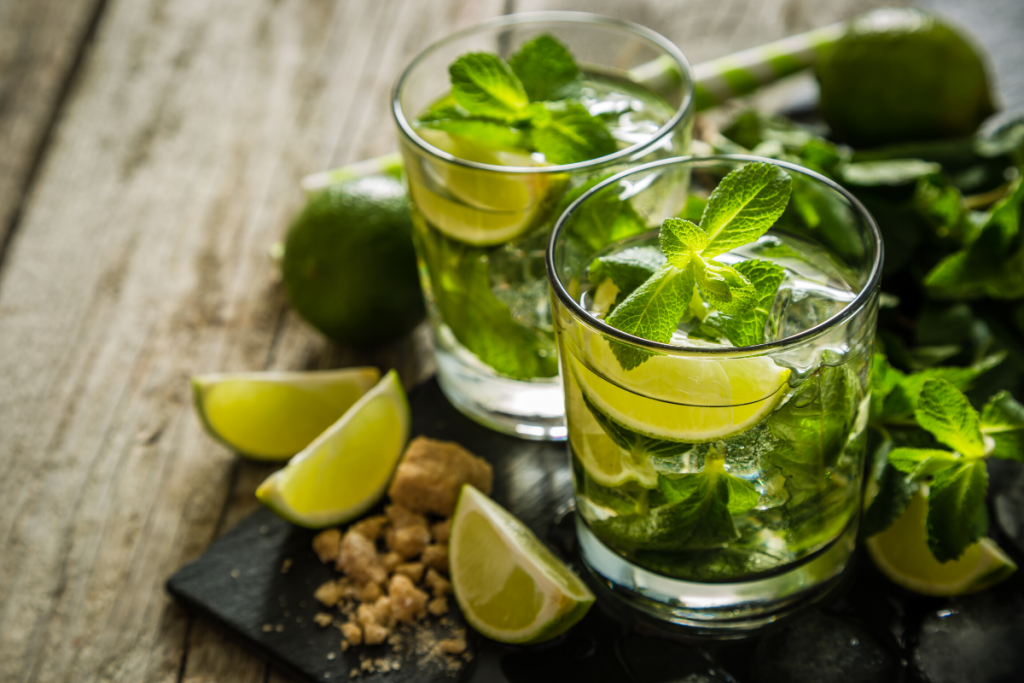 ---
The Mojito is probably one of those summer drinks I love the most, and I had a similar hate story with it such as with the Gin Tonic. Here I didn't change the ingredients though.
Originating from Cuba, with hundreds of years of history, it has become one of the icons of Cuba. A perfect cocktail pick from around the world, a perfectly refreshing summer drink for sure!
A traditional Mojito is composed of 8-12 mint leaves, 15ml of freshly squeezed lime juice, 2 teaspoons of sugar, 50ml of white rum (Bacardi), and a splash of soda water.
First, make sure to slap the mint leaves, so they'll release the flavor. Put these in the glass, with the lime juice, and fill it with crushed ice. Add the sugar to it, and churn it, to dissolve. Then add the white rum, a splash of soda, mix it, and done. You can add lime and another sprig of mint as garnish.
---
#5 Puerto Rico: Piña Colada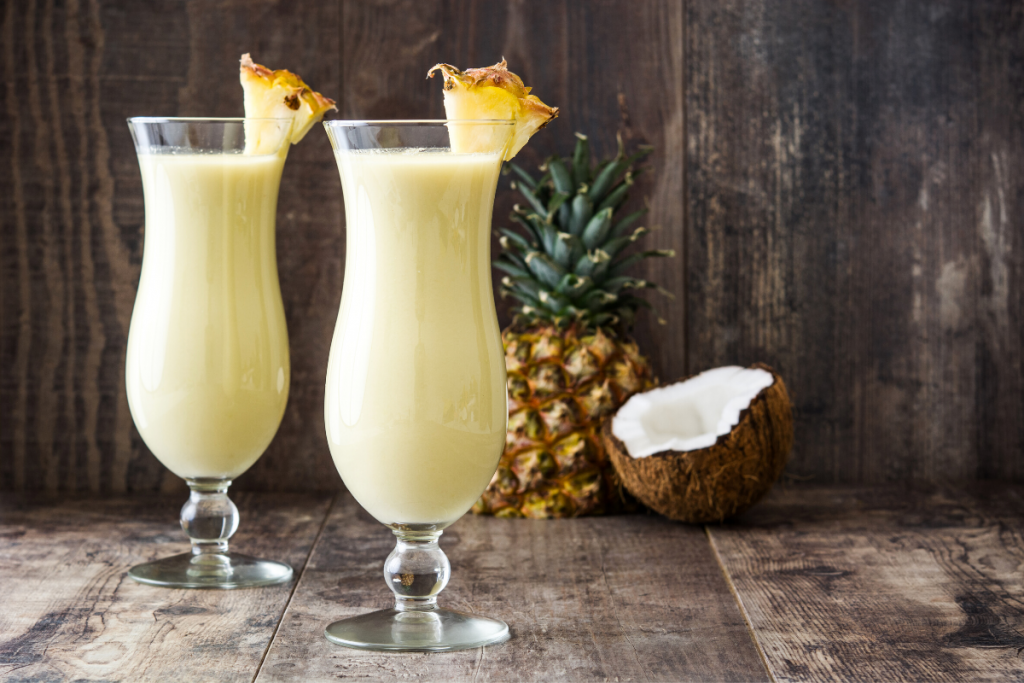 The Piña Colada is originating from Puerto Rico, where the legend says a pirate in the 19th century was giving this drink to his crew. It's a sweet, perfect tropical drink.
Piña Colada was literally the first cocktail I have ever tried in my life. And as I'm in love with both the pineapple and the coconut, it quickly became one of my favorites cocktails from around the world.
The recipe is easy. One part coconut cream – one part white rum – three-part pineapple juice, and it's ready to enjoy! Make sure you're getting coconut cream, as with coconut milk it will be too watery. Other coconut products might not have that rich and sweet taste. So if you can, pick the cream! You'll need a good quality pineapple juice – or make your own – and white rum, such as the previously mentioned Bacardi.
You can also blend the ice with the drink, to make it even more creamy and refreshing on those hot summer days! As a garnish, add some pineapple chunks to it.
---
#6 Brazil: Caipirinha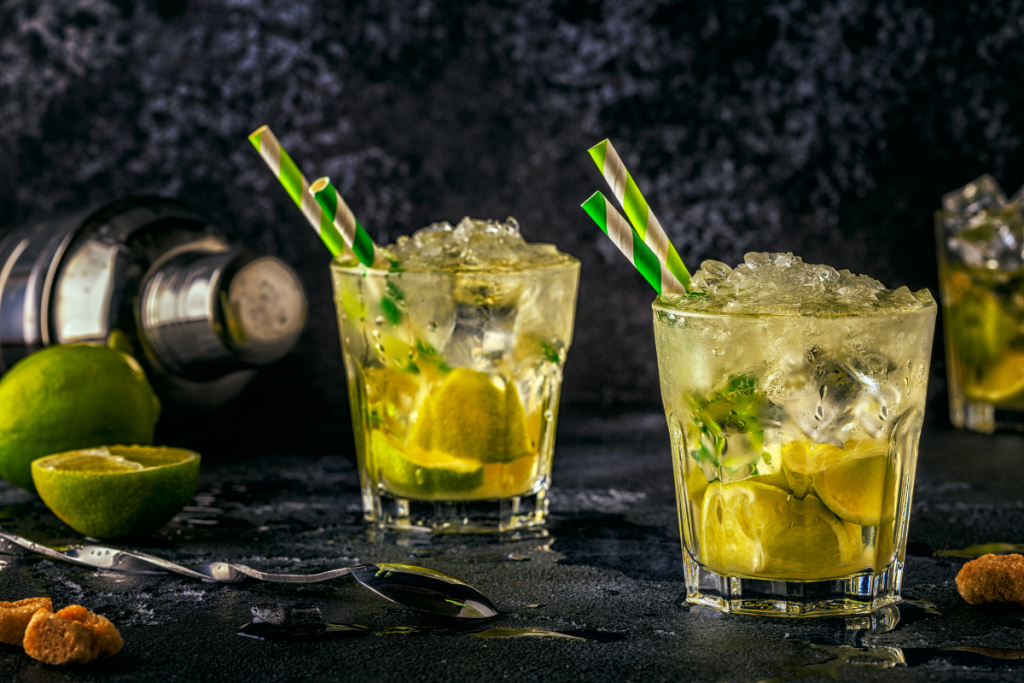 ---
Caipirinha is originating from Brazil, and it's definitely another great pick for limy cocktail lovers!
The cachaça a spirit extracted from fermented sugarcane juice. There are other versions available if you can't find this specific drink, to do Caipirinha with. You can use white rum, vodka, or even tequila.
So how to make it? Cut the lime in pieces and put them on the bottom of the glass, adding the 2 teaspoons of brown sugar. Add a few drops of the cachaça, or the alternative you're using, and the juice of either the other half of the lime, either a lemon.
Mix it, so the sugar will dissolve, then add crushed ice, the rest of the cachaça, stir it, and you're ready with another of the best cocktails from around the world.
---
#7 New York City: Cosmopolitan Cocktail
---
I was so close to putting the Manhattan cocktail in from NYC, but honestly, I'll rather go with the Cosmo. Where I heard about this cocktail the first time? We ladies all know that the Cosmo was Carrie Bradshaw's favorite cocktail, in the Sex and the City.
A really stylish cocktail, that every time reminds me literally of the series. But I still love it. Everything with cranberry!
The Cosmopolitan was born in the Odeon, in New York City, about 30 years ago. Best, and easiest to make it is using a cocktail glass. Add 45ml of lemon vodka, 15ml triple sec, 10ml lime juice, and 30ml of cranberry juice. Mix it with ice, and serve without it!
---
#8 London: Pimm's Cup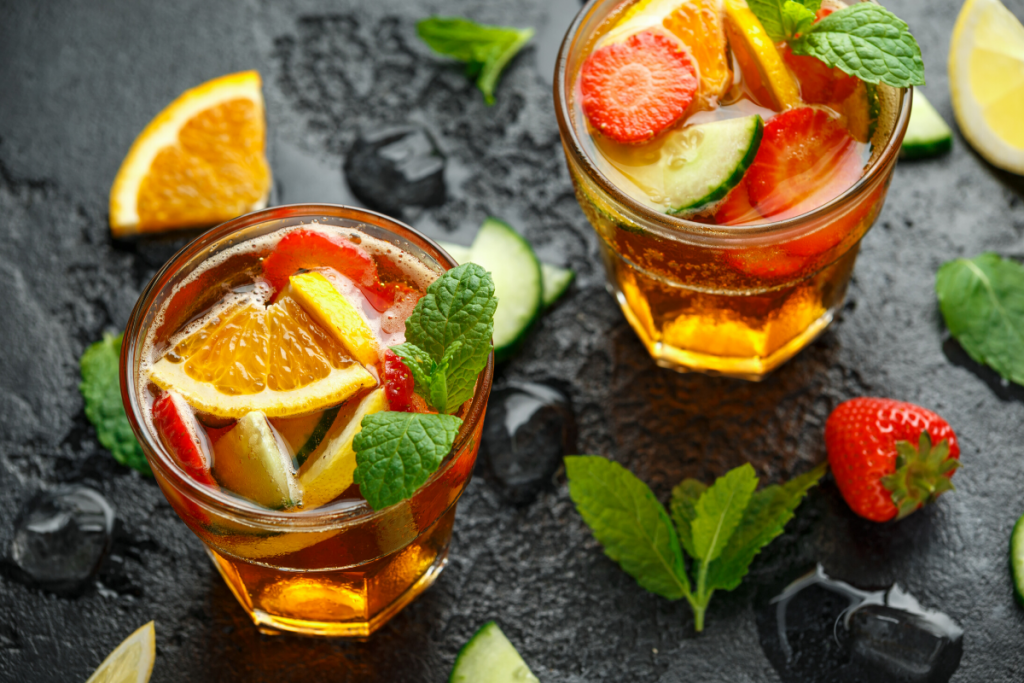 ---
Pimm's Cup was born in James Pimm's oyster bar, in London. The drink you'll find nowadays is somehow differing in ingredients from the original one, but let's see what's actually needed.
You'll first need 1 part Pimm's Cup No 1. Add 3 parts of lemonade, fresh mint, and chopped orange and/or raspberries. Some add cucumber as well. I personally don't like to add that too.
You'll need to add also ice, and it's ready. You can make it in bigger a bigger jar, if you're having guests, everybody can serve themselves with it. A lighter British version of the Sangria?
---
Cocktails from around the world: books & decoration
---
Now as we've got through our list of 8 cocktails from around the world, have a look at the below recipe books and decoration available on Amazon. I have stocked up for my future kitchen and bar with some of these pieces. I wasn't a big cocktail fun for a long time, I have to admit. I thought it's overpriced, and waste of money.
How could a college student think otherwise anyway? But as the years were passing by, and the alcohol consumption amount and style changed with that. I rather have any time 1 tasty cocktail than anything else.
I always feel like it's a reward for myself. You never had that feeling?
It's just too special, especially if you're doing it at home. A perfect reward! So that's why I've listed some of my favorite cocktail books for you!
---
Cocktail from around the World – Recipe Books
---
Cocktails from around the world: decoration
---
Pin Me: 8 Cocktails from Around the World
Disclosure: This article contains affiliate links. By clicking through and making a purchase, I'm going to earn a small commission. This isn't affecting you in any way, and the prices are not changing for you. This is helping me to maintain and support this website!
8 Spritz and Cocktails from Around the World