Rome is the place where you need to get lost! The city that's full of surprises, history, charm, and colors. Put away your map, and roam around the historic center of Rome to discover beauties, that you couldn't even imagine before! This is the only way to really experience the eternal city and the beautiful streets of Rome! In this post with the 16 most beautiful streets in Rome, you'll see different locations starting with one of the Roman Holiday filming location, the best streets in Trastevere, to the hidden little alleys to the most famous Rome streets!
Even if you've been in Rome, you've never actually seen Rome if you didn't get lost on those colorful cobbled streets. Every single city can be experienced, but deeply discovered not, just if you're walking. Walking without trying to arrive somewhere. That's when you have the time to spot the details around you, and really enjoy the vibes of a place.
Beautiful Streets of Rome – Top Rome streets
The selection of these streets of Rome runs from the historic center of Rome, all the way to the edge of the city, where you can discover Rome's ancient road, the Via Appia Antica. Be ready for some mindblowing places to see, that you'll know what await you in the Eternal City. Here are the top Rome streets! Also, make sure you check the best hotels, hostels, and luxury hotels to stay in Rome! Oh, and if you're visiting the Eternal City, you definitely should consider taking a cooking class, like a pizza-making class in the heart of the city. Such a fabulous experience!
1. Via della Reginella – 2. the street Via dei Pastini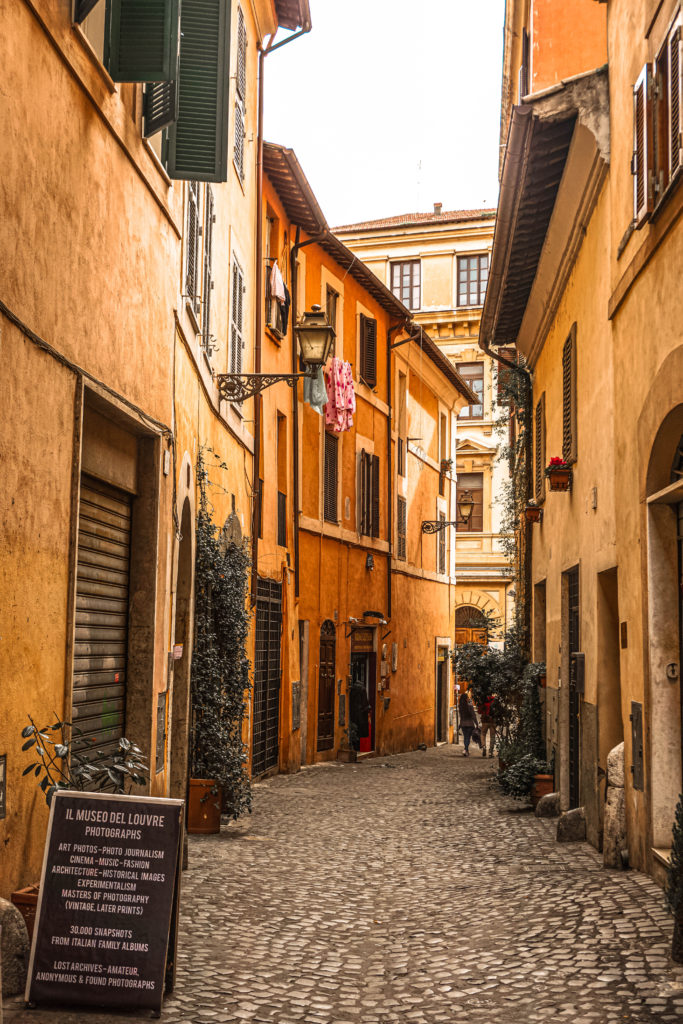 Those incredible little streets of Rome are one of the many reasons I love the Italian capital so much! It's all about experiencing, breathing it in, enjoying it. Rome is not the place where you should be running with a tourist bus around. Rome is the city that you have to experience, to feel!
I've been to Rome for the first time in 2015, and I got so addicted to this place that has kept returning to the Eternal City, making it by now 9 total visits. Between the many hours I've spent over the years wandering in Rome, I discovered some of the most stunning Rome streets that exist. One of my favorites is in the area of Campo de Fiori and the Jewish Getto in Rome. This is the Via della Reginella, one of the cutest tiny alleys I've ever seen.
The Via dei Pastini however isn't that hidden, and you can easily find it if you're in the area of Pantheon. If you're facing the Pantheon on Piazza della Rotonda, the street called dei Pastini is the second street on the left-hand side. It's a beautiful and charming narrow street full of bars and restaurants. Even if it's really busy on the list of Rome streets, you just have to look up and watch your surroundings above the head of the people.
3. Via del Governo Vecchio, Rome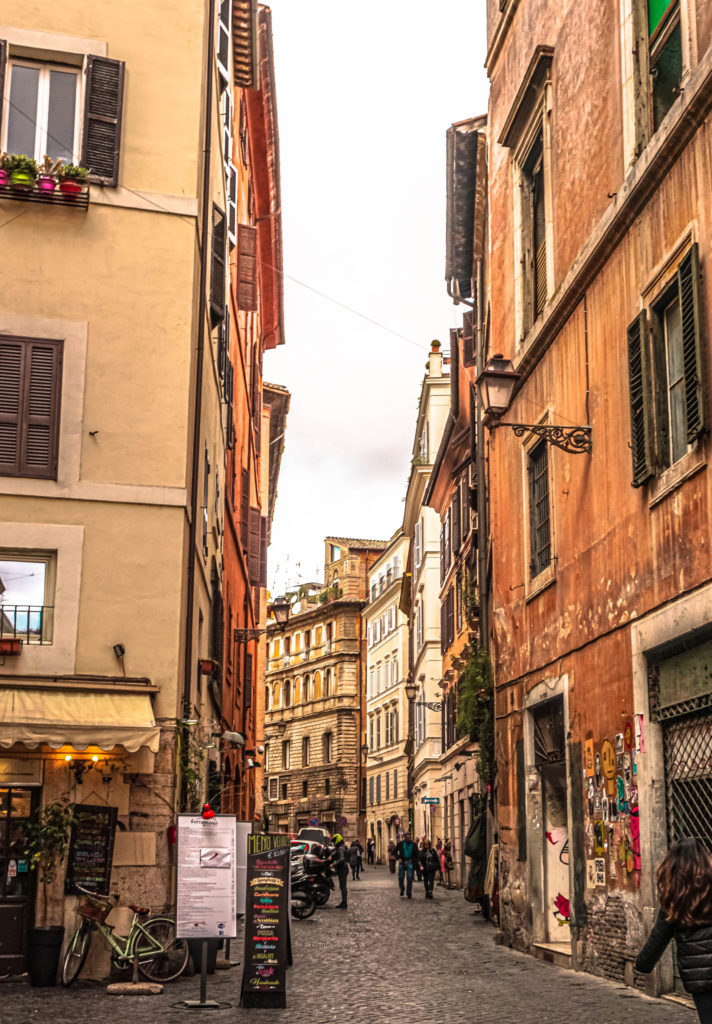 Via del Governo Vecchio is the street in Rome where I spend most of my time when I'm in the city. I discovered it back in 2015, and ever since that, this is my favorite street in Rome! Via del Governo Vecchio runs from Piazza Navona almost to the Castel San Angelo, parallel with the main street of Corso Vittorio Emmanuele II.
My favorite bar, the Bistro and Wine Bar Pasquino, and one of my fav restaurants, the Ristorante Pasquino is located on this street in Rome. They are both steps away from Piazza Navona. Also, one of the best gelaterias (ice cream shops) called Ice cRome is located right opposite these restaurants. Besides the charm, that really Italian narrow, cobbled street vibe, the buildings are beautiful as well!
Via del Governo Vecchio also offers a variety of bars, restaurants, shops, more gelaterias, book shops, art galleries, and antiquity stores all along the way! There's no way to not find something you like on this Roman street!
All in all, Via del Governo Vecchio is definitely one of the top Rome streets! Find details about this area, Piazza Navona, and its neighborhood in my previous article:
4. Via dei Condotti – the luxury street in Rome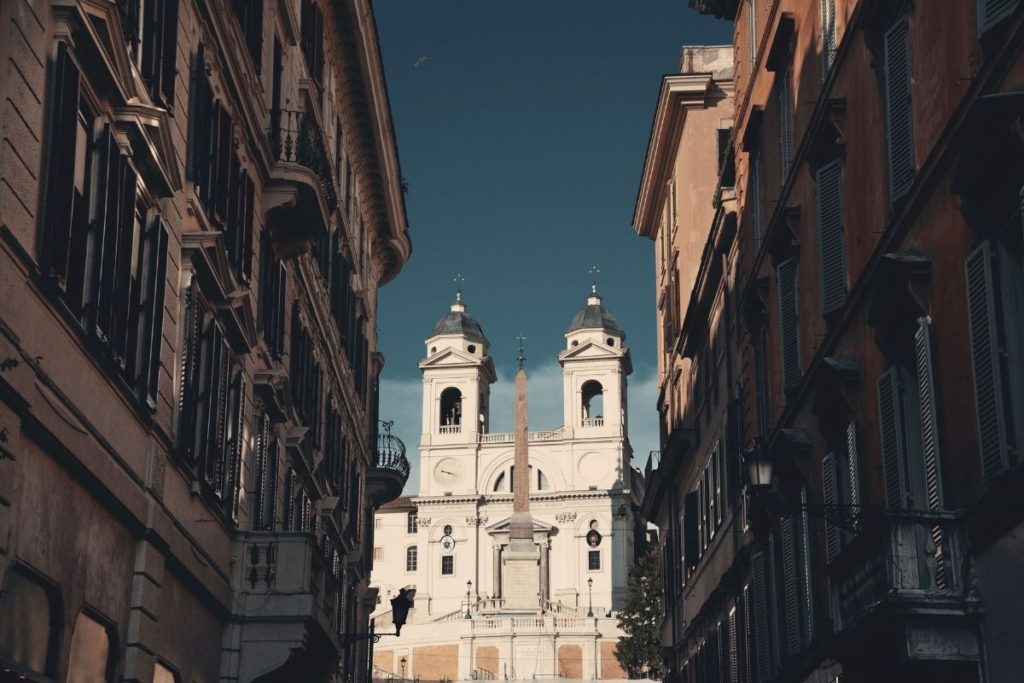 Each big city has its fashion street where you can find all the famous luxury brands, the fanciest of the Rome streets is definitely Via dei Condotti. Via dei Condotti links Via del Corso with Piazza di Spagna, where you can find the famous Spanish Steps. I know many of you are looking for the famous shopping street in Rome near Spanish Steps, so I wanted to highlight Via dei Condotti, as I do find this street fascinating!
If you're heading from Via del Corso through Via dei Condotti, you'll have an amazing view of the Spanish Steps and the church of Trinita dei Monti. So even if you're not interested in shopping, or admiring the shopfronts, this view is worth a walk through Via dei Condotti!
Via Condotti features all the famous Italian fashion brands like Armani, Versace, Dolce & Gabbana, and Prada. You can also find Bulgari on Via dei Condotti, between many others like Chanel, Luis Vuitton, Swarowski, or Cartier. When I've first walked down this street I was still at university. That day I've promised myself, that if once I'll buy a luxury item, I will do it on the famous shopping street in Rome near Spanish Steps!
Best streets in Trastevere – Top Rome Streets
Trastevere is the place where you want to go if you're addicted to these orange buildings with window shades, and you don't want crowds. The most authentic neighborhood in Rome, Trastevere is a must, especially that you can find here some of my top Rome streets as well! Now, let's see the most stunning, best streets in Trastevere, shall we?
5. Via del Moro – 6. Via della Pelliccia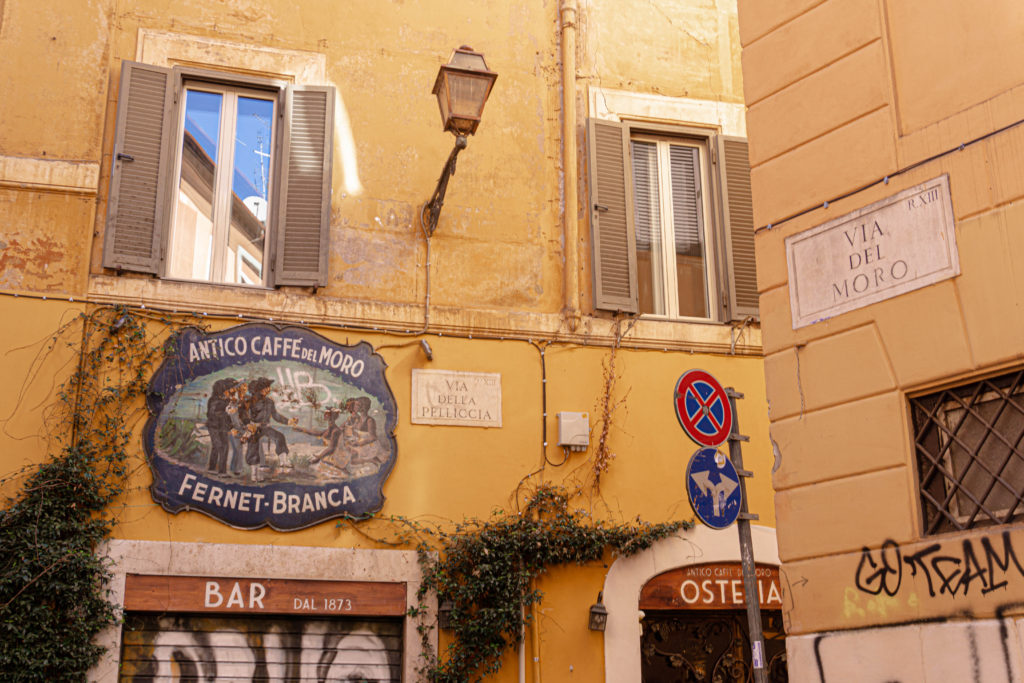 Rome is one of the most beautiful cities in Europe, and its most charming neighborhood is this one! Trastevere is my second favorite neighborhood in Rome after the Navona neighborhood! It is located south of the Vatican city, near the Tevere river. One of those things I love the most in this area is the Rome streets. Colorful, cozy, vibrant, and VERY ITALIAN.
You're bumping into traditional bars and restaurants on every step, literally! Colorful buildings, flowers, the cobblestone roads, ivies on the walls, and beautiful rooftop terraces covered in plants… It's all just so charming! In my opinion, Via del Moro and Via della Pelliccia are some of the best streets in Trastevere that you should see!
7. Vicolo Moroni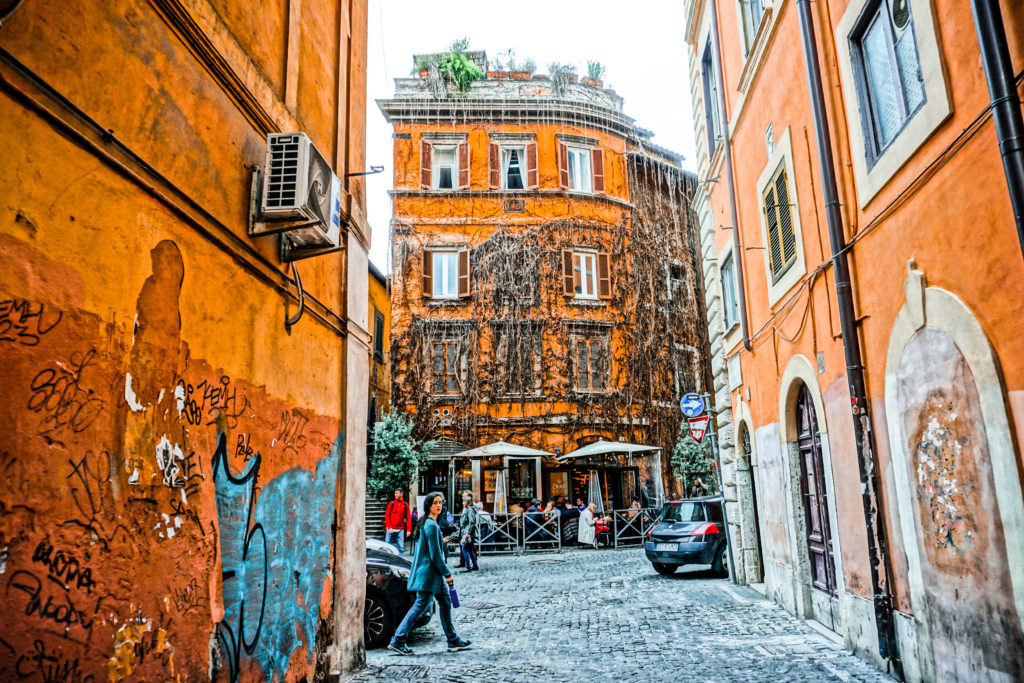 Since 2018, I've been always booking my hostels/hotels/b&bs in Trastevere. One of my favorite places, while I was traveling alone, was the Orsa Maggiore Hostel for Woman Only. There's nothing better than going out in the morning for a cappuccino and having it in such a beautiful and colorful neighborhood as Trastevere!
Trastevere is a bit outside the center of the city, which explains why is still much more traditional, and Roman, than other sides of the historic center. For a real Italian experience in Rome, definitely try to stroll around the best streets in Trastevere!
---
8. Via Margutta – a Roman Holiday shooting location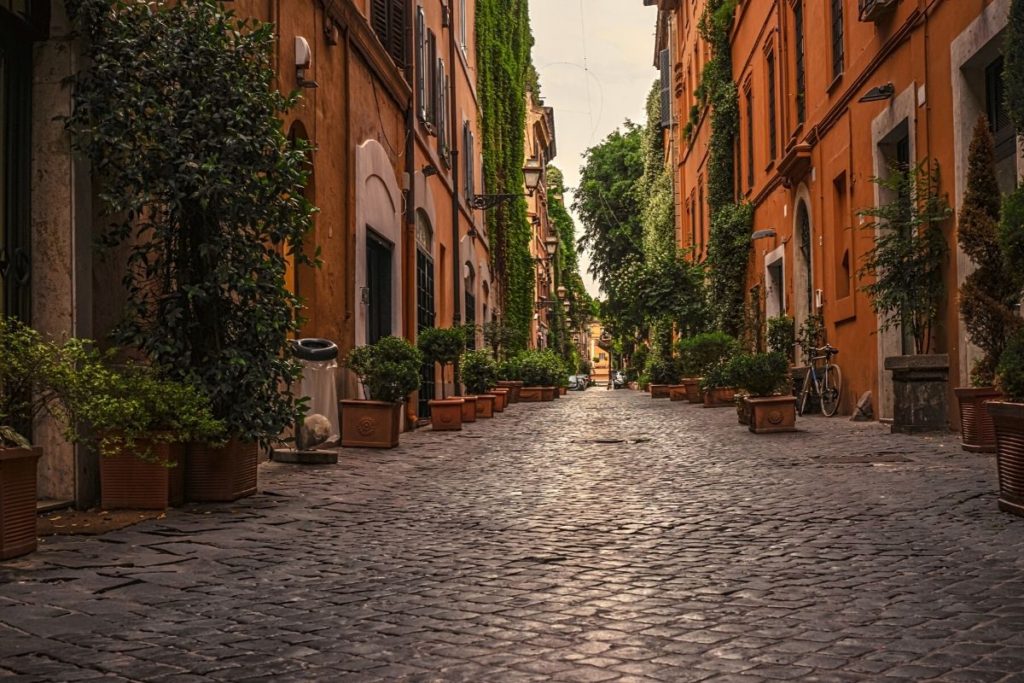 Via Margutta runs between Piazza di Spagna and Piazza del Popolo. It's a more hidden street in Rome, but with Google Maps you'll find it easily. Originally, Via Margutta was home to various stables and workshops. It changed its face in the 20th century though! Via Margutta is also one of the Roman Holiday filming locations, and one of my top Rome streets.
It became famous after the premiere of the Roman Holiday movie. As you may know, Joe Bradley (Gregory Peck) in the movie was living on this street of Rome, on Via Margutta. Thanks to the success of the Roman Holiday movie, many famous people moved here afterward.
This is how the neighborhood slowly became an exclusive, really expensive neighborhood in Rome. Today Via Margutta is hosting numerous art galleries, luxury shops, and restaurants. The neighborhood is still the residence of a wealthier layer of Romans. f you're in the city, don't miss the Roman Holiday shooting location, one of the most charming streets in Rome.
---
9. Via Giulia – a hidden piece of art by Michelangelo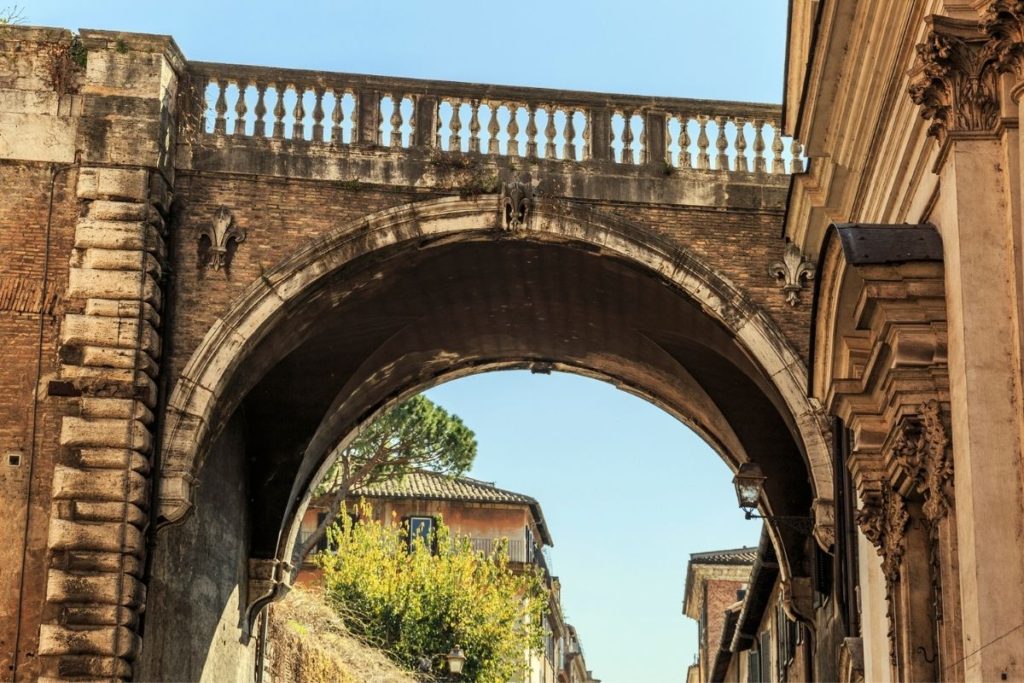 Via Giulia goes parallel with the Tevere river on the historic center of Rome. It's really close to Piazza Navona, Corso Vittorio Emmanuele II, and Campo de Fiori. Via Giulia was one of the first projects of Renaissance Rome. One of the top Rome streets was designed by Bramante, who at the same time was working on the St Peter's Basilica.
The street links the Ponte Sisto Bridge with the San Giovanni di Fiorentini church. Back in the 16th century, it was Rome's most fashionable street, where merchants and bankers lived. It's still considered a really elegant side of Rome, though it looks like it's not as popular as a couple of years ago. Via Giulia, the past decades were really popular for its antiquities and fashion boutiques, but today you won't find many of these open.
However, this Roman street is still considered significant because of the amazing renaissance artist, Michelangelo! He had a plan to connect the Palazzo Farnese which can be found on this street in Rome, to the Farnese Villa in the Trastevere district. You can still see this arch leaning over Via Giulia on its southern end. If you're visiting in warm season, the arch is covered in flowers, and in ivy later on. It's one of the most stunning streets in Rome!
---
Streets of Rome in Campo di Fiori neighborhood
10. Vicolo del Malpasso – 11. Vicolo della Scimia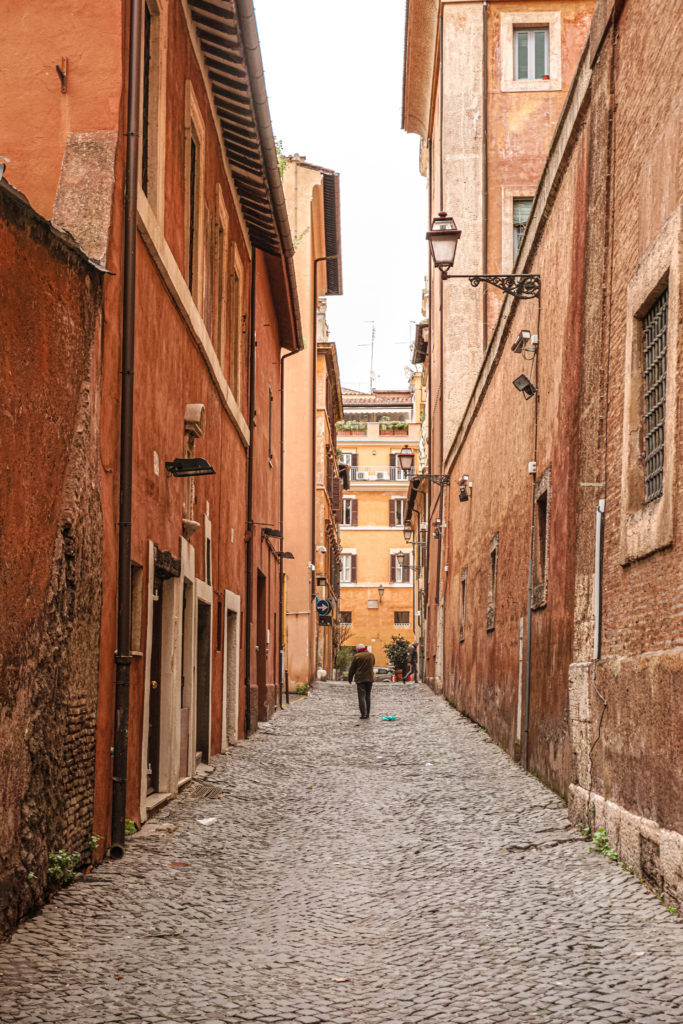 Some of my favorite hidden streets in Rome are in the neighborhood of Campo di Fiori. As this side of the Corso Vittorio Emmanuele is not that overwhelmed with visitors, the streets are much nicer, calmer, charming. As I was staying mostly in the Trastevere neighborhood, the easiest way to get there was always through the cobbled streets. This is how I discovered both Vicolo del Malpasso and Vicolo della Scimia between many others!
Vicolo della Scimia got burned into my brain because I had to pass through it every single time I was going to or from the historic center of Rome. This one street in Rome couldn't be replaced with another, and I was always freaking out on it. Don't worry, it's a safe street! Otherwise, I wouldn't be suggesting seeing it!
The reason I was freaking out, because I'm terribly afraid of rats, and Rome has a great population of them. On this vicolo, there's no place to go right or left, and it has no doors. So you get on it on one side of the palazzo block and you get out on the other side.
So I was always stressed out, that what if a huge rat will walk against me?!? Where I'm going to run? What if one walks onto the street from one side and the other from the other side? I can't escape!!! Of course, that never happened, but when someone's this terrified, our brain can play with us a lot.
12. Via del Corso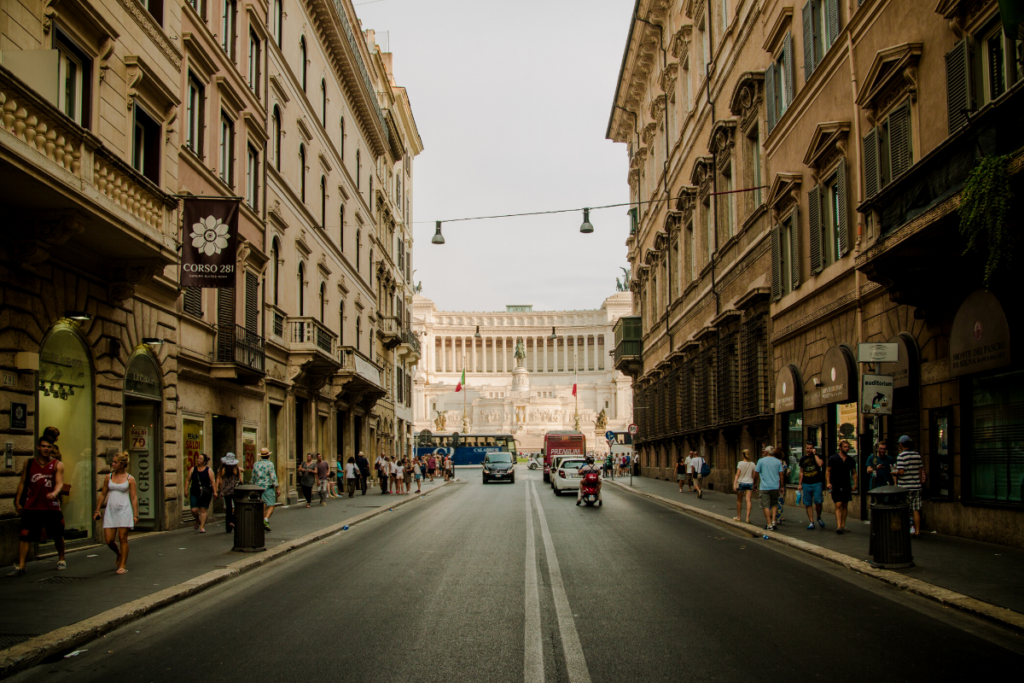 Via del Corso is one of the main streets in Rome in the historic center. This street in Rome starts at the stunning Piazza Venezia, which you can see in the above picture is dominated by the Altare della Patria. Then it runs all the way to the Piazza del Popolo.
Via del Corso is one of the streets of Rome that runs through the neighborhood of the Trevi Fountain, the Pantheon, and the Spanish Steps on Piazza di Spagna. It is one of the busiest streets in Rome, and it's also considered a shopping street in Rome since on both sides it's packed with luxury and mid-budget shops. Via del Corso is definitely one of the main streets in Rome that you must visit!
13. Via Nazionale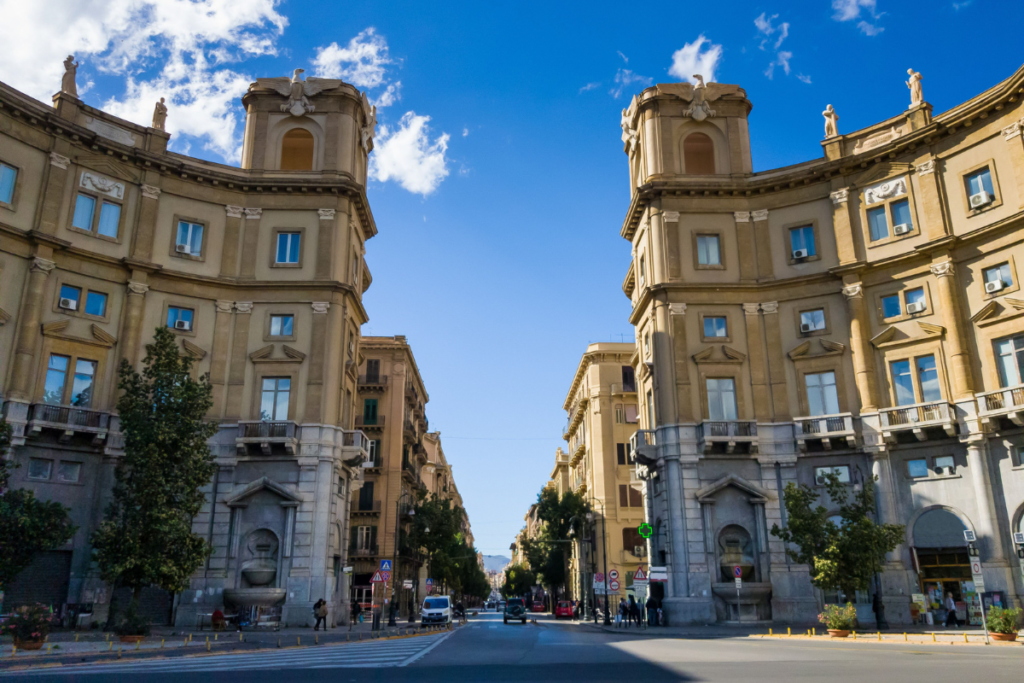 Via Nazionale is another of the main streets in Rome in the historic center. The street link Piazza Venezia to Piazza della Reppublica. All along of this street in Rome, you can find Italian and foreign fashion boutiques as well as restaurants and bars.
If you're in the Termini train station area, you will definitely pass on Via Nazionale at least once, since most of the buses going to Piazza Venezia head along Via Nazionale. It's one of the best main streets in Rome you shouldn't miss!
14. Via dei Fori Imperiali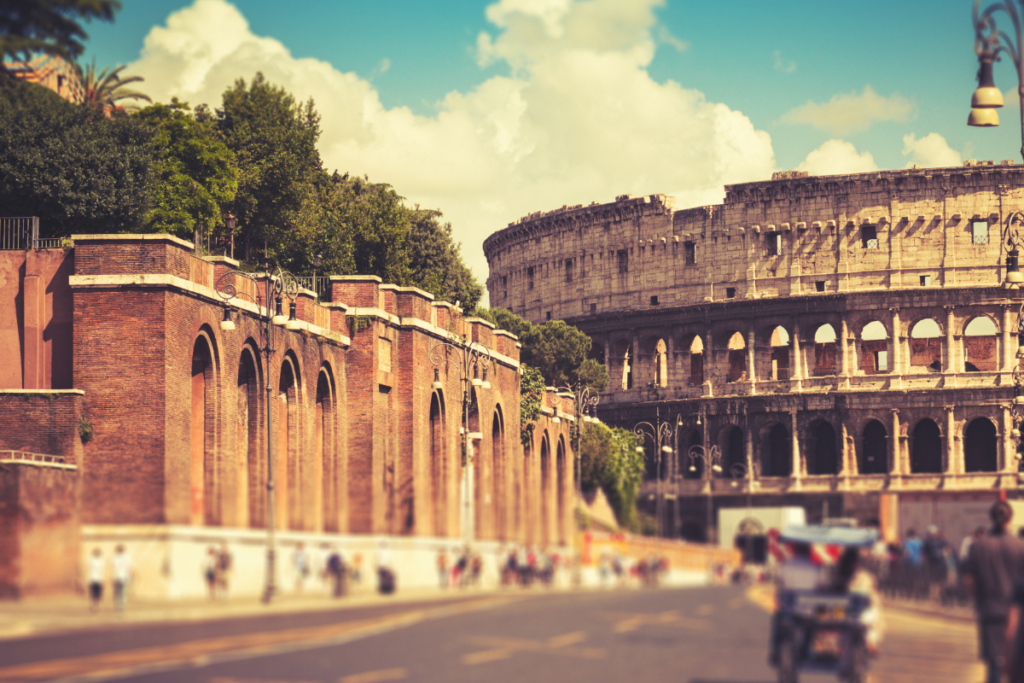 Via dei Fori Imperiali is one of the top Rome streets! This is a must, no matter what you're interested in! The Via dei Fori Imperiali links Piazza Venezia with the Colosseum. This ancient street in Rome runs between ancient Roman buildings, the Roman Forum, Trajan's Column, and other important ancient buildings from the Roman Empire.
Via dei Fori Imperiali is one of the most beautiful streets of Rome, and it's definitely something you must see! You can walk along 2000 years of history on just one street in Rome. You can find 2 luxury hotels, one near the Altare della Patria and one near the Colosseum, where you can enjoy an Aperitivo while having an amazing panoramic view.
15. Via Appia – the ancient Roman road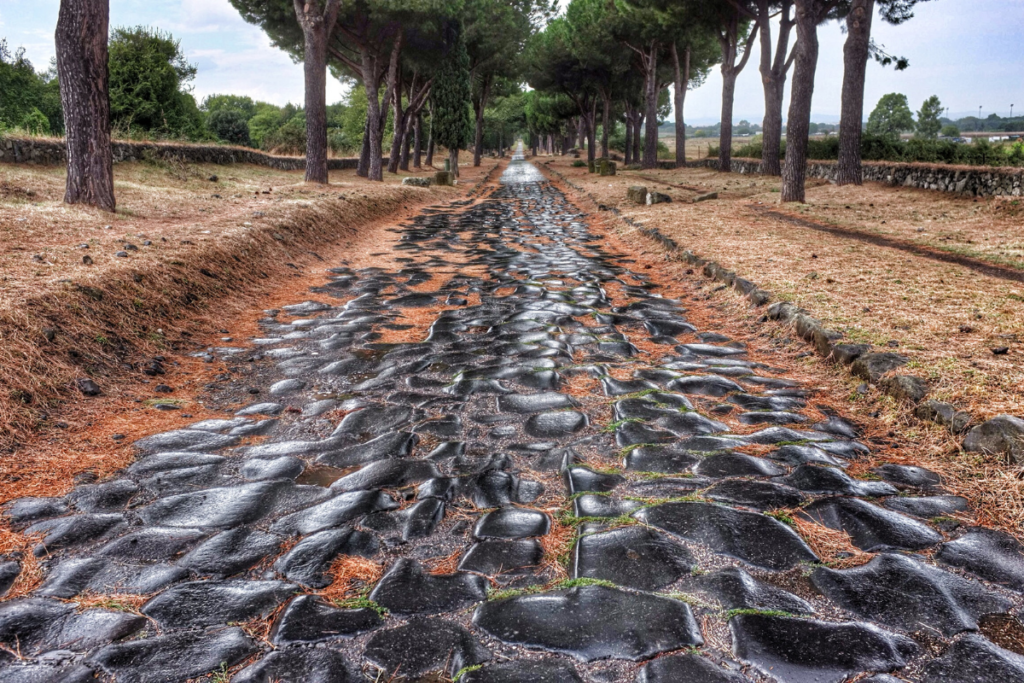 Via Appia Antica is one of the ancient Roman streets that had a very important role during the Roman Empire. The Via Appia Antica was one of the oldest and most important ancient roads in the Roman Empire. It was built and used for transporting military supplies to the South, as the Via Appia connected Rome with Brindisi, which at the time was a major port in the Mediterranea, on the Adriatic sea. Now at the edge of the city, a part of the ancient road became one of the most fascinating parks in Rome, Italy. Imagine that you can have a nice walk, or ride a bike along the more than 2000 years old ancient Roman road. A place that is filled with history, blood, and victories.
I'm recommending you the Spartacus tv show to see before you're visiting Rome because if you do, you will not want to miss the ancient Roman road, Via Appia near Rome. Why?
Via Appia and Spartacus
The crucifixion of Spartacus' army. For those who didn't hear the story: Spartacus was a roman gladiator in Capua (he wasn't roman himself). He managed to break free and build an army of liberated slaves so big that they managed to defeat quite a few armies of the Roman Empire. After two years of battle, he led his army in Apulia/Calabria where they got trapped. The Romans brought back from abroad their forces, and with the leading of Marcus Licinius Crassus, they defeated Spartacus.
Crassus' and Pompey's armies captured thousands and thousands of rebels on the battlefield. Between Rome and Capua, at a distance of 200km along the Via Appia, a number of 6000 slaves were crucified. The tv-show is really great, worth watching it! Thanks to the historical base of the storyline, you can learn a lot about the Roman Empire, its culture, and life. With this, your imagination can turn on on the Via Appia, not just about merciless acts, but also about great victories.
These days you can visit many catacombs and mausoleums along the Via Appia Antica, there are bike tours, self-guided walking tours, and guided tours available in the area of this ancient street in Rome. Locals usually come out this way for outdoor activities, sports, and picnics.
Wrapping up the 15 most beautiful streets of Rome – Top 15 Rome streets
There are so many more streets in Rome, and I'm actually thinking to expand this article from 15 to 20 best streets in Rome. There are other stunning Rome streets, such as Via dei SS. Qauttro, Via delle Quattro Fontane, Via della Conciliazione, or Corso Vittorio Emmanuele II. Rome has so much to offer, squares, fountains, and museums, as well as viewpoints and much more. If you're in need of a Rome itinerary, I've got you covered for that one too! What you should keep in mind, to find even more beautiful streets in Rome, just put away your map, and head on to explore the streets of Rome. Discover the magic, find the hidden gems, and just breathe in the atmosphere of the top Rome streets, that you need to experience yourself!
Pin Me: Rome Streets to see – 15 streets in Rome, Italy!
---
Find the best accommodations for your trip to Rome, Italy!
---
15 Beautiful Streets of Rome You Need To See