What is Aperitivo? Many of you might want to know what is Aperitivo means, and what is Aperitivo in English. In this post, you're going to learn about one of the most beloved afternoon traditions in Italy. Aperitivo is part of the Italian culture, something that's naturally implemented in every Italian's life. I'm going to share with you some cultural insights, the history of Aperitivo, as well as when is the Aperitivo hour, or happy hour as you may know it. Also, we're going to speak about a few Aperitivo cocktails, Aperitivo liqueur, and the fabulous Aperitivo spritz types we drink in Italy. In Italy, everything revolves around food, and traditions are kept and passed down on generations. I'm going to share more about this, and the aperitive definition!
Aperitivo meaning – What is Aperitivo?
So what is Aperitivo in English? Aperitivo meaning appetizer, it's a great, loved, and respected tradition in Italian culture, especially in the north. The simple aperitive definition is the snacks and bitter opening drinks, Aperitivo cocktails that you drink before dinner. Appetizers as such, in other countries, are called snacks. That afternoon thing you know that you're eatving between lunch and dinner. This simple thing, snacks, however in Italy became something more. A tradition where you prepare your stomach for the amazing food you're going to have at dinner.
✦ Where does the tradition of Italian Aperitivo come from? – Aperitivo History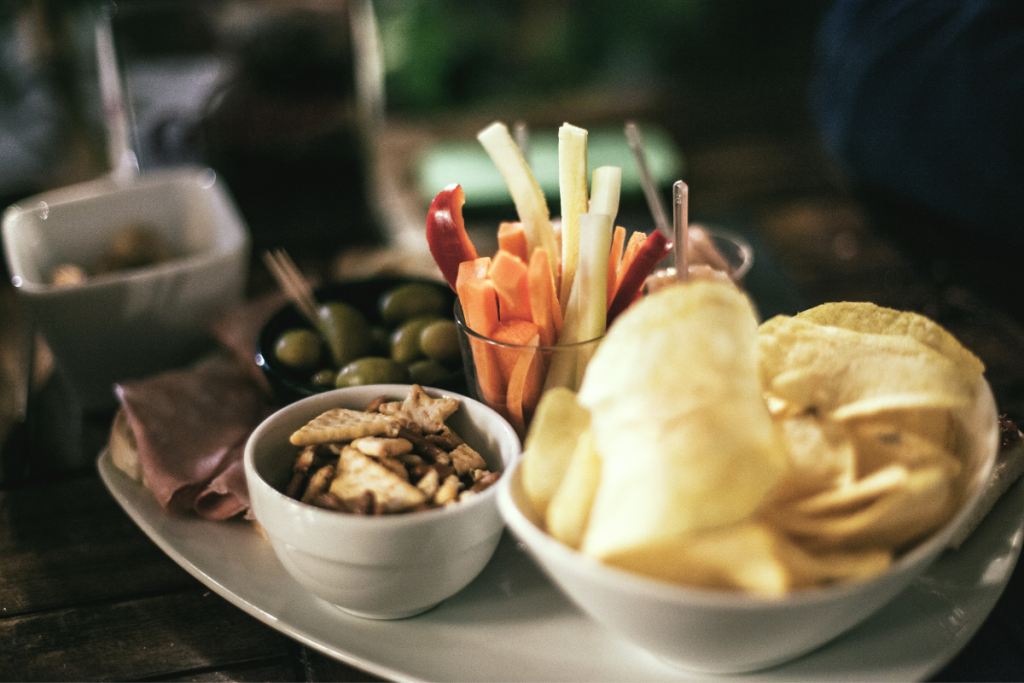 What is Aperitivo? The definition of "aperitif" originates from the Latin "aperitivus" that means "that opens", so a drink that's capable of opening the stomach by stimulating the sensation of hunger. This bizarre meaning comes from the 4th century BC when the greek Hippocrates discovered that to alleviate the loss of appetite of his patients, it was enough to give them a drink with a rather bitter taste that's based on white wine, dittamus flowers, wormwood, and rue.
It is believed that the Italian Aperitivo originates from the 18th century from the Piedmont region. More exactly, Aperitivo began in Turin in 1786 in a small liquor shop managed by Antonio Benedetto Carpano. He brought to life the later aperitif drink, the Vermouth that's a delicious wine flavor with cinchona. This became the favorite drink of the Italian king, Vittorio Emanuele II.
More Aperitivo History
The point of Vermouth was to put a small glass to drink on the table that people had before dinner, just to eat with more taste. At the moment this drink became popular, in Piedmonte they started to serve it with local snacks, such as cheese, cured meat, and similar products. Later, in the 19th century in Tuscany, Count Camillo Negroni accidentally invented a vermouth-based concoction that's named Negroni, which soon became the preferred Aperitivo liqueur in the region of Tuscany. This then evolved with the famous Aperitivo spritz in Veneto.
The Aperitivo Spritz was born in the north of Italy. Veneto was under the control of the Austro-Hungarian Monarchy in the 19th century. Spritzen, that's also famous in Hungary, is a wine with sparkling water. The water it's believed that equilibrate the strong taste of wine, so the Austrian soldiers asked for wine with water. This is where the Aperitivo Spritz comes from.
Later, the Spritzen evolved, when the amaro Aperitivo liqueur types appeared, and the Campari Aperitivo and some other liqueurs became famous. Veneto has a whole tradition for their Aperitivo time, and besides the best Aperitivo spritz of your life, you'll also get Cicchetti, which are tiny sandwiches with different, delicious toppings.
---
✦ How the Italian aperitivo works?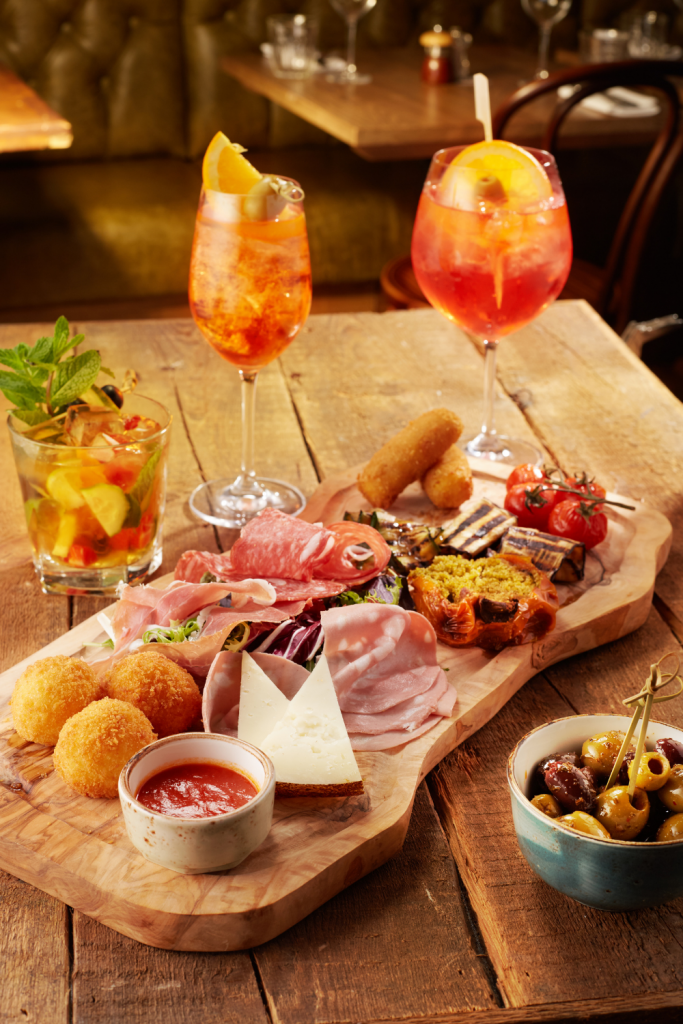 Now that we discussed the Aperitivo history and Aperitivo meaning, it's time to speak about how Aperitivo hour (actually hours) work. An Italian Aperitivo starts at 6 pm and lasts until 8 pm when it's official dinner time. In Italy, you don't say to people that let's meet at 6 pm. You say let's meet at Aperitivo time, or if you're meeting at 8 pm, you say you're meeting at dinner time. After about 9:30 pm you're saying that you're meeting after dinner instead of the hour.
This way, people always know, that they are going out for Aperitivo, for dinner, or after dinner. Since I've mentioned many times, that everything revolves around food here, the part of the day is also called after the dining time. So if you're doing an Aperitivo in Italy, you head to a bar where they serve appetizers, and you say that you want to do Aperitivo. This way, they know that you want to eat the finger food that they serve on the side.
In many places, you don't have to say anything, and they will still bring you the food on side of your Aperitivo cocktail, but it's always good to tell the waiter you meet when you step into a bar or bistro. Now, at aperitivo there are specific cocktails you're drinking, either doing Campari aperitivo or Aperol spritz, the most famous these days is always the Aperitivo Spritz. Below you'll get ideas on what drinks you may order at this time.
---
✦ What to order at aperitivo time? Aperitivo drinks & fingerfood
Aperitivo meaning food and great aperitivo cocktails? Oh Yes, the Aperitivo hour is full of delicious bites and amazing drinks. The type of aperitivo food you're getting really depends on what region of Italy you're visiting. In Veneto, you'd get Cicchetti, that slices of baguette with different toppings. In Emilia Romagna, different pieces of puff pastry, mini pizza, and many types of delicious cold cuts that you'll get. As you may know, Emilia Romagna is really famous for its food products, cheese, and meat.
Down south, the different types of Bruschetta are more popular at Aperitivo time. Also, the places that are not big on Aperitivo would mostly serve things like chips, olives, and peanuts, rather than more complicated finger food. So, for the food, you can't actually order specific finger food to get. You get what they serve for aperitivo. And also, the food is never paid. That's why most of the time they don't ask you, just bring the appetizers along with your drink.
As for the Aperitivo cocktails and spritz, one of the most popular drinks you could get is an Aperol Aperitivo drink, so an Aperol Spritz. The Campari Spritz, the Negroni, Sbagliat, and American are also really popular. Moreover, you can choose other cocktails like Bloody Mary, Hugo Spritz, or even Mojito at Aperitivo time. Cocktail Sours are also popular drinks, but this as well as many others like Gin Tonic or Moscow Mule are preferred after dinner since they are not actually appetizer makers like the amaro liqueurs that are in the Spritz and the other Aperitivo cocktails.
---
✦ Aperitivo at home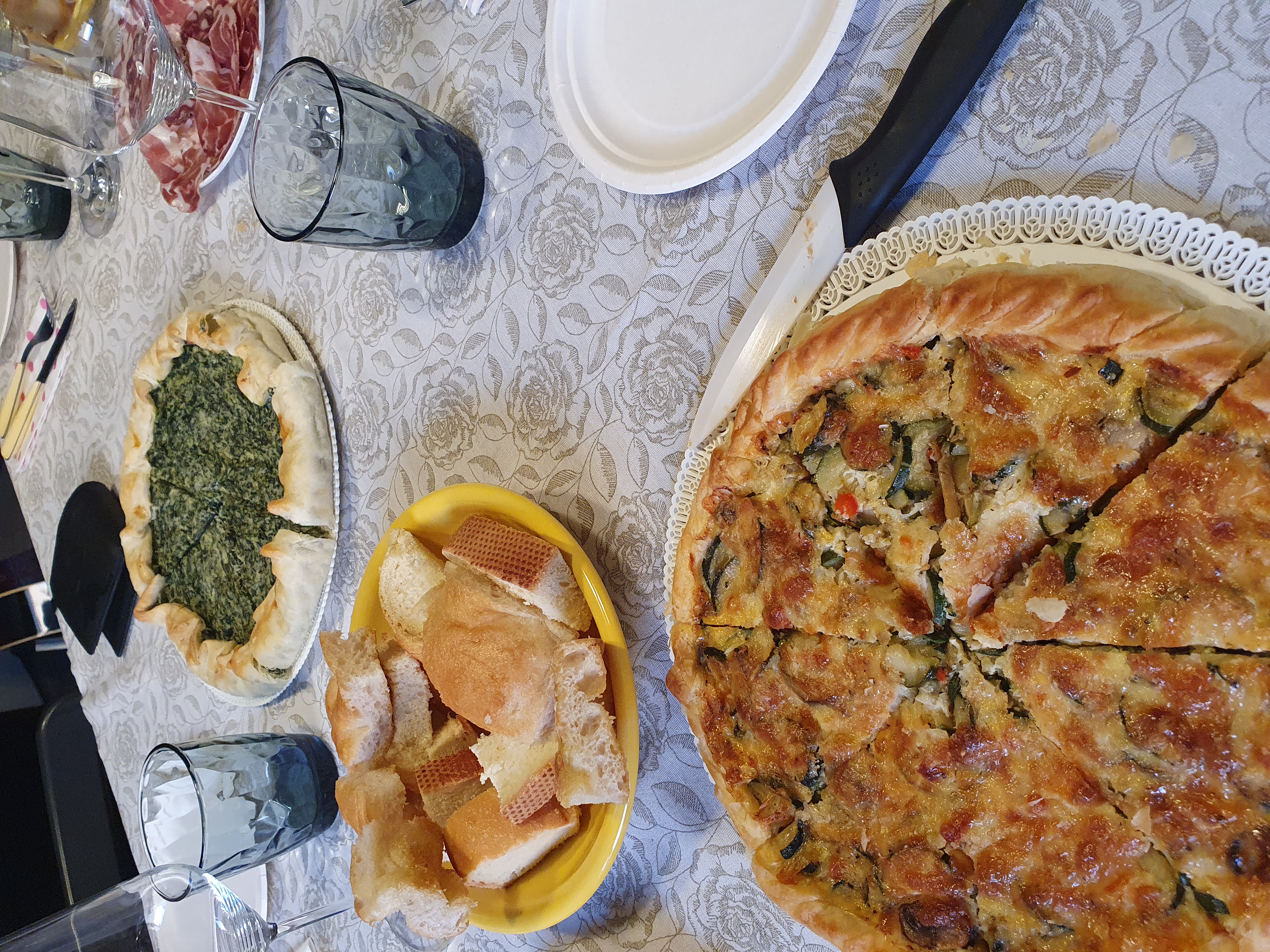 When you invite friends over, Aperitivo meaning changes a bit. It's more about connections and the love for great food and drinks. Now that we discussed what is Aperitivo in English, here's something that we in Italy love to do! The Italian Aperitivo at home is even better than if you'd be doing it in a bar. There a quite a few things that can't miss from the table, but no matter if you're based in the UK, or in the US, you can do the same at home with just a few things that you can't skip or change.
Aperitivo liqueur such as the Vermouth, the Campari, Aperol, and similar goodies can be found in any European country, North America, or Australia. For other sides of the world, I don't want to confirm it since I'm not sure how easy is to find these drinks in the stores. Therefore, you can make at home your favorite Aperitivo spritz to serve to your friends or family. All the Aperitivo cocktails are easy to make and they usually involve about 3 simple ingredients.
Aperitivo food at home
As for the food, the Italian cheese such as Parmigiano Reggiano (parmesan) or other matured cheese, Gorgonzola, or even soft cheese types can't miss. Also, a Focaccia is always a good idea, and if you like baking, you can easily make focaccia at home. I'm not big on baking, yet, especially in the colder months, I bake 1-2 Focaccia once every two weeks at least. Also, some Italian cold cuts, like salumi, and prosciutto crudo can't miss from the table. In case you have access to it, getting near the prosciutto some coppa and pancetta is always nice.
Then, there's the other Italian aperitivo hour favorite, that you can also easily do at home, the Torta Salata. My personal favorite, which I always prepare if we're having aperitivo at friends, or I host it myself, is the Torta Salata con Zucchine. So, it's a salty pie with zucchini and eggs basically. It's almost like an omelet, but it's all placed in round puff pastry.
---
✦ The most prefered Italian aperitivo cocktails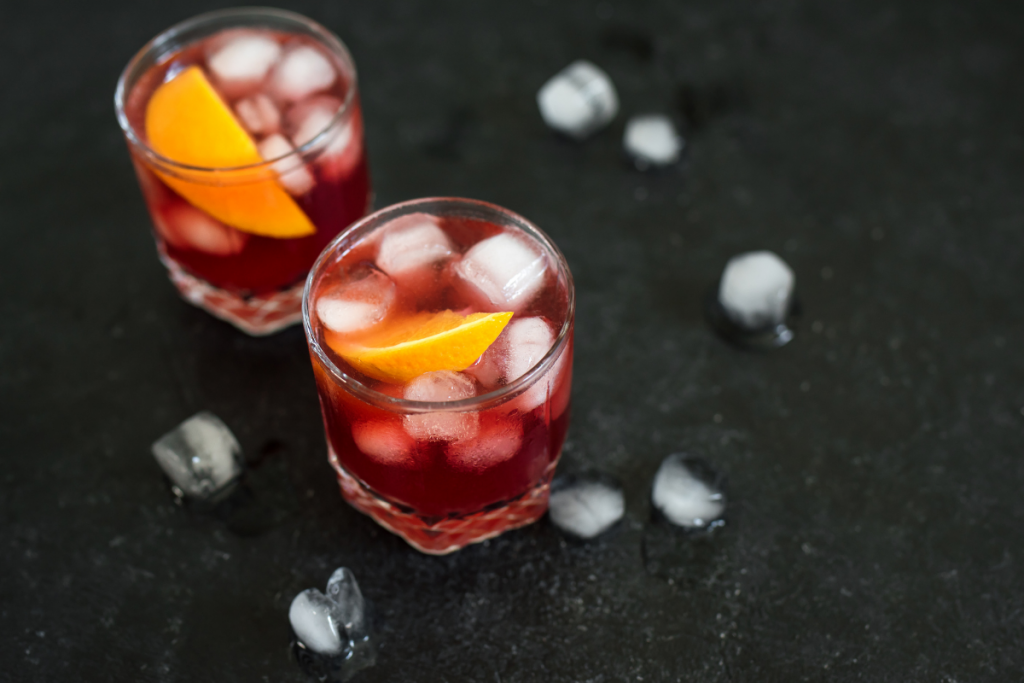 One of the most famous Aperitivo liqueur is the Campari. A Campari Aperitivo is something that's really popular especially in the north. If you're visiting Venice, you'll find there that more people order Campari than Aperol Aperitivo drinks. Some of the above mentioned Aperitivo cocktails that you can easily make at home, or at least know what they are made of:
Aperitivo Spritz is made of 3+2 ingredients. The 3 base ingredients in an Aperol Spritz are the Aperol liqueur itself, Prosecco wine, and sparkling water. Then, the extra two ingredients are the ice and the slice of orange or olive. Ice can't be missing from this drink, so that's just as important as the 3 base ingredients!
Negroni is another favorite of many. For me, the Negroni is way too bitter, so I usually go with its lighter version, the Sbagliato. A Negroni is made with ice, obviously, then Campari liqueur and Vermuth. My favorite Version, the Sbagliato is made with these same ingredients, but it's split into 3 The third ingredient is Prosecco. The Prosecco Makes it sweeter. Also, there's a third version of the Negroni cocktail you could choose, and that's the Americano This, instead of prosecco, as the third ingredient has sparkling water.
Wrapping up what is Aperitivo
Now that we shared the Aperitivo meaning, and other details… If you're visiting Italy, you're in Venice, Rome, Milan, or Torino, and you want to try this appetizer tradition, now you know the Aperitivo means and what is the Aperitivo in English. When I first had my very first Italian Aperitivo in Rome, I've ordered Aperitivo Spritz, so Aperol Spritz. I must tell you, that at that time, I hated the bitter taste and I didn't drink again spritz for about two years.
Then I returned to Rome, and I decided to give it another try. That's when I fall in love with the Italian Aperitivo. Since I live in Italy, my taste shifted to something more bitter, and now the Campari Aperitivo is my favorite. I do either Campari Spritz or Sbagliato, but Aperol now it's rarer, and I choose to drink that more often rather in the summer. Now, remember that if you kind find in the store just 2-3 base Italian products, and a bottle of Campari or Aperol, you can already organize an Italian Aperitivo at home easily, following our tips and articles for Aperitivo food, bruschetta, and the list of Aperitivo cocktails too!
Pin it: What is an Italian Aperitivo? Aperitivo Meaning
What is an Italian Aperitivo? An Italian tradition you'll love