We'll talk today about some beautiful parks in Rome, Italy. If you're a frequent visitor on ShegoWandering, you know my opinion about Rome already. Please excuse me, but I'm going to say it again… For me, the capital of Italy is the most beautiful, most amazing, most fascinating capital city in the world! Because of that, you can find many articles on the website about Rome, Italy! You'll also have a few of them linked at the bottom of this article. If you want to discover more about the Eternal City, you just arrived at the right place! For now, let's see some of the most famous gardens in Rome, Italy.
One of the many reasons why I love the Italian capital city so much is because Rome is like a museum. There's a museum, an ancient building, a Renaissance fountain, or stunning church frescoes to find on literally every corner.
5 most famous gardens in Rome, Italy – Parks in Rome
Parks in Rome are plenty. You can find places like Villa Borghese, which is a really stunning, big park in Rome. But you can find hidden, small parks as well all around the historic center of the Eternal City. With this post, I'd like to highlight the 5 most famous gardens in Rome that you should see.
Each park has its own uniqueness, its own enchantment, and depending on what you're looking for, you'll always find one for your intentions. If you're in the city, also make sure you roll in a cooking class for the best Italian food experience in Rome!
1. Villa Borghese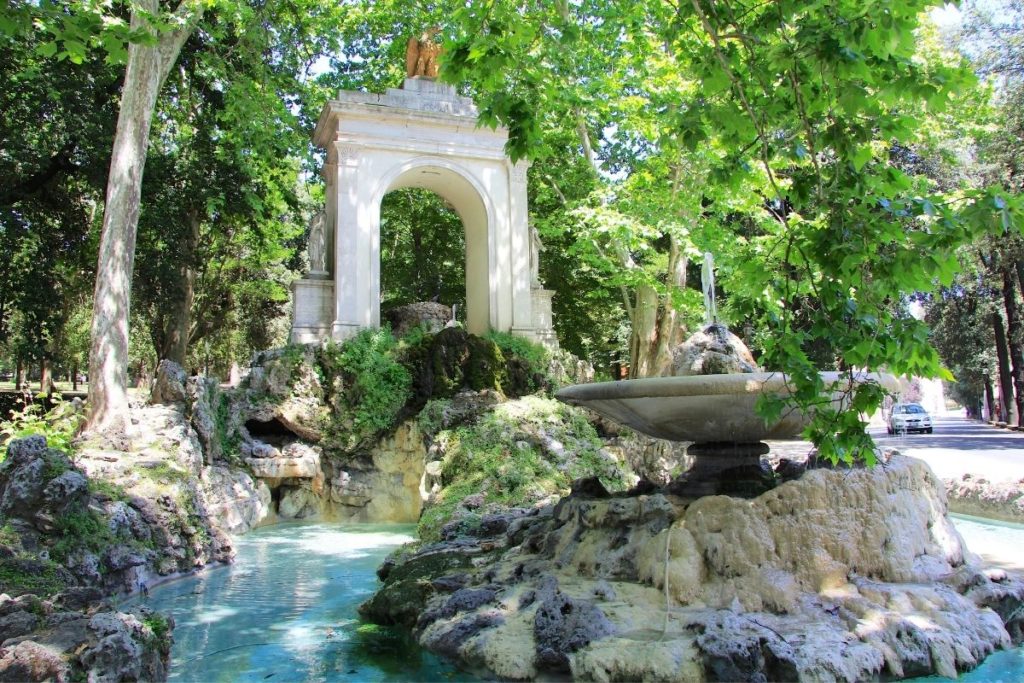 Villa Borghese is by far one of the most beautiful parks in Rome. The stunning park in Rome near Spanish steps is a must-see for everyone! I personally always found this one to be one of the prettiest parks in Rome!
Villa Borghese park is the 3rd largest park in the Italian capital. A landscape garden, on the hill near Piazza di Spagna and Piazza del Popolo. If you've been wondering, which is the park in Rome near Spanish steps, it is Villa Borghese!
Villa Borghese was used by Scipione Borghese as his villa suburbana, a party villa at the edge of the city. Today, the park is featuring beautiful pieces of art, sculptures, fountains, and architecture all over the landscape garden. With this, you can also find beautiful lakes, stunning flora, and also the Galleria Borghese museum, which is also a must-visit in Rome.
You can also rent a boat on one of the lakes in Villa Borghese, and enjoy nature in the heart of the Eternal city. In addition, you can also visit the nearby restaurants, and bars, ride a bike, or rent these 4-wheeled bikes. Villa Borghese, therefore, is great is you're visiting Rome with kids, as the park offers some great family activities. This park in Rome near Spanish Steps, Villa Borghese is a great after-lunch getaway in nature, a break from sightseeing in the city.
Are you ready for some more famous gardens in Rome, Italy? Here comes the next:
2. Orange parks on Aventine Hill, Rome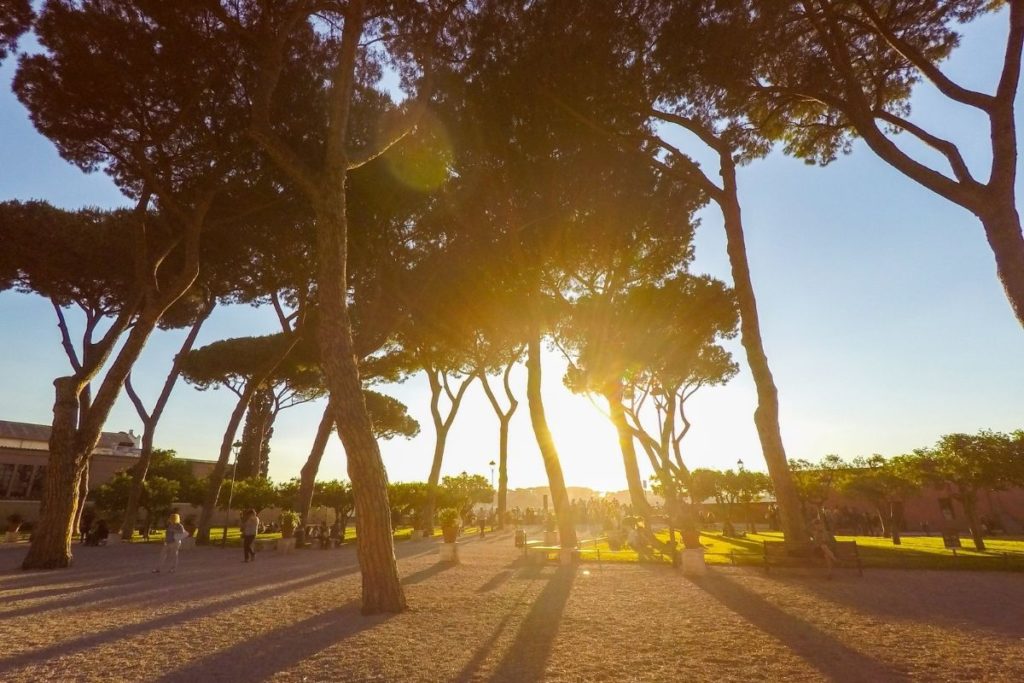 Two of the most stunning orange garden in Rome is on Aventine Hill. These orange parks are definitely some of the most famous gardens in Rome, Italy! The Aventine Hill, Rome is one of the 7 hills of the Eternal City. It's where you want to go to enjoy beautiful sunsets, and views over the city, and sit quietly under orange trees. It's where For me personally, the orange park in Rome, in Aventine Hill is where I go to turn off my mind, and let go of everything that's frustrating me. I love to just admire the city, and take in the positive energies while falling in love with Rome over and over again.
The Aventine Hill is right near Palatin Hill and the Circus Maximus. If your walking tour takes you to the Colosseum, and the Roman Forum, you should definitely add to your itinerary another hour or so, and walk up to Aventine Hill, and the beautiful orange park in Rome. Entrance to the parks is free. The two orange parks in Aventinehill are near each other, and they close for the night. If you're already at the orange parks on Aventine Hill, don't miss to look through the keyhole of the Maltan Knights',
A very important request here: This isn't a hang-out place where you can be noisy and disturb others. It's not the type of park where you should do that. Most people come here to relax in quiet, and recharge. If you want to spend some time here, then do it with respect! This place is not for listening to loud music, laughing around, or running around with kids. The orange park in Rome shouldn't be used as a free-time fun activity spot!
3. Via Appia Antica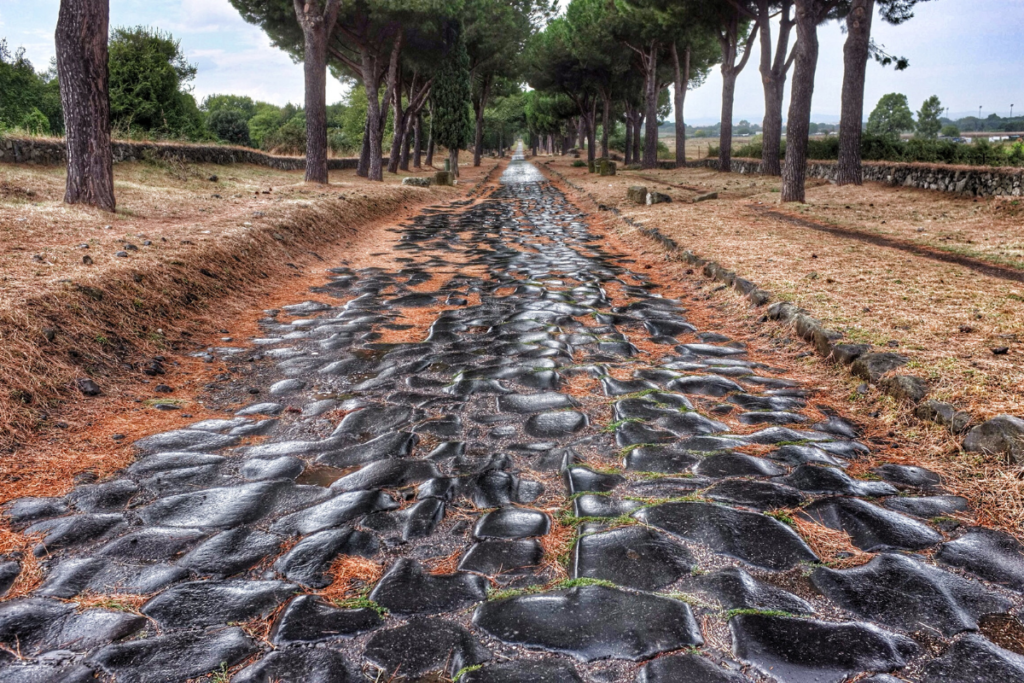 The Via Appia Antica was one of the oldest and most important ancient roads in the Roman Empire. It was built and used for transporting military supplies to the South, as the Via Appia connected Rome with Brindisi, which at the time was a major port in the Mediterranea, on the Adriatic sea. Now at the edge of the city, a part of the ancient road became one of the most fascinating parks in Rome, Italy. Imagine that you can have a nice walk, or ride a bike along the more than 2000 years old ancient Roman road. A place that is filled with history, blood, and victories.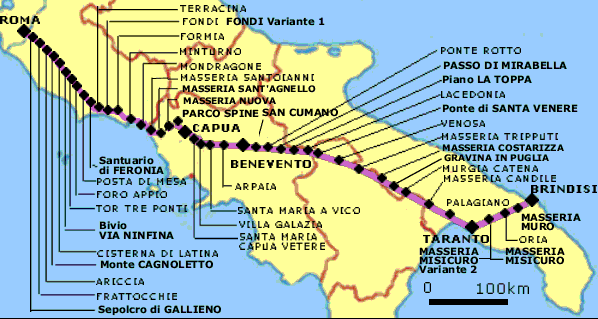 I'm recommending you the Spartacus tv show to see before you're visiting Rome because if you do, you will not want to miss the ancient Roman road, Via Appia near Rome. Why?
The crucifixion of Spartacus' army. For those who didn't hear the story: Spartacus was a roman gladiator in Capua (he wasn't roman himself). He managed to break free and build an army of liberated slaves so big that they managed to defeat quite a few armies of the Roman Empire. After two years of battle, he led his army in Apulia/Calabria where they got trapped. The Romans brought back from abroad their forces, and with the leadership of Marcus Licinius Crassus, they defeated Spartacus.
Crassus' and Pompey's armies captured thousands and thousands of rebels on the battlefield. Between Rome and Capua, at a distance of 200km along the Via Appia, a number of 6000 slaves were crucified. The tv-show is really great, worth watching it! Thanks to the historical base of the storyline, you can learn a lot about the Roman Empire, its culture, and life. With this, your imagination can turn on the Via Appia, not just about merciless acts, but also about great victories.
These days you can visit many catacombs and mausoleums along the Via Appia Antica, there are bike tours, self-guided walking tours, and guided tours available in the area of this park in Rome. Locals usually come out this way for outdoor activities, sports, and picnics.
4. Parks in the Vatican City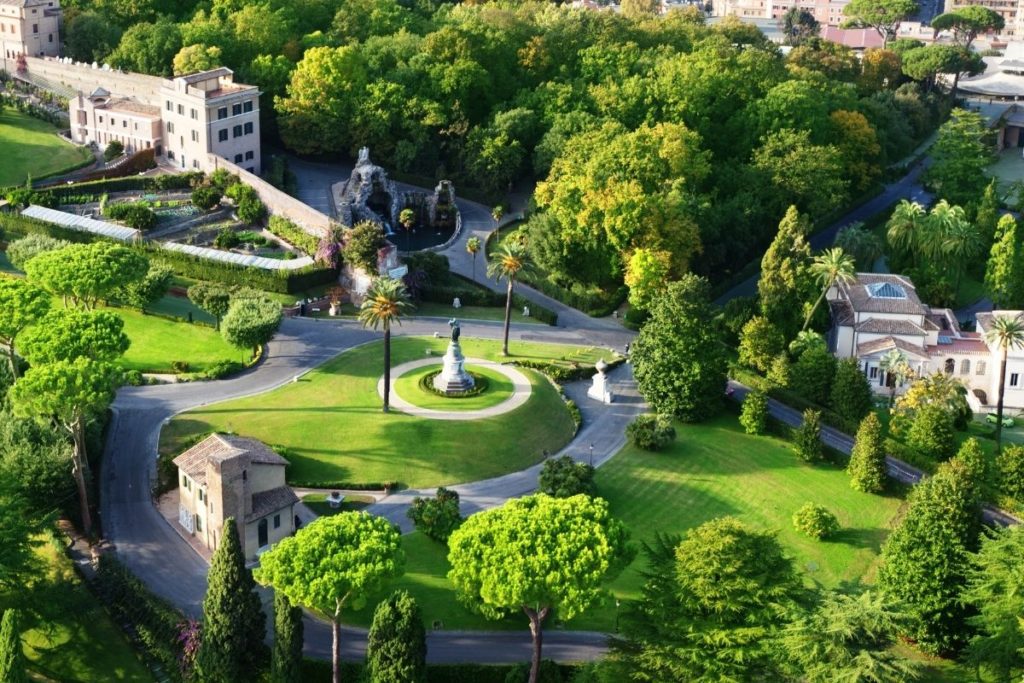 The Vatican itself is something that everyone has to see on his own. But the gardens of Vatican City, Rome, Italy, well those must be seen too! When it comes to some of the most famous gardens in Rome, Italy, we can't skip this one! You can read more about the Vatican city gardens, but also facts about the Vatican city in my post!
It doesn't matter if you are religious or not, this doesn't have to be about religion. It has to be about culture, about art, about history, about a historical institution that was guiding humankind for centuries. – Let's not get now into the details, shall we? – All these facts make the gardens of Vatican City, Rome, Italy a must-visit. Also, if you're looking for something sophisticated, the gardens of the Vatican City are definitely some of the prettiest parks in Rome, Italy.
In Vatican City, you can find many exhibitions, beautiful architecture, pieces of art, and stunning gardens! It took us about 4 hours to get around, and we still missed seeing the Borgia Apartment… There was so much to see, and so much to walk, that those pretty parks in the Vatican City were kind of lifesavers for us. Each one had something unique, something to keep staring at while sitting on a bench and relaxing our toes. The gardens in the Vatican City are where you can take a break between different exhibitions, and enjoy this sacred little country.
To visit the parks in Vatican city, you'll need to get your tickets to the Vatican Museums. I recommend doing it online, otherwise, you might risk waiting in a queue for hours (or not being able to enter because of limited entries a day due to the covid restrictions).
5. Gianicolo Hill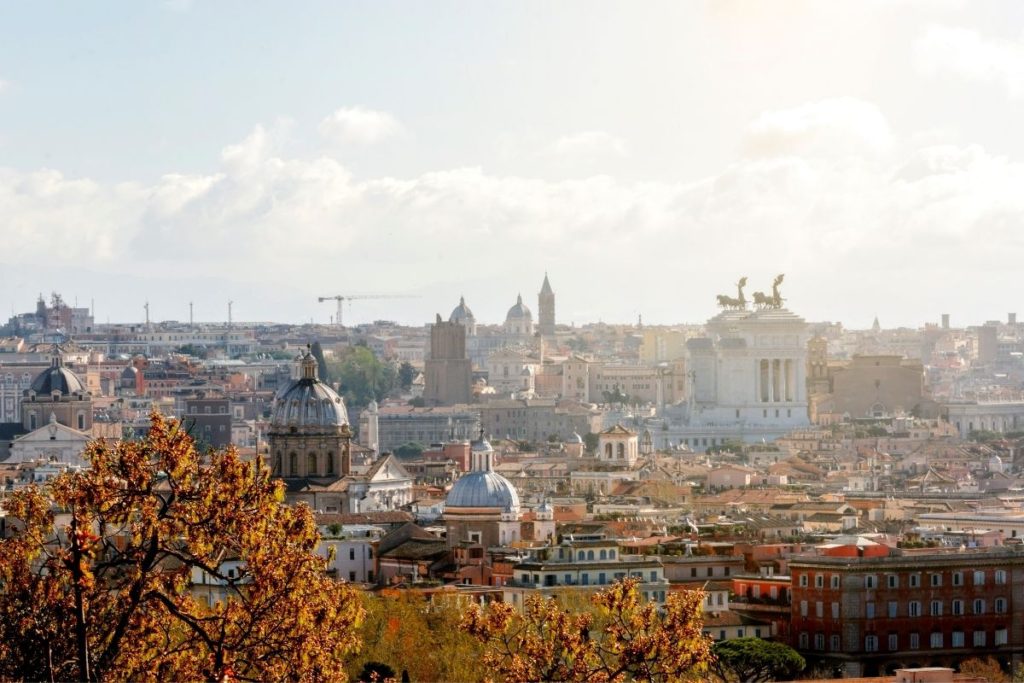 It's not really a park or one of the most famous gardens in Rome, but it's spectacular. Gianicolo Hill is the place that has to be seen, and not just for its parks. Why do I love Gianicolo Hill? Well first, it's quiet, very quiet.
Also, on Gianicolo Hill you can find on the way Rome's second-largest fountain, the Fontana dell'Aqua Paola. This fountain is older than the famous Trevi Fountain itself. On the top, there's an enormous statue of Giuseppe Garibaldi, the Italian general who contributed to the unification and creation of the Kingdom of Italy in the 19th century.
The view over Rome and the Apennine mountains in the background, on a sunny day, is just breathtaking! Also, a Gianicolo Hill sunset is something amazing. Though, if you're standing against Gianicolo Hill sunset is more beautiful. Since the sun goes down behind Gianicolo Hill, the last rays of the sun create a spectacular contrast, making the Garibaldi statue visible from around the city center.
There are so many more parks in Rome that I haven't included here, and all I can say for now is that I'll be slowly updating this article with more of those that are worth visiting. Before adding in any news, I'd like to visit them myself. On ShegoWandering we are mostly posting articles, such as the most famous gardens in Rome, Italy, just if I have seen these places. Of course, we have authors who have seen other places, so there are not just my own articles to find!
More behind the famous gardens in Rome, Italy
Pin Me: 5 charming parks in Rome, Italy!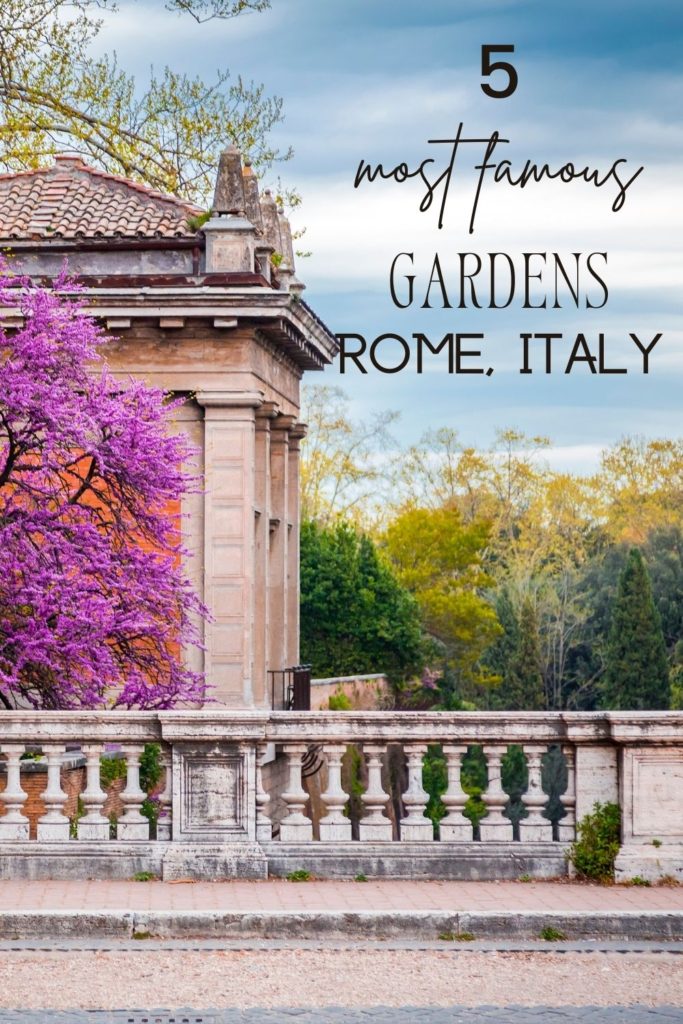 ---
Find the best accommodations for your trip!
---
5 beautiful parks in Rome, Italy