Thousands and thousands of poems, novels, and songs were written about Italy. This amazing country has always been an inspiration on its own. Italy gifted us with some of the most amazing pieces of art, literature, and architecture for centuries! And it continues to do so! We love Italy for its colors, flavors, music, sunshine, beautiful cities, amazing people, and breathtaking landscapes. Between those many written and said thoughts and feelings about this incredible country, you can find now a collection of 50 of my favorite quotes about Italy!
---
Quotes about Italy
Love for Italy
---
You may have the universe if I may have Italy. – Giuseppe Verdi, Italian composer.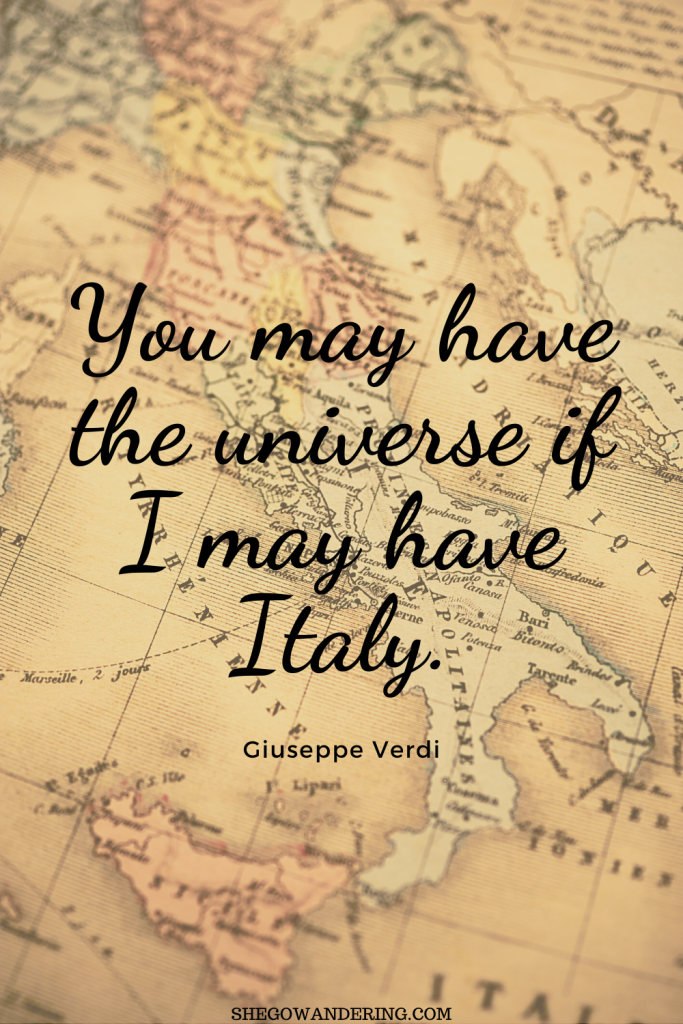 Open my heart and you will see Graved inside of it, "Italy". – Robert Browning
I find that other countries have this or this, but Italy is the only one that has it all for me. The culture, the cuisine, the people, the landscape, the history. Just everything to me comes together there. – Frances Mayes
She had always been fond of history, and here [in Rome] was history in the stones of the street and the atoms of the sunshine. – Henry James, The Portrait of A Lady
The name of Italy has magic in its very syllables. – Mary Shelley
We are all pilgrims who seek Italy. — Johann Wolfgang von Goethe
More quotes about Italy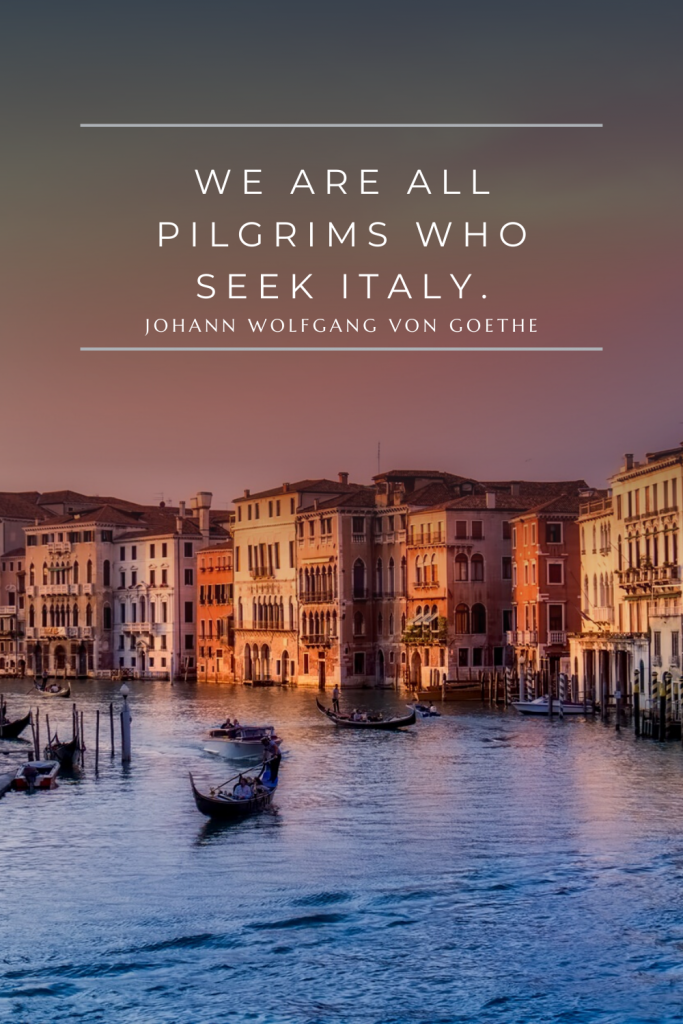 Italy is a dream that keeps returning for the rest of your life. — Anna Akhmatova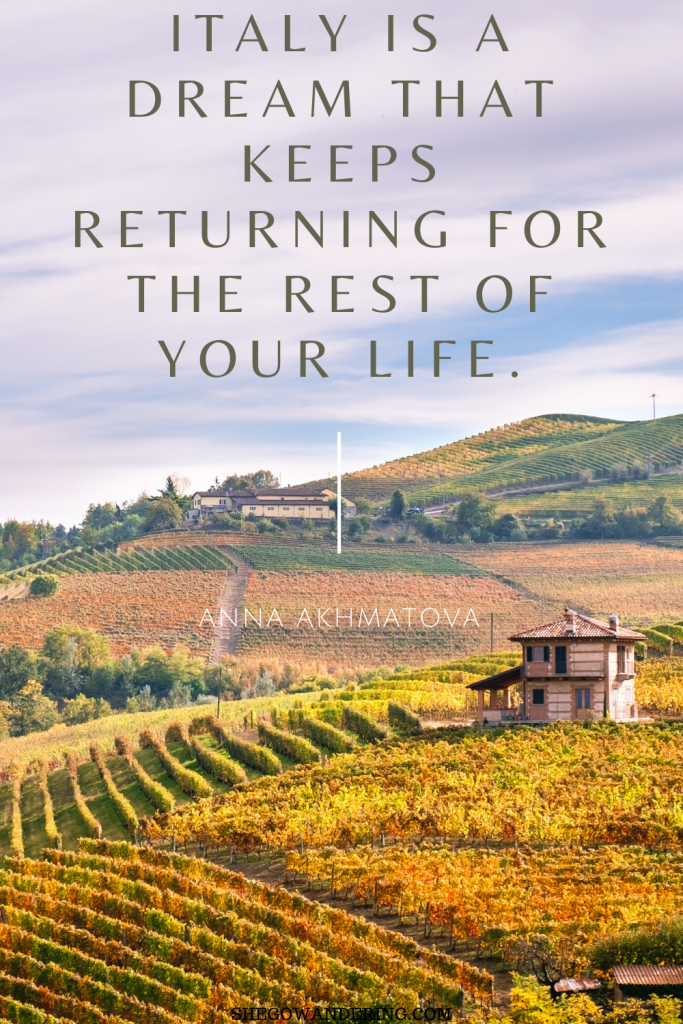 Italy was where the soul went to find calm and love, and I wanted to hold the best of it in the palm of my hand. – Lisa Brennan-Jobs
---
Travel, living/moving – Quotes about Italy
---
One of the great joys of traveling through Italy is discovering firsthand that it is, indeed, a dream destination. – Debra Levinson
I was offered a free villa in Hollywood, but I said no thank you, I prefer to live in Italy. – Ennio Morricone, Italian composer
Maybe money can't buy happiness, but it can get you a nice little villa in Tuscany, and that's close enough for me. – Lois Greiman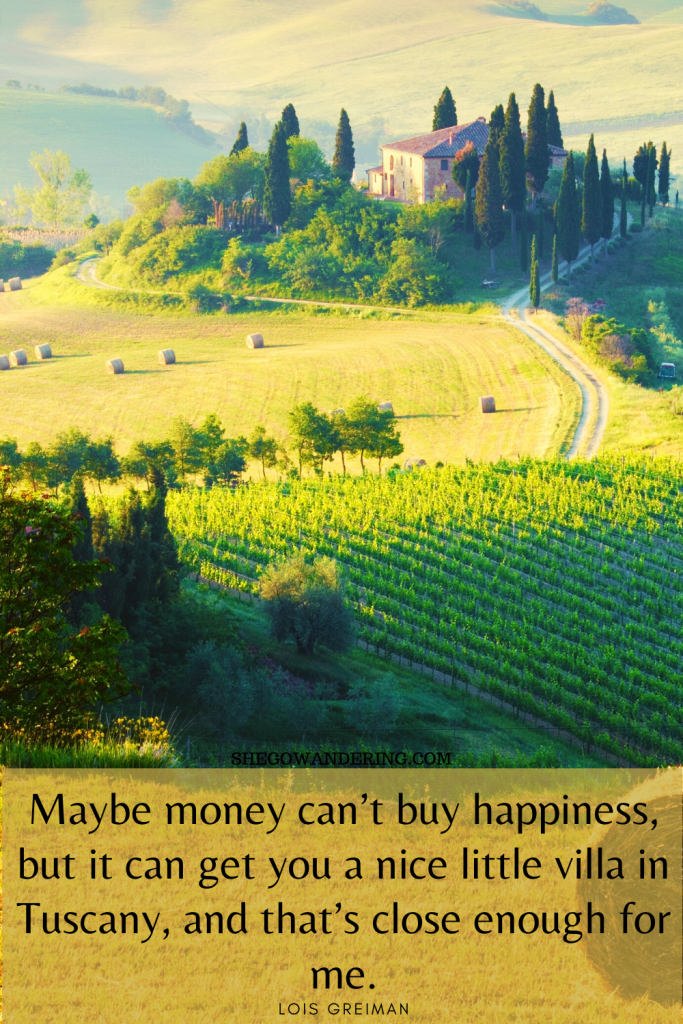 Move to Italy. I mean it: they know about living in debt; they don't care. I stayed out there for five months while I was making a film called 'Order Of Death,' and they've really got it sussed. Nice cars. Sharp suits. Great food. Stroll into work at 10. Lunch from 12 till three. Leave work at five. That's living! – John Lydon, English lead singer of The Sex Pistols
You know, people come to Italy for all sorts of reasons, but when they stay, it's for the same two things." "What?" "Love and gelato." — Jenna Evans Welch
When life gives you twists and turns, chique yourself up in Italy! — Barbara Conelli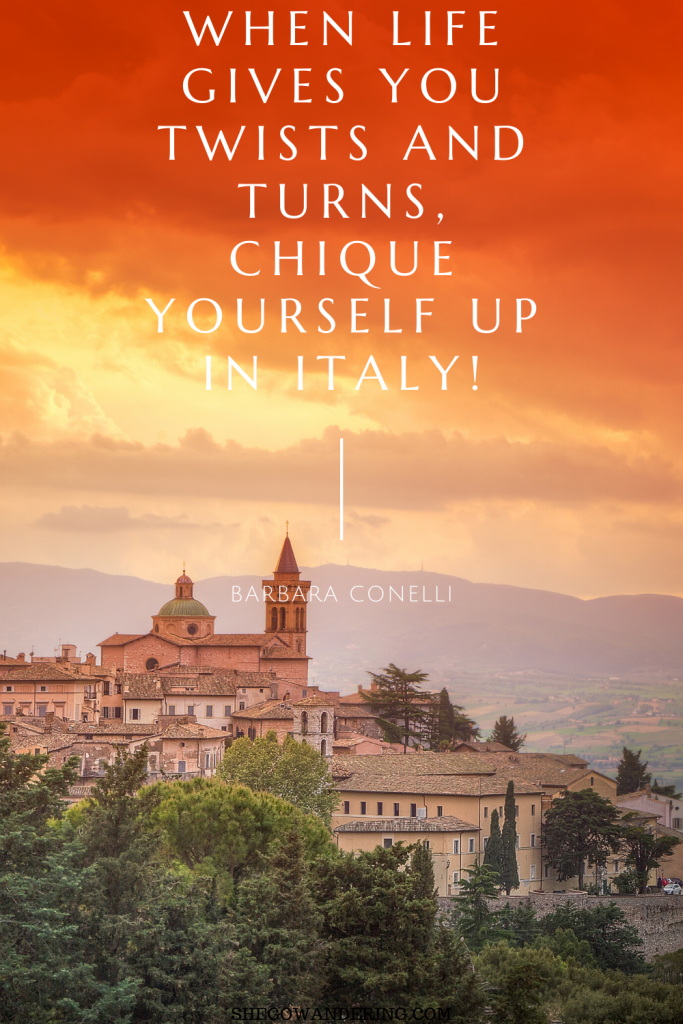 Traveling is the ruin of all happiness! There's no looking at a building after seeing Italy. — Fanny Burney
It's easy to understand why the most beautiful poems about England in the spring were written by poets living in Italy at the time. – Philip Dunne
A man who has not been in Italy is always conscious of an inferiority. — Samuel Johnson
A man has not fully lived until he experiences that gentle balmy clime of ancient empires, the land of lemon trees, and the genius of Michelangelo. — E.A. Bucchianeri
---
Are you looking for more quotes about Italy?
I have picked these quotes choosing from more than 300 quotes about Italy. You're reading now some of my personal favorite quotes about Italy!
---
Quotes about Rome, the Eternal City
---
Rome, the city of visible history. – George Eliot, English writer.
Rome is not like any other city. It's a majestic museum, a living room to tiptoe through. – Alberto Sordi, Italian actor.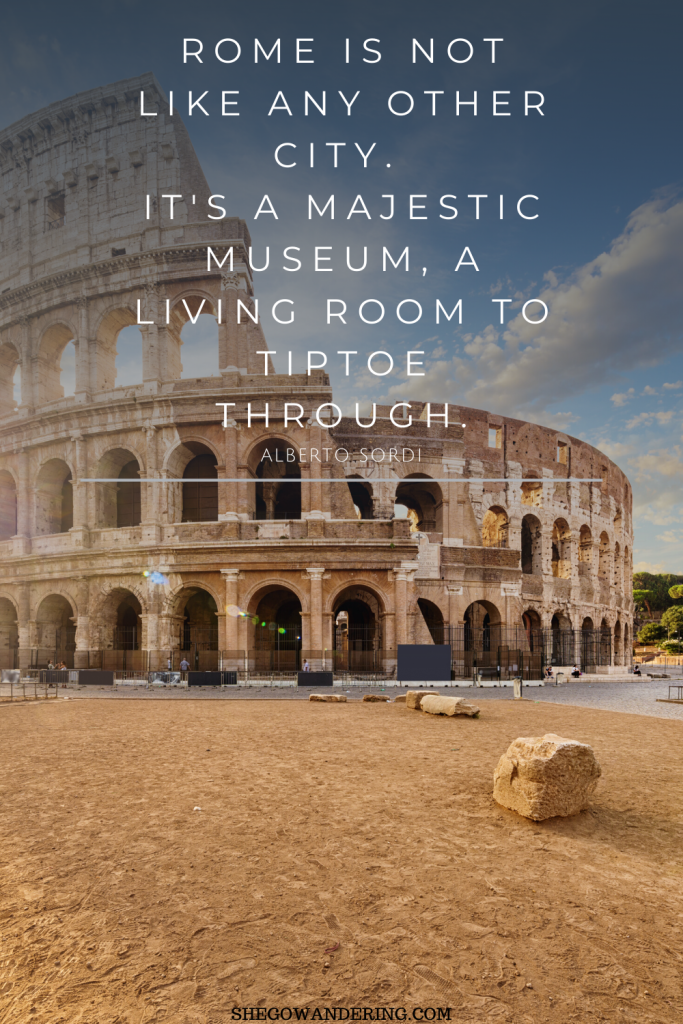 Each, in its own way, was unforgettable. It would be difficult to — Rome! By all means, Rome. I will cherish my visit here in memory as long as I live. – Audrey Hepburn
Rome was a poem pressed into service as a city. – Anatole Broyard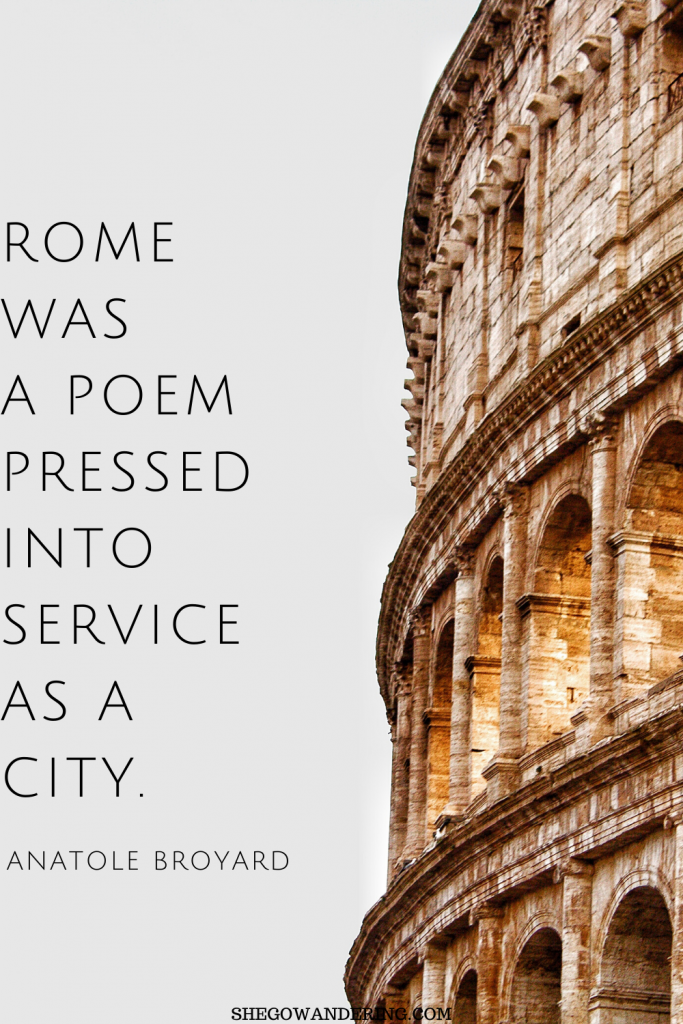 I found Rome a city of bricks and left it a city of marble. – Augustus
Rome is the city of echoes, the city of illusions, and the city of yearning. — Giotto di Bondone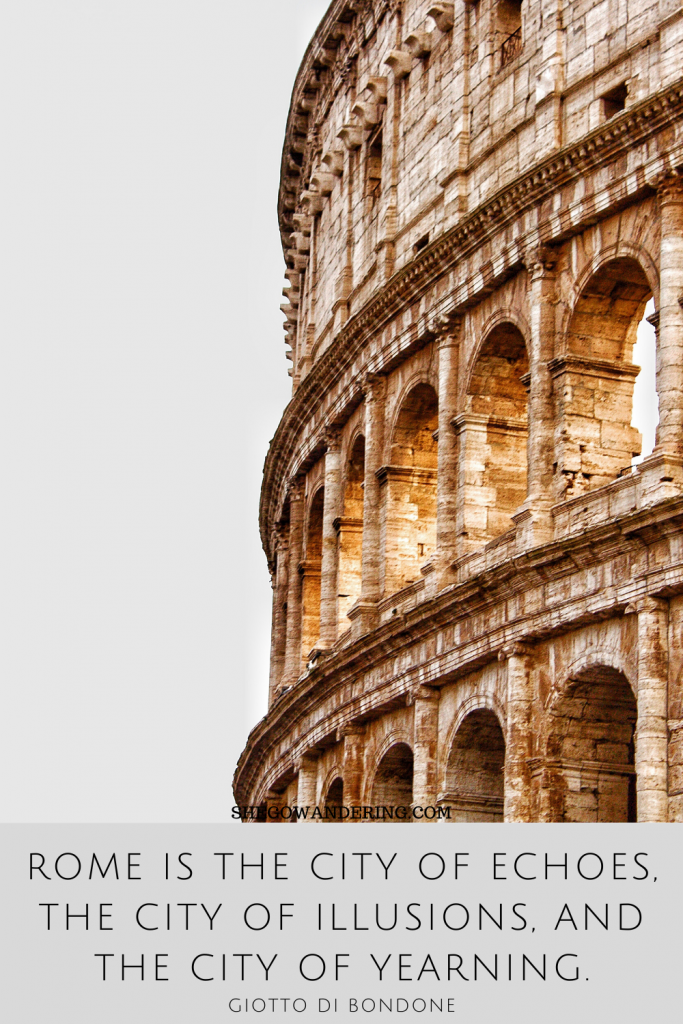 Methinks I will not die quite happy without having seen something of that Rome. — Sir Walter Scott
Rome seems a comfort to those with the ambitious soul of an Artist or a Conqueror. — Pietros Maneos
Rome will exist as long as the Coliseum does; when the Coliseum falls, so will Rome; when Rome falls, so will the world. – Venerable Bede
---
Cities – Quotes about Italy
---
Venice is like eating an entire box of chocolate liqueurs in one go. – Truman Capote, American writer.
A realist, in Venice, would become a romantic by mere faithfulness to what he saw before him. — Arthur Symons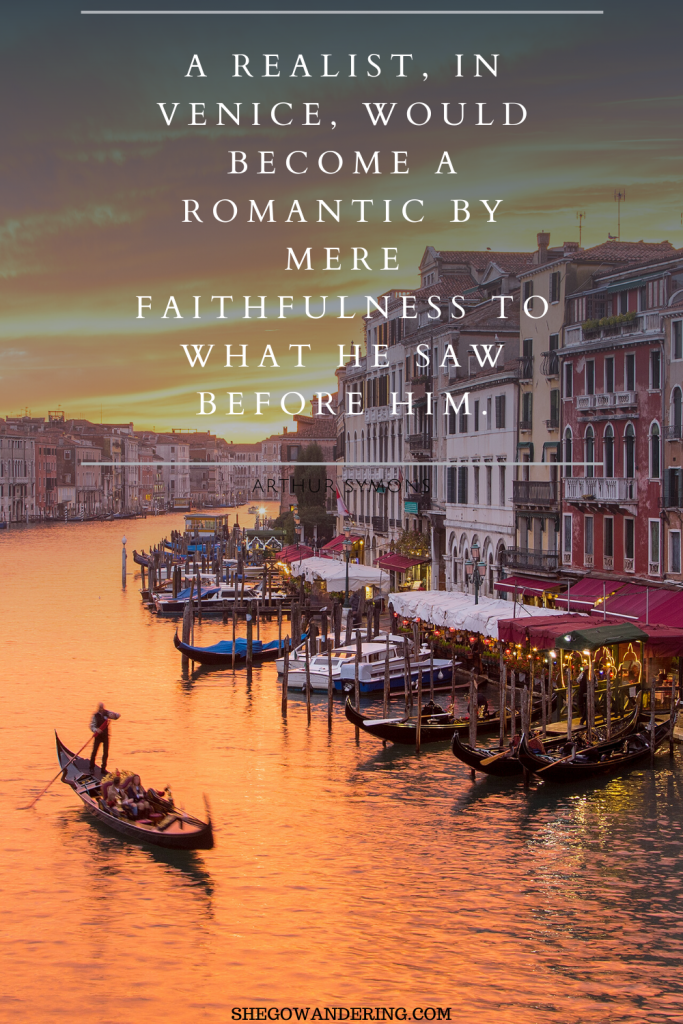 Everything about Florence seems to be colored with a mild violet, like diluted wine. – Henry James
In Paris, you learn wit, in London you learn to crush your social rivals, and in Florence, you learn poise. – Virgil Thomson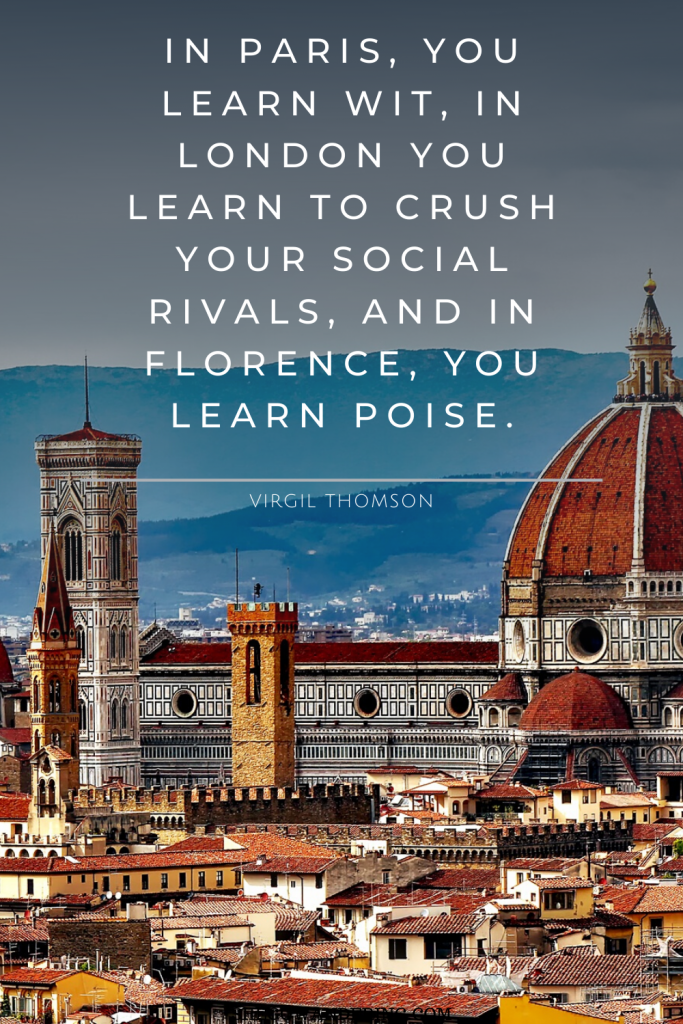 ---
The country – Quotes about Italy
---
Italian culture is so deeply soaked in an appreciation of the good things in life. – Mariska Hargitay
Not much was really invented during the Renaissance if you don't count modern civilization. – P. J. O'Rourke
In America, one must be something, but in Italy, one can simply be. – Pietros Maneos
The Creator made Italy from designs by Michaelangelo. – Mark Twain, American writer.
Italy will never be a normal country. Because Italy is Italy. If we were a normal country, we wouldn't have Rome. We wouldn't have Florence. We wouldn't have the marvel that is Venice. – Matteo Renzi, former Italian prime minister.
Italians know that what matters is style, not fashion. Italian style does not have social or age boundaries. – Stefano Gabbana
Your Italy and our Italia are not the same things. Italy is a soft drug peddled in predictable packages, such as hills in the sunset, olive groves, lemon trees, white wine, and raven-haired girls. Italia, on the other hand, is a maze. It's alluring but complicated. It's the kind of place that can have you fuming and then purring in the space of a hundred meters, or in the course of ten minutes. Italy is the only workshop in the world that can turn out both Botticellis and Berlusconis. — Beppe Severgnini
In Italy, there's perhaps a little less space than in Spain, but there's certainly as much sunshine. – Carlo Rubbia
---
Food and drinks – Italy quotes
---
In Italy, they add work and life to food and wine. – Robin Leach, English Writer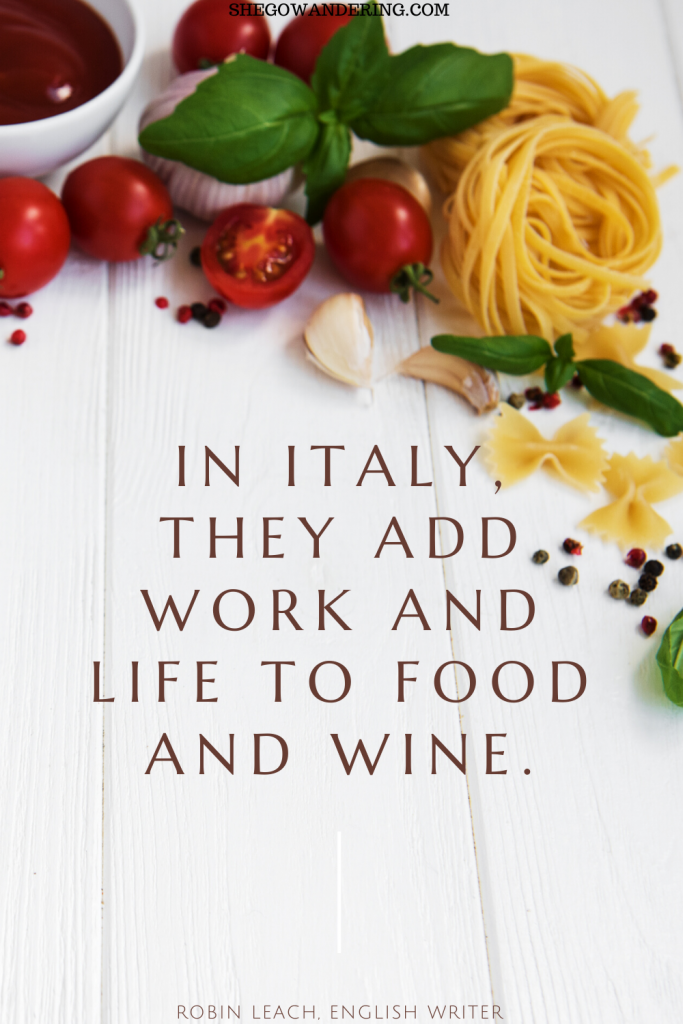 So… Italian gelato. Take the deliciousness of a regular ice-cream cone, times it by a million, then sprinkle it with crushed-up unicorn horns. — Jenna Evans Welch
Life is a combination of magic and pasta. — Federico Fellini
Everything you see I owe to pasta. – Sophia Loren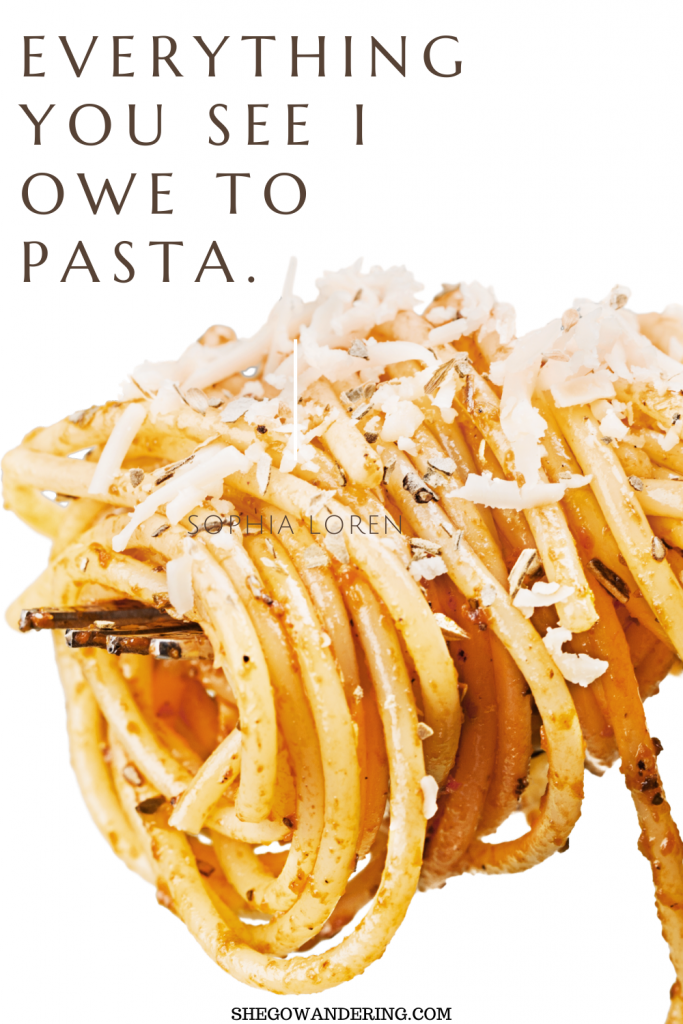 ---
Italian provers
---
See Naples and die. – Italian proverb
If you can't live longer, live deeper. — Italian proverb
---
Everything is inspiring about Italy, especially if you arrived with the same passion many of us share for this country. quotes about Italy for later!
Pin me: 50 Inspiring quotes about Italy!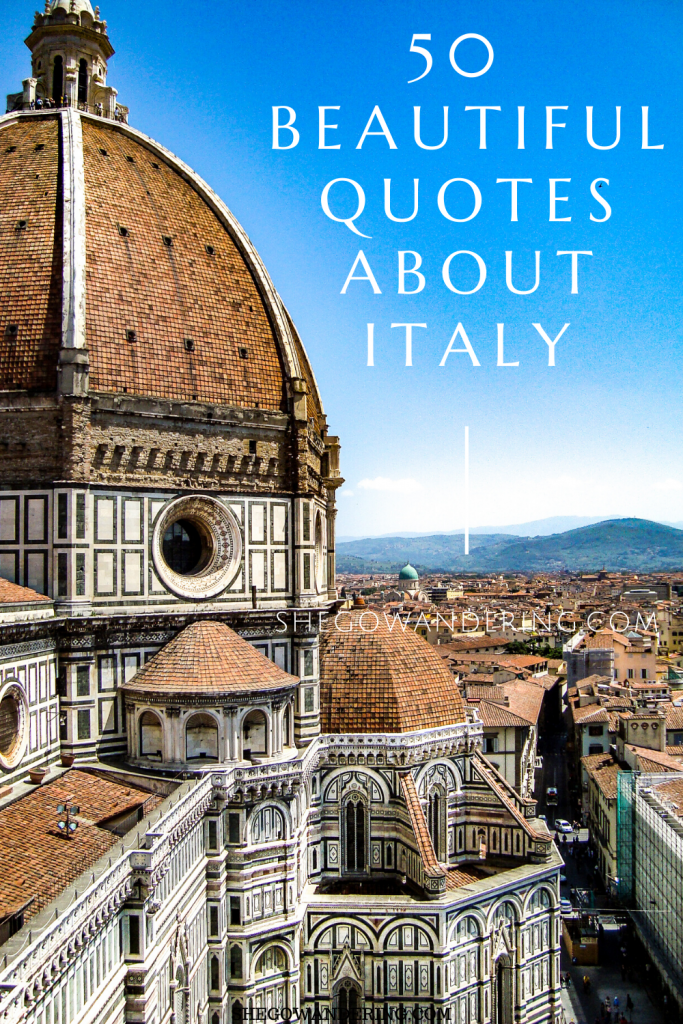 ---
More inspiration for Italy, and not only!
35 Inspiring Travel Quotes – with pictures
6 historical tv series about Italy and the Roman Empire
10 movies to see before visiting Italy
10 Best Capital Cities in Europe for Solo female Travelers
30 Reasons why traveling alone is AWESOME
---
Find the best accommodations for your trip!
---
50 Inspiring quotes about Italy – with pictures