Planning a travel itinerary can be difficult sometimes. You spend a lot of time on Google looking for suggestions on which attractions are worth checking out, which cafes to go to and if there are any hidden gems. Wouldn't you wish you could find all of these in one place as well as recommendations from travelers who've been to that location and discovered the known and unknown places? Well, that's exactly what the Framey app does. It's among the best travel apps on the market and the only one with this idea.
The best travel planning apps on the market could not prepare for what Framey has in mind. This innovative app can take your travels to the next level, making it so easy to plan your holidays, get inspired by other travelers, and truly explore this beautiful world. Having downloaded the best travel apps 2022, you're ready to conquer any country and discover the best locations.
Framey – The Social Travel App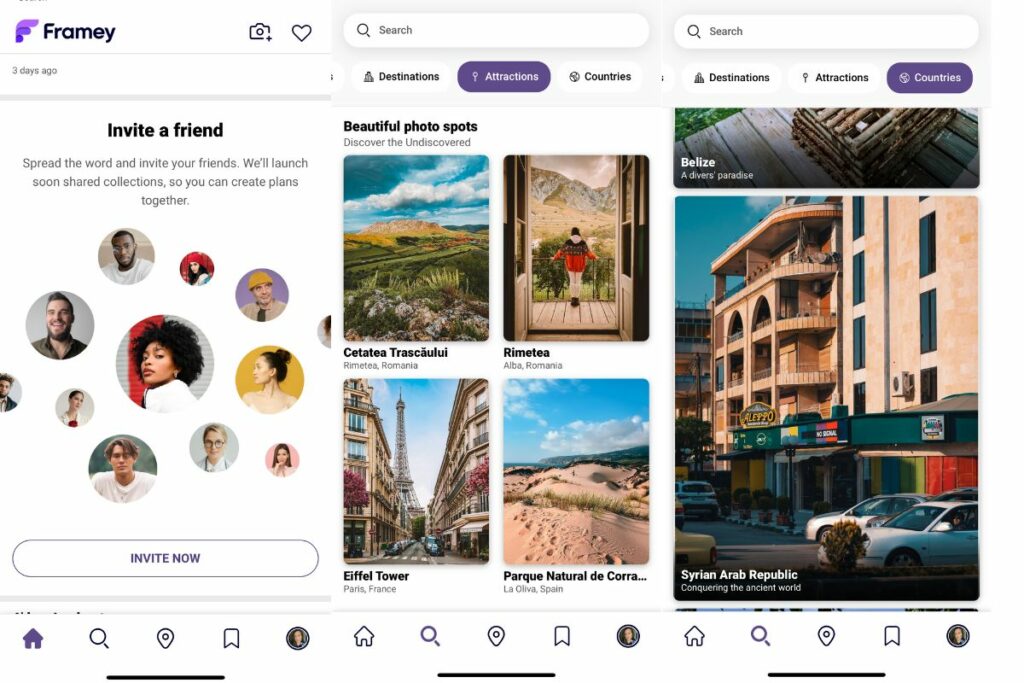 So how does Framey work exactly? What is the purpose behind the best travel app of 2022? Using their own words Framey is a "One mobile app for the entire travel experience". You don't have to worry about looking through articles on the internet on which locations to visit and attractions to check. The Framey travel app has everything you need. All you need to do is download it from Google Play or Apple Store. It is completely free! Another added bonus as to why it's one of the best travel apps.
What other social travel apps do not have, is the ability to create your own profile and share your experience with the rest of the world. Just like on Instagram, you can follow people and see where they have traveled, what they have seen, and what they suggest. Consequently, you can do the same. It is that easy. Let's see the Framey app in a bit more detail, shall we?
Browse the Framey Feed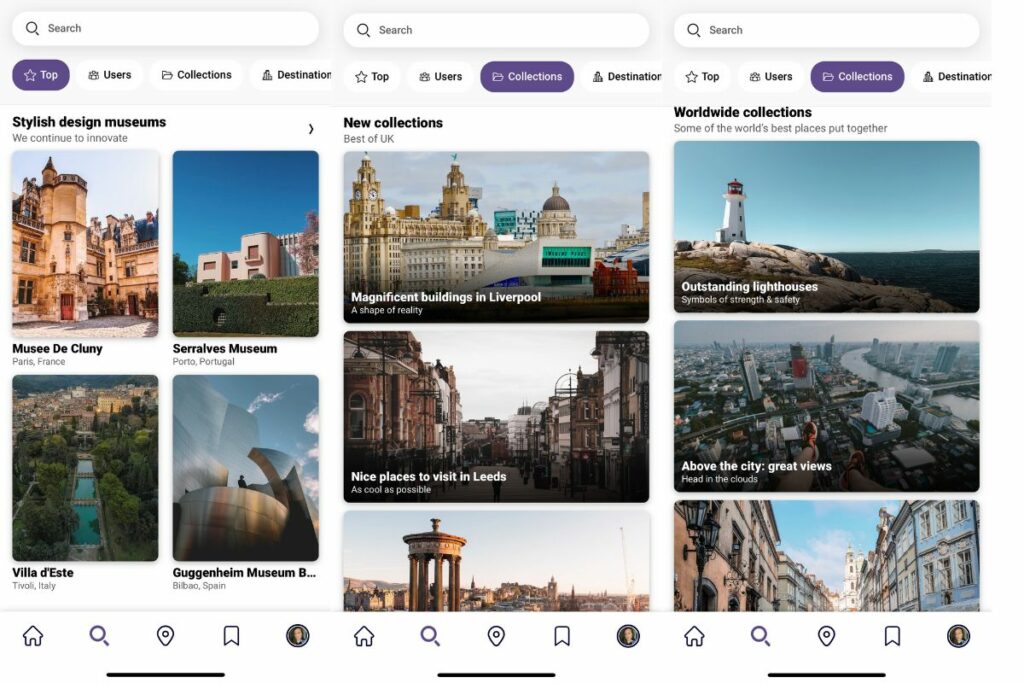 Are you dreaming about your next destination? Is it London, Paris, Barcelona, or perhaps Milano? You can find your next dream destination in the Framey travel app. There are a few ways to do this. First of all, when you download the app, you can follow people who are already traveling and posting their experiences on Framey, the best traveling app. Secondly, on the top part of the app, icons of cities appear as suggestions and each of them contains further possibilities, descriptions, and what to see.
Of course, you have your explore button where you can look up any destination of your choice and read all about it. Within the search option, choose from the best suggestions and search by users, collections, destinations, attractions, and countries. For instance, the top suggestions will narrow down what you should visit. It has categories such as "The art of drinking tea" for anyone in the UK. Or "Stylish design museums" in Spain, Singapore, Canada, and so on.
Another cool feature of the app is the map option. Based on your location, Framey can suggest to you the nearby attractions that are worth visiting. This could be anything from holiday parks, castles, seaside, restaurants, cafes, and many other things. Do you see why this is one of the best travel apps? But if that wasn't enough, you can even plan with Framey.
Plan your holiday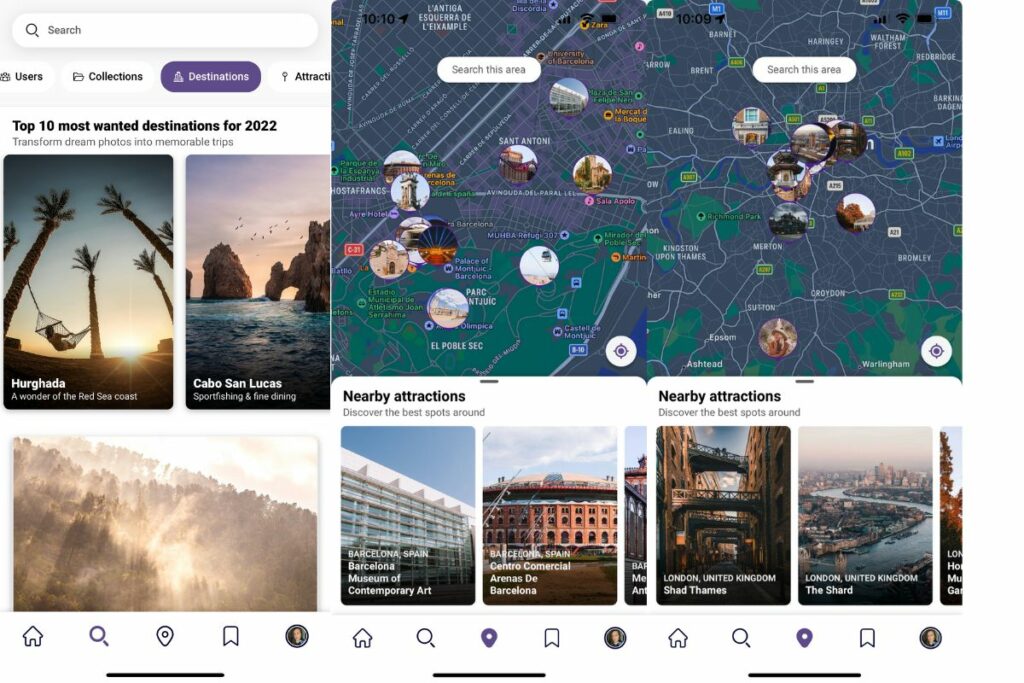 Once you have spent some time browsing the feed, checking out users' photos and travel ideas, you can start planning your next holiday! The idea behind the best traveling app is quite genius. If you have found a destination that you wish to visit, all you have to do is save it to your collections. You can create as many collections as you want to, add names to them and customize them to your liking.
If you're still not sure where to go and you need a bit more inspiration, browse the collections feature of the app. For example, choose 'Top sights in Edinburgh' and start adding everything you wish to visit on your trip to Edinburgh. Under each attraction, you'll find a detailed description of the place, opening times, and even how to get there!
My favorite part about this app is that you can select from 4 different apps for travel after you have pressed 'Get route'. Besides using the best apps for travel, aka Apple and Google Maps, you can also choose Citymapper and Uber. The latest two apps for traveling are not available everywhere, however, they are available in the top cities of the world and are an added bonus that helps you get to your desired location in no time! As you can see, planning is really simple on the Framey app.
Top destinations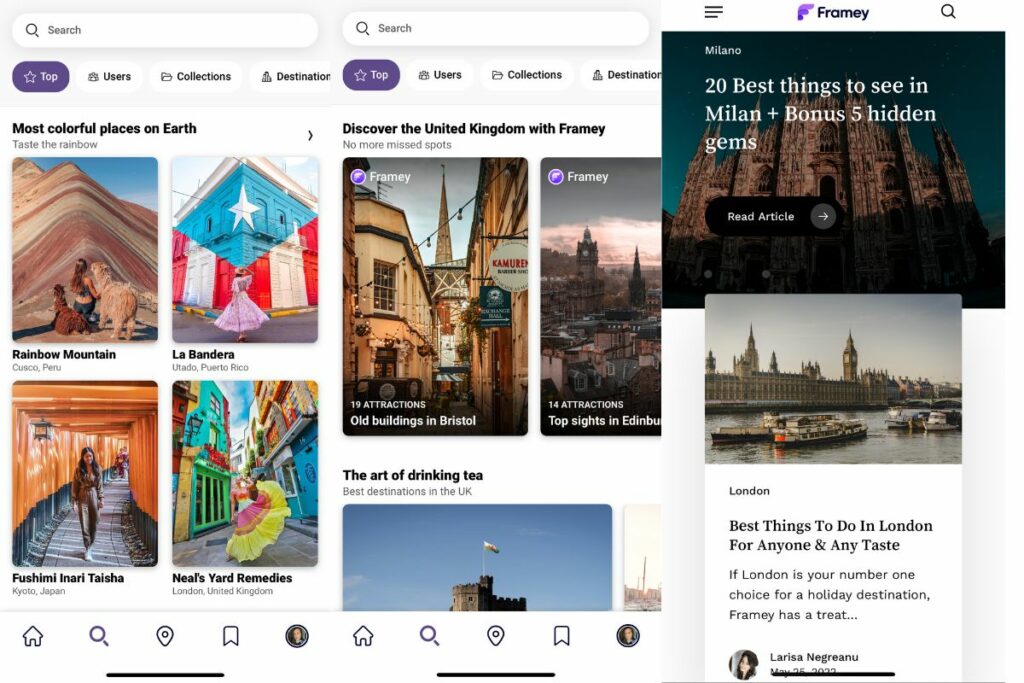 So you might be still wondering, okay, but how do I choose from the top destinations suggested by the Framey app? If other users' photos and suggestions didn't convince you, then read Framey's blog on the best destinations. At the moment, their top destinations are Barcelona, London, Lisbon, Madrid, Milano, Paris, and Rome.
You might have seen on other social travel apps what to do in these cities. The internet is filled with articles, and social media is suggesting you a high number of ads throughout the day, especially when summer is around the corner. But the best travel apps, like Framey, will help out with well-written articles on what exactly to visit and what will you actually see there.
Do you love visiting museums? Did you know that London has a lot of free museums? Read their article on the 'Best museums to visit in London' to find out which ones shouldn't be missed while you're visiting the beautiful city of London. Or if you prefer the Eternal City of Rome, read some of the interesting facts before visiting. Dream, Plan, Experience, and Share!
Share your experience with the world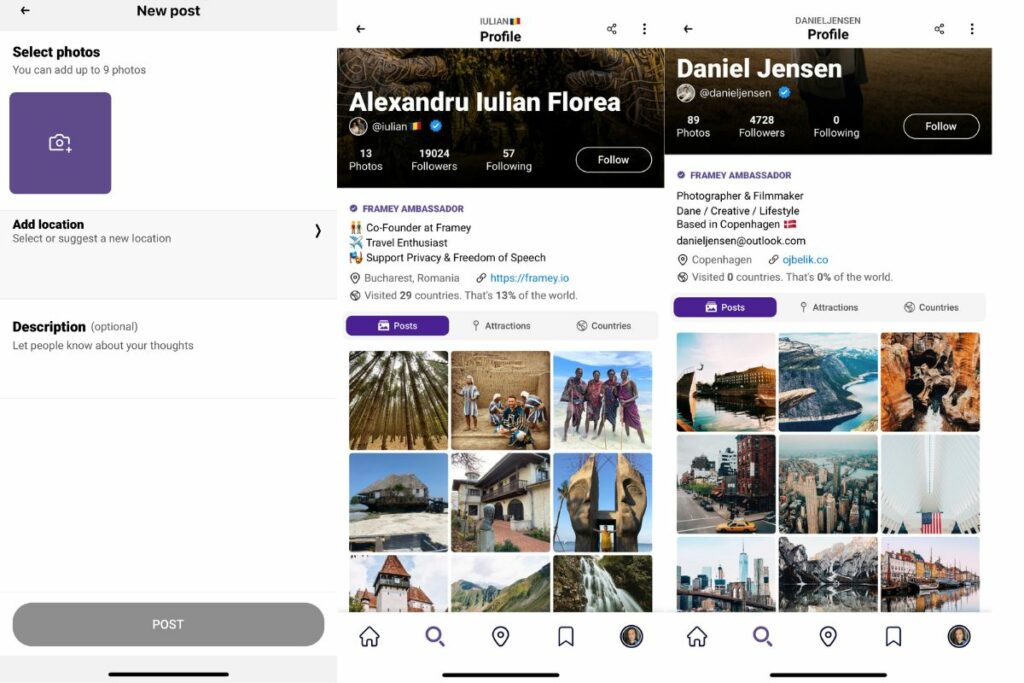 Speaking of sharing your experience, Framey app is truly amazing for allowing you to add your photos and tag the locations. Click on the camera icon with a plus sign within the home menu and upload your images. Add up to 9 photos of the same street, attraction, or place, and tag it. Furthermore, it also lets you add a description of the place. You can write anything you want here to let your fellow travelers know why it's worth visiting that place.
I truly believe this is one of the best travel apps as you not only get to add photos of top attractions such as the London Eye or Big Ben, but also about restaurants, cafes, hidden streets, and just about anything else. Instead of spending 30 minutes on Google looking for articles on the best cafes or streets to take cool Insta photos, you can simply look them up in the Framey app. And if you happen to discover cool places yourselves, share them with the world. Upload the photos, tag the places and tell them about your experiences.
Framey Travel App – Wrapping up
In 2022 using apps for travel is like second nature, so it's understandable how we're always on the lookout for the best apps for travelers. With the Framey App, you get to do everything in one place. Discover new locations through the photos provided by other users and suggestions within the app. Plan your trip down to the smallest detail and get information about the place you're visiting, opening times, and how to get there. Lastly, share your photos with everyone and inspire someone else to visit the places you've been to.
Pin it: Framey App – Best Travel Apps