December, the period when our homes and our streets get covered in lights and Christmas decorations. The coziest period of the year that's full of hope, gratitude, and love. It's the period when family and friends become the highlight in our life, and we step away for a little bit from our goals. The holiday season is when we focus a little bit more on sentiments and joy, and Christmas markets are just another reason to feel that joy and happiness. My favorite in all Europe is the Christmas market Budapest Hungary is putting together each year. Many of you might be asking if is Budapest Christmas market good, and that's what I am going to try to answer today!
Budapest Christmas Market
When it comes to Christmas markets in Europe, I really do believe that the Budapest Christmas Market is one of the most beautiful you could visit. It's also one of the cheapest destinations of all Europe, while the city itself is absolutely gorgeous! Below, I'm going to share with you some details about the Christmas Market Budapest basilica – which correctly is the St Stephan basilica, and the square upfront is one of the Christmas market locations in Budapest.
Compared to other cities, Budapest has some extra things to offer during the holiday season. First of all, do you know how many Christmas markets in Budapest are held? It's not just one! On side of that, during the winter, you can have some amazing experiences around the city that other European cities can't offer, especially at such a cheap price. We'll speak about all these things as well as about Budapest Christmas market opening times, and some goodies you can find there!
When is the Budapest Christmas Market?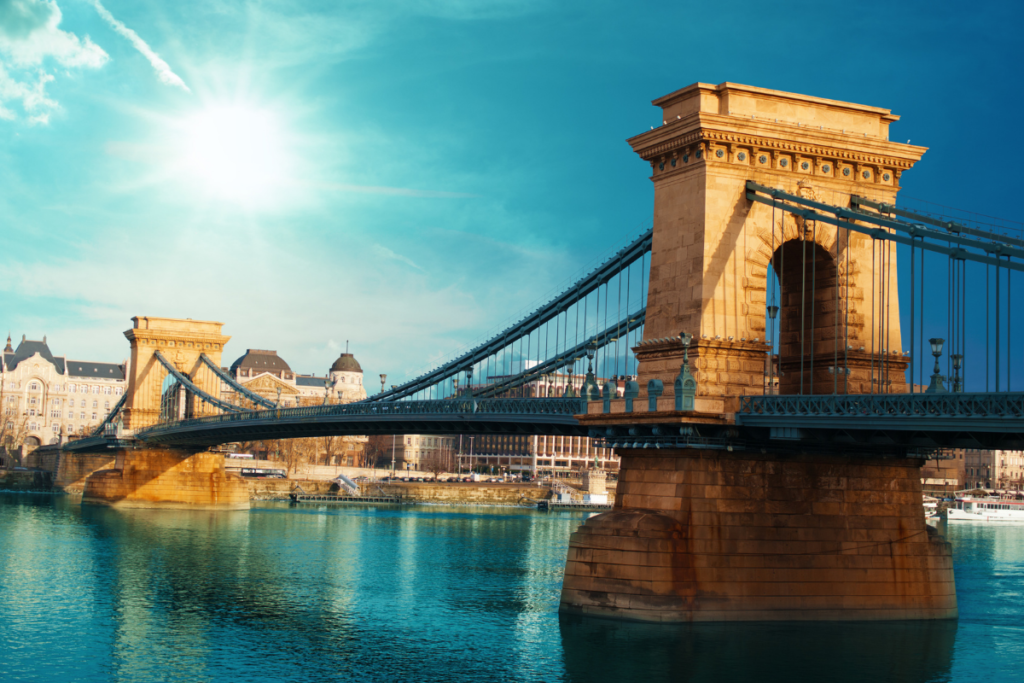 So many people ask if is Budapest Christmas market good? I honestly say that it's one of the most beautiful Christmas markets out there! The reasons why I'm saying this you will find out along this article, but for now, let's speak about dates. Those who are thinking about a city break that's adding a Budapest Hungary Christmas market too, you can plan between the 1st of December until the end of the year!
So when is Budapest Christmas market? Christmas market dates Budapest for 2022 are from the 19th of November until the 1st of January. Though, these dates differ from the different locations of the Budapest Christmas market. The Advent Feast the St Stephan's Basilica is operating between these above-mentioned dates. The Christmas market in Obuda is set in 2022 between the 26th of November and 24th of December, while the other locations' dates are not set yet. If you're coming back to this article later in the year, we're going to make sure the dates will be updated!
Budapest Christmas Markets – Locations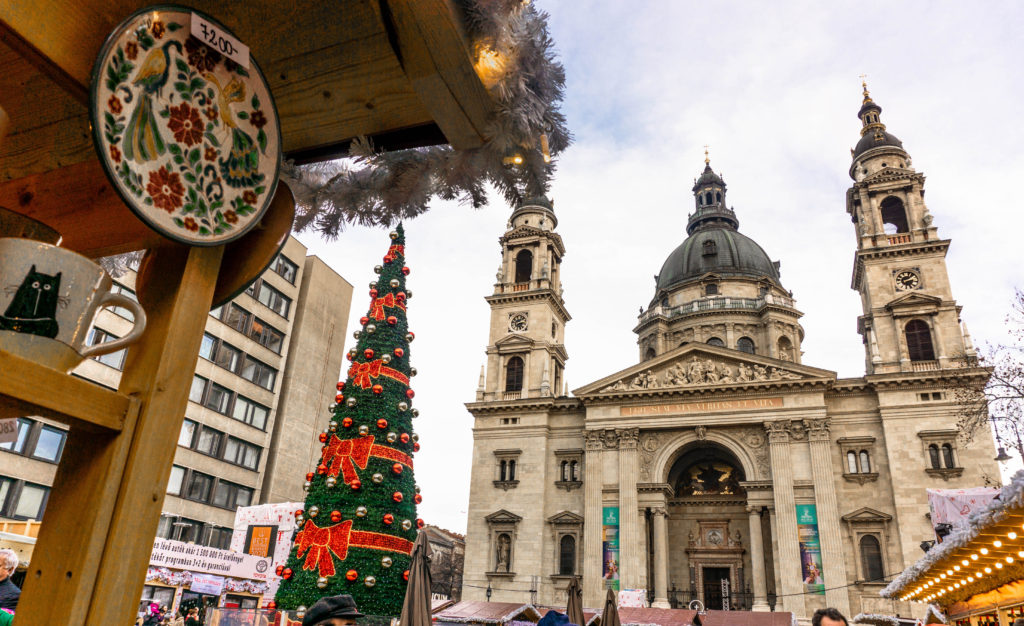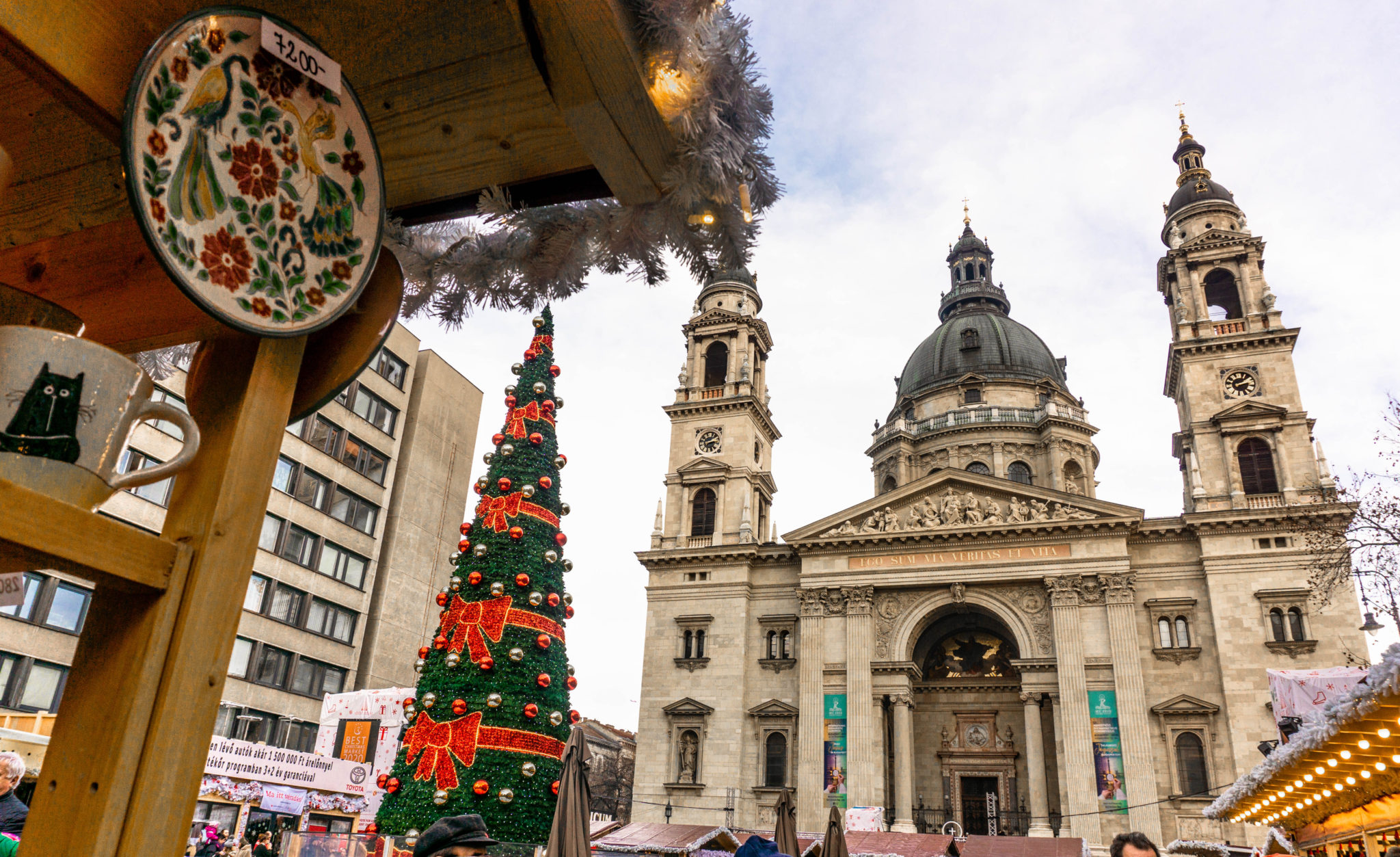 So, we're back to the question! How many Christmas markets in Budapest you can find? Where is Budapest Christmas market by location? We'll let's see what this magical period in Budapest is holding for us. First of all, the most important location is the St Stephen's square Budapest Christmas market. The market here is set on the square upfront the basilica, with a stunning view of the church itself. You can find here plenty of craftsman and artisan goodies, as well as delicious Hungarian traditional food and a lot of mulled wine of course!
The second most important location is the Vörösmarty Square (Vörösmarty tér) that's also not far from the basilica, and it's located in the center of the city. Here you can find over 100 stalls selling all kinds of goodies from sweets to decorations, leather goods, Christmas specials, langos, kurtoskalacs, mulled wine, and soured cabbage to eat.
The third really popular Christmas Market in Budapest is in the 3rd district that's called Obuda. Here you can see quite a few musical performances throughout the season. Obuda Christmas market opens usually at the beginning of Advent, so you can plan a visit to the market in early December as well. Getting it is pretty easy too. You can take the H5 local train to Szentlélek Tér (square) or by bus or tram.
You can find many stalls in other locations of the city, such as the famous Vaci utca (Vaci Street), the most famous street in Budapest. Also, there are plenty of stalls each year around the Elisabeth Square, that's just a few steps away from the St Stephens' Basilica, and also in the Buda Castle district.
What to buy at the Christmas Markets in Budapest?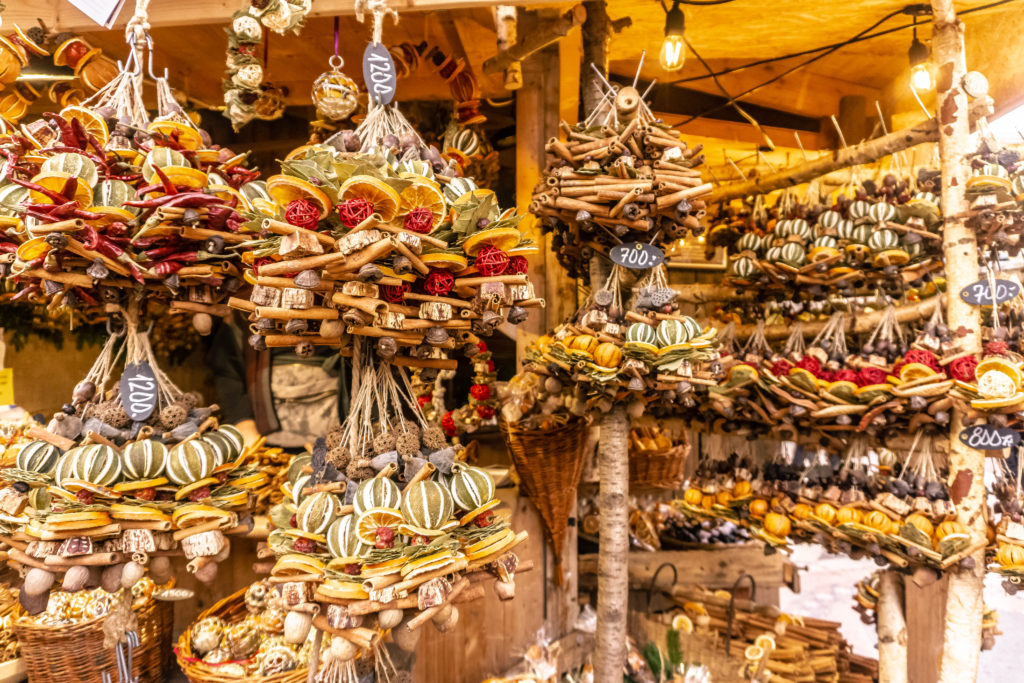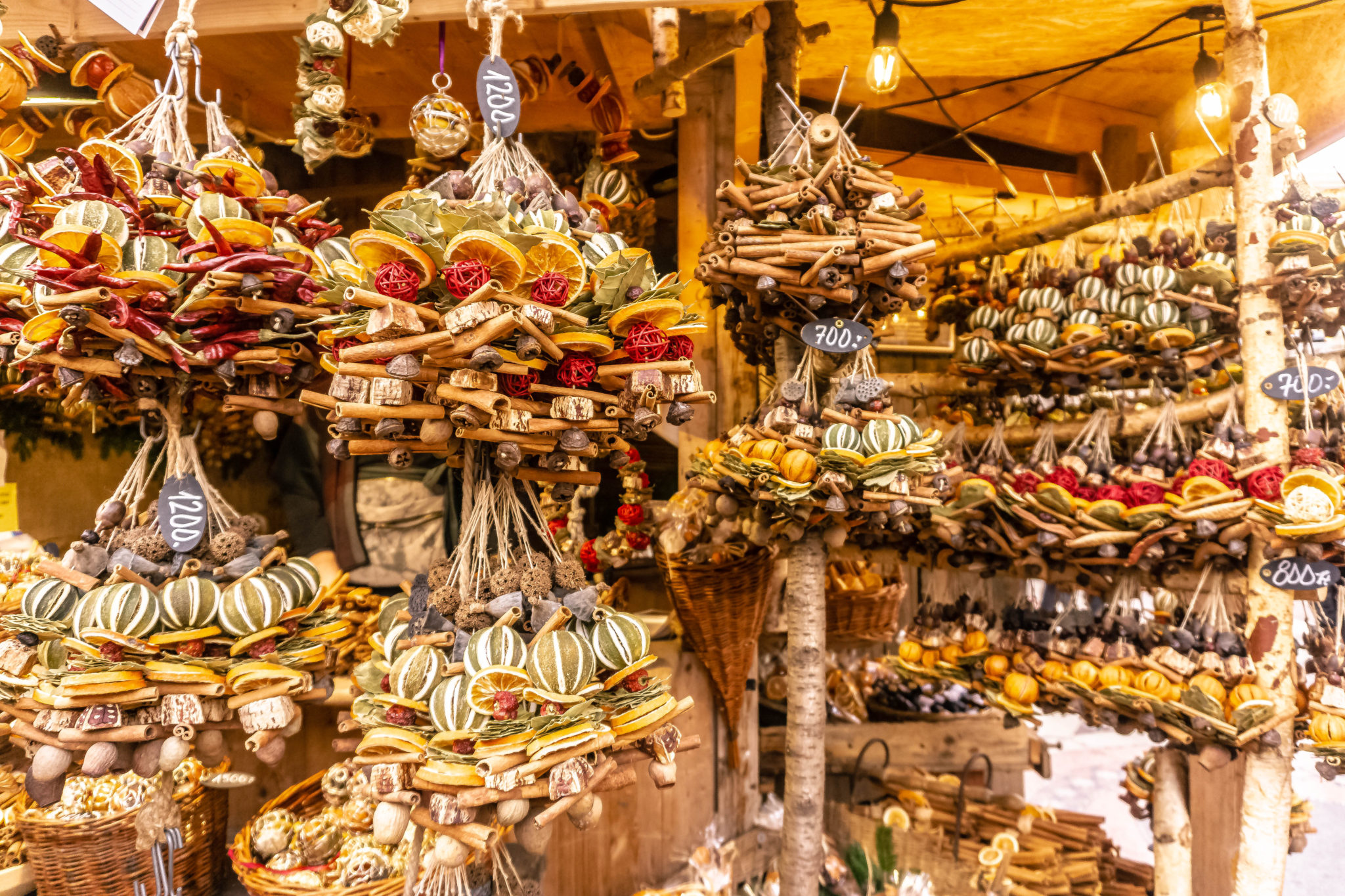 This is honestly the hardest question to answer. Looking at Budapest Christmas market pictures I took, to remember how many different things I've seen, and thinking back how many different things I bought… It's a lot to talk about. Probably some of my favorite goods I found at the Budapest Christmas market were these hanging decorations made of different dried fruits and plants. I bought about 5 of these, of which 4 were for myself. I still have them hanging on side of my bed, and they just fill the bedroom with such peaceful energy.
When you ask if is Budapest Christmas market is good, I must say that the amount of amazing artisan and craftsman goods you can find makes it not just good, but amazing! Some of the other great things I found were the Christmas scent essential oils, chocolates, Winter-themed decorations, and leather goods. When it comes to Hungarian artisan items made in Hungary and Transylvania, I've been always obsessed with ceramics. If you love bringing some rustic decoration into your home, I must say, that the Hungarian ceramics you can find at the Christmas market are really stunning options to bring something new to your home.
What to eat at the Budapest Christmas Markets?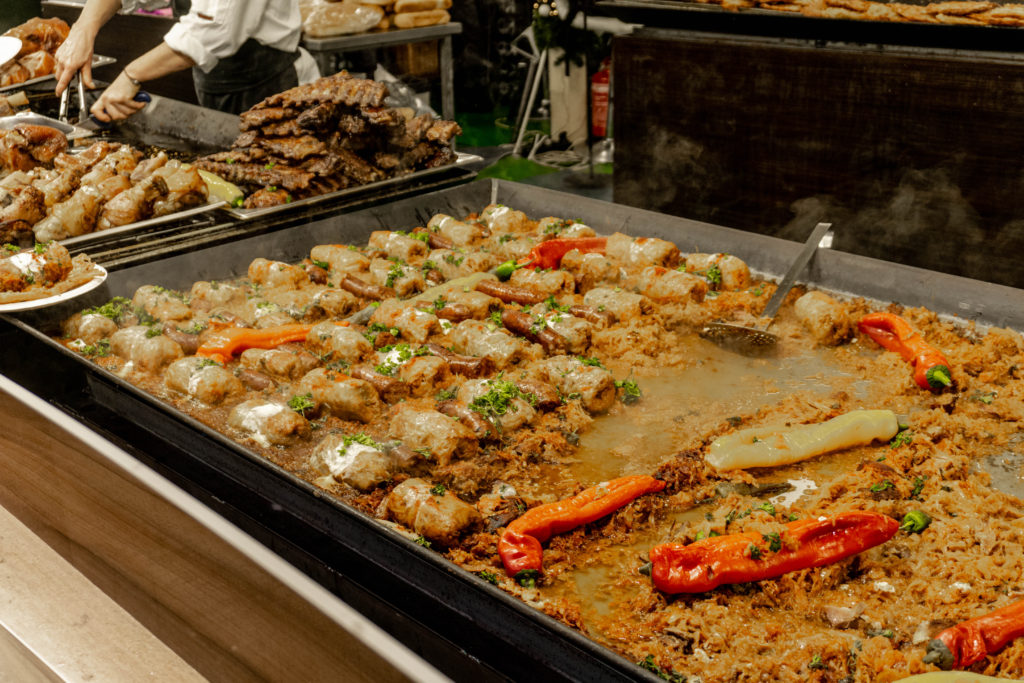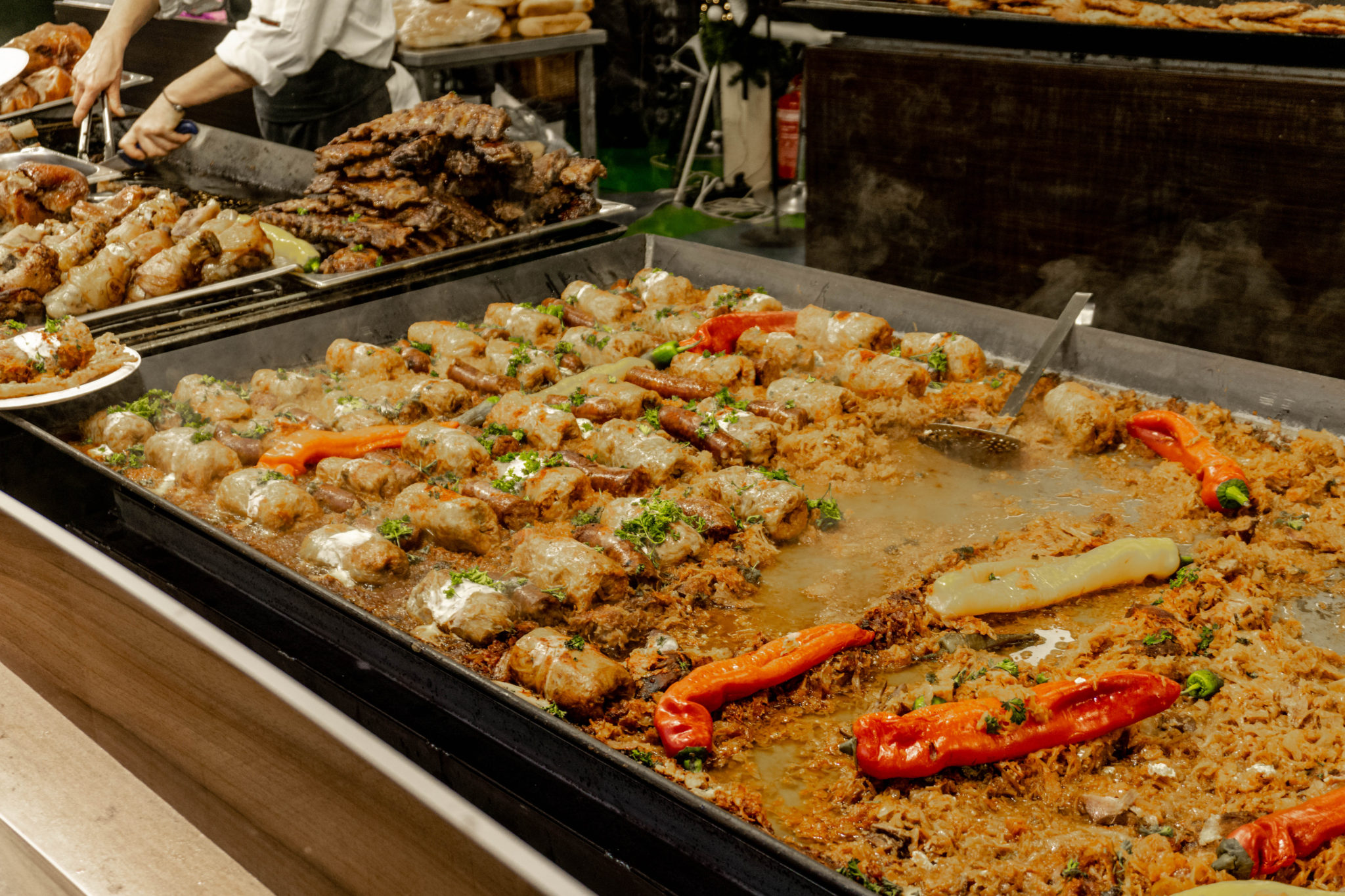 When it comes to European food markets, we're already head over hills to try delicious dishes. One of my favorite topics is what to eat at the Christmas market Budapest Hungary? If you're planning to do a trip to the Budapest Christmas Market in 2022, I really do suggest you take a paper and a pen, and you note for yourself these delicious Hungarian dishes and street food! Oh, and if you're not used to heavy food, you better prepare your stomach for it in advance! However, you also better prepare that you'll be tasting some of the most delicious dishes you've ever tried!
Langos: This is a fried dough that comes with different toppings. The traditional, authentic Langos comes with soured cream, cheese, and garlic, but you can find these days all kinds of new, fancy toppings to choose from.
Soured Stuffed Cabbage: This is our favorite dish of the seasons. Soured stuffed cabbage is made usually for Christmas Eve dinner, especially in Hungarian families in Transylvania. This is always the dish that can't miss during the holiday season. The soured cabbage is stuffed with minced meat and rice, and it's served with soured cream on top. Delicious!
Hungarian Sausage: You will find famous smoked Hungarian sausage with paprika, but also many different types of grilled or fried meat at the food stalls. Hungarians love meat, so if you can literally find all types of meat made in different kinds of ways. Breaded, fried, grilled, or smoked, you'll have it all!
Kurtoskalacs: Kurtoskalacs is probably the most famous sweet Hungarian street food. The long dough is placed on a wood holder, forming a funnel, and this is basically placed on a rotating grill. Once it's ready, it's removed and it's dipped into different toppings, such as sugar, different nuts, cinnamon, and more. You can usually choose from different tastes.
Mulled Wine: Now, mulled wine is something that you should never ever skip if you're visiting the Christmas Market in Budapest. Hungarians love to drink mulled wine outside, but in the house as well. We use at least three types of spices and different fruits in it. At the Xmas markets, you usually have 2-3 options of flavors to choose from.
What to do in Budapest in the Winter?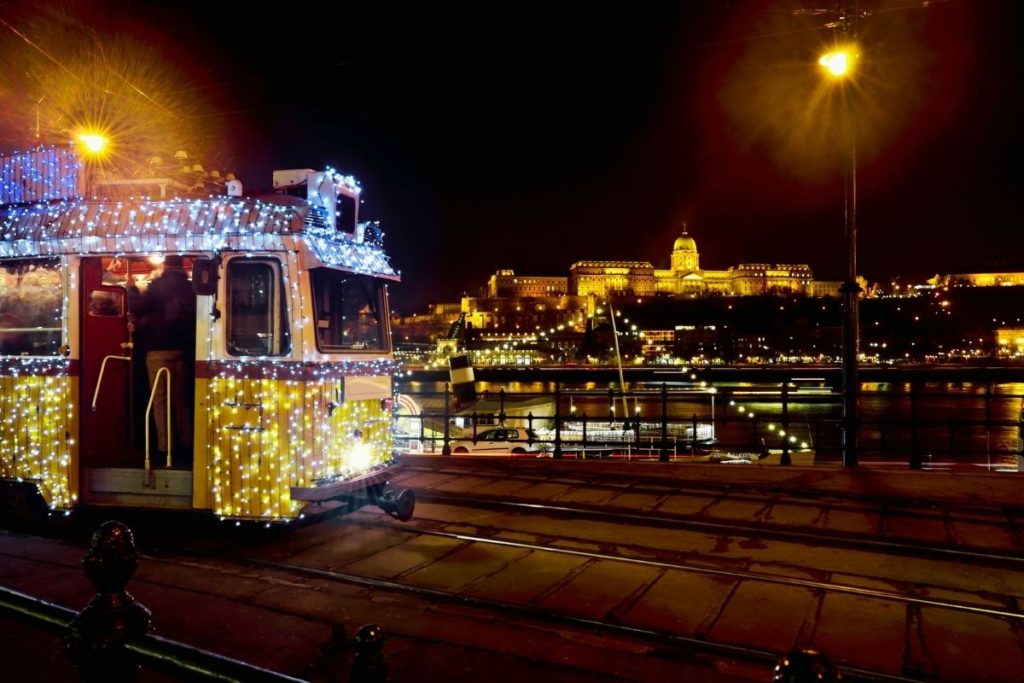 So, here's another question, since obviously, you can't spend three days continuously at the Christmas markets. What to do in Budapest during the winter? The great news is that there's plenty to do! One of my favorite things to do in the winter in Budapest is heading to thermal bats. As you may know, Budapest has plenty of thermal baths to choose from, and one is more stunning than the other. The most famous is the Szecheny Thermal Bath, but the Gellert Baths and the Rudas baths are at least as stunning, just these two don't have an outside pool. It's something that's really worth adding to your Budapest experience!
On side of that, you can visit some of the greatest landmarks, such as the parliament building, the different places in Buda castle, or have a tram ride with tram no 2. You can also visit some great museums such as the Terror House of Budapest, the Hungarian National Museum, or the War Museum. Also, there are plenty of great restaurants to eat at, and join different shows, concerts, ballet, or opera even!
Moreover, there's the famous Gozsdu garden, the ruin bars, and theatres as well to choose from! If you love shopping, there are plenty of fantastic shopping malls around the city to choose from such as West End City Center or the fashion street, the Váci utca (Váci street). After wandering around, maybe you also want to try some delicious Hungarian chicken soup too!
Where to stay during the Budapest Christmas Market visit?
The last question we must discuss when it comes to Budapest Christmas Markets is the accommodation. Where to stay in Budapest? When it comes to locations, I really do recommend you stay in the city center of Budapest, or if you want something more authentic, you can check out the castle district, 2nd district, and 3rd districts on the Buda side. On the Buda side as well, make sure you're as close to the city center as possible though!
In the center, the 5th, 6th, and 7th districts are always the best to stay in Budapest. You can consider some parts of the 8th district as well, but again, try and go to the side that's closest to the center. When it comes to luxurious stays, we really do recommend Anantara New York Palace Budapest, Párisi Udvar Hotel Budapest, part of Hyatt, and Four Seasons Hotel Gresham Palace Budapest. If you're looking for privacy and you want to get an apartment instead of a hotel, you should check out the S23, also Center, The Rumbach suite, and The Suite Mondain Apartment.
Wrapping up the Budapest Christmas Market
Now, Budapest Christmas Market 2022 is still far away, but if you're planning in advance, you might want to save this article and get back to it for updates later in the year! There were plenty of Xmas markets in Europe I attended during the years, but so far for me, the Budapest Hungary Christmas market is the best of all. Of course, this might change from one person to another, but remember: Budapest has so much to offer! Just make sure you know what to look for and you'll enjoy it!
Pin it: Budapest Christmas Market
What to know about Budapest Christmas Market