Seville is the city of oranges, the city where the sun is always shining, and the guitar is always played. It definitely is the most fascinating city I've so far seen in Spain. So, how to plan your visit to the orange city? See my detailed Seville 3 days itinerary with pictures to show what a charming place is waiting for you!
---
Traveling to Seville
You'll find flights to Seville's airport from all major European cities. but also from around Europe. Check out Skyscanner or Momondo to find the cheapest tickets! There are plenty of flights to major cities inside of Spain, such as Madrid or Barcelona too.
This is great because you can basically make a multi-city trip if you want to see major cities of Spain that are otherwise pretty far away. When I spent 9 days in Spain, in August 2019, that's how I proceeded, as I visited after Seville, Madrid as well.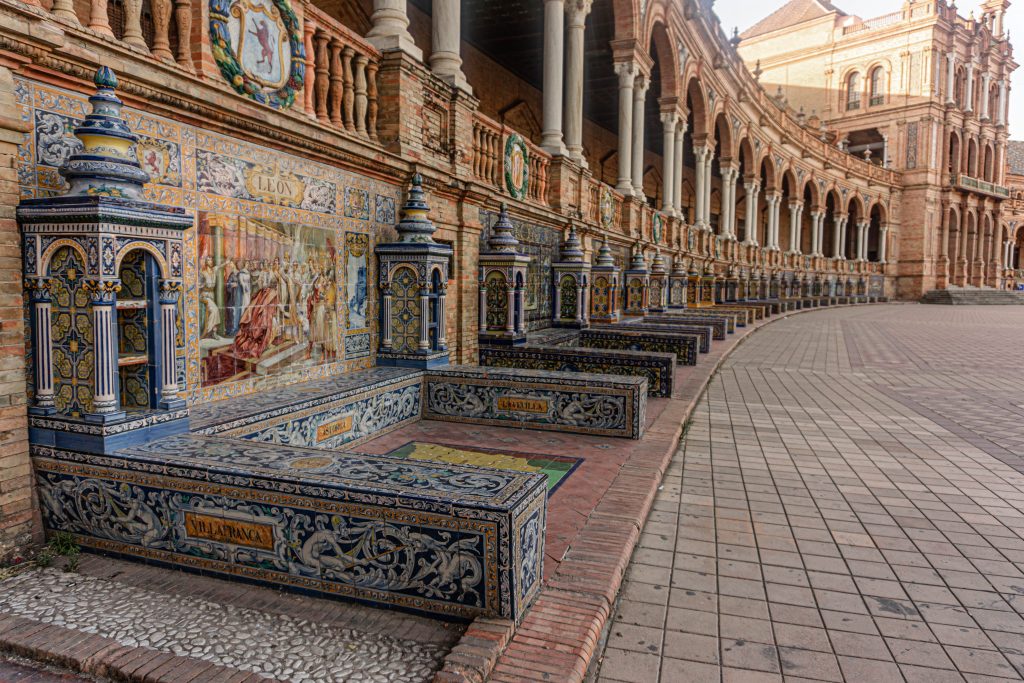 If you're planning to visit multiple places in Andalusia, you can either use the local trains, either buses. I personally went around Andalusia with Alsa buses. It's one of the biggest bus operators in the area, and you can quickly book your tickets online, and just show it to the driver from your phone.
You can also rent a car if that's how you'd like to get around in the region. It's really worth doing it because there are so many small towns and beautiful landscapes you otherwise wouldn't see!
---
When to visit Seville?
Seville is the warmest big city in Europe. The temperature during the day isn't really dropping under 15°C even in wintertime! So, whenever you're going, you won't be freezing, for sure!
During the summer, in Andalusia in usual, the temperature can jump even above 40°C. I highly recommend avoiding the summer if you're not used to that weather!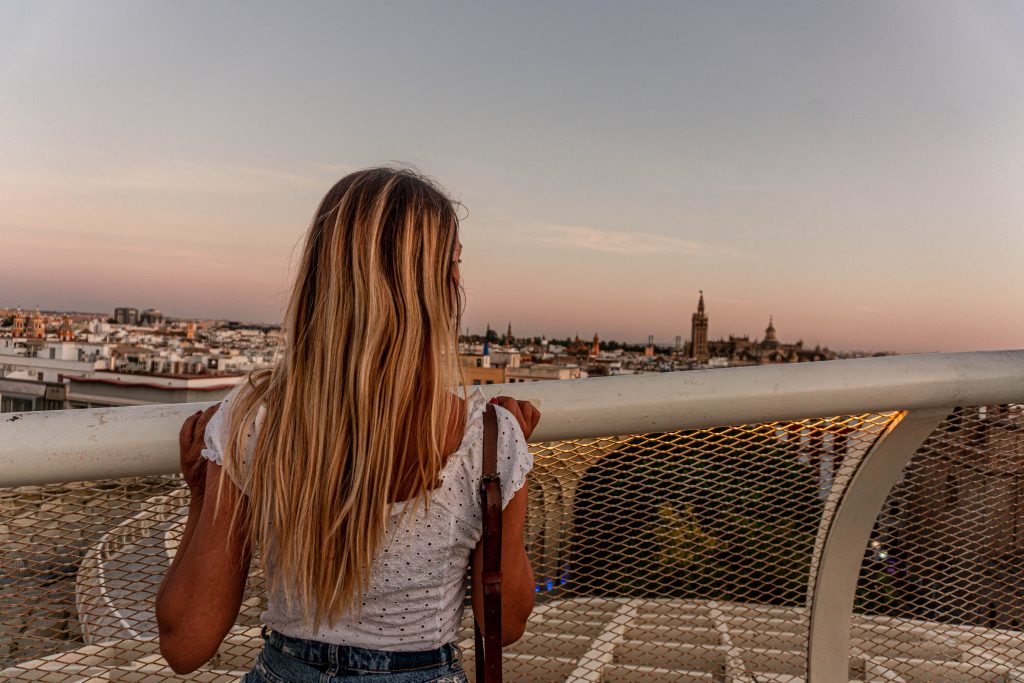 I've been to Andalusia in August, the hottest month of the year. My friend from Seville warned me, actually asked me if I'm crazy to go that month?
Well, for me it wasn't that bad, because I do really, really love that 35+°C. But during summertime, Seville isn't really busy, and you won't be seeing too many people during the day on the streets.
I actually had to learn to practice the siesta one day, because indeed, between 1-5 pm it was way too hot to be outside. I just couldn't walk more.
However, the good side is, that in most parts of the city center the buildings on 1 side are always keeping shade. There are also plenty of walking streets that have shades set above them. Basically big white material on top of the buildings that are facing each other.
If you're looking for a shorter city break to Seville, I do suggest colder seasons. The autumn and the spring are really warm as well. The temperature can go up to even 26°C, so you can enjoy wandering.
If you're on an Andalusian round trip then the summer is what could work best. Andalusia has amazing seasides, and cities such as Malaga, Gibraltar, or smaller ones such as Cadiz, or Marbella, that are really worth visiting during the summer.
Seville has two major events when visitors from around the world arrive too. These are the Semana Santa and the Feria de Abril.
---
Seville 3-day Itinerary
---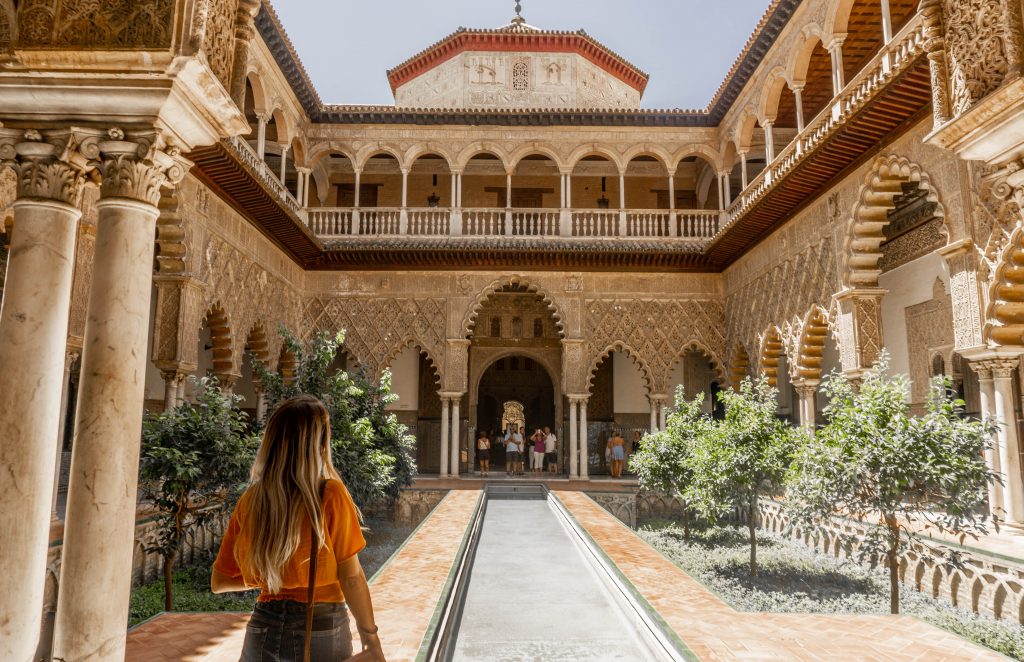 During these 3 days, I have left more time between the attractions and things to do, so you can accommodate it even if you're taking a siesta in the afternoons, even if you're just looking to spend more time everywhere.
Most of the attractions in Seville are located in its historic center called Casco Antiguo. We will be wandering out from the center to the Triana neighborhood as well, as that's a must-see!
Note: If you have a shorter time to spend in Seville, the itinerary can be done in two days as well. You might need to skip 1-2 stops that way though! Also, if you're looking for tips for a longer stay, there are some extra goodies at the end of the article!
---
Day 1 – The southern side of the historic center and Plaza de España
Starting the 3-day Seville itinerary in the morning on Plaza de España. It's recommended to visit this place earlier in the day if you're visiting Seville in busy periods. It's also great for those who are looking to take pictures without crowds. If you're planning a Seville walking tour, it's always good to start here!
The first day includes stops in the southern side of the historic center and will be leading you up to the heart of Seville.
Before we start, if you're looking to spot some flamenco artists, possibly even a show, I do recommend returning to Plaza de Espana in the afternoon/evening too.
---
Stop 1: Plaza de España
Location: Av de Isabel la Católica, in the park called Maria Luisa.
The fabulous complex was built as part of the Ibero-American Exposition in 1928. Plaza de España is a Regional Architecture which is mixing more styles like the Mudéjar, Art Deco, and also Renaissance.
When you're walking along the front of the building, you will see these stunning tiled alcoves, that are representing all the Spanish regions one by one.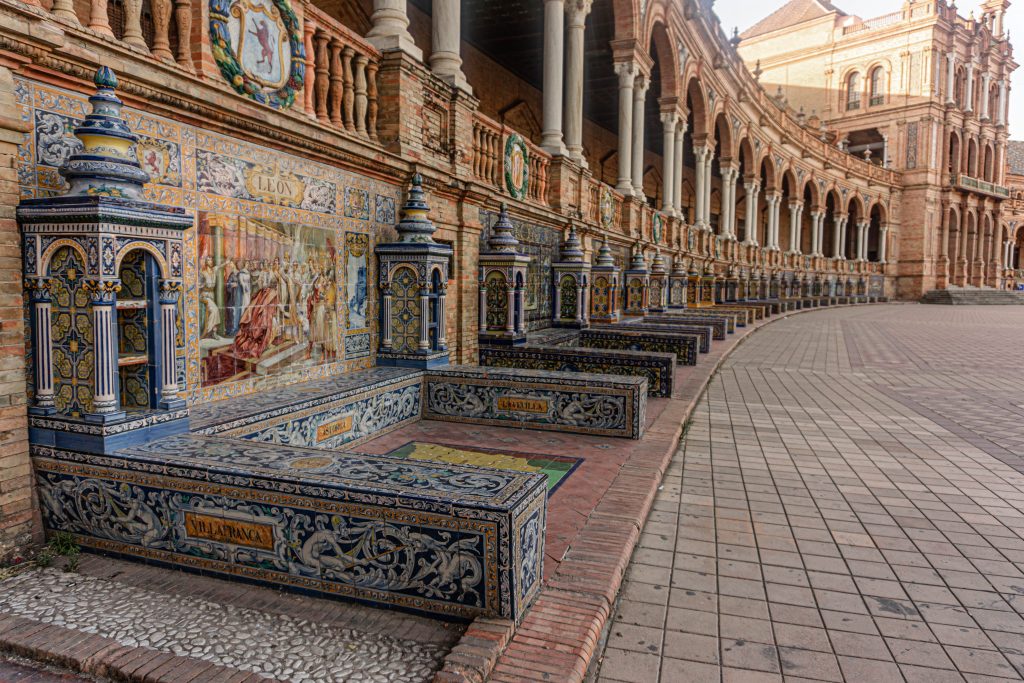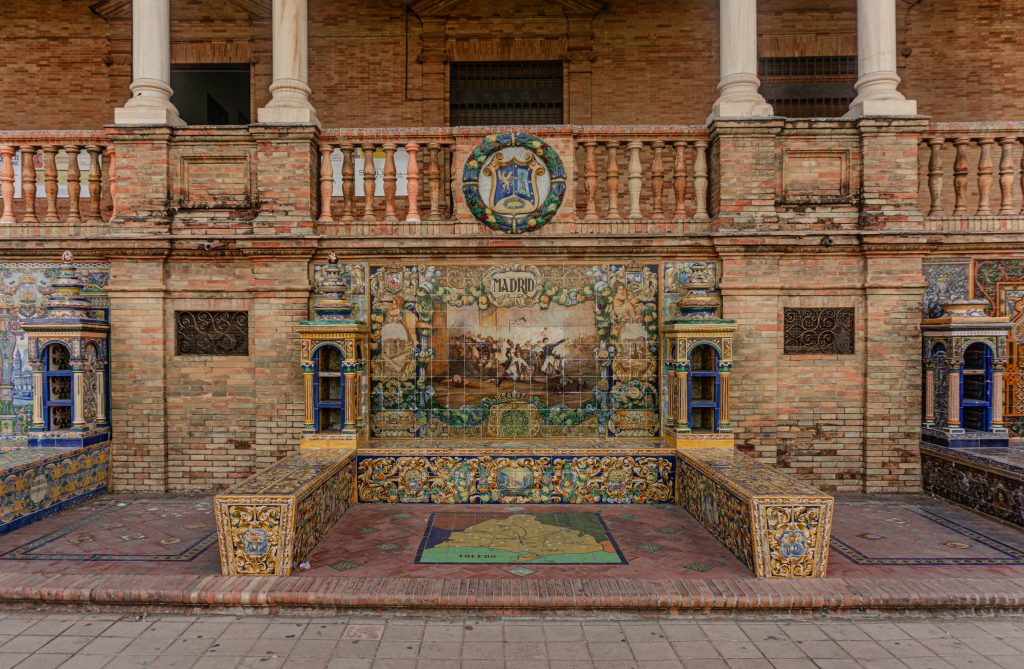 You can also enter in numerous sides of the building. It's basically all open for visitors, and it's also free to visit! Good to calculate with 1-2 hours for visiting and walking around the whole complex and the park.
Activities: Firstly, I'd like to highlight the possibility of renting boats on the plaza. Also, as I mentioned, there is time to time Flamenco performers, singers, guitar players, and all kinds of artists around the square during the day to catch some entertainment. Don't forget the tipping!
Around the park of Maria Luisa, you'll find restaurants and bars with outside space to sit and have a break! The next stop will require some walking again!
---
Stop 2: Real Alcázar de Sevilla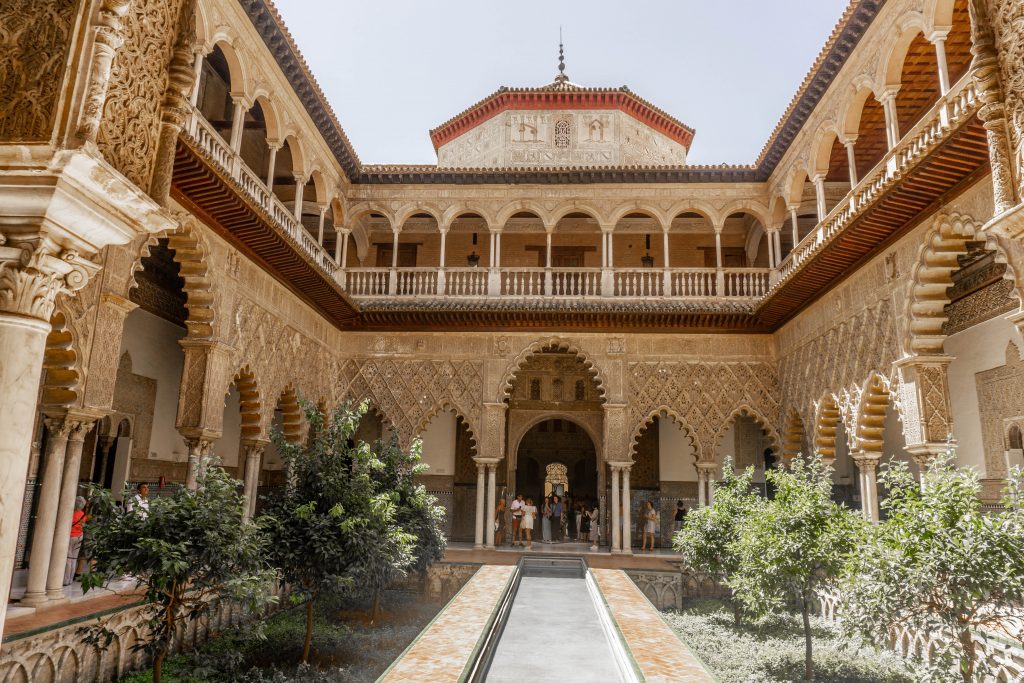 Location: Patio de Banderas – the entrance is near the Seville cathedral!
The Real Alcázar, or Royal Alcazar of Seville is the closest spot to visit nearby, yet one of the most important landmarks in Seville! The entrance is near the Cathedral of Seville, about 10-15 minutes' walk from Plaza de España.
Otherwise, you might get stuck in a queue for hours. And that will be painful, especially if you're visiting in the summer when it's about 40°C outside… (Oh, and no shades around. Been there. Done that. 2 hours in the queue).
The palace was built by the Christian king Peter of Castille, but it gained its current outlook and Mudajer style over the Almohad caliphate. There are plenty of rooms, and gardens to explore that have the most enchanting architecture style! The entrance fee is €18.00 on-site. To visit the Arabic palace, you'll need about 2 hours, maybe even more, depending on your interest.
If we're at the Real Alcázar, we need to mention the Game of Thrones! You might know already… But the palace served as the Water Gardens in Sunspear, the seat of the ruler of the House Martell, in Dorne.
---
Stop 3: Cathedral of Seville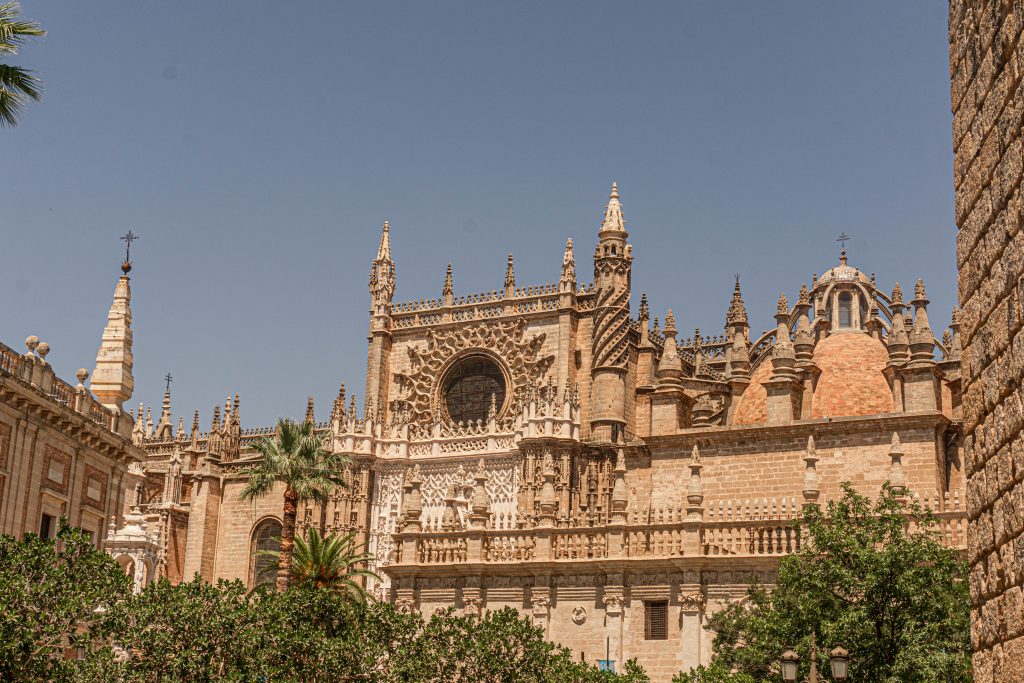 The third stop on the day would be the Catedral de Santa María de la Sede. I really recommend visiting in and out, as it's an unmissable architectural masterpiece of the earlier mentioned Mudéjar architecture!
The Cathedral of Seville was built in the 15th-16th centuries, and it is the world's largest gothic cathedral. It's also part of the UNESCO World Heritage site.
If you decide to see from the inside, the entrance fee is €9.00 for adults. I suggest calculating at least an hour and a half if you're visiting the tower and the cathedral too, as they are pretty immense!
Stop 4: La Giralda Bell Tower
The bell tower is an emblematic piece of Seville, and it is a must-see! La Giralda is also built-in Mudéjar style, that I'm getting more and more obsessed with. The details are just incredible! La Giralda is the highlight of any Seville itinerary, for sure!
What really fascinated me, is that La Giralda is basically visible from almost all over the city. And Seville is a big city. The bell tower, as well as the cathedral, have Moorish origins, as originally this was a mosque.
If you wish to go up to the top and have a bird view of Seville, for a fee, you can do that!
---
Stop 5: Santa Cruz neighborhood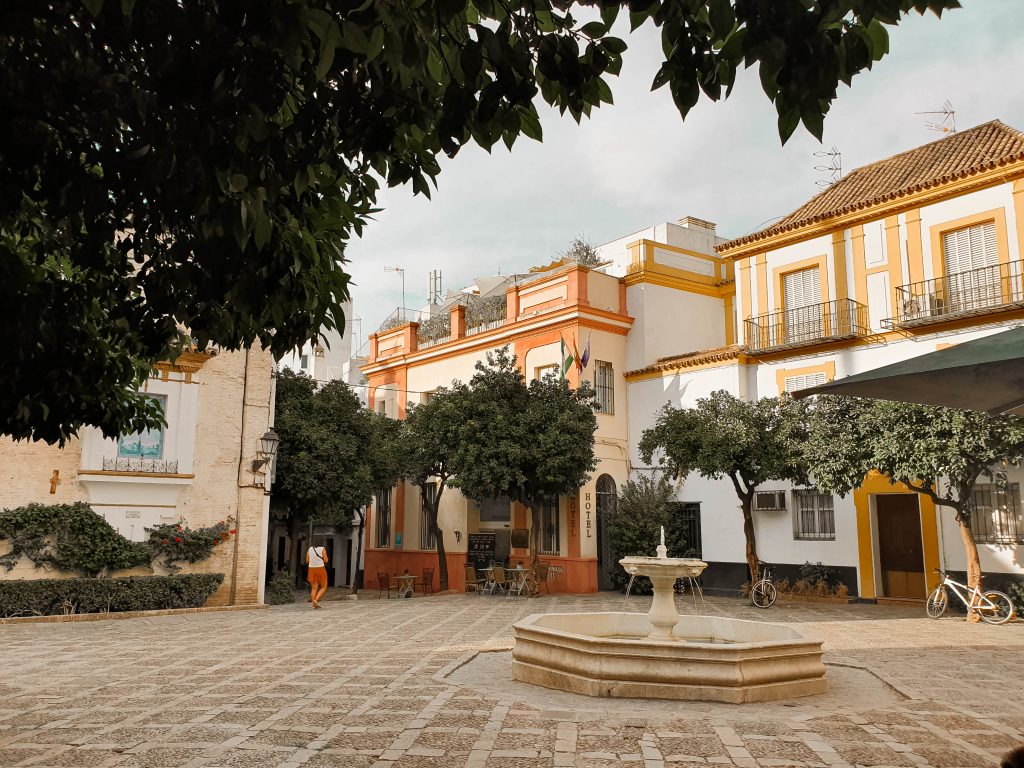 Santa Cruz is a neighborhood right near the Real Alcazar and the Cathedral of Seville. Enchanting, colorful buildings, tiny streets, orange trees, guitar play, and the best tapas you could ever wish for!
Thanks to those tiny streets, there isn't much traffic here. It's quite lovely to walk around to hear no other noise, just street musicians and the every-day hustle and bustle of Seville.
In Santa Cruz, there are pretty, authentic bars, cafes, restaurants to explore. There are some hidden little squares to see, such as Plaza de Doña Elvira, or Plaza de la Alianza. In these places, there's always a restaurant with outside tables, to sit and enjoy a tapas and view.
Antigua Taberna de Las Escobas is a great spot for breakfast and dinner as well. A really Spanish – in style – place with great food, fresh orange juice, and lovely design. It's located on Calle Calle Álvarez Quintero, steps away from the Giralda bell-tower.
If you're seated outside, you'll get the chance to share the meal with one the most known writes of history (look for the table prints). I had breakfast with one of my favorite writers, Alexander Dumas.
To get some drinks with a view, especially in the evening, I recommend the La Terraza de EME rooftop bar. It's located on Calle Alemanes, 27 right near the Cathedral of Seville. La Terraza de EME is a bit more pricy. In return however, you'll get to snip that drink with a breathtaking view on La Giralda bell tower and the cathedral. Really worth it!
---
Day 2: Avenida de la Constitucion, its neighborhood, and Metropol Parasol
One of the best and worse things in Seville, that everywhere you go, you're surrounded by these cute colorful buildings. It really won't take long to break and fall in love with them.
This is one of the worse things because you might leave the city, but you'll never forget those vibes. The feeling you had while you were walking under those orange trees and admired those amazing buildings.
The second day's itinerary is strictly for the city center, again. It's not including any attractions that would consume hours of your time. However, instead of the museums, this is a perfect opportunity to attend a Flamenco show!
---
Stop 1: Avenida de la Constitucion
Starting the day on Avenida de la Constitucion, you'll have plenty of places to choose from for a yummy Spanish breakfast, churros, or a coffee.
The previously mentioned Antigua Taberna de Las Escobas is literally meters away from this street, a few steps away from the Cathedral of Seville.
The Avenida de la Constitucion is the most famous street in Seville. There are some fabulous buildings to visit, such as the La Adriática, Casa Álvaro Davila, and Banco de España.
This street is really stuffed with stores, restaurants, bakeries, and amazing ice cream shops to choose from. Grab some delicious snacks before heading to the next stop!
---
Stop 2: Plaza del Cabildo
Plaza del Cabildo is a place off the beaten path. When I've been reading through Seville itineraries, I haven't really found this place mentioned, just on 1-2 websites.
When something is this beautiful, it can't be ignored!
This lovely yard is right near the Cathedral of Seville, near Avenida de la Constitucion. Yes indeed, it's a bit hidden, but if you turn on your Google maps, you'll locate it quickly! It's an absolutely beautiful, very typical Spanish piece of architecture, and I really suggest visiting it!
---
Stop 3: Museo neighborhood
While I was in Seville, I've been staying in this neighborhood. I remember arriving from the bus station, walking into this neighborhood, while speaking with my mother on the phone.
I couldn't believe this place is real. Too much orange and I loved it all!
As you might have noticed, I'm a big fan of colorful, authentic Mediterranean architecture styles. And I'm saying the Mediterranean because I'm the say way enchanted in Italy and other countries in the area.
If you're traveling solo, and you prefer a hostel with solo travelers, I really recommend the Oasis Backpackers Palace Seville. I loved the rooms, the stylish lounge, and especially that rooftop bar and small pool.
That was a lifesaver in the heat!
---
In Museo neighborhood, it's like in Santa Cruz. Wherever you're heading, you'll find lovely streets, colorful buildings and plenty of bars and restaurants.
I mean, most of the side streets from Calle Tetuan are literally full of bars. One after another. Keep in mind that in Spain, a bar means a place where you can also get food, at least tapas.
Social life in restaurants and bars is a big part of Spanish culture! It's really affordable to eat out. I mean, for a dinner and drinks to pay €11.00 is pretty cheap, no?
Calle Tetuan is one of the busiest shopping streets in the center. Imagine it somehow like Calle Marques de Larios in Malaga. Usually, on these shopping streets, you'll find the most popular mid-budget to luxury stores.
---
Stop 4: Casa de Pilatos
Location: Pl. de Pilatos, nr 1, Seville
Casa de Pilatos dates from the last quarter of the 15th century and springs from the union of the Enríquez and Ribera families.
As a result of their most conspicuous members' intense relationship with Italy, throughout the 16th century, it underwent deep transformations. It became the filter through which the new Renaissance forms and tastes were introduced into Seville.
The alterations carried out in the mid 19th century in accordance with the romantic taste complete its picturesque appearance. A blend of Mudéjar-Gothic, Renaissance, and romantic styles.
---
Stop 5: Las Setas – Metropol Parasol
Location: Pl. de la Encarnación, Sevilla
If you're looking to see one of the most incredible sunsets of your life, the top of the Metropol Parasol can't miss from your Seville itinerary!
The Metropol Parasol is a magnificent wooden structure, with a size of 150 by 70 meters. It's the largest wooden structure in the world actually.
Heading up north on Calle Teuton straight forward, you'll reach Calle Campana and going on the right-hand side. It's about 5 minutes walk from there.
The Las Setas – Metropol Parasol was designed by Jurgen Mayer, and it was completed in 2011. You can walk around on its rooftop walk path, and you'll can see Seville in 360°. To access the top, you'll need to pay a fee of €2.00.
If you want to make sure that you'll catch the sunset, consider arriving ahead of time! Sometimes the queue can take 30 minutes or more, so you can easily miss the sunset.
---
Flamenco shows – Seville Itinerary
Flamenco is the main art style in the region. This is including dance, music, and performances altogether. Andalusia is the birthplace of this art style.
Seville is a very popular spot for amazing flamenco shows. The city is basically known as the heart of Flamenco, even though it's not originating exactly from Seville.
A Flamenco show is a must for every Seville itinerary!
If you're not interested, fine, but I really do recommend seeing at least one! Here's a list you can use, it's covering restaurants and special places for Flamenco shows. Most of these places were suggested by locals!
Flamenco shows in Seville
El Arenal located in Calle Rodo no 7, Sevilla.
Los Gallos located in Plaza de Sta Cruz no 11, Sevilla.
La Carboneria located in Calle Céspedes no 21A, Sevilla.
Pura Esencia located in Calle Betis no 56, Sevilla.
Museo del Baile Flamenco C/ Manuel Rojas Marcos, 3, Sevilla.
La Casa del Flamenco Ximénez de Enciso, 28, Sevilla.
Casa de la Memoria Calle Cuna nr 6, Sevilla
---
Day 3: Riverside of Gualdalquivir and Triana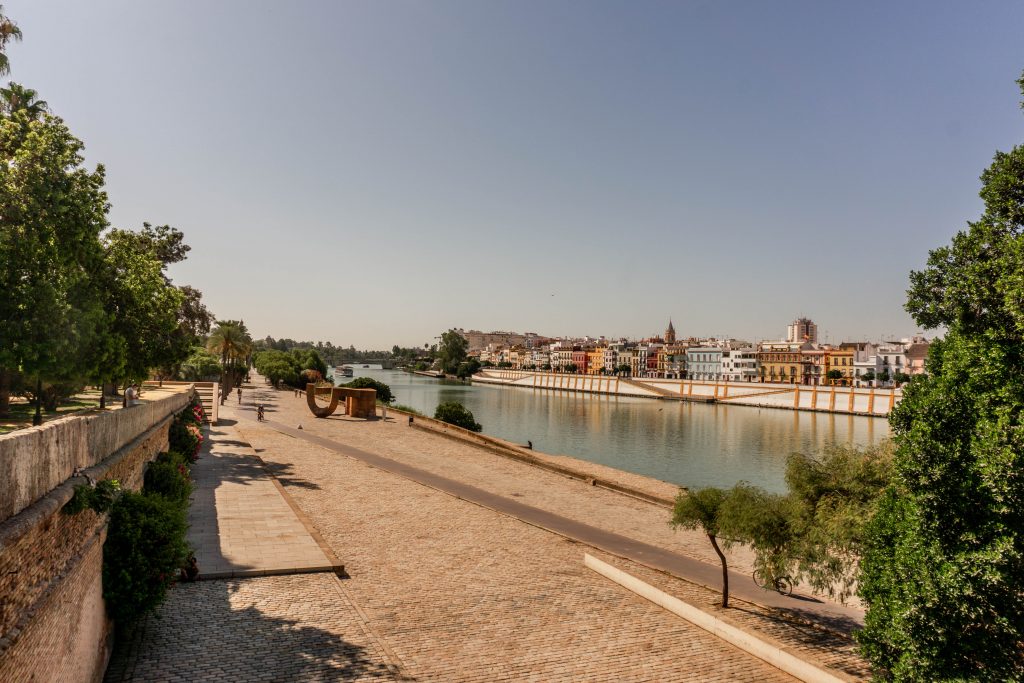 If you're all familiar with Sevillanas, bulerias, and other substyles of the Flamenco, the best to start the 3rd day is with some churros in Triana. This neighborhood can't miss from any Seville itinerary!
Stop 1: Triana Bridge
Triana neighborhood is known to be the most authentic Sevillan neighborhood. The other reason, I personally love it, that it's out of the crowded side of the city. You also won't hear other languages than Spanish too much.
When you're heading to Triana, it's advised to always head to Ponte Isabela II bridge first. The reason being the view!
The view is incredible toward the colorful neighborhood of Triana, the river of Gualdaquivir, and the beautiful building of the Mercado on Triana's end.
Stop 2: Mercado de Triana and the neighborhood
As I said, when you're crossing the bridge, on the right-hand side you'll spot the market hall called Mercado de Triana, right near the bridge.
A great place to explore and try some local products, get lost in the fruit heaven, and also to try some tapas, meat and cheese products on site.
Churros is something that people eat in the mornings. Basically this pastry you'll have to try with hot chocolate. It's super delicious!
Beyond the churros, you can also get some amazing tapas, and see the real Sevillan life, that you can only find in Triana.
---
Stop 3: Calle Betis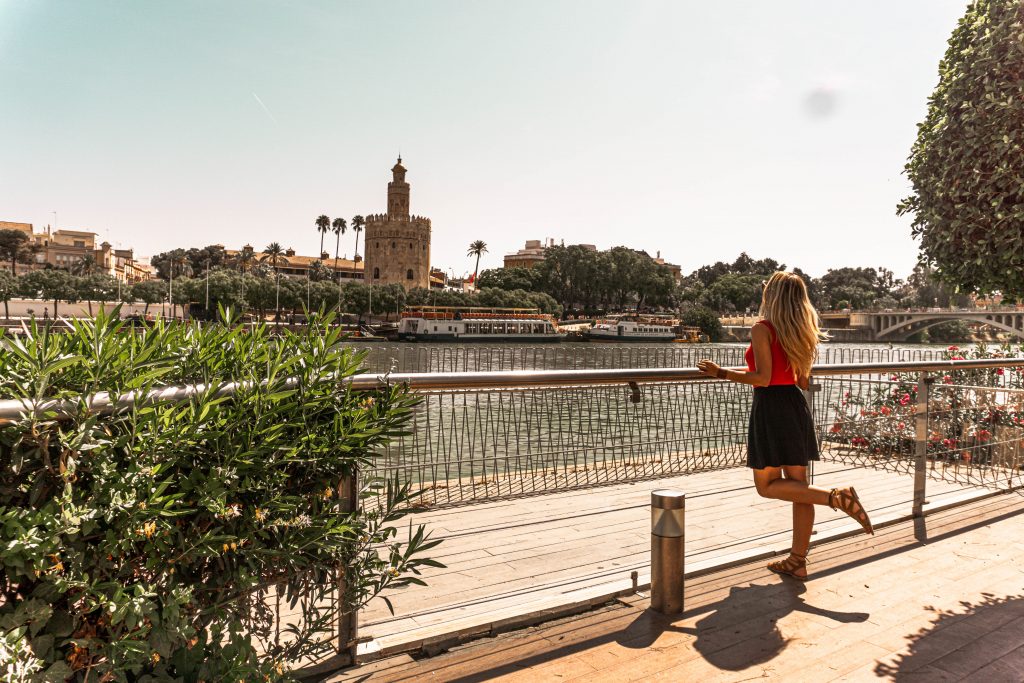 For the best views toward the Casco Antiguo (antique center) of Seville, the beautiful riverside and the Torre del Oro, you must walk along the Calle Betis. It's anyway the best and easiest way to get to Torre del Oro, which is the next stop!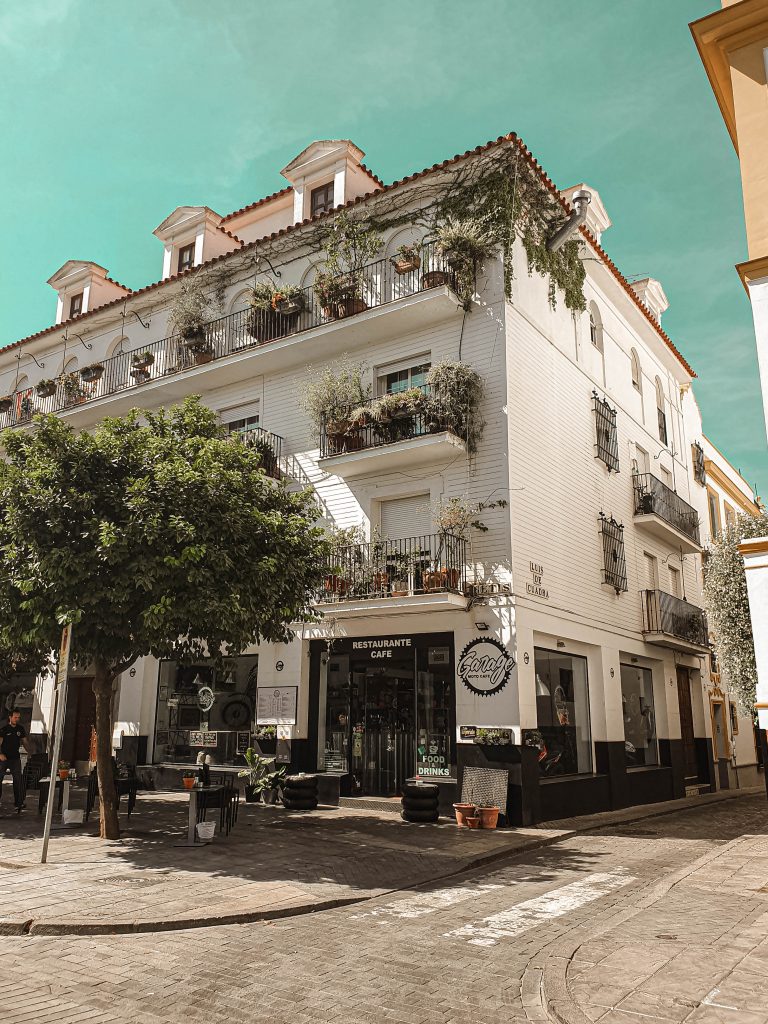 This street links the Ponte Isabela II and San Telmo bridges. Calle Betis runs parallel with the river, and there are plenty of bars and restaurants on the way to stop by.
Some that are on riverside have outside tables and a peaceful, warm, beautiful view towards the other side of the river.
Calle Betis is also one of the nightlife hotspots in the center of Seville! If you're planning to stay out late, here you can deeply experience that Sevillan nightlife.
---
Stop 4: Torre del Oro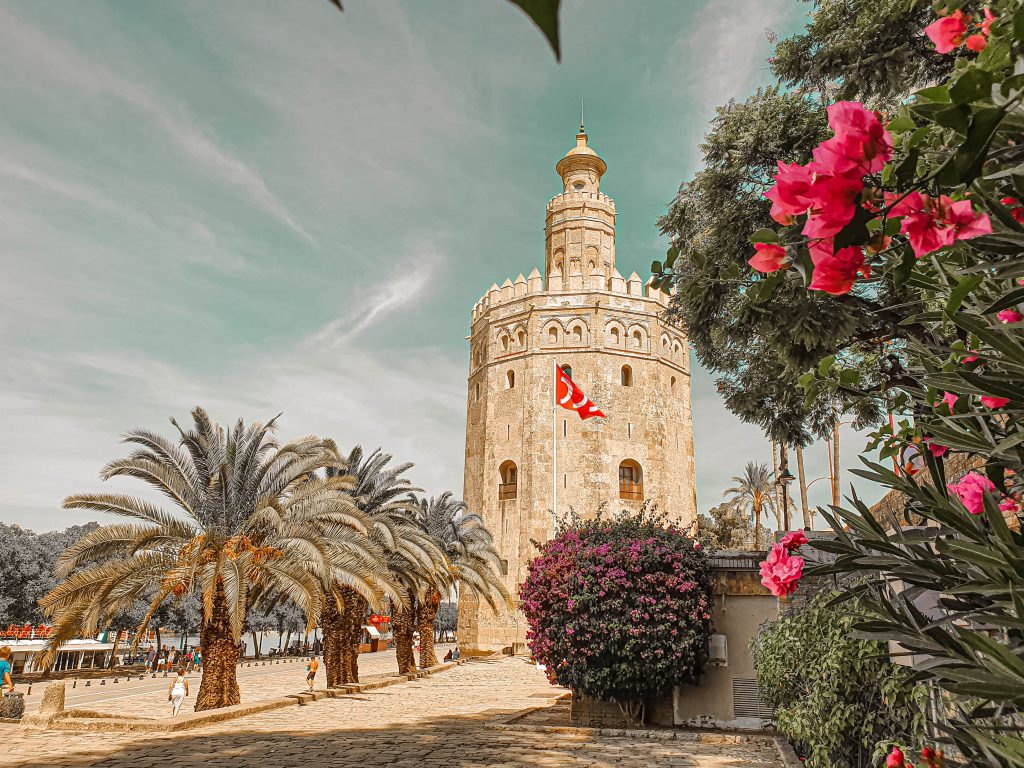 When you arrive to the end of Calle Betis, crossing the San Telmo bridge, you'll arrive right away to the Torre del Oro. It's located on the left-hand side near the bridge and the river Guadalquivir.
The tower was built in the 13th century, serving as a military watchtower, to control access on the river. The Torre del Oro is one of Seville's most famous landmarks.
The tower is surrounded by flowers and palm trees, offering a really lovely panorama, and a great spot to enjoy the city. Sitting there for about an hour was one of the best parts of my Seville itinerary!
Stop 5: Maestranza Bullring
Location: Paseo de Cristóbal Colón, 12
The famous Sevillian bullring is about 10 minutes walk from here up north. If that makes it easier, it's halfway between the Isabella II and San Telmo bridges, so you can visit it in the morning as well, instead of starting straight away with Triana.
The bullring has a capacity of 12 thousand people, and during the Feria de Abril, one of the world's most famous bullfighting festivals are organized here.
It's really worth visiting inside, as it's beautiful. I can't say anything about the bullfights, as I'm really against animal cruelty, even if it's tradition.
---
Extra to do's to your Seville itinerary
---
Football games – Real Betis and Sevilla F.C.
As you may know, football is in the roots of Spanish culture. Watch a Sevilla F.C. or Real Betis game while you're in Seville.
If you're not familiar with the teams, the Sevilla last year finished 4th in the Copa del Rei (Spanish football championship), and the Betis 8th. So the Seville might be stronger, but if you're asking me, Betis! Always Betis! (I wish there was a game in August…)
---
Day trips from Seville
When I try counting how many places are around Seville, the Capital city of Andalusia, that you should see… Well, too many! However, I really recommend considering to add to your Seville itinerary some of the following.
If you're looking to spend a day on the seaside, somewhere that's not too far from Seville, then I recommend Cadiz. It's a very popular seaside summer destination for locals and foreigners as well! Imagine the colorful streets of Seville on a smaller version, near the beach.
Jerez is another close destination you can visit, and this is also an important sight of the history of Flamenco. You can always consider Ronda, Cordoba, Gibraltar, or even Granada and Malaga to get away from Seville. However, if you're visiting these last two, I do recommend more than 1 day to spend there. Especially in Malaga, on the seaside…
---
Museums
If you're looking for great museums to explore, I first would suggest the Museo de Bellas Artes (Fine Art Museum).
There's also the previously mentioned Museo de Baile Flamenco, where you can first explore the collection of the history of Flamenco. And afterward, you can sit to watch a Flamenco show!
The Museo Archeologico de Sevilla is also important to mention, because it has some amazing collections dating back to the Neolithic Age.
This archeological collection is considered the most important one in Andalusia, having incredible pieces also from Roman Empire. and the times of the Moors. Since we're talking about archeology, the Itálica is also a must-see!
Itálica was the 3rd largest city in the Roman Empire, being the birthplace of the emperor Hadrian. (who's name comes up many times along with the ancient architectural heritage in Rome – the Castel San Angelo).
---
Read More
25 inspiring photos from Seville, Spain
10 things to do in Seville, Spain
Everything you need to know about Andalusia, Spain
Top 10 things to do in Málaga, Spain
---
Pin me: Seville – 3 Day Itinerary
---
Find the best accommodations for your trip!
---
Don't forget to get your travel insurance!
3 Perfect days in Seville – Itinerary