Seville is that colorful, authentic, and vibrant place you always imagined when you thought about Spain, but didn't know where to find all this together! The capital city of Andalusia is unquestionably one of the most amazing destinations in Spain! Just think about the Royal Alcazar of Seville! My photo gallery of all the things to see in Seville will hopefully be a real inspiration for you to visit the capital of Andalusia!
Over my trip around Andalusia, Spain I have seen many beautiful towns and cities, but Seville is by far the most beautiful! Things about the details, such as the Plaza de Espana, the Royal Alcazar of Seville, and the stunning Mudejar architecture on the Seville Cathedral! If that's not enough, think about Seville's oranges, the orange trees that cover the walkways all around the city. And we could continue the list… But we'll do better, if I simply just show it to you!
---
Things to see in Seville
Seville, Andalusia photo gallery
---
#1 Seville Cathedral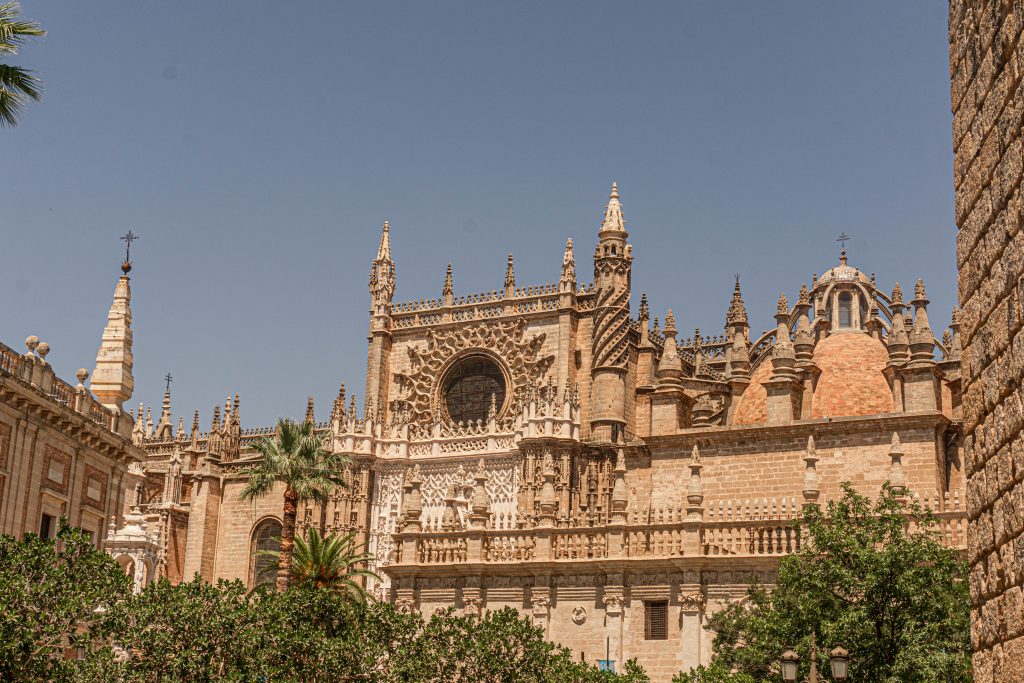 A masterpiece of the Mudejar architecture. The Seville Cathedral is one of the largest cathedrals in Spain, with the must stunning details.
---
# 2 A hidden square in Santa Cruz
The neighborhood of Santa Cruz in Seville is like a labyrith, where you must follow off-the-path alleways, to arrive to incredible squares. And of course, Seville's orange trees cover everything.
---
# 3 Details on Calle Tetuan, Seville
While exploring the shopping streets in the historic center of Seville, make sure to look at the buildings above the shopfronts!
---
# 4 Las Setas de Sevilla – Metropol Parasol
A wooden masterpiece in Seville. The Metropol Parasol, or otherwise known as Las Setas is a must see, especially at sunset!
---
# 5 Wandering near Torre del Oro in 40 °C like…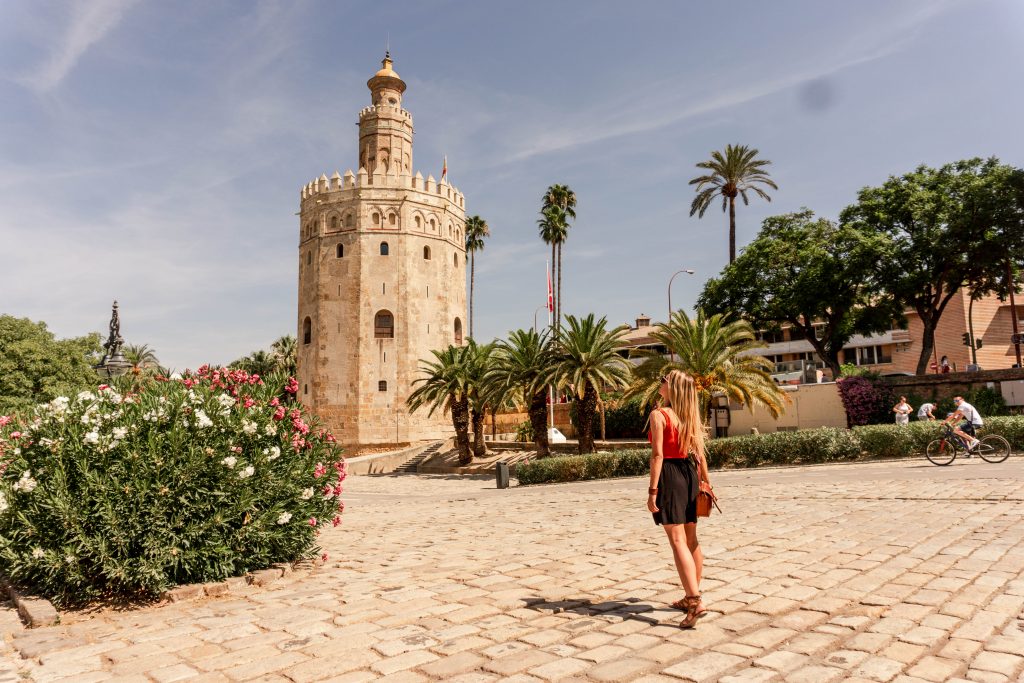 Torre del Oro is one of the most famous landmarks to see in Seville. You'll find it right near the Guadalquivir River. Though, avoid midday hours in the summer! It's way too hot!
---
#6 Torrel del Oro – one of the top things to see in Seville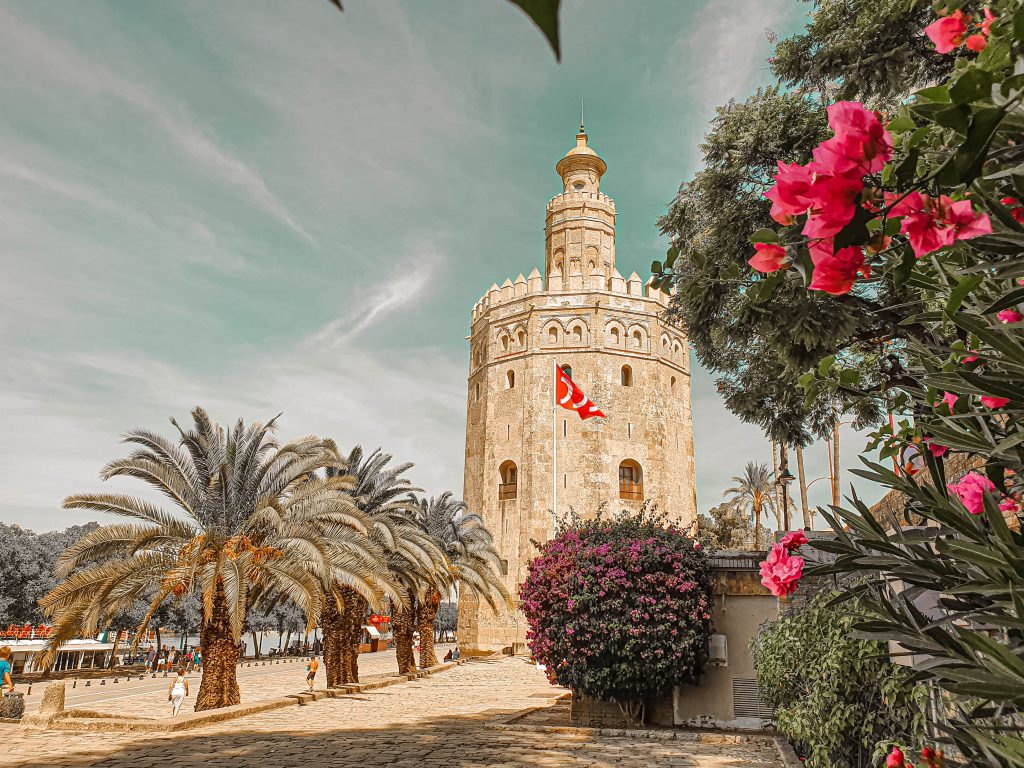 Still around one of the best things to see in Seville! Torre del Oro surrounded with the most beautiful plants and flowers!
---
#7 When the heat takes over, Triana neighborhood
Wandering near the Guadalquivir river, in Triana neighborhood. The oldest, most authentic neighborhood in the city, and one of the best things to see in Seville!
---
#8 Triana, Seville – Entering the neighborhood
Crossing the Triana Bridge ( Puenta del Isabel II ) you'll arrive to the Triana neighborhood in Seville. On the right hand side, the first thing you must visit, is the Triana Market! Don't miss to try the local goodies!
---
# 9 Architecture in Triana neighborhood, Seville
While exploring Triana, the architecture all over the neighborhood will take your breath away. Just look at those details…
---
# 10 Sunset from the top of Metropol Parasol – Las Setas de Sevilla
As mentioned, the sunset from Metropol Parasol, Seville is just amazing! Unreal! Unbelievable!
---
# 11 Tiles on Plaza de Espana, Maria Luisa Park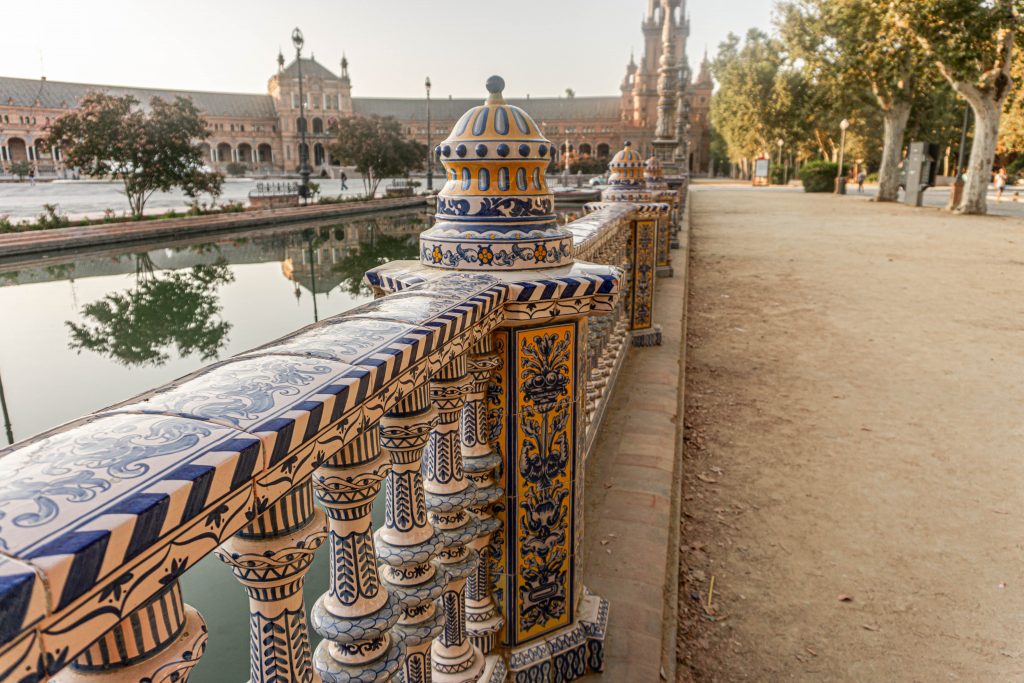 More tiled masterpieces in the stunning Plaza de Espana, in Maria Luisa Park.
---
#12 View over Plaza de Espana, Seville
You won't find many places that can amaze you as much as Plaza de Espana. An incredible architectural masterpiece. And it's completely free to visit!
---
#13 More tiled art on Plaza de Espana, Seville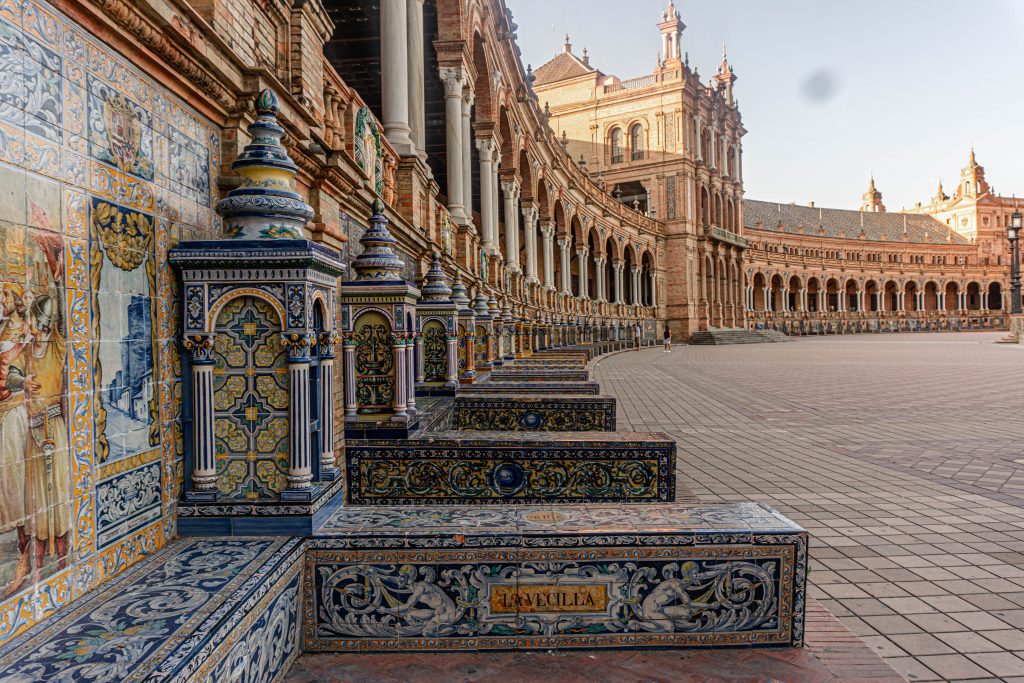 Between each blue tiled piece, you'll find one region of Spain. Walk along the building complex, and discover all regions of Spain, and find your favorite! Plaza de Espana is definitely one of the most beautiful things to see in Seville!
---
#14 Still on the stunning Plaza de Espana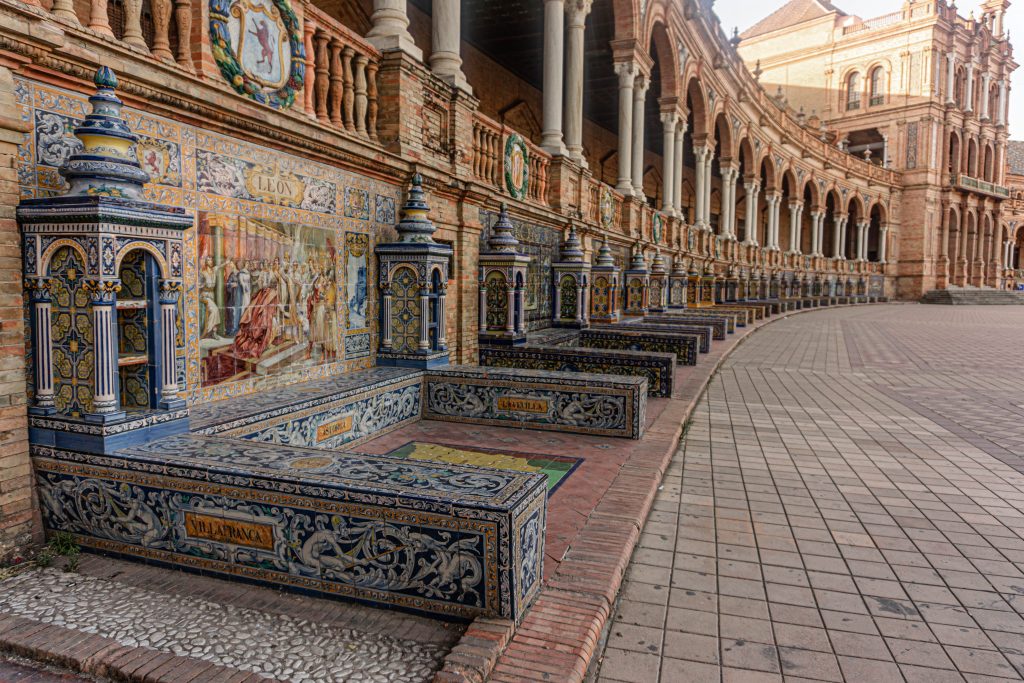 Are you still having doubts about Plaza de Espana? Find great activities as well while you're exploring the complex and the Maria Luisa Park!
---
Royal Alcazar of Seville is one of the must stunning examples of Mudejar architecture in Seville. The incredible design, courtyards, and parks will bring you to a world of dreams.
---
#16 Patio de las Doncellas courtyard of the Real Alcazar of Seville
Don't miss to visit one of the most beautiful things to see in Seville! Book your visit to Royal Alcazar of Seville, avoid the lines, and enjoy the beauty!
---
#17 Mudejar architecture in the Royal Alcazar of Seville
It's impossible to get enough of those details. Beauty on every corner, every turn, every step. The Royal Alcazar of Seville is just incredible! Don't you think?
---
#18 More details in the Real Alcazar
If you previously said no, I'll ask you again! Don't you think that the Royal Alcazar is one of the most beautiful things to see in Seville? Still not sure? Alright…
---
#19 Mudejar ceiling and dome in the Royal Alcazar of Seville
What do you think about this? If the pictures of the Royal Alcazar didn't convince you still to visit Seville than we have a problem! Just look at that incredible dome, covered in golden paint… And those details! Click here for Royal Alcazar of Seville tickets online!
---
#20 Sevillan alleyways in Santa Cruz, Seville
Don't forget, that every alleway in Santa Cruz leads to a beautiful hidden square, that's always covered in orange trees. The real beauty, colors, Seville, and orange trees!
---
#21 Avenida de la Constitucion, Seville
The most famous street of Seville, that's home of some amazing pieces of architecture, such as the Plaza del Cabildo, the Seville Cathedral, and much more!
---
#22 La Giralda – Seville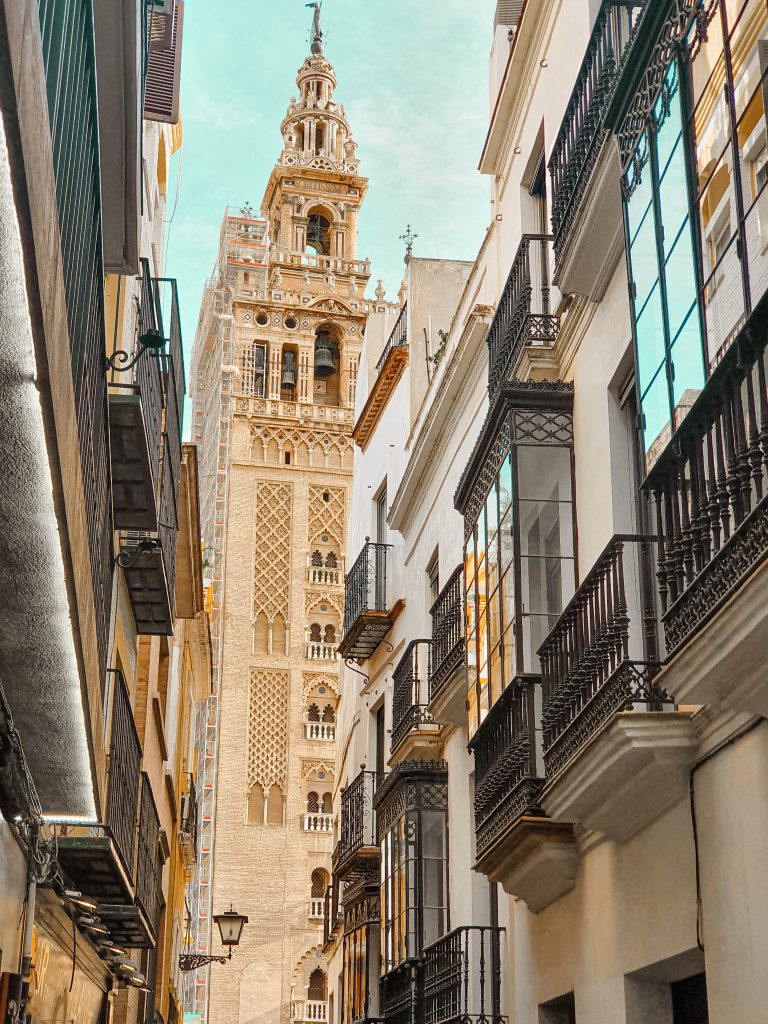 Show me another tower that's as beautiful as the La Giralda. The bell tower of the Cathedral of Seville is also a great example of the Mudejar architecture! If I may say something like this, this picture is also my personal favorite of my Seville photo gallery…
---
#23 Torre del Oro once again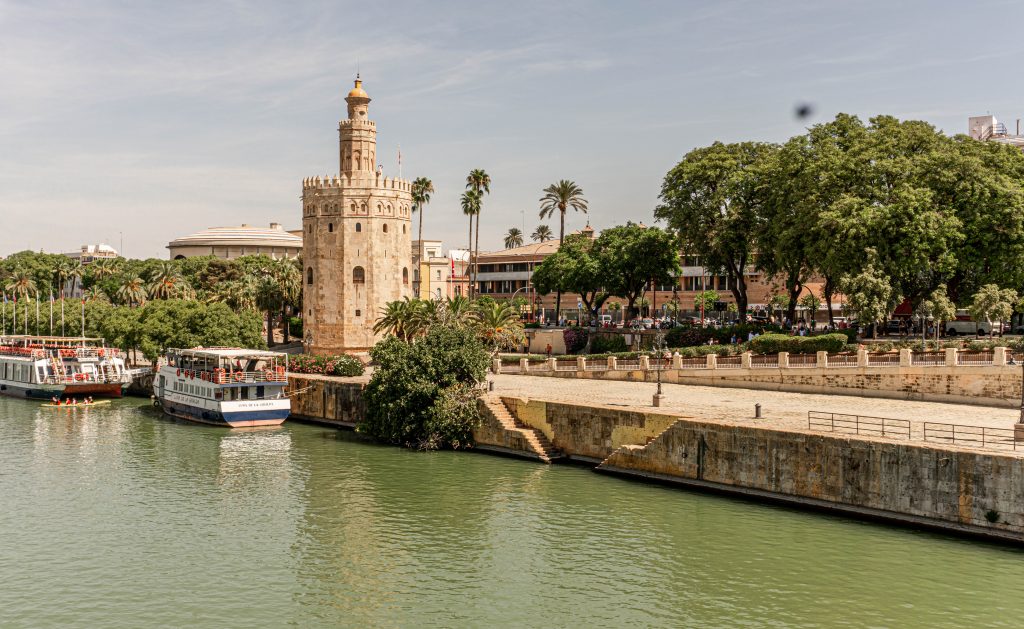 Torre del Oro from the bridge San Telmo. Such a stunning piece!
---
#24 Seville orange trees
As I have mentioned, one of the most incredible things to see in Seville are the streets and buildings. However in Seville orange trees are the most facinating on the streets… There are more than 20.000 pieces of orange trees in the city!
---
#25 How could anyone not fall in love with these colorful streets?
Something I really, really love in Spain, that even though there are many tourists, and over the night people do some mess on the streets, the next morning they are again beautiful and clean.
Seville is the city of oranges, and beside the orange buildings and orange trees, you can find beautiful neighborhoods, amazing architecture, and some landmarks that will make you fall in love with Seville!
Why else I really recommend Seville? Because of its culture, the music that's surrounding you, the food, the art, and lifestyle. There's so much to see in Seville!
I feel like it's important to highlight that it is a very affordable place! Comparing to the UK, US, or just even North of Spain, the prices in Seville are surprisingly low! Once I had breakfast right near La Giralda and the Cathedral of Seville, in a very nice traditional restaurant. I ordered Spanish ham, toast with fresh tomato sauce, fresh orange juice, coffee, and water and I paid € 7!!! I mean, what?!?
There are so many reasons why Seville is a great destination! I really hope this Seville photo gallery gave you an idea about what's waiting for you in the capital of Andalusia! Now, if you're ready to learn more, read my detailed 3-day Itinerary to Seville!
You can read about the 10 things to do in Seville by clicking right here!
And also if you'd like to know more about the Andalucian culture, specifically about the Flamenco, read this post!
Also, you can check out my Andalusia photo gallery as well over here!
---
Pin me!
---
Find the best accommodations for your trip!
---
---
25 inspiring photos from Seville, Spain