I'm going to start with my first impression: the region of Andalusia, Spain is absolutely unbelievable! I loved it all, the cities in Andalusia, every corner, every moment. My round trip to Andalusia was so far the best trip of my life! I've spent nine fabulous days in Andalucia and two in Madrid, in the summer of 2019.
The original Andalusia itinerary was: 2 nights Malaga, 1 night Granada, 2 Sevilla, 1 Cadiz, 2 Sevilla, and 1 night in Madrid. This slightly changed and instead of visiting Cadiz and spending 2 nights beforehand in Sevilla, I stayed 3 nights longer in Malaga.
The whole experience was incredible and I am really struggling with describing what I felt there. The best way to make you understand is if I'm adding to my post a song called Entre dos Aguas from Paco de Lucia. This will be a perfect background for this article!
It might also make you want to visit Andalusia, Spain as soon as possible!
I discovered a great way of sightseeing which really makes you feel the vibes of specific places. Finding a song that's creating a great atmosphere, and using airpods while discovering a new place is absolutely fascinating! On my first morning in Malaga, I decided to just wander around downtown Malaga without any maps. I was listening to this guitar play from Paco de Lucia and that walk was the best experience ever! I did the same later on in Seville, and Barcelona's Gothic Quarter as well.
You're ready to discover the world of oranges, guitars, flamenco, and colorful towns of Andalusia? Let's see now the things you have to know about Andalusia, Spain!
---
#1 Bits of Andalusian history
Andalusia is a region in southern Spain. The region consists of 8 provinces as following: Almeria, Cadiz, Cordoba, Granada, Huelva, Jaen, Malaga, and Seville. The last one being the capital of Andalusia as well. Andalusia has its name from the Arabic word al-Andalus.
Due to its position, the fact that it's very close to Morocco, and the agricultural and mineral gems it owns, made Andalusia a tempting prize for thousands of years. Andalusia has some magnificent historical things, like the oldest known human paintings were found in the caves of Nerja, near Malaga. Here are a few of the most important historical periods of Andalusia:
The Carthaginians and the Roman Empire
With the fall of the Phoenician cities, Carthage became the dominant sea power of the western Mediterranean, and it also extended its control beyond Andalucia. The region was the major staging ground for the war against Rome, led by the Carthaginian general Hannibal. The Romans defeated the Carthaginians and conquered Andalusia. Then, the region was renamed Baetica, and it was completely integrated into the Roman Empire.
The Arabic dominance
After the Roman Empire collapsed, the Visigothic Kingdom's period came. This was followed in the 700s' by the Islamic invasion led by the Muslim Umayyads. When the Muslim invaders seized control and consolidated their dominion of the region, they remained tolerant to the population faiths, but they also needed a place for their own faith.
In the 750s, they forcibly rented half of Cordoba's Cathedral of San Vicente (Visigothic) to use as a mosque. Nevertheless, the Guadalquivir River valley became the point of power projection in the peninsula with the Caliphate of Cordoba making Cordoba its capital. By the 10th century, the European crowns started the so-called Reconquista, to take back the Iberian peninsula. This eventually happened then in the 13th century, after the battle of Las Navas de Tolosa, which was the beginning of the end of the Almohad dynasty.
Why I considered very important to mention these two main periods? Well first of all, because I loved them. Second of all, because there are many unbelievable architectural pieces left around in Andalusia from these ages. The Roman remaining in Cadiz, in Malaga, the Arabic castles in Seville and Granada, the mosque in Cordoba… All of them are pieces of architecture that will leave you absolutely speechless. They are just unbelievable! See the pictures below!
---
#2 Architecture around Andalusia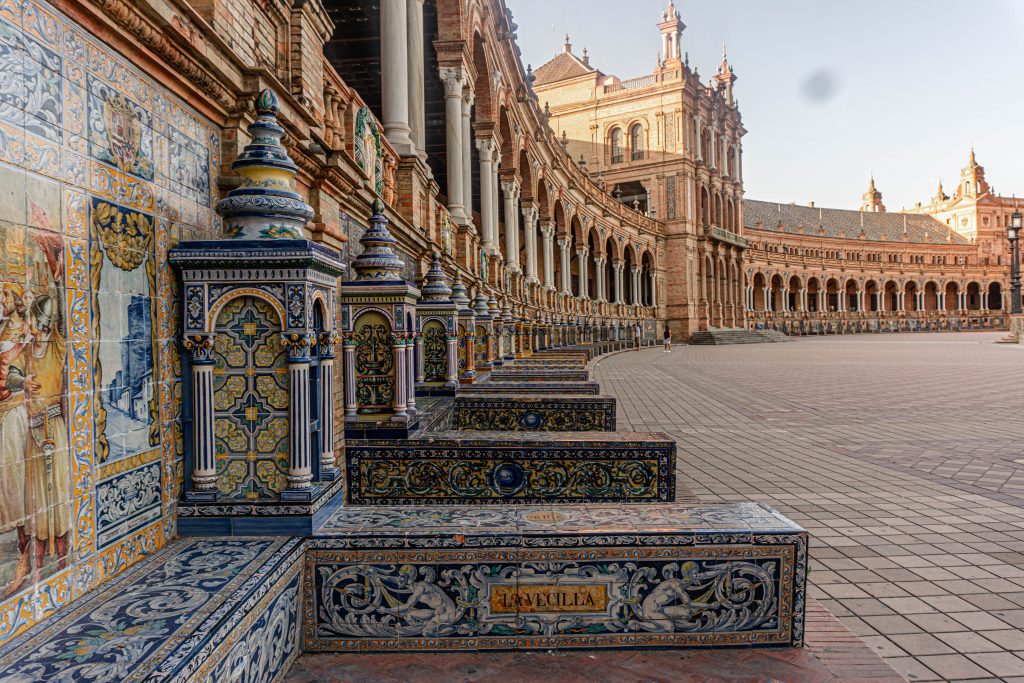 The architecture is just so amazing, honestly! Each city has its own unique characteristic that makes it attractive. There are so many stunning pieces of architecture from the Moorish ages (between the 8th and 15th centuries). My favorites: La Giralda (Seville), Real Alcazar of Seville, La Alhambra (Granada), Alcazaba (Malaga) and the great mosque of Cordoba. The Moorish is an Arabic architecture style that appears in Andalucia, parts of Portugal and North Africa as well. It's something incredible, as the small Arabic style details are just breathtaking.
As I already mentioned, there are some stunning pieces from the Roman Empire's ages as well, such as the Roman Amphiteatre of Italica (Seville), Acinipo in Ronda (Malaga), Baelo Claudia in Tarifa (Cadiz), and the Roman Theatre in Malaga.
If we are speaking of architecture in Andalusia, it's necessary to highlight all those colorful, orange and blue buildings. The completely white houses, amazing gothic churches and breathtaking streets all around in the town and cities of Andalusia. Honestly, everything is just stunning!
---
#3 Music in Andalusia
Well, I just made you listen to a Spanish guitar play. Why? Because Spain is all about the guitar, the music! If you're visiting Andalucia, there's no way you won't hear the guitar play all over the place. I was planning to make a video collection of guitar players on the streets of Malaga, Granada, and Seville, and there were just so many of them!
The most fabulous experience in Andalusia, Spain is when you're walking around on those beautiful, colorful, sunny streets and you hear the guitar. And everywhere you go, you always hear the music. It's just so fulfilling.
Now about specific music in the area: FLAMENCO!
Flamenco is an art form based on the many folkloric traditions of southern Spain, more specifically from Andalusia. It's involving guitar and some other instruments (you can read about them later on in this article). It also involves singing, dancing, and colorful outfits. Now if you want to learn more about this stunning art form, the Flamenco, I already prepared an article for you!
---
#4 Safety in Andalusia
It's very safe! Honestly! Even alone, I didn't feel uncomfortable for a second. Even in the middle of the night when I was walking home from a club (disco) downtown Malaga, the streets were full of people. It was such an incredibly amazing feeling!
I really felt safe there! In Seville though it's advised to be more cautious, especially as it's a big city, and it's not recommended to wander around outside downtown by yourself in the night! However the historic center of Seville was packed with people even at 2 am in the morning, so there I felt completely safe as well.
In England, everyone disappears from the streets after a certain hour, and anyway, people mostly stay inside the pubs so you can't have that amazing atmosphere outside. But, in Spain, people are heading out of the house just after 10 pm. And when Spanish people are partying, that's lasting long!
---
#5 Prices in Andalusia
Honestly, as for someone who was living on an above average salary in the UK, it was super surprising how cheap Andalusia is, compared to the region of England I lived in. Everything was AT LEAST HALF PRICE!
It just felt so good not having to spend so much to have a proper breakfast, honestly! The prices to get with a bus from Malaga to Granada, one way was €11. To Seville, again with the bus cost me €18. A coffee was €2, a beer €3-4, a proper breakfast, with coffee and water was around €5-6. Like, I'm sorry but in the UK for that money, you'll have max. your coffee and water, without breakfast.
A night out to a bar, and a club afterwards took me off €16. I mean, seriously? This covered 2 beers, the entrance to the club, and a free drink inside. I mean… For someone who doesn't need more than 3 drinks for a party night, €16 is still a surprisingly low price, no?
---
#6 Nightlife around Andalusia
As previously mentioned, the nightlife starts pretty late. This is mostly because of the weather. In Andalusia, during the summer, the temperature can go up easily to 45C, so people usually head out around 10-11 o'clock in the night, and the clubs (discos) open even later, around 1 am.
If you want to go to a club earlier, you'll most likely find them all empty. However, this makes the Spanish night ending very, well, early… You can see many people heading home from a party at 8-9 o'clock in the morning.
All this is making Spain great destinations for youth, who are looking for a party destination in Europe. We obviously all know about the party life in Ibiza and similar places, but Andalucia, especially Malaga area is a great summer party destination in Spain!
---
#7 Getting around in Andalusia
I already mentioned above, at the prices how much getting around costs in Andalucia. Comparing to some other countries, the prices are really great here! I did prefer much more traveling by bus, than the train. The buses are cheaper as well. They are always punctual, and there's a great connection between the cities of Andalusia.
What I really recommend doing if you have the possibility, to drive around in Andalusia, especially down on the coast with a car or motorbike. Both are fantastic experiences with breathtaking views and landmarks. You will love it, I promise!
Malaga and Seville have big airports, and these are the two places you should be flying to if you've booked a trip to Andalusia, Spain. Then, buses, trains, or a rented car will serve you well to travel around the region!
---
#8 English speakers?
You'll find yourself trying to explain something in English but you'll have the response in Spanish. More and more people learn and speak English in this area, but you will still meet many who don't, in bars and restaurants as well.
People are lovely and they are trying their best to understand each other if they don't speak English, but it's really useful if you learn a few basics beforehand, and also useful to have google translate app on your phone's main screen! I mean, that's essential to have when traveling anyway!
---
#9 Food and drinks
It's always torture to write about this topic in Spain and Italy related articles, as I really love everything in both countries. Now in Andalucia, there are many traditional food and drinks you can try. Here are some of my favorites: Paella, tapas, churros, Spanish ham.
About the drinks, well there is this thing everyone keeps ordering, but it's not actually a popular thing in Spain, especially between locals: Sangria. Don't know what's so special about it, I tried a couple of times, but each time I went for a beer instead. About the beers, the Alhambra is something very popular in Malaga, the Cruzcampo in Seville (this is also my personal favorite).
Another alcohol drink that's very-very popular, and you will get a massive amount of it: Gin Tonic. This is something very popular, and it's kind of the same level of must-have drink in Spain, as the Aperol Spritz in Italy. What about coffee? Well, the most popular thing you can order, and the easiest as well: Caffe con lecce – which basically is coffee with milk. They serve the coffee and the milk separately, with hot milk usually.
SOMETHING I ALMOST FORGOT: Seville and this area is the paradise of orange tree lovers. Just in Seville city are more than 25,000 orange trees. So what do you need to drink every single day there? Yes, ORANGE JUICE! Each proper, nice bar and restaurant is serving fresh orange juice they make there, from local oranges. Just perfect!
---
#10 Seasides of Andalusia
Right, so as Andalucia is occupying basically the whole South of Spain, you can imagine that seasides are a must here. I haven't been myself to all the beautiful and popular seasides yet, but here are the places that must be seen: Costa del Sol – Basically Malaga and surroundings; Marbella, Fuengirola, Cadiz, Gibraltar, etc. There are beautiful, stunning sandy seasides, also breathtaking rocky ones. It's just something that needs to be explored, and I can't wait to visit some more!
---
Tips for a trip to Andalusia, Spain
It's really important, to plan ahead if you're visiting this region. Bear in mind that the summer, especially August is really hot! At the seaside, you can survive, but if you want to visit cities like Seville, sightseeing in 40C is very painful! I know, I was there in August…
However, it's not like I didn't know about the weather, I went with purpose in the hottest month. But if you can't stand that heat, I really suggest avoiding the summer months. All over the year the temperature isn't really dropping under 15C, so basically any season is great to visit!
---
Some seasonal things you might want to see
Holy week in Andalusia – It's something really special!
Feria in Seville – usually it's between the end of April and the beginning of May.
Feria of Malaga – This is organized in August
Cruces de Mayo in Granada – May
Patio de Cordoba – when all the streets are dressed in flowers – May
Motorbike circuit in Jerez
Football games – My favorite would be the Betis, in Seville and many more
---
Main cities and towns in Andalusia to visit!
Seville, Granada, Malaga, Ronda, Cadiz, Cordoba, Gibraltar, Jerez, Estepona, Mijas, Huelva, Lucainena de las Torres, Setenil de las Bodegas, and many more. Honestly, each place has its beauty. Each province has a lot to offer, so if you have the chance to plan a longer round trip, try and visit as much as possible!
---
For some more inspiration about Andalusia, check out these articles:
25 inspiring photos from Seville, Spain
3 Perfect Days in Seville – Itinerary
10 things to do in Seville, Spain
12 photos about Andalucia, Spain
Top 10 things to do in Málaga, Spain
6 Great day trips from Malaga, Spain
Feeding my soul with guitar play in Granada, Spain
Travel guide to Granada, Spain
---
Pin Me: Everything you need to know about Andalusia, Spain!
---
Find the best accommodations for your trip!
---
Everything you need to know about Andalusia, Spain