"I want to wake up in a city that doesn't sleep…" For me, visiting New York was a colossal dream, it has been a top bucket list item since like forever. New York City, is basically that city in the world that everyone has on the bucket list, am I right?
As you might have noticed, it took me ages, to publish this article with my list of the best things to see and do in New York City, but the time has finally come, so here we go!
---
#1 Briant Park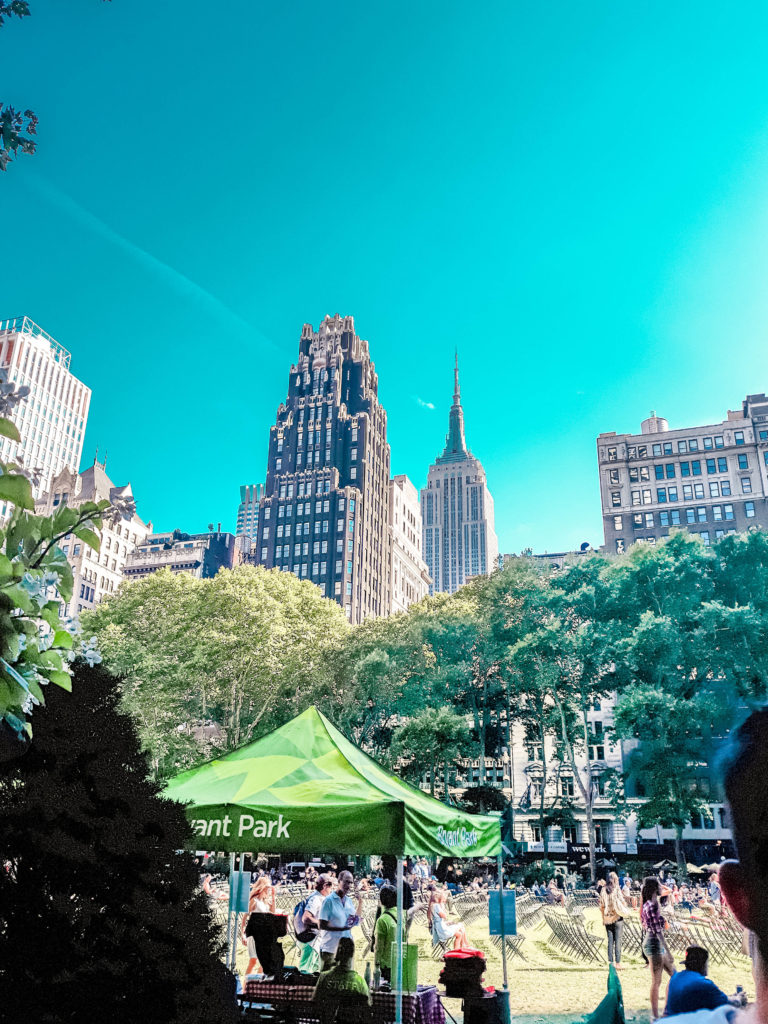 I'm going to start with the first place I've seen after arriving in Manhattan, New York City. I was flying to Newark airport in NJ, and the airport shuttle bus took me from there to Briant Park, As soon as I got off the bus, took a deep breath, and got adjusted to the crowds surrounding me on the street, the view on the below picture was the first I noticed.
A great way to be welcomed by New York, seeing straight away the Empire State Building just the second you arrive in Manhattan. I'm so sorry for the shot guys, but in that euphoric moment, this was all I managed to do…
---
#2 The Empire State Building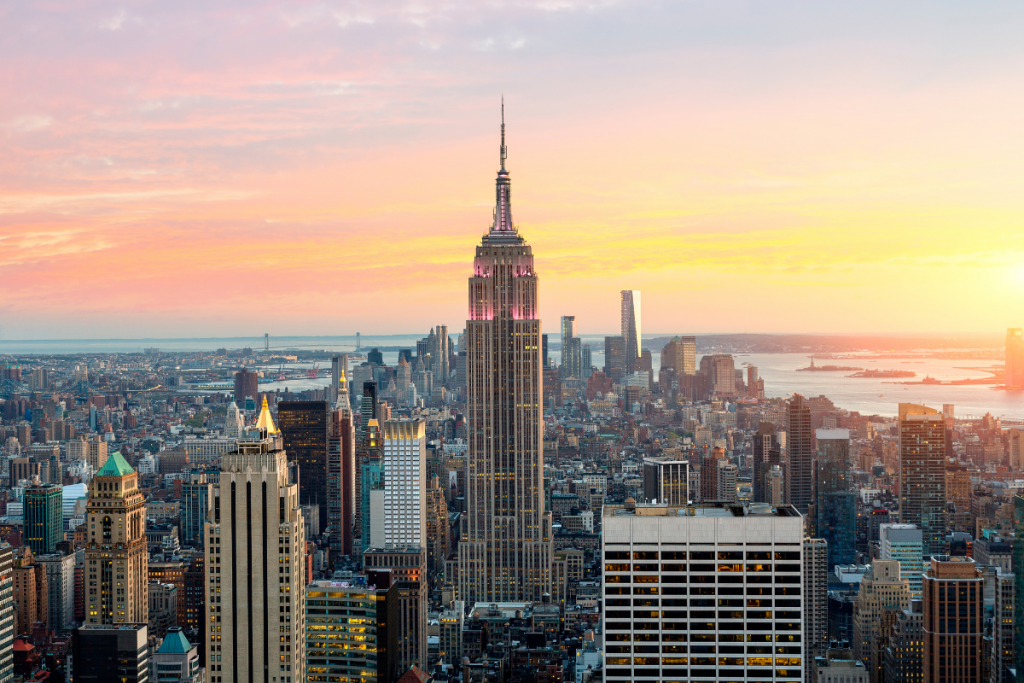 The iconic building of New York! Everyone who ever heard, watched, seen a picture/movie or anything about New York around the world, will recognize the Empire State Building, for sure. So what do we need to know about it?
The Empire State Building is a 102 floor Art Deco skyscraper, in Midtown Manhattan, on the West side of the 5th Ave, between the West 33rd and 34th Street. It was the tallest building on earth for 40 years, being 443m tall with the antennas.
The building began in 1929, and it officially opened in 1931. This is the place that everyone has to have on the top of those NYC bucket lists, and I mean that!
As an extra perk, if you didn't know: you can actually go on to the top, for a view to never forget! Tickets for this are available online!
---
#3 Top of the Rock Observatory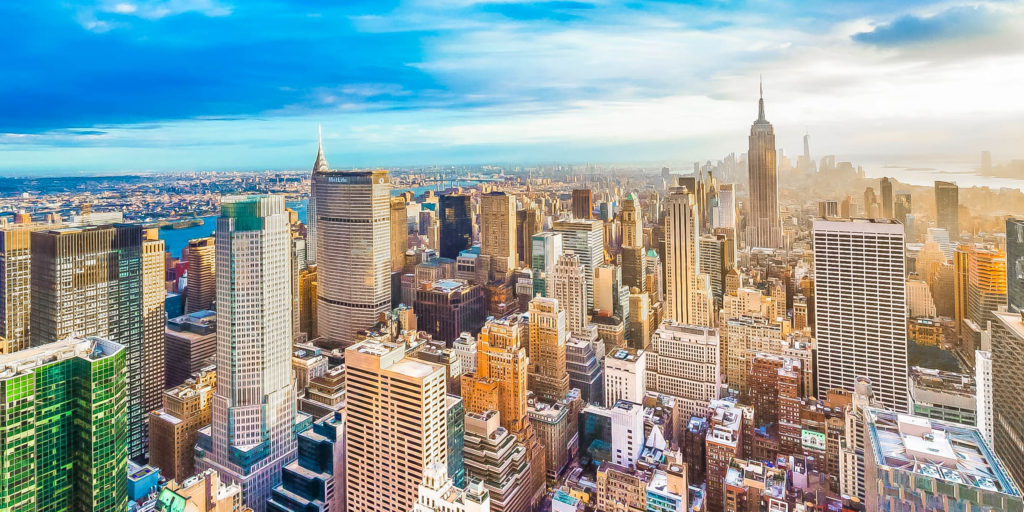 The best and most famous spot for an epic panorama! The top of the Rock Observatory as part of the Rockefeller center is a must-do in New York! It's located on 50th Street between Fifth and Sixth Avenue.
There are three decks to explore: the first one includes the Radiance Wall, the second, featuring the Breezeway, which is entirely outdoors. The third observation deck, located on the 70th-floor open-air roof deck, is completely outdoors and free of a glass, which is perfect for photos! It's really recommended to purchase your tickets online to the Top of the Rock, as the lines tend to get really long.
#4 Statue of Liberty and Ellis Island
We have another iconic landmark of New York here, the Statue of Liberty! This is again something that has to be visited while in New York.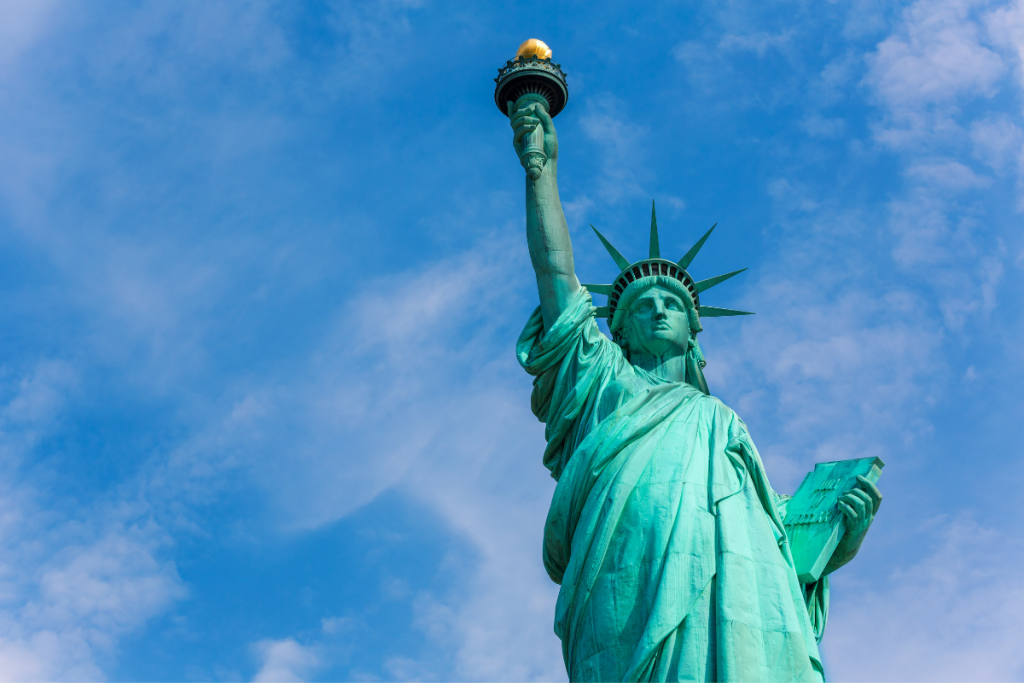 Things to know: The Liberty Statue was a gift from the people of France to the people of New York in 1886. The statue is a figure of Libertas, a robed Roman liberty goddess. She holds a torch above her head with her right hand, and in her left hand, she's carrying a tabula ansata inscribed JULY IV MDCCLXXVI (4th of July 1776), the date of the U.S. Declaration of Independence. After its dedication, the statue became an icon of freedom and of the United States; it has been a welcoming sight to immigrants arriving by sea.
Find it: on Liberty Island, in New York Harbour. You can get there by a Ferry boat – just check out the NYC Ferry boat app or website for the routes! These ferry boats to be used to get to Ellis Island as well!
Ellis Island is a federally owned island in New York Harbor that contains a museum and a former immigration inspection station. As the United States' busiest immigrant inspection station from 1892 to 1954, it processed approximately 12 million immigrants to the country through the Port of New York and New Jersey.
---
#5 9/11 Memorial and Museum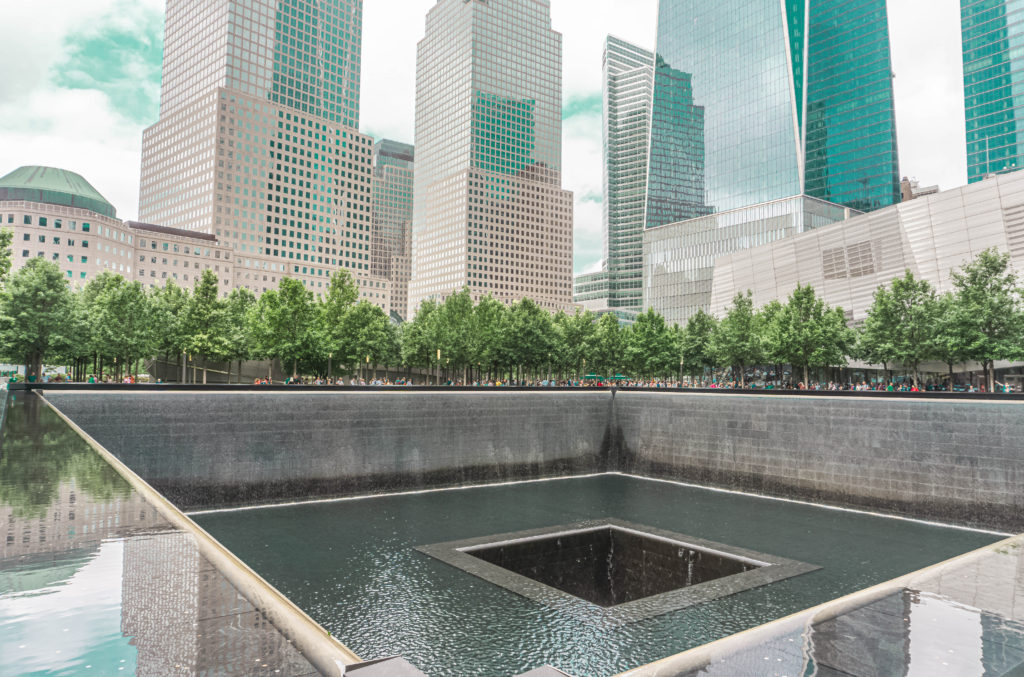 The 9/11 Memorial and museum can be found where once the two towers of the World Trade Center were standing. As we should all be aware, the skyscrapers been the pride of a terror attack on the 9th of September, 2001. The memorial and museum remind us of the tragedy and death of thousands of people. It's the place, that should remind everyone around the world, to not assist cruelty, violence, and hatred! While I was there, I couldn't help but wonder, how much more beautiful life on this earth would be if we wouldn't know this ugliness called "wars"…
I myself didn't enter the museum, as I don't like to be around tragic places for too long, but if you'd like to visit and learn more about the museum, please go ahead! You can get your tickets online right here!
---
#6 Guggenheim Museum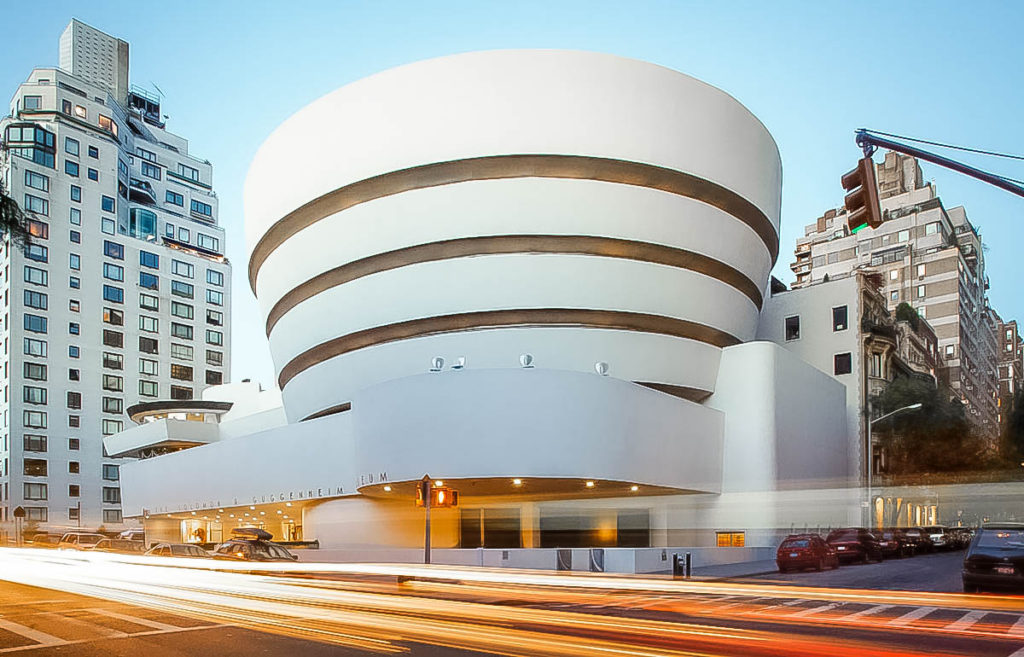 The Solomon R. Guggenheim Museum it's a place of a kind! The art museum is located on Fifth Avenue, on the corner of 89th Street, on the Upper East Side. It was established by the Solomon R. Guggenheim Foundation in 1939.
It's the home of Impressionist, Post-Impressionist, early Modern and Contemporary Arts. For exhibitions, details, and events, you can always visit the linked website of the Guggenheim Musem!
You can get your tickets online to the Gugenheim Museum, so you can avoid lines and waiting.
---
#7 Times Square, New York City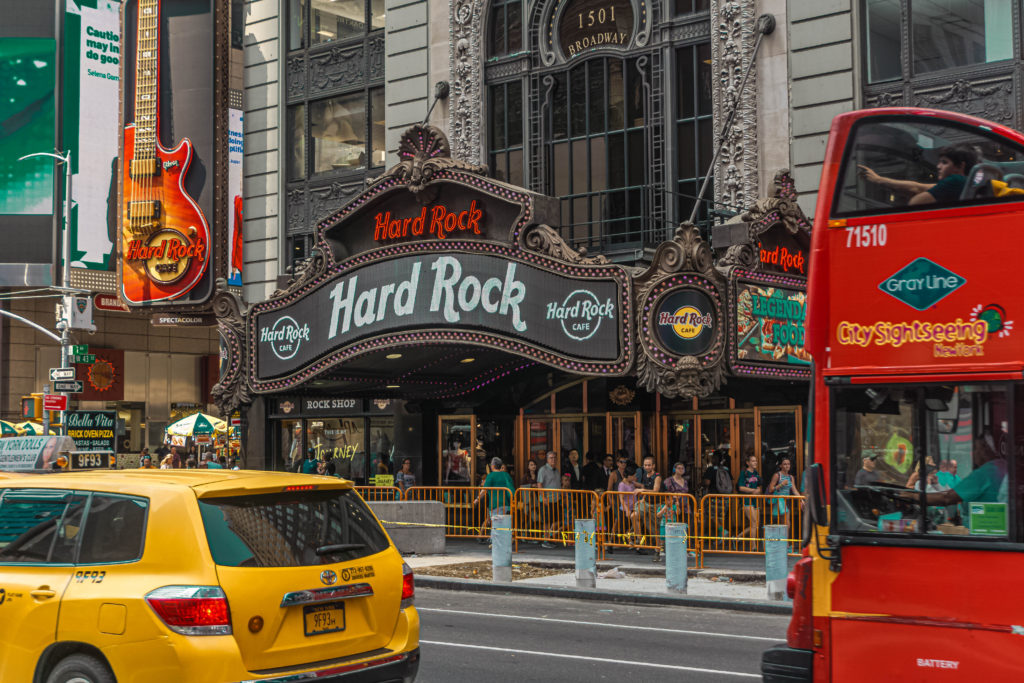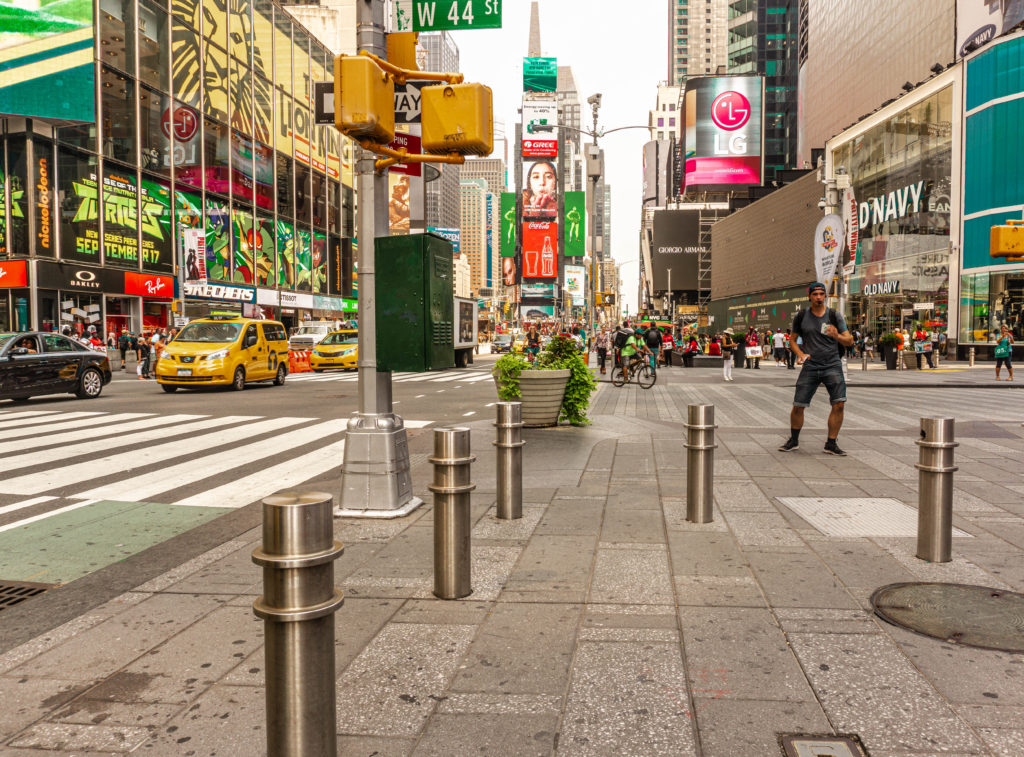 Times Square, probably the most famous square of New York City. This place is where you can find too much of everything. Too many advertisements, all the worldwide known brands, and too many people. It might sound pretty bad now, but believe me, it's just fabulous and it has to be seen!
While being one of the most popular spots in New York, my Google Maps couldn't find it… I walked 9 blocks down the wrong direction when I noticed it. So just to make sure none of you get tricked by Google, bear in mind, that it's located at the junction of Broadway and Seventh Avenue in Midtown Manhattan. What I really love about this place, that they sometimes refer to it as the "Center of the Universe", and standing there actually felt like it! If you want to stay in the center of the Universe while you're in New York City, make sure to check out Hilton Times Square! Make sure you also get ready for your social media content with some Times Square captions!
---
#8 Fifth Avenue and Park Avenue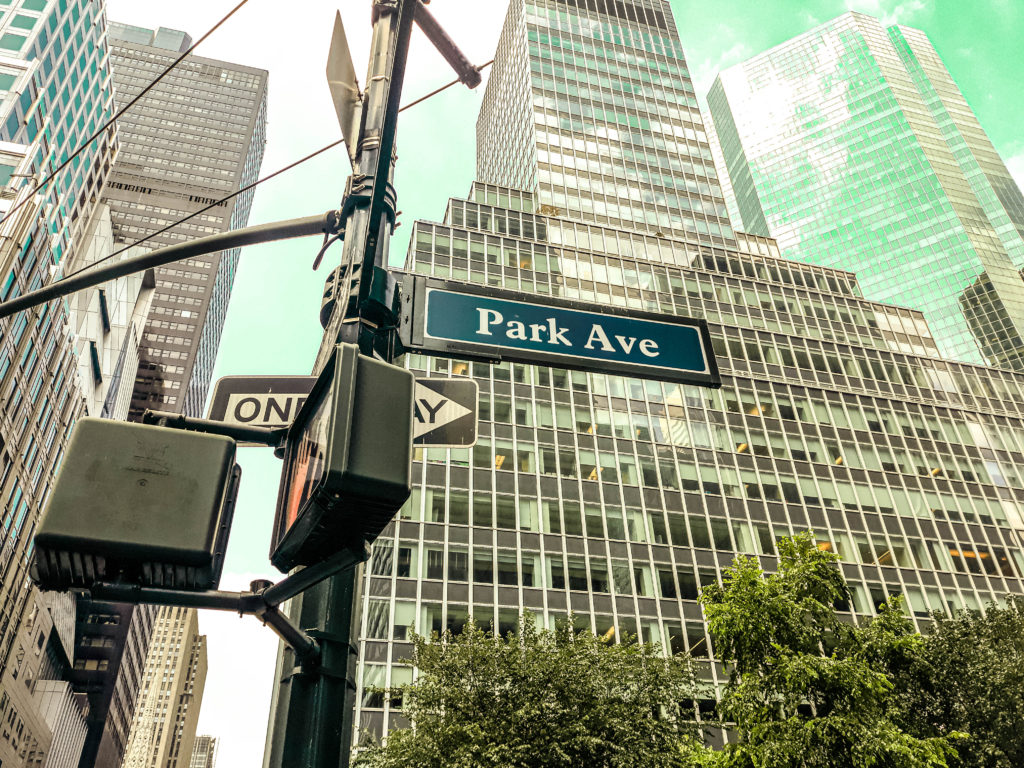 The Fifth Avenue and Park Avenue are listed as well because these two were my favorite to wander on and discover Manhattan. I don't know about you guys, but for me as a European, and for me as being me, being in New York felt like I was daydreaming.
When you keep seeing a city for 20+ years and seeing this city hundreds and hundreds of times, kind of makes it unbelievable when you're actually standing there. You can find everywhere in the city familiar spots from different movies and series. It is also important to mention, that most of the top things to see in Manhattan are actually somehow located close to these two Avenues.
---
#9 Central Park, New York City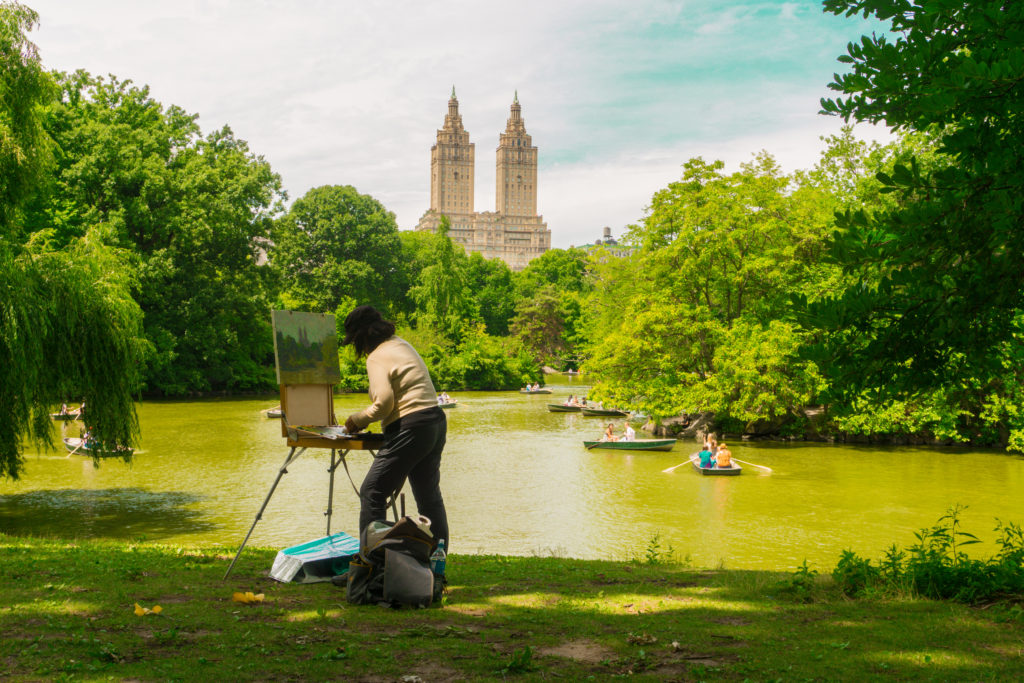 If you're not used to the crowds, huge buildings and busy lifestyles, New York can be really difficult to handle at first.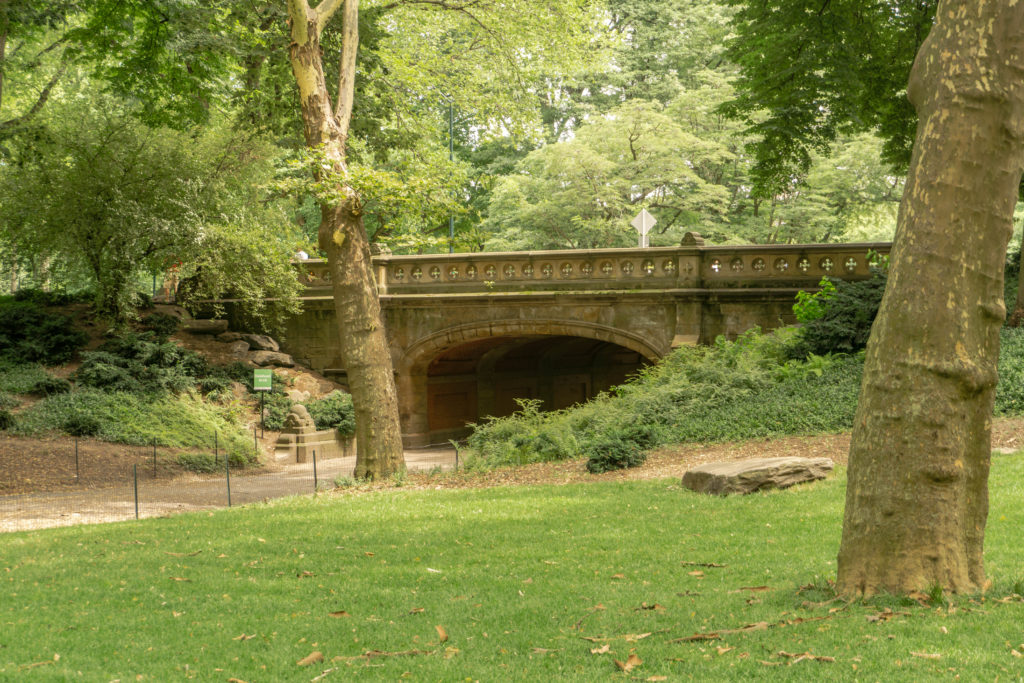 For those 5 days I've been staying in Manhattan, I felt a little bit overwhelmed every day. Central Park became my escape place quickly, and I ended up visiting every day 1-2 times. I discovered so many things to do and I'm so sorry that I couldn't spend more time exploring it. You can also read my article on things to do in Central Park!
As I said, it's a great place if you want to escape, be surrounded by a little bit of nature in the middle of the concrete jungle, and have some quiet. There are plenty of outdoor activities and sports to practice here. You can find classes and shops, entertainers, and vendors. There are beautiful spots to discover, great pubs and restaurants for a brunch, the Zoo and so much more! Plus, there are various events going on from time to time in Central Park. You can also rent a bike and stroll around Central Park's beautiful sights!
---
#10 Brooklyn Bridge and DUMBO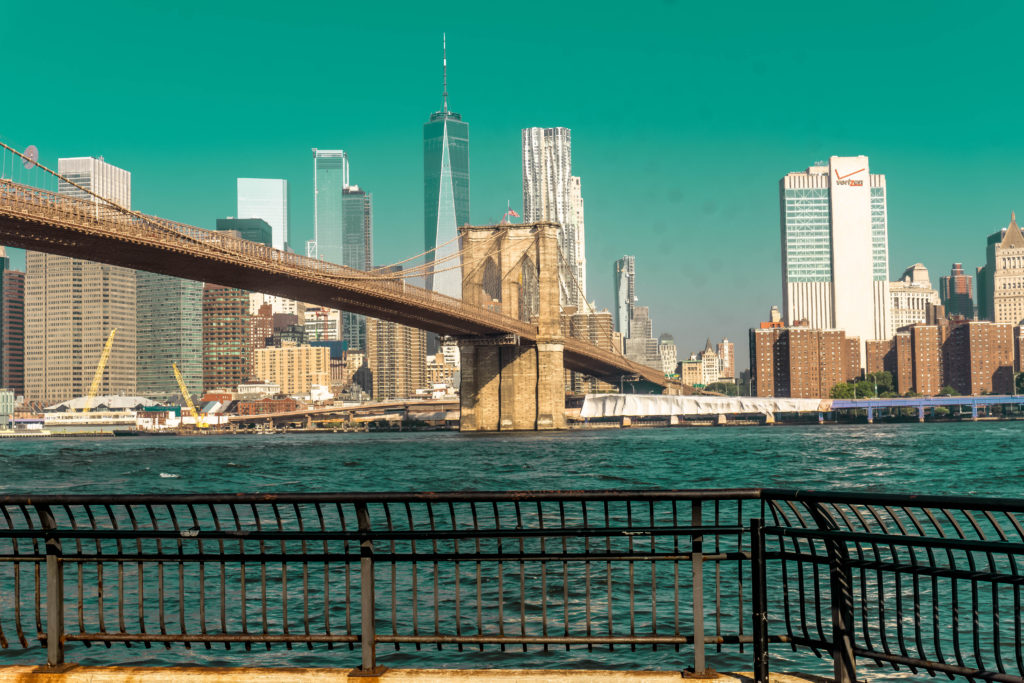 My number one place I loved the most in NYC, the Brooklyn Bridge and DUMBO. This neighborhood is full of great bars and pubs, some having an outdoor table with a breathtaking view on the Brooklyn Bridge. Plus not to forget the view from the iconic view from the sidewalk near the river.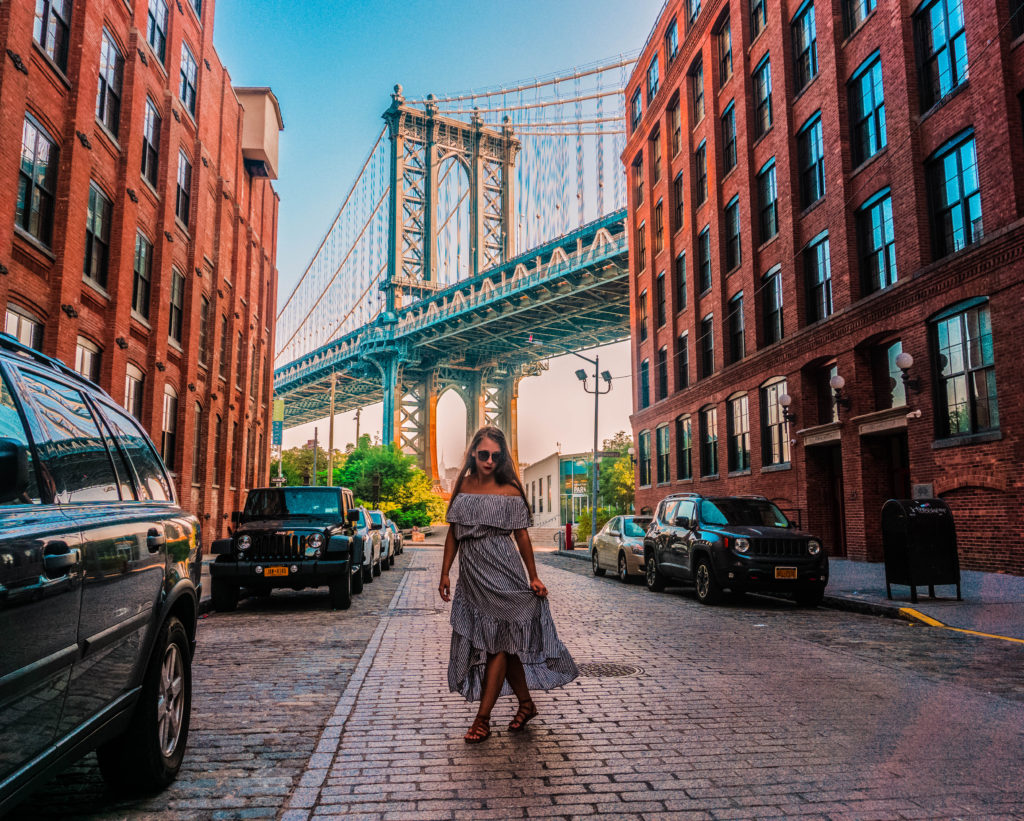 My other favorite place in Washington street in DUMBO, which recently became very famous on Instagram, thanks to the beautiful scenery with the old warehouse buildings, the cobblestone street and the view to Manhattan Bridge.
---
#11 Manhattan Financial District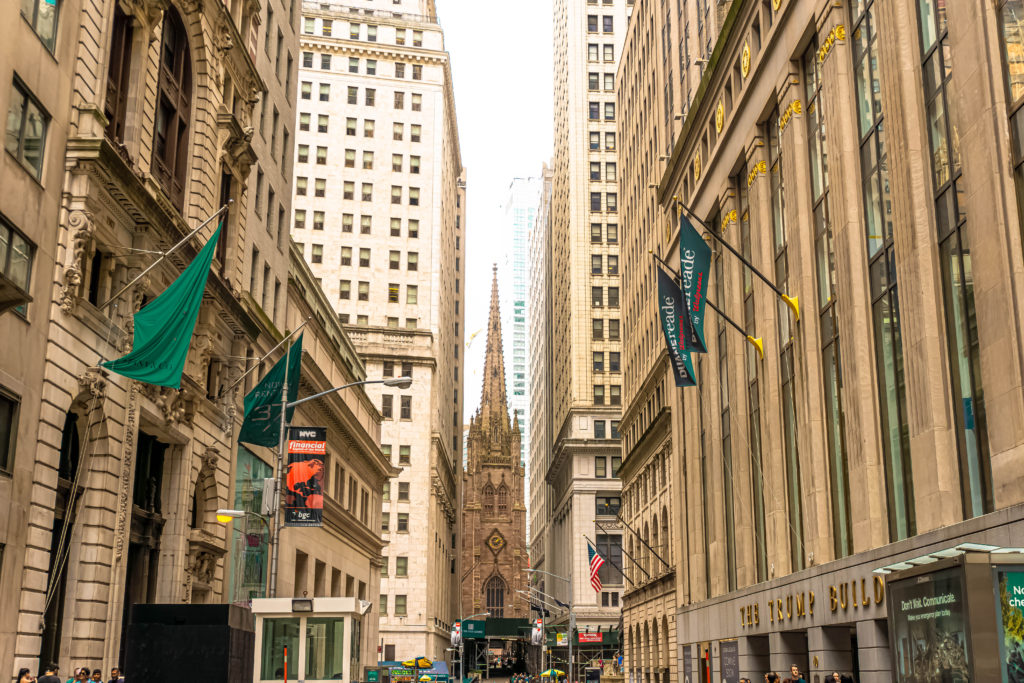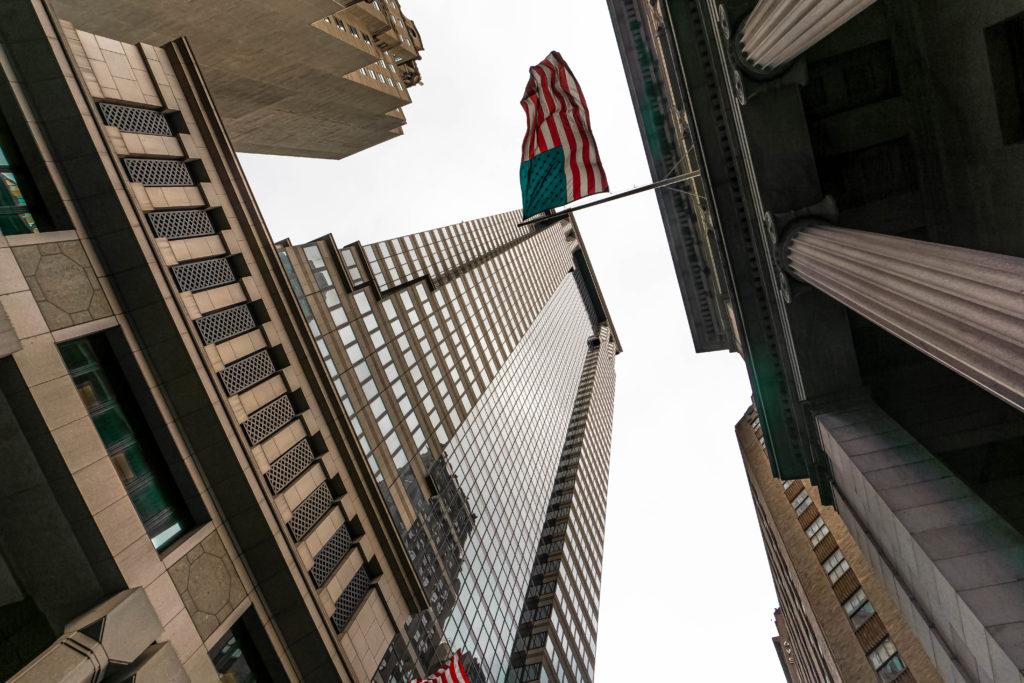 The Financial District is located in Lower Manhattan. The City of New York was created in the Financial District in 1624.
The top spot to visit: Wall Street. You can also visit here the Federal Hall National Memorial, the NYC Police Museum, the Museum of American Finance, the Trinity Church and St Paul's Chapel, between many more.
---
#12 Little Italy, New York City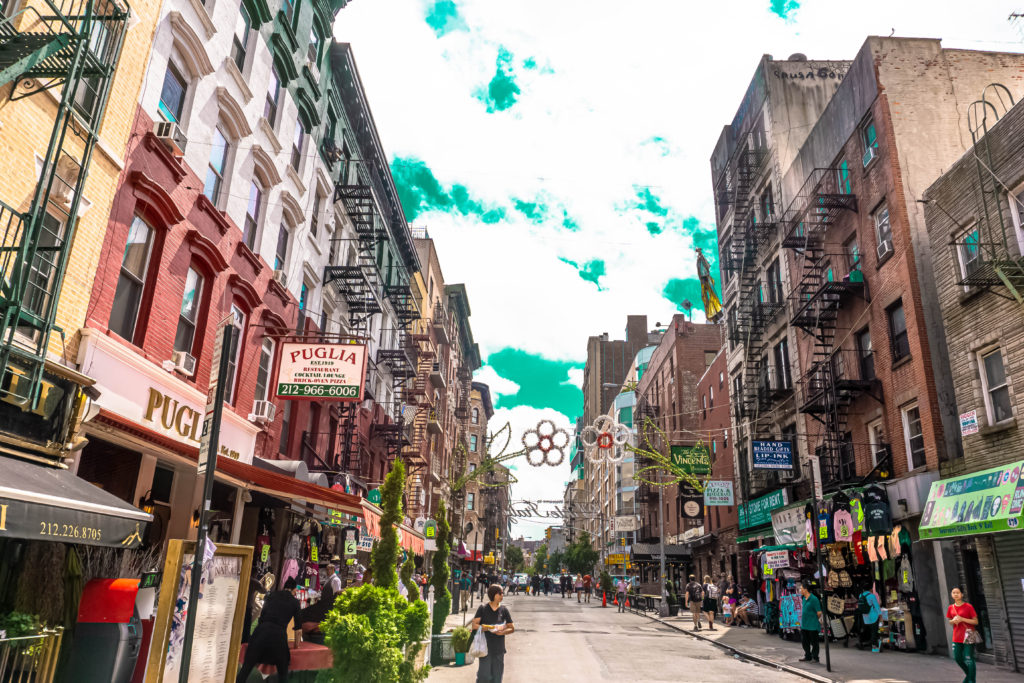 Italy being the love of my life, I obviously couldn't skip visiting Little Italy in Manhattan either! It was once known for its large population of Italian Americans and Italian immigrants.
These days, unfortunately, the numbers are falling day after day. You can find it on the west side between Soho and Tribeca neighborhoods, near Chinatown, in Lower Manhattan.
When you walk down the streets of Littel Italy, you can notice everywhere the names of different regions of Italy on restaurant names and other banners and signs too. There are many Italian restaurants to try, and sometimes you can even hear an Italian word or two.
---
#13 Brookly – Williamsburg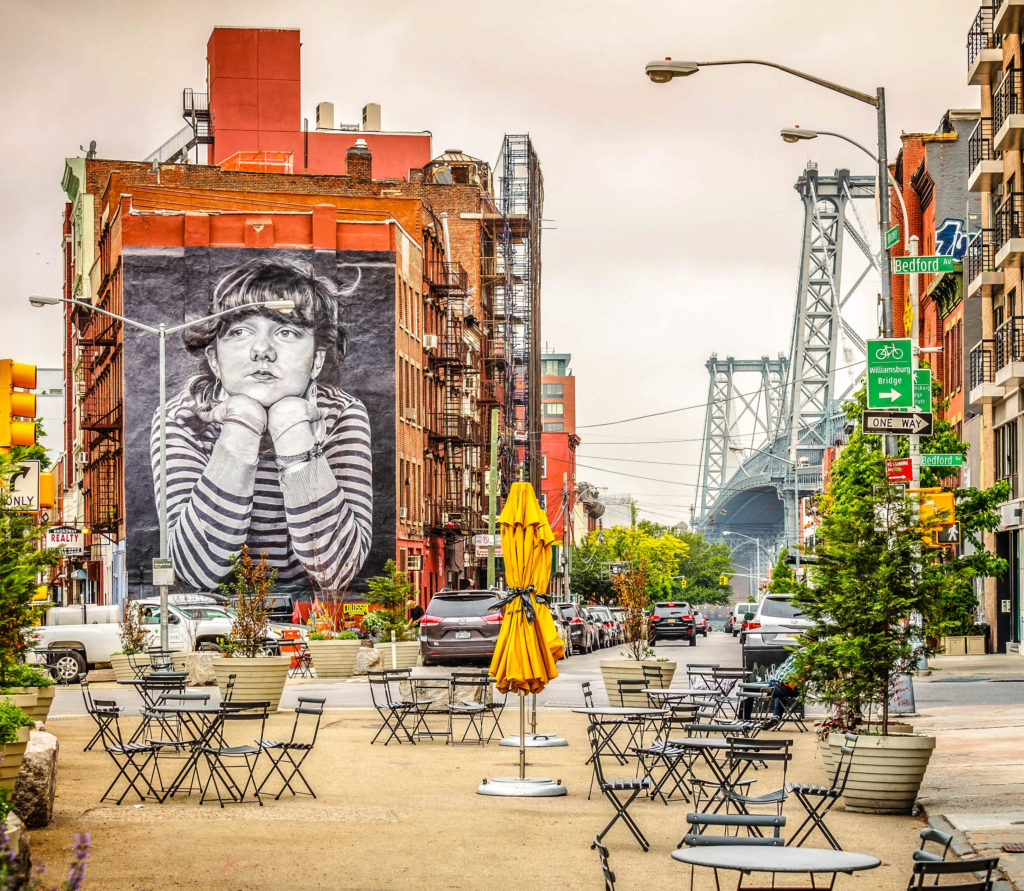 My favorite neighborhood, located in Brooklyn. Williamsburgh is the most abstract neighborhood I've seen in the whole city. Since the late 1990s has undergone gentrification characterized by the contemporary art scene, hipster culture, and a vibrant nightlife that has projected its image internationally as a "Little Berlin".
One of those things that makes Williamsburg so beautiful and amazing is the mixture of cultures like the Italian, Jew, Hispanic, Puerto Ricans, and Dominicans.
Exploring Williamsburg is a unique experience between all the things to do in New York City!
I've been staying in Williamsburg for the second part of my time in New York, and I loved it! Colorful – just the way I like it – full of art, street art, music, and life! It's really vibrant neighborhood, where I also felt absolutely safe, even in the middle of the night. After my experience, I would say it was definitely safer than in Manhattan! Much safer! It is also way cheaper! Not just accommodation wise, but the food, drinks, everything is cheaper. A quick example of what I actually discussed there with the bartender, is that beer in Manhattan is around $10, while the same beer in Brooklyn was $3.
For me, as I like less crowded, more colorful places, Williamsburg was truly my favorite!
---
#14 Coney Island, New York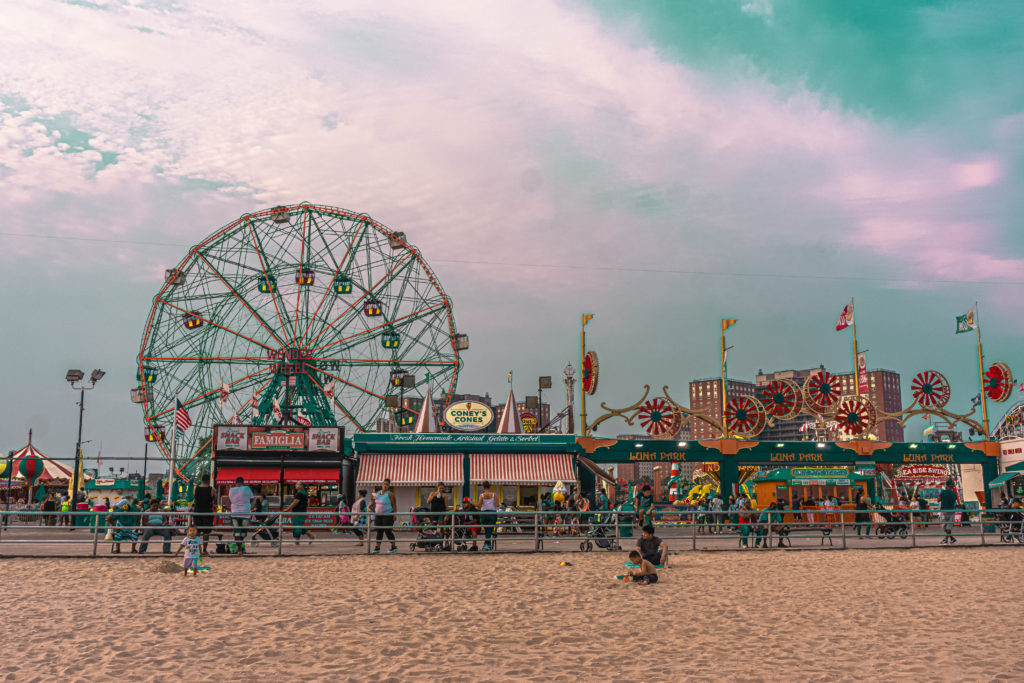 Coney Island is one of the best places to get away from the city for some fun, screams, and beach life. Spending the day on the beach, in the Luna Adventure Park, or visiting the New York Aquarium can be a great getaway option for one of the days you're spending in NYC. If you want to use the subway to get there, there are two lines you can choose from, but both take more than an hour to get there from Manhattan or in my case, from Williamsburg.
---
+1 The best fast food: Shake Shack, Hamburgers, pizza and hot dogs
I'm not a fan of fast food, and I'm trying to keep myself away from it as much as I can. New York, however, in my eyes is considered the place I can cope with a few days of living a not quite as healthy life as I otherwise do. Eating a hot dog on the street, popping in for a huge slice of Pepperoni Pizza to the closest buffet, or hunting down a Shake Shack hamburger – which is my all-time favorite – is allowed, while we are in New York! Just enjoy those unreal tastes. 🙂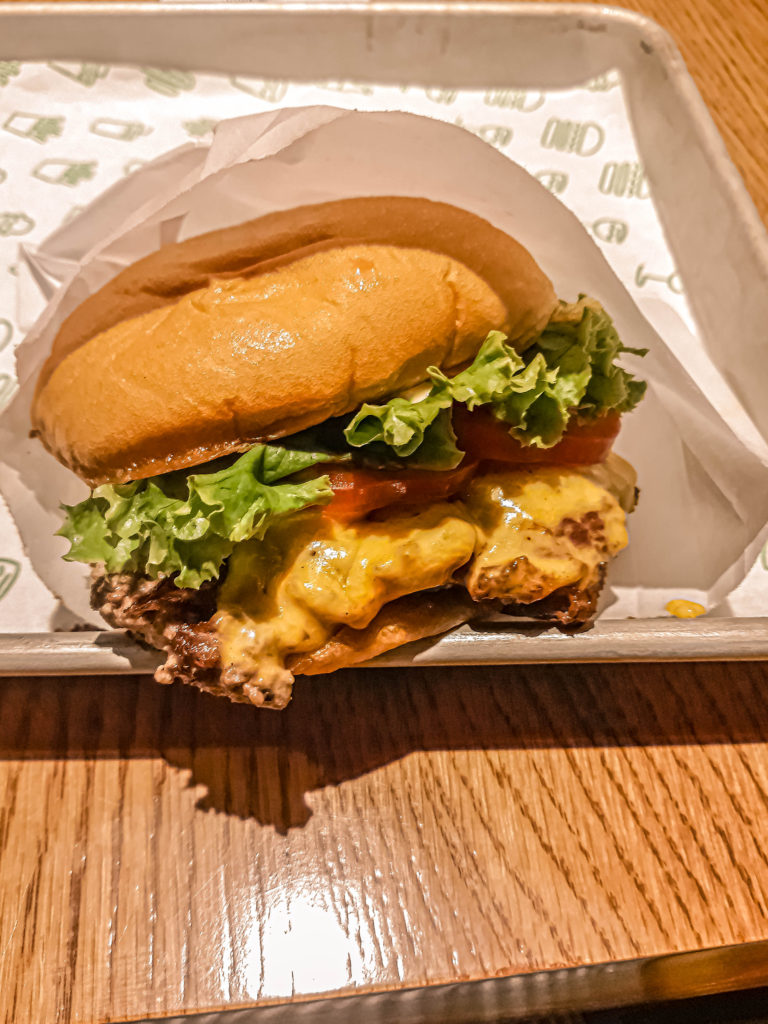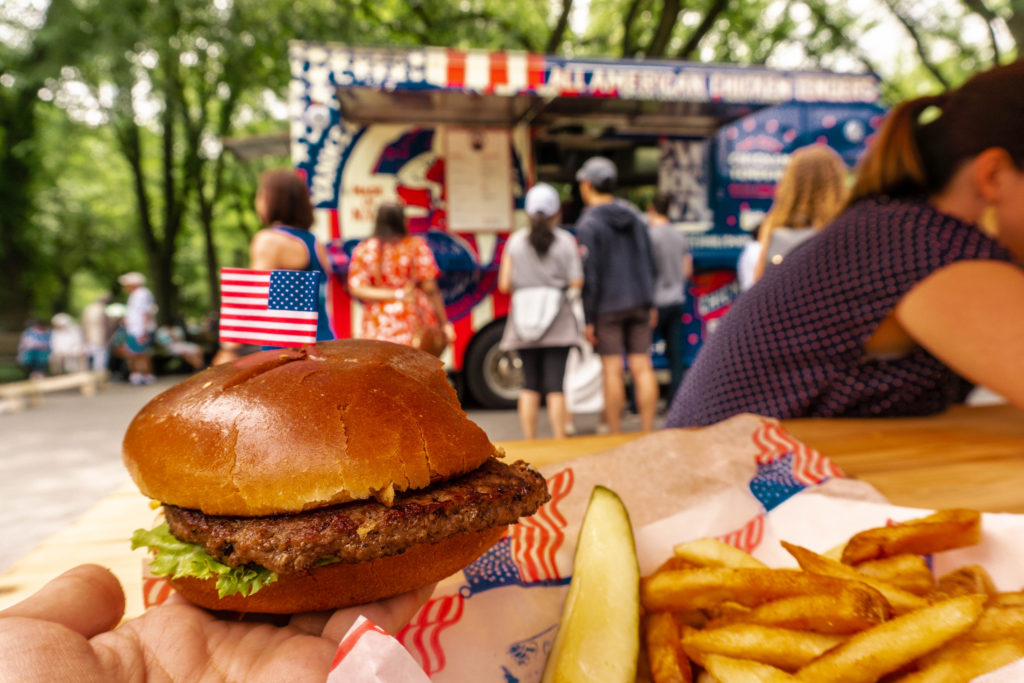 ---
Wrapping up the things to do in New York City
To return to Frank Sinatra for a second, I always thought that New York will be a big test in my life if I ever get to go there. It was indeed one of my biggest lessons in life, especially in business decisions. Now, when Frank Sinatra was singing "If I can make it there, I can make it anywhere…", that was actually how I felt on my last morning in NYC, while I was sitting and admiring the Brookly Bridge in DUMBO. New York gave me a lesson, that took me on a road, I never imagined I will be brave enough to get on.
So, as last words to be written: New York is one of a kind, and I know that you want to visit it if you're reading this, so I have just one thing to say to you: New York is waiting for you!
---
Pin Me: 14 things to do in New York City!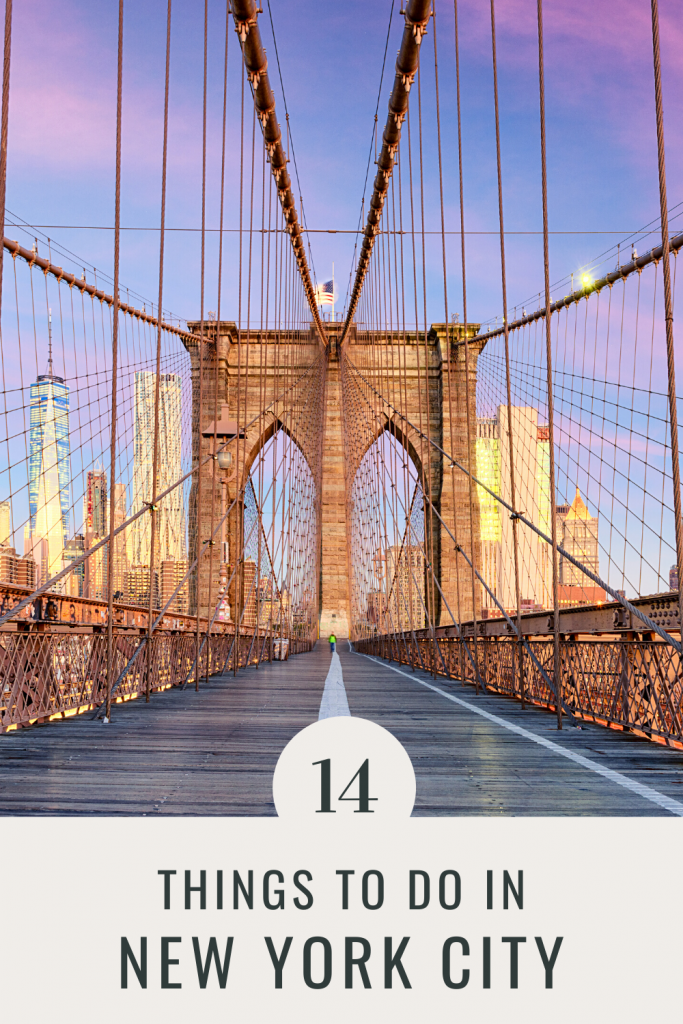 ---
Find the best accommodations for your trip to New York City!
---
14 things to do in New York City