How to drink more water? Maintaining a healthy lifestyle should always be a priority! I always loved everything local, natural, and healthy. And that's one of the biggest reasons I love so much living in Italy. But, while I was always moving around and traveling, keeping my routines was a real challenge. So I asked myself how can I be drinking water while traveling? Well, the answer is called Waterdrop.
One of the biggest issues was always to pay attention to my water consumption. Traveling or at home, it is a hard task for many of us. On the road, I just kept forgetting to get water, or if I had it with me, I forgot to drink it. My
I was returning from each and every trip with my skin being super dry, and being always dehydrated. The other struggle was to find something to store my vitamins in. I kept forgetting to pack them, then I kept forgetting to actually take them while I was on a trip. Then, I'm also trying to keep my plastic usage really low, so buying bottled water all the time wasn't really an option. So, I wanted to start a behavior change project drink more water, but what's the solution for drinking water while traveling?
---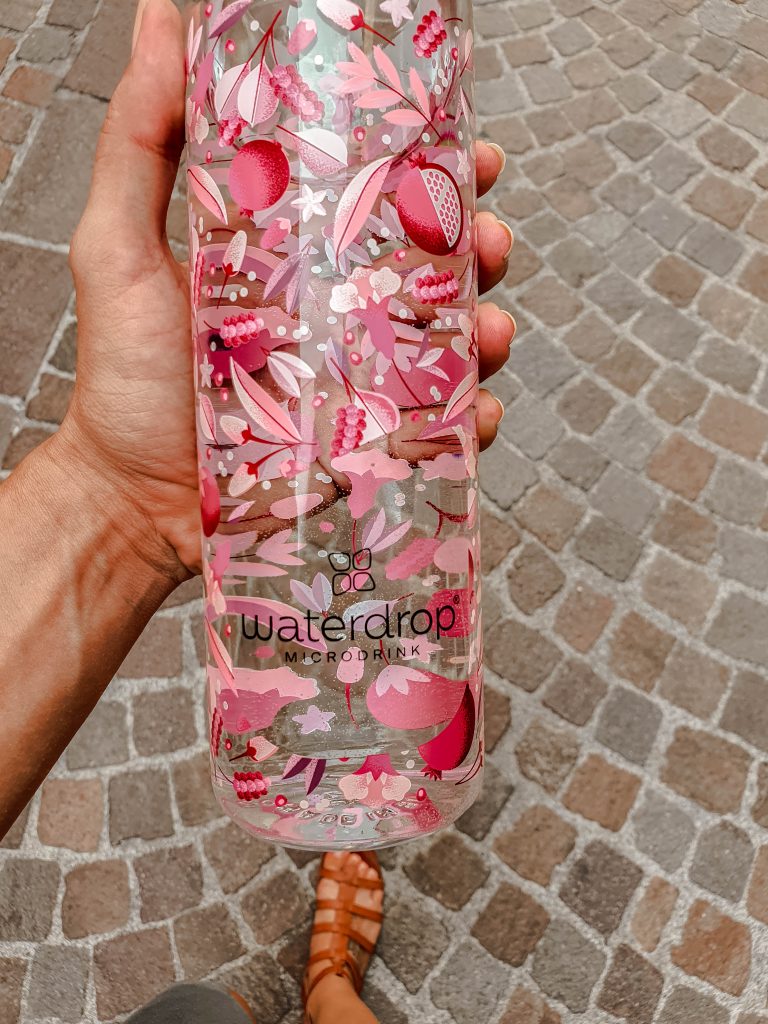 How to drink more water? I discovered Waterdrop back in January 2020. Since then, there's rarely a day when I wouldn't drink at least one glass of water with a microdink. When I started using the microdrinks, I did it at home, while working, and at the gym. When the first trip was coming up, that was a challenge!
I was very curious how many cubes I'll return home with, and how much water I'll drink while traveling? I took my Waterdrop bottle and a hand full of microdrinks with me on my trip to Barcelona in March.
What happened? I never consumed so much healthy liquid while I was abroad, like this time! Firstly, because I love the taste of it, and secondly because I'm not drinking soft drinks ever, the microdrinks made it actually really easy while wandering with my camera, and shooting around Barcelona to consistently have something healthy to drink.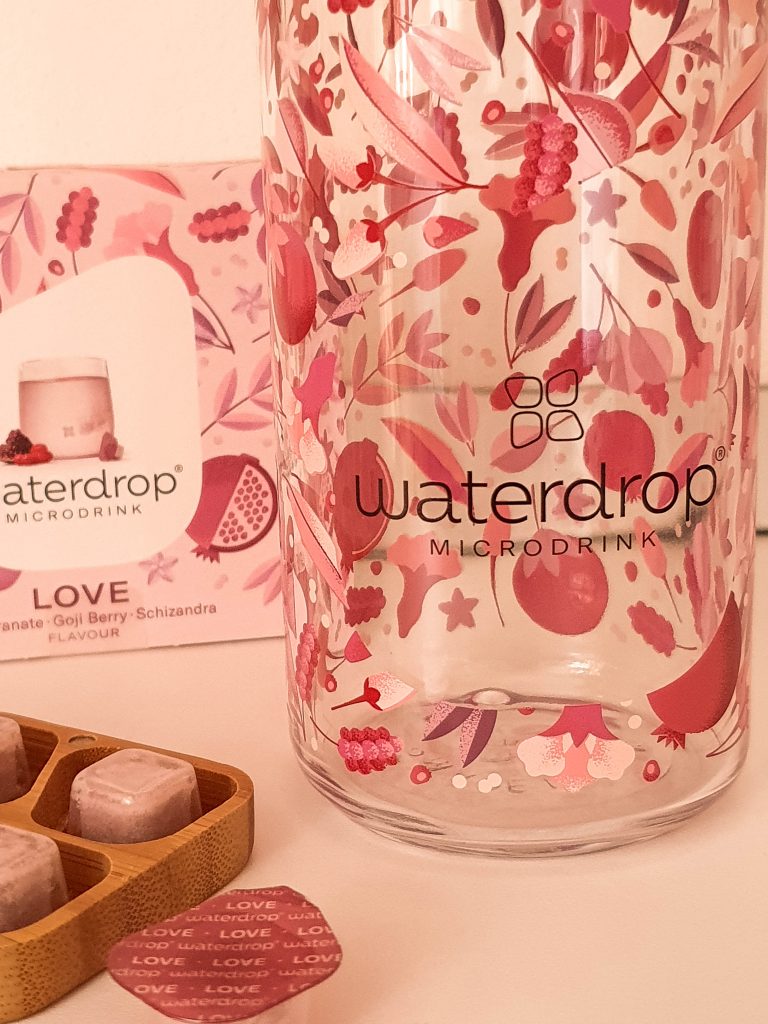 What do you need to know about Waterdrop?
How to drink more water? Waterdrop was the answer for drinking water while traveling. These are small, dissolvable cubes of vitamins and natural ingredients, that are called microdrinks. You can turn a glass, or a bottle of water into a tasty sugar-free drink easily. The cubes are full of important vitamins and rejuvenating fruit extracts that have been sourced from the finest regions in the world.
The whole concept is to encourage people to drink more water. A perfect behavior change project drink more water. And it did work out for me really well to drink more water while traveling, as well as when I'm home. This tiny concept called Waterdrop can help a keeping a healthy lifestyle for those who don't like consuming water or keep forgetting to drink it like me.
---
Reasons I love Waterdrop, and I find it the best way for drinking water while traveling
This behavior change project drink more water isn't an easy one, but it's doable. With Waterdrop especially! Now I can manage to drink enough water every day, and I sorted my issue with drinking water while traveling. How to drink more water with Waterdrop?
#1 The size of Waterdrop microdrinks
As you can see in the picture, they are perfectly small. The cubes ain't occupying too much space, and they are packed separately which makes it much easier to take it with you on trips! They can fit in the skinniest jeans, smallest bags, or even wallets. It's super easy to take it with you anywhere! It's also very important to mention, that it fits through any kind of bottleneck, which is again great for those on the road if you don't have your own Waterdrop bottle!
---
#2 Ingredients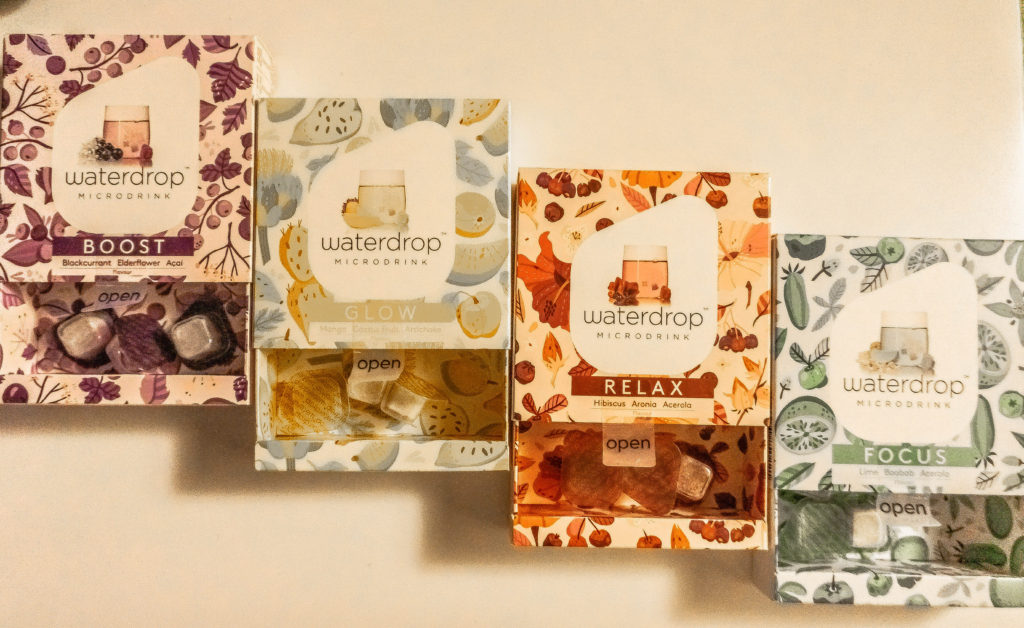 There are some fruits that are proven to have the highest vitamin and mineral supplies. Some of these being the acai, ginseng, moringa, acerola, ginger, and cactus fruit. My best moment while checking what fruit mixes are in each pack was, to discover that most of the products are containing these fruit extracts!
My favorite flavors are Defence, Focus, Glow, Zen, and the newest one, LOVE. Waterdrop has 10 different flavors to choose from. Any questions left on how to drink water? The healthy, vitamin-rich taste will help!
---
#3 Waterdrop package
You might feel a bit skeptical now after I mentioned, that each cube is packed separately because how is that reducing our ecological footprint, right? Well, the concept of using small cubes instead of bottled drinks that are shipped around the world reduces 97% of plastic usage of the company, and the package is also recyclable PET.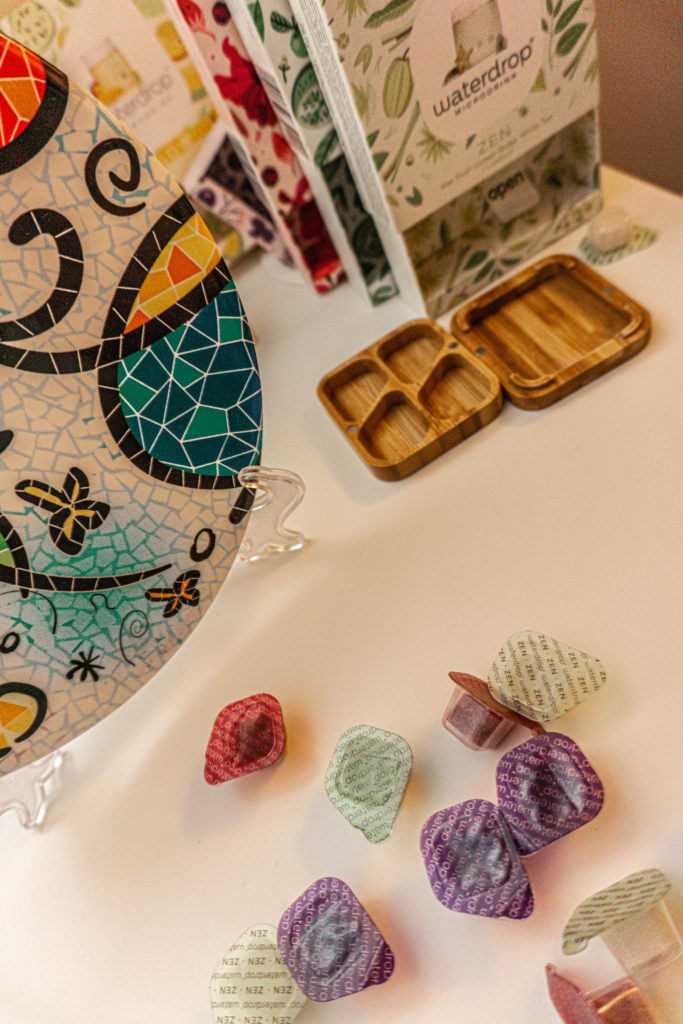 Before I discovered Waterdrop, I kept buying these expensive vitamin waters you can find in the grocery stores, and that's basically the same thing as the microdrinks. The difference is, that plastic usage is much higher, and you don't have too many tastes to choose from.
---
#4 Waterdrop is sugar-free!
One of the main reasons I really love Waterdrop is because it's absolutely sugar-free! Waterdrop contains no sugar, but it's still tasting amazing! This helps a lot for those who can't or don't want to consume sugar, to have a tasty and healthy soft drink. Being the reason diabetes, other health issues, or you just want to drop some weight, this can be a great alternative for you as well.
---
In love with the Waterdrop bottle and accessories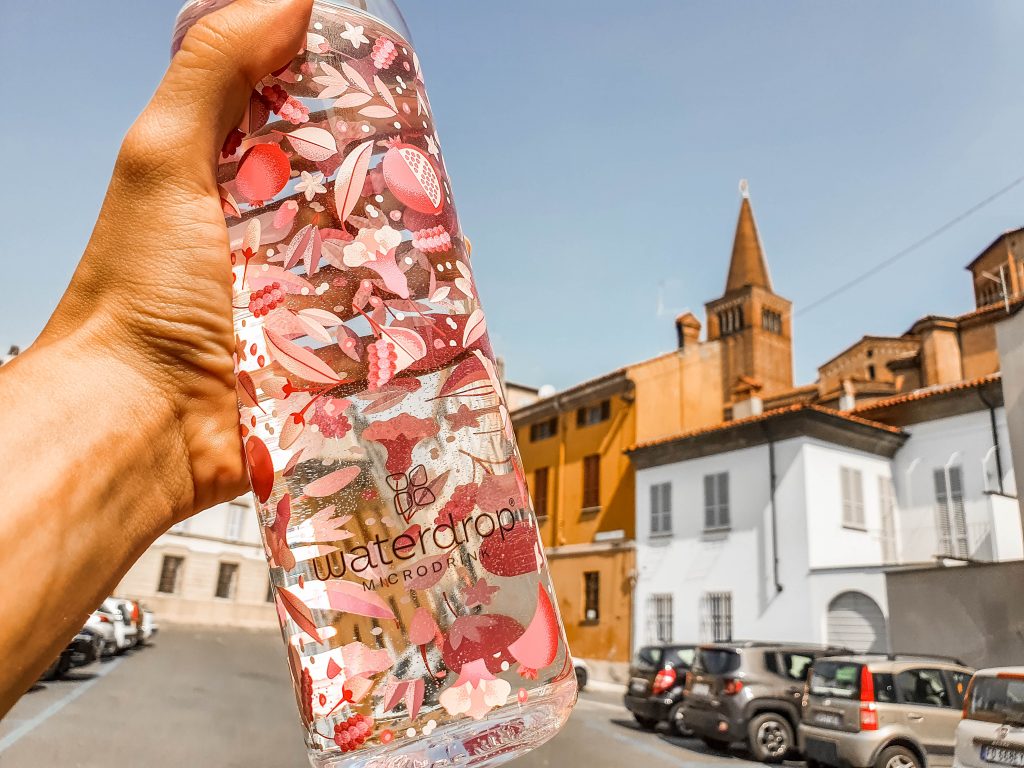 As I have mentioned a couple of times now, Waterdrop has its own collection of glass bottles, holders, and similar cute accessories. All these products serve to reduce plastic waste, and helping reduce our ecological footprint!
My top top top favorite product is this little holder which has space for 4 cubes. This can be closed by magnets and it's made of bamboo. It's super cute, and I really love that it's actually not an ugly, plastic medicine organizer, and it actually fits in any of my bags.
My second favorite item I have from Waterdrop is the glass bottle (600ml), and I have two of them now. It's made of very high-quality borosilicate glass. It comes with a holder that's also protecting it, and there are about 8 different prints available. As I'm crazy about the orange color, I have one with orange and red prints, and one that's a mix of pink and red.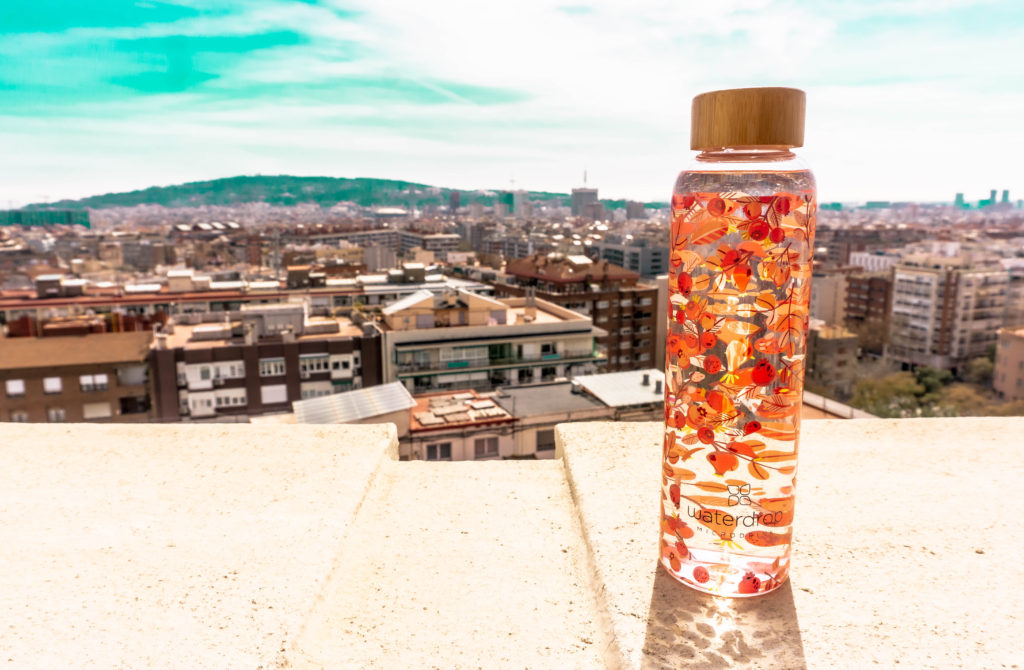 I don't want to repeat myself over and over again, we know already why I a glass bottle better, than a plastic one. What I love the most about it, that thanks to its design, I can take it with me not just to the gym, but anywhere. If I travel, if just going out for a walk, or at work, they look amazing. And these bottles are another reason I actually managed to start drinking more water while traveling!
How to drink more water?
Water is necessary for our health, our body, but even for our skins' youth. If you don't want to get too many wrinkles too fast, make sure to drink as much water as you can! The two liters of water are the minimum you should be consuming a day! Believe me, it will do magic with your wrinkles as no cream can! So, how to drink more water? Drinking more water while traveling, and my behavior change project drink more water has been all sorted by finding this lovely brand!
Pin it: How to drink more water with Waterdrop? Drinking more water while traveling!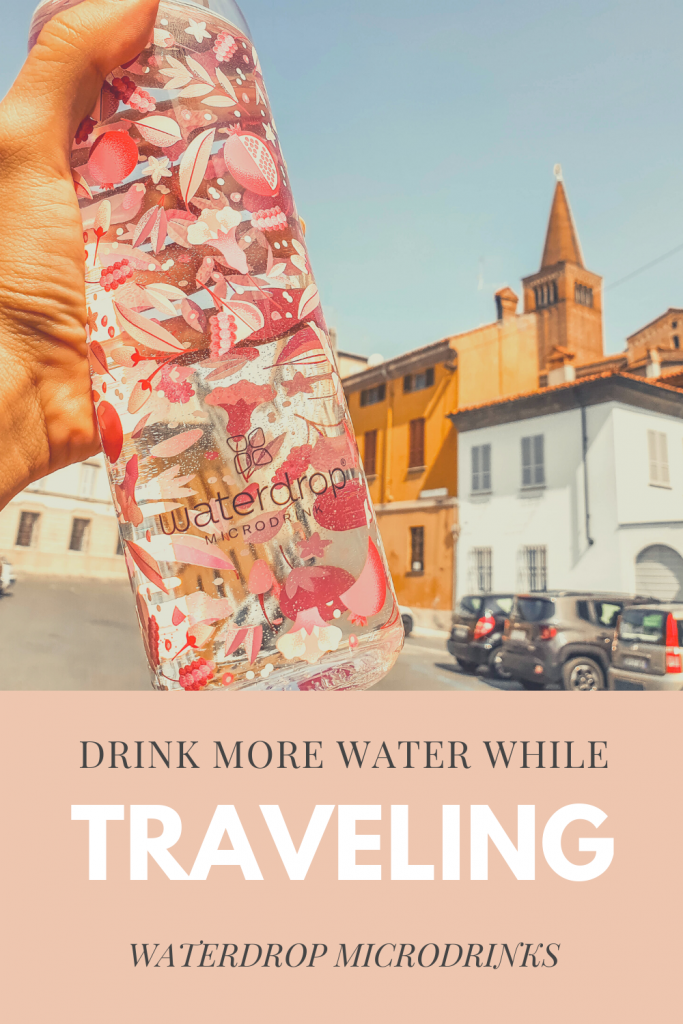 ---
The best way to drink more water while traveling