Why are Italian women so elegant and mysterious? What does an Italian woman know that we don't? They definitely know how to dress, how to act, and what attitude to have in different situations. The concept of women, and the concept of fashion, are all very unique in Italy, and that's one of the biggest reasons this country is so incredible. From this article, you'll learn how Italian women like to dress, and what are those fashion rules they would never break. We'll also speak about how to dress like an Italian woman over 50, and we'll discuss some very common things you can tell if someone's Italian based on their outfit. Of course, we'll also go through some tips on how to dress like an Italian woman in summer and in winter too. What are those basic items every woman has, and also what the downsides are of following the Italian trends? Here are the ultimate Italian fashion tips for women!
10 Tips on how to dress like an Italian woman?
Before we get to discuss how to dress like an Italian woman, you must know a few things about Italian fashion as well. Some of the most famous fashion brands in the world are Italian fashion brands. On our other website, we have published several articles regarding the best Italian shoe brands, but also jewelry brands, and handbag brands. We are talking also about some of the best Italian fashion designers as well as female fashion designers. There's a lot to discuss when it comes to Italian fashion, and especially women's fashion, but we'll share with you the most we can right away!
How to recognize an Italian woman?
One of the easiest ways to recognize Italian women is their dark brown hair, simple but elegant outfits, and they wear a lot of blacks. In Italian women's fashion, it's very important to try to wear as much monochrome as possible and to not wear too bright and strong colors. Of course, there are some way breakers like Chiara Ferragni, Valentino, and even Versace, who are trying to sneak in some stronger, eye-catching colors into the Italian fashion world. However, most of the women in this country still prefer those few things we just described. And while speaking of dark hair, of course, there are also many blond Italians, but the major part is always the ones with dark brown, almost black hair.
1. Italian women wear black, a lot of black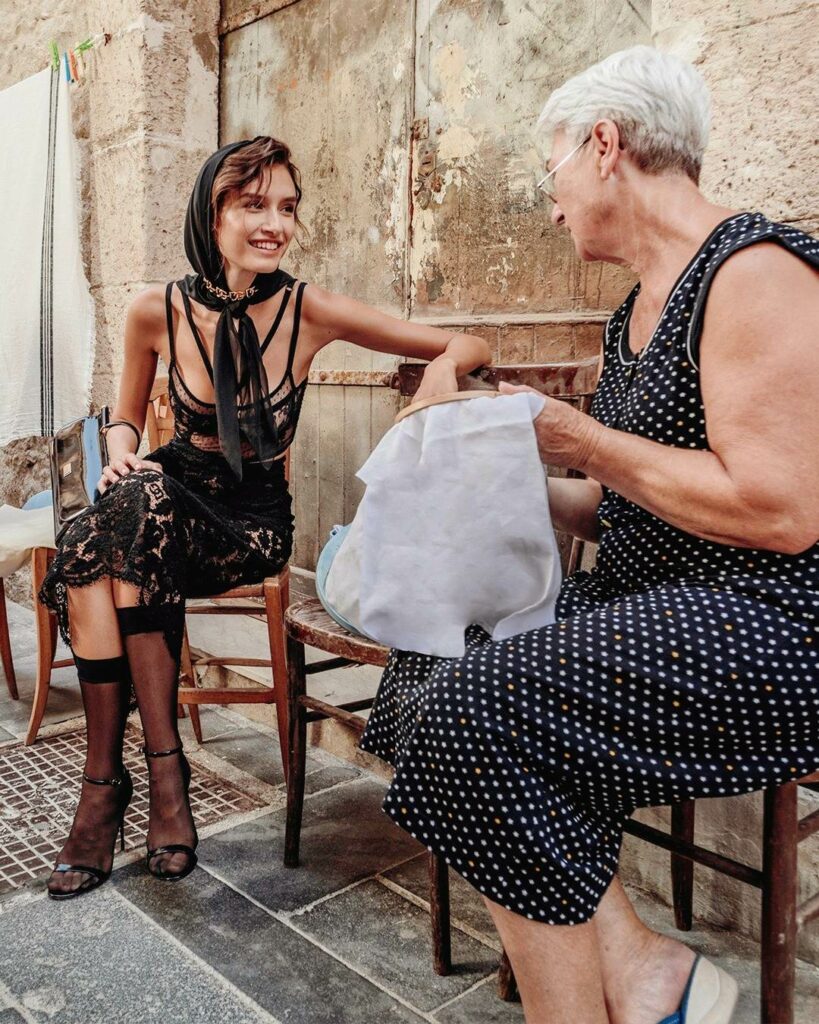 Age doesn't matter when we're looking for tips on how to dress like Italian women over 50 or a teenager, because this one rule applies to everyone. Whatever age people are, black has a very big part in their wardrobe. If not full black outfits, then they surely are combined with black. It's also very rare to see a streetwear outfit of Italian women and not see at least one item that's black.
When we speak about fully black outfits, that's often combined with colorful accessories, or the chic option, with golden accessories. When it comes to wearing black, it doesn't matter if it's 0 degrees C outside or 40+ degrees, you'll always see Italian women wear black during all seasons. We are not quite sure why the black color plays such an important role in Italian fashion, but it certainly does.
It might be because it's more restrained, or more elegant. It also might be because it attracts less attention. There can be many reasons why this color is so popular in how Italians are dressing, but wearing black is a statement indeed. You can show all the amazing outfits to upgrade your wardrobe with some elegant black on Luisaviaroma.com. They are shipping worldwide, and they offer the best quality, and luxury pieces from Italian and international brands!
2. An Italian woman doesn't do colorful – Monochrome, please!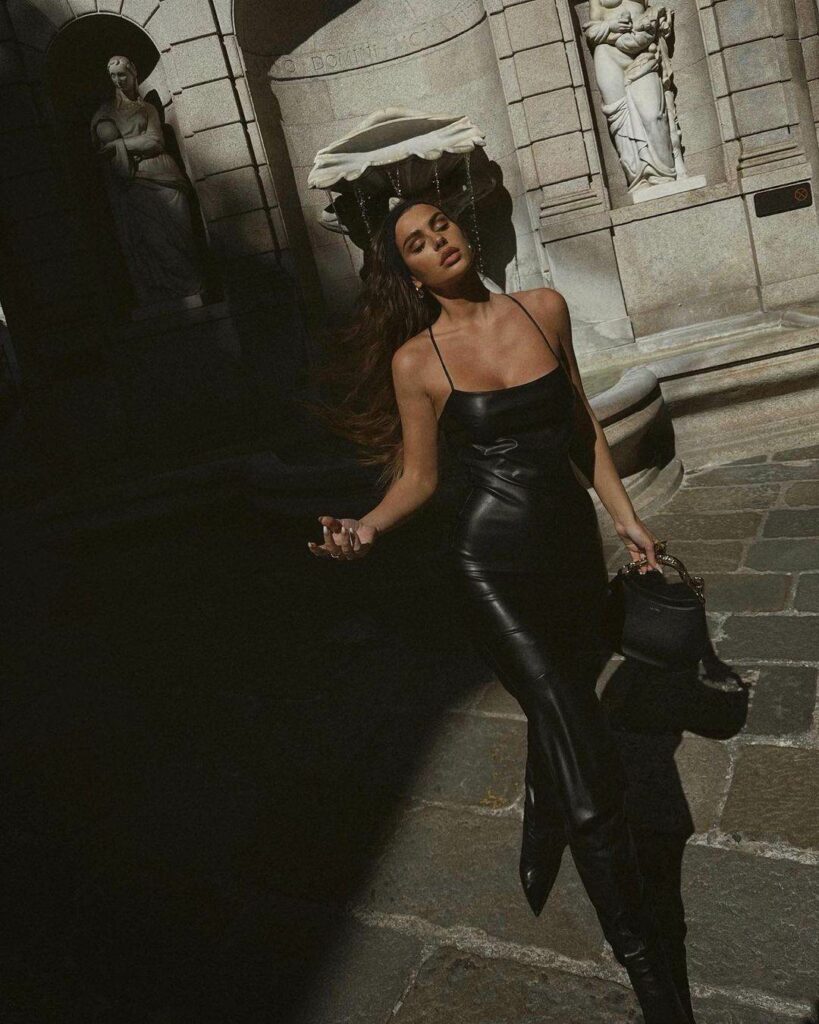 Monochrome is one of the most essential rules when it comes to how to dress like Italian women! Colorful pieces aren't a thing in Italy. There are of course many exceptions, and many occasions when colorful outsits are preferred. However, after watching for years what's the Italian street style, we can confirm, that it's rare to see people in very colorful pieces. Or those with too many patterns.
The key to Italian elegance is to keep it simple. Have some statement pieces, but most of the time still keep it simple! Also, when it comes to monochrome in detail, you can see mostly dark colors or earth colors. You don't really see anyone in monochrome light pink, red, or bright green. It happens, but it's rare.
Brighter, or happier colors and patterns come out to play more in the summer. But even then, more on the seaside than in big cities. You can find many outfit suggestions and inspiration for this on Luisaviaroma too. If you're not familiar with the brand, you can always read our Luisaviaroma brand review.
3. An Italian woman puts on a nice outfit even if she's just heading for a walk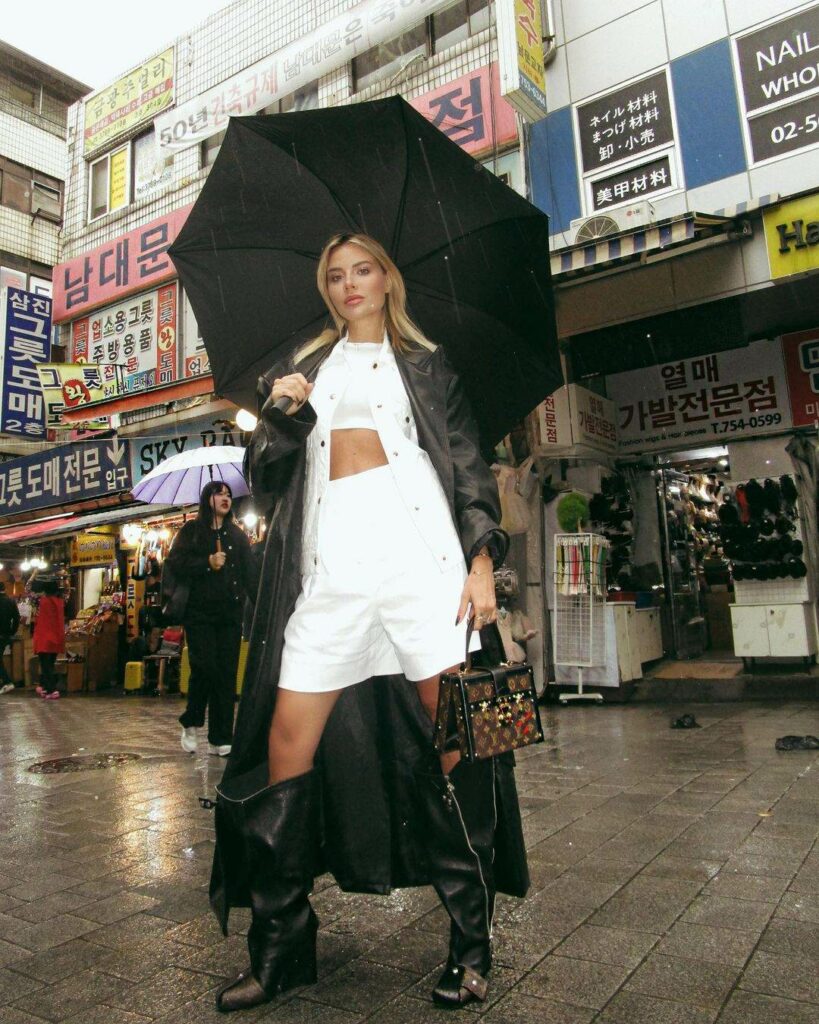 This rule is one that I had to get used to once I moved to Italy. In the UK you can go grocery shopping without making your hair, dressing up, or looking fabulous at all. And that is absolutely normal and acceptable. I mean, if you feel that you want to go out in leggings, you go out in leggings.
In Italy, you don't do that! If you want to know how to dress like Italian women, you must remember this rule! Women in this country don't ever allow themselves to appear in public without being arranged and dressed up at least casually. If you're asking how to dress like an Italian woman over 50, it's even more important to learn this!
The older women get the more attention they pay to their outlook. They wear makeup, have their hair done, and dress up elegantly, or at least somewhere around smart casual. You don't need a ton of make-up, fake hair, fake nails, and fake everything to be beautiful. But you should always love yourself and take care of yourself, so you can be your best self.
4. Italian women's mentality: Be a Woman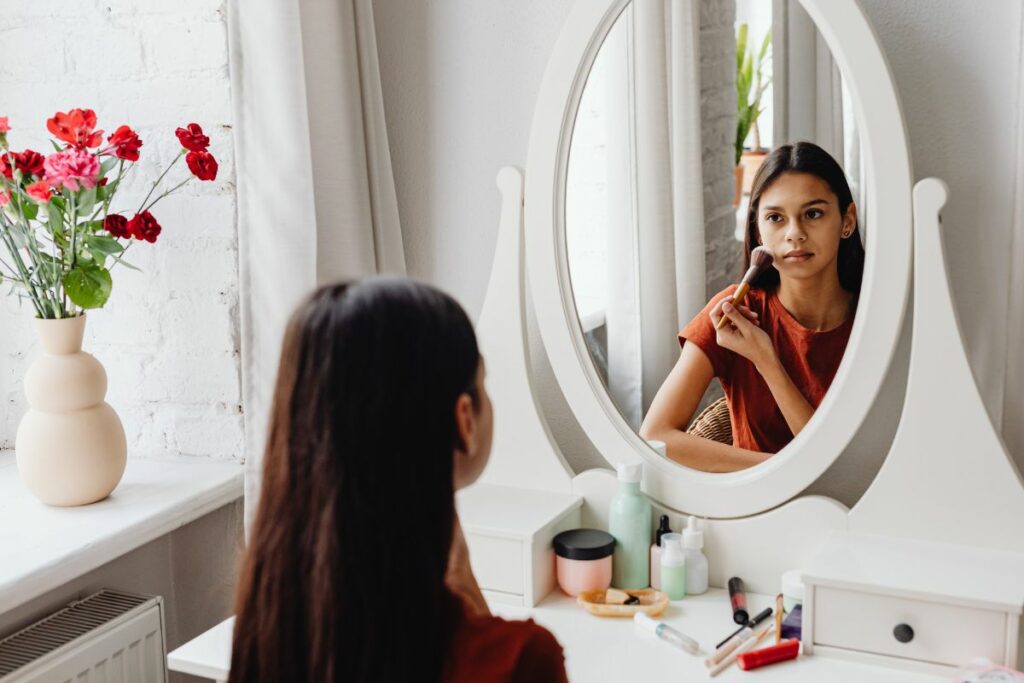 Beauty is in each and every one of us! A discreet make-up, arranged hair, a stylish top, a pair of jeans or pants, or a discreet, longer dress is what should be the basic when you leave the house for any reason. Yes, our life is hard, we are always running, and it's nice not to spend energy on our outlook sometimes. But here's the thing!
If you take care of yourself, you're pampering yourself, you do spend that energy to dress up and do your beauty routine when you look in the mirror, you'll see yourself as someone who's taken care of, who's looking lovely. If you don't care, you never look in the mirror and feel better.
It's simple logic. And it's an extra reason why it's great to put some work into these small things because afterward, they make us feel better, more confident, and happier. Also, who doesn't enjoy feeling attractive even if she's going to the grocery store? Taking care of ourselves, and caring about how we show up in public, are all parts of our character, but also make us confident, real women who we look up to.
5. How to dress like an Italian woman in summer?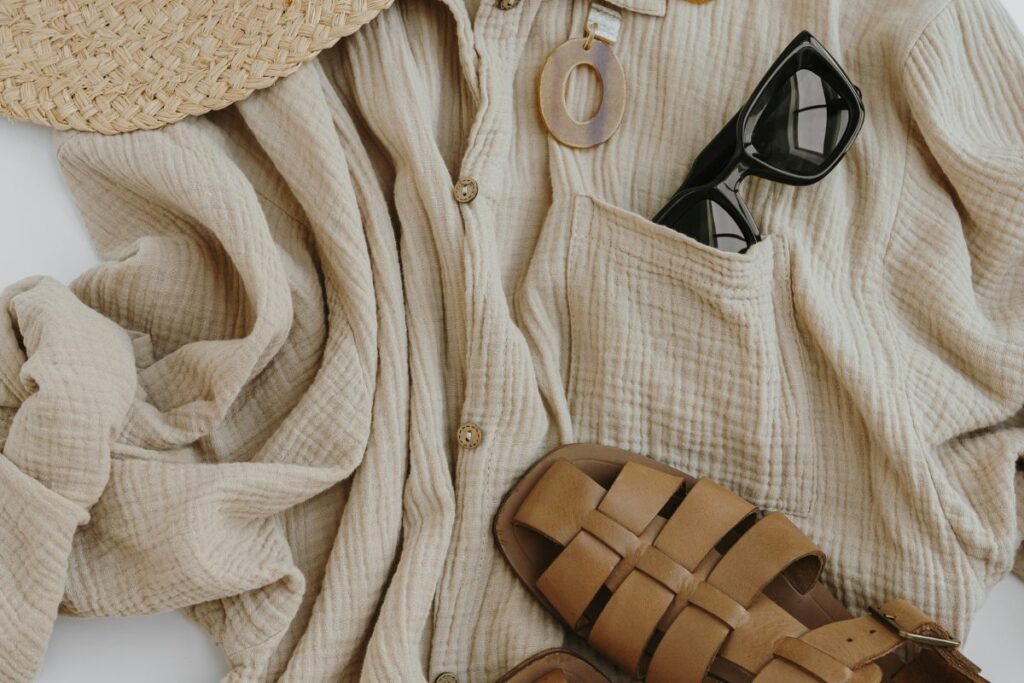 Imagine when you move to Italy from another country, where the dress code is completely different, and you move to a town that's populated mostly by Italians! Now imagine doing this when it's a pandemic out there, so there aren't even tourists that could mix up the women's street style look. After getting used to the colorful dresses in England, moving to an Italian town during the summer was quite interesting.
So here comes the question of how to dress in Italy in summer. While pictures of influencers might suggest that the Italian summer is about colorful dresses, cut out, or mini dresses, it's not like that. You'll have some very judging eyes on you also if you start walking around in a town (even if it's a seaside town) in your bikini top without a coverup. They might not even allow you in some shops!
Italian women in the summer cover themselves up, especially in towns and cities, of course. Longer dresses, or those that are shorter but have more coverage on the shoulders and arms. If you see Italian women (especially younger ones would wear these) in short dresses, you'll probably see them with boots (yes, in the summer). If the dress or the skirt is long, the sandals and slippers come out to play too.
In each case, short shorts, crop tops, too-colorful outfits, and eye-attractive cut-outs are avoided by most Italian women. You'll see truly rarely here one or two who would be dressed up like that. And even if they are, they'd be mostly teenagers. Grownup women give more importance to protection from the sun, and elegance, and rather suggest than show it all.
6. How to dress like an Italian woman in winter?
Here's a statement! Since Italy is not a cold country, where people would be used to that, Italians don't like winter! Or most of them at least. And they also like to overreact when it comes to dressing up. I'm used to the cold weather so for me a scarf, a long coat, and a simple top are fine. For Italian however, it's at least 1 layer more.
When I see my friends coming over now in wintertime, having 5 layers of clothes, it always amuses me, as I come from a place where we had even -20 C degrees. Now, to know some fashion tips and details if you want to know how to dress like an Italian woman in winter, there's one piece that you must own!
Long boots with a skirt, scarf, pullover, and thighs. Hats and gloves are also popular. Then, if you're wearing pants, ankle boots should be the winner. In all cases, long, even oversized coats are very popular among Italian women in the winter! You can always get some inspiration from the most popular Italian fashion influencers!
7. The only place where you can wear shorts and crop tops, is the beach
As I have mentioned, it was so embarrassing when even women in my town were staring at you, making it visible how much they were against you if you dared to go out on the street with shorts and a colorful top. I have now learned my lesson, and this is something that you must know if you want to understand how to dress like an Italian woman!
As I have mentioned, you must just suggest, but not show it all! Italian men like flirting, and women cover themselves up a bit more or make their outfits rather elegant instead of showing off. You can't really go out in the city with ripped jeans shorts and crop top, or a mini colorful summer dress either. It's a trigger for everyone looking at you, and judging, but also becomes annoying and dangerous in a very big city, especially at night.
These outfits are also not for going out with friends in the afternoon/evening. Obviously not for work either. So another tip for Italian fashion, and how to dress in Italy is to wear beach outfits on the beach, and street style where that's the appropriate choice! This is especially true for those asking how to dress like an Italian woman over 50 since these women don't ever wear outfits as such!
However you can still wear items like this obviously, but if you do, the Italian woman's mentality is to make it elegant. Instead of the "cheap" look, you should pick some good quality pants that are not so short that your behind is showing. Wear them with a shirt, trench, or a blazer.
8. Accessories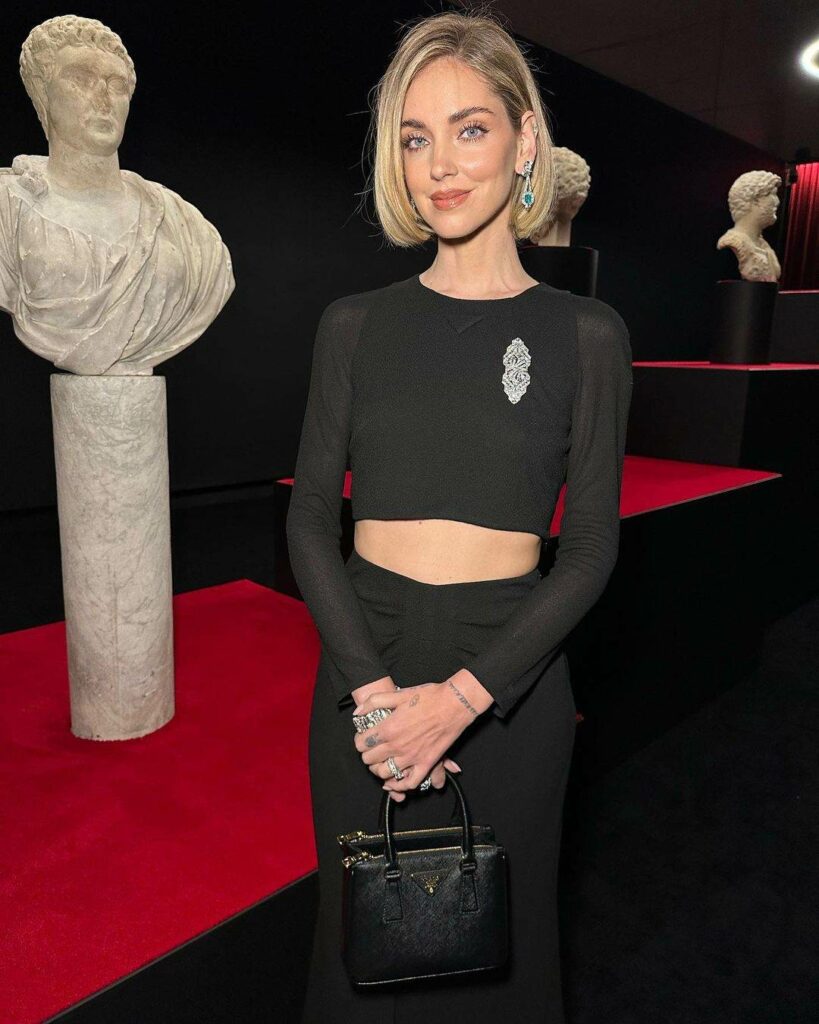 The next step in how to dress like an Italian woman is the use of accessories! When it comes to accessories, I must say that's the most important, as it defines a whole outfit. You've heard that there are a lot of monochromes, a lot of blacks, and a lot of simplicity. Accessories are what make these women so fabulous. Picking the perfect jewelry brands combined with the best pair of sunglasses is a basic rule.
You must notice when you ask what a typical Italian woman looks like, that golden accessories are very popular. Indeed, golden accessories are taking those simple, yet elegant outfits to the next level. The secret lies in matching the outfit. If it's with gold or silver, zirconium, crystal, or even diamonds.
We don't have to overdecorate ourselves as if we were Christmas trees. Many times more is less, and we should always consider where we want people to concentrate on us. With a big cut-out decolletage, you might not want people to stare at your very eye-catching diamond collar, and your breast in the meantime. These make the outfits of Italian women spectacular. These transform simplicity into an irresistible beauty.
9. Boots, and more boots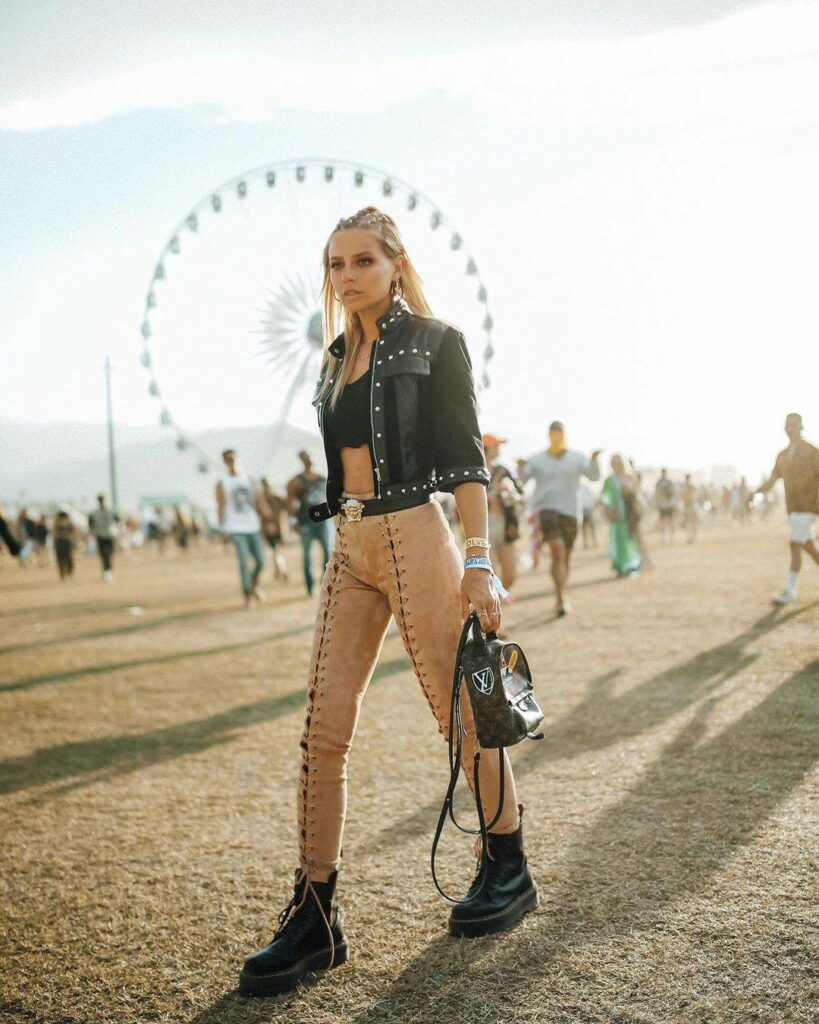 Another step to learn is if you've been asking how to dress like an Italian woman are those boots. As I said, these are something to use in the summer, in the winter, in the spring, or in the autumn. Boots never go out of date, and they are used in every season in Italy. It's also quite an Italian women stereotype that here everyone, literally everyone has or wants to have Dr. Martens boots.
Boots are super important, and elegant boots are really necessary when it comes to how to dress like an Italian woman! Elegant, black, beautiful, discreet, and simple. That's what you would see if you walked around an Italian town or city, and would look for what a typical Italian woman look like. The Dr. Martens obsession though was also memed on Instagram for a while. We don't have to exaggerate with the use of boots obviously!
10. The Italian luxury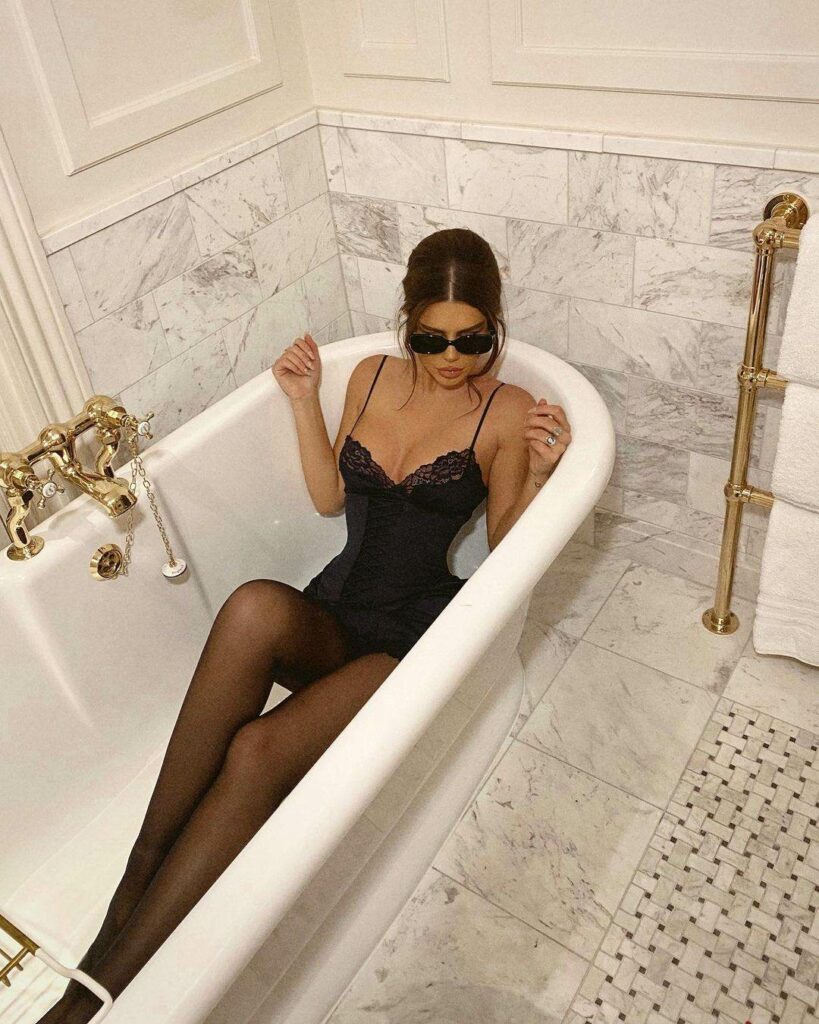 The highlight of how to dress like an Italian woman is Italian luxury fashion! I think every woman deserves one luxury item at least. That one can bring your outfits on different levels, even if they were super budget items. That one piece will make you feel fabulous every time. Italians are one of those nations that provide the fashion world with over 40 luxury brands.
The Italian quality is one of a kind, so it's no surprise why Italian brands are so popular around the world. When it comes to the style of Italian women, there's one thing for sure! Each of them owns one luxury item, that gives a spectacular upgrade to their outfit! There are those we all know like Gucci, Versace, and or Armani! But beyond them, there are plenty of outstanding brands that create the most breathtaking designs.
We linked the best Italian fashion brands at the beginning of this article. Make sure you check that list of 35 best brands! You can also check also the best Italian lingerie brands, to gift yourself something that others might not see, but it will make you feel in power! Also, you can find most of the best Italian and international brands, and their best products on our favorite reseller, Luisaviaroma. Check it out by clicking on the button below!
Wrapping up: how to dress like an Italian woman?
I hope I answered your questions on how to dress like an Italian woman over 50, how to dress like an Italian woman in summer, or how to dress like an Italian woman in winter! From top to bottom, I tried to cover everything. If you want to make your outfits to even more match these styles, make sure you check out Italian fashion brands, shoe brands, handbags, and designer brands too. In Italian fashion (and we're talking now about that what 95% of women wear) you should remember a few basics!
Be simple, go for dark pieces, and keep them discreet and elegant. This is the key. You don't have to overanalyze it. I hope the above collections I've made will help you get some inspiration on how to dress like an Italian woman. Also, with this article, you must have now some great insights into what a typical Italian woman looks like. If you want to discover more about Italian style, culture, or food, check out my articles for recipes, home decor. You can also find guides for plenty of places to visit in Italy.
Pin it: How to dress like an Italian woman?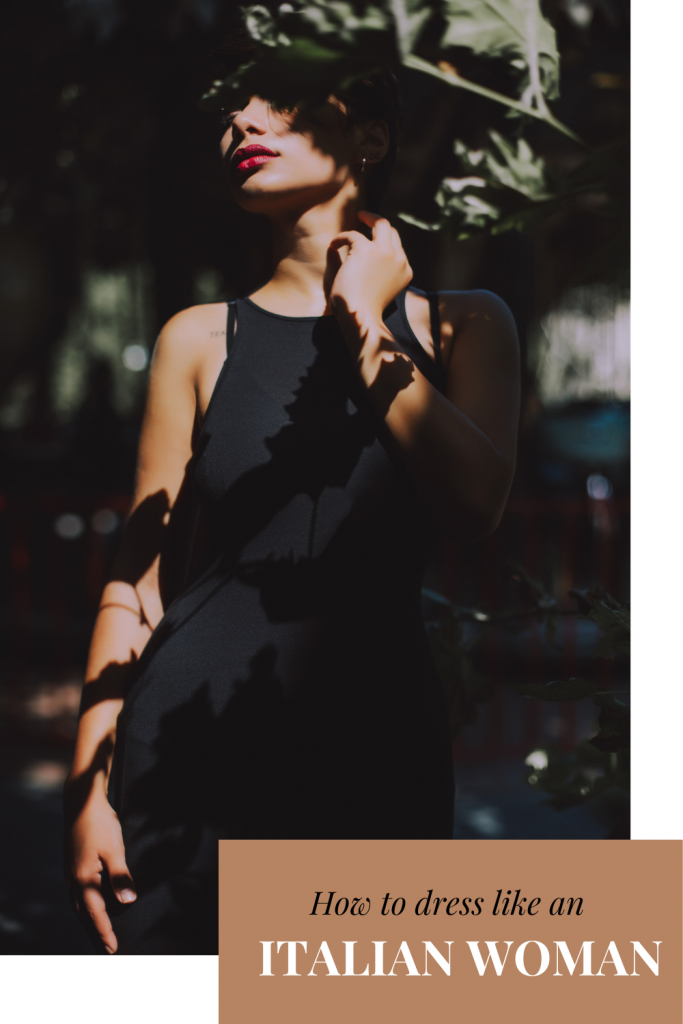 This article contains affiliate links. This means, that if you click through these links and make a purchase, we will earn a commission from the value of the purchase. This doesn't have any effect on you or the prices, but it's helping us maintain our websites.
10 Tips: How To Dress Like An Italian Woman