Being a freelancer opens up doors that are closed otherwise if you have a 9 to 5 job. Freelancers in the US can also enjoy much freedom and great times while working with their passion. As a digital nomad, you have the freedom to live where you want, because you can work from wherever you want. This opportunity isn't given if you're having a fixed-job.
Or, well, if you have the chance to relocate to one specific place, or quit and find a job in the city where you want to live. If you're based in the US, and you're a freelancer that's thinking to relocate, this post is for you. Are you wondering where to live in the US as a freelancer? What is the cheapest place to live in the US as a freelancer? Let's see some cities that might be a great option for you!
---
Basics before deciding where to live in the US as a freelancer
Choosing where to live as a digital nomad can be overwhelming. Depending on what level you are with your freelancing career, you might need to start with some savings together before relocating. This really depends on what you're doing and how much you're already making a month. It also depends if you're looking for good online jobs or you're doing something that requires face-to-face interaction.
Anyhow, to relocate to a new place, you will have some extra expenses that you must consider. First of all, to rent/buy a house, you need funds. Digital nomad: where to live is an easy question if you listen to yourself carefully. It also helps with this, if you're looking up online for houses and apartments before you move. With that, you can start checking out the places as soon as you've got to your new home, and you don't have to live in a hotel for long.
Then, as a freelancer, you must also have remote health insurance to be covered wherever you are. In any case, the best place to live as a digital nomad in the US will be covered in this article and will allow you to find the best insurance too. This being said, you might want to check out SafetyWing, which has one of the best and easy-to-use remote health insurances for digital nomads.
If you can, it might be helpful to connect with people from your future home. The digital nomad best places to live come alive when you connect with other people. You can connect with other freelancers or travel enthusiasts in Facebook groups. This will help you avoiding loneliness, and you might also get some help and tips for your relocation process.
---
Best cities for freelancers in the United States
---
1. Phoenix, Arizona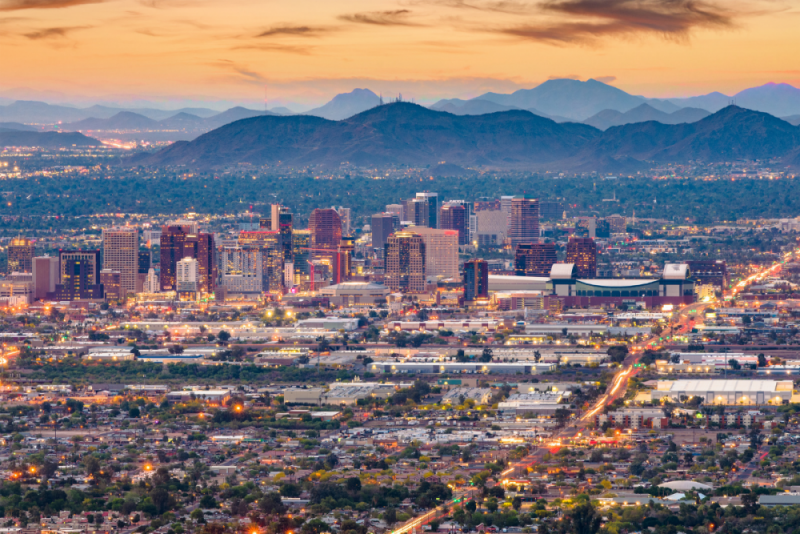 Recommended by Sam from My Flying Leap
Where is the cheapest place to live in the US as a freelancer? One of them is definitely Phoenix, Arizona. The Valley of the Sun is a popular destination in the US, especially during the winter months. The low desert temperatures are quite moderate, rarely hitting freezing. Outdoor activities are popular with freelancers in the US for nearly 9 months of the year and even the restaurants generally have walls that open to enjoy the gorgeous weather.
Phoenix is the fifth-largest city so you can get anything you might need as a freelancer. The cost of living is really low relative to other cities of its size, making it an attractive option. Any amenities you may need are available including lightning-fast internet and well-stocked coworking spaces.
There are a lot of fun things to do in Phoenix and that makes it the best place to live as a digital nomad in the US. Explore the desert on the hundreds of hiking trails in and around the city and visit the desert parks and botanical gardens to see just how beautiful the desert can be. Visit the Musical Instrument Museum for a taste of the world's music and the Heard for Native American art. And Phoenix offers a thriving nightlife with lots of amazing bars, clubs and live music venues, and restaurants throughout the valley.
You do generally need a car to get around as public transportation is limited. However, this gives you a great opportunity to explore other incredible areas in this diverse state including the nearby stunning red rocks of Sedona and quaint and historic Tucson.
You've been thinking of where to live in the US as a freelancer? If you enjoy large cities and are seeking something a little different than what you can get in most parts of the country at a great value, Phoenix is for a digital nomad best places to live!
---
2. Denver, Colorado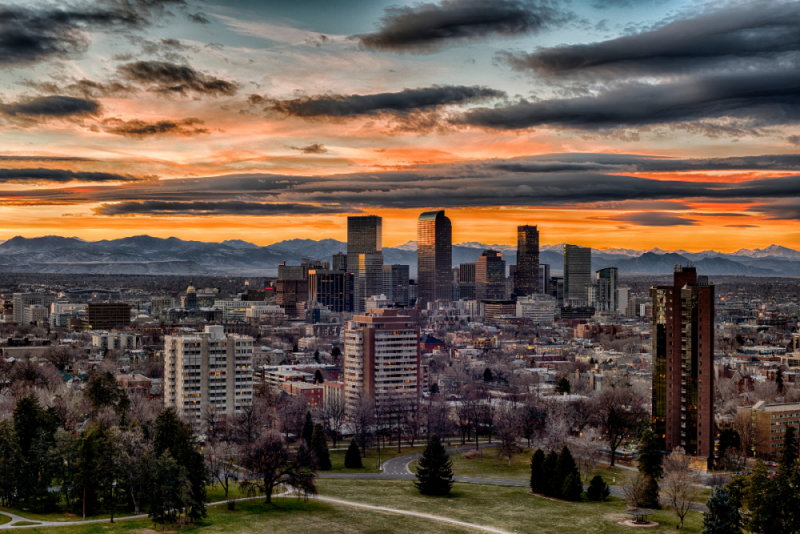 Recommended by Daria, from the Discovery Nut
The capital of Colorado, Denver is one of the most popular up-and-coming cities in the United States. Digital nomad: where to live? Well, in Denver, you will find many world-class museums, restaurants for every taste and price point, and parks where you can run and exercise.
Located at the front range of the Rocky Mountains, Denver is a perfect getaway to the outdoors with world-class ski resorts and prime destinations for hiking and mountain biking.
But beyond great opportunities for an active lifestyle, Denver also boasts a booming tech scene with many companies relocating here in recent years. The city has a young and diverse population which makes it a great place to socialize and make new friends.
Although the job market in Denver is hot and there are plenty of opportunities for freelancing, the cost of living in the city has been on the rise over the last couple of years.
The city attracts newcomers from all over the country, and the cost of living well reflects that popularity. I you've been wondering where to live as a digital nomad in the US, this is it. Denver remains one of the most desirable destinations for young professionals in the United States, and as a freelancer, you will not be disappointed with this city.
---
3. Austin, Texas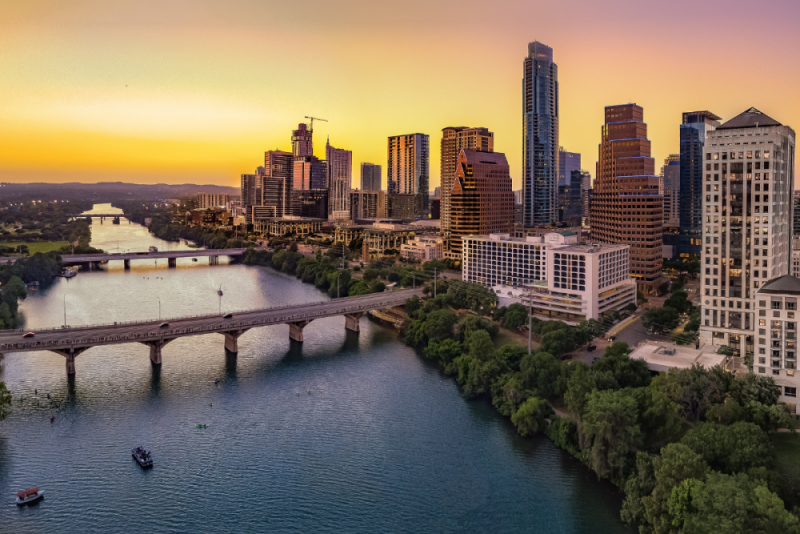 Recommended by Brittany, from Family on Standby
Where is the cheapest place to live in the US as a freelancer? Austin is one of the best choices. The city is famous for a lot of things: BBQ, live music, art, and keeping things weird. So it's no surprise that Austin is also a great location for freelancers and digital nomads.
Austin is located in central Texas – about 3 hours northwest of Houston and 3 hours south of Dallas. I will warn you though, it can be sweltering in the summer, with highs of 90-100 (Fahrenheit). But in contrast, winter is rather mild.
So what makes Austin a great city for freelancers in the US? Really, it's a combination of things. First – the social scene. You will never run out of things to do in Austin. Festivals and live music are regular events. And you'll always find new taco and BBQ spots where you can casually sit outside and chat with friends.
If you're looking for a city where you can enjoy outdoor activities, Austin is a very active city. That's also why it's the best place to live as a digital nomad in the US. Lady Bird Lake runs right through downtown and is perfect for kayaking and paddleboarding. When it comes to the cost of living, Austin isn't the cheapest place to live. It's grown in popularity over the last decade and as a result, the cost of living has gone up. While it has the highest cost of living in Texas, Austin is only slightly higher than the national average. That means that with roughly the same income, Austin is one of the digital nomad best places to live.
There is also some brighter news. Austin's growth is due mainly to a large tech boom. Even if you aren't interested in joining a tech company, you'll meet others in your industry here. If your freelance work touches any aspect of technology, Austin is a great place to collaborate. Meeting people who work in a similar space is an excellent way to grow your freelance business. And if you are looking to start your own business, Austin is known as one of the best cities for entrepreneurs. So if you're thinking about where to live in the US as a freelancer, consider Austin as well!
---
4. Miami, Florida
Recommended by Victoria from Guide your Travel
Miami is one of the best cities for freelancers in the US. When you're wondering Digital nomad: Where to live, the bright sun of Miami should answer straight away. The quality of living here is high and there is always something to do in this incredible city. Miami's favorable climate and ideal location on the coast means it attracts millions of tourists every year. Many freelancers who appreciate warm weather and the proximity of the beach are taking the step to make it their permanent home.

Miami is known for its wild nightlife so if you're looking for a sociable place this is the city for you. But you don't need to go to loud clubs every night if you're living in Miami. There are plenty of upscale rooftop loungers, fun cocktail bars, or even just laidback restaurants perfect for meeting up with friends. Making connections in Miami will not be a problem even as a freelancer. Where to live as a digital nomad can be tricky to choose, because you can be anywhere you want.

Miami is not the most affordable place to live in the US, however, you could still keep your budget tight if you want. You'll save a lot if you rent a place somewhere a little outside of the city center. You might have to downsize a bit and opt for a smaller apartment but the Miami lifestyle will be worth it.

Miami is fantastic for day trips and weekend getaways. Head to Key West or even the Florida Everglades for sightseeing and getting back in touch with nature. Making your home office greener is always a good thing to do, and with Miami, you've got the great outdoors just outside of the home. So, you should definitely consider Miami, if you're thinking about where to live in the US as a freelancer!
---
5. Philadelphia, Pennsylvania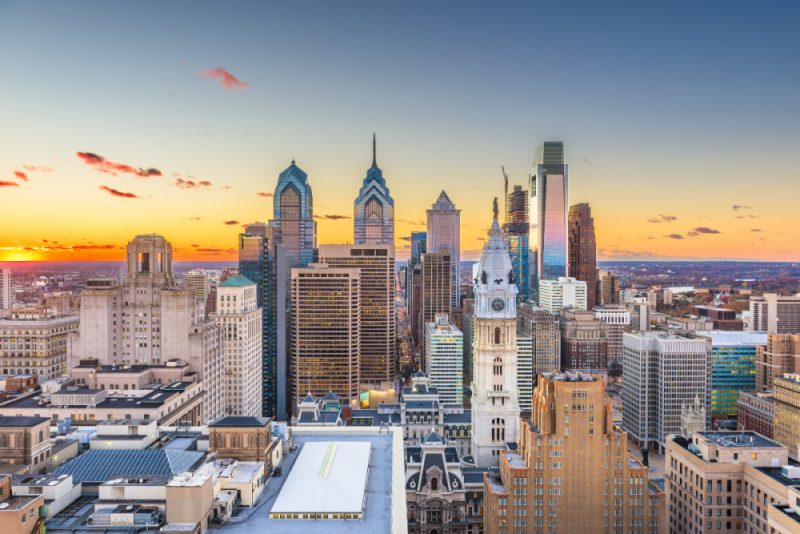 Recommended by Derek and Mike from Robe Trotting
One of the cities in America is the east coast gem of Philadelphia. Where to live as a digital nomad is pretty easy to choose when you discover Philadelphia. It's home to historical attractions, some of the world's best museums, and the food scene is delicious. On top of all that it has a vibrant nightlife and a cost of living 4% under the national average. This makes Philadelphia the perfect city for freelancers to take up residence.
Philly enables you to enjoy the benefits of living in a major city without the sticker shock of living in Boston, New York City, or Washington DC. There's also no state tax on necessities like clothing or groceries. Digital nomad where to live? An easy one with Philly. In Philadelphia, you can earn high wages compared to the inexpensive lifestyle the city affords its residents.
So, where is the cheapest place to live in the US as a freelancer? That's one of the spots. The city is also flush with excellent short-term rental properties. A quick scan of Philadelphia Airbnb will show great inventory for longer stays that can give freelancers the opportunity to test the waters before finding a longer lease. If you sign a one-year lease with roommates there are neighborhoods in Philadelphia where you can pay as little as $600 a month with median rents of about $900.
Philadelphia is a great city for freelancers in the US for social life with friendly locals and plenty of ways to meet people. The bar and pub scene is great and there are all sorts of intramural sports leagues, many of which are designated as social leagues. Philly is called "the city that loves you back" and for most people, it lives up to that moniker!
---
6. Santa Barbara, California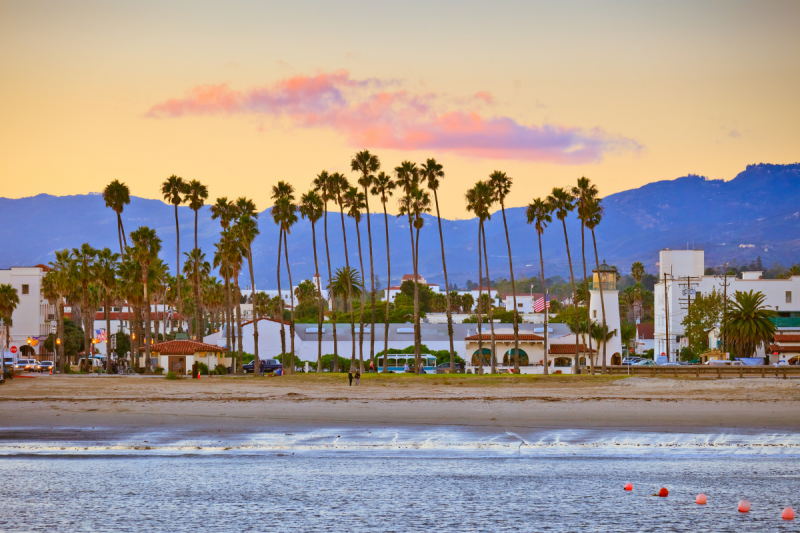 Recommended by Ciara from Wellness Travel Diaries
Along the Pacific Coast in sunny California is the charming beach city, Santa Barbara. Where to live as a digital nomad? Why not in bright-colored California? With a Mediterranean climate, the beach on one side of the city, and the mountains on the other, Santa Barbara is a slice of paradise. The terrain itself is great for outdoor and adventure enthusiasts offering excellent waves for surfing, beach volleyball on East Beach, kayaking, and botanical gardens.
You'll also find numerous amazing hiking trails in Santa Barbara, spread throughout the city featuring vast views overlooking the city skyline and coastal shores such as Inspirational Point (3.5 miles out and back) or the Cathedral Peak (4.7 miles out and back). Santa Barbara is 'Digital nomad where to live' – nature and skylines edition.

The cost of living tends to be a bit higher in Santa Barbara, but the beautiful surrounding areas easily make up for the high cost of living. The beauty and safety of the city make it the best place to live as a digital nomad in the US. Find comfort in exploring the great outdoors, eating delicious foods, engaging in the conscious living culture, and enjoy the artsy vibes. You'll also find endless opportunities for freelancers ranging from graphic design, writing, video production, administration, executive assistants, and more.

Digital nomad best places to live include spots where you can work without being disturbed. After all, Santa Barbara is a college town with the University of California Santa Barbara and Westmont College both sharing the lively city space. Stay socially active in this college town by attending various gatherings with newly graduated students, venture off wine tasting with local wineries, explore the vegan scene, or dance the
night away at trendy clubs located on State Street. Santa Barbara is definitely a great place to live in the United States as a freelancer! Also, if you live in Santa Barbara, you can easily visit LA.

---
Wrapping up: Best cities for freelancers in the United States
Calculating the costs, and deciding what environment you want to live in is key. Where is the cheapest place to live in the US as a freelancer? We've seen quite a few. Not all capitals will rob you of your monthly income. Freelancers in the US can enjoy some great moments, skylines, and beaches when they're not working towards their stunning goals.
Philadelphia, Austin, Santa Barbara – the best place to live as a digital nomad in the US is really the city that ticks all your boxes. Price, sun, nature, connections – have a good think, and the digital nomad best places to live will clear up in your head.
These are some of the best places to live in the US as a freelancer, but obviously, cities like New York City, Los Angeles, or Chicago are great too. Though, these all require much bigger budgets. Before you relocate, don't forget to check out houses in advance, and have remote health insurance!
---
Pin Me: Where to live in the US as a freelancer?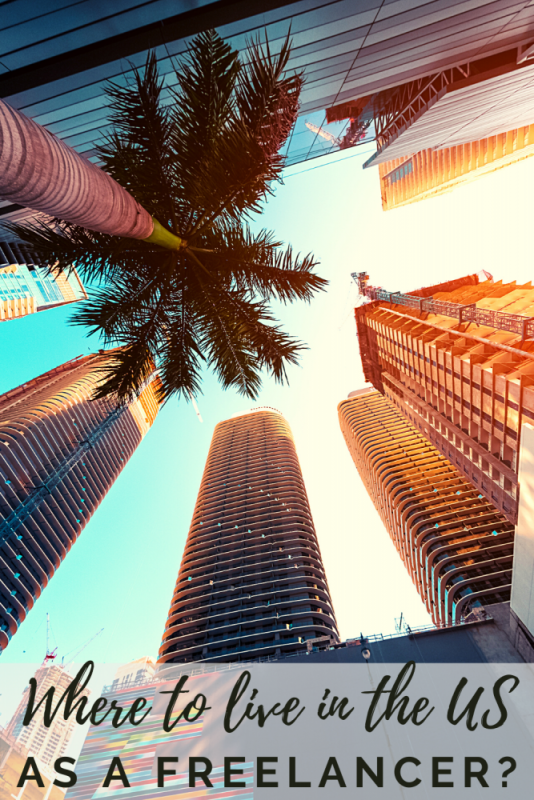 Where to live in the US as a freelancer?