Having a blog doesn't mean that it will be successful overnight. There are many aspects and many steps to make to build a successful blog. Besides optimizing your blog for SEO and building backlinks to your site, you must learn the best practices for Pinterest and Social Media. In this post, you'll learn also about using Tailwind for Instagram. If you're trying to find answers on how to see scheduled pins on Pinterest or to find a free Pinterest scheduler, you're in the right place. Let's learn how to use Tailwind app!
In 2021, building a successful blog is getting really hard. Actually, for years now, it was getting harder and harder to build a successful blog. Why is this? Because there are more and more blogs appearing on the web every year, and not just blogs but all types of businesses are producing more and more content, which makes it harder now to get that dreamed blogging success quickly.
This also explains why so many people give up blogging after a few months. It's not an easy job, but there are great tools to help you make it easier. One of these tools to build a successful blog is Tailwind. Tailwind isn't a free Pinterest scheduler, however, you can schedule for free a certain amount of posts!
---
Disclosure: This article contains affiliate links. This means if you make click through and decide to make a purchase, I'll earn a commission. I was also compensated for this article, though the full article is based on my own opinion.
---
How to use Tailwind app, and what is it?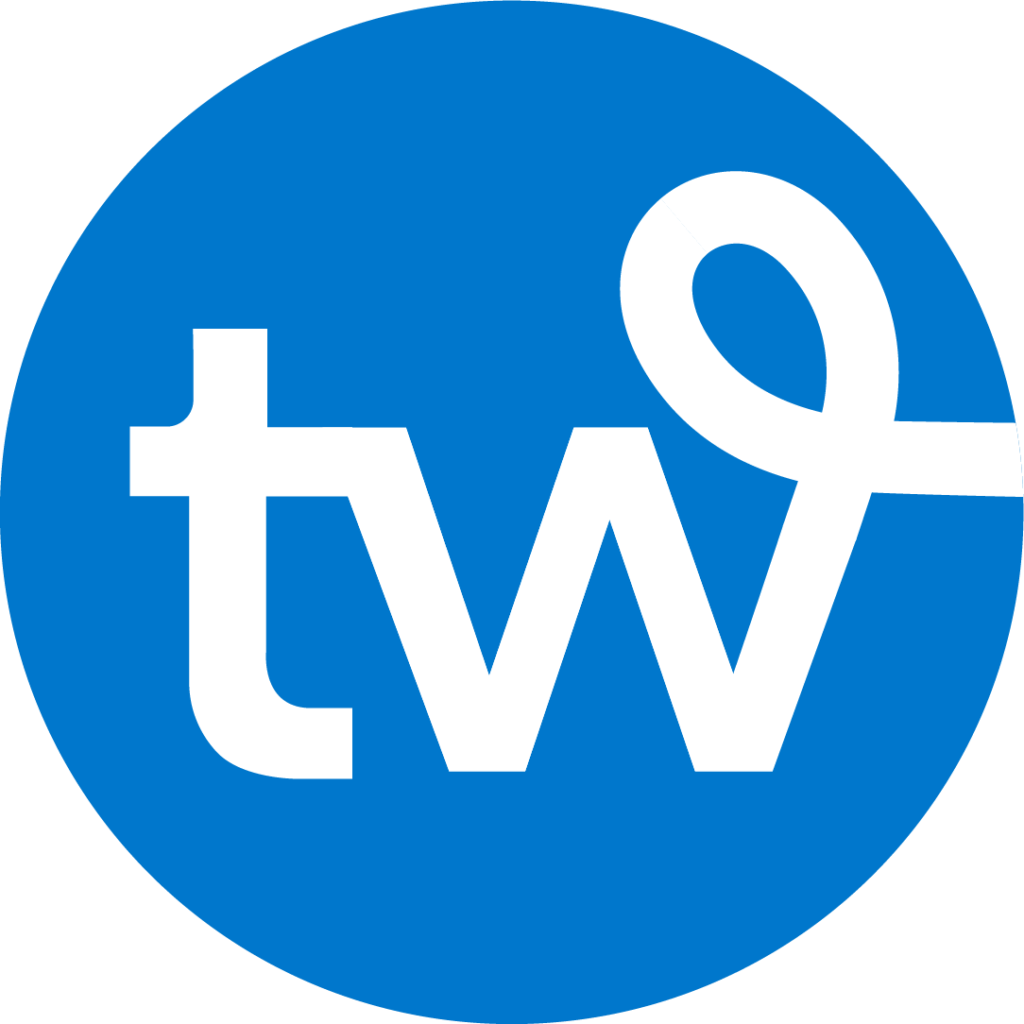 Tailwind is an online platform that was made to help content creators, brands, and all kinds of businesses to get their online marketing strategy working. Tailwind is helping you to schedule ahead of time your posts for Pinterest, Twitter, and Instagram as well. It's a time saver for everyone who's trying to grow on Pinterest and social media and a tool that you shouldn't ignore.
For me, Tailwind is now saving 10 hours a month (at least) and it helps me grow my social media and Pinterest accounts in incredible ways. Having the possibility to schedule your content in advance, and have it posted automatically by Tailwind is just great! It also helps a lot to build a successful blog business! So if you're just starting up and you're looking for a free Pinterest scheduler, definitely try this platform! After you have no more free space in your schedule, you can decide if you want to continue with the app and get a monthly subscription, or you just stop using it.
---
Before you ask how to use Tailwind app, start using Pinterest the right way
This is key! Before you start using Tailwind, you must be using Pinterest the right way. For Instagram and Twitter, you can start using this tool from the start, but for Pinterest, you first need to use the platform the right way. the app is great to schedule your pins for your boards on Pinterest, but also to schedule other's pins.
However, before you start using Tailwind, you must complete some steps on Pinterest. First, to create a business account, then to connect your website to your Pinterest account. When you have these, you should create the boards where you're sharing, and design your profile.
When you're ready with all this, you must join Pinterest group boards. These group boards help get your content discovered by more people. Basically, if you pin something for one of your boards, then using Tailwind, you can schedule the same pin in to the group boards. This way, you can get more engagement, and it can help your pins to be grabbed by the Pinterest algorithm to get them viral.
So, before you sign up for Tailwind, make sure you've completed these steps. It can actually be done in one day's time, and you can continue joining groups over time, to share your pins with more people. To have a successful blog, Pinterest is one of the best platforms that you must use. It can drive much more traffic to your website than search engines, especially if you're having a really new website.
---
Use Tailwind to build a successful blog business
---
Save a lot of time
The most important highlight is that you can save a lot of time by using Tailwind. As I have mentioned, monthly, I save at least 10 hours since I'm using the app to schedule my social media and Pinterest posts. You can schedule multiple posts at once, and then you don't have problems for a week, or even for more weeks! Time is money, don't forget that!
Optimize schedule
You can optimize your schedule on social media platforms like Twitter and Instagram, as well as on Pinterest to post at the best time. Tailwind is generating basically those times in your scheduling when the engagement on the platforms is the highest. This is why it's great to try the free Pinterest scheduler slots first!
More site view
With many scheduled posts and optimized scheduling, you can get more site views. A key to build a successful blog isn't just about organic traffic. It's about driving traffic from Pinterest and Social Media as well. Especially if your website is new, the only way to drive traffic to your website is by using Pinterest and Social Media
Spread your pins
As I was saying before, spreading your pins is important! When I have mentioned that you must do the essential steps before starting to use Tailwind for Pinterest, I mentioned that you should sign up for group boards to spread your pins. Many group boards let you join by only clicking the join button, but some request extra steps. To find great group boards, you must check my list with the 100 best group boards to join!
---
How to use Tailwind app for your blog?
---
1. Sign up for Tailwind
Your first step must be to sign up for a Tailwind account. Then, you have to just connect your Pinterest, Instagram, and Twitter accounts. The great news is, that you can get a free trial when you first start using Tailwind, so you can try the platform before upgrading your account. With the Pinterest free trial, you can schedule your first 100 pins for free. If you want to upgrade your Tailwind account, you can pay monthly or yearly. With the 2nd option, you can also save money on your subscription.
2. Smart schedule with Tailwind
Once you start using Tailwind, you should first create your pinning schedule. This is called the smart schedule. Basically, you set the number of daily pins you'd like to share and the tool will create you a timetable with the best times to pin to increase your Pinterest success.
You can find this scheduling tool on the PUBLISHER -> YOUR SCHEDULE in the left-hand side menu. You'll see here the recreate schedule option, where you can set up your daily pinning number.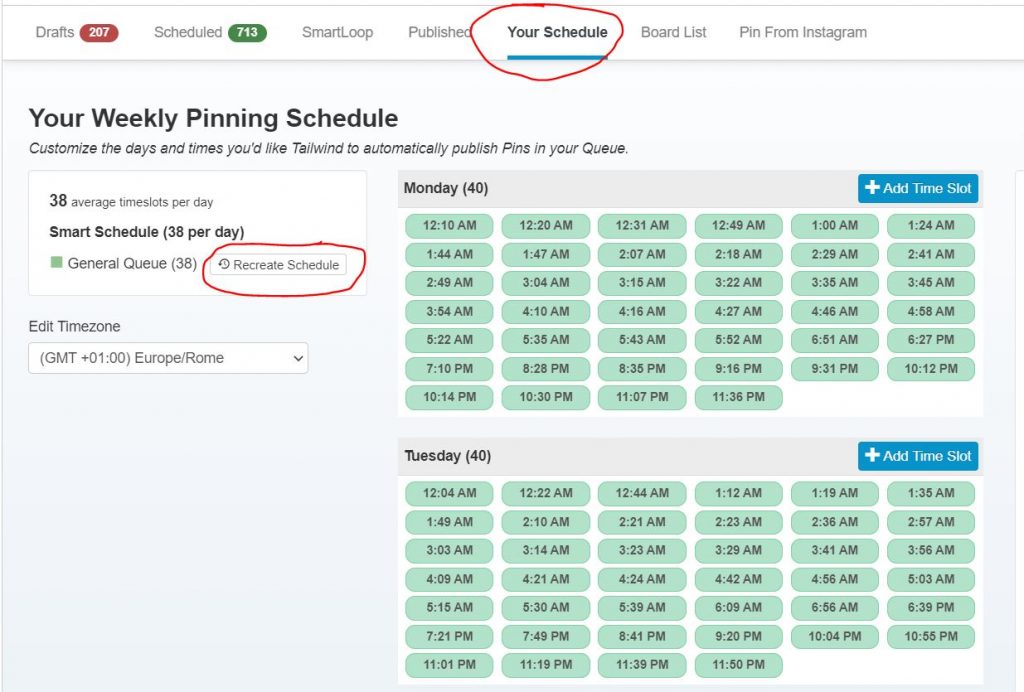 When you're just starting with Tailwind, use fewer timeslots to schedule, so you can create enough pins and join more group boards as well, by the time your account is aging. As you can see, my daily average is 38 right now. I'm pinning 5 fresh pins every day, and I'm resharing them in group boards by using my schedule.
3. Browser extension tool
Once you start using Tailwind, you must install the Tailwind browser extension. You can install the Tailwind browser extension on Chrome, Safari, and Firefox as well. This tool will help you pin even easier. The Tailwind schedule button will show up on pictures you'd like to schedule in.
4. Schedule directly from Pinterest
One of the essential Pinterest strategies is to pin other people's pins beside your own. This is essential for your Pinterest traffic, algorithm, and stats. Tailwind makes this easy for you by the Tailwind button that shows on each pin. By clicking on the Tailwind button, you can schedule any pins in your timetable. Another reason to try the free Pinterest scheduler slots.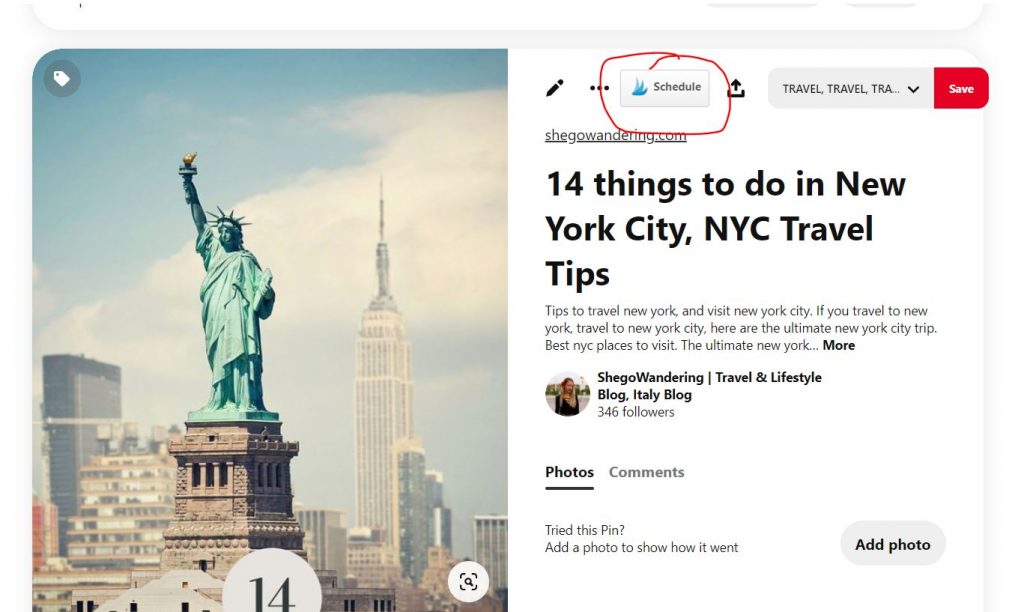 5. Tailwind drafts
So, how to use Tailwind app drafts? There are many ways to use Tailwind drafts. You can use the Tailwind extension button to add items to your drafts and schedule all your pins for the next week. You can also upload your pins from your PC, or use Tailwind Create to create pins. Also, you can add items to your drafts from your blog directly, with the Tailwind extension.
In your Tailwind drafts, you can change each pin's title, description, add links to it and then schedule them in. You can also save all your changes so if you don't want to schedule in a pin the day you've edited it, your changes will be saved. It's a great step to fill up your drafts, so you can make your pinning schedule colorful and changing. It's really important for Pinterest's strategy to not get spammy. You shouldn't post linking to the same article/product/page many pins at once, because Pinterest might mark them as spam.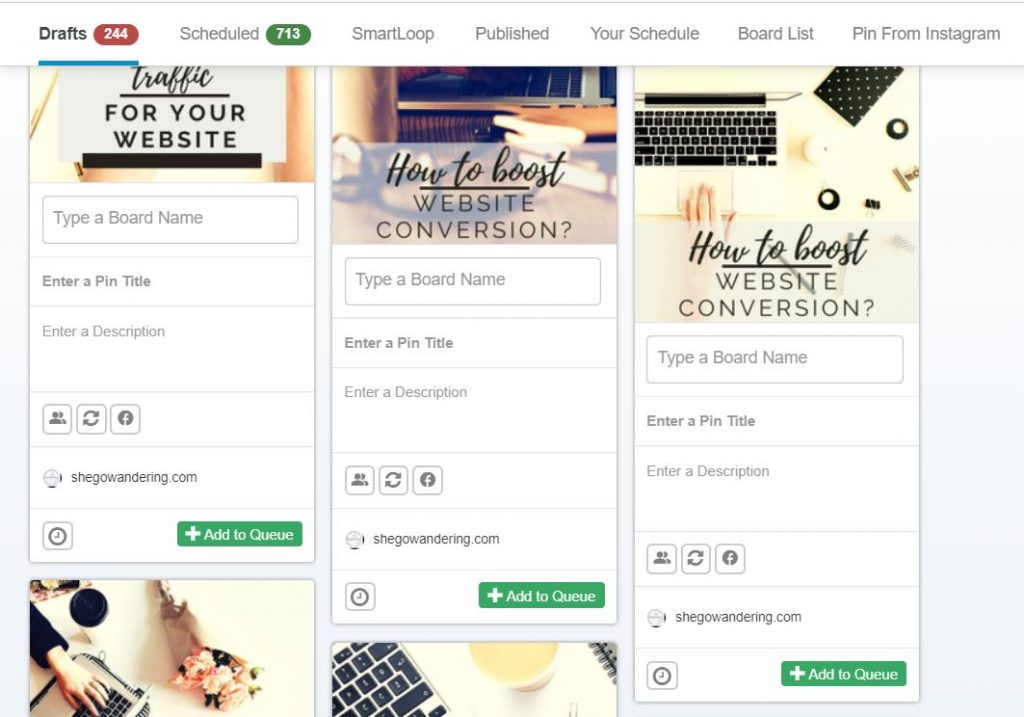 6. Use your Board list
I've been mentioning many times now those Pinterest group boards. Using your board list is a real time-saver. You can add one pin to multiple boards by using your board list on drafts.
You can see on the above picture the option to "type a board name" where you will have all your Pinterest boards and group boards. With this option, if you schedule one pin to multiple boards, you can do it with a few clicks, and you don't have to waste time scheduling them separately. This is another great reason for using Tailwind!
Do not exaggerate by pinning one pin to multiple boards. Tailwind will signal you right away if you've scheduled in one pin to too many boards. To build a successful blog by using Pinterest and Social Media, it's important to be cautious and don't become spammy!
9. Spread your pins – Shuffle Queue
For blogging success by using Tailwind, here's another important point, and a great tool. When you're done with scheduling in your drafts, you can shuffle your queue, so you won't be posting the same pin in multiple places at once. The most effective Pinterest strategy is to use different pins every day. As you can see in the below picture, there's a Shuffle Queue button above your scheduled pins, that you can just click on and your schedule will get mixed up.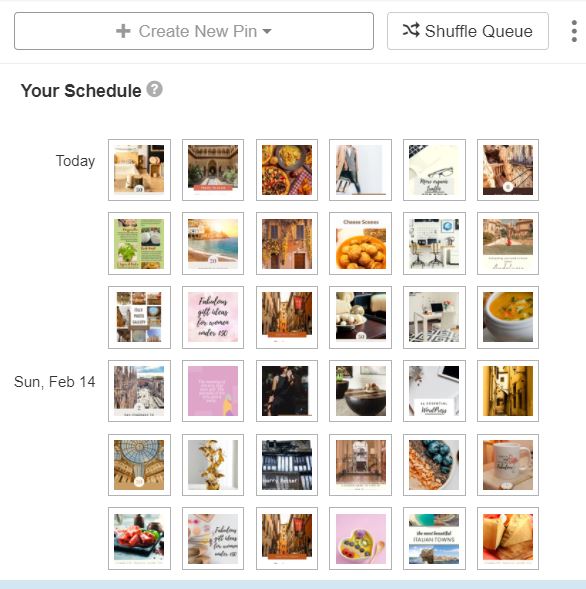 You can lock on the scheduled timetable your own pins, so when you shuffle the queue, they won't move. However, everything else, like re-shared pins should be mixed up. Using Tailwind this is easy to do. I hope you can see how effective can this be for blogging success and your Pinterest strategy!
---
Using Tailwind for Instagram
Using Tailwind now gives you even more opportunities to save time. You can now finally use Tailwind for Instagram as well! Scheduling Instagram posts with Tailwind works somehow the same as with Pinterest. Yep, besides the free Pinterest scheduler slots, you can get free Instagram scheduler slots too!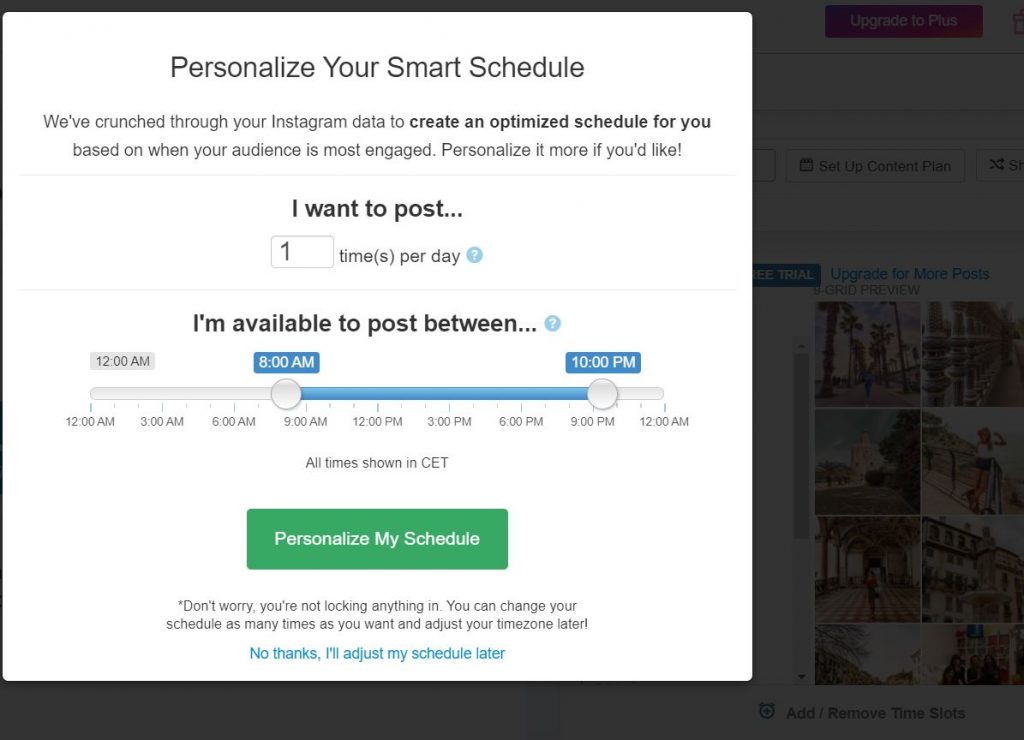 With this Instagram schedule tool on Tailwind, you can personalize your schedule, by editing the number of posts you'd like to share a day, and also the time when you want to do it.
As a second, you can drag and drop your content into your drafts, upload them or use the browser extension to schedule Instagram posts. I've been using once another scheduler tool to post on Instagram. However, it did not work out for me, because it just gave me a reminder and I still had to go on my dashboard to actually publish my post. With Tailwind, this is done for you automatically.
Using Tailwind for Instagram saves you a lot of time, and you can have a much better overview of your Instagram strategy. You can also use Tailwind Create to create new content for your Instagram.
There's another tool you can use to grow on Instagram by using Tailwind! You can set up a content plan for growth with just a few clicks. With this tool, the app creates a custom plan for you that gives you themes, prompts, and examples for every day. You can get a color-coded plan in your schedule, so you can keep your content fresh, engaging and it also keeps you consistent. See how the setup looks like: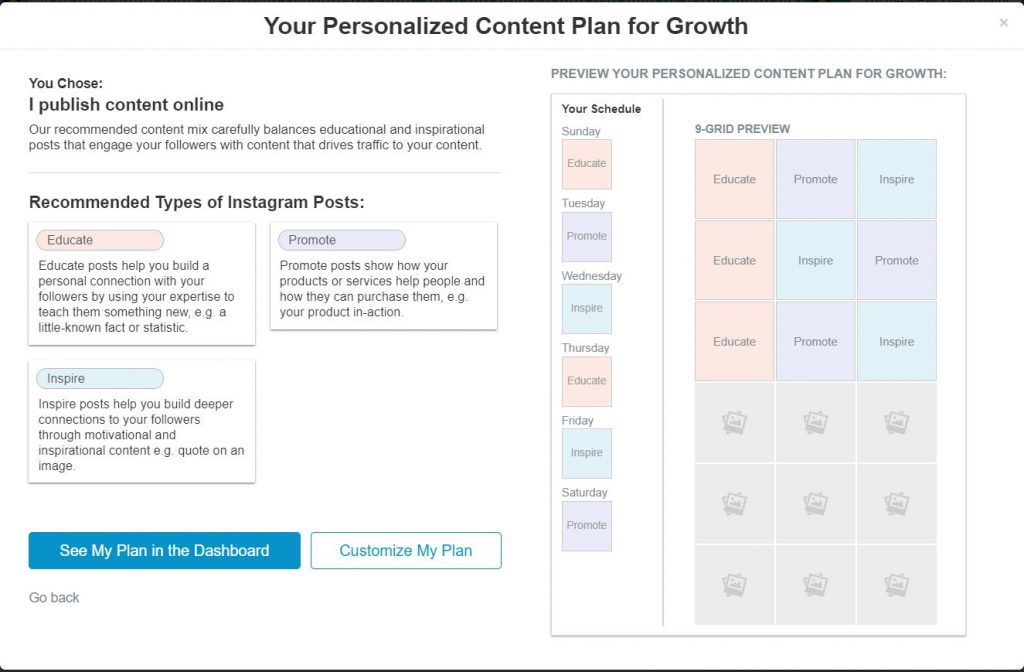 If your blog or brand is active on Social Media, or if it isn't but you'd like it to help you build a successful blog, you should start by using Tailwind. With the Instagram scheduler tool, you will also have first a free trial with Tailwind, so you can try how it works and post your first 30 posts for free.
---
Othe Tailwind features:
Scheduling without going to drafts
Scheduling pins at specific intervals
Uploading pins directly to the app
Use Tailwind Communities
Smartloop feature
Use the app for Twitter
Use Tailwind Create
---
Wrapping up: How to use Tailwind? Try free Pinterest scheduler slots!
As you can see, Tailwind is a really useful tool to build a successful blog business. It's a real-time saver and it helps a lot on all types of content strategy, starting with your Pinterest strategy, all the wat to use Tailwind for Instagram post scheduling. With this guide on how to use Tailwind app, I wanted to share some details about the tool, so when you sign up, you can understand how to use Tailwind quicker. Happy scheduling!
---
Pin It: how to use Tailwind app – A step by step guide for bloggers
How to use Tailwind? A step by step guide for bloggers