If you're a blogger and you're trying to get more organic traffic to your blog, you must understand SEO. After 3 years of blogging, I have to tell you, that trying the freeways will never actually work out. After 2 years of trying to keep everything at a low cost, I realized that I actually spent more than I've earned, because my blog's traffic never got to a great level. So I decided to make a change, and now I'll share with you my tips on using SEMrush for bloggers!
In this post you'll learn three things
How to drive more traffic to your website?
How to find keywords that will generate money?
How to grow your blog fast with the best SEO tool?
Just to give you an idea of what I'm talking about, I'm going to share with you my blog's traffic in the past three years. I must highlight that ShegoWandering is mainly a travel blog focusing on Italy. As we all know, 2020 wasn't the year of traveling, so the organic traffic, the searches for my articles were basically doomed. However, look at this graph below: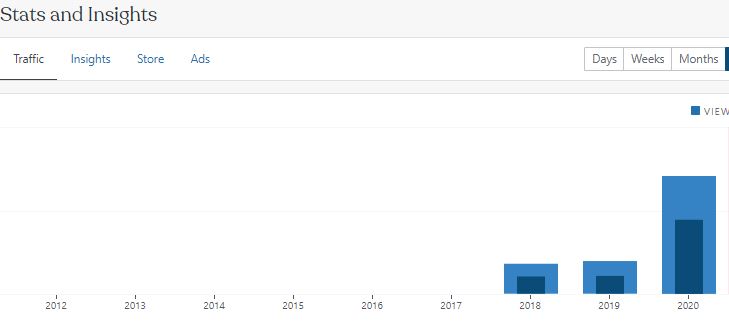 ---
2020 was the year when I started to pay attention to my SEO strategy
In 2018 and 2019 I've spent a total of $2900 on my blog. But for all the wrong reasons. I've paid for advertising, paid on irrelevant plugins, and also my yearly charges for my website. Do you want to guess how much return I had on this?!? ZERO!
And by zero, I mean zero income and zero traffic. Let's be realistic, what are 10.000 views for a website in a year? It's basically zero! So that's what happened in those first two years. I wasted my money because I didn't want to invest in tools that are actually working… That's how I decided in 2020 to build an SEO strategy, and start driving actual organic traffic to my website.
And here's when SEMrush came in!
---
SEMrush for bloggers is key to growing organic website traffic. I've known about SEO, and how it works since I started blogging, but I did not want to spend so much money on an SEO tool. What do I do instead? I used free tools that, if you look again at my above graph, you can see that it made zero impact! If you're serious about blogging, and you actually want to build a blog business, you must invest. And not just invest, but you must invest in the right tools!
You can write hundreds of thousands of blog posts, but it's not going to make an impact on your organic search if you're not a master of SEO. And let's face it, you can't be a master if you're diving between free tools. It's not going to happen… I know, I've been there, and done that!
---
The Ultiamate guide for bloggers: SEMrush
In order to benefit from SEMrush, which's one of the leading SEO tools on the market, you should definitely get the 7-day free trial, so you can explore exactly how it works. In my personal opinion, 30 days aren't enough, even if you're blogging full time (as I do). However, it's a great start to learn about the SEMrush tools. Then, you can go ahead for a longer time if you need, but you can also cancel your subscription at any time!
Grab the 7 day free trial with SEMrush!
---
What is SEMrush?
SEMrush is one of the leading toolkits that includes everything from SEO, to Social Media and market research.
The platform is used by over 6 million users right now. This includes everything from bloggers to brands and SEO companies. When it comes to the digital business, a toolkit like SEMrush is absolutely necessary for everyone!
For keyword planning, you must know that SEMrush has the largest keyword database to help you with your keyword research. You can find over 20 billion keywords to grow your organic traffic!
---
SEMrush Features that can help you grow your website's organic traffic
First of all, you can find highly profitable keywords in many different categories and industries. Don't forget, that SEMrush has 20 billion keywords in their database.
You can also track your keyword, their position, their performance.
Run technical site audits, that will provide feedback on any issues around your website with tips to fix them.
With SEMrush, you can track your backlinks easily, to keep track of new ones and lost backlinks. This is important for your domain authority as well as for backlink strategy.
You can access the tool to research your competitors. SEMrush provides also domain comparison. This helps to track down your competitors.
SEMrush has many more tools to use for your SEO strategy and to grow your organic traffic, but it has also tools for Social Media, content marketing, and much more! SEMrush for bloggers is needed for quick and big growth.
---
Why use SEMrush? Pros and Cons
Pros of using SEMrush
The most comprehensive SEO tool used by over 6 million people which gives you access to data of over 800 million keywords.
Offers you site audits to fix issues on your website
Competitor analysis made easy
Compare your domain with your competitors' domain
Detailed backlinking analysis
Brand monitoring tool to monitor your brand reputation online
Cons of using SEMrush
SEMrush isn't really low-cost, but the overall package of features and tools are absolutely worth it!
It will take some time to effectively use the tool. Especially if your website has already a large content. As I have said, the 30 day trial with SEMrush is an absolute must, but it won't be enough for virtual success.
---
SEMrush Pricing and packages
So, when you're over the 30-day free SEMrush trial, if you're looking to continuously work on your SEO strategy and increasing your website's organic traffic, you'll need to decide on the plan that fits you the best. Let's see how the plans and pricing available on SEMrush.
There are three plans you can choose from:
Semrush Pro starts at $119.95 monthly
Semrush Guru starts at $229.95 monthly
Semrush Business starts at $449.95 monthly
---
SEMrush PRO
SEMrush PRO is the basic plan you can choose, which is also the most low-cost plan you can pick on SEMrush. This plan is $119.95/month and you'll get for this price:
Standard features
5 projects
5 scheduled PDF reports
Track up to 5000 keywords
3000 daily reports
Crawls through 100,000 web pages
10,000 results per report
SEMrush Guru
This plan is an upgrade of the SEMrush Pro. You have many more options that will help with your website traffic and SEO strategy with SEMrush Guru.
All PRO features
Branded PDF reports
20 scheduled PDF reports
15 projects
Tracks up to 1500 keywords
5,000 daily reports
Crawls through 300,000 web pages
30,000 results per report
SEMrush Business
SEMrush Business is the plan that includes every single feature that you need if you're running a business. If you actually want to grow on the web, and you want to succeed not just within your organic traffic, but with your business, this plan is needed.
All Guru features
Branded PDF reports
50 scheduled PDF reports
40 projects
Product listing ads
Historical data
10,000 daily reports
Crawls through 1,000,000 web pages
50,000 results per report
Note 1: SEMrush for bloggers is usually working great with SEMrush PRO, that's mostly enough. Except if your blog is already huge, with shop integrated, and you're gaining monthly organic traffic above 500,000.
Note 2: If you go for a yearly plan, you can save up to 16% on SEMrush plans. In each way, you can first try the tools with the 7-day free trial.
Note 3: SEMrush had some incredibly useful updates in 2020, providing users with more tools that help to grow their businesses. Check out the SEMrush update review!
---
Why do you need to use an SEO toolkit such as SEMrush for your blog?
As a blogger, you know that the most important in a blog business is the content. However, it doesn't matter how great is the content you produce if it's not SEO optimized. For a long while, bloggers were highlighting that SEO isn't that important if you can generate traffic from Pinterest.
I even heard this from bloggers who are in this business for a long time. Honestly, I couldn't believe how can someone say this after 5 years of blogging? Yes, if you have 10 million views a month on your Pinterest, you might be able to drive so much traffic to your website that search engines don't really matter! But how many of you have 10 million views on Pinterest?
Yes, Pinterest is an amazing traffic source, especially if it's combined with the scheduler tool called Tailwind. But it's not enough. Not, if you are new, and not if you are looking for huge organic traffic to your website. Also not enough if you're trying to earn a great income with your blog! So what is the solution? A toolkit that's making the SEO for bloggers perfect.
---
Keyword Magic Tool by SEMrush
To optimize your posts to be SEO friendly isn't easy, especially at the beginning. However, after you've done it with 5-10 articles, it will become a part of your writing ritual. Everything is hard at the beginning.
Keyword Magic Tool helps you to find valuable data on search volume, keyword difficulty, competitive density, SERP features, CPC, and so on.
So what does this mean?
It means that if you're writing a blog post about keyword research and you check in SEMrush Keyword Magic Tool for this, you can get the most relevant information, keyword ideas, etc., to include in your post so your post has the possibility to rank on the first page on Google. What else?
Keyword Position Tracking
To rank on the first 10 results of Google, you need to first find your keywords. Then, you must check their position in search results. This is followed by the step of getting as up on those search results as you can. When you try building backlinks to that post, that will help elevate your keyword rankings even more.
However, to follow this chain, you must know the position of your keywords in the search results. Another reason that it's important to use SEMrush as a blogger.
SEMrush link building tool
SEMrush has one of the largest databases in the world for link building. Just consider that there are 6.1 billion links per day. It's definitely one of the best SEO tools on the market that will help you with backlink analytics and backlink audit.
You can also track all your backlinks within SEMrush, by adding all your links with categories, such as manual link, adding a link to an article, product review, link from mention, guest post, and recovering lost backlinks.
Competitor Research
SEMrush has an SEO tool that can be super helpful to spy on your competitors and find out what works for them. You can check your competitors' keywords, their traffic overview, unique visitors, average visit time, and more.
You can also gain insights into their paid, organic, social media, and direct traffic. Besides these, SEMrush will give you insights through this competitor research SEO tool for the number of keywords they rank for, and their organic keyword trends.
You can also see your competitors' keywords, position changes, monthly search volume, and the traffic percentage of these keywords.
---
Besides these SEMrush tools for bloggers
Keep in mind, that you can run site audits for your blog, to fix any issues that may occur. You also have a one-page SEO checker, content creation and distribution tools, competitor PR monitoring, and much more!
How to find money generating keywords with SEMrush?
First of all, you need to make those keyword researches using SEMrush Keyword Analytics tool, and Keyword Magic Tool. With the detailed reports, you can see exactly the average searches, traffic, and difficulty for your blog posts. It will also help you to find long-tail keywords.
You must also try the newest SEMrush tool, the Keyword Gap. This tool can help you analyze multiple competitors' websites, to find the keywords that they all have in common, and how they are ranking for this.
---
About SEMrush for bloggers
SEMrush has way too many tools to include them all in one post. However, make sure you stay tuned, and there are more articles coming to explain how and why to use SEMrush.
For now, as I have mentioned, if you're looking for a proper way to fix your website, and grow traffic on your website with the best SEO strategy, you shouldn't avoid at least for a while using one of the best SEO tools out there. Don't forget, that you can have 7 days free trial with SEMrush, to start analyzing your content, and overview your SEO strategy to grow the organic traffic on your website! Try SEMrush for bloggers!
You can also read about Pinterest strategies, must-have WordPress plugins, and Pinterest group boards. If you don't have a website yet, you can read my post on how to start a blog. If you don't yet have a blog, and you need hosting, check out Bluehost!
---
Pin Me: SEMrush for bloggers to grow the organic traffic on your website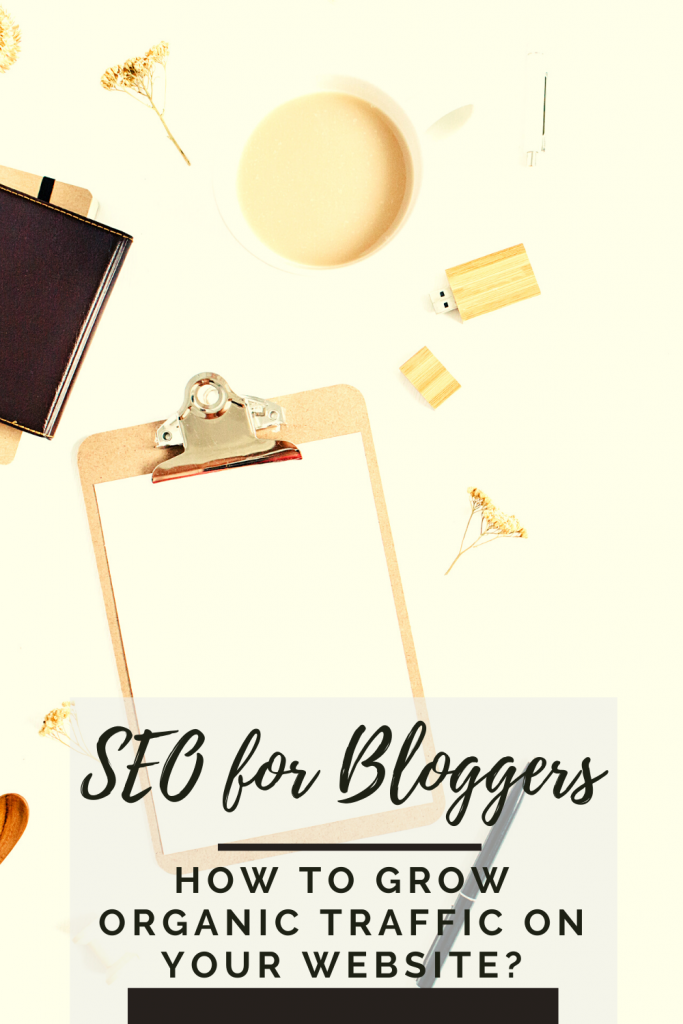 Disclosure: This article contains affiliate links. This means, if you click through and make a purchase, I'm going to earn a commission. This doesn't affect you in any way!
The Ultimate SEMrush Tutorial for Bloggers