So you're planning on starting a blog and you're feeling confused about all the things you'll need to do? You're wondering how to do it right? Here's my ultimate guide on how to start a blog from scratch in 6 steps!
I started my travel blog, ShegoWandering in 2018, but I actually bought my domain in December 2017. Before I did so, I spent months reading about blogging, and how to start up. The whole process just felt overwhelming, but I soon realized how amazing it can be! To be honest, before the autumn of 2017 I didn't even know that making a living out of blogging is actually a thing. Then, after starting a blog, I was wondering how to make money blogging?
About five years ago I was working as a trainee at an SEO company, searching for blogs that had a great ranking and they were matching the topic for our clients. Now I do understand what I was actually doing there, but at that time, all I knew was that I had to look for a niche, ranking, and contact information on blogs.
Now, as a blogger myself, I'm working day and night to end up on those lists for SEO companies to reach out to me. Interesting, isn't it?
See my guide on how to start a blog and make money afterward, and with some time, how to make a living as a blogger!
---
Before starting a blog – Determine your goals!
Blogging can be done as a hobby, or it can be built to be an online business. This second option is the way you can earn money as a blogger. Now, it's really important to identify why we are starting a blog? When we have the answer, we can work from there!
You might want to start a blog, because you're passionate about travel, sports, fashion, tech, cooking, or whatever you're interested in, just to share your story and knowledge with others, but not for the reason of making an income from blogging. You might want your passion to sustain you, and to make money blogging. If you're in the second category, this post is definitely for you!
---
Hobby Blog
I know many bloggers, who are blogging just as a hobby. They just love to share what they are up to, and they enjoy doing it just as a side activity in their free time. If you have a niche you're interested in, but it's not something you'd want to make a living, but rather to just enjoy sharing what you do, a hobby blog is definitely for you. It will be a great activity, and you get to just enjoy writing, without stressing on the rest.
Personal Blog
There are many-many personal blogs out there. Starting with the mommy blogs, lyfestyle blogs, and many similar. You have something in your life, something that's fascinating you, and you want to share your line of ideas, memories, by writing them down and sharing them. Personal blogs are also often turned into full income blogs – but this is again something, you need to decide on your own!
Life Experience
I do know many bloggers, who are not looking to earn an income from their blog. It's not like they would refuse the money, but it's just not a priority. And that's fine! Why you wouldn't share and inspire your community?
When it comes to blogging by passion, just as a hobby, I really do recommend to check out for free platforms such as WordPress and Wix.com
If you're looking however to build an independent website, especially if you'd hope to monetize is at some point, I really do recommend buying your own hosting!
---
Niche blogs for those who want to build a blog business
As a starter, let's see which are the most popular types of blogs out there, and which could be really interesting for you as well!
In my list of the top 15 types of blog, you'll find those which are really popular among bloggers, and which have the best potentials in the blog business.
Fashion blogs
Travel blogs
Food blogs
Mommy blogs
Lifestyle blogs
Fitness blogs
Music blogs
Tech blogs
Business blogs
Political blogs
Personal blogs
Movie blogs
Health & beauty blogs
Finance blogs
Parenting blogs
Now, among these niche blogs, there are so many niches, and so many micro-niches you can pick from, that it wouldn't be worth starting to write them all down. Basically, you need to know what you're good at to be able to pick a niche. We'll get back to this quiet shortly.
Let's see now those steps of building your own blog!
---
#1 Picking the niche when you start a blog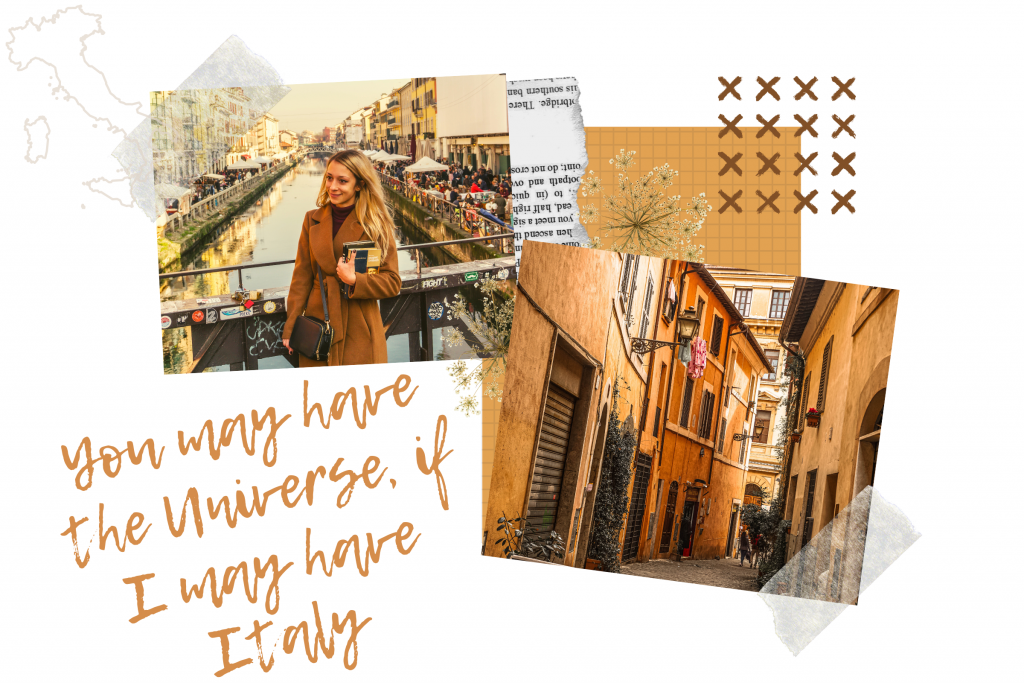 Picking a niche is super easy for some, and super hard for others.
You need to determine what you're interested in, what you want to write about, what is your passion! What these days is really important, that you have to specify your niche beyond picking the main topic.
ShegoWandering is a travel blog. But these days, there are tons and tons of travel blogs out there, so that's not really enough. My blog's niche is Italy. I am indeed writing about other destinations, and other topics as well, but the main focus is determined as the country I love the most. If I have to specify it, even more, my blog is mainly about cities, towns, guides for these, and cultural heritage, history, arts, and architecture.
Another WordPress blog that has a country niche, and inside that it's about business etiquette and culture, is Decode China. My friend's blog she launched to share her knowledge about Chinese culture and business.
The reason why you need to be specific about your niche is simple. There are many well-established blogs out there, and to stand out from all of them, you need to find the micro topic you're most interested in. What you have the most experience in, the most information, and knowledge about?
---
#2 Name your blog – name your brand
Do you know your niche? Great!
The next step is to work out a name for your blog, for your brand.
This was the hardest for me to do! I spent months thinking about the name of my brand, as I hated every idea. Thanks to one of my closest friends, just weeks before I had to launch the blog, I finally figured out the name. He gave half of the name to the blog, she go, so I added the wandering, and that's how ShegoWandering was born.
If you're struggling to find the perfect name, you can use some dedicated websites to help you with brand name suggestions.
There's just one very important thing you'll have to keep in mind. If you're on your way to building your own brand, don't pick names that are representing something temporary!
It's bad when you name your blog "solo travel" but then you stop traveling alone for this or that reason, and you start writing about family travel… Or you're young now, and you add that word to your brand name, but you want to keep your brand alive 10 or 20 years later too…
It's really painful to get into rebranding, so it's really necessary to think about it for the long term! Of course, if you're not planning for a short period. Choose wisely!
---
#3 Pick the right hosting when you start your blog
Right, so you have your niche, and your brand name ready.
The next step is finding your hosting. It's very important to choose the right hosting because depending on what your goals are, you'll want to make sure that you're getting all the tools and support on your website that you need! Especially if you're brand new to everything that's about blogging, coding, HTML, scripts, and other juicy things, that I never had a clue about before starting ShegoWandering.
If you're looking for a platform that's doing it all for you, and you're not looking to monetize your blog, the best to pick is Wix.com. Wix has all the tools, easy drag, and drop platform, where you can build your personal blog.
However, if you're looking to monetize, and you're serious about the blogging business, you'll need a good hosting and your own domain!
One of the best hostings out there is Bluehost.
I'm using this hosting, and I wouldn't change it for anything! Bluehost comes with WordPress, a good platform, and an amazing support team!
I own this website for 3 years, but I still have many tech issues, that I can't solve on my own. Their online chat is available 24/24 – I did once contact them at 3 am in the morning, to sort something quickly. They always do it for me, no matter what it is. Efficiency and great prices. I mean, really great prices!
Alternative platform for WordPress blog:
Wix.com – if you're looking for an easy drag-and-drop website builder
I personally have a WordPress blog, however WordPress is coming with more research on the best plugins to use to build a blog! You can see my recommendations on the 10 must-have plugins for a WordPress blog. And I also do advise if you're making a blog, and not a simple website, to stick with wordpress.
Wix.com however is much easier to create stunning designs and everything you might need is already built in. You can sign up for Wix.com easily right on this link. I have created so far 5 websites for my clients in Wix.com and I can say that it's super easy to create a responsive and beautiful design. This is much harder in WordPress, as you need to pay for features on plugins, but again, if you're planning to build a business on the long run as a blogger, you should stick with WordPress. If you want to create a website for your business, or start a blog that's easy to use, and you don't want to build a blogging business, but you'd do blogging more as a hobby, Wix.com is the perfect choice!
---
#4 Customize your blog
You've got your hosting, and you're ready to start working? Let's see what you'll have to do!
First, you'll have to go through customizing your blog. Name, logo, theme, descriptions. While you're customizing your blog, make sure to install and activate a coming soon plugin. You don't want people visiting your website and seeing a big mess, right? It's much stressless if that plugin is active, and you can work in peace on your project in the background.
The other perk of a plugin like this is, that you can also capture your first email subscribers by this, which is really important if you're building a brand.
Choosing the perfect theme is key! If you're just about to start up, you can go with some free wordpress themes, but I do recommende buying a custom theme that has also support team to help you out if you're stuck with the design or settings.
---
#5 Writing and publishing your first blog post
And finally, we've got to the step that is causing the most anxiety. Publishing that first blog post is really scary for some of us. There are tons of questions, and we want to make sure it's perfect, right? It doesn't have to be like that!
Don't overthink it! You wanted to start that blog for a reason right? No point to stress on sharing, even though we are still doing so…
The first thing that can really help, is to have ready at least 5 articles to share, before you launch your blog. This way, you can simply launch it with one article and make a schedule for the next 5. In the meantime, you can start focusing on new content, so you won't be that much stressed about the content that is already out. It will basically keep your mind busy.
And about that first blog post… You'll most likely re-edit and re-write that post over the years a couple of hundred times anyway. So don't worry, just share it! We want to read it!
The first blog post on ShegoWandering was with some tips to visit Rome on a budget. And the post you're seeing now has almost nothing to do with the one I published in 2018.
---
#6 Share and market your blog
Your next step is nothing more than building your social media presence, where you can share and market your blog.
It's essential to be present on Facebook, Instagram, Twitter, and Pinterest. Pinterest is actually one of the biggest traffic sources, even when you're not having any following!
You don't have to focus on all social media channels at once. I actually don't recommend doing that at all! Trying to focus on everything and build everything at the same time, especially if you're doing that alone, well, you'll waste a lot of time and the results will take ages.
I strongly suggest picking one social media channel first to focus on, and slowly, as the first is bringing results, and you're gaining experience, start working on all the others too!
When ShegoWandering started, I was focusing on Instagram the most. Now, on Instagram is really hard these days to build an audience, and it's even harder to get people to go and click on your links.
First of all, because if you're not above 10K followers, you don't have access to the linking feature in your stories. And that's one of the best ways to drag people to your articles.
I have wasted a lot of time, money, and dedication to Instagram, and the results weren't as satisfying, as they always keep changing their algorhthym, and I just got fed up. For me, Instagram isn't anymore a priorty, and I'm actually sharing the less content there. It's just not worth.
Facebook works great if you find the right audience. But anyhow, each channel is taking time, and you need to be consistent with your content sharing! That's not an option. If you're not doing it, don't expect results.
---
Drive traffic to your blog with Pinterest
Besides social media, there are other platforms that are really great, and they do drive some good traffic on your blog. One of my favorites is PINTEREST! This is followed by Bloglovin, but also Flipboard, and Mix.
Every time you publish a post, you can just go through all your social media and blogging accounts, share it everywhere, so people can see what you're up to.
As a new blogger, it will take time for Google to rank your website, and send you traffic. Focusing on link building, guest posting, and SEO optimization is again key! But let's just deal with one thing at a time!
The biggest mistake bloggers do, and the reason they give up their blogging career very quickly is that they want it all at once, and they want it all fast. I fall into the same mistake, and I wasted 2 years of my blogging time on basically, nothing.
Blogging takes time! And to make your blog successful, to monetize it, it takes even more time! If you're serious about what you want to do, make sure to focus on one thing at a time, and build your empire step by step.
---
Plugins and tools you'll want to use when you start a blog
There are some essential plugins that can come in very handy when you're starting a new blog. If you're going with Bluehost, and a WordPress platform, here are some essentials for you:
Social Snap – for social sharing.
Smush – to optimize your pictures.
Yoast SEO – (premium is better) to optimize your pages and posts for search engines.
SiteKit – This is connecting your blog to all essential Google tools, such as Google Analytics, Search Console, and AdSense for ads and advertising.
Guttenber editor – to edit your post the easiest way.
Elementor – a page builder plugin that's really handy for landing pages and shop pages as well.
WooCommerce – If you're about to open a shop on your website.
Schedule Post – As its name is saying, the plugin is great to schedule posts in. I'm using this plugin since April 2020, and since April 2020 I finally managed to get my posts to be published consistently, on specific dates. It's also really handy for those messy bloggers like me who have 200 drafts, and are always lost between them. There's a calendar you can use to see what's coming next! Such a lifesaver!
If you want to learn more about the most important WordPress plugins you must use, check out my list of 15 WordPress plugins!
---
Tools for Pinterest – traffic, and design
When it comes to sharing on Pinterest, there are two platforms that you must be signed up on!
Canva – It's a perfect platform where you can design in one place everything from Pinterest pins, social media materials, Media Kits, CV, cards, infographics, and many many more! It's really recommended also, to get your premium membership to have free access to all the features you can use on the platform. The free version has limited features, so if you're serious about your work, I do suggest applying to the pro version. You can access Canva from this link!
---
Tailwind – Another platform that saves me now hundreds of hours! Tailwind is great to schedule Pinterest but Facebook and Instagram post too. I am currently using it just for Pinterest, and I love it!
I can schedule 400+ pins for weeks in advance, and I don't have to deal anymore at all with Pinterest stuff for weeks. It's just such a relief to have back that time for myself, and other projects. You can sign up on Tailwind right here!
---
SEMrush is possibly the best SEO tool out there. If you are serious about blogging, you must use an SEO tool for keyword research, site audits, and growing your organic traffic! SEMrush has a 30-day free trial to try the tool!
---
So you're ready to start a blog?
Blogging isn't a sprint, it's more like a marathon. It takes time and commitment. It takes patience, willing to learn, and develop yourself.
Blogging isn't easy! It's hard, it is really hard! But it's also amazing, challenging, and can be a fantastic long-term career! A business that can sustain you, something that can get you out from your hated 9 to 5 job.
If I would have to re-start it all, I'd chose my blog again! There's nothing else I love more to do than work on this little website! And don't forget, if you're really dedicated, it will pay off!
Check out this post with Pinterest strategy to grow traffic, and also the best SEO tool to grow organic traffic for your blog. If you're looking for freelancing jobs, see this post with the highest paying freelancer jobs out there!
---
Pin me: How to start a blog in 6 steps?
The ultimate guide on: How to start a blog in 6 steps?