I named Sorrento my charming Italian lemon town after the first 15 minutes I've been there. The possibility to walk under orange and lemon trees in the town center of Sorrento is a fantastic experience! Actually, I'd say that walking under lemon trees is truly a unique experience, and definitely one of the top 10 things to do in Sorrento Italy! Like everywhere in Italy, you'll see some stunning palazzos (flats), with wooden shades, which I absolutely love while you're enjoying the beautiful sunny day! Below, you'll find some of the best things to do in Sorrento Italy! I'm also highlighting for you some things to do in Sorrento at night and relaxing vacation tips with the best accommodations. Also, beyond things to see and do in Sorrento, you'll also find some tips for day trips from Sorrento!
Things to know about Sorrento, Italy
Before we start talking about the best things to see and do in Sorrento, allow me to say a few things about the town. Sorrento is a small town in Southern Italy, on the Sorrentine peninsula. The town is overlooking the bay of Naples, with a spectacular view of the Vesuv volcano. It's a very popular summer destination in Italy, due to its location on the Amalfi Coast. Also popular for its beauty and vibrant tourist life. Sorrento can be reached easily from Naples and Pompeii.
The best way, if you're not driving, is to get on a ferry boat from Naples. It's the fastest, possibly cheapest, and easiest way. You can also take the ferries to other destinations in the area like Capri, Ischia, Positano, and Amalfi. Sorrento is mostly known for its ceramics, fabrics, lacework, and the Limoncello + breathtaking views and landscapes!
I personally suggest this town for those who are looking to visit this area and trying to fit into a lower budget. The good news is that along the Amalfi Coast, Sorrento is one of the cheapest popular destinations, and all the other popular spots are easy to reach by boat, bus, car, etc.
10 Best things to do in Sorrento Italy
One of the most beautiful, yet also affordable summer holiday destinations in Italy is Sorrento. Below you'll find the best things to do in Sorrento at night, along with other of the top 10 things to do in Sorrento Italy. You'll see some places to stay in Sorrento if you need some recharge, and if you want to take a relaxing holiday in Italy as well! Make sure you check our list of the best places to stay in Sorrento, gyms, and restaurants in Sorrento, so we can make sure your vacation will be perfect!
---
1. Old Town and the Piazza Tasso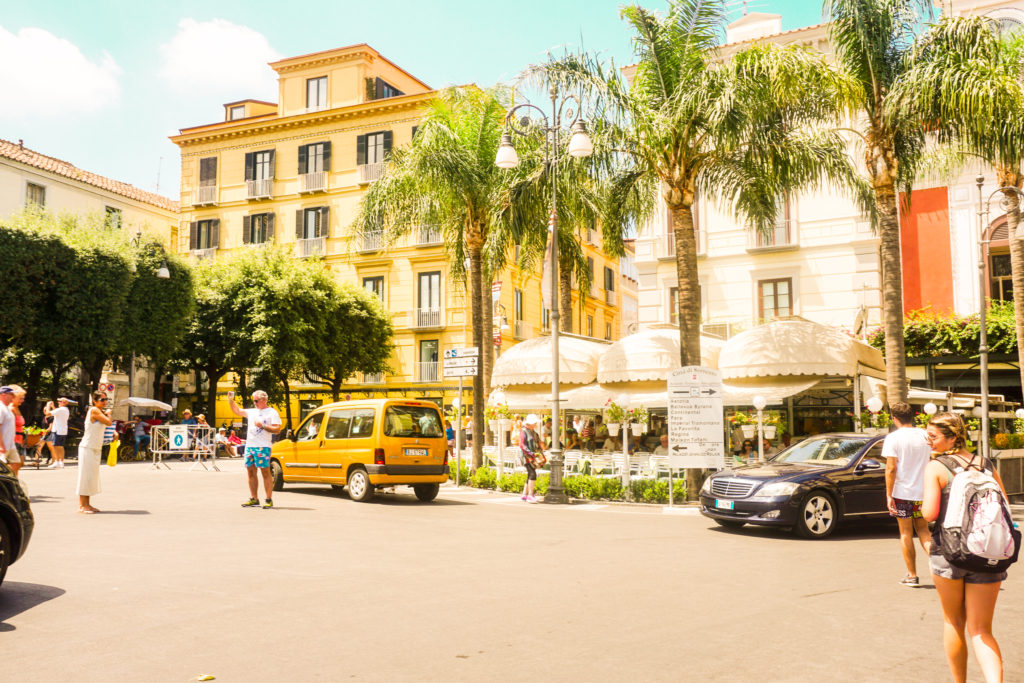 Let's start with my favorite of the top 10 things to do in Sorrento Italy! The old town of Sorrento is a very busy and vibrant spot, compared to many of the other towns in the area. The narrow little streets are full of craft shops, ceramics, lace and limoncello shops + many many others. The best thing in Sorrento, even though it's a very busy and popular destination, it still remains very Italian, which we love, with all its hustle and bustle!
The old Italian traditions are still practiced in the area, which if you're asking me, it's kind of amazing! You'll still see elder men playing chess in front of the palazzo they live in, and you'll also find many family-owned traditional restaurants, small factories, and shops.
Piazza Tasso is an open square at the edge of the Old Town. It's the biggest square in Sorrento. You need to see the sinuous road coming from the dock at the bottom of the cliffs. That's an incredible one. The most eye-catching in the piazza are those pastel-colored, and sun-gold buildings! Add then the palm trees that remind you of destination movies you loved! Stop by for a coffee or an aperitif and enjoy watching the world go by on the busy square.
---
2. Bagni Della Regina Giovanna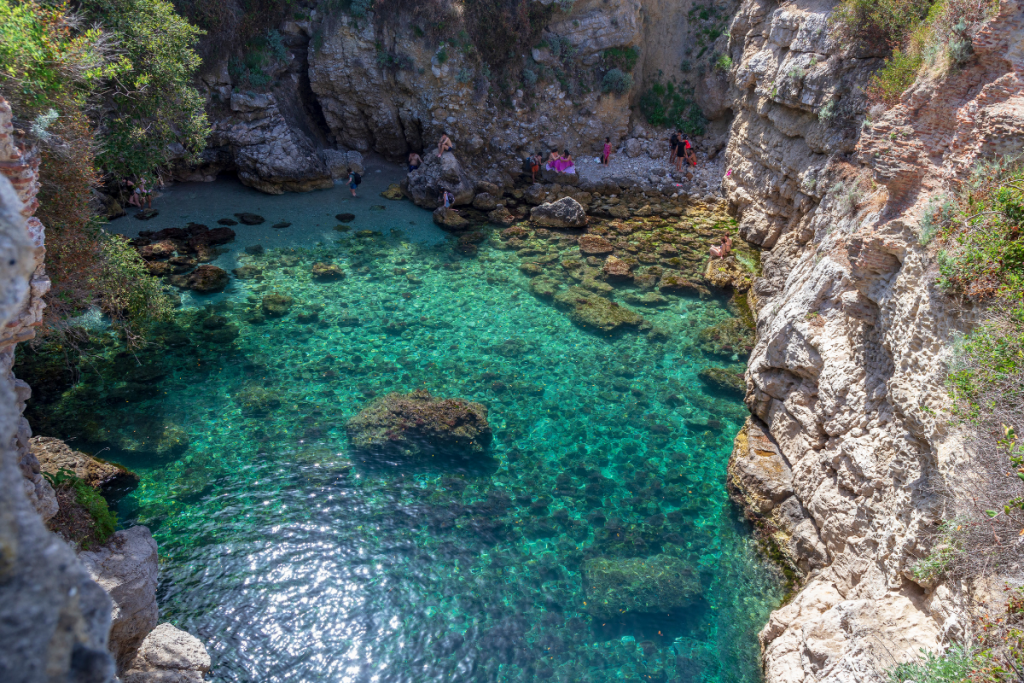 The second best of the things to do in Sorrento Italy is the Bagni della Regina. Bagni della Regina Giovanna is one of the most important archeological sites in Sorrento. A rich history, a natural legend. The name of the place is related to Queen Giovanna d'Anjou, Queen of Naples. History tells that she was visiting Sorrento in the 14th and 15th centuries for holiday, where she was entertaining herself with her young lovers.
The way to Bagni della Regina Giovanna is scenic, with the road framed by huge cliffs and the remains of an ancient Roman villa that leads to the amazing natural arch over the sea. You can reach this natural beauty of Bagni della Regina Giovanna from Sorrento by bus, car, or bike. The location you need to look for is called Capo di Sorrento.
The site is reached by bus from Sorrento Circumvesuviana Station and by a car leaving from Sorrento. It's recommended to rent a car in Italy to explore this area better! Continue in the direction of Sorrento along Via Capo, up to the Capo di Sorrento. This is definitely one of the best things to see and do in Sorrento if you're looking for unique experiences!
3. Best restaurant to try in Sorrento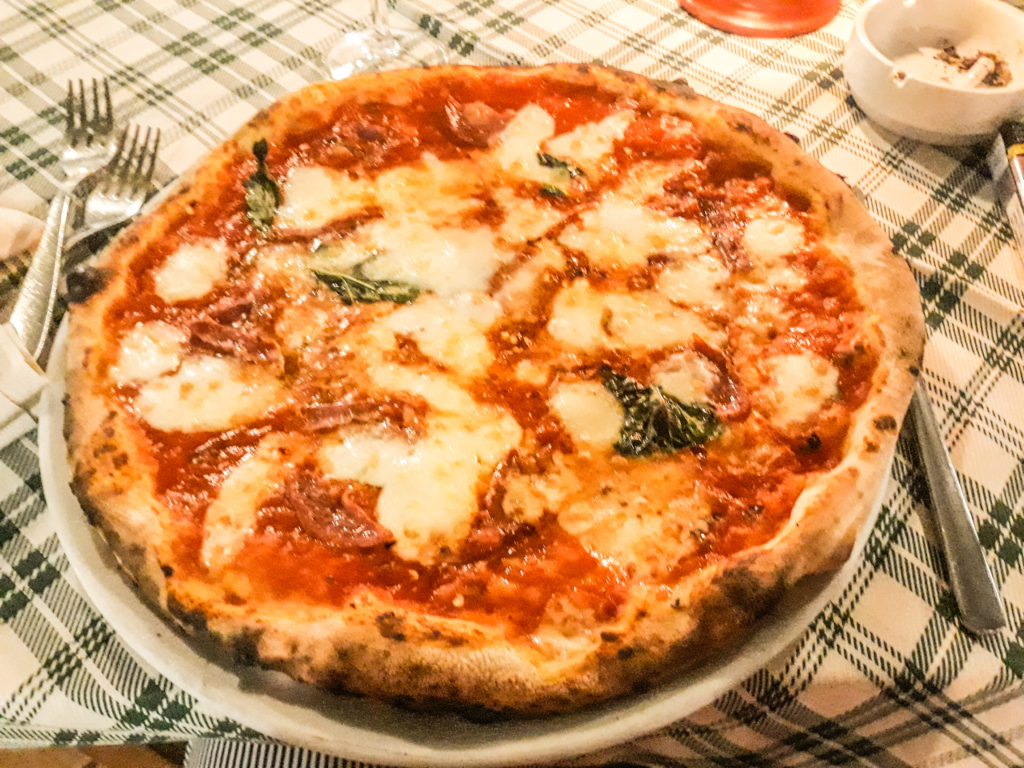 One of the best things to do in Sorrento at night is eating! I'd be lying if I would say that there is a destination where I didn't eat pizza. I love pizza! The pizza Vesuvio I had in Ristorante San Antonino was so far and still the best pizza I have ever tried in my entire life! Every time when I'm traveling alone in Italy, I'm going to a restaurant hunt, as I prefer family-owned, traditional places.
I found this restaurant in the old town, hidden, but easily spottable as it has an open terrace on the first floor. I went in to see what kind of place it is, and I noticed how busy it is right the second I got to the top of the stairs. A waiter asked me straight away if I'd like to have dinner and if I'm alone? For the time they prepared my table, they seated me in the "waiting room" with a glass of prosecco.
No need to say that I gave 5 stars to the customer service straight away! They were preparing each table depending on the number of guests second before the guests were seated. This is something not too common to experience in Italy, so that's why I'm writing so surprised here…
When my table was ready, I ordered an Aperol Spritz and my pizza. I was expecting, as usual, to get my food just by when I finish my Aperol. Well, the pizza 5 minutes later was already on my table… Then I was reading on the menu:
The tradition is saying, that a pizza should be ready in 90 seconds – YES, 90 seconds!!! – in order to obtain a golden color and the pizza still remain soft and juicy. No need to say that I went back to eat every day at this place… I just loved, loved, loved what they were doing with that pizzaz. They were amazing, incredibly delicious!
---
4. Marina Grande and Marina Piccola beaches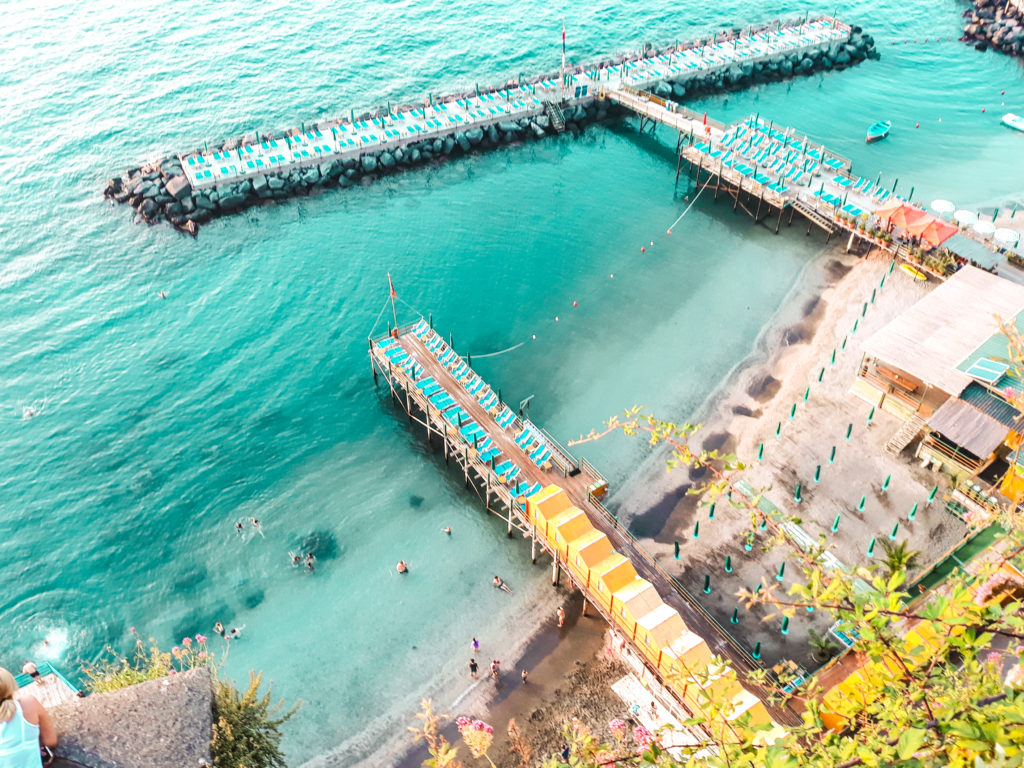 One of the best things to do in Sorrento Italy is head to the beach! Marina Grande is a small fishing village on the western side of Sorrento. It maintained its rustic traditional look and docks, so it's a great place to discover and stop by for some seafood and traditional Sorrentine dishes in the local family-owned tavernas on the seafront.
Marina Piccola is the main harbor of Sorrento, where you can catch the ferries to Naples, Capri, and Ischia. You can walk down there from Piazza Tasso on the steps near the flags or you can walk down from Villa Comunale through the caves of the cliffs, having a breathtaking view along the way. To come back up, if you don't want to climb back up, you can catch a bus or the elevator in the caves that are bringing you up to Villa Comunale. On the seaside, you'll find sandy and floating beaches as well as beach clubs built on the sea. There are also cafes, hotels, and restaurants on the right-hand side of the harbor.
---
5. Villa Comunale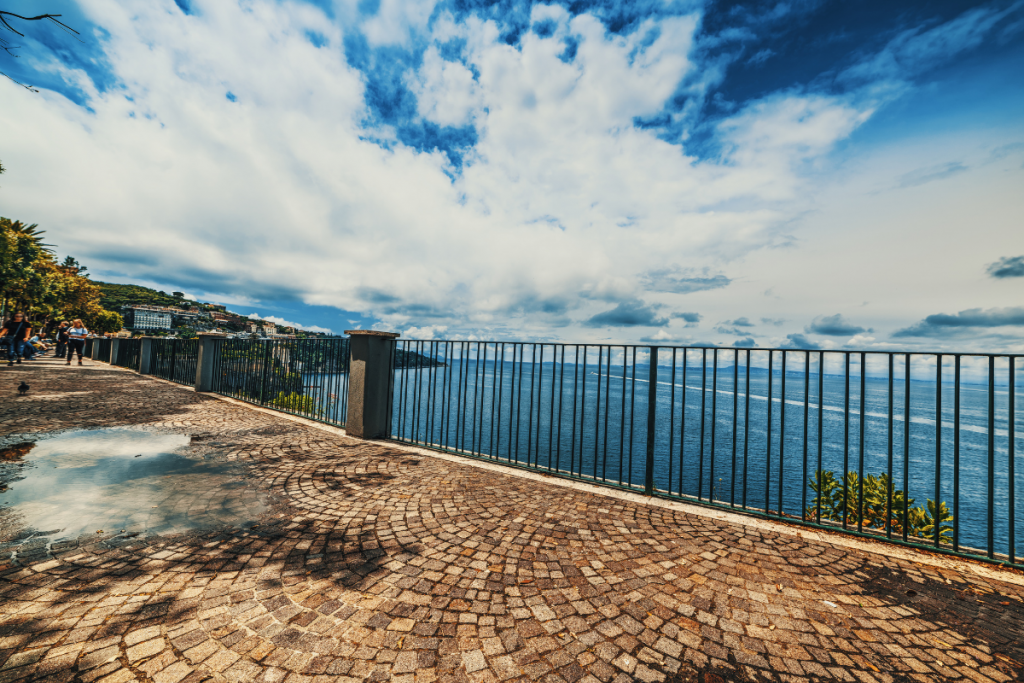 One of my favorite things to see and do in Sorrento is watching the sunset. The above-mentioned Villa Comunale is the place where you want to go for the most beautiful sunset you've ever seen. While on the left the sun goes down, on the right you can have a fantastic view of the Vezuv volcano.
The Villa Comunale is a park with a walkway on the edge of the cliff. There are plenty of cafes there with outdoor tables, so you can get your aperitif before dinner accompanied by a magical sunset. From Villa Comunale, as already mentioned, you can either walk down through the caves or use the elevator to get to the seaside.
6. Things to do in Sorrento at night: English Inn
Another great one of thing to do in Sorrento at night is head to an open-air club. After dinner time, there are plenty of pubs, open bars, and cocktail bars to explore all around the city center and along the cliffs. There are literally great spots on every meter. I loved the most the English Inn, as I found there the American friends I met a few days before at Villa Comunale, and we had the most amazing Sorrentine night ever! If you're looking for things to do in Sorrento at night, you shouldn't skip this one!
The English Inn is very popular for those travelers in their 20s and early 30s. At the back of the pub, there is a huge open garden with a dance floor and DJ over the weekend. Super choice for a warm night out in Sorrento! You can find some more open-air clubs in Sorrento, as well as great karaoke bars, and the types of bars where they have live music all night and you can sing and dance while sipping your beer/cocktail. Having a night out in town is definitely one of the top 10 things to do in Sorrento Italy!
7. Vallone dei Mulini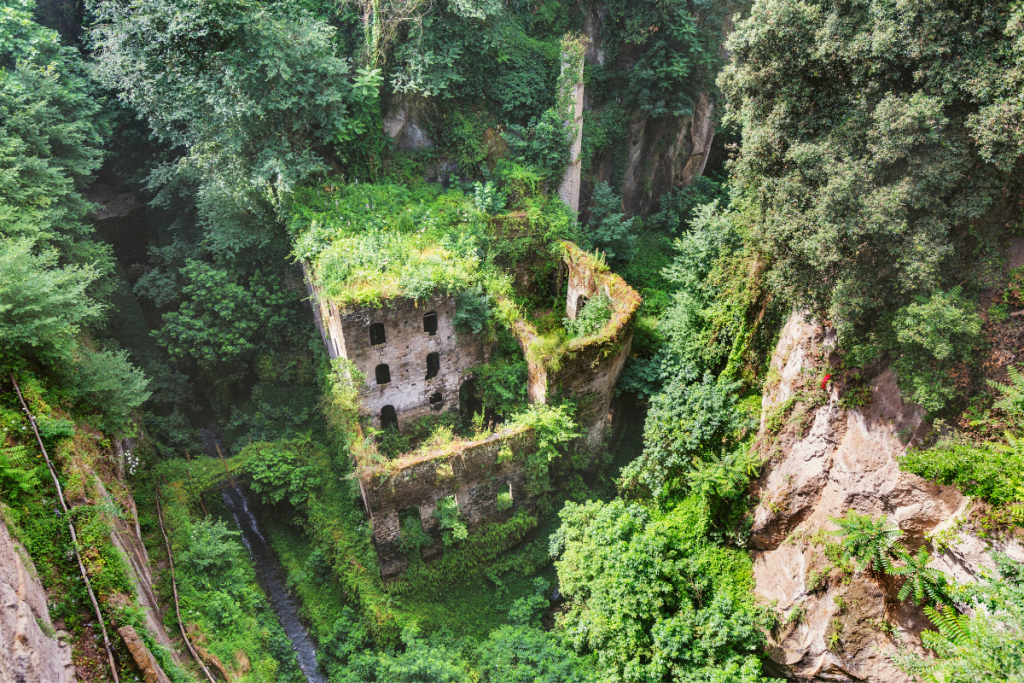 Here's another of the top 10 things to do in Sorrento! Vallone dei Mulini is literally the Valley of Mills that's located on the edge of Sorrento, Italy. The mills of the valley were built during the 13th century. They had different functions from grain grinding to providing sawn wood. The mills of Vallone de Mulini were closed in the 1940s and they have been abandoned since.
As you can imagine, nature has taken over the rule above the mills of Vallone dei Mulini in Sorrento. The mills are covered with grass and trees now so you can't go inside. However, you can look down at them and take pictures of the abandoned sawmill located on Via Fuorimura in Sorrento.
8. Must-try in Sorrento – Limoncello
Since we are reaching the end of the list of the top 10 things to do in Sorrento Italy, it's time to speak a bit more about alcohol! One of the most spectacular things to do in Sorrento is seeing their lemon trees. Within that, Sorrento's special product is the Limoncello drink. Limoncello is one of the most famous Italian liqueurs and it's something that not just Sorrento, but the Amalfi Coast as well is really famous for.
On Via San Cesareo in Sorrento, there are plenty of places to try or buy Limoncello. You can also visit local agriturismo places, so local producers of Limoncello, but you can always ask for it after dinner in the restaurants in Sorrento. Limoncello has a really interesting, unique taste, and it's usually consumed after dinner to help digestion. On some particular occasions, it's also drunk before eating, yet for the same reason.
9. Day trips from Sorrento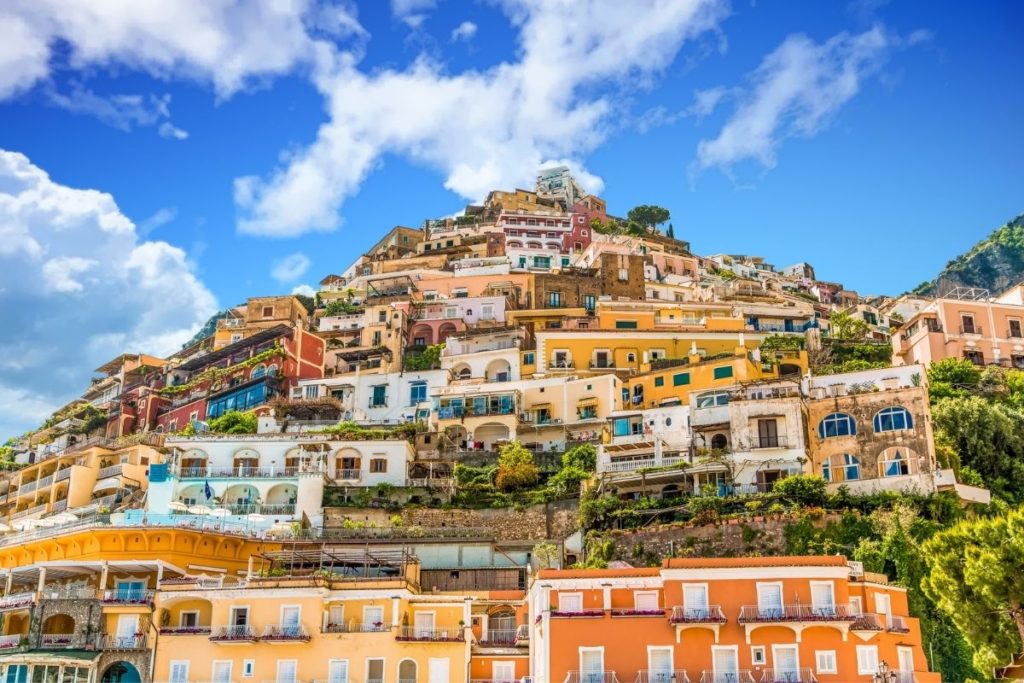 This isn't really in Sorrento, but since this town is the best to stay for those who want a place on the Amalfi Coast that's a bit more budget-friendly, and larger to move around, planning day trips from Sorrento is our number 9! Since we're speaking about the top 10 things to do in Sorrento Italy, we must highlight that the location of the town is amazing to go on day trips easily. You can visit by bus or ferry some of the most stunning places in the area!
A magical town on the Amalfi Coast that you should visit, and it's one of the greatest day trips from Sorrento! Positano is the closest to reach from Sorrento on the Amalfi Coast.
Capri is one of the most beautiful small Italian islands to visit. It's about 25 minutes away from Sorrento, and you can reach it easily with ferry boats.
The beautiful and colorful city of Naples, Italy. If you're looking for the things to do in Sorrento for some big-city getaways, Naples is a great choice for you! Especially as you should definitely try the famous Neopolitan Pizza too!
10. Where to stay in Sorrento?
There were two places I stayed while I was in Sorrento, and I loved them both. The first place, the Il Roseto, was a more peaceful, more elegant place, that was more family-oriented as well. It's a bit far from the city center, about 20 min walk, but if you want to relax and have your peace while enjoying an Aperol Spritz near the pool, this place is for you!
Oh, and I almost forgot… Their poolside bar is super, and the food is amazing. The best Caprese Salad I ever had with local mozzarella and tomatoes from the garden. The breakfast spot in the garden, under lemon and bergamot trees, was an even more incredible experience!
The second one was the Hotel Tourist, which I picked last minute. It was about 5 minutes away from the center, which was very convenient after a night out, and it had a small pool as well. It's a place with a higher capacity, more touristy, but great for a lower budget if you want something close to the center. For more tips, make sure you check our list of the best hotels in Sorrento Italy!
Wrapping up the 10 best things to do in Sorrento Italy
Sorrento, the Italian lemon town is absolutely magical, and it has some vibes that you'll remember even years after you've been there! We've covered above some of the best things to do in Sorrento Italy, and some tips on where to eat, where to stay in Sorrento, and the best things to do in Sorrento at night. Since it's a small town, there aren't way too many things to see and do in Sorrento, and you can also plan some day trips on the side of your stay. However, first, make sure that you've checked all of the above top 10 things to do in Sorrento Italy!
---
Pin Me: Top 10 Things to do in Sorrento Italy!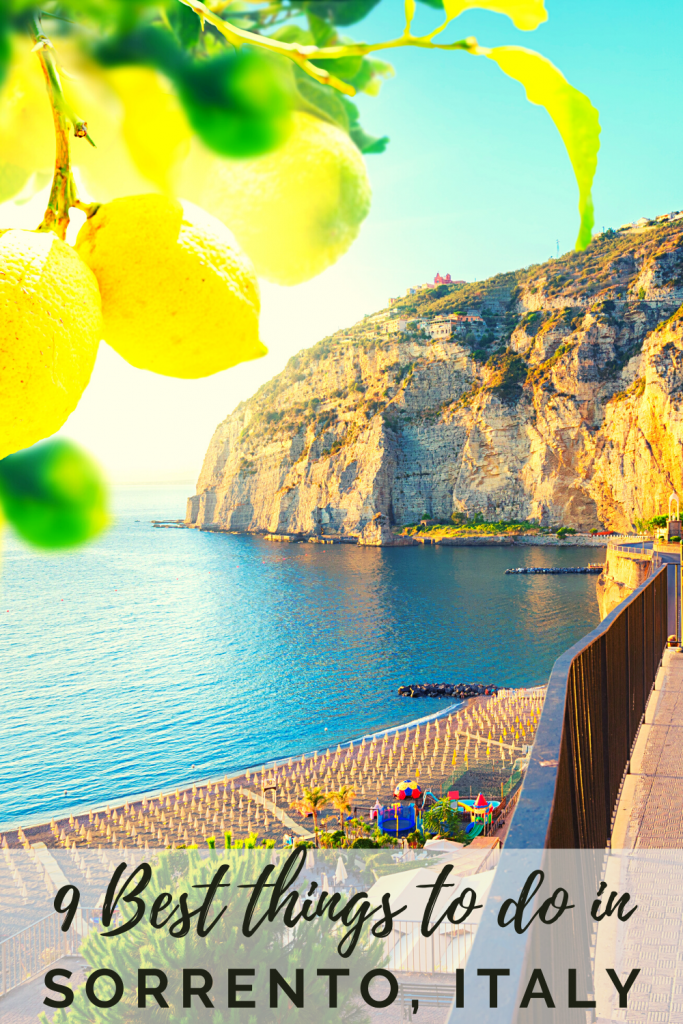 ---
---
10 things to do in Sorrento, Italy