Castillo de Colomares is otherwise known as the Colomares Monument. The monument is definitely an incredible place to visit in Andalusia! The Colomares Castle, Benalmadena Spain is located in a small town in the region of Andalusia. If you're looking for hidden gems to visit in Andalusia, close to Malaga, the Colomares Monument is definitely worth being a bucket list item!
When you see this monument, it really makes you feel like it's been taken off a magical fairytale. The whole building complex is incredible, and Colomares Castle is definitely one of the most stunning fairytale castles in Europe! Now here is everything you need to know about this magical place of Colomares Castle in Benalmadena, Spain!
---
A perfect getaway from Malaga – Colomares Castle Benalmadena Spain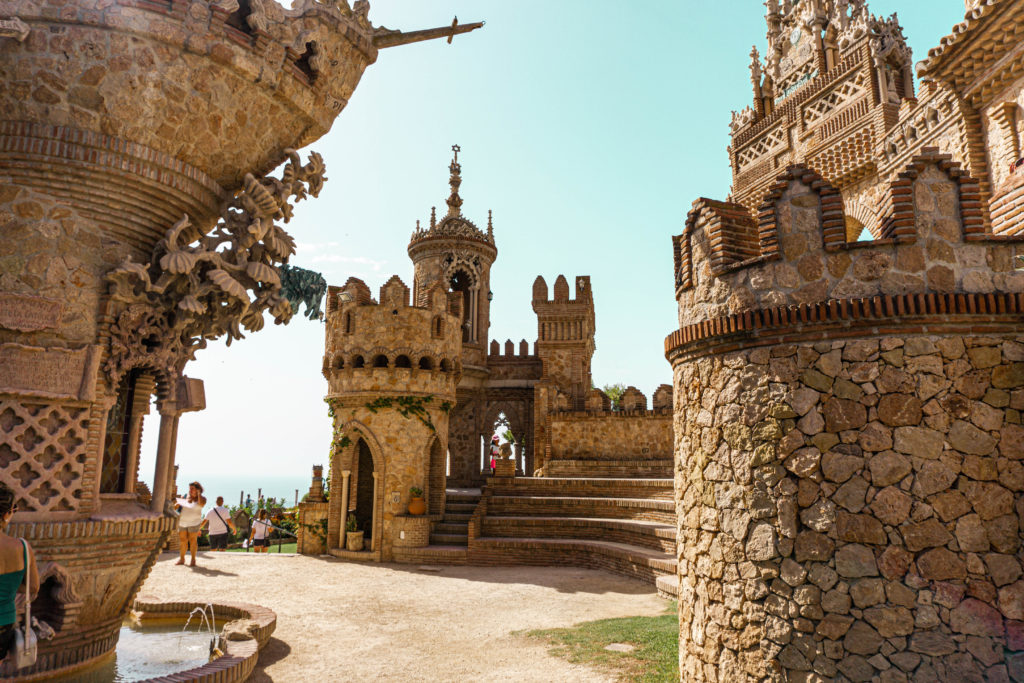 If you want to visit Colomares Castle in Benalmadena, Spain, you can easily do it with a day trip from Malaga! Visiting the castle is one of the best things to do in Benalmadena and you'll soon discover why!
Malaga is one of the most popular seaside cities along the south coast of Spain. A beautiful, colorful city, that's rich in history, beautiful architecture, and amazing beaches! Malaga has also amazing nightlife, and it's really great for friend group getaways, as well as for families, and for solo travelers!
If this isn't enough, for those who love arts as much as I do, don't forget that the famous painter, Pablo Picasso is the son of Malaga! This gives another reason to visit, as you can visit his birth house, as well as the Picasso Museum! Now if you're planning to travel outside the city, here's my tip!
Malaga is just 25km away from Benalmadena, and you can reach this spot by either car or bus. Though with the bus, you'll need to do a couple of chances to get to the castle. It is located on top of a hill, and this makes it a little bit more difficult to be reached by public transport. Though, it's still possible! As it's so close to the city, this is making it a great plan for a day trip from Malaga!
---
What you need to know about Castillo de Colomares?
The monument of Castillo de Colomares (Colomares Castle) is dedicated to Cristopher Columbus, and his arrival to the New World, and his discovery of America.
The castle was designed by Dr Esteban Martín y Martín. A man who decided to create this piece in honor of the great explorer, Columbus. His design and the building took place between the 1970s and '90s.
As we know, the reason behind this project was, that there wasn't a significant, beautiful, great enough monument around the world that would be dedicated to Cristopher Columbus.
As for the architectural style, the monument is featuring a combination of multiple architecture styles that Spain is famous for. These include the Gothic, Renaissance, Romanesque, and Mudejar. The Mudejar architecture is the local Moorish architecture. You can see this architectural style all around Andalusia. Just to mention a couple of significant monuments, such as the Alhambra in Granada, the Real Alcazar in Seville, and many others.
Colomares Castle is also featuring an eastern-style pagoda, that's symbolizing that Columbus went on his expedition to find a way on the sea to China.
Another interesting fact about Colomares Castle Benalmadena Spain is that it's been made using rocks and concrete. More significantly, that whole work was done by two local masons. The simplicity and beauty combined in this monument is absolutely amazing! Also, a great reason to add it to your bucket list to visit in Andalusia.
---
How and when to visit the Colomares Monument?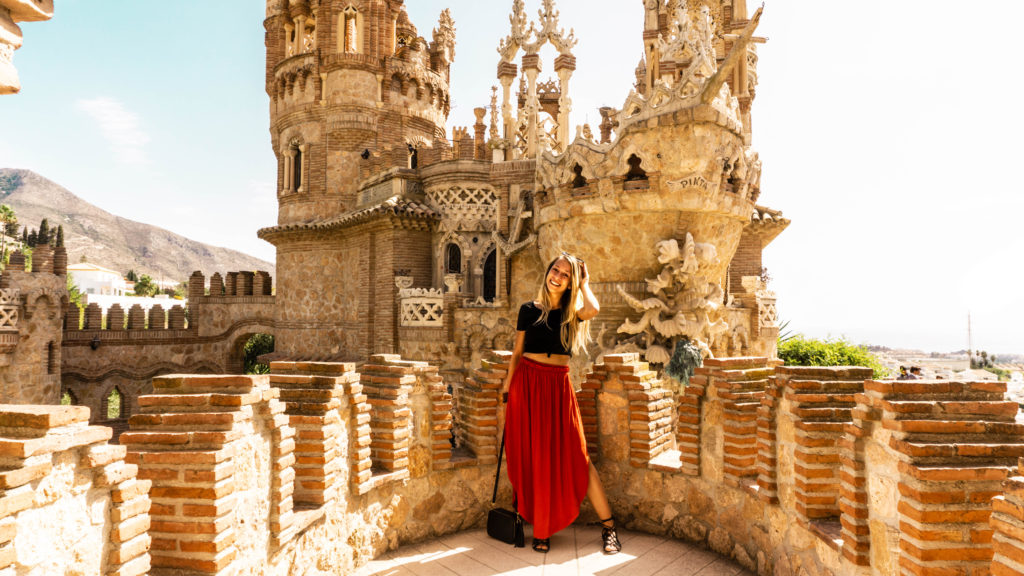 Colomares Castle in Benalmadena Spain is open for visitors all around the year. You need to pay a small fee of just a couple of euros to enter and discover the magical castle. If you're visiting in the summer, be prepared for the heat, and definitely take water with you, especially if you need to use public transport to reach the monument. If you're heading to Benalmadena by using public transport, you'll have to do some climbing up to the castle, so keep hydrated!
Daytrips from Malaga, and places to visit in Andalusia Spain
You can also find some more articles to explore the area of Benalmadena, Malaga, Costa del Sol, and Andalusia! Check out beside the Colomares Castle day trips from Malaga, and other cities and towns that you must see while you're visiting Andalusia, Spain!
25 inspiring photos from Seville
Everything you need to know about Andalusia
---
My camera gear
Sony Alpha a6000, Sony – FE 24-105mm lens, PHOPIK 79 inches Carbon Fiber Tripod
---
Pin me: A hidden castle in Andalusia: Colomares Castle Benalmadena Spain
---
---
---
A hidden fairytale castle in Andalusia – Castillo de Colomares