Berlin is my second favorite city in Europe. I have visited Berlin twice, once on a school trip in high school and the second time alone before covid. It is important to mention this as everything was more accessible than it is now, however, don't let that discourage you from going even now. Berlin for solo travellers is absolutely a must. It is probably one of the safest capital cities in Europe I can think of. Travelling to Berlin alone is very safe and everyone should do it once in their lifetime. It is very easy to ask friends to come with you, but keep in mind when you are alone, you get to choose what you wish to do. What to do in Berlin traveling alone? In this article, I'm going to share 10 tips to travel alone to Berlin.
10 tips to travel alone to Berlin
Let's get into our tips to Berlin for solo travellers! Is Berlin safe to travel alone? Having spent a few days there, I have to say I have felt at home in Berlin. The city is so relaxing, the people are wonderful, it is not too crowded compared to London. It is just the perfect capital to visit alone as Berlin solo travel or solo female travel Berlin. It is easy to get around the city, very easy to use the trains and underground even if you do not know the language. So much culture, events, museums, nightlife, restaurants, beer! I always told myself if I won't live in London, I would definitely move to Berlin. So let's see Berlin solo female travel tips and why it is safe to go to Berlin alone.
1. How to travel to Berlin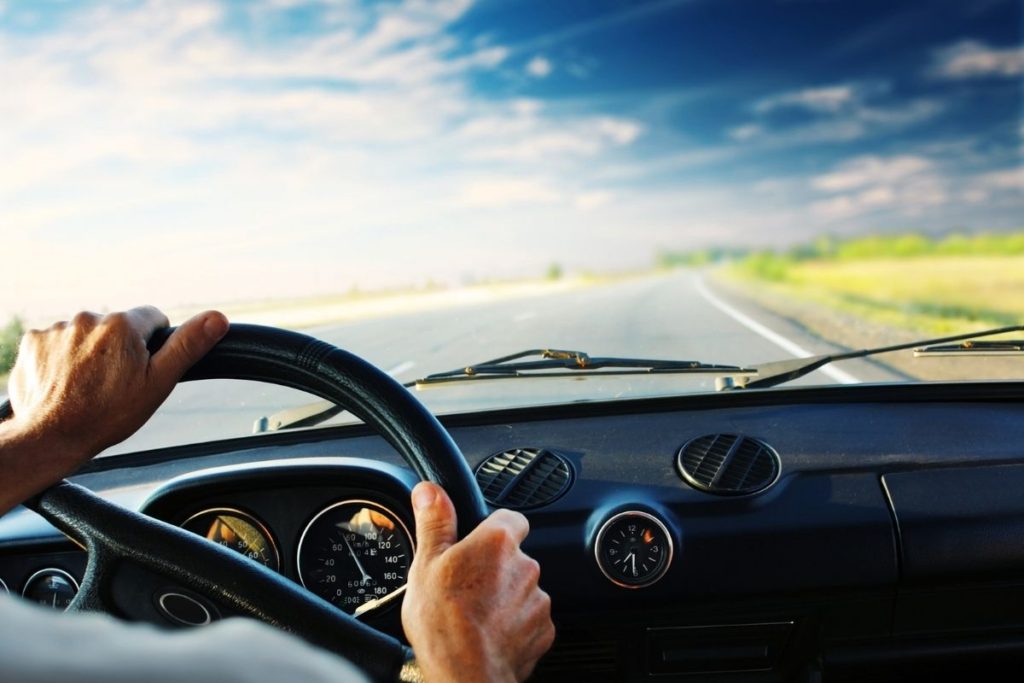 There are two airports in Berlin, the Berlin-Tegel and Berlin-Schönefeld. The latter one is closest to the center, however, you can travel easily from both of them. Even though Berlin is a big capital, the way transportation is set up is to make it easy for everyone regardless if they speak German or not. Traveling by plane will be the most accessible for anyone coming from abroad. It's quick, mostly uncomplicated and prices can be affordable too. Anywhere you travel within Europe, you can get really good prices if you book in advance which makes Berlin for solo travellers perfect.
Berlin is also reachable by car. They have one of the best roads in Europe, the experience is unmatchable really. If you come from a country with not so "fortunate" roads then you will appreciate anything. Highways upon highways, travelling to Berlin alone will give you the best experience if you're one to travel by car. You can also do a road trip and visit other places, perfect for solo female travel Berlin. Don't worry about parking as you can get free parking at hotels or many Airbnb apartments have their own parking as well.
Let's talk about trains. Germany has amazing trains, without a doubt. They are fast, clean, frequent with the best connections. The Deutsche Bahn is a privatized national railway and they run at hourly intervals. They also link up all major cities, like Hamburg, Cologne, Munich, Dresden, and so on. So the question in this article is 'is Berling safe to travel alone?'. Yes, I would 100% recommend travelling to Berlin alone to get the best experience from this diverse and beautiful city.
2. When to visit Berlin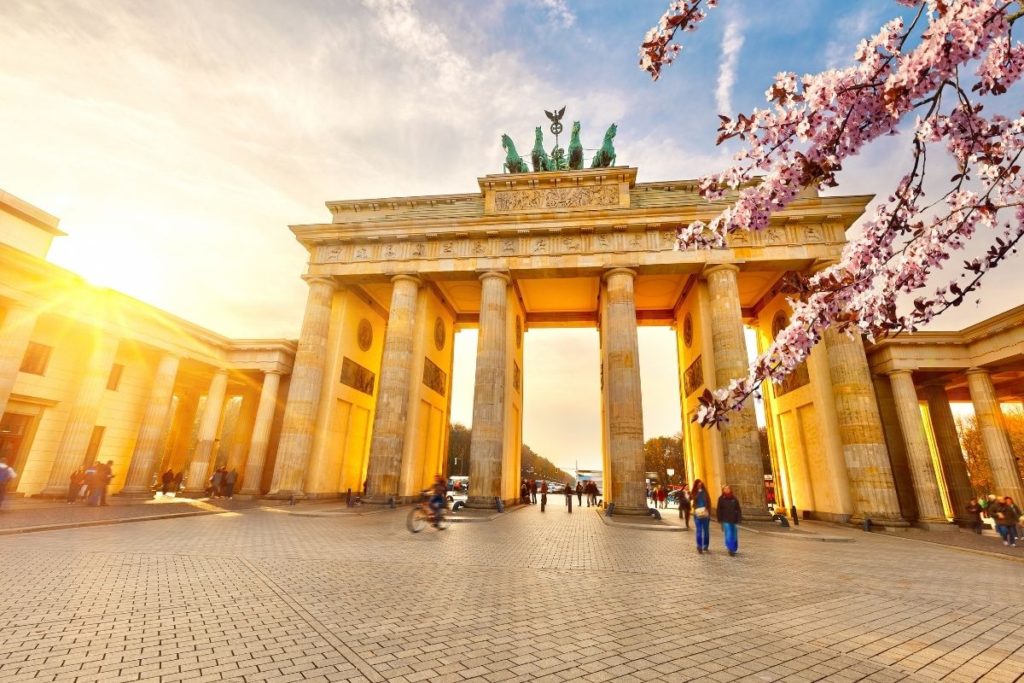 You already have the intention of going to Berlin, however, you are unsure when it is the best time to visit Berlin. One might say it is best to go from May through October and I would definitely agree to some extent. Due to global warming, I feel like the season has shifted slightly. It is still pretty warm in October and it's getting colder in November. Depending on what you are trying to do, I would definitely recommend going during spring almost rolling into summer. The days are longer, you get to see amazing golden hours when the sun is setting upon the buildings. The photos I was able to capture during my visit were unreal and I went in March. It was cold, however, I could get away with a T-shirt, weather, and leather jacket.
Now the high seasons are usually from June to August, Oktober due to Oktoberfest and Christmas time. Just because everyone is going during this time, doesn't mean you shouldn't go. If anything, I believe that you should visit when everyone else is. You get to meet so many different people, even though you are doing a Berlin solo travel, you can still connect with someone. I can also recommend downloading Tinder and looking for friends. Despite certain beliefs, Tinder can also be used to connect with people. Or on Bumble you can actually filter that you're looking for friendship. Take advantage of these!
There are also the periods of April to mid-June and September until Oktoberfest. You get to see Berlin in its true colors, with fewer tourists, and will probably be able to take better pictures of the famous tourist attractions. I recommend Berlin solo female travel as it is a safe city and you get to see so many different things. Make sure to check out the best tickets you can get for these periods and have a look at different events that are taking place. I'll discuss about what to do in berlin traveling alone in a bit!
3. Where to stay in Berlin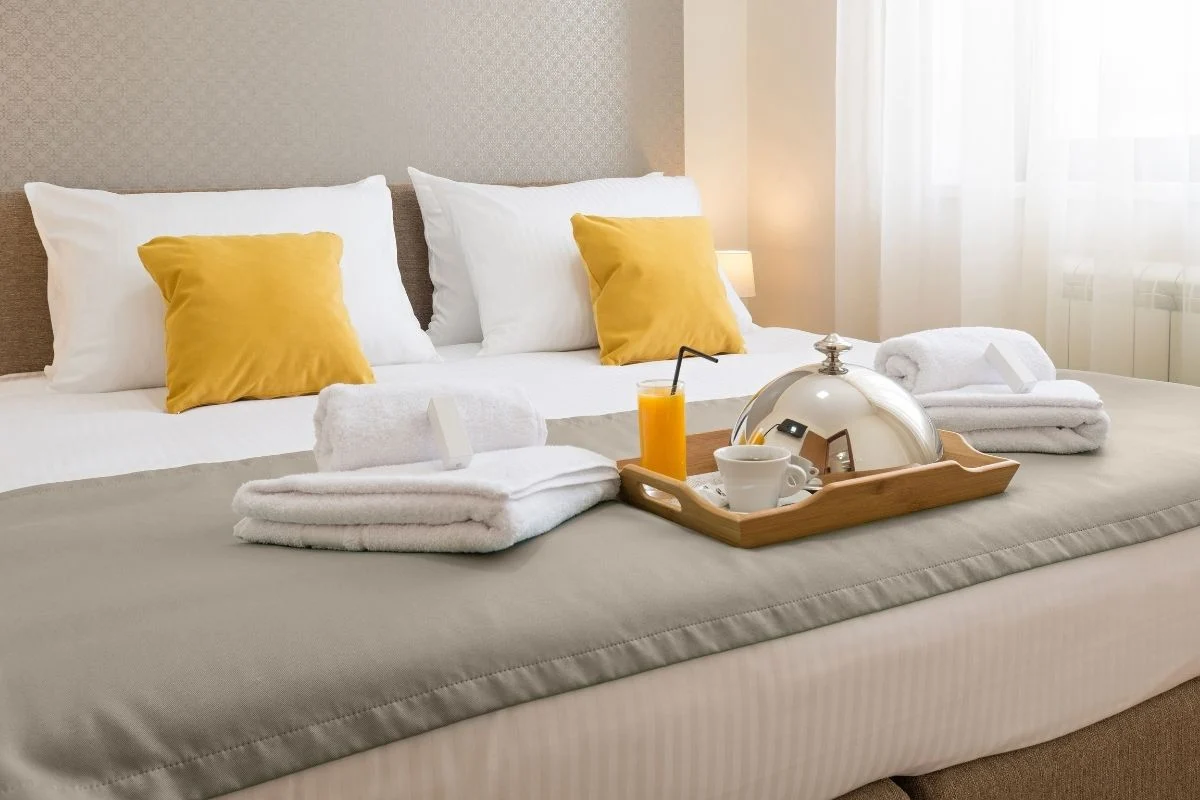 Compared to London, Berlin is much cheaper when it comes to staying in hotels, and as always it's best to book your stay in Berlin online. The best one is Park Inn by Radisson Berlin Alexanderplatz and it is almost half the price of one of the central hotels in London! Other hotels like the Radisson Blu Hotel and NH Collection Berlin Mitte am Checkpoint Charlie will have you closer to the major attractions. Most of the times breakfast is already included and in case it is not, I recommend paying for it as Germany offers some really nice breakfast!
I also stayed in an Airbnb apartment in Berlin, just as I did in London. I found a really nice one and it was about 15 minutes away from the center by train. The good thing with Airbnb is that you have your own kitchen and in case you are really on a budget, you can just return to the apartment and eat at home instead of eating out. To be honest, that is what I did. Travelling to Berlin alone and staying alone gave me the feeling of freedom I was needing at the time. Berlin for solo travellers is a good idea as you don't need to have friends with you in order to feel good.
When it comes to hostels in Berlin, I would also recommend trying this experience. In case you are worried about what to do in Berlin traveling alone, if you are staying in a hostel even for a night, you get to meet different people and go out with them for a night. You should still do the majority of the trip alone, however, what is the point of solo female travel Berlin if you don't connect with anyone abroad. Traveling alone is also about meeting new people and experiencing the authentic Berlin life!
4. What to eat in Berlin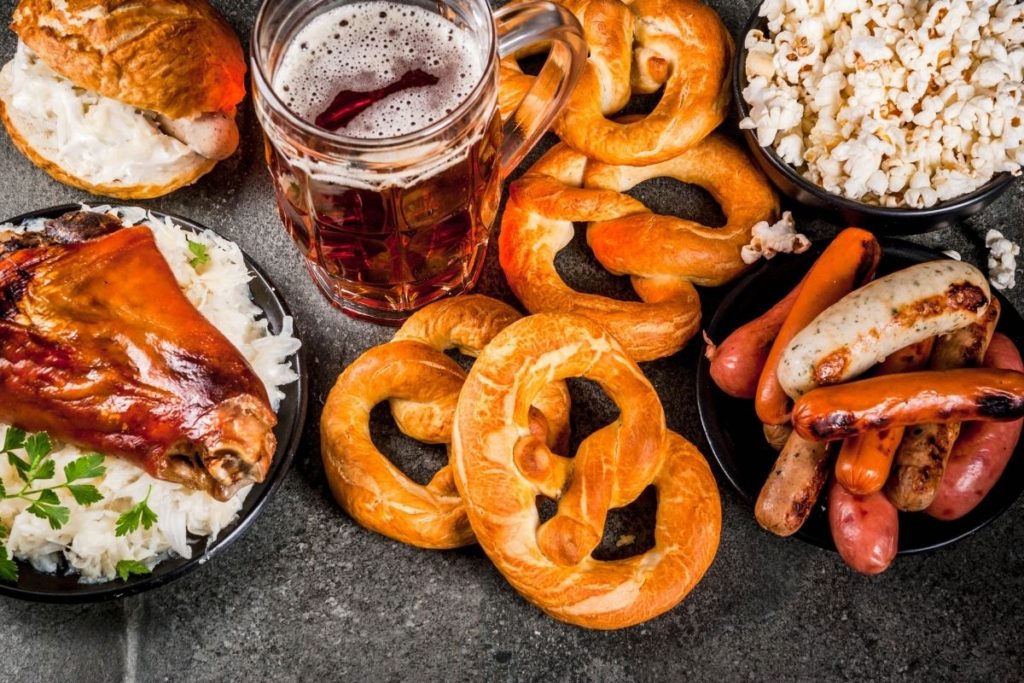 Let's talk about food! Germany's cuisine is all about meat, potatoes, and beer. You cannot go wrong with these three. German dishes are very tasty and hearty and while you are in Berlin, please try out some popular dishes from Germany. The most popular authentic German restaurants in Berlin are Lebensmittel, Max und Moritz, Thomas Eck and Zur Kleinen Markthalle. These restaurants all have foods like the popular German Schnitzel, Sauerkraut Soup, or Zurich Ragout. When you are on the go Currywurst with fries should be your on-the-go dish. Berlin solo travel is fun when you get to try out their cuisine day by day.
What to do in Berlin traveling alone? Well, besides roaming through the authentic german restaurants, you also have your international restaurants. Katz Orange will amaze you with South American dishes, Aapka is one of the Indian restaurants you need to try out in case you wish to have some spicy chicken curry or you have Amrit for a different Indian experience. While in Berlin, Germany you must try out crafted beer. Although Brewdog is not German, you can try out ver 100 types of beers here.
For a nice dinner over the clouds, visit SOLAR Sky-Bar Restaurant Lounge, which I recommend for Berlin solo female travel. I can't promise you won't leave a few hundred Euros here, however, you get to experience some amazing dishes and a lovely view over Berlin. If you are alone, you would probably not spend as much as when you are with friends. I am really in love with views and I always want to see a huge capital from high above. This restaurant just offers that. In case you have been to Berlin before and have tried some good restaurants, let us know in the comments!
5. Entertainment and Museums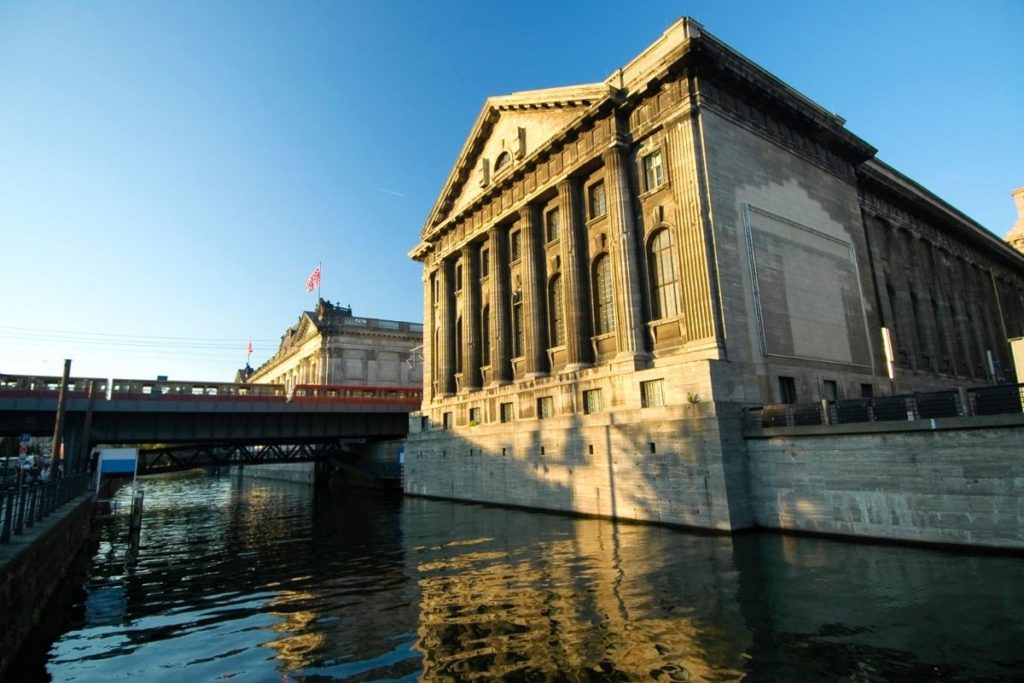 When someone asks what to do in Berlin traveling alone, I will always say, go to museums. The unfortunate part is that they are not free like in London. All of the museums in Berlin are payable. I do have some good news if you are travelling to Berlin alone, you can buy a day ticket for just 19,00 € and you get to visit 6 museums! These museums are Altes Museum, Old National Gallery, New Museum: Nefertiti, Bode-Museume, Permaon Museuem: Ishtar Gate and Peramonmuseum, Dar panorama. The tickets also include access to all of the exhibitions.
I will have to inform you that the famous Pergamon Altar which you might have seen on social media is still closed. They are renovating it until 2024 and thus opened a smaller version which is the 'Pergamon Museum. The Panorama'. I have been here, although the ticket was quite expensive, I had a very pleasant surprise. I would love to tell you what you are going to experience, but I'd rather you experience it yourself. Berlin for solo travellers is just perfect!
Going out in any city during the night is a lot of fun. Advice for solo female travel Berlin, in case you are really wanting to visit a club, please just don't go alone. Try to connect with other people. Although Berlin is a very safe city, you can never be too cautious. In case you do have some friends living in Berlin or you meet someone along the way, Hackescher Markt & Oranienburger Straße is the street with the best nightlife experience, along with Eberswalder Straße, Weserstraße, and Simon-Dach-Straße, a diverse restaurant scene.
6. Prepare an itinerary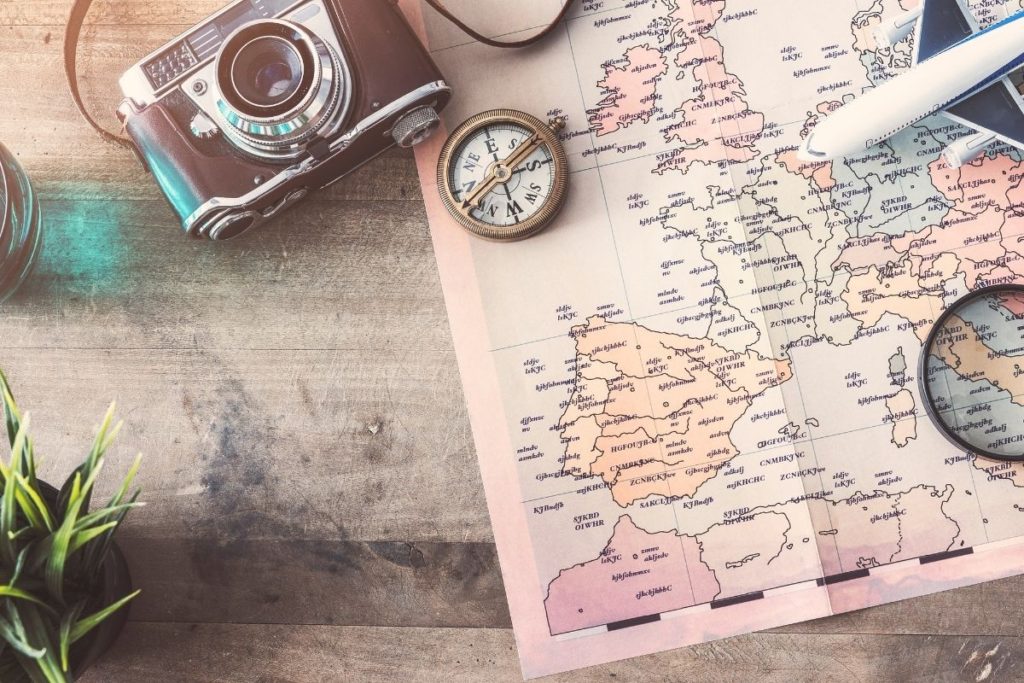 Planning is key in whatever you do in life. If you want to best experience and not feel like you are wasting time, you must plan an itinerary before you go to Berlin. Berlin for solo travellers is amazing because you can plan to do so many things which don't involve group activities. If you are planning to visit for a shorter time, then you would want to visit the main attractions, however, if you are there for a week, then you will see much more of Berlin.
Let's see an itinerary example for a weekend in Berlin solo travel and Berlin solo female travel. Day 1: Settle down in your apartment and have some food. I recommend visiting the city center and just walking around the main attractions such as The Holocaust Memorial, Potsdamer Platz, Gate of Unity and Checkpoint Charlie. If you have more time then you can even go to the Berliner Wall and read the stories. Day 2: Museums. You have your day pass and that allows you to visit all museums in a day.
For Day 3: I have to recommend the Prussian Palaces & Gardens in Berlin, Potsdam, and Brandenburg. I have been here during summer and it's absolutely breathtaking. My favorite was the Orangery Palace, however, some of them are closed until further notice, so do check out which ones are open and plan your day around them! Day 4: is about discovering some more. Restaurants, pubs, clubs if you haven't been to one. Ask the locals what do they recommend, don't be shy! Always plan and you will have the best time.
7. Try something new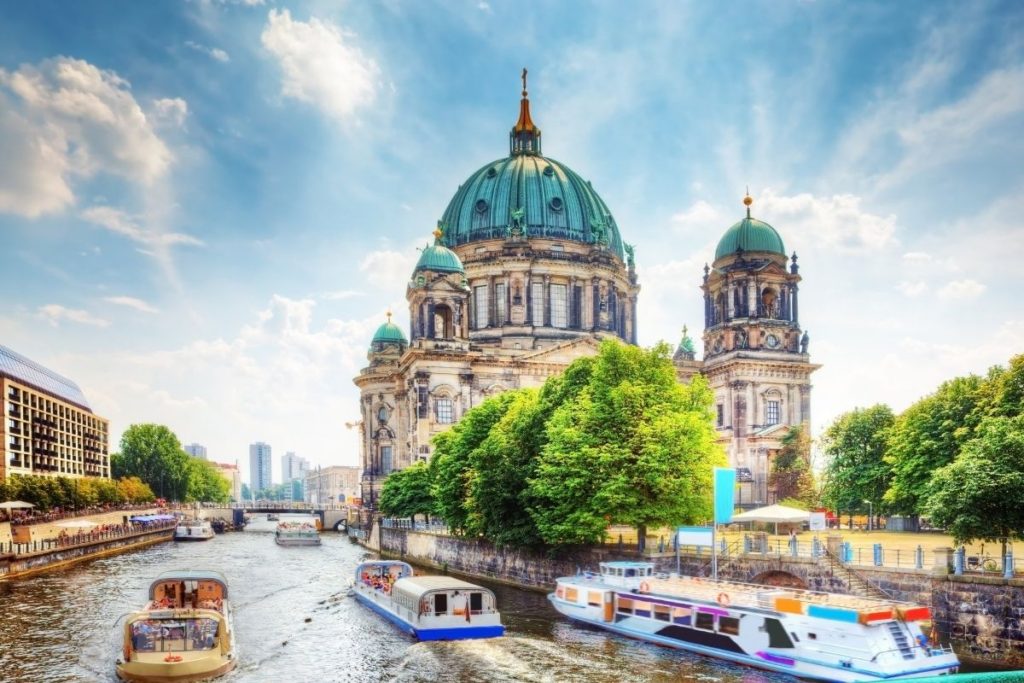 Travelling to Berlin alone can be a challenge if you have visited all the major attractions and you are left with free time. This is the moment when you would want to do unusual things that nobody really tells you to do. What to do in Berlin traveling alone can become unexpected and you can get very creative. Some of these things involve while travelling to Berlin alone is taking a tour on World War II/Cold War history. This is an underground museum that covers some of the secrets of Berlin.
Do you like Thai food? How about a whole park of Thai food? Thai Park is found in the neighborhood of Wilmersdorf and it is a daily food market. Besides trying some wonderful food, oftentimes you will find events taking place during the summer. Talking about summer, I love a good sunset. Besides Alexanderplatz where you can have a great view over the city, another bar is Klunkerkranich. This bar will offer one of the best views of Berlin all while enjoying your drinks.
You can do activities like the locals, such as visiting Markthalle Neun. This marked and food hall is open every day and you will find butcher stalls, artisan chocolate, fresh vegetables, and much more. For solo female travel, in case you have some more time left, why not enjoy a spa day in Berlin? Germans are known to enjoy spas, thermal baths, and swimming pools. There are multiple locations you can try out, just google the closest to where you are staying and enjoy some massages and good vibes!
8. Suitcase essentials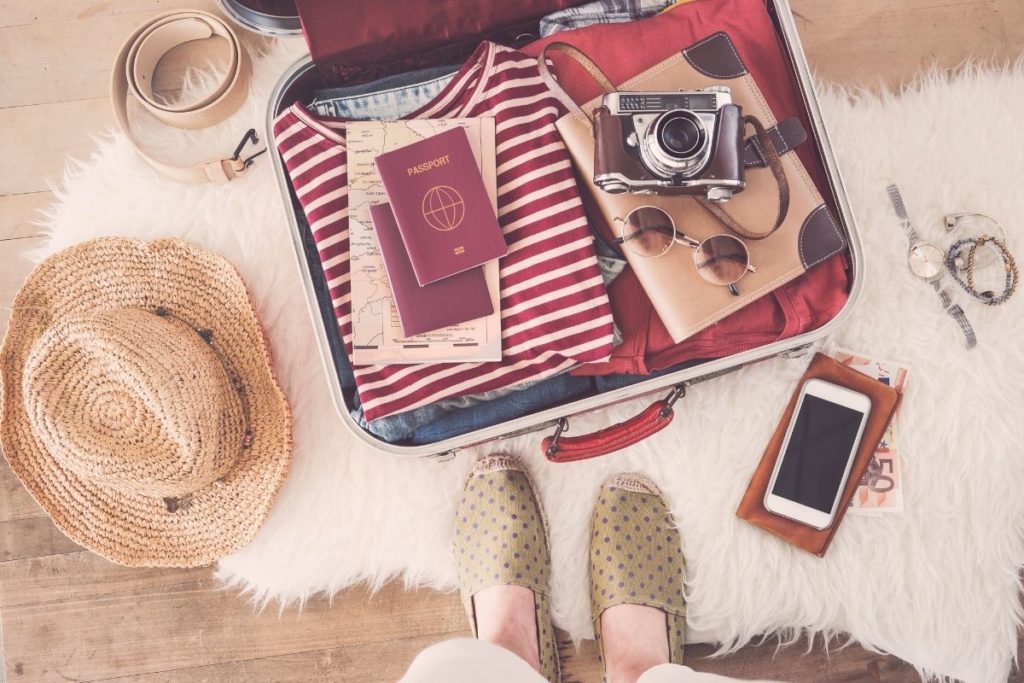 Our next stop on the list for Berlin for solo travellers is packing! Packing for Germany shouldn't be too difficult. The weather is most promising, there aren't crazy winds, not too rainy. It can get chilly of course if you visit during spring or autumn and it is definitely cold if you visit during winter. For Berlin solo female travel and Berlin solo travel you will not need many things. Pack some comfortable clothes and shoes. I would always suggest a raincoat instead of an umbrella. I feel like when you are a tourist, umbrellas just stand in your way. Try to use a neck wallet or a small bag on your side for easier access to your phone, camera, and documents.
As far as electronics go, do not forget to bring yourself a power bank and universal adaptor if you are from the UK for example. When you are out all day discovering, taking photos you will need to charge your phone. Take some refillable water bottle with you and stay hydrated. If you don't want to get bored on the train or underground, bring yourself a book or Kindle. Reading is a great way to pass time if there is nothing else to look around for. Is Berlin safe to travel alone? Yes, it is, you will not need pepper spray or anything like that in your suitcase!
The Germans do know how to speak in English, however, it does not hurt to learn a few phrases. Why not pack a German Phrasebook and practice your german a bit? If you are a student then you can get an International Student Identity Card and enjoy multiple discounts while visiting Berlin. Money-wise, you can use your credit and debit card for the most part, but you will want to have plenty of cash with you as Germans don't use cards that much. Packing for Berlin is fairly simple and you can get away with smaller luggage!
9. Learn about the culture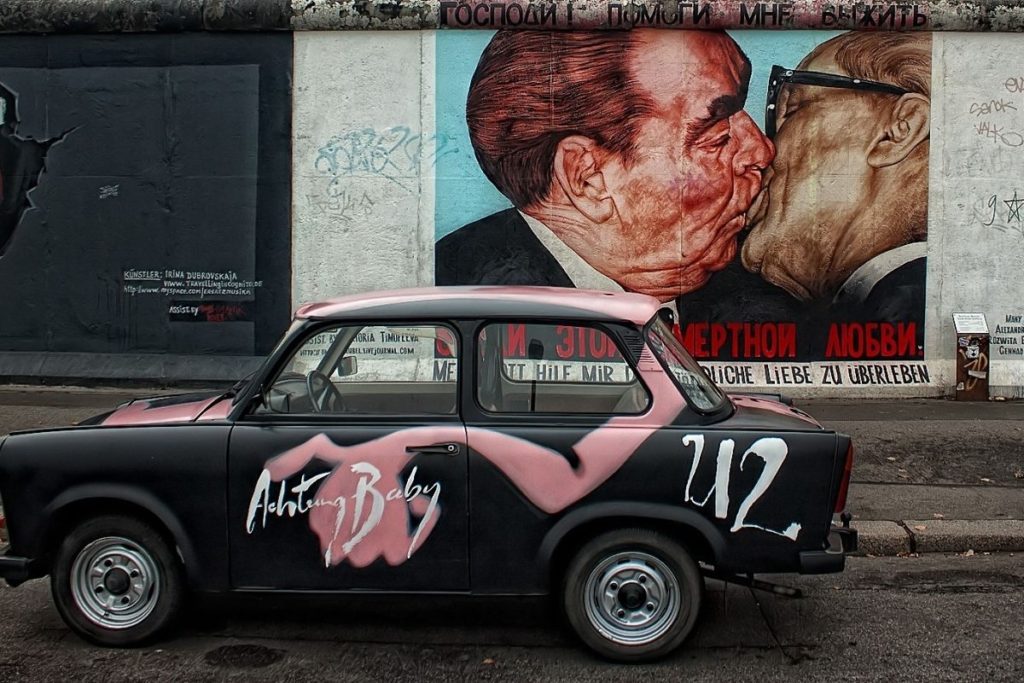 Just as with any country you visit, Berlin also has its own culture and there are more German staying in Berlin than foreigners, so you will want to respect their culture and ways of living day by day. Travelling to Berlin alone will mean reading upon these rules. I will share just a few of them. Bike lanes! This might seem common sense if you are from a country where bike lanes actually exist. Germany promotes cycling, so don't ever walk on these lanes! You know that phrasebook I mentioned? Germans will love you for trying to speak in German and learning new words!
If you have never been to Germany or countries like Germany, then you must know people are very direct. Germans are sometimes thought to be heartless, however, that is not the case. They are very nice people, but they don't like small talk and prefer to just get straight to the point. As someone who spent a lot of time in Germany and Austria, these things are second nature for me, but it is a huge difference between Germany and England. So keep this in mean. Berlin for solo travellers is perfect, you will get to experience the real deal!
One thing that was quite interesting in Berlin is that there are many protests. In those short 3-4 days I visited Berlin, I found two protests. I couldn't remember what they were about. One was a group of people walking on the streets of Berlin, the other one was quite peaceful. One single man standing in front of the Brandenburg Gate in some underwear. Bear in mind, this was in March and it was cold. I could not understand why he was out and for political reasons it's probably best to no mention it, but it was a peculiar thing to watch. I still say yes to 'is Berlin safe to travel alone?', you have to see these things with your eyes.
10. Safety tips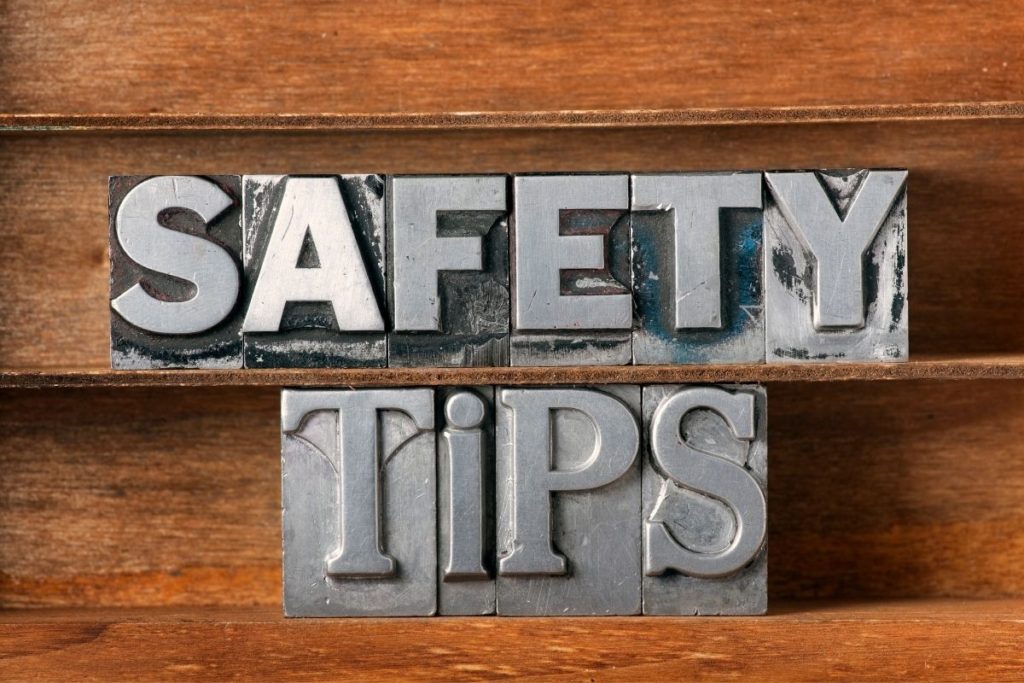 I do recommend Berlin for solo travellers to be careful as I would with anyone traveling abroad. Just because a city or country is considered safe, does not mean you should be flashing your cash to everyone. Is Berlin safe to travel alone? It is very safe, but please keep in mind these things when in Berlin. Try to not walk around with very expensive clothing, jewelry, items, and so on. Even though I said you should have cash with you, don't have thousands of Euros in your pockets. Always check your surroundings on public transportation as well as on any street.
Usually, the pocket thieves are around the tourist attractions, so keep your bags even closer to you when visiting Museums or the Brandenburg Tor, nighttime can be a bit sketchy. The neighborhoods you should keep away from at night are Golitzer Park and Neukolln. These are known for violent crimes and robberies. I have talked about knowing a few words in German, I can not stress how important this is. Although English is a worldwide spoken language, understanding some things in German will save you in many cases.
Instead of using your own mobile number and data, buy a sim card and use that for the internet and for making calls. After you left, you can just throw it away. Even though Berlin solo travel is safe, you have to take care when going out at night. I can't say I have had any issues when I was walking at night in the city, but one can never be too careful. Dress casually, smile, and say Danke schön (thank you) and Entschuldigung (excuse me), you will be just fine!
Answered: Is it safe to travel to Berlin alone – Berlin for solo travellers
This concludes our list of 10 tips for Berlin solo travellers and Berlin solo female travel. Berlin is an absolute must to visit at any point in time. The culture, the food, people, attractions, nightlife, it is just a mix of everything and travelling to Berlin alone is going to give you a different experience and discover things about yourself. In case you are a solo female travel Berlin and Berlin solo travel, just take extra steps of safety when you are there.
We hope to have answered your questions about 'is Berlin safe to travel alone?' and 'what to do in Berlin traveling alone?'. The possibilities are endless whether you are going for a few days or a week. We would love to hear from you in case you travelled alone. Let us know the places you loved the most! Don't forget to check our tips for solo travel to Vienna and London too!
PIN It: 10 tips to travel alone to Berlin – Berlin for solo travellers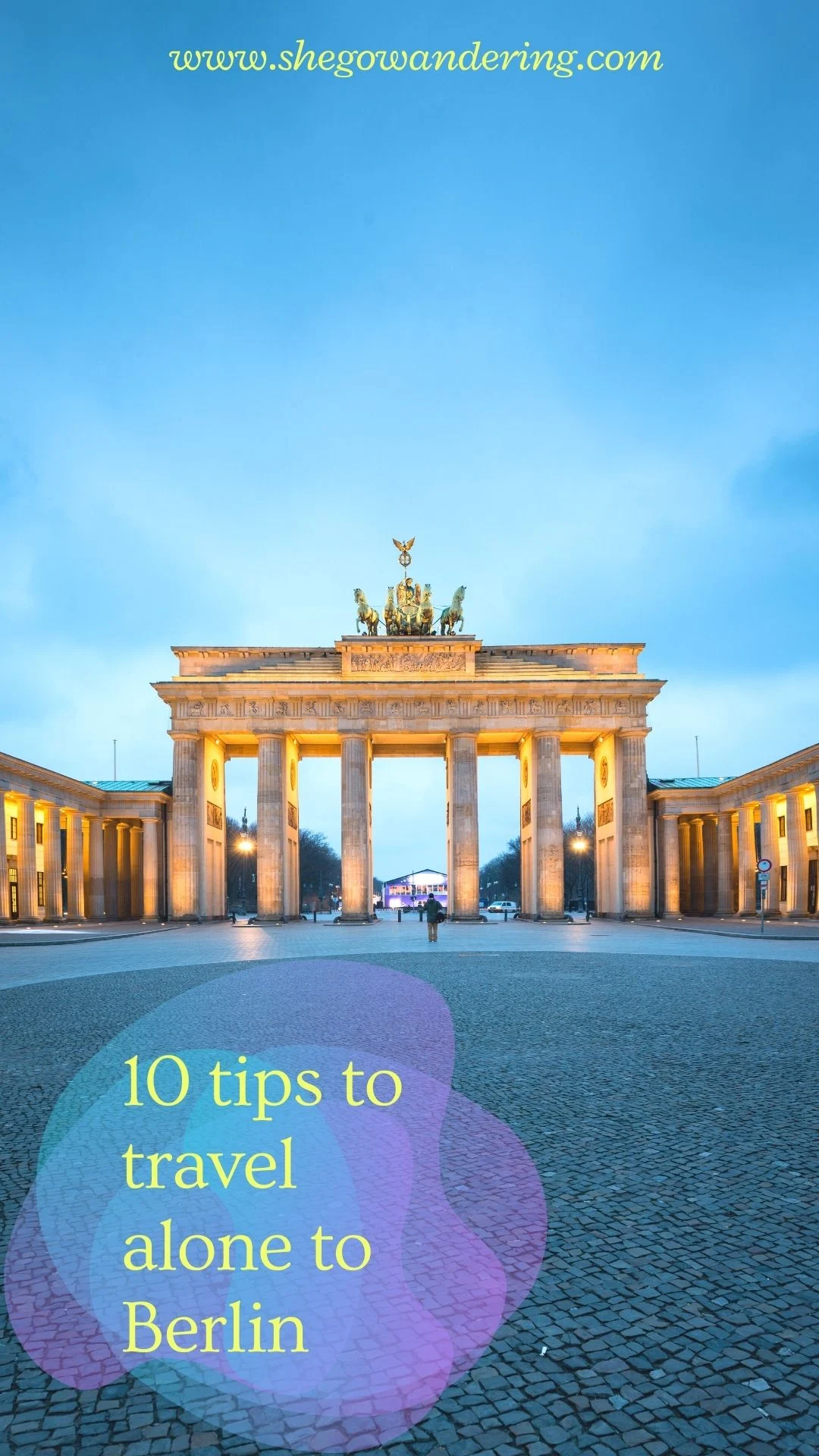 10 tips to travel alone to Berlin