Traveling alone is getting more and more popular especially in women circles. As you're reading this, I must pop the question. Are you afraid of traveling alone? Here are some tips for traveling alone as a woman!
I'm traveling solo since I turned 18, but mostly it was to Budapest in the beginning. However, since 2015 I've been on numerous trips alone, and I have also lived in 4 countries outside my home.
This is a short guide for first-timers traveling alone, with some essentials to know and learn about solo traveling, and all the unreasonable fear around it. Let's clear the picture!
How did I start traveling alone?
My first solo trip outside my country was to Rome, Italy, in 2015. I consider myself lucky at this point, as I went back to a place I already visited with my high school best friend. However, that didn't make it less terrifying!
Eventually, I gained most of my strength to want to do this because my deepest desire was to see Rome again. And that desire overcame the fear of traveling alone as a woman.
Since that very first trip, I visited multiple places in Italy, England, Spain, the United States, Hungary, and Austria on my own. And I can't wait for the upcoming possibilities of traveling alone.
I guess what helped me a lot was, that I've been a very independent person from an early age. Also, moving back and forth to Budapest, and Cluj to university made a big difference. I've been living in a rented apartment so I had to learn to handle myself and sort my things out on my own.
In the summer of 2018, I decided to travel solo first-time overseas. I flew from Europe to New York City for the summer. That was a real confrontation I wasn't prepared for. But, I'm still here and writing with joy in my heart about traveling alone as a woman!
You can read about my NYC experience here!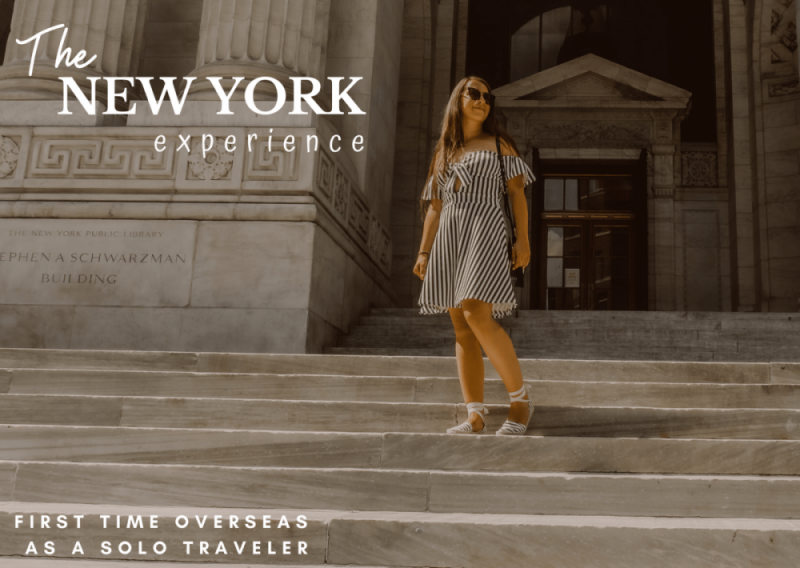 ---
The most popular questions about traveling alone
The common question: If you're not scared? If it's not boring? Or if it isn't less fun? Awkward? Unsafe? No, none of them! The safety is a whole separate part that you need to pay extra attention to, but otherwise, No! Traveling alone as a woman is awesome!
Traveling alone is the best way to discover yourself! A way to push your limits, learn about yourself and develop yourself through the challenges and every-days that you're facing alone in a new location.
---
Common reasons why we are afraid of traveling alone
Making connections with locals or other travelers while we travel alone
Humans are social beings… There is no such thing that you couldn't make connections on your travels! You can go on a group trip, or meet people in your hostel. You can go out to a place that's visited either by tourists either by locals (depending on who are you looking to make connections with) and just start a chat at the bar. Go on pub crawls, join solo travelers groups and communities. There are so many options for you when you're traveling alone!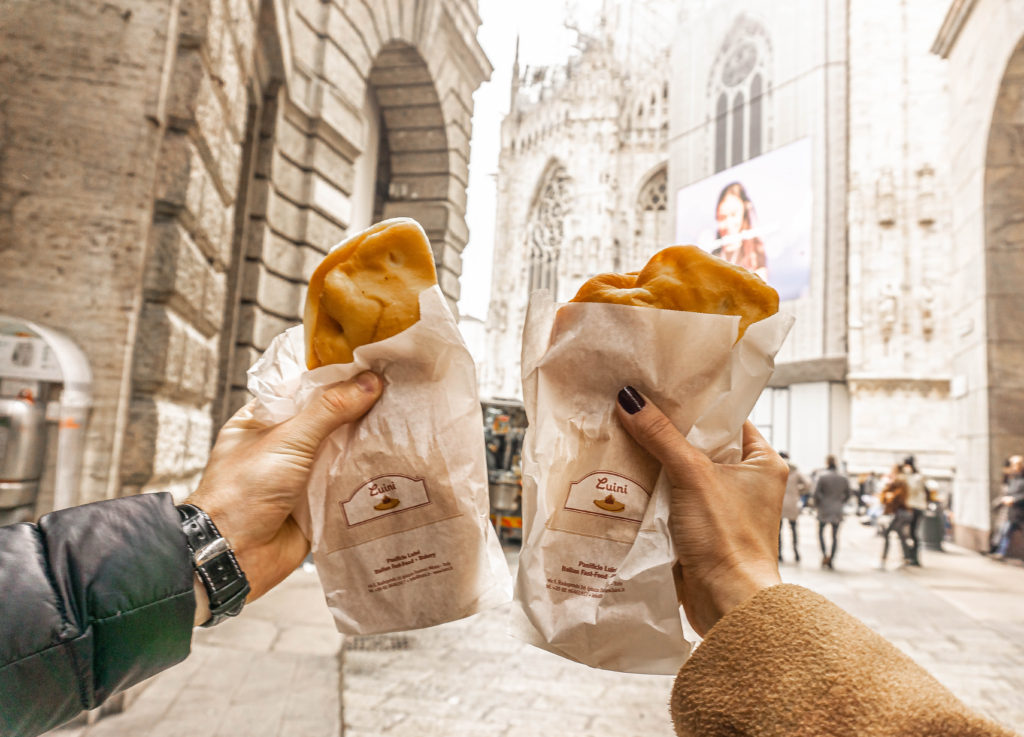 I have met many, many people during my travels. And the only evenings I've been having my dinner alone was when I chose to have it alone. People are curious to learn about someone else's story. I am curious too! You're not?!
I want to know about local things, I want to learn about someone else's culture, history. To hear their life story, learn about their passions and dreams. I am curious! So, if I want to initiate a conversation with complete strangers, I just go for it!
If I would have to count all those amazing humans around the world I still keep in touch with, the numbers would be high. You see, I don't like to make connections just for the short term. If I'm getting along great with someone I met while traveling alone… If we are sharing the same interest, passions, or dreams, why we wouldn't take care of that new friendship?
You'll never know, you might end up going on a trip with that person once. Or who knows when and how you'll have them a part of your lives again.
For example, I met one of my friends in a Facebook traveler group that's just for girls. We were both traveling alone to Malaga, Spain, and we spent a week hanging out together there.
Even though she lives about 5 countries away from me, she's one of my closest friends, and we've been traveling together since. And she's not the only one! I am blessed with so many amazing friends all around the planet, and there's nothing more precious you can earn from traveling alone!
---
Safety – We just want to stay safe while traveling alone as a woman!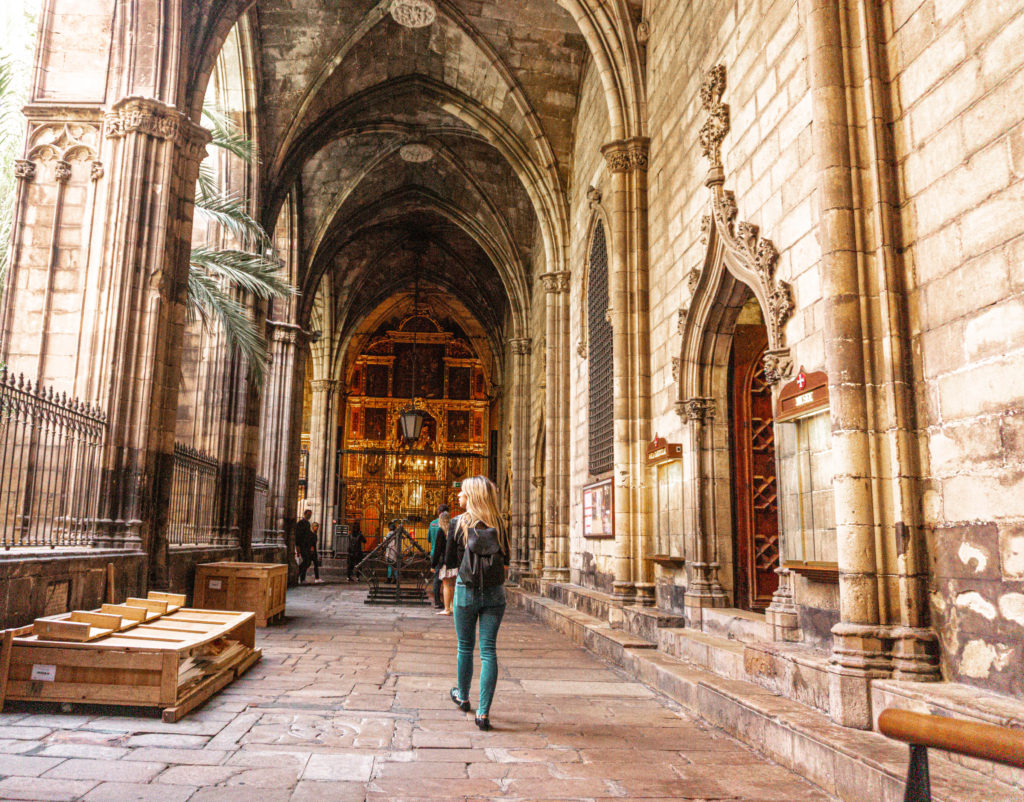 As women, we have so many things on our lists that we're afraid of! Getting robbed, stolen, raped, killed, drugged, sold, etc. Yes, I know… Safety for solo female travelers is the first and most important thing to pay attention to!
There are indeed countries where traveling, or especially traveling alone isn't advised. But that's not true for the whole world. The same good and bad things can happen to us abroad as at home! Actually, at some point the great things that you can experience abroad, you won't experience them at home!
However, there are some forever golden rules, that each of us ladies, have to know and practice for safety. Make the most effort to try to keep ourselves safe, but that doesn't mean we have to live locked in the tower!
---
Loneliness while traveling alone
Ah, come on! We can be much more lonely sitting alone in our flat watching Netflix, than walking in a beautiful city we've never seen before! Or hiking, or sitting on the beach and just enjoying the view… Am I right?
Yes, it will be lonely sometimes… I'm not going to lie, it will be! But traveling alone is never actually lonely, because you're out there, where you have the chance to make connections!
But the beauty of this is, that you can just go out, and look for new connections. You don't have to be ignored by your busy best friend, or whoever else. You just need to put your shoes on and do what you wouldn't do at home. Get into the local life! Sometimes, you just need to push yourself a little bit to make the first step. One of the biggest perks of traveling alone is to make connections!
The beauty of loneliness abroad is that it's never lasting for too long. There's just not enough time to be in that mood. When it's so much to discover, learn, explore, and see, that you won't have time to think about how you're feeling because you're alone.
Being alone isn't bad at all! Just don't exaggerate or you'll become an antisocial jellyfish!
It's always hard at the beginning… Yes, it's hard to sit alone at a restaurant, without having in your mind "what may other people think of you?". Indeed, it's hard to overcome your loneliness and embrace it, but it's something that will actually make you stronger, not weaker!
Believe me, it's not your loneliness that you'll be remembering your trip! It will be all the amazing places and experiences you've seen and lived up to! And when you first confront your loneliness, you'll learn to handle it, and it will make you a much stronger person!
With time, you'll start actually seeing the great sides of traveling alone. You'll adopt it, and you'll start to love it! The feeling is existing in our brain. It's just messing with us, and it's not something you can't defeat. When that happens, you'll find the beautiful value of it!
---
Here are some basic tips if you're traveling alone for the first time!
Have travel & health insurance! I'm using the one from SafetyWing and it's a really great and easy process, all being done online!
Get basic medication with you! All the essential pills, such as painkillers, anti-inflammatories, and everything you're taking in case you're catching a cold. The adhesive plaster, cold cream, and vitamins are also essential! Here's a great way to make sure you're drinking enough water and in the meantime you're taking some vitamins in your system with Waterdrop.
Get your vaccines! On this one, you'll need to get information from your doctors, depending on where you're traveling alone!
Take at least 2 chargers and a power bank on your trip! VERY IMPORTANT! Check out these travel essentials to not miss anything!
Make sure you're packing properly for the destination you're visiting!
Never! Again. Never leave your stuff unattended when traveling alone!
Never bring with you all your cash+credit cards! Always take just the essential amount. Or if you're having more cards, split your money on them and always leave one locked in your accommodation safe.
Same with your Passport and ID. Either make a copy of them or bring with you just one when you're out in the city!
Make sure to check the safe and unsafe areas of the specific city you visit. This is again something you can find information about on the internet.
If it's not essential, leave your luxury items behind. It's absolutely not safe going packed up with luxuries to a city sightseeing!
Always make sure your accommodation is real, and always check the ratings and reviews. A place with 10 ratings and 2 reviews is a no-go! Except if you're booking it through a platform that has checked it. But in this case, always double-check everything!
Always make sure your phone is working in that specific country! Activate your roaming and make a prepayment for minutes/internet.
If you're in a place that doesn't make you feel comfortable, make sure someone from home knows at all times where you are, where you're going, and if you're meeting anyone!
Know the emergency call numbers in the country where you're traveling alone!!!
As a last one, we're back to making connections. Obviously, not every human is good. There are those others. And we want to make sure we're keeping our distance from those others, right? The rule is simple: no personal information, nothing about your hotel! NEVER tell to a stranger that you don't know anyone around! Never go with a stranger in an unknown, unsafe, weird, whatever place. Do you know the rule don't ya? Say no to the candy man! 🙂
There are so many solo travelers out there!
Look for solo female traveler communities on Facebook to connect with other wanderer ladies! If you're planning your first solo trip alone, these groups are great! These communities always give great tips when you're traveling alone as a woman! You can also look for solo female travel memoirs for inspiration! If you were afraid of traveling alone as a solo female traveler, I hope you're not anymore! Pick one of the many great destinations for solo female travelers and GO!
---
More about solo traveling
30 reasons why traveling alone is AWESOME!
10 Best capital cities in Europe for solo travel girls
Looking for Travel Medical Insurance? The best for nomads
Pros and Cons for Solo Traveling
Couchsurfing, a great way to bring people together
---
Stories of traveling alone
Meeting other solo travelers – Experience in Malaga
First time overseas – A New York experience from a solo traveler
5 facts about solo female traveling you didn't know!
---
---
Pin Me: Are you afraid of traveling alone? Tips for traveling internationally alone
---
Find the best accommodations for your trip!
---
---
Are you afraid of traveling alone? A guide for first-timers